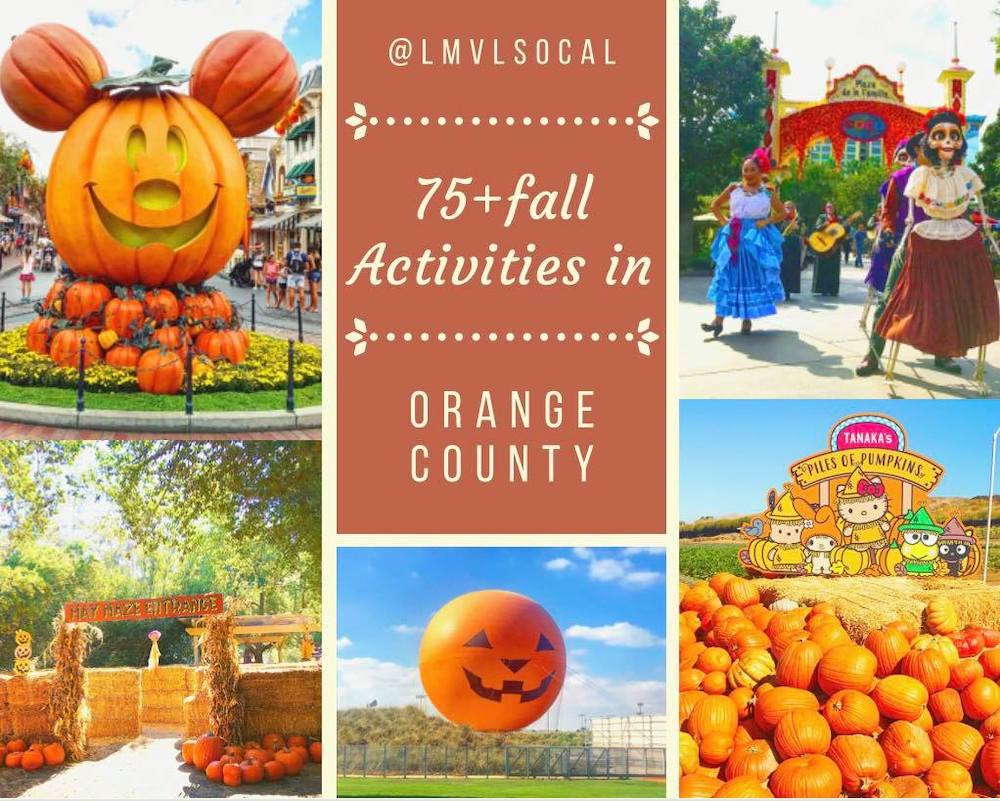 Travel
Fall things to do in Orange County
Southern California is beginning to get a glimpse of Fall and we are here for it!!! This year, we decided to share a list of 75+ Fall activities in Orange County, not only because we think it'll be an awesome resource for families all over Orange County and beyond, but because we think it's the ultimate bucket list for this Fall season.
For ease of use, this list is organized by city in alphabetical order. Take a look and let us know if we missed one of your favorite Fall events!
2019 Orange County Fall events
Fall things to do in Aliso Viejo
Aliso Viejo City Hall, Suite 200
October 25,2019, 5pm-8pm
Enjoy painting a pumpkin for your spooky porch, and decorating a pillow case for all the candy you will collect on halloween, Enjoy watching the movie "Transylvania" while eating pizza.
Grand Park at Aliso Viejo Town Center
October 26, 2019, 10am-12pm
Children's Crafts, Carnival Games, Balloon Twisters, DJ Entertainment and more! Wear your costume as you walk through the costume parade. Parade begins at 10:30 am.
Aliso Viejo Library
October 31, 2019, 4pm
Kids and families join us for crafts, pumpkin decorating, and mummy bowling. Also enjoy a special performance from Buster Balloon! Costumes welcome.
---
Fall things to do in Anaheim
Disney California Adventure
September 17- October 31
New family-friendly Disney Halloween party where Oogie Boogie, from Tim Burton's The Nightmare Before Christmas, has summoned the Disney Villains to Disney California Adventure Park for an unforgettable night of fun and fright—part of Halloween Time at Disneyland Resort. See Villainous! a new World of Color show (exclusive to this event), experience the wickedly transformed Redwood Creek Challenge Trail, walk along immersive treat trails featuring Disney Villains and join a pulsing dance party with the greatest dance crew from the Isle of the Lost—based on Disney's Descendants movies.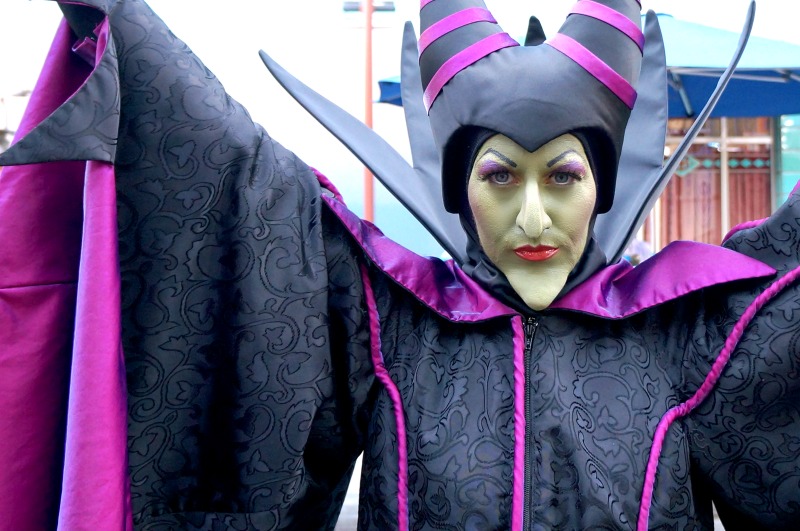 Phoenix Club Anaheim
Sept. 20 – Oct, 27, Sundays Only, 12pm-6pm
Come inside the Giant Beer Tent for German food, folk dancers, and kids activities. Sunday Family Days also include parades, sausage eating contest, bounce house, hair braiding, face painting, and free choo-choo rides 12-4pm.
Anaheim Town Square
Oct.3-31, 2019, Mon-Thur 11am-8:30pm / Fri-Sun 10am-10pm
Come celebrate Halloween at Orange County's premier Harvest Festival. Meander through thousands of pumpkins in all shapes and sizes in a charming farm atmosphere. Enjoy a host of amusement rides, game booths, and activities all set under the canopy of the beautiful autumn sky. Admission is FREE!
Anaheim Downtown
October 26, 2019, Start time is 6pm
Since 1924, Halloween has held special magic for the people of Anaheim. A nighttime pageant of ghosts, goblins, jack-o'-lanterns, and witches stretching a mile and a half through the darkened streets of downtown, the annual Anaheim Halloween Parade has become a Southern California family favorite. Parade starts up Broadway from West Street, left on Harbor Boulevard, right on Center Street then right on Anaheim Boulevard ending at Broadway.
Downtown Anaheim Community Services
November 1, 2019, 5pm – 9:30pm
This free community event brings you a fun-filled night of arts, music, culture and dance in support of the City's youth development program, Project S.A.Y. (Support Anaheim's Youth). This year's event will showcase 40+ altars, art displays, live mariachi music, Aztec dancers, kids crafts, face-painting, and so much more. Don't forget to bring your lawn chairs and a blanket.
---
Fall things to do in Buena Park
September 19 – October 31, Thurs-Sun 7pm-1am / Fri-Sat 7pm-2am
Knott's Scary Farm is the largest and most haunting Halloween experience in Southern California, with unimaginable scares and innovative thrills that can't be found anywhere else. The fully transformed theme park features uniquely haunted mazes and attractions, sinister shows and more than 1,000 horrifying creatures lurking in the fog and hiding in every corner of the park. This Halloween event has all the ingredients of a truly terrifying nightmare. But unlike most dreams, Knott's Scary Farm is a nightmare you can't wake up from — which makes it the thing to do for Halloween.
*Knott's Scary Farm is not recommended for children under 13.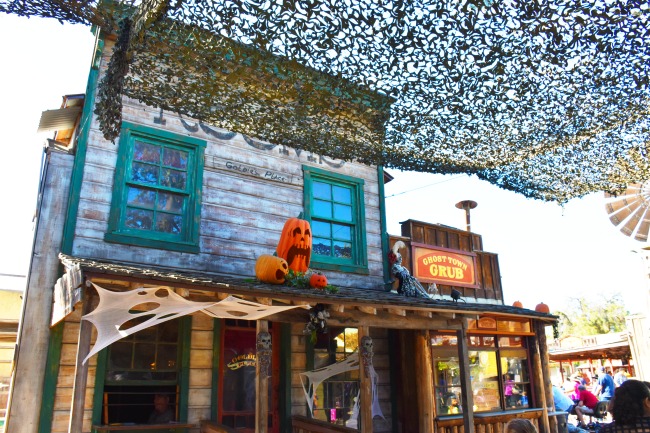 Sept 28-Oct 27, 2019, Weekends Only plus Thurs Oct.31
A family-friendly Halloween celebration geared for kids ages 3-11. Little ghouls can trick-or-treat through Ghost Town to collect sweet Halloween treats. Treat bags containing event maps and other goodies will be distributed to children age 3 to 11 from opening until 4:30pm. Camp Snoopy Theater plays host to the "Monsters are Coming" show where children are encouraged to participate in the daily costume contest. The Halloween Hootenanny returns as The Timber Mountain Log Ride transforms with spooky but family-friendly surprises.
October 1- 31 2019, Mon-Fri 7pm / Sat. 5pm & 8pm / Sun 3pm & 6pm
If you've been to Pirate's Dinner Adventure, the popular pirate-themed dinner theater in Buena Park, CA, you're in for a whole new swashbuckling Halloween themed treat this October! Join us September 30th to October 31st as Pirate's Dinner Adventure transforms into the Halloween Spooktacular, 'Vampirates'!
Buena Park City Hall
September 28, 2019, 12pm – 5pm
Admission, magic show and crafts are free, while supplies last. Prices for vendors and food vary. General parking will be across Beach Blvd. in the City Hall parking lot, 6650 Beach Blvd., and disabled parking will be behind the First Congregational Church.
Bring the whole family for a spooktacular beginning to the Boo-uena Park season!
Adventure City
October 11th, 18th, 25th, 31st, 5:30pm-9:30pm
11 exciting rides, "trick or treat street" for FREE Candy and trinkets. Ride the Express train halloween scavenger hunt, spectacular dance party, meet a mad scientist magician for some astonishing tricks!
The Source OC
November 2, 2019, 2-6pm
Noche de Muertos is presented by the Consulate of Mexico of Orange County, showcasing beautiful altars, cultural music, dancing and an "art walk" showcasing artists from the region of Purhépecha in the State of Michoacán, Mexico
---
Fall things to do in Costa Mesa
Costa Mesa Bark Park
October 12, 2019, 11am-2pm
A canine costume contest, vendor are, and animal adoptions will be part of howlng time! Free!
Fairview Park-Goat Hill Junction
October 19-20, 2019, 10am-3pm
A tradition dating back to 1930's, sign up to create your own scarecrow. Enjoy train rides, face painting, pumpkin patch and crafts. Free!
Segerstrom Center for Arts-Argyros Plaza
October 19, 2019, 12pm-4pm
Enjoy this free fall celebration featuring engaging performances, games, and festive activities for the whole family! Our live performances are sure to entertain, from spooky Halloween tunes to storytelling and ballet folklórico. Free!
Renée and Henry Segerstrom Concert Hall
October 19, 2019, 10am & 11:30am
Immerse yourself in the colorful traditions and festivities of the Mexican holiday Día de los Muertos (Day of the Dead). Enjoy kid-friendly activities and traditional music, featuring tunes from Disney-Pixar's "Coco." Tickets start at $15
Segerstrom Concert Hall
October 27, 2019, 7pm-10pm
Lila Downs brings her unique interpretation of traditional Mexican and Mesoamerican music, deeply personal renditions of classic rancheras, as well as her own original songs to convey the concept of Día de Muertos: AL CHILE, a voyage of emotions, movement and sound that celebrates the rich traditions of the Day of the Dead on both sides of the border.
Segerstrom Center for Arts-Samueli Theater
November 9-10, 2019, 1pm
Sugar Skull! is a joyous, heartfelt adventure that delves into the rich, tuneful traditions of Día de los Muertos. Featuring Mexico Beyond Mariachi, a company of gifted musicians and dancers rooted in Mexican traditions, this colorful stage production is the perfect fall entertainment for youth and family audiences alike.
---
Fall things to do in Cypress
Cypress Community Center
October 31, 2019, 6-9pm
Enjoy a safe halloween night with game booths, candy, family games, trick or treat stree, live entertainment and Fun Zone. Admission is $3 cash.
---
Fall things to do in Fullerton
Fullerton Train Museum
October 19, 2019, 9am-12pm
Calling all ghosts and goblins! Come down to the Fullerton Train Museum between 9 a.m. & noon. Come in your best Halloween costumes and enjoy trick-or-treating, games, a coloring table, and photo opportunities. Beware, our very old rail conductor could be lurking behind a door or closet just ready to hand out treats!
Fullerton Museum
October 9-31, 2019 (select dates), 6pm-8:30pm
The tours are a celebration of local legend, Aul said. We're not making any supernatural claims; we're just sharing stories of another facet of Fullerton's history, particularly that of the downtown. Tours fill up fast so reserve soon, $20 General.
Fullerton Police Department
October 30, 2019, 5-8pm
Trunk or Treat will be held in the back lot of the police department at the corner of Highland and Amerige. Wear your costume, and trick-or-treat with some of the officers that keep your neighborhoods safe.
The Muckenthaler Cultural Center
November 3rd. 2019, 12-4pm
Join us to celebrate Día de los Muertos! We will have festive activities for the whole family, live music, local artisans, and arts and crafts for kids. We will also have ofrendas (altars) to honor late family members.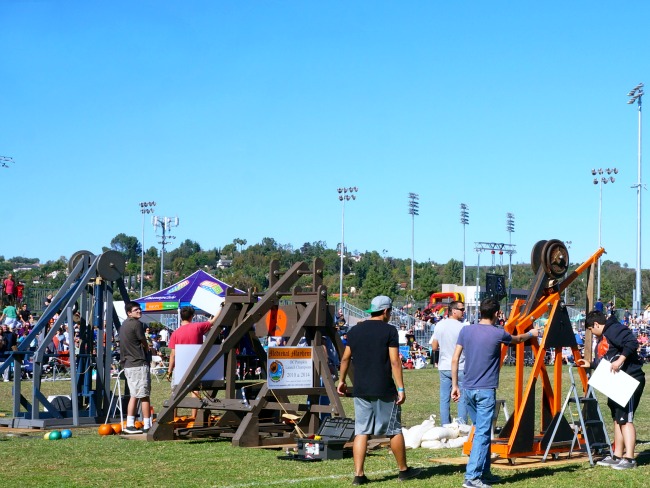 November 2, 2019, 10am-2pm
Join Discovery Cube and Cal State University, Fullerton at Cal State Fullerton's athletic field for a day of flight, engineering, and pumpkin-smashing hijinks. Contestants use the principles of STEM to build trebuchet machines that send pumpkins high in the sky and towards targets that line the field. To launch pumpkins must register online.
---
Fall things to do in Garden Grove
Garden Grove Main Library
October 29, 2019, 5pm
Wear your costumes and trick or treat at the library before Halloween! Followed by a party with snacks and activities – for all ages!
Garden Grove Chapman Library
October 30, 2019, 4-5pm
Enjoy a story, practice a monster mash, and more at this fun event. Kids can wear costumes to this silly event!
---
Fall things to do in Huntington Beach
Old World
Sept. 8 – Nov. 3, Sundays Only, 2pm-7:30pm
Kinderfest (Family Days) at Oktoberfest in Old World. It features our World-Famous Weiner Dog Races, 2:00-7:30pm. Carnival games, costume contest, live music and bouncy house.
Worthy Park
October 26, 2019, 1-4pm
Calling all ghouls, ghosts and goblins for a Halloween festival at Worthy Park! Dress up in your best costume and get ready to make a jack-o-lantern come to life! Festivities will include 'pick your own' pumpkin patch & carving, games, a bounce house and more! $20 per family (includes one pumpkin) and $5 per extra pumpkin.
Bolsa Chica State Beach
October 20, 2019, 8am-11am
It's a kick off for a FIT FALL. We are combining the traditional Halloween/Harvest theme (so if that's your gig, costume it up, join in games, costume contests, and super fun selfies and awards.
---
Fall things to do in Irvine
September 14 – October 31, 2019, Mon-Fri 10:00 am – 5:00 pm / Sat-Sun 8:00 am – 6:00 pm
Irvine Park Railroad's Pumpkin Patch in Orange County is fun for the entire family. Come out and enjoy the many activities for kids of all ages. The Pumpkin Patch is located just behind the train station and admission is FREE. If you plan to visit on busy weekends, we suggest that you plan to arrive EARLY in the morning to help avoid park entrance and parking delays.
*ENTRANCE TO THE PUMPKIN PATCH IS FREE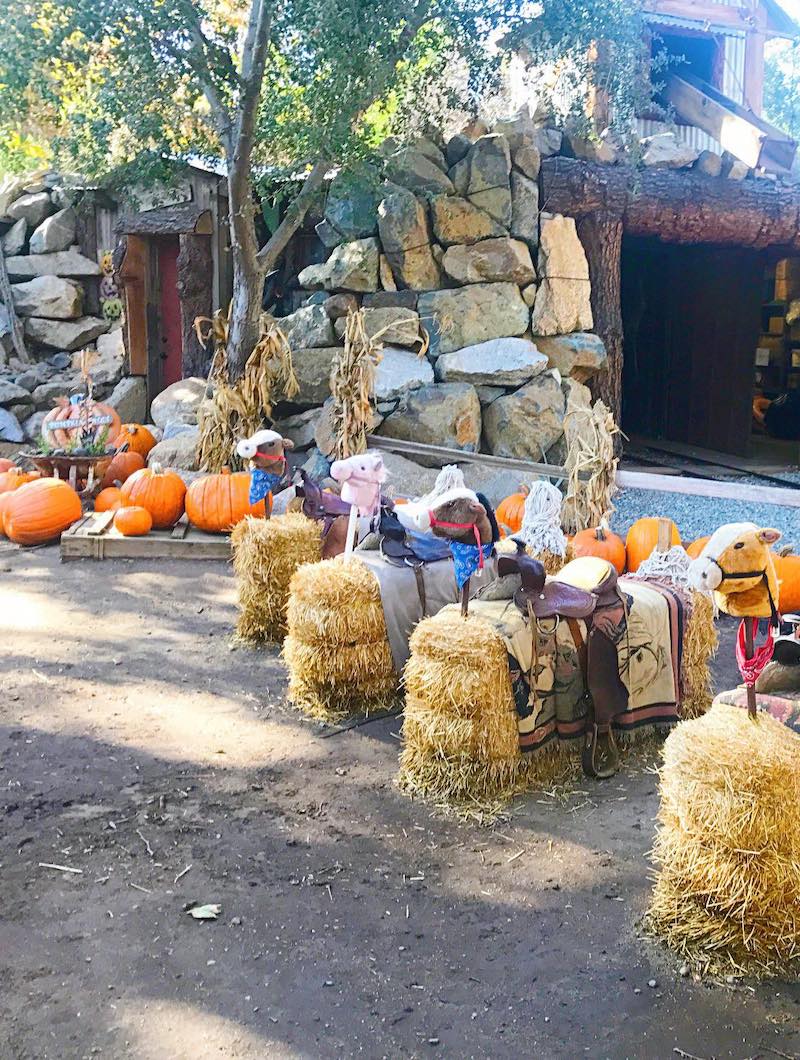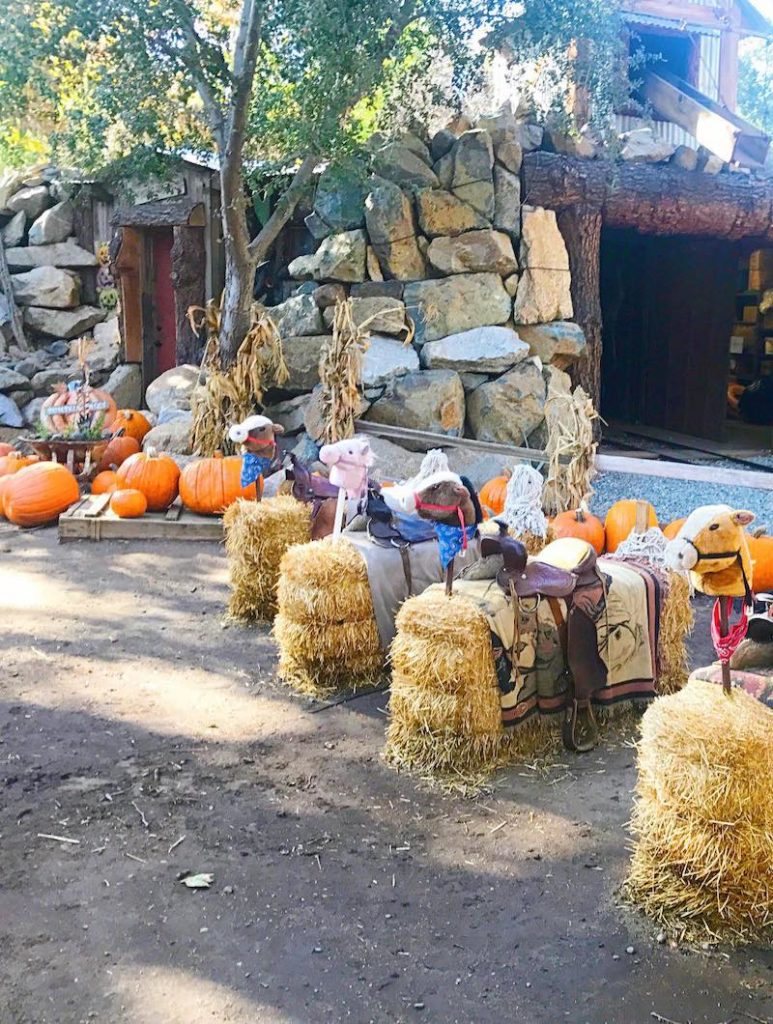 OC Parks-Irvine Ranch
September 19, 2019, 8:30am-11:30am
The Irvine Ranch Conservancy's one-of-a-kind Native Seed Farm in Irvine! You will be harvesting seeds from quirky native summer wildflowers, like Yellow Pincushion and California Wishbone Bush. Absolutely no experience or special equipment required! Ages 8 and up; minors must be accompanied by an adult.
September 21-October 31 9am – 6pm
Tanaka Farms invites you to visit our Pumpkin Patch with all your favorites as well as some new and improved guest experiences for 2019. Admission is $4 per person (Children 2 years and under are free.) The Wagon Ride is $6 for unlimited rides. (Children 2 years and under are free.) The Petting Zoo is $6. (Children 2 years and under are free.) The Sanrio Entry Package is $20 and includes: Admission, Wagon Ride, Petting Zoo, and a limited Edition Sanrio + Tanaka Farms Hello Kitty Plush. Game and Activity Tickets are $5 each or 5 for $20 (Save $5!) Parking Passes are $10 each. Parking passes are only required on the weekends.
Pretend City
September 24, 2019, 11am – 5pm
It's time to fall in love with this change in seasons! The leaves are turning, and the weather is shifting which means there is lots of fun to had here at Pretend City. Let's celebrate with art, games, books and sensory play as we have fun with fall! FALL into this season as the
Sept. 27- Nov. 1st , Thurs-Fri 10am-3pm, 7-10pm / Sat-Sun 9am-3pm, 7-10pm
In Irvine, you know Halloween is near when the Balloon at the Orange County Great Park displays the iconic jack-o-lantern face, affectionately known as "Jack." Jack's arrival also signals the annual Fall Food Drive at the Park, offering visitors a way to support local food banks.
Boomers Irvine
Sept 27-Oct 26, Fridays & Saturdays, 9pm-12am
Think you've got the guts for the park after dark? Brave 3 hours of unlimited attractions and take on 3 terrifying scare zones. Scare Zones include: Pirate Point, Midway Mayhem, Zombie Zone
Boomers Irvine
Sept 28- Oct 27, Saturdays & Sundays, 1pm to 3pm
Hay maze, Trick-or-Treat Trail, Crafts & Games & More! *FREE for Kids 12 & Under
OC Parks-Irvine Ranch Open Space
October 4th, 2019, 6pm-8pm
Come hear fascinating tales of our flying mammal. We will head out towards a popular roosting location as we watch our nighttime heroes begin their nightly adventures. This program is ideal to visually observe the bats in flight, though bat detectors are available to listen for their high-frequency calls. Ages 8 and up; children must be accompanied by a parent or guardian.
OC Zoo
October 4-30 10:15am-11:15am
Come learn about creatures that are associated with Halloween! Class includes hands-on learning, fun crafts, and meeting zoo animals up close! Ages: 3-4 years old only. Parent must accompany child for duration of program.
Irvine Spectrum
October 12, 2019, 7-9pm
Join us for a special Halloween edition of our movie nights under the Giant Wheel with a seasonal classic. The movie will start at 7PM, but seating will be open at 5:30pm, so plan accordingly to make sure you have time to buy snacks!
OC Great Park
October 12-13, 2019, 10am-5pm
The now two-day festival incorporates the best of Irvine's historic fall festival to offer more food, art, and music throughout an entire weekend at the Great Park. Families will delight in an expanded Kids Village with crafts, interactive activities, seek-a-treat, and a petting zoo.
Irvine Lakeview Senior Center
October 19, 2019 – 7:00pm – 9:00pm
Spook your friends at the Disability Services annual Halloween dance, the Monster Bash, now on a new date — Friday, October 19, 7–9 p.m. Event features refreshments and a costume contest, and guests will have the opportunity to purchase photos for $1 (cash only). Registration not required; $3 per person at the door. Ages 14+. For more information, call Disability Services at 949-724-6637.
October 25, 2019, 10am – 4pm
In honor of Mary Shelley's classic fictional character, Frankenstein, we're celebrating this green giant with monstrously fun activities. We may not be mad scientists, but we're mad about monsters!
October 26, 2019, 10am – 5pm
We ain't afraid of no ghosts…especially because the Ghostbusters will be here to handle all of the ghouls and goblins that try to impede on our fun. Join us for a spooky good time with hands-on activities and photo-ops.
OC Zoo
October 26, 2019, 10am-4pm
Join us for Halloween fun at the OC Zoo! Activities include trick-or-treating*, spooky kids crafts, a scavenger hunt*, and fun games!
Pretend City
October 27-31, 2019, 11am – 5pm
Black cats and witch's brew, we want to dress up with you! Wear your costume to Pretend City this whole week and receive 25% off your second admission!
Pretend City
October 31, 2019, 10am – 3pm
We're all treats and no tricks here in the city! Get a start on the festivities by joining us for our special trick-or-treat extravaganza as you stop by our exhibits from some neat giveaways. This party is bound to be a scream!
Pretend City
November 2, 2019, 10am – 4pm
Dia De Los Muertos, or Day of the Dead, is a Mexican tradition that celebrates loved ones who have passed. At Pretend City, we are celebrating Dia de los Muertos with vibrant, educational activities for little ones. Bring a photo of your loved one to add to our special Altar and partake in the celebration!
---
Fall things to do in La Habra
La Habra Branch Library
October 26, 2019, 11am-3pm
Crafts, Folklorico & Aztec dancers & more!
Children's Museum at La Habra
October 31, 2019, 10am-12pm
Calling all little monsters for a Halloween bash featuring Mad Scientist activities, games, crafts, and a mini-maze! Little ones and their adults are encouraged to dress in costume!
---
Fall things to do in La Palma
La Palma Library
October 30, 2019, 4pm
Join us! Get your free face/arm painting with your favorite spooky design.
---
Fall things to do in Laguna Hills
Laguna Hills Mall
Sept 27-31, 2019, Mon-Thurs 11am-8:30pm / Fri-Sun 10am-10pm
Come celebrate Halloween at Orange County's premier Harvest Festival. Meander through thousands of pumpkins in all shapes and sizes in a charming farm atmosphere. Enjoy a host of amusement rides, game booths, and activities all set under the canopy of the beautiful autumn sky. Admission is FREE!
---
Fall things to do in Lake Forest
Heritage Hill Historical Park
October 4, 2019, 5:30pm – 8:30pm
Heritage Hill Historical Park welcomes back the annual Autumn Harvest Festival. Bring the family to a fun-filled adventure and experience the park transformed into a spooky Halloween festival.Enjoy the Trick-or-Treat stations, Adventure Maze, and dare to visit the Haunted School House. Children of all ages can participate in ghoulish games, costume contests and the pumpkin decorating zone. Costumes and trick-or-treat bags are recommended. $5 Admission
Heritage Hill Historical Park
October 5, 2019, 5:30pm – 8:30pm
The Halloween adventure arrives early this year at the Autumn Harvest Festival. The park will once again be costumed and dressed as an adventure filled festival. Some of the attractions from past years included. The Indiana Jones Trick or Treat Stations, The Under the Sea Adventure Maze, "Harry Potter" School House, and Storytelling Adventures.
October 11-12th, 2019, 6:30pm – 10:30pm
Scary mazes, music, stage performers, game booths and more! Wear your costume (no masks or face make-up) and come be part of this exciting tradition. No re-entry or outside bags will be allowed. *Recommended for 12 years old & up.
Studio Vintage
October 13, 2019, 10am-3pm
Mark your calendars for our annual fall shop and sip event!
---
Fall things to do in Los Alamitos
Los Alamitos-Rossmoor Library
October 30, 2019, 10am-1pm
Drop in from 10am to 1pm, or 3pm to 6pm, to carve or decorate your pumpkin at the library! Make a traditional jack-o'-lantern or try one of our no-carve, but still spooky ideas. Don't feel like carving? We've got paint, glitter, glue, and more so you can really get creative. We'll provide the space, supplies, and even clean up the mess. You just need to bring your own pumpkin. Ages 4-12.
---
Fall things to do in Mission Viejo
Kaleidoscope – 27741 Crown Valley Parkway
October 26, 2019, 3pm-6pm
The afternoon of free family fun will take place in Kaleidoscope's courtyard with balloon art, face painting, seasonal crafts, a DJ who will spin music, and dance performances by costumed characters. Youngsters will also enjoy trick or treating throughout the center, with the first 300 costumed kids receiving free trick or treat bags.
Families won't want to miss snapping their photos throughout the center, including in front of Kaleidoscope's colorful Never Lose Your Wonder mural in the main courtyard, the Be You mural on the upper level, and next to festive Halloween displays with colorful oversized pumpkins, life-size BOO letters, and seasonal signs set among giant fall flowers.
Guests who want to get social can take selfies or family photos in front of any of the murals or seasonal displays, and tag @GoKaleidoscope and use hashtag #KSHalloween, to be entered to win a prize from Kaleidoscope tenants. There will also be an opportunity drawing with prizes of family fun available at check-in.
Parents will also enjoy small bites and beverage samples from Kaleidoscope restaurants, along with special discounts available that day from select retailers.
---
Fall things to do in Newport Beach
Fall Faire, 1601 E. 16th Street, Newport Beach, CA 92663
October 13, 2019; 10:00 AM – 3:00 PM
Come and join the fun at the Annual Fall Faire and Pumpkin Patch! Pumpkins, Children's Craft, games, face painting, Savor OC restaurant showcase, entertainment, and Pony rides and petting zoo.
Grant Howard Park
October 26, 2019, 4-7pm
There will be a trunk or treat, a haunted maze, games, bounce houses, costume prizes, food trucks and fun for the whole family.
---
Fall things to do in Orange
Orange Circle
October 24, 2019, 4-7pm
This free community event includes games, trick or treating with local merchants, a costume parade, and entertainment for participants of all ages.
Orange Main Library
October 26, 2019, 2-3:30pm
Dress up in your Halloween costume to play games and make some spooky crafts. Prizes will be given out for the most spooktacular costumes.
Heritage Museum
October 30th, 8pm
Why is the front room called a "parlour"? Why photograph your recently deceased child? How long did the mourning period last? What superstitions did Victorians fear? Is the Kellogg House truly haunted? Perhaps you should decide for yourself.
---
Fall things to do in Rancho Santa Margarita
OC Parks- O'Neill Regional Park
October 5, 2019, 10am-2pm
Come celebrate Acorn Day under the oaks at O'Neill Regional Park. This free event is a family-friendly day of excitement and learning with activities for every age: free crafts for kids, a live butterfly enclosure, active games, face painting, live music and introductory ukulele lessons, nature and animal exhibits, storytelling, activities like painting on water, acorn and oak tree planting and much more for the entire family!
Central Park
October 31, 2019, 2-5pm
Families can trick-or-treat in a safe and welcoming environment, play in bounce houses and inflatables, enter the costume contest, and join in the child and pet costume parade! Capture your favorite memories at our festive photo booth, purchase refreshments from great local vendors, and enjoy music, games, and more!
---
Fall things to do in San Juan Capistrano
Oct. 1- 31st, 2019, 9am-5pm
Bring your family this autumn and experience a full pumpkin patch on our historic farm. You'll meet kunekune pigs, sheep, feed apples to the zeedonks, hear turkeys gobble for grapes.Hop in the bunny patch to cuddle with cottontails, and then brave the goat pen for some very big hugs! There's more to do than petting too. We've got a playground, a corn box, mini-train, even horses and ponies to ride! Grab a snack in our coffee shop then stroll the historic district and step back in time.
---
Fall things to do in San Clemente
San Clemente Outlets
September 21-22, 2019, 10am-5pm
Celebrate the arrival of autumn with a pop-up makers' market, featuring more than 30 local vendors; festive photos with a 16.5-foot Gigantic Jack O'Lantern; family fun at the Pumpkin Patch (fees apply).
San Clemente Community Center, 100 N. Calle Seville
October 26, 2019, 4pm- 7pm
Tricks and treats for all ages! Save the date and start planning your costumes! Join us for a night of haunted houses, spooky corn maze, tricks on Del Mar and a movie in the dark.
San Clemente Outlets
October 26, 2019, 1-3pm
Save the date for our annual pre-Halloween celebration! Collect treats from participating stores and enjoy family fun, including a Pumpkin Patch, inflatable fun (fees apply), creepy crawlies from Wild Wonders, photo ops and more!
Ole Hanson Beach Club
October 30, 2019, 3pm-6pm
Enjoy a poolside pumpkin patch, spook-tacular music, pumpkin games and more at the Ole Hanson Beach Club! This is a free event where each participant will take home an orange floating friend of their own picking.
San Clemente Library
October 30, 2019, 4-5:30pm
Celebrate Dia de los Muertes! For Teens ages 12–17 years. Join us for a fun afternoon decorating your own sugar skull. Refreshments will be served.
---
Fall things to do in Santa Ana
Discovery Science Center
October 1-31, Weekends Only, 10am-5pm
Spend this Halloween season dressed up and ready to explore at Discovery Cube's Spooky Science exhibit! Throughout the month of October, Discovery Cube invites guests to enter the fantastical world of wizards and dragons! Discover enchanting chemistry in the "Wizard of Ooze" stage show, observe and analyze characteristics of real and mythical creatures, and join in on the costume parade. Along with the programming above, the Cube will host five special costume themed weekends sure to make the little ghouls, goblins and witches scream with excitement!
October 3rd-31st, 2pm-2:30pm
Join us for a spine-tingling experience that will haunt you! This 30-minute tour in the Historic Wing highlights mysteries surrounding the Bowers' oldest artifacts and a ghostly presence often felt in the museum's original building, dating back to 1936.
Main Place Mall- Parking Lot
October 3-31, 2019, Mon-Thurs: 5pm-9pm / Fri: 4pm-10pm / Sat:10am-10pm / Sun: 10am-9pm
Join us for rides, fun games, delicious food and even a petting zoo. Don't forget to pick up your pumpkins for this Halloween.
Bowers Museum
October 24, 2019, 10am-12pm
Decorate Sugar Skulls in honor or gift to a loved one.
Santa Ana Zoo
October 19th, 20th, 26th, 27th, 5:30pm-8pm
Boo at the Zoo features: TEN Trick-or-Treat Stations throughout the Zoo providing a variety of toys, books, snacks, and candy on the, Trick-or-Treat Trail, Entertainment, Animal Presentations, Storytelling, Fun and Games, Costume Parade, Ride the "Boofari" Express Train, Carrousel, and Ferris Wheel for an additional fee, "Teen Scream" Haunted House (a separate area, included in the price of admission), Hot Dogs, Hamburgers, Chips, and Sodas for sale (cash only) by Tustin-Santa Ana Rotary Club. Free Parking
Dia de los Muertos
MainPlace Mall – Event Held in Macy's Court, Center Court and Food Court
October 26, 2019, 2pm–5pm
During the celebration, there will be live music, dance performances, cookie decorating, art workshops, face painting and a photo booth. Attendees are encouraged to wear costumes. The first 300 children to check in to the table in Macy's Court will receive a FREE swag bag filled with goodies.
Downtown Santa Ana
October 26, 2019, 1pm–10pm
Held in the heart of Orange County, Santa Ana's Dia De Los Muertos Festival "Viva La Vida" captures the very essence of our cultural and artistic spirit. Organized by community members, the purpose of the celebration is to honor ancient traditions of the festival through art, culture, and compassion. "Viva La Vida is a free, family friendly festival.
MainPlace Mall
October 31, 2019, 4-6pm
On October 31st, from 4 p.m. to 6 p.m., MainPlace Mall invites children and their families to trick or treat participating retailers (designated by signs in their windows). Participants are encouraged to wear costumes; anyone over 12 years of age is asked not to wear a mask or costume with a weapon. Fighting is prohibited on the property and offenders will be asked to leave; the use of silly string, blow horns, or any powdery substance is also prohibited and subject to confiscation.
Downtown Santa Ana
November 3, 2019 1:00pm – 10:00pm
In addition to viewing beautifully created altars, attendees will be entertained by cultural performances and live music. Children can get their face painted and participate in free, art workshops. Local artists will be selling their wares and local restaurants will be selling their most delicious dishes. Finally, attendees will have a photo opportunities with La Catrina, the modern-day icon of Día de los Muertos created by Mexican artist Jose Guadalupe Posada.
---
Fall things to do in Stanton
Stanton Library
October 30, 2019, 4-5pm
Celebrate with Arty as he takes you through the rich folklore of Dia de los Muertos. There will be free balloon creatures, puppets, music, storytelling and magic.
---
Fall things to do in Tustin
Columbus Tustin Activity Center
October 31, 2019, 3pm-5pm
Halloween Howl will include a costume parade, carnival style games, a children's performance by Ranger Jack, bounce houses, bubble show, prizes and plenty of Halloween treats and candy.
The District at Tustin
October 31, 2019, 5pm–7pm
Bring your princesses and superheroes for trick-or-treating, DJ dance parties, balloon art, kids activities, photo opportunities and more! Enjoy trick or treating throughout the Promenade – look for the "Trick or Treat Here" signs in the windows of participating Promenade stores and restaurants. Pick up your free Trick-or-Treat bag at the District booth located in the AMC Courtyard (while supplies last). All families are invited and encouraged to wear their spookiest costume. Free and open to the public.
Tustin Library
November 1, 2019, 3:30-5:30pm
On Friday, November 1st from 3:30 – 5:00 pm teens in grades 6th-12th are invited to paint and decorate ceramic sugar skulls. All supplies will be provided for this FREE program.Please register at the service desk or call us to reserve your space. Space is limited to 20 spots on a first-come first-served basis.
---
Fall things to do in Westminster
Westminster Mall
October 31, 2019, 4:30-7:30pm
Families are invited to come in costume, however, children over the age of 12 and adults may not wear masks. Children ages 2-12 years can enjoy trick-or-treating throughout the mall and win treats and prizes at the game booths.
---
Worth The Drive (Los Angeles, Inland Empire and San Diego spots)
Fairplex Pomona
Oct 10 – Nov 3, 2019, 5:30pm-10:30pm
You'll set out on a magical quest along a half-mile walking path, where you'll discover the Forbidden Pumpkin City, a pirate's cove, and more fantastical lands built using over 3,000 hand-carved real and synthetic pumpkins. The celebration continues with the Spirit of Pumpkins Fire Show, delicious tastes and treats, and outdoor movie screenings.
Forneis Farm
October 1-31, 2019, 1pm-5pm
Our famous Corn Maze and Harvest Festival is back for another year of FarmTastic Fun!
Join Us as the Farm takes on a magical theme to celebrate the 80th Anniversary of the Wizard of Oz! The FarmTastic Maze of Oz will have you saying: There's no place like home… with 4 acres of twists, turns and dead ends!
Big Horse Feed & Mercantile, 33320 Temecula Parkway
Sept 28- Oct 27, 2019, Tues-Fri 1pm-5pm / Sat-Sun 11am-5pm
4 acre corn maze plus full slate of family-friendly attractions. Weekend activities at the Big Horse Corn Maze includes our pumpkin patch, pony rides, hayride, pillow jump, animal sharing center, mini maze, pig races, high striker, rock wall, corn cannon, face painting, knockers balls, zip line, contests and much much more.
Carlsbad Strawberry Fields
Sept 27 – TBA
Featuring hay rides to pumpkin fields, Field of Screams Haunted Corn Maze (Fridays & Saturdays only), kids corn maze, pumpkin painting and giant pumpkins.