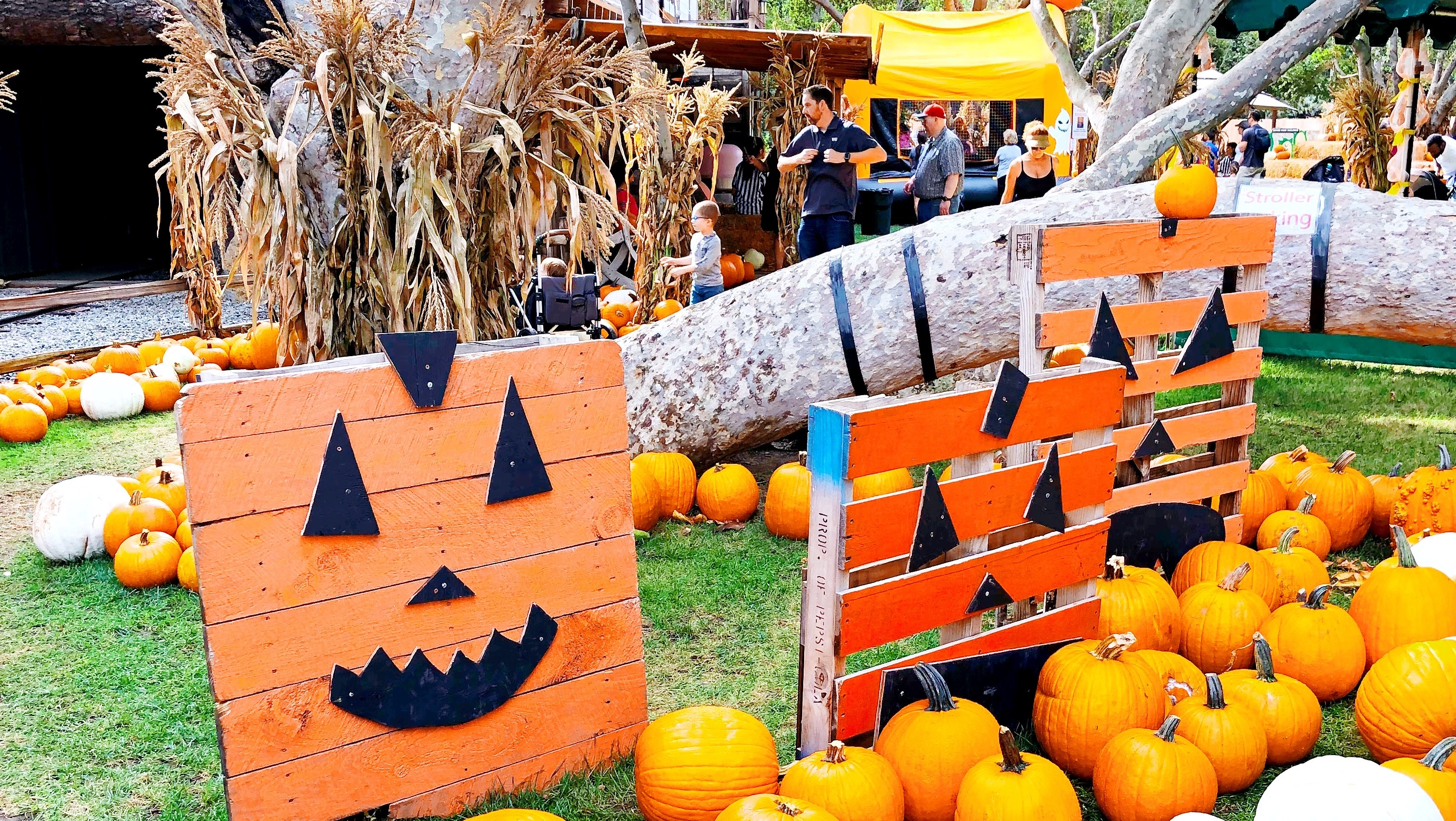 Travel
2021 Orange County Halloween Events
2021 Orange County Halloween Events
Family-friendly Halloween events in Orange County 2021
Halloween events in Orange County are back! There's tons of fun things to see, eat and do this Halloween season and we're happy to be rounding up as many events as we could find for you.
This Orange County Halloween events list is organized by city and noted where the entrance are FREE. Use it as a jumping off point to celebrate this holiday in Orange County and choose a few holiday events to attend.
We put together so many Halloween family events including small business pop-ups, haunted houses, halloween parties, fall festivals, and celebrations. Scroll down and let us know in the comments which one is your favorite!
p.s. If you're looking for more fun things to do in Orange County this Fall, check out our Orange County Fall events guide!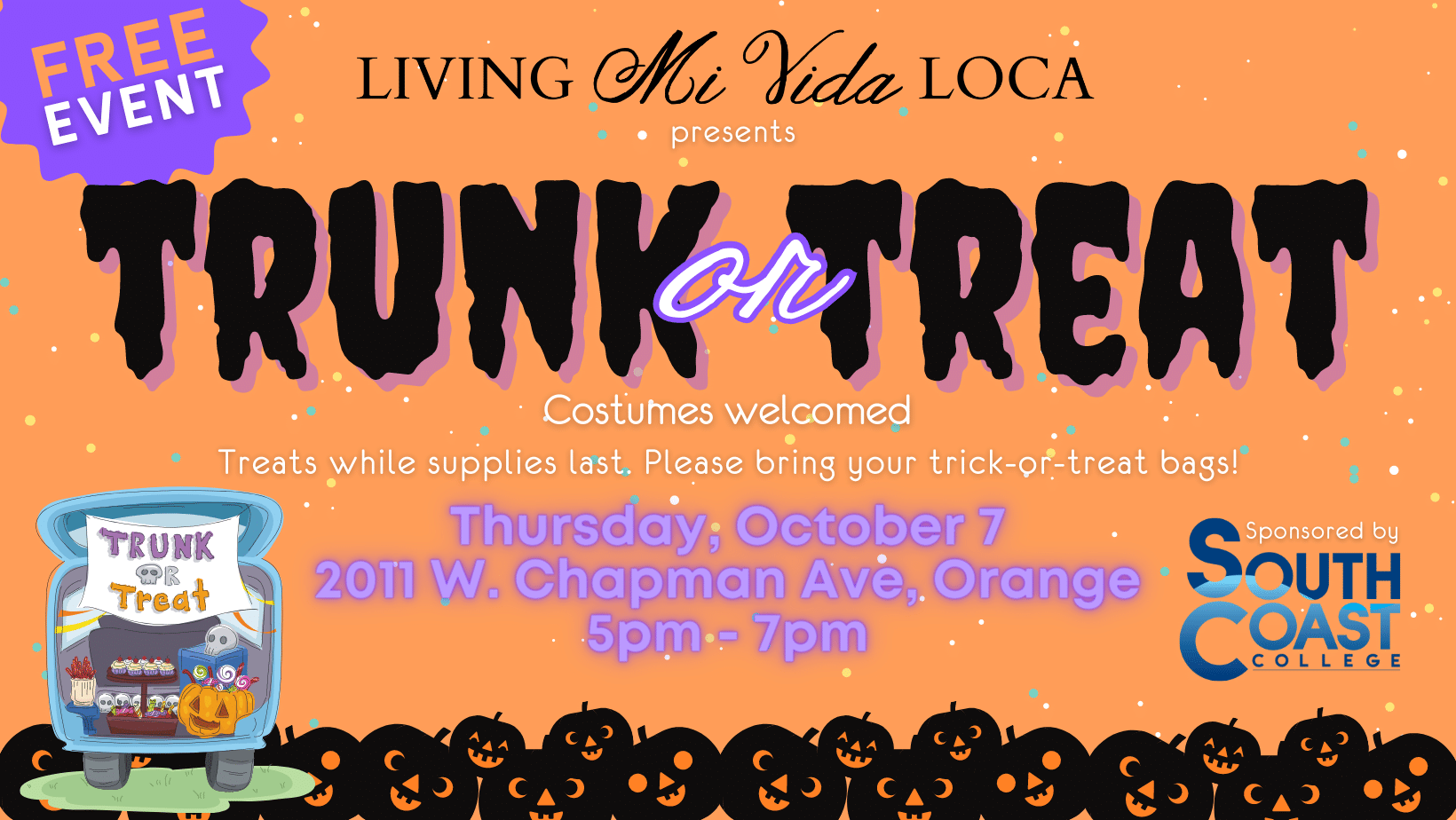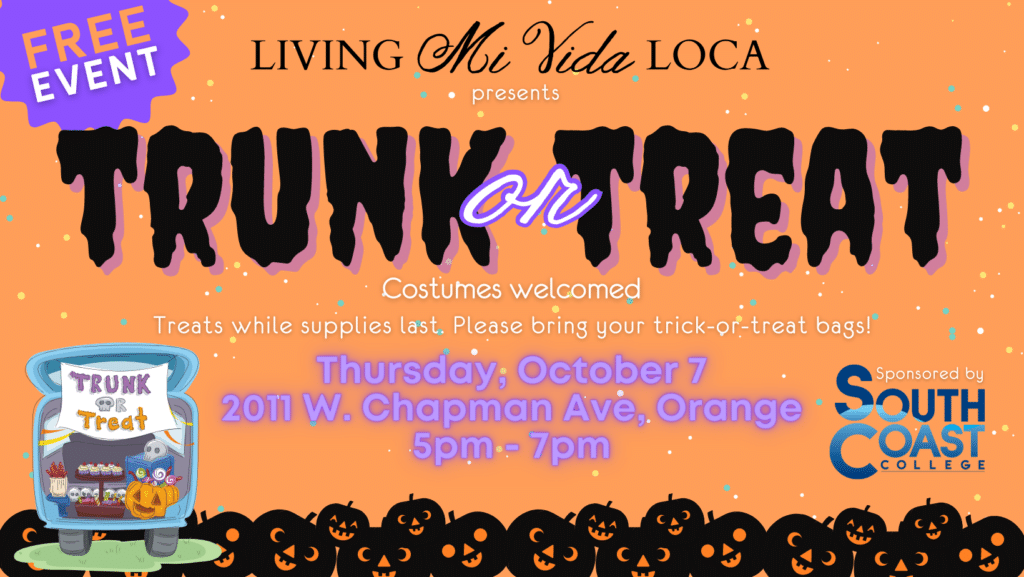 Orange County Halloween Events organized by city
ANAHEIM
Halloween events in Anaheim
FREE Anaheim Fall Festival & Halloween Parade
Virtual and in-person | October 1-31, 2021
Varies
Details and rules on our contests (you can win prizes!!) and kids crafts, cool artist "booths", a preview of which entertainers will be featured in our upcoming live variety shows, shout-outs to our fabulous sponsors, fun memories on our history page and even a sneak peek at the "appearing this year only" Scavenger Hunt Halloween Parade. So come on along, join us as we celebrate the wacky, wonky and thoroughly heart-warming community that is Halloween in our hometown.
FREE El Dia de los Muertos
Anaheim Town Square | October 24, 2021
3:00PM-6:00PM
Costume contest, kids crafts, chalk art with kids chalk zone, face painting, mariachi and more.
FREE Harvest Blast
309 N Manchester Avenue | October 23, 2021
4:00PM-9:00PM
A family-friendly event for the whole community! Costume Parade, Petting Zoo, Obstacle Course with Jumper
Kids Arts and Crafts, Face Painting, Cookie Decorating , Candy Treats for ALL at every vendor booth, Shopping at 35++ Vendors, Live Music, Delicious Food, Yummy Desserts, Raffles and more!
FREE Halloween Night Market
Anaheim GardenWalk | October 22nd, 23rd, 29th, 30th, 31st
3:00PM; 5:00PM; 7:00PM timed entry
Enjoy an evening of shopping from 60+ of your favorite spooky vendors, live entertainment, food trucks, and fun photo ops!
Oogie Boogie Bash – A Disney Halloween Party
Disney California Adventure | select nights Sept 9–Oct. 31st
6:00PM-11:00PM
It's almost time to celebrate Halloween Time at the Disneyland Resort with the long-awaited return of Oogie Boogie Bash – A Disney Halloween Party. So dress in a fun costume and discover thrills and chills for every member of the family…from Mickey's Trick & Treat show to our Frightfully Fun Parade, and even trick-or-treating!
FREE Anaheim Plaza Trick-or-Treat
Anaheim Plaza | Oct. 30, 2021
11:00AM-1:00PM
For Kids ages 12 and under, dressed in costume can enjoy a FREE and SAFE way to TRICK or TREAT in the light of day!

Kids must be dressed in costume to participate. Candy available from 11 am – 1 pm or while supplies last. Look for the "Trick or Treat" signs posted in the windows of participating stores and restaurants.
FREE Safe Harvest Halloween Festival
West Anaheim Youth Center | Oct. 31, 2021
3:00PM-6:00PM
Grandma's House of Hope annual Safe Harvest event provides a safe alternative to trick or treating on Halloween for the low-income families living in motels in Anaheim. The event serves 1200 children and their families. To successfully provide for Safe Harvest we need roughly 8,000 pounds of candy, 20 carnival style game booths or activities, child appropriate entertainments and food and drink.
$25 Tunnel of Terror OC Car Wash
2219 West Lincoln Avenue | Oct. 7, 8, 14, 15, 21, 22, 28, 29, 2021
5:00PM-10:00PM
A world class car wash experienced with a haunted tunnel that you and loved ones will never forget all from the comfort of your own vehicle.

Tunnel of Terror OC Haunted Carwash is a carefully curated experience, with ghosts and ghouls popping up throughout the wash, and special effects providing a terrifying ambiance. Participants can also expect unique surprises each night!

Tunnel of Terror OC will have no age limit, as all visitors are expected to remain in their vehicles at all times throughout the event.
WATCH: https://www.instagram.com/p/CVVrbKupixl/
BREA
Halloween events in Brea
FREE Halloween Costume Exchange
Brea Resource Center | October 9, 2021
9:00AM-5:00PM
We are taking costume donations until October 7th. You don't have to donate to "shop" on October 9th, just come in after 10am. All costumes are free! You don't have to live in Brea to participate
BUENA PARK
Halloween events in Buena Park
$52+/person Knott's Spooky Farm
Knott's Berry Farm | Saturdays & Sundays, Sept. 25 – Oct. 31
9:00AM-5:00PM
Enjoy the spooktacular Halloween season at Knott"s Spooky Farm, an event full of Halloween activities for kids ages 3-11. Little ghouls can trick-or-treat through Ghost Town to collect sweet Halloween treats. Fun Halloween-themed shows are in store. Guests of all ages can learn about the creepy crawly critters occupying Ghost Town"s Livery Stable.

The Halloween Hootenanny returns as The Timber Mountain Log Ride transforms with spooky but family-friendly surprises. The fall daytime Seasons of Fun event is included with regular park admission or your Season Pass.

On Instagram: https://www.instagram.com/p/CUbcapsFQ8B/

WATCH: https://www.instagram.com/p/CUTcK8ppNzl/
CORONA DEL MAR
Halloween events in Corona del Mar
FREE Cabinet of Curiosities
Roger's Gardens | September 6-October 30, 2021
9:00AM-6:00PM
Experience the thrill of classic horror as you explore the rooms of our eerie and unusual house. Haunted walls hide unseen activity, and otherworldly creatures lurk at every corner.

Discover cabinets overflowing with unusual artifacts, and decadent decor with a twist. The sinister styled rooms are decorated with a beautiful, eclectic collection of antiquities and curios.

Connect with your inner ghoul and monster at Roger's Gardens.

WATCH: We visited Rogers Gardens.
COSTA MESA
Halloween events in Costa Mesa
$35+ Boo Ha Ha!
OC Fair | October 29-30, 2021
6:00PM-12:00AM
The Boo Ha Ha will feature 3 hours of unlimited beer tastings from some of the nations top breweries! We will have a strong focus on Oktoberfest and German style lagers but will of course… have all the west coast favorites as well! Beer Tastings will be available from 6PM – 9PM and concessions will be available afterwards.

We strongly encourage costumes! The event will feature live music from an AMAZING lineup of artists that are sure to make this one of the most memorable Halloween weekends of your life!
$20/person (includes a U-Pick Pumpkin) Hana Field Pumpkin Patch
Hana Field | October 1-31, 2021 (weekends only)
9:00AM-6:00PM
Pick your own pumpkin! Wander through the flower fields! Take a Wagon Ride around the fields! Open on weekends only.
FREE Barkoberfest
Tewinkle Park | October 30, 2021
11:00AM-2:00PM
Pet adoptions, pet costume contets, vendors, dog training introductory class, and much more!
FREE Scarecrow Festival
Lions Park Event Lawn | October 16, 2021
11:00AM-3:00PM
A tradition dating back to 1930's, sign up to create your own scarecrow. Enjoy train rides, face painting, pumpkin patch and crafts. Free!
FREE Trunk or Treat
IKEA | October 29, 2021
4:00PM-7:00PM
Bring your own bags to collect candies from decorated trunks. Interactive booths, activities, and a costume contest.
CYPRESS
Halloween events in Cypress
FREE Trunk or Treat
5800 Lincoln Ave | October 19, 2021
5:00PM-9:00PM
Food trucks, movie cars and more
DANA POINT
Halloween events in Dana Point
$25 non-member; $15 member Creatures of the Night
Sherman Gardens & Library | October 29-30, 2021
5:00PM-8:00PM
Creatures of the Night is a lively and engaging event where families can come to have fun while learning about the habits of birds of prey and nocturnal animals.

Enjoy an eerie garden walk and discover what plants do after dark. Toxic specimens, night blooming plants, and the Forbidden Jungle await! Dissect an owl pellet in the Nocturnal Alley, or create your own baby owlet out of a pinecone at the craft table. Or both!

Attendees will receive a passport to explore the Gardens after dark and visit interactive animal stations that delve into the nocturnal world and its inhabitants. Guests can get up close to birds of prey, tortoises, creepy, crawly bugs and get a close look at dissected carnivorous plants. Scorpions, tarantulas, lizards, snakes and other nocturnal animals will all be in the gardens. It is not a trick-or-treating, haunted house, or scary adventure.
WATCH: We visited Sherman Gardens
FREE Pumpkin Decorating
Dana Point Library | October 26, 2021
1:00PM-5:00PM
Stop by any time between 1pm and 5pm to decorate your pumpkin without carving. Bring your own pumpkin to decorate! We will provide paint, sequins, feathers, and a bunch of spooktacular materials for you to use.
FULLERTON
Halloween events in Fullerton
$30+ The 17th Door Haunt Experience
1851 W Orangethorpe Avenue | select dates September 17-October 31, 2021
6:00PM-12:30AM
OC's scariest & most intense haunted house known for pushing boundaries! Mind-blowing rooms, shocking innovation & unique experiences that have never been undertaken before in a haunt, including an epic 45 minute add-on experience called The Field Trip!
FREE Downtown Fullerton Market
723 S Harbor Blvd | October 23, 2021
12:00PM-5:00PM
Support 15+ vendors at Downtown Fullerton Market pop-up. Family and Pet Friendly event. Dog Halloween Costume Contest at 1pm. Kids Halloween Costume contest at 3pm. Food, drinks, live DJ, live giveaways.
$2 (12 years+); $1 (11 years and under) Spooky Food Festival
723 S Harbor Blvd | October 2, 2021
6:00PM-9:00PM
Menu's consisting of yummy delicious treats: burgers & fries, coffee & baked goods, cookies custom, cinnamon bun rolls, tamales & champurado, cake jars & so much more!!
GARDEN GROVE
Halloween events in Garden Grove
$10 (ages 3-13); $2 (ages 14+); FREE (under 2) Jack-o-Lantern Jamboree
Atlantis Play Center | October 30, 2021
1:00PM-4:00PM
Tickets on sale Monday, October 11 through Friday, October 29 until quantities are out. Tickets available by phone, in person, or online at ggcity.org/reggister. No ticket sales at the door.
$7 Salem's Halloween Market
Garden Grove Elks Lodge | October 2-3, 2021
1:00PM-4:00PM
Halloween market. Sign up for the Annual Costume Contest on Sunday October 3rd at Salems Market 2021!! Three different Costume Contests with Cash Prizes!
HUNTINGTON BEACH
Halloween events in Huntington Beach
FREE Halloween Bash
SeaSalt Beachside Burger | October 30, 2021
5:00PM-8:00PM
Join us for a Halloween costume concert at the beach!! Live music, food, beer, wine, pet and kid friendly! Wear your costume.
$20/family Fall Fest
Worth Park | October 23, 2021
3:30PM-8:30PM
Fun family activities will include: a pumpkin patch and carving station, games, food trucks, a move and more! 3:30-6pm fall fest activities. 6:30-8:30pm: Monster House screening. Register online at hbsands.org. Activity code: 411202.
IRVINE
Halloween events in Irvine
$6/person Tanaka Farms Pumpkin Patch
Tanaka Farms | September 18-October 31, 2021
9:00AM-6:00PM
Have you ever picked your own pumpkin right out of the pumpkin patch? Tanaka Farms is one of the only farms in Orange County with a REAL pumpkin patch! We offer lots of activities, from wagon rides to arts and crafts!

No reservations are needed Monday thru Thursday, or Friday before noon. Parking Passes are required Fridays starting at noon, Saturdays & Sundays.

WATCH: https://www.instagram.com/p/CUc_Ug2Je5F/
$22+ Halloween Harvest Fit Fall 5K/10
5500 Irvine Center | October 23, 2021
8:00AM-11:00AM
We are combining the traditional Halloween/Harvest theme (so if that's your gig, costume it up, join in games, costume contests, and super fun selfies and awards, but also adding an army/boot camp. A chance to play army at boot camp skill stations before or after the run. A chance to get army face painted. And an additional awards added for not only best Halloween costumes, but best themed in a uniform!
FREE Howloween Pawty
Woofpak Pet Kitchen – Irvine Spectrum | October 30, 2021
11:00AM-1:00PM
Ghosts and Witches and Creatures of Fright, Don't miss the call of Halloween Night at Woofpak's "Howloween Pawty" at Irvine Spectrum
Get your tickets now at woofpakpetkitchen.com for FREE Woofpak Treat Bag, Costume Contest with PRIZES
Spectators no tickets necessary! Only dogs entering in competition required tickets due to limited space (available to purchase online & at the store)
$12; $10 online Spooky Baby Steps
Pretend City | October 10, 2021
8:00AM-9:30AM
Join us for this October's Baby Steps event as we explore some of nature's creepy crawly critters! Exploring the different types of bugs in your backyard or on your evening walks can teach your little one about nature and help them develop positive attitudes towards themselves, natural life, and the earth! Asking questions such as "I wonder what's under the rock?", "What is that bird eating?", and "Does that flower smell good?" encourages and nurtures early interest in the natural world! Specifically, for: Infant (0-18 months), grownups. For the comfort of our infant guests, no older siblings please.
Included with museum admission The OC Ghostbusters
Pretend City | October 23, 2021
All day
We ain't fraid of no ghosts…especially because the Ghostbusters will be here to handle all of the ghouls and goblins that try to impede on our fun. Join us for a spooky good time with hands-on activities and photo-ops.
Included with museum admission Frankenstein Friday
Pretend City | October 29, 2021
All day
In honor of Mary Shelley's classic fictional character, Frankenstein, we're celebrating this green giant with monstrously fun activities. We may not be mad scientists, but we're mad about monsters!
WATCH: https://www.instagram.com/reel/CVaxkdOJKNA
Included with museum admission Trick-or-Treat through the City
Pretend City | October 31, 2021
General Admission: 12:00PM, 3:00PM & 4:00PM | Members Only: 10:30 AM
We're all treats and no tricks here in the city! Come be a part of our special trick-or-treat extravaganza as our Pretendgineers give away some neat surprises! This party is bound to be a scream!
FREE Bouncing Bats: Small but Mighty!
Irvine Park Railroad | October 6, 2021
7:00PM-9:00PM | Members Only: 10:30 AM
After the sun has set, the night sky fills with small but mighty flying bats. Enjoy an evening discovering how important bats are to our ecosystems and how they help us stay bug-bite free! The program begins with an informal introduction to bats in the Soda Fountain at your own leisure. Then, breaking into groups, we will walk around the lake to search for these nighttime flyers as they race around catching their dinner. Bat detectors will help to identify and hear their high-frequency calls.
FREE Kids Halloween Party
YMM Art Space, 4505 Barranca Pkwy, STE B | October 30, 2021
2:00PM-4:30PM
$10 for children 12 & younger Monster Splash
William Woollett Jr. Aquatics Center | October 23, 2021
3–5 p.m. & 5–7 p.m.
Dress in your spooky-best and join us at the pool to celebrate Halloween! In addition to trick-or-treating around the pool decks, we'll have a floating pumpkin patch and decorating station. Enter the Halloween costume photo contest before changing to swim in the enchanted lagoon. Work up an appetite in the bounce houses before you purchase a ghoulish snack from gourmet food trucks. Come partake in the fun! Free parking. Registration required.
LA HABRA
Halloween events in La Habra
FREE La Habra Towne Center Halloween Event
Paseo Gonzalez, 1305 W. Whittier Blvd. | Oct. 9, 2021
2:00PM-4:00PM
Crafts, Music, Face Painting, Balloon Twisting & Giveaways!
LADERA RANCH
Halloween events in Ladera Ranch
FREE Family Ghost Bingo
Ladera Ranch Library | Oct. 13, 2021
4:00PM-5:00PM
BOO! It's BINGO! Join us for a spooooky, fun time playing Ghost Bingo for booooks and treats. Generously sponsored by the Friends of the Ladera Ranch Library
FREE Halloween Snap & Treats
Crown Valley Amphitheater | Oct. 16, 2021
9:00AM-4:00PM
Put on your Halloween costumes and join us for family photo snaps. Bring your cell phones to take pictures with the harvest themed backdrops. You can also stop by the craft table for a scarecrow surprise!
Reservations are required and will be available on Friday, October 1 at 9:00 AM. One 10-minute time slot per family and a maximum of 6 people per group. Furry friends are welcome and must be on leash!
Starting on October 1st, you can reserve your timeslot at bit.ly/HalloweenSnapandTreat2021.
FREE Fall Boutique & Crafts Faire
Crown Valley Community Center | Oct. 2, 2021
9:00AM-2:00PM
Shop from a variety of vendors selling unique and one-of-a-kind items. Start your holiday shopping early, or treat yourself to something special.
NEWPORT BEACH
Halloween events in Newport Beach
FREE Annual Fall Faire & Pumpkin Patch
Environmental Nature Center | Oct. 17, 2021
10:00AM-3:00PM
Embark on a "Craft Crawl" and "Story Walk". Play nature games, and watch performances around the "Fire Circle Stage". Enjoy delicious treats from our SavorOC restaurant sponsors. Get your face painted and pick up a pumpkin or two!
ORANGE
Halloween events in Orange
FREE Trunk or Treat hosted by Living Mi Vida Loca
South Coast College, 2011 W. Chapman Ave | Oct. 7, 2021
5:00PM-7:00PM
Family Friendly event

COVID safe outdoor event

Please wear a mask
and maintain social distance
Bring your bag to trick-or-treat!
FREE Halloween Spooktacular
Orange Public Library | Oct. 23, 2021
1:00PM-3:00PM
Stop by the Library for thrills, chills and treats. Come in costume to pose for a Spooktacular photo and stroll through the Haunted Room if you dare. Then pick up a spooky Take & Make craft kit. Visit the Spooktacular webpage beginning October 1 for more details.
FREE Irvine Park Railroad Pumpkin Patch
September 18-October 31, 2021 | Irvine Park Railroad
The Pumpkin Patch is located just behind the train station and admission is FREE. Please note that a gate entrance fee will be charged by the County of Orange for each vehicle that enters Irvine Regional Park.

If you plan to visit us on busy weekends, we suggest that you plan to arrive early in the morning to help avoid park entrance and parking delays.
FREE Great Pumpkin Weigh-off
September 25, 2021 | Irvine Park Railroad
9:00 am
Pumpkin growers will see if they have what it takes to win a prize for growing the biggest pumpkin. Cash prizes will be awarded.
RANCHO SANTA MARGRITA
Halloween events in Ranch Santa Margarita
FREE Halloween Family Festival
D30842 La Miranda | Oct. 31, 2021
2:00PM-5:00PM
Enjoy "spooktacular" fun for all ages at SAMLARC's Halloween Family Festival! Families can trick-or-treat in a safe and welcoming environment, play in bounce houses and inflatables, enter the costume contest, and join in the child and pet costume parade. Attendees are encouraged to capture their favorite memories at a festive photo booth, purchase refreshments from local vendors, and enjoy music, games, and more.
SAN CLEMENTE
Halloween events in San Clemente
$5 Spooky San Clemente
San Clemente Community Center | Oct. 23,2021
4:00PM-7:00PM
Tricks & Treats for All Ages! Grab your costumes and bring the family to the Community Center for a night of games, costume contest, trick-o-treating, pumpkins, and more! Avoid the ticket lines and purchase your pre-sale wristbands today for only $5.
FREE The Pumpkin Patch
Outlets at San Clemente | September 24-31, 2021
Times vary
Inflatable Amusements including bounce houses, GIANT slides and obstacle courses, Duck Bumper Boats as well as different types of Pumpkins, Gourds, Pumpkin Accessories, Snacks, Beverages and more.

WATCH: https://www.instagram.com/p/CUTIX2EBKPG/
FREE Candy Crawl
Outlets at San Clemente | October 30, 2021
1:00PM-3:00PM
Free trick-or-treating, pumpkin patch, live music and spooky fun
FREE Big Jack's Fall Festival
Outlets at San Clemente | September 25,2021
10:00AM-4:00PM
Local makers, live music, good grub, kids activities, pumpkin patch and so much more
FREE Pumpkin Splash
San Clemente Aquatics Center | October 30, 2021
11:30PM-4:30PPM
Pumpkin Splash will take place at the San Clemente Aquatic Center October 30th. Two sessions beginning at 11:30a & 2:00p! Attendees of all ages can swim in the Activity pool & Play Structure, float around with pumpkins, listen to spooky music, play on the inflatable obstacle course, and enjoy Halloween themed activities in and out of the pool! Each participant will enjoy one pumpkin for decorating while supplies last. Entry fee is $7 per person pre-registered space is limited. Participants must successfully pass a swim test to play on the giant inflatable in the 50M pool.
SANTA ANA
Halloween events in Santa Ana
$19.95/adult; $14.95/child Spooky Science featuring The Monster Academy
Discovery Cube | Oct. 1-30,2021
10:00AM-5:00PM
Our spook-tacular celebration is right around the corner. Spooky Science featuring the Monster Academy is coming soon. Visit on Halloween weekend, October 30 and 31, for the costume party parade and trick-or-treating at the museum!
$29.95/person (3+) Boo at the Zoo
Santa Ana Zoo | Oct. 23, Oct. 24, Oct. 29, Oct. 30
5:30PM–7:30PM
Boo at the Zoo is one of Orange County's longest-running Halloween events, providing a fun, safe, and family-friendly event for children of all ages who love to embrace the Halloween spirit!
Guests will discover "merry, not scary" decorations throughout the Zoo, making this an activity the whole family can enjoy together, wearing family-friendly costumes and collecting goody bags for each child on their way out.
Our exciting "Boofari" Express Train, Conservation Carrousel and Fifty Monkey Ferris Wheel rides will be entertaining little ghouls and goblins all night long. Parents, don't forget your cameras! Boo at the Zoo will provide great photo opportunities to last a lifetime!
$45 2021 Witches' Brew Tea
Heritage Museum | Oct. 16, 2021
11:00AM–1:00PM
Join the Victorian Tea Society at Heritage Museum for fiendish food and Witches' Brew! Don't forget to bring your broom and costume! There will be spooky house tours and photo opportunities!
FREE The Pumpkin Corral Pumpkin Patch
MainPlace Mall | Oct. 3-31, 2021
Mon-Thurs: 5pm-9pm / Fri: 4pm-10pm / Sat:10am-10pm / Sun: 10am-9pm
Snack Bar, Petting Zoo, Pumpkins, Field Trips, Inflatable Rides & Slides, Mechanical Kiddie Rides, Games, Bungee Jump, Bobbles, Pony Rides, Face Painting, And MORE!!
FREE Trick-or-Treating
MainPlace Mall | Oct. 31, 2021
2:00PM-4:00PM
MainPlace invites guests to join us from 2pm-4pm (or while supplies last) on Sunday, October 31st to trick-or-treat throughout the mall! Participating retailers will have a sign displayed in their window indicating they have candy available.
We encourage everyone to come dressed up in your Halloween costume, however, anyone over 12 years of age is asked not to wear a Halloween mask (though COVID masks are encouraged) or to wear a costume with a weapon
STANTON
Halloween events in Stanton
$29.50/person Adventure City Boo-Tastic Halloween Party
Kaleidoscope Mall | Oct. 1st, 8th, 15th, 22nd, 28th and 29th
5:30PM-9:30PM
6 Nights of Adventure City Boo-Tastic Halloween Party! Tickets are available online now at www.adventurecity.com. Come join us for this super family-fun Halloween adventure! Let's go on a Halloween Scavenger hunt, boogie along at our Spooktacular dance party, go through a spinning vortex, meet a mad scientist Magician, get candy and toys at our Trick-or-Treat Street and sooooooo much more! First event is Friday, October 1st! Buy tickets now before they all disappear! Tickets are not sold at the gate.
ORANGE COUNTY HALLOWEEN EVENTS IN VARIOUS LOCATIONS
Orange County Haunted Ghost Walks
Through October 31 | 6 Historic Locations in OC
Haunted Orange County is officially OPEN all season and just added OVER 30 NEW TOURS from now until October 31st! Choose from Old Town Orange, Santa Ana, Gold Star Canyon, Kellogg House, San Juan Capistrano, and Fairhaven Cemetery. All tours are still running with safety protocols in place including face covering requirements, strict social distancing, and limited tour group sizes.
OC Ghosts and Legends Ghost Walks
October 1-31, 2021 | Black Star Canyon and San Juan Capistrano
OC Ghosts and Legends is the #1 source for authentic haunted tours and events in southern california and beyond. If you're seeking an intimate and authentic paranormal experience, you're in the right place.
FREE Pumpkin City Pumpkin Farm
October 1-31, 2021 | Anaheim Town Square and Laguna Hills Mall
Come celebrate Halloween at Orange County's premier Harvest Festival. Meander through thousands of pumpkins in all shapes and sizes in a charming farm atmosphere. Enjoy a host of amusement rides, game booths, and activities all set under the canopy of the beautiful autumn sky. Free parking.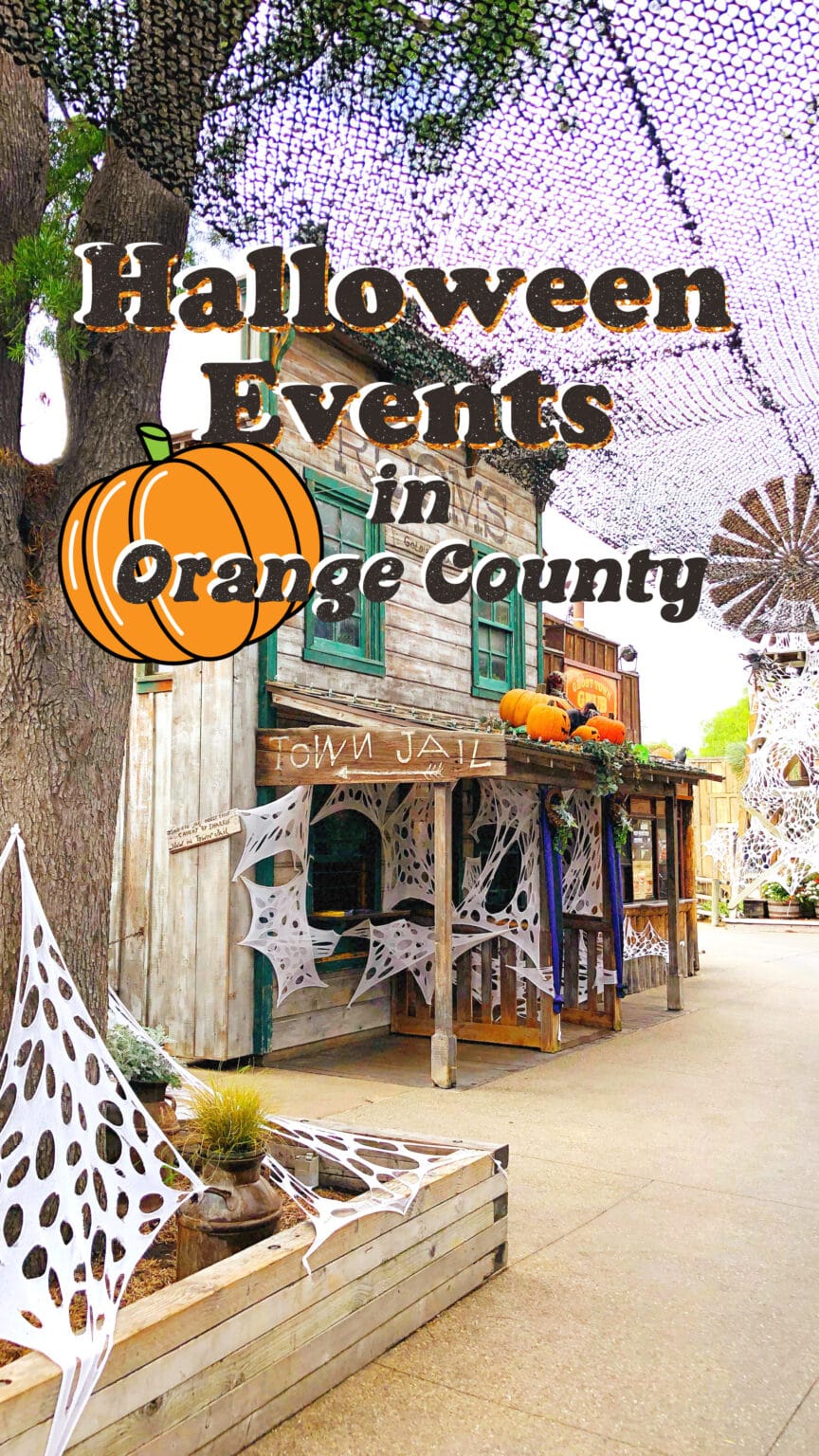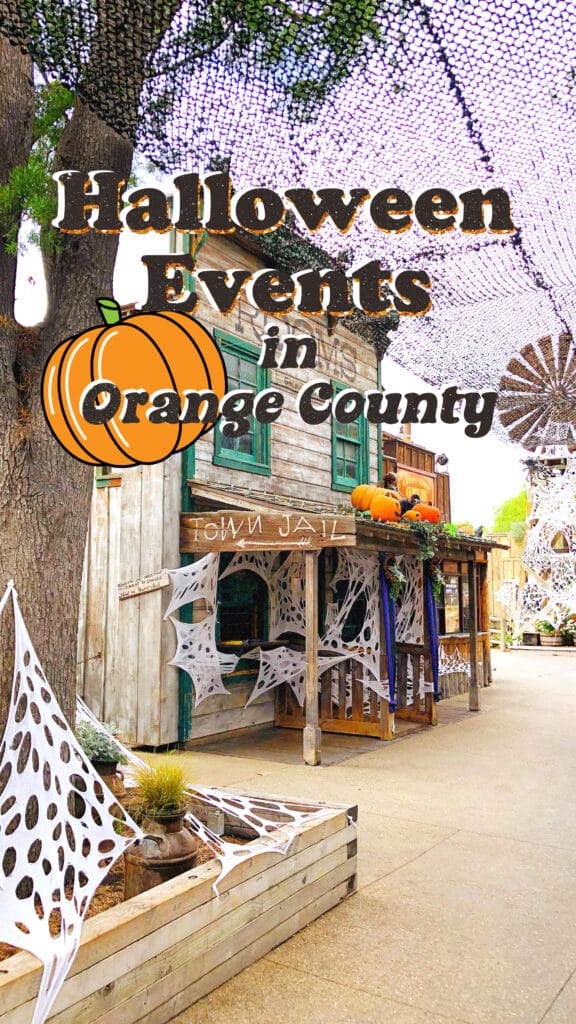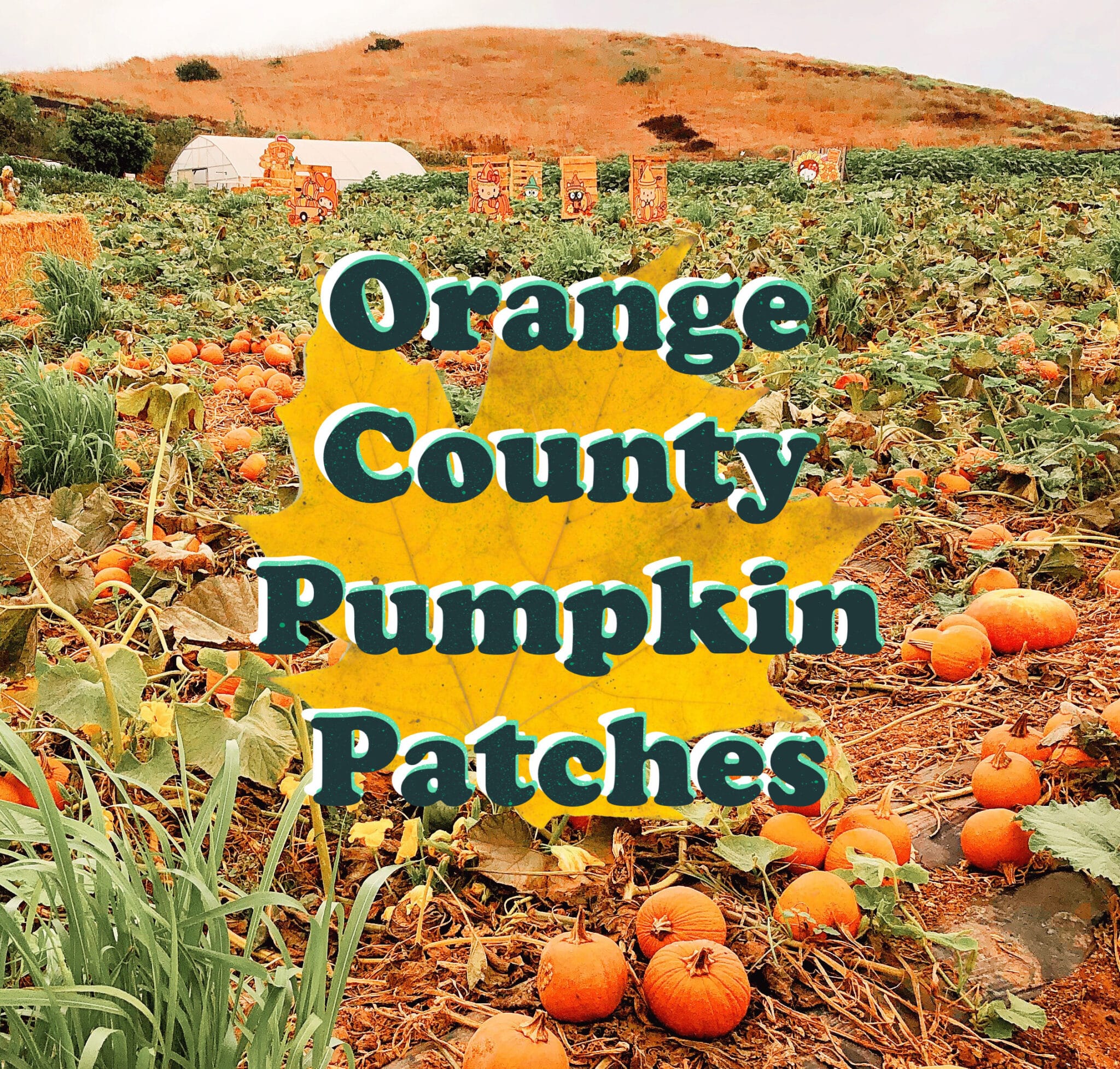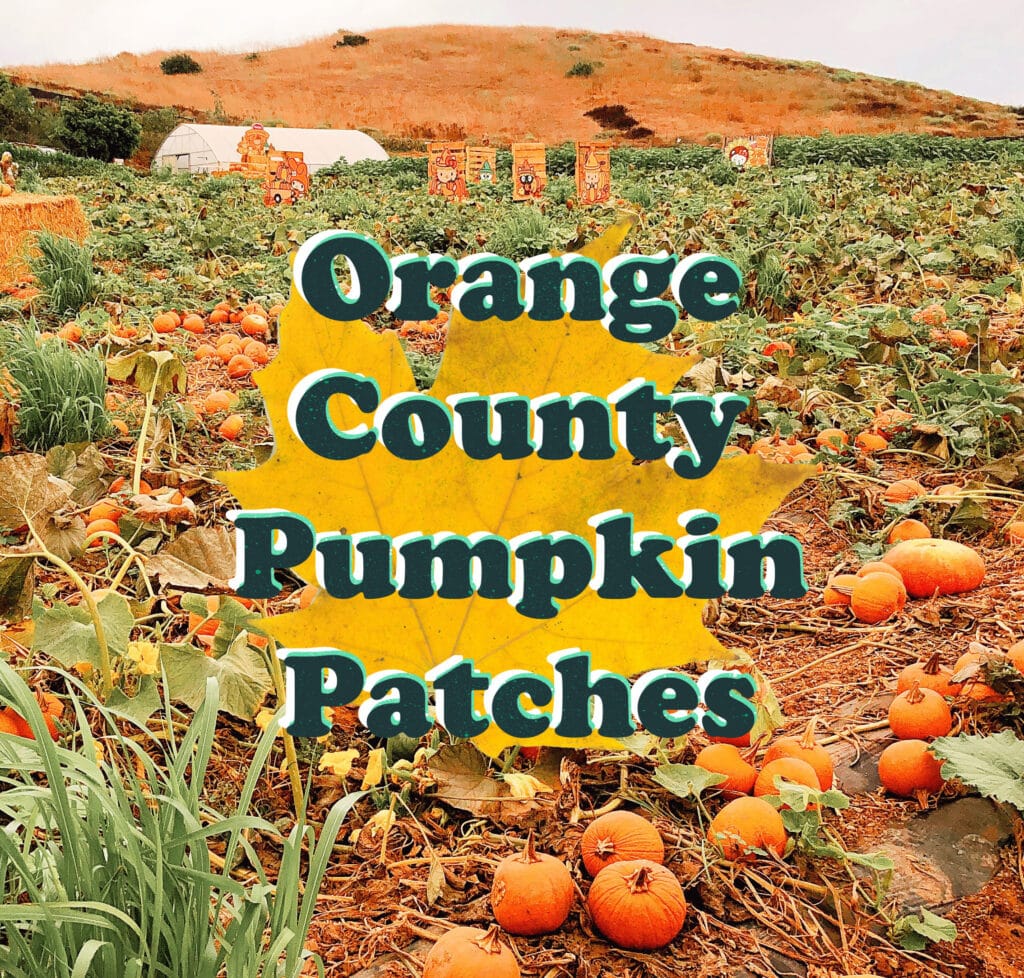 Originally published on September 8, 2021. Last Updated on October 25, 2021 by Pattie Cordova