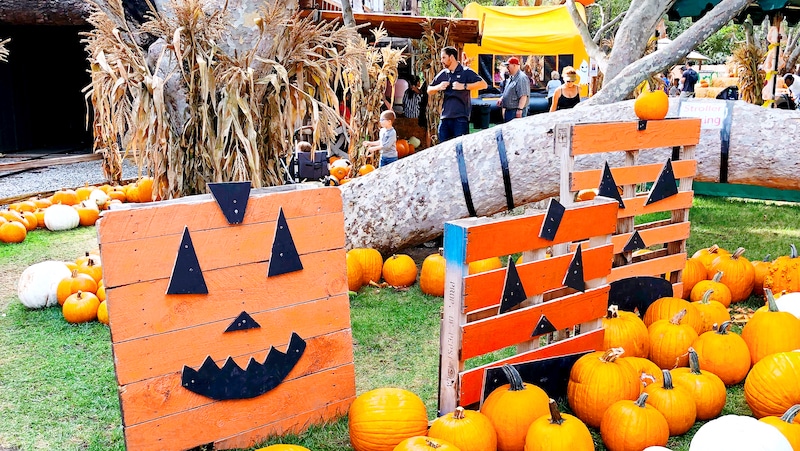 Fall Events in OC
Irvine Park Railroad Pumpkin Patch prices for food, tickets and more!
Orange County has a super fun pumpkin patch with thousands of pumpkins to choose from at Irvine Park Railroad pumpkin patch! There are tons of activities to do for the entire family and it's definitely best to plan ahead. Don't forget that Irvine Regional Park does have a fee to enter the park, and varies depending on the day of the week.
If you're in the area, don't forget to check out more Fall things to do in Orange County.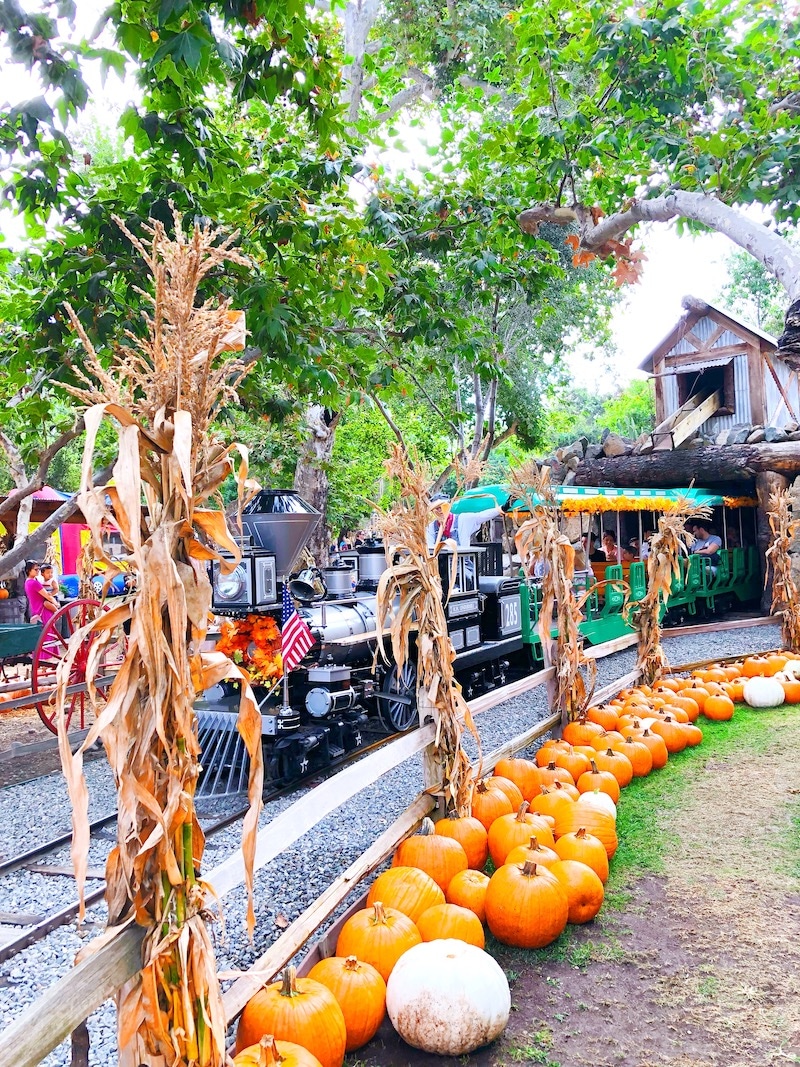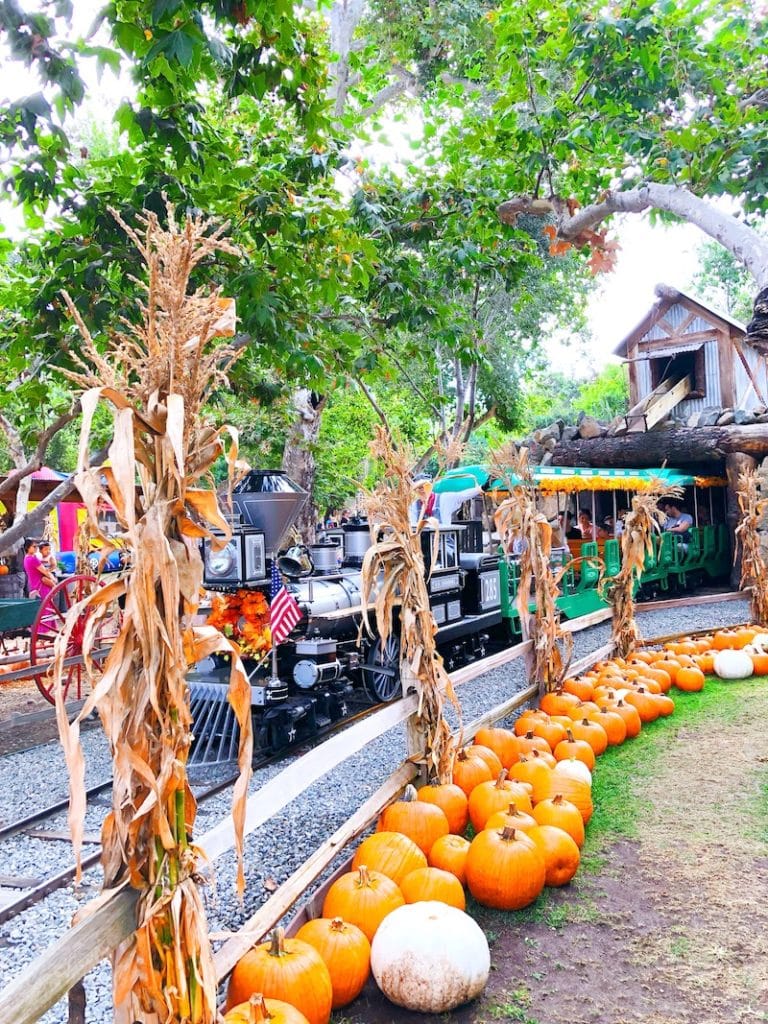 Tip #1: Arrive early. We arrived as early as possible and so glad we did. We got our tickets and went off to do some activities. We opted for the ones we thought would fill up the fastest.
Tip #2: If you want to do the train ride – do it first. It gets really busy and if you have little ones, you'll want to have a short wait.
Tip #3: Each activity costs one ticket AND each person that plays wins!!! Be prepared to haul home a bunch fun prizes like inflatable donuts.
Irvine Park Railroad Pumpkin Patch Dates and Time
Dates: September 16 – October 31
Location: 1 Irvine Park Road, Orange, CA 92869
Weekdays: 10:00 am – 5:00 pm
Weekends: 8:00 am – 6:00 pm
Irvine Park Railroad Pumpkin Patch Tickets
Tickets are available for $7.00 each. You can buy them individually, or get a book of 15 tickets for $90.00. You save $15 this way and it'll help you budget out your experience.
Irvine Park Railroad Pumpkin Patch Parking
Weekdays: $3 per vehicle
Weekends: $5 per vehicle
Holidays: $7 per vehicle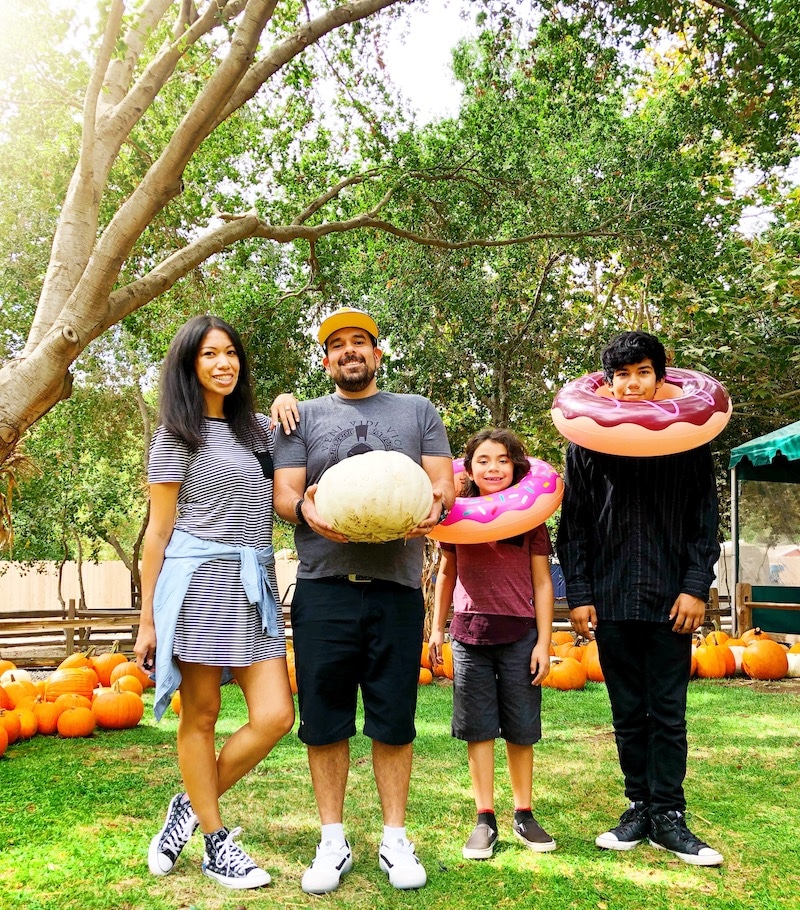 Pumpkin Patch Activity Prices
Train Ride (12 months and younger ride FREE) – 1 ticket
Hay Ride (12 months and younger ride FREE) – 1 ticket
Moon Bounce – 1 ticket
John Deere Racers – 1 ticket
Cookie Decorating – 1 ticket
Ring-A-Pumpkin – 1-2 ticket(s)
Bank-A-Ball – 1-2 ticket(s)
Panning for Gold – 2 tickets (activity lasts 5 minutes)
Face Painting – 2 tickets
Pumpkin Decorating – 2 tickets
Haunted House – FREE
Hay Maze – FREE
Pumpkin prices
The Irvine Park Railroad pumpkin patch has pumpkins for sale all throughout the park. Pumpkins start at $6 and bigger ones can cost over $26. There is a table stand with pumpkins on there that will give you an idea of how much the pumpkin you chose costs.
Free things to do at Irvine Park Railroad Pumpkin Patch
Go through the haunted house. It's a small location and just the perfect amount of spooky. It's not too dark and inside it's lit with small bulbs. Go through it once as a family, and then encourage the kids to go through it by themselves.
Find your way through the hay maze. This hay maze is great for kids that are about 54″ or less. Parents can look over and find their way easily out, but the little ones may find it a bit challenging. It's fun to see them figure it out.
See how much you've grown this year. Take a picture by the giant ruler and start (or continue) the tradition seeing how tall you are this fall.
See the pumpkin winner. Each year, the Irvine Park Railroad has a contest to find a winner for the biggest pumpkin. This year, the winning pumpkin 1,758 pounds and took home a $5,000 prize. The kids get a kick out of seeing giant pumpkins.
Take lots of pictures. There are a ton of photo opps throughout the pumpkin patch including head cut-outs, a lot of pumpkins and hay seats.
The Great Pumpkin Weigh-off
Saturday, September 23, 2023
Starting at 9:00 am
See if pumpkin growers have what it takes to win a prize for growing the largest pumpkins. $6,700 in cash and prizes will be awarded.
On this day only, they will have a lot of giant pumpkins. All Pumpkin Patch activities will be open and can be enjoyed by all visitors.
Visiting the Irvine Park Railroad pumpkin patch is a fun tradition for the entire family. Plan ahead and make it a fun morning that is stress free and full of photo opportunities.
Dogs are allowed at Irvine Park Railroad, but not at the Irvine Park Railroad pumpkin patch.
Originally published on August 7, 2023. Last Updated on August 18, 2023 by Pattie Cordova