Pumpkin Palooza Festival at Discovery Cube – NEW for 2022
Visit Orange County's first-ever Pumpkin Palooza Festival at Discovery Cube in Santa Ana, CA! This NEW event for 2022 is happening at Discovery Cube Orange County.
Don't worry, if going to Spooky Science is a tradition, you can still do it at Discovery Cube Los Angeles.
Pumpkin Palooza Festival
Dress the kids in their favorite costumes, join Pumpkinology 101 activities, and come dance to Halloween-themed music at the fun Pumpkin Palooza Dance Party. To attend the festival and dance party, you must purchase an event ticket in addition to your general admission ticket or membership.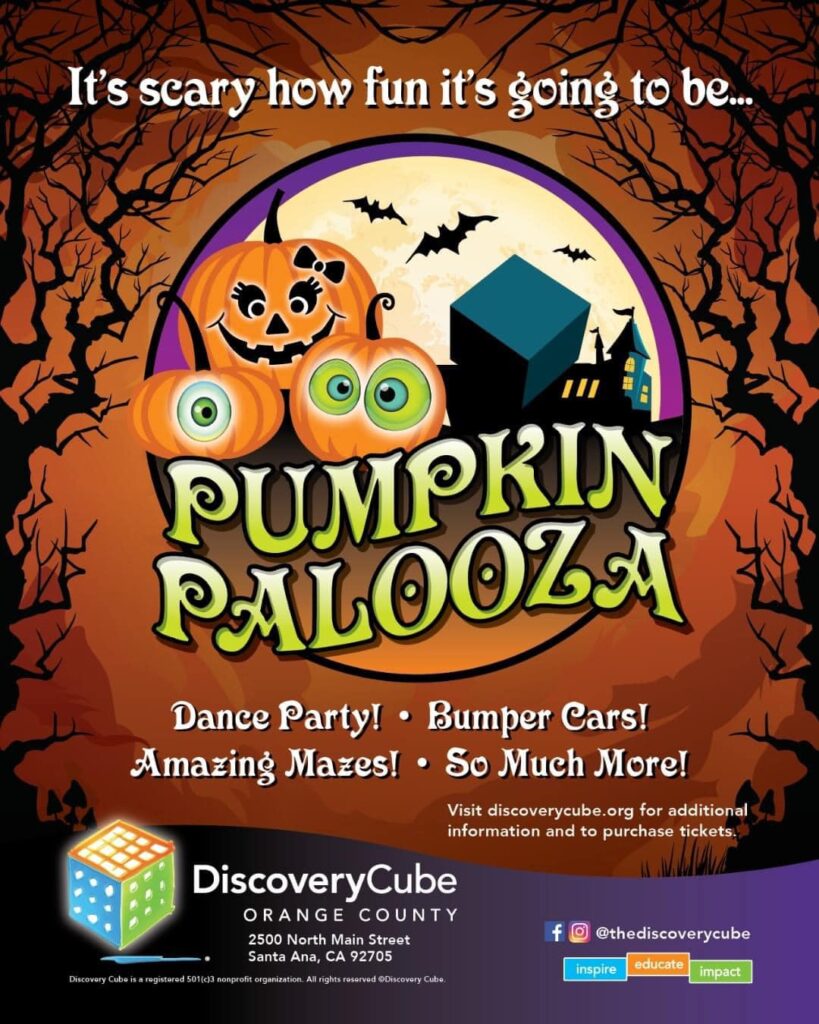 Discovery Cube Orange County General Admission
Child (2 and under): Free
Child (3 – 14): $14.95
Adult (15+): $19.95
Senior (62+): $16.95
Ticket Price: $5
Space Limited – Reserve Your Ticket Today
Dates and Times:
Timed entry:
11:00am
12:00pm
1:30pm
2:30pm
3:30pm
Dates:
Thursday, October 6 through Sunday, October 9
Thursday, October 13 through Sunday, October 16
Thursday, October 20 through Sunday, October 23
Thursday, October 27 through Monday, October 31
Includes:
Timed dance party at Pumpkin Palooza
Giant Pumpkin Octopus
Illuminated carved pumpkins and pumpkin sculptures
All NEW bumper car rides
Inflatable corn and hay bale mazes
Pumpkin science demonstrations, pumpkin launching, and much more
Pumpkin Palooza Festival Member Event:
Date: October 7, 2022
Time: 6:00pm – 8:30pm
Location: 2500 N. Main St, Santa Ana CA 92705
Exclusively experience the new October festival featuring bewitching STEM lab experiments, face painting, and more! Don't forget to come in costume. Capacity is limited. RSVP by September 30th.
Discovery Cube in Orange County is located at 2500 N Main St, Santa Ana, CA 92705 and open daily from 10am to 5pm.
Originally published on September 20, 2022. Last Updated on October 25, 2022 by Pattie Cordova