Live Oak Canyon Pumpkin Patch : Biggest pumpkin patch in Southern California
Our first time at Live Oak Canyon was incredible! We knew it was the biggest pumpkin patch in Southern California – but we were not prepared on how this big pumpkin patch really was!
If you're looking for a pumpkin patch with a petting zoo and rides in the Inland Empire and near Riverside – consider checking out Live Oak Canyon. It has everything you want in a pumpkin patch experience!
First of all, this pumpkin patch is more than just pumpkins. It's an entire Fall experience in the country with games, rides, activities, food court, picnic benches, photo opps, garden, corn maze and more!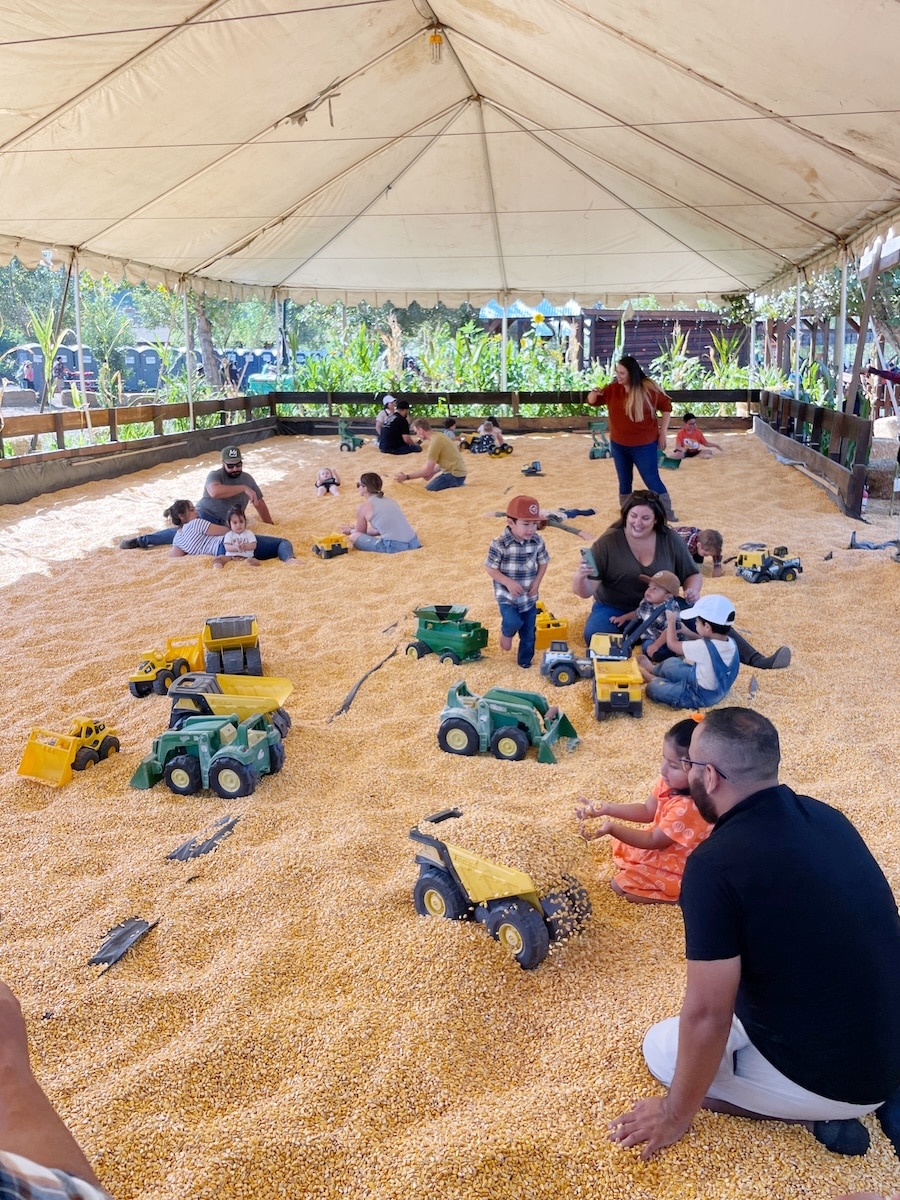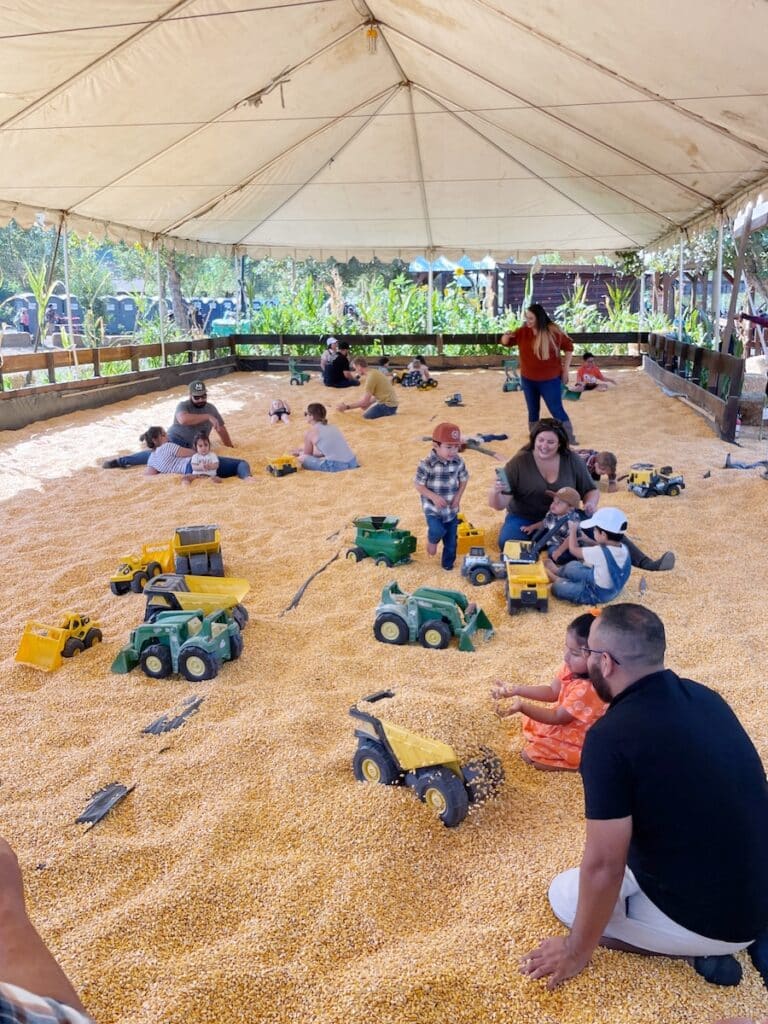 It's probably why Live Oak Canyon is considered the best pumpkin patch in California! It's almost like a pumpkin patch amusement park.
Here are some tips to consider if you're going to this pumpkin patch in Yucaipa – it's a can't-miss Live Oak Canyon event. Let us know if you want to see other Live Oak Canyon farm photos – we'll be happy to share!
This pumpkin patch ends on October 31, 2023.
Live Oak pumpkin patch prices
General admission on weekends are $22 for adults start and $17 for children ages 3-10. If you go after 4pm the rate goes up about $5. Click HERE for current prices.
They offer free admission for kids 2 and under.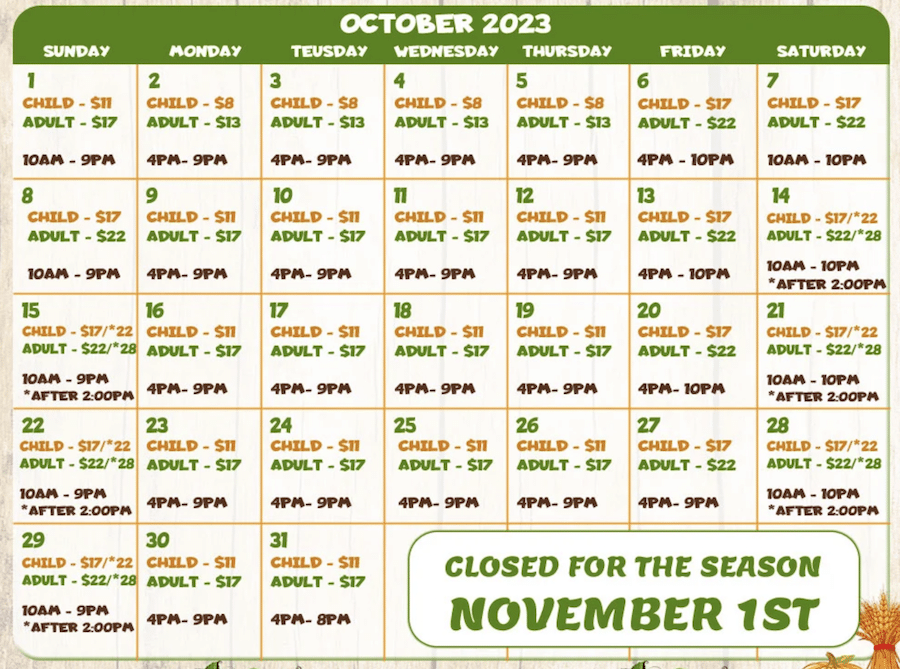 Live Oak Canyon Pumpkin Patch discounts and special
Get special offers and discounts when you sign up for their mailing list.
They offer military discounts of $2 off admission – up to four total.
Live Oak pumpkin patch also has weekly specials that they share on their website. Specials including BOGO pumpkins, Kids BOGO free admission, free petting zoo days, and wristband weekdays where you can purchase a wristband for unlimited rides and attractions, plus a train ride ticket for $44.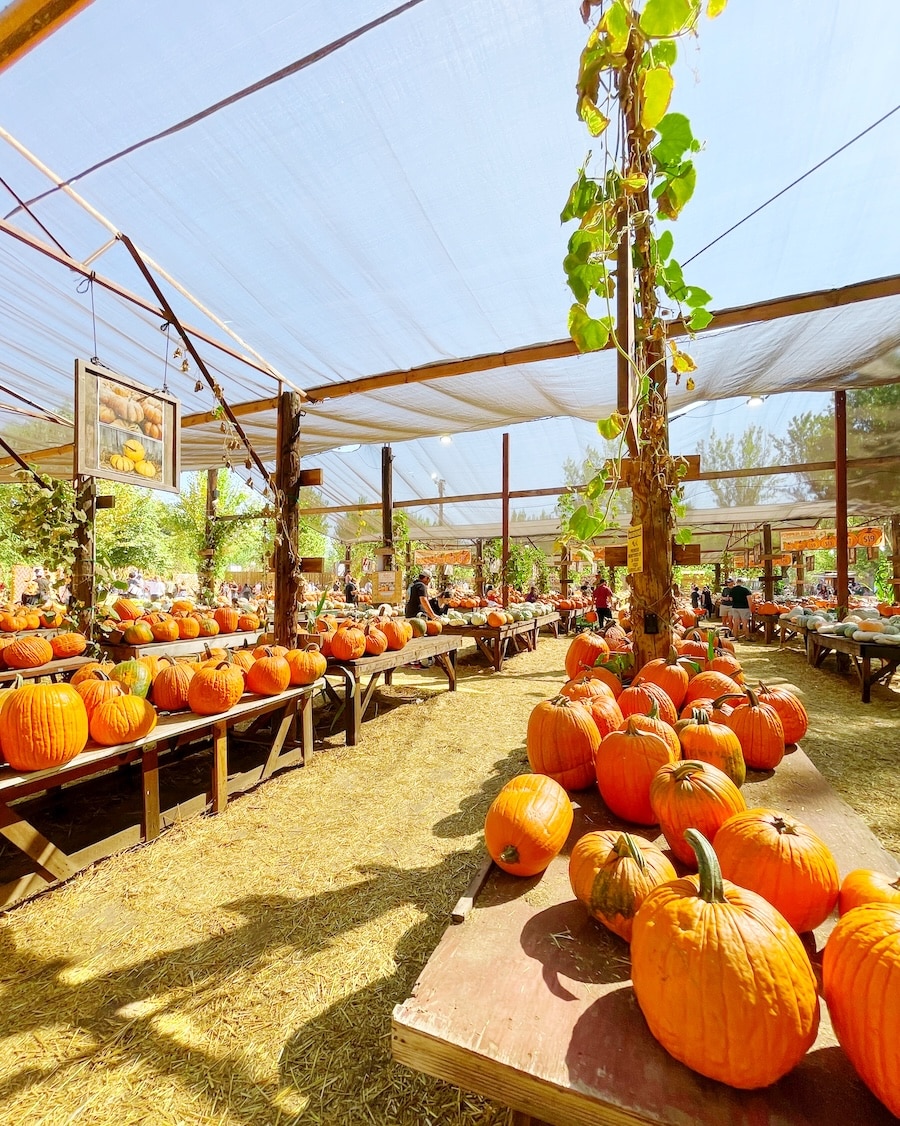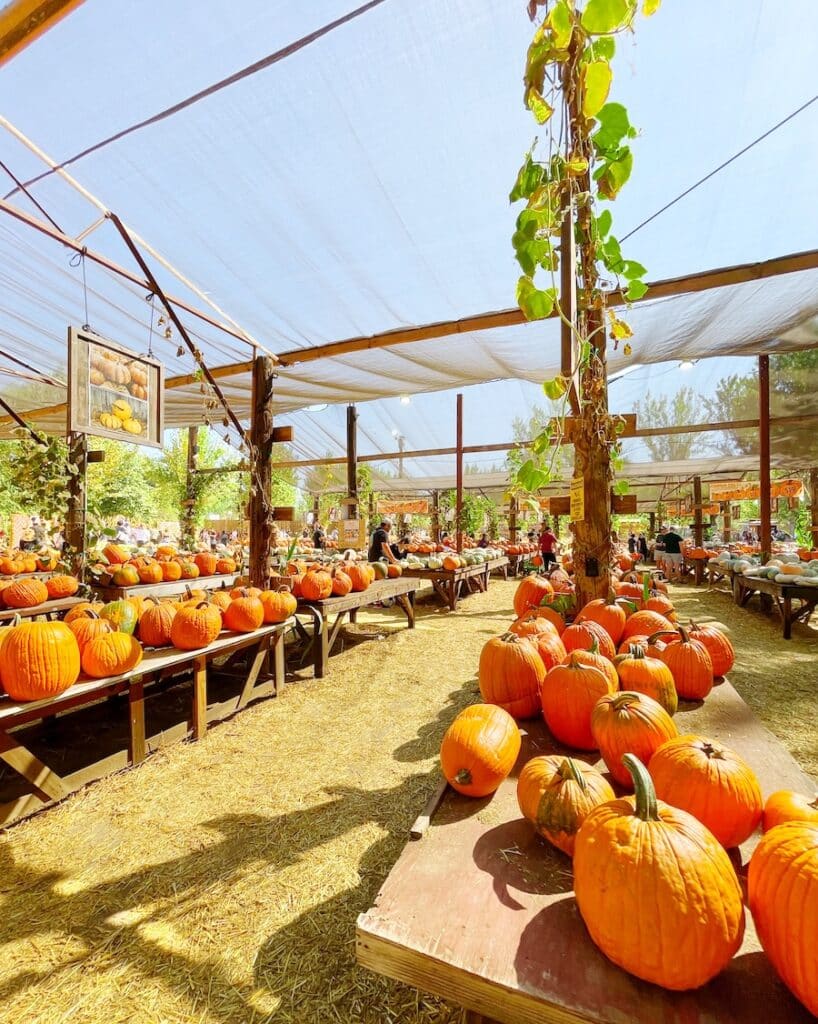 Pumpkin Patch Petting Zoo
Live Oak Canyon petting zoo features over 500 animals! It's the largest petting zoo in Southern California with horses, goats, brahma bulls, llamas, pigs, and more.
Keep an eye out for days where the pumpkin patch offers free admission into the petting zoo. Otherwise, you can expect to pay five tickets to enter, and three tickets to get feed for the animals.
Live Oak Canyon pumpkin patch tickets
There are over 50 Games, Rides & Attractions that range from 3 to 10 tickets. Live Oak has its ticketing system electronically via a "Farm Card".
Guests who want to enjoy anything needing tickets must purchase electronic Farm Cards that are not included with admission.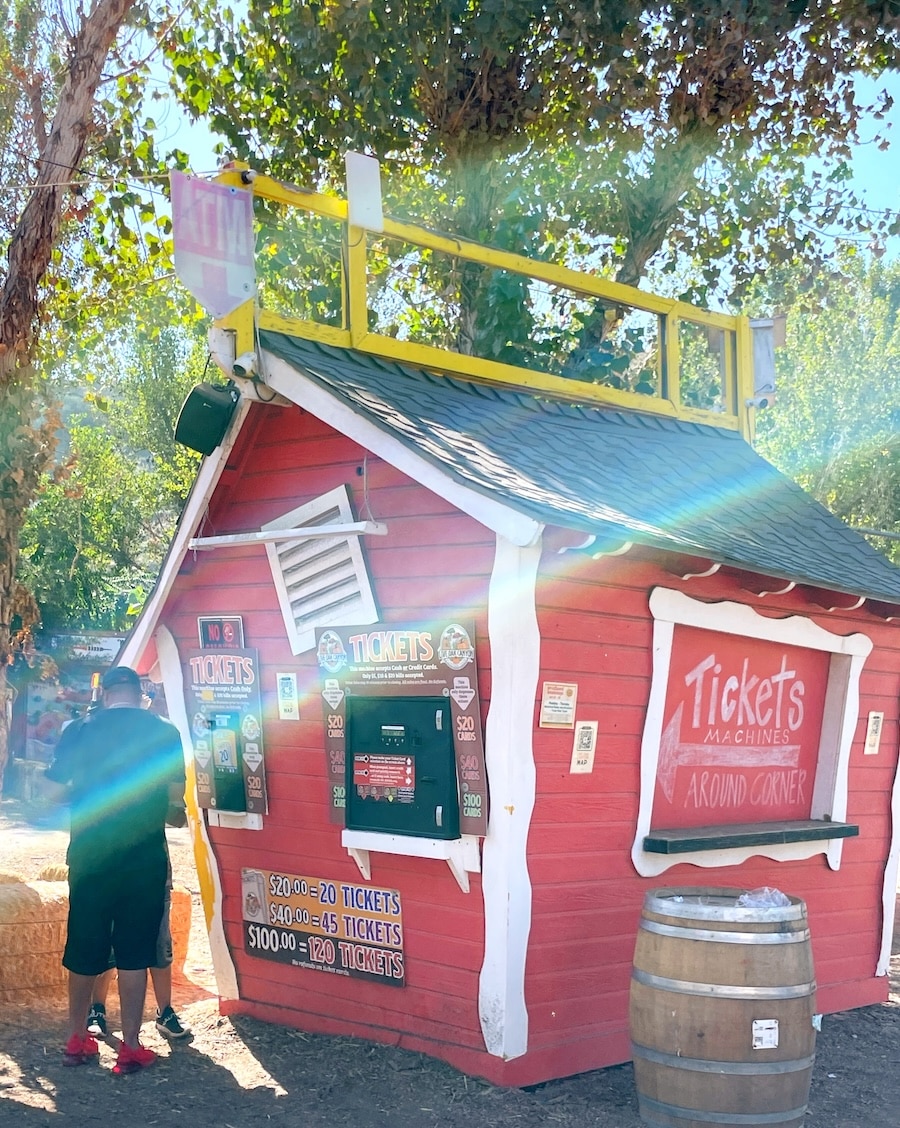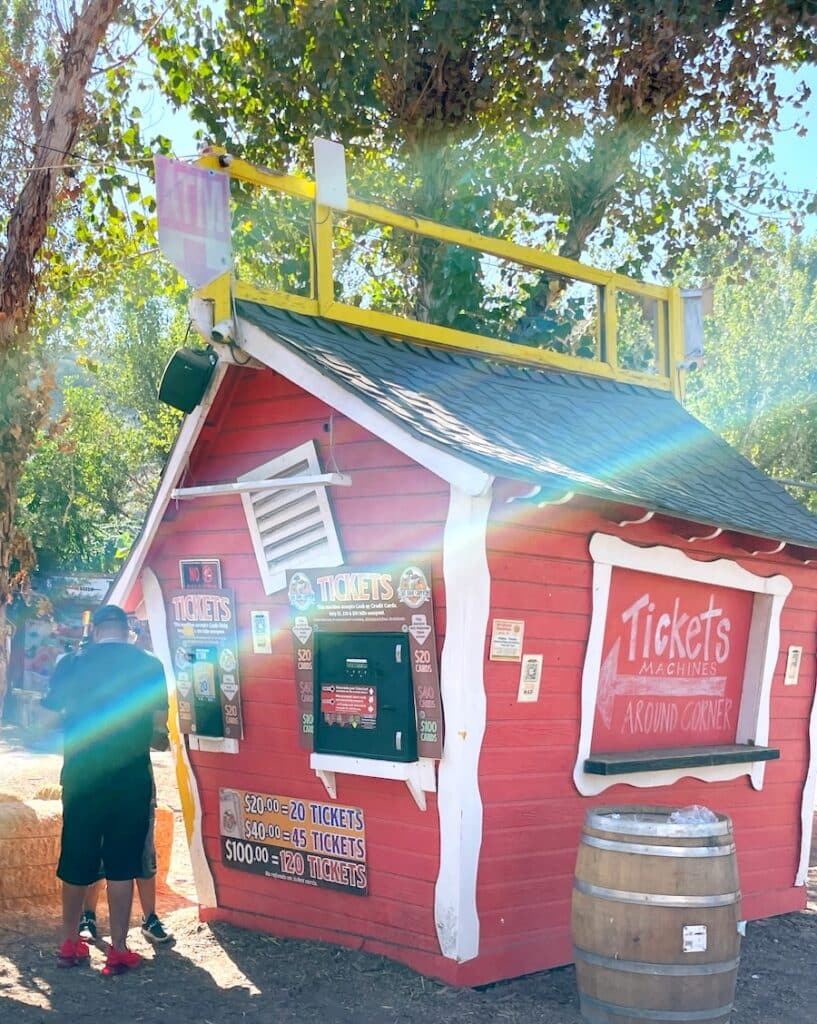 There are two ways you can purchase tickets. The first, and most convenient, is purchasing them with your phone using the Farm Card given to you at the entrance if you purchase your entrance at the box office.
The second, is by going to the ticket machine. Each Farm Card is sold in $20, $40 and $100 increments.
Any Farm Cards that have unused credits can be used during Christmas Season.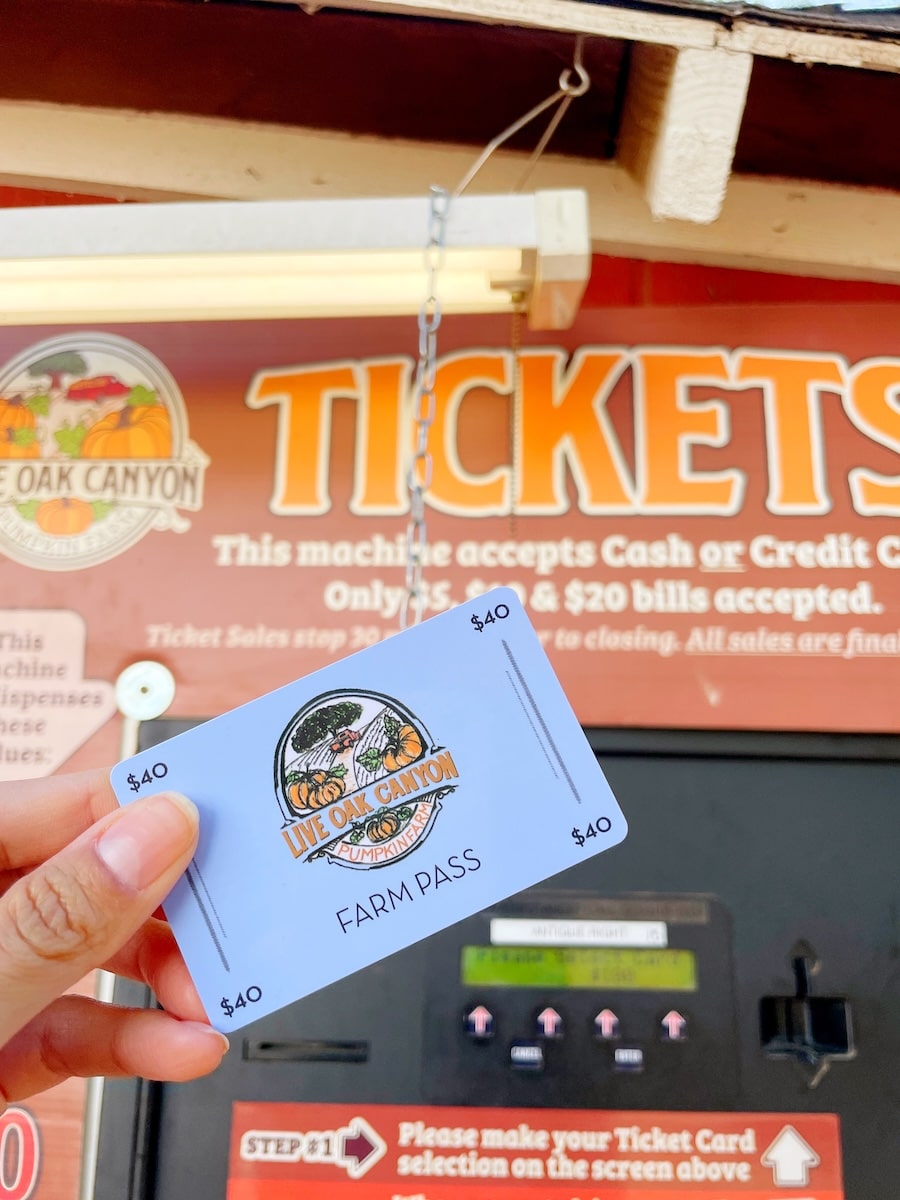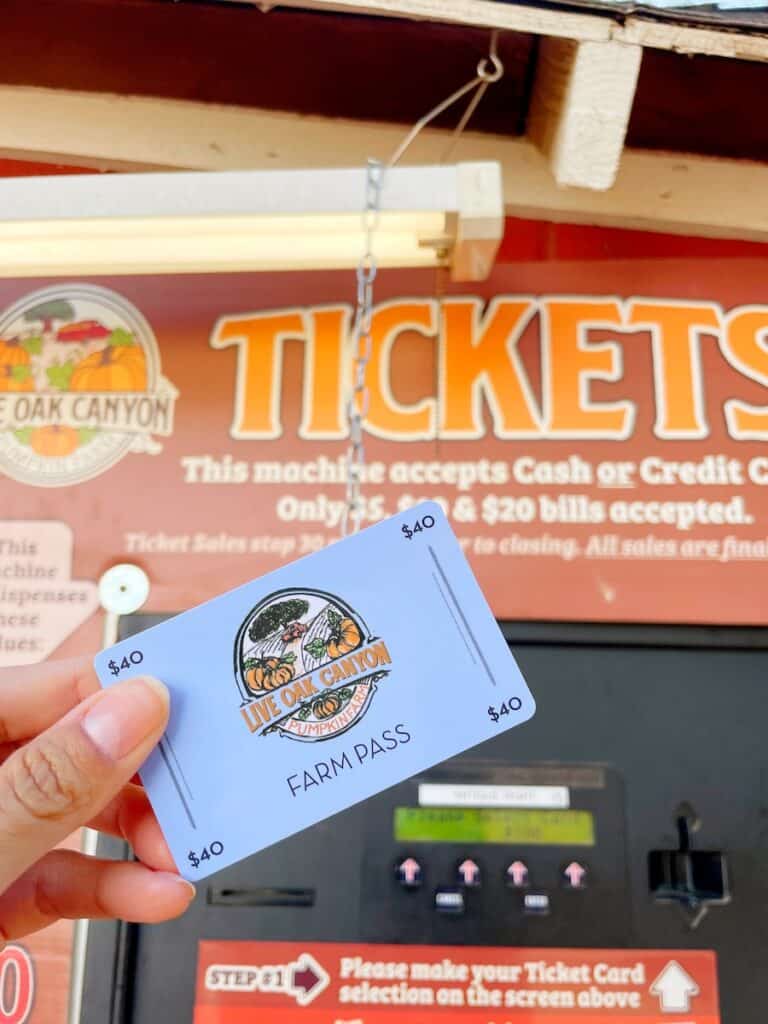 You can ask any of the employees at the rides or games for a ticket balance if you lost track of how many you have left over.
Some of the bigger activities, like the pumpkin launch, take 9 tickets. Smaller activities, like the corn box, take four tickets.
Here's a full list of all the tickets and their costs: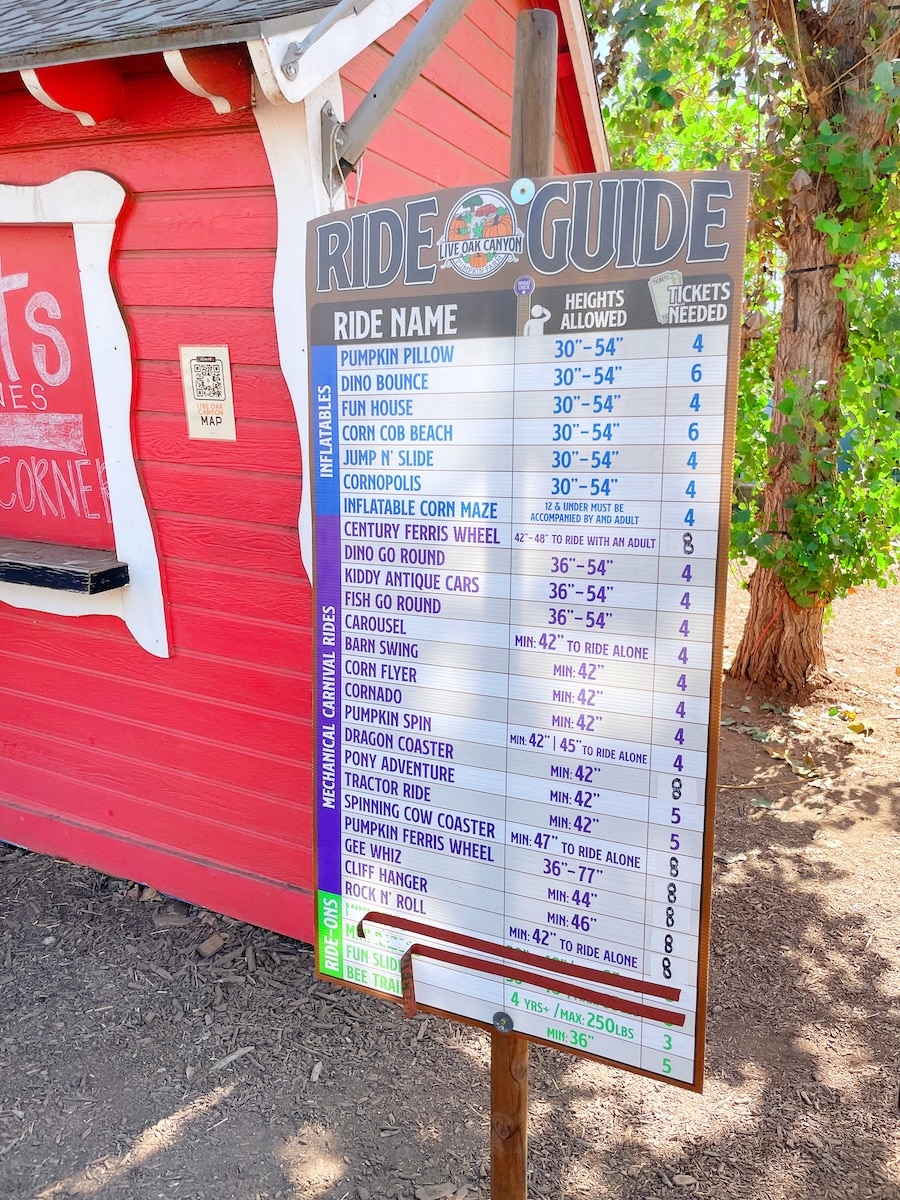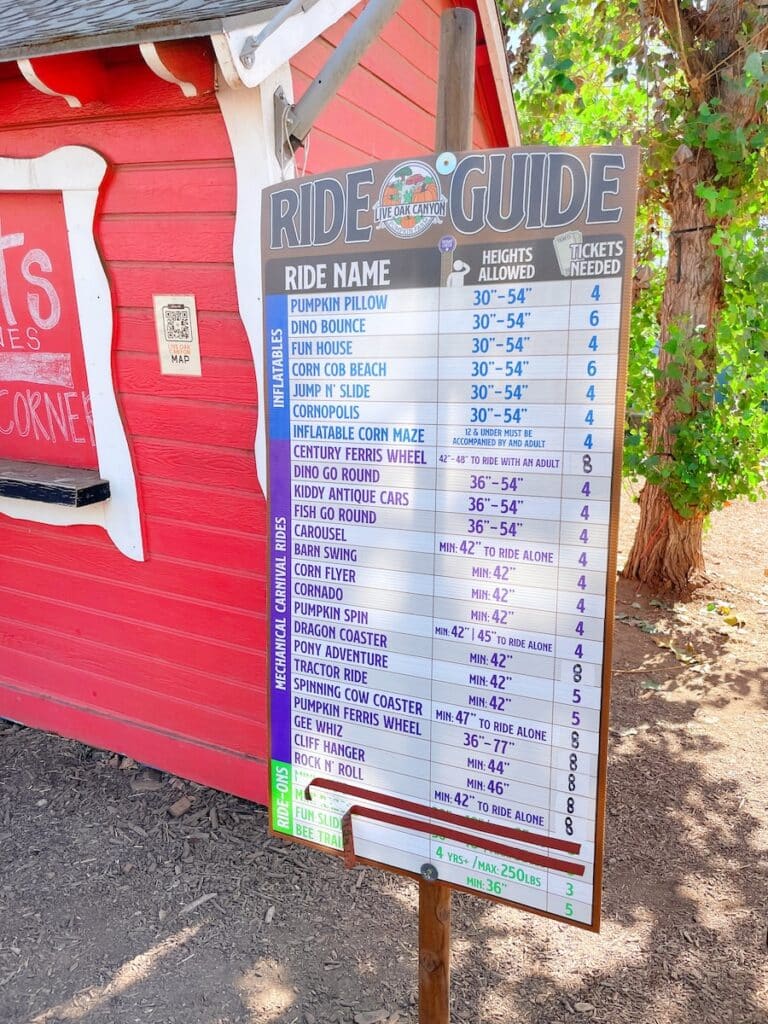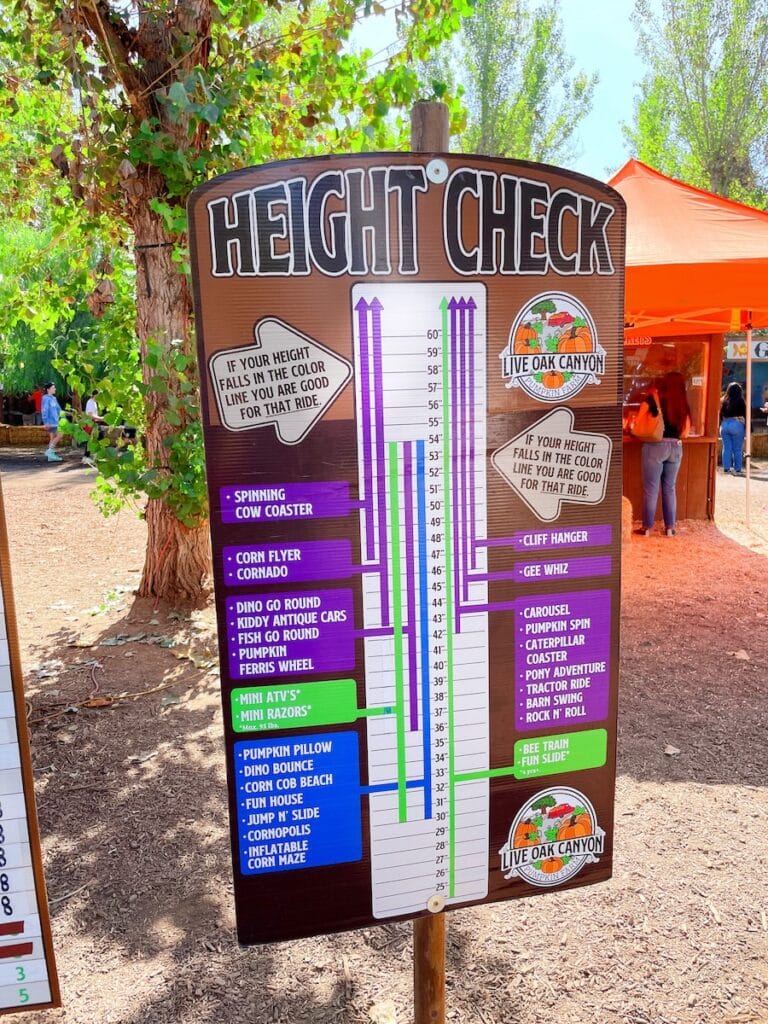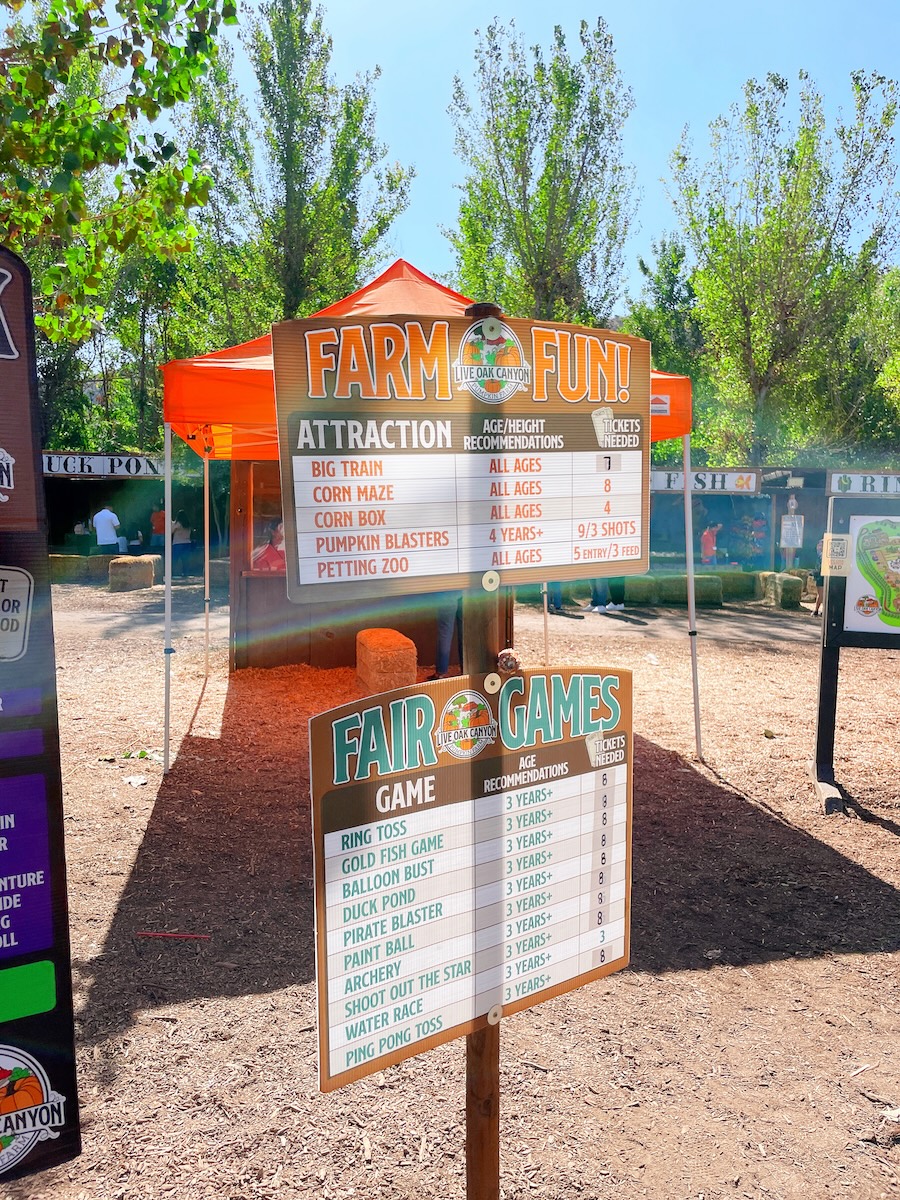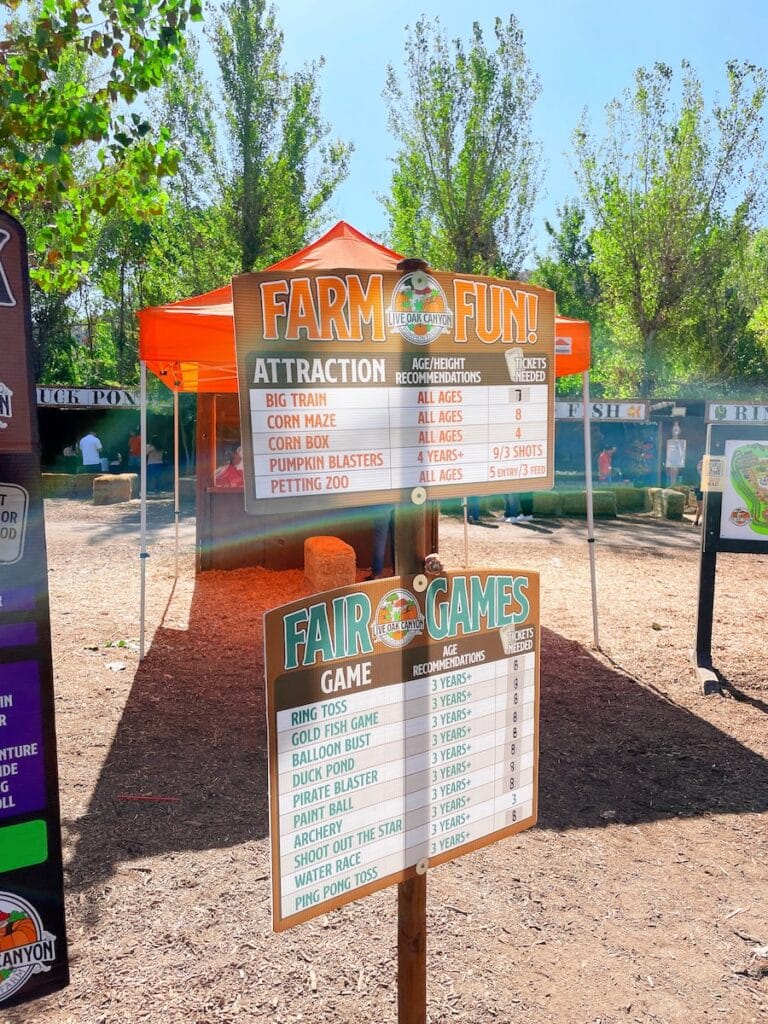 Free activities to do at Live Oak Canyon
Admission into Live Oak Canyon includes some free activities like photo opps, live entertainment (weekends only), the hay pyramid, wagons to use for your pumpkins, two animatronic shows, the hay hoist, hi-strikers, two gravity houses, a playground, an obstacle course, the u-pick pumpkin field, and a tractor ride.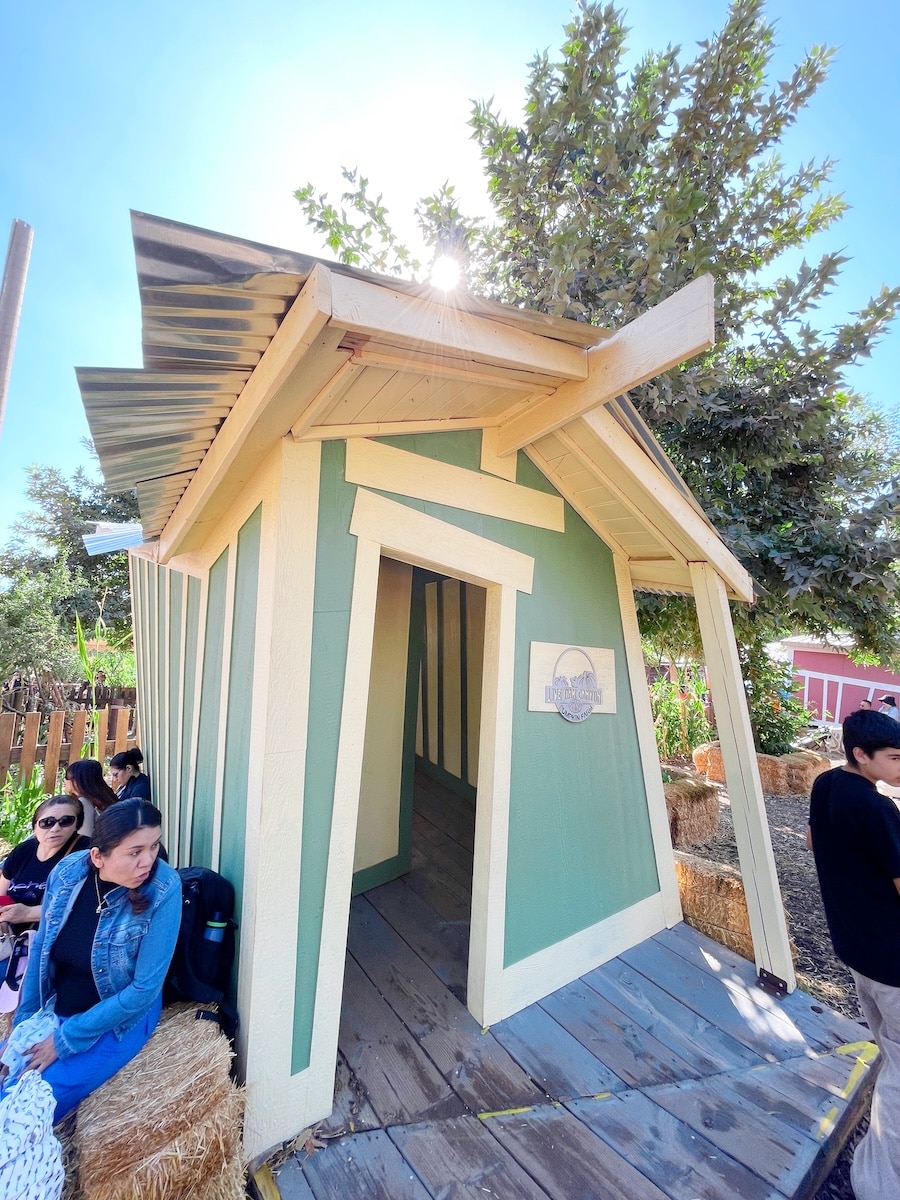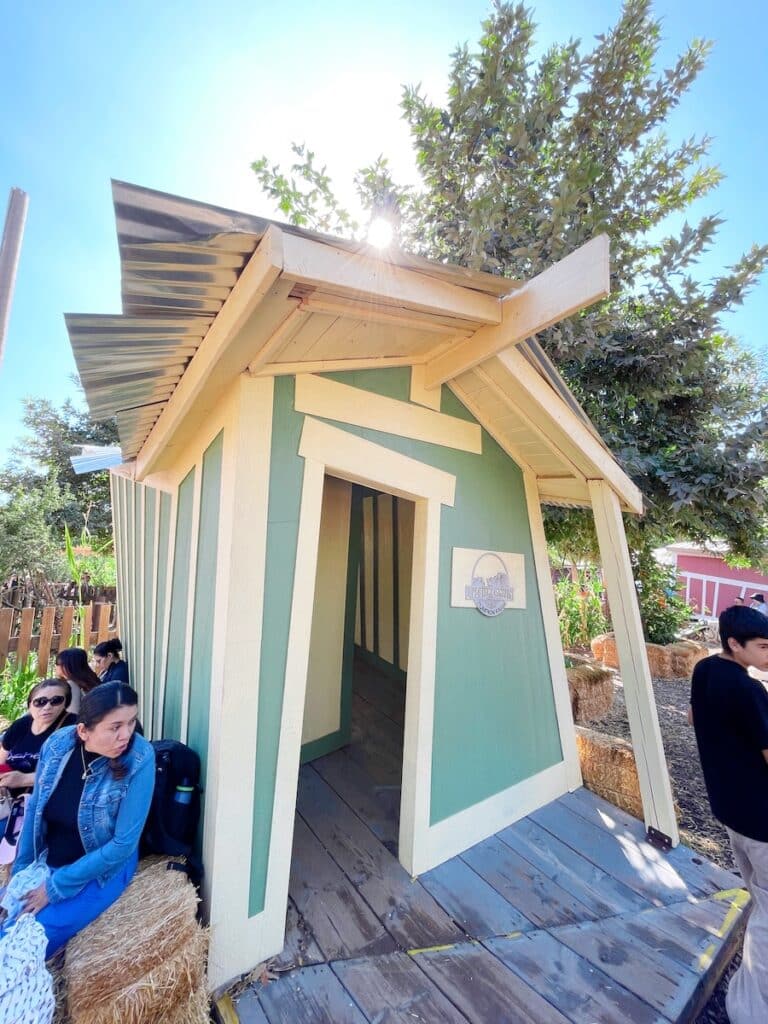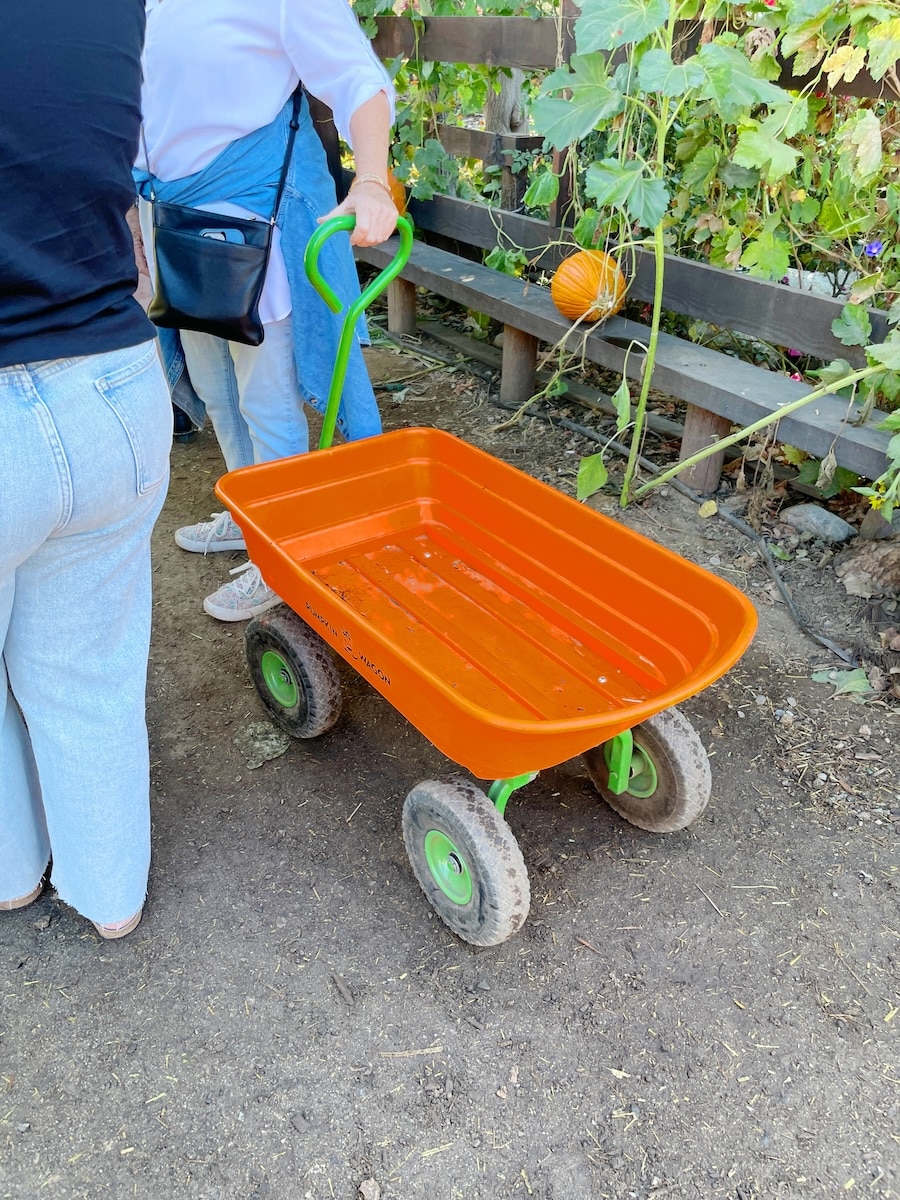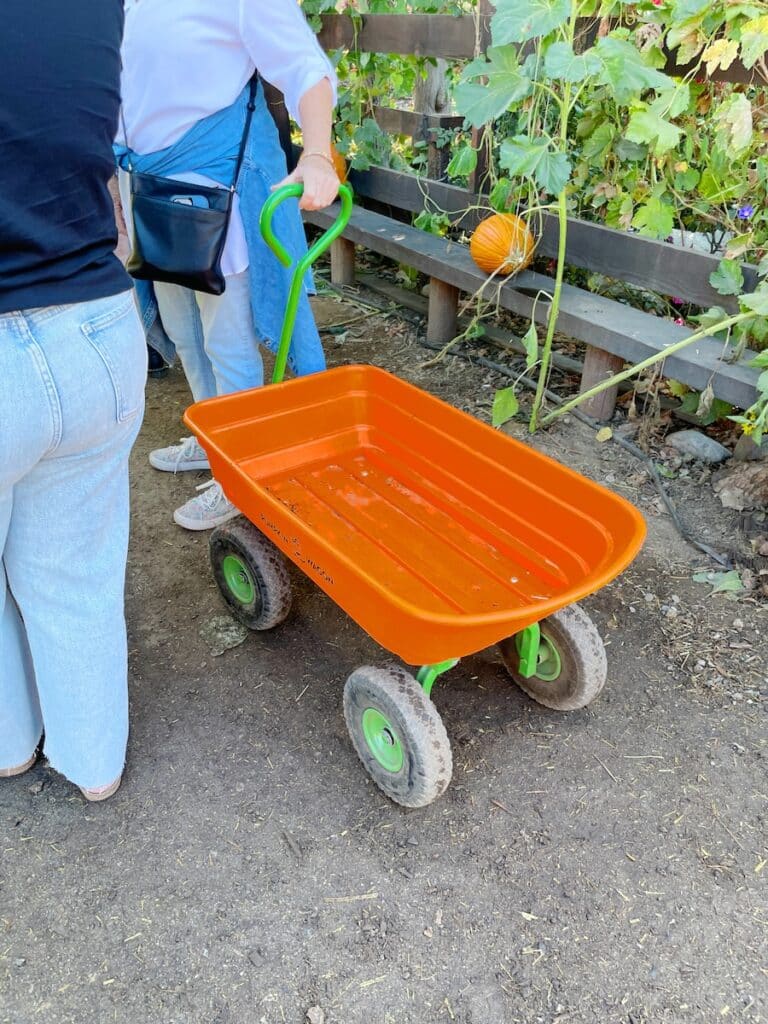 The photo opportunities is probably the most popular free activity to do while at the farm. One tip we can offer is to bypass the first pumpkin house that you come across, if the line is too long. You can go take a picture on the other side of the house and have the same setting.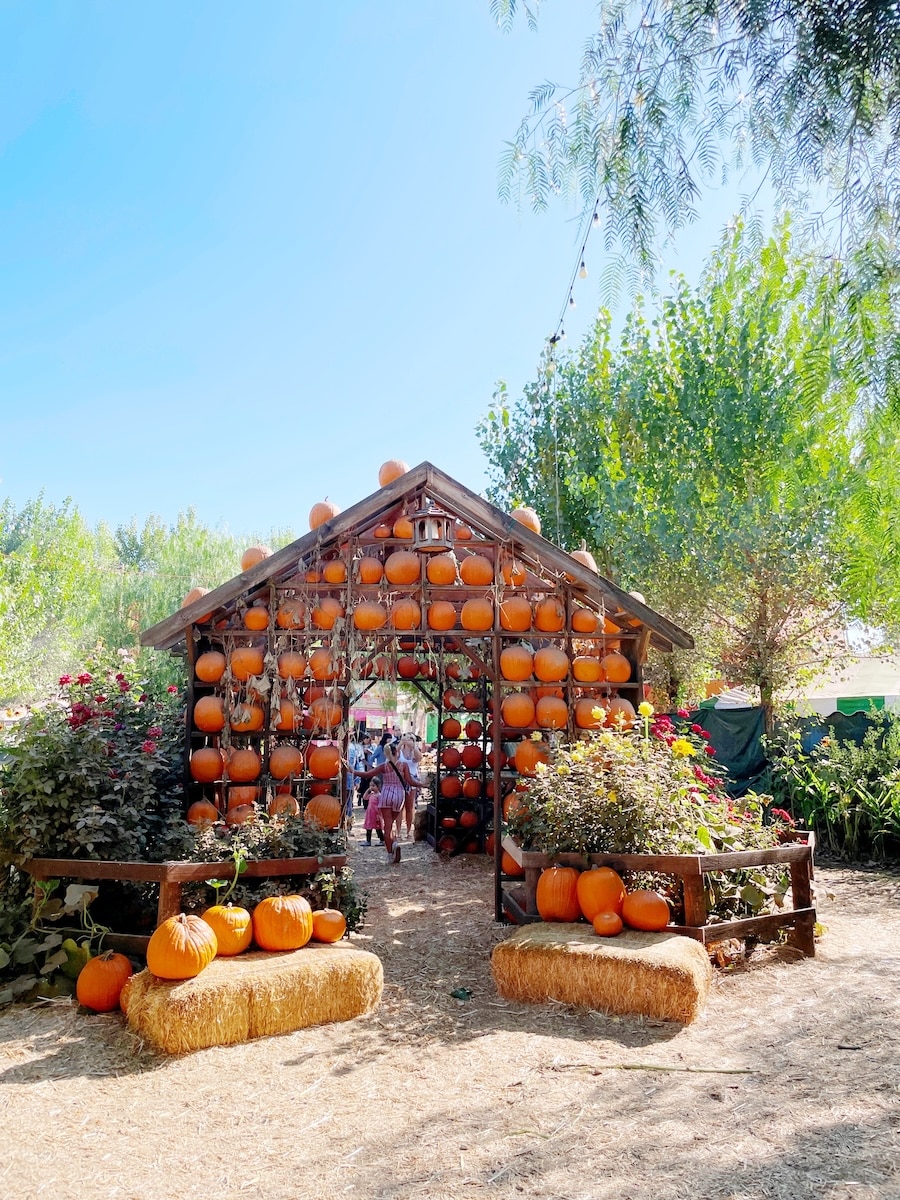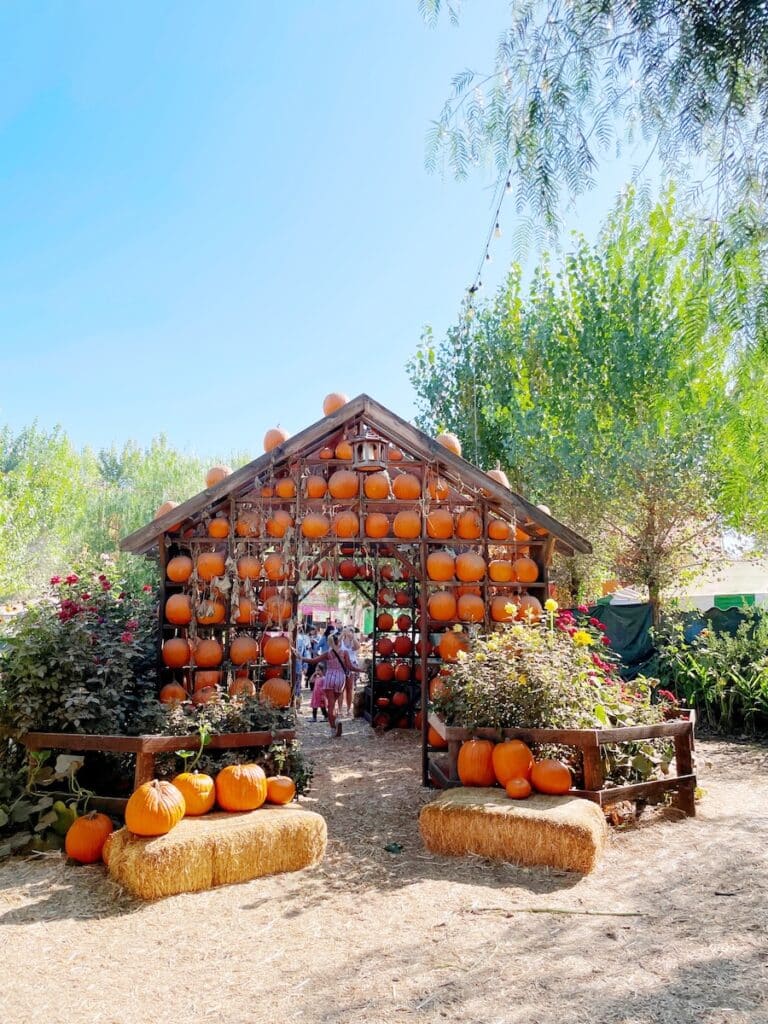 We came across two other pumpkin houses while walking around, but for some reason, the first one had a really long line.
Once you go through the first pumpkin house you'll walk into the garden. It's filled with even more photo opportunities, and lots of marigolds. Reminds us of Dia de los Muertos.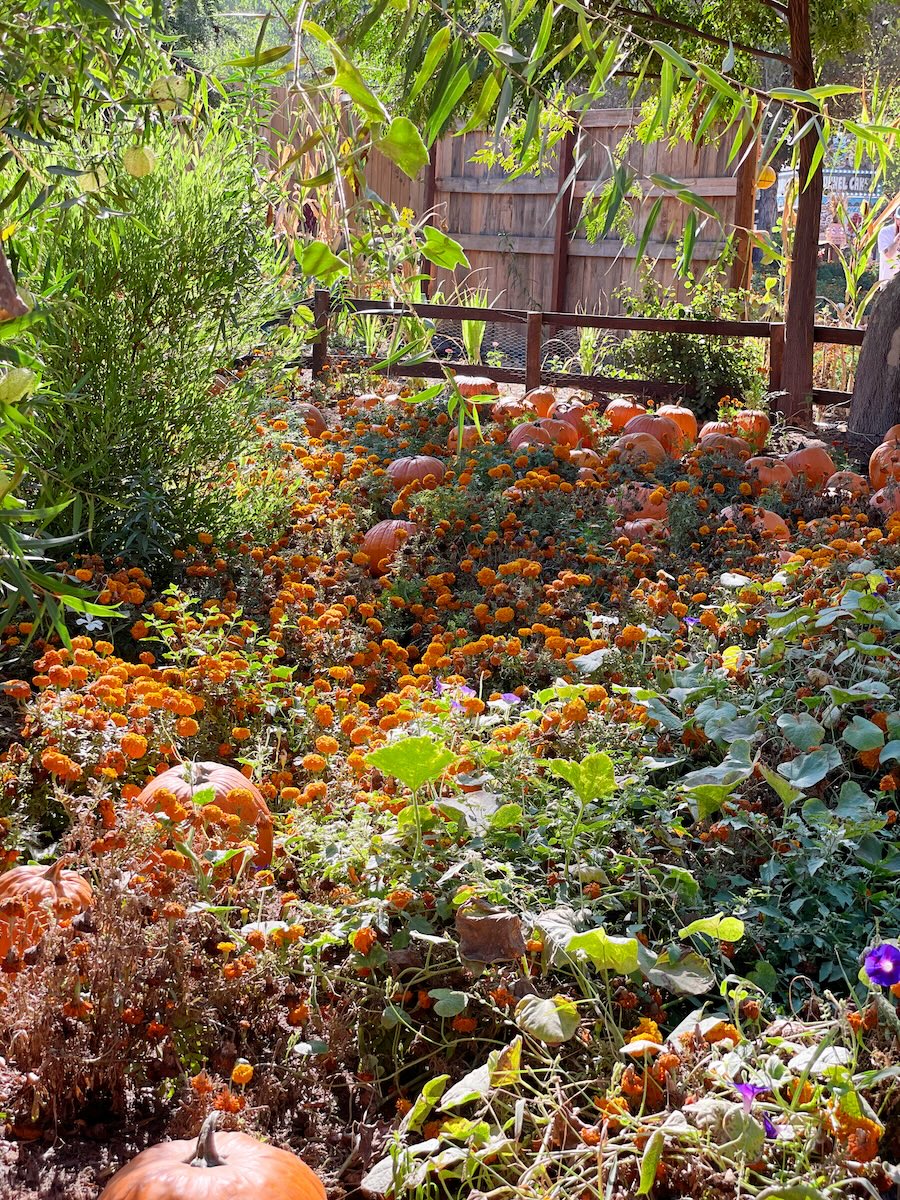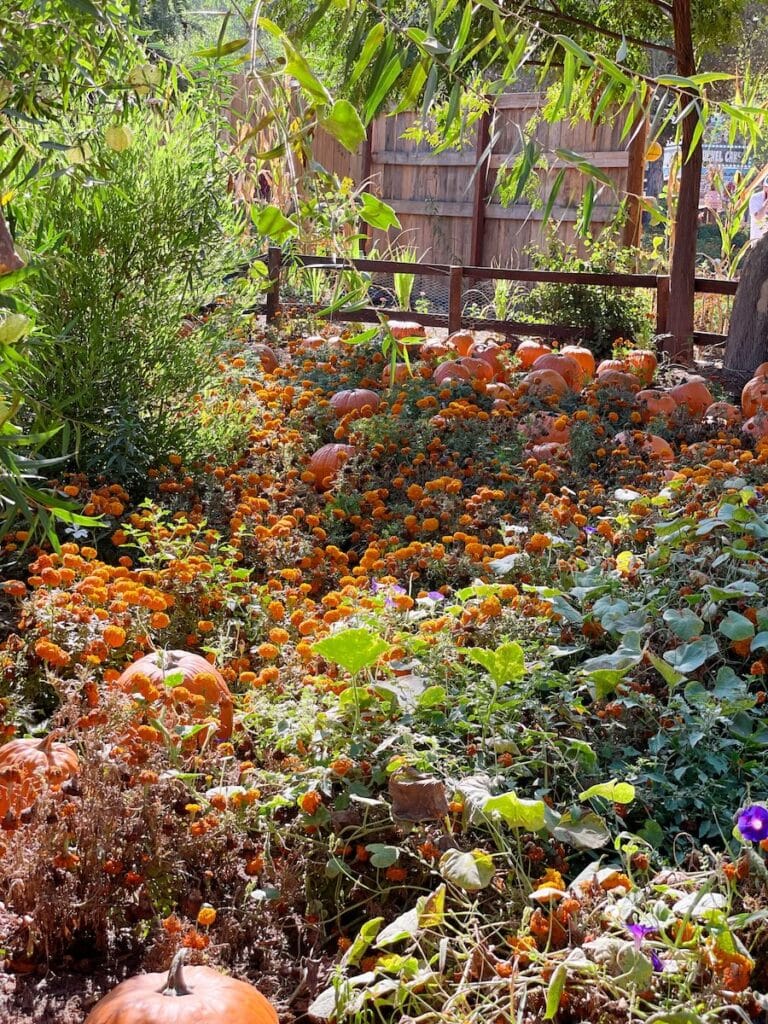 You'll also come across many vine-covered tunnels on your walk. They're beautiful to walk under!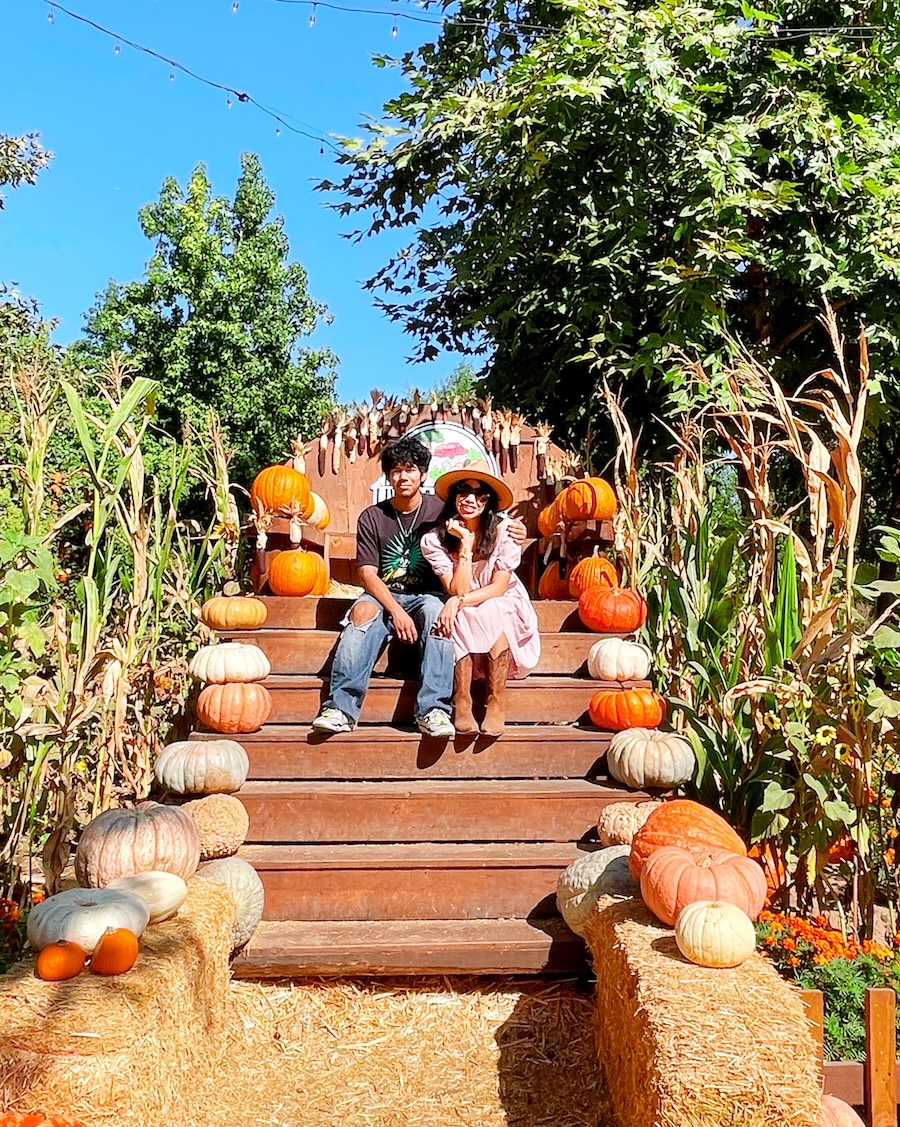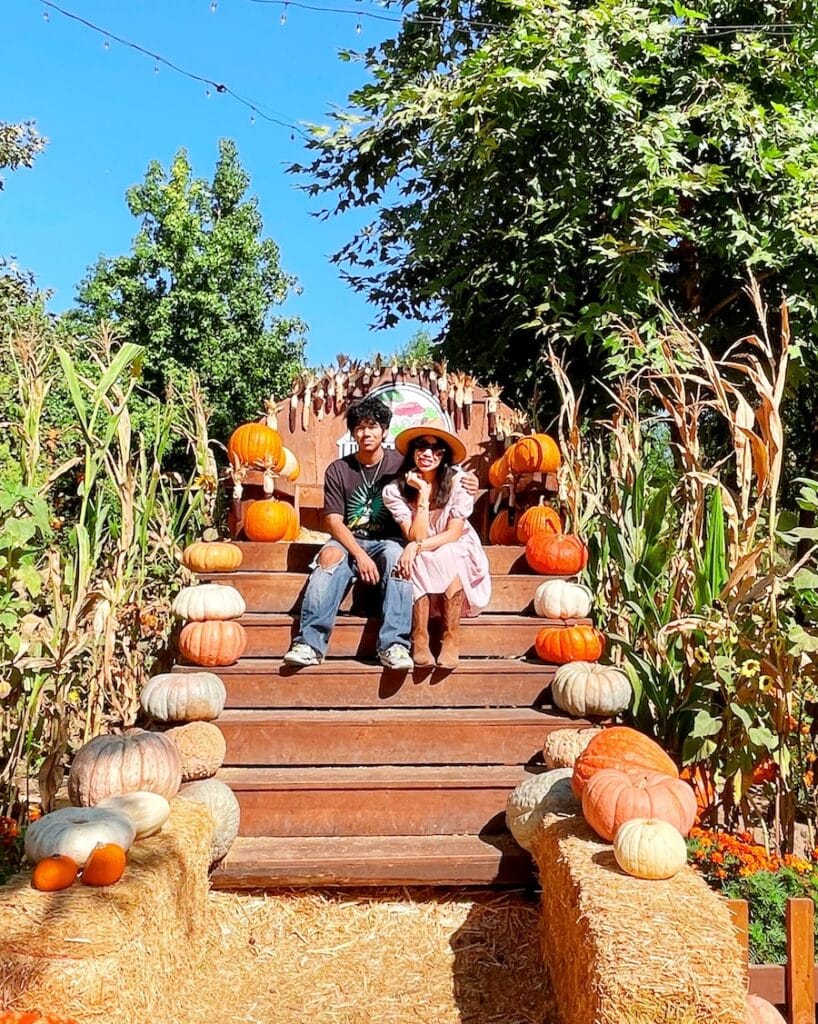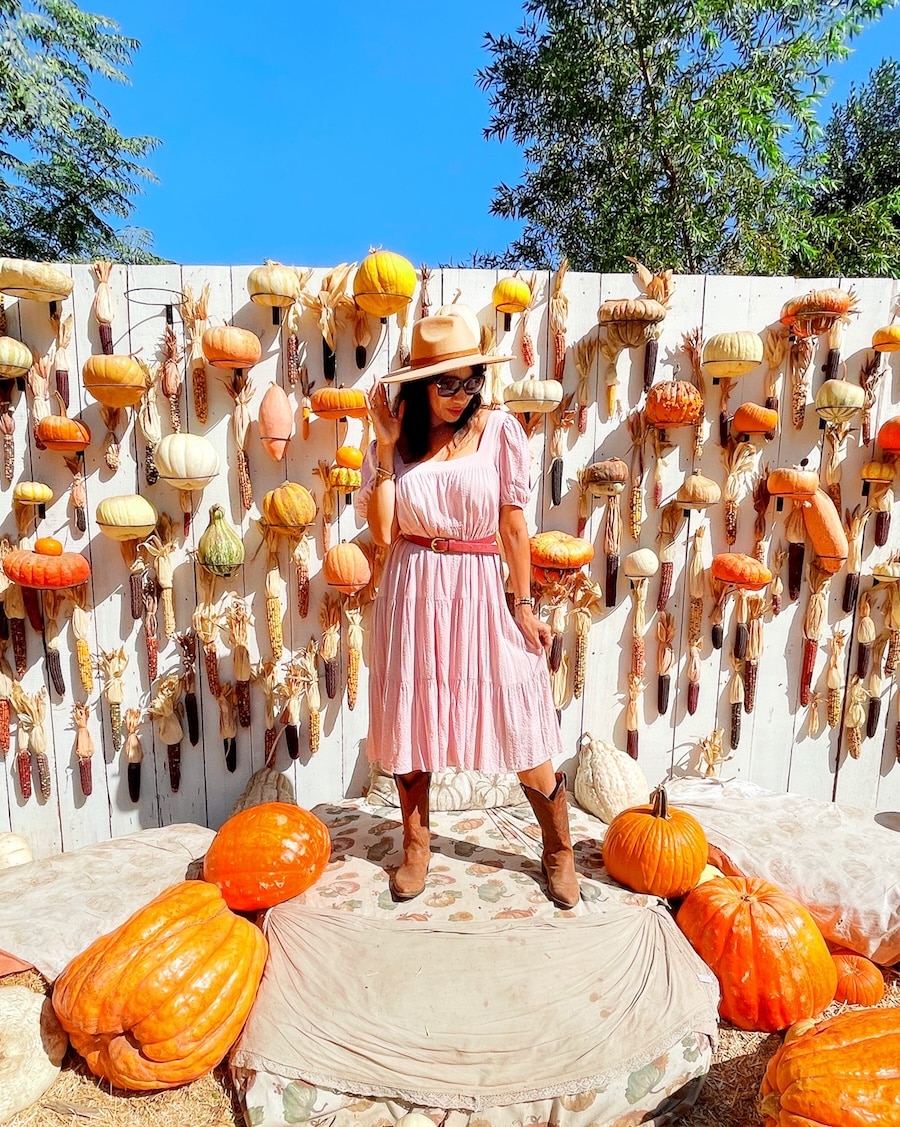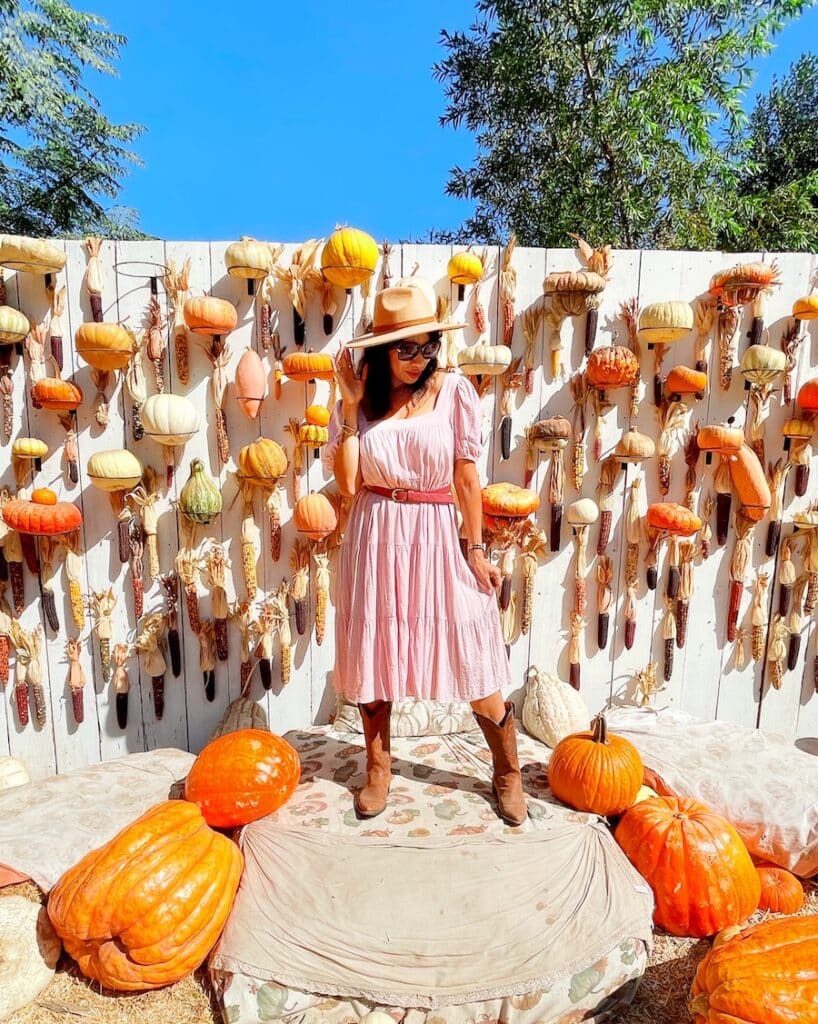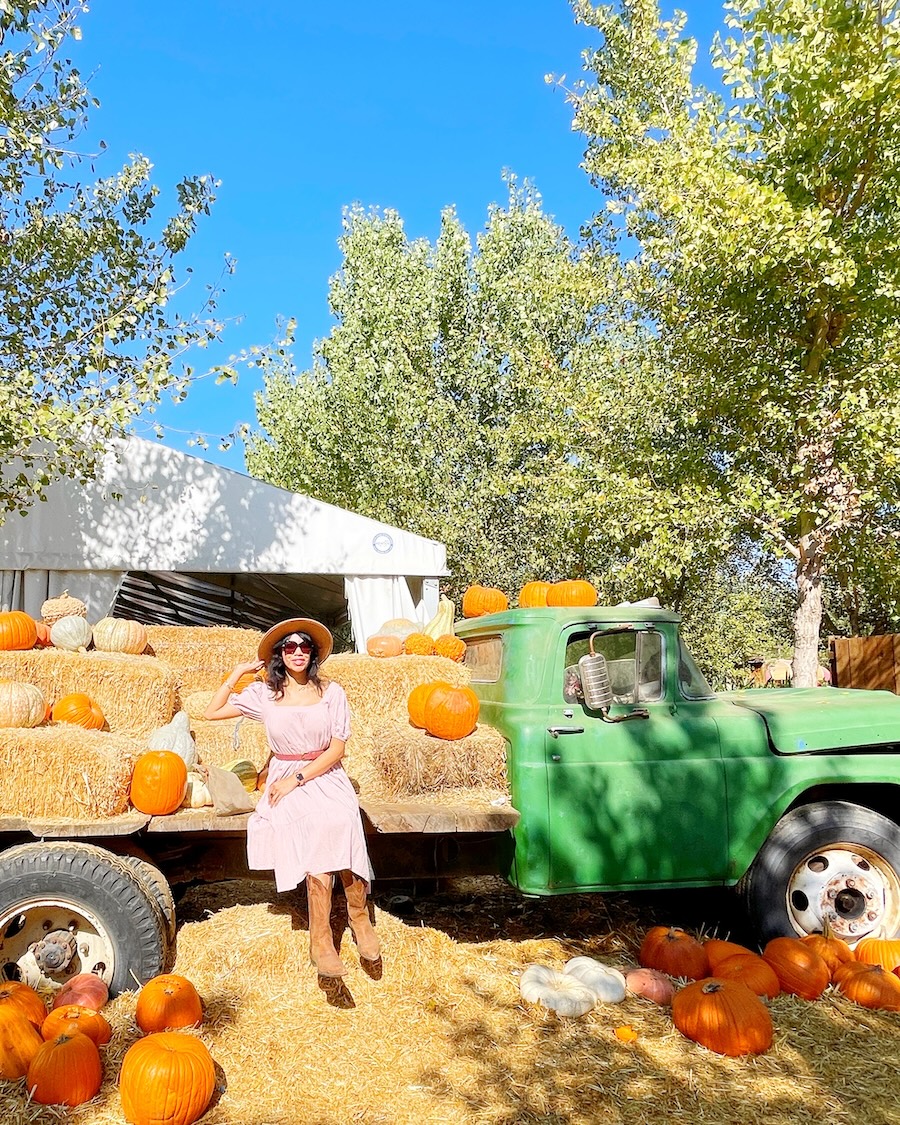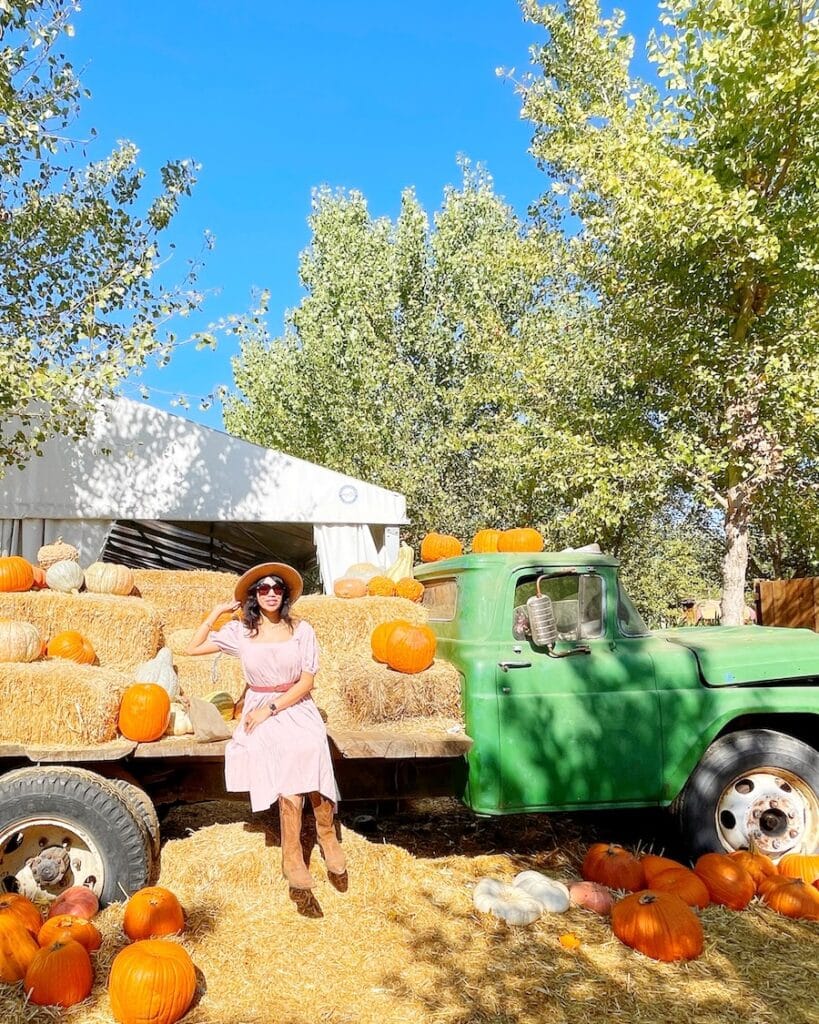 U-pick Pumpkin Fields and Tractor Hay Ride
The U-Pick Pumpkin Fields and Tractor Hay Ride close at Sunset. You can find the u-pick pumpkin field closest to the pumpkin launch. It's free to enter – but they do ask that you only pick pumpkins that you plan on purchasing.
Rides, Attractions and Games at Live Oak Canyon
All the rides, games and attractions are located in the same area – and around the perimeter of the farm.
We had fun doing the archery (8 tickets), paintball (8 tickets) and the balloon darts (8 tickets). The balloon darts did give you a prize – so that's a nice bonus.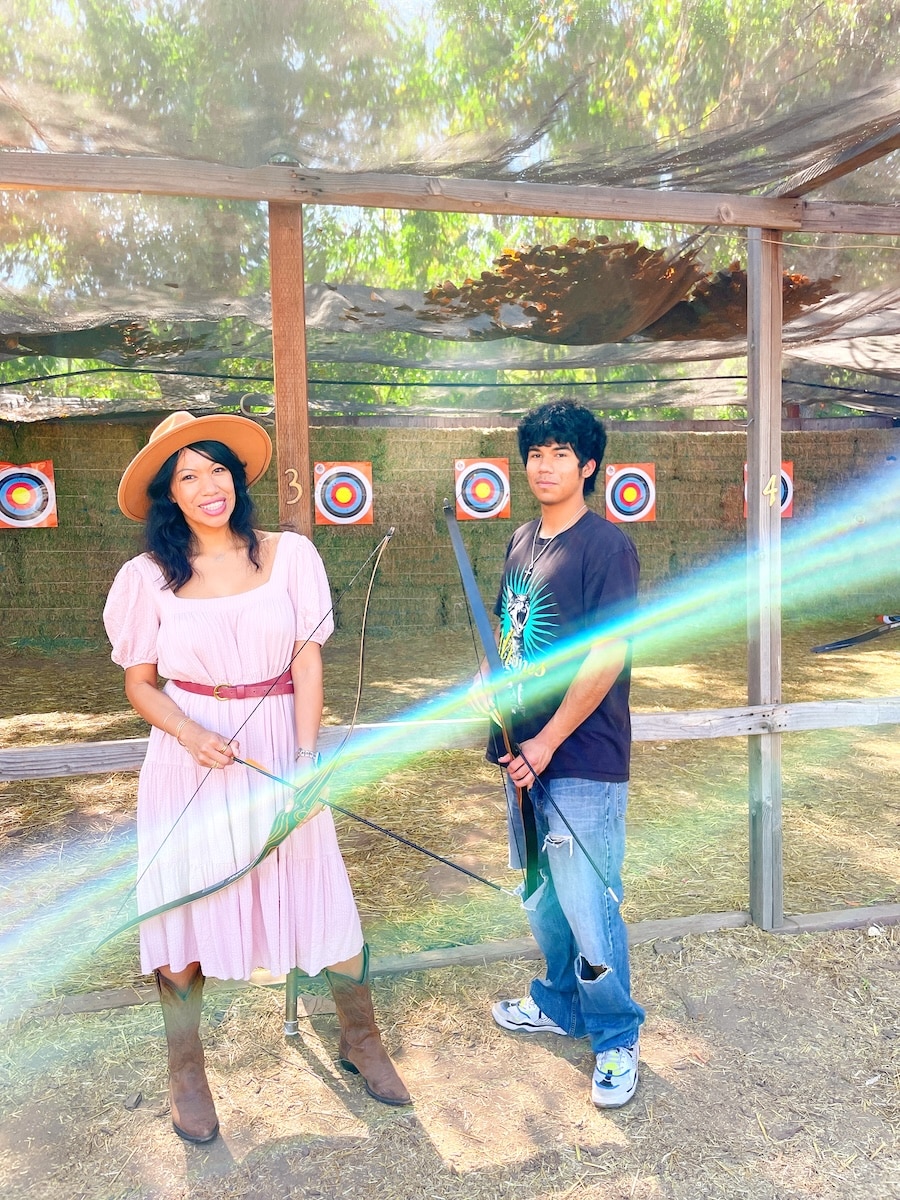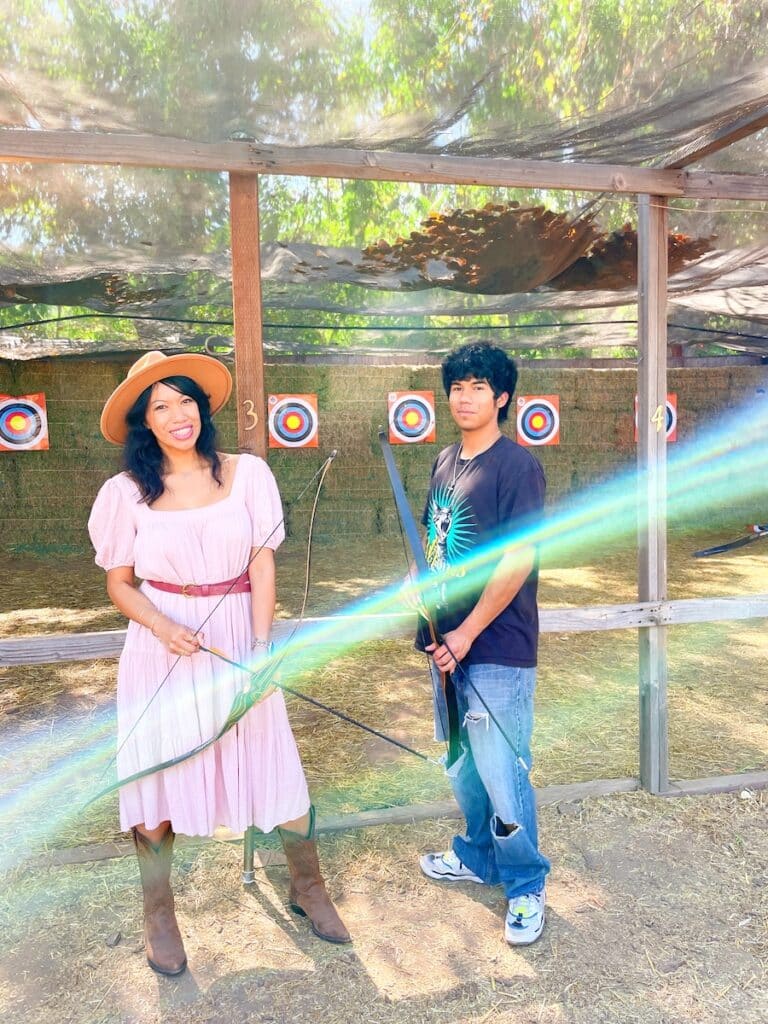 Entry to the Corn Maze closes 1 hour before closing time to allow visitors to complete the maze.
Entry to other attractions may close up to 1 hour before closing time if needed to allow everyone in line to enter.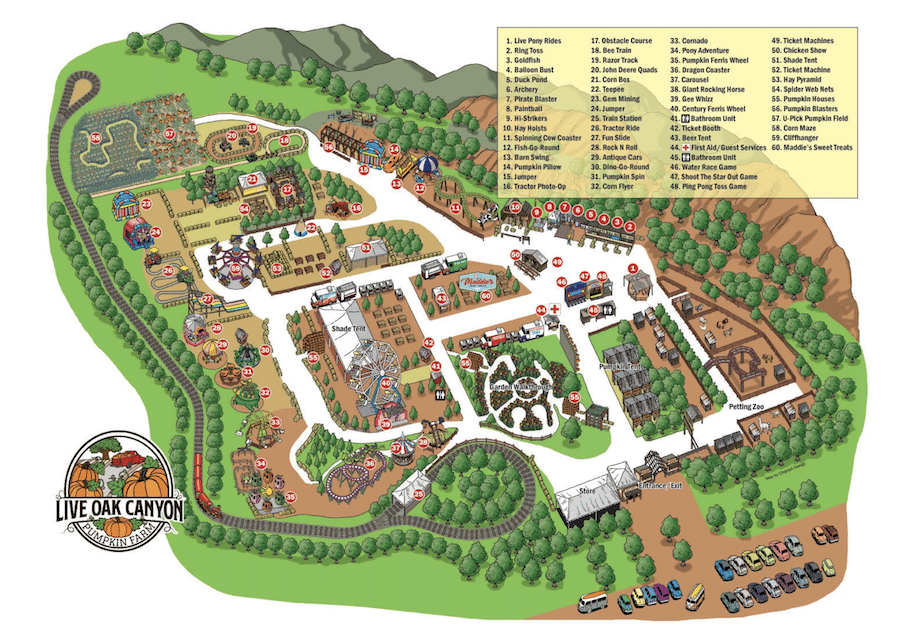 Where to eat at Live Oak Canyon Pumpkin Farm
There are over 20 food vendors ranging from ice cream to turkey legs and pizza to beer! The set-up and food offerings reminds us of being at a county fair. Think also cotton candy, deep fried oreos and agua frescas.
If you want to bypass the fair foods, you can also purchase drinks and snacks in the general store by the exit.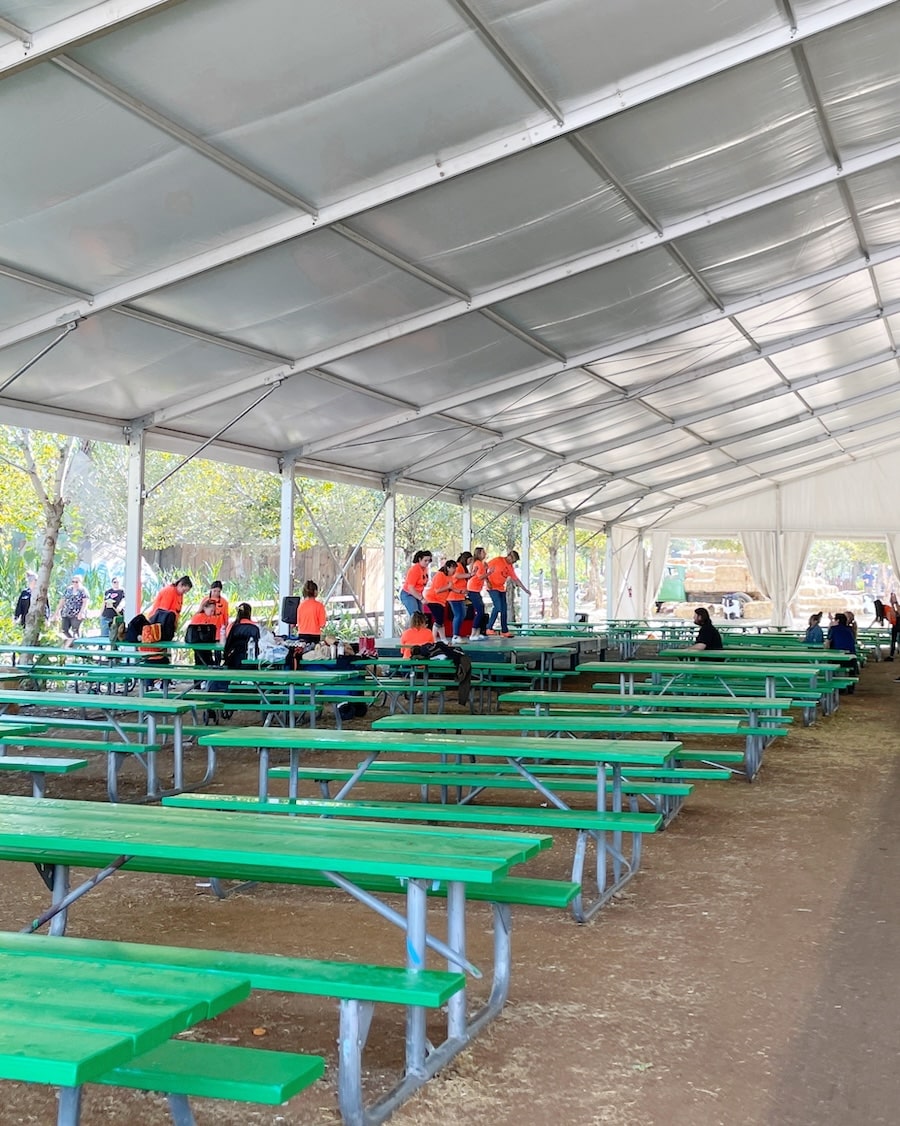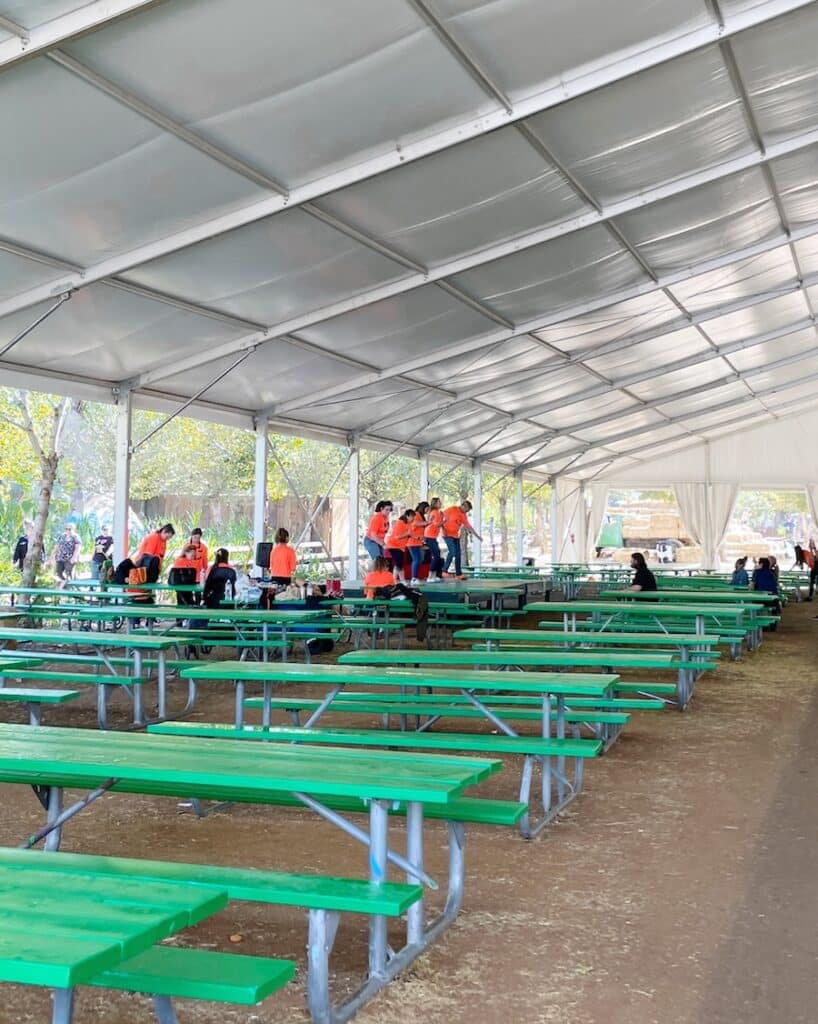 We also saw some people bring in their own foods and drinks in a cooler and wagon. There is a lot of seating at the farm, including picnic benches under a canopy that has live entertainment on the weekends.
Restrooms at Live Oak Canyon
There are plenty of portable restrooms all throughout the event area – including in the parking lot. There are also handwashing stations available.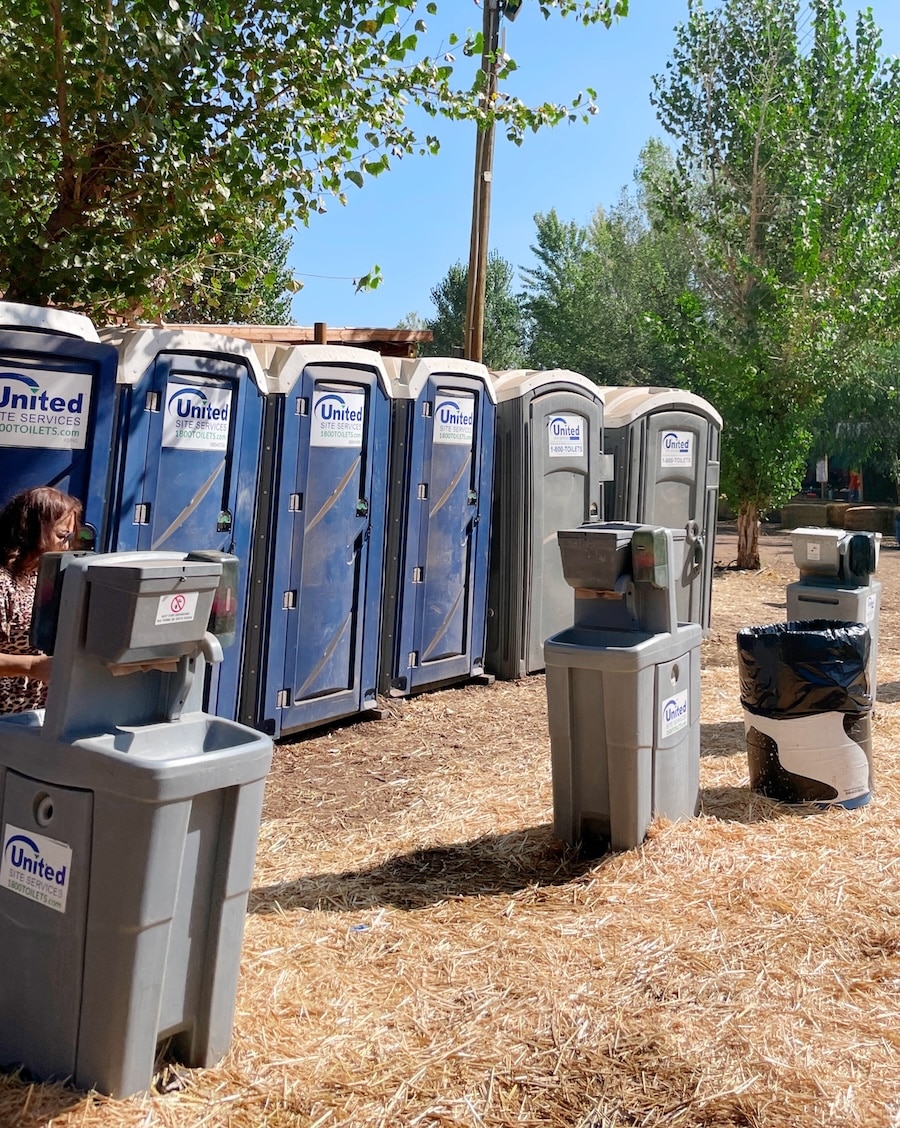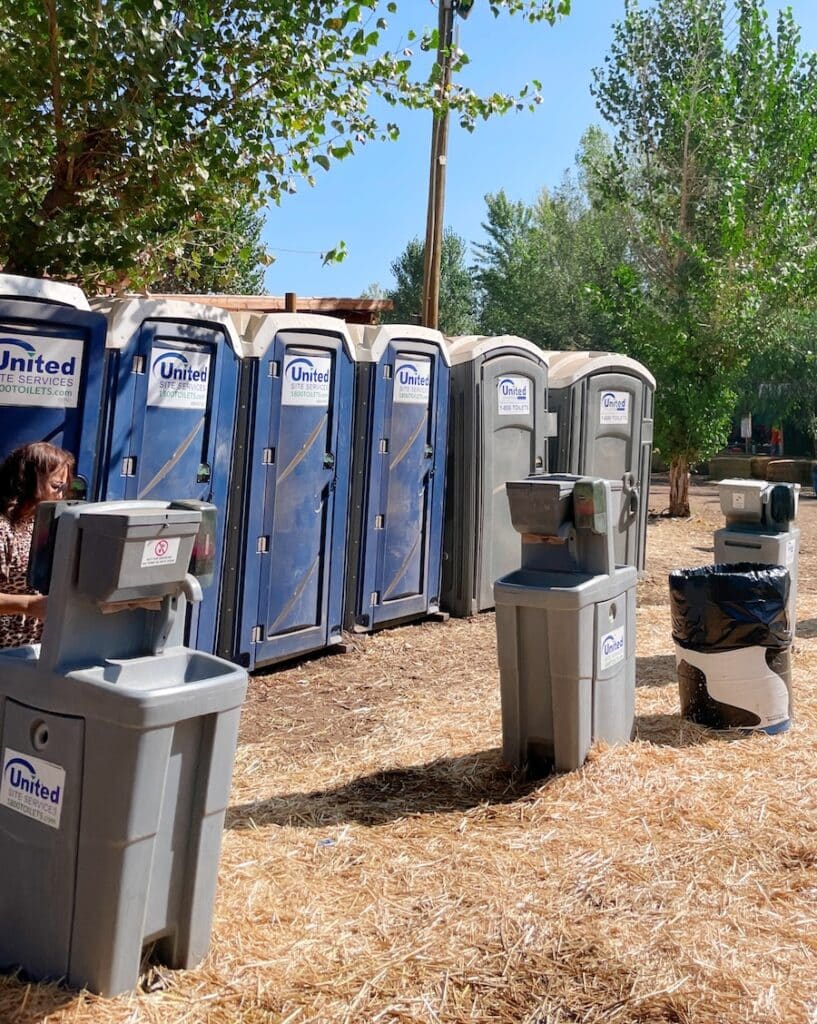 Where to park for Live Oak Canyon pumpkin patch
Our best tip yet is where to park when you're visiting this pumpkin patch. We parked ACROSS the street from the main parking lot in an area filled with gravel and dirt. It was free to park there, and it made it so that we could easily enter the pumpkin patch without having to drive up and down looking for parking.
If you get there early enough, you might be able to easily find free parking inside the patch. It is muddy, so beware. It might also take a bit to exit because the parking lot will get really busy.
The parking lot to Live Oak is located in front of the entrance. If you're coming from Orange County, it'll be on your left-hand side.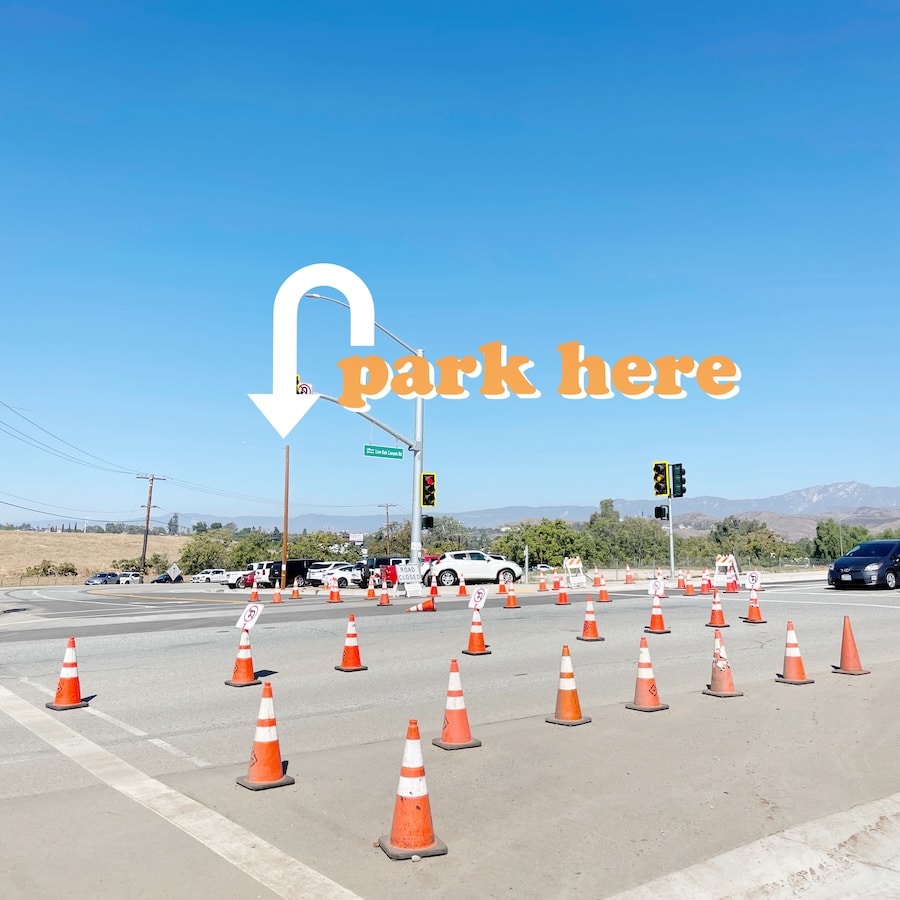 There is additional parking further down Live Oak Canyon Road with shuttles that will take you to the event area.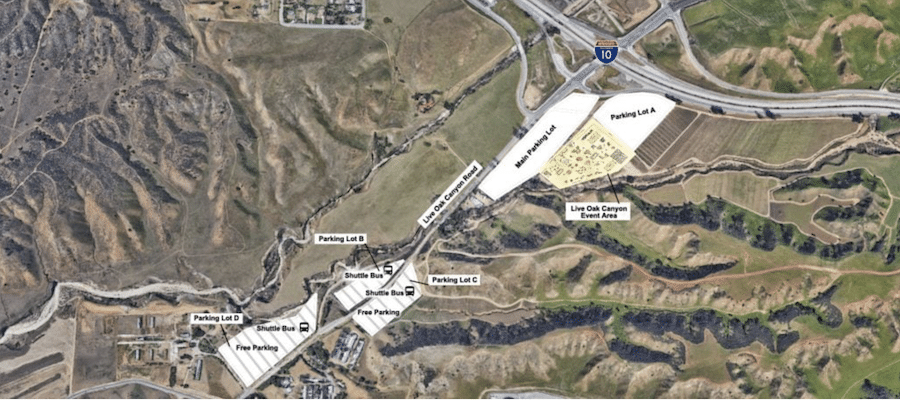 Live Oak Canyon pumpkin patch location
If you're wondering where Live Oak Canyon is located – it's located right along the 10 Freeway in the town of Yucaipa.
32335 Live Oak Canyon Rd
Redlands, California 92373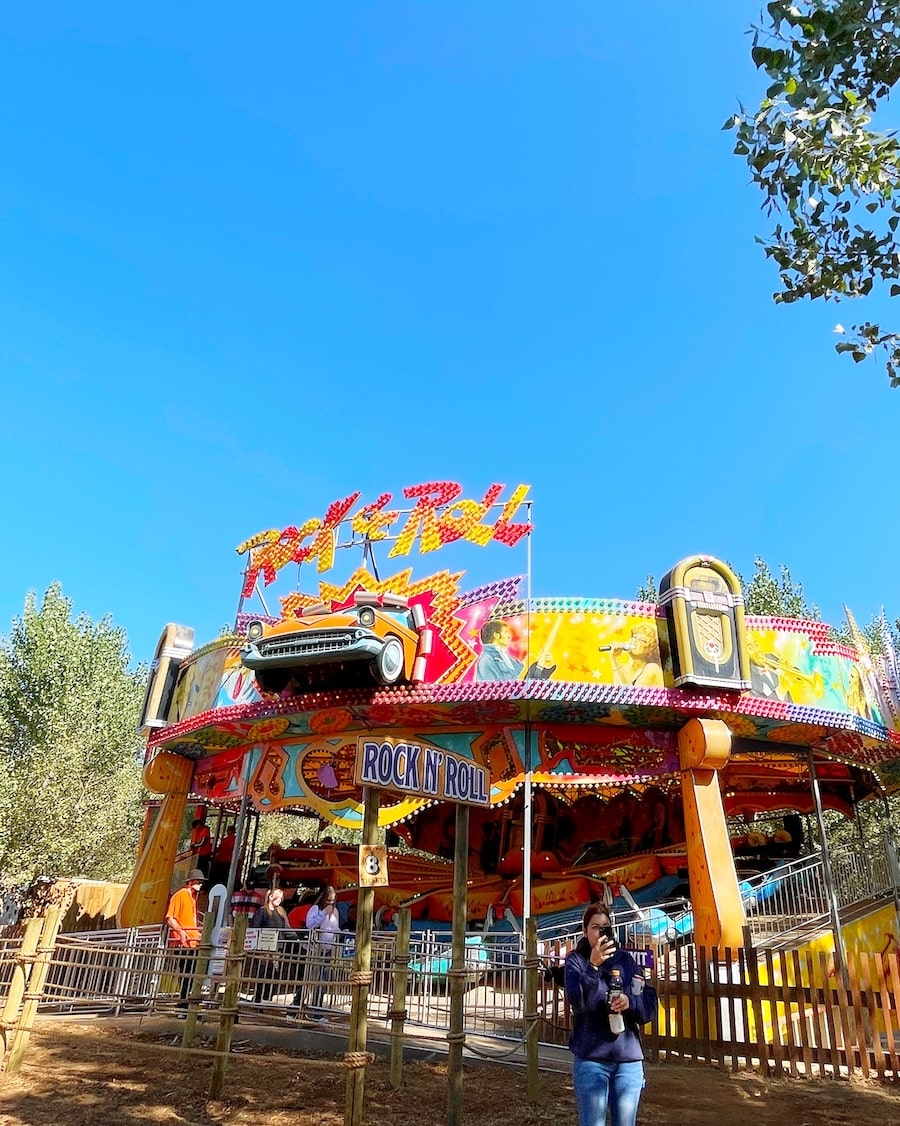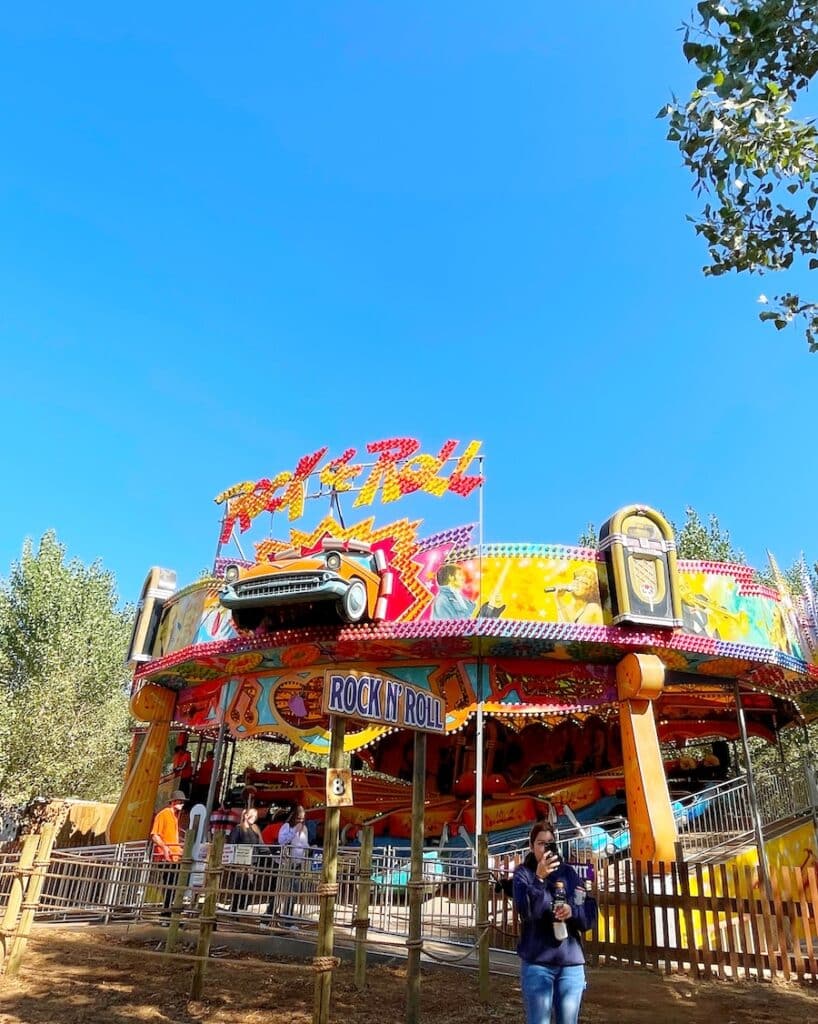 Live Oak Canyon Hours
Live Oak Canyon pumpkin patch is open through Live Oak Halloween on October 31!
Open September 22 – September 24.
Closed September 25.
Open September 26 – October 31st.
Mon – Thurs – 4pm to 9pm
Fri – 4pm to 10pm
Sat – 10am to 10pm
Sun – 10am to 9pm
Halloween – 4pm to 8pm
We hope you found this guide to Live Oak Canyon pumpkin patch useful! Let us know if you have any questions in the comments below!
Looking for pumpkin patches in Orange County? Check out our list of all the best Orange County pumpkin patches!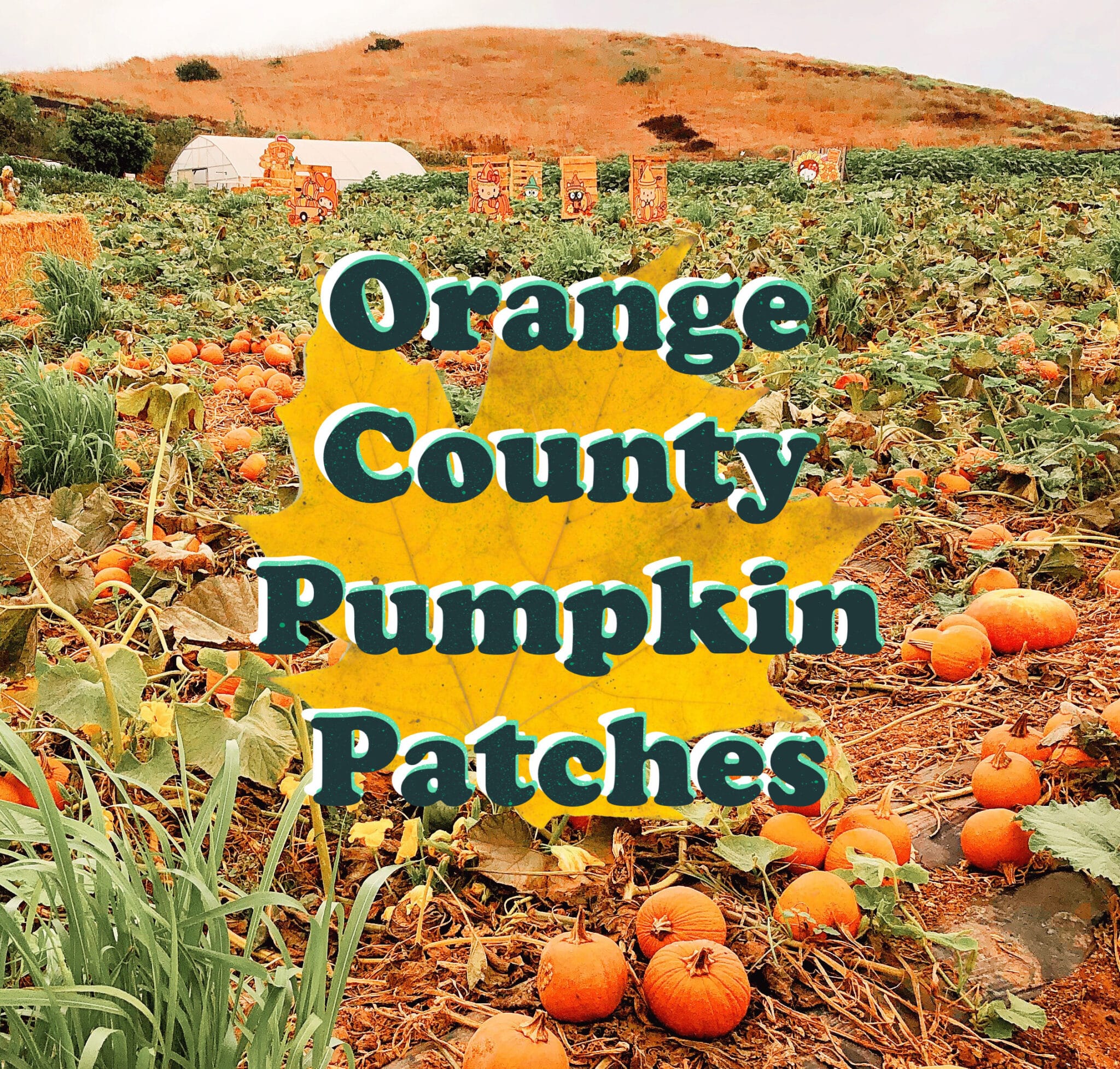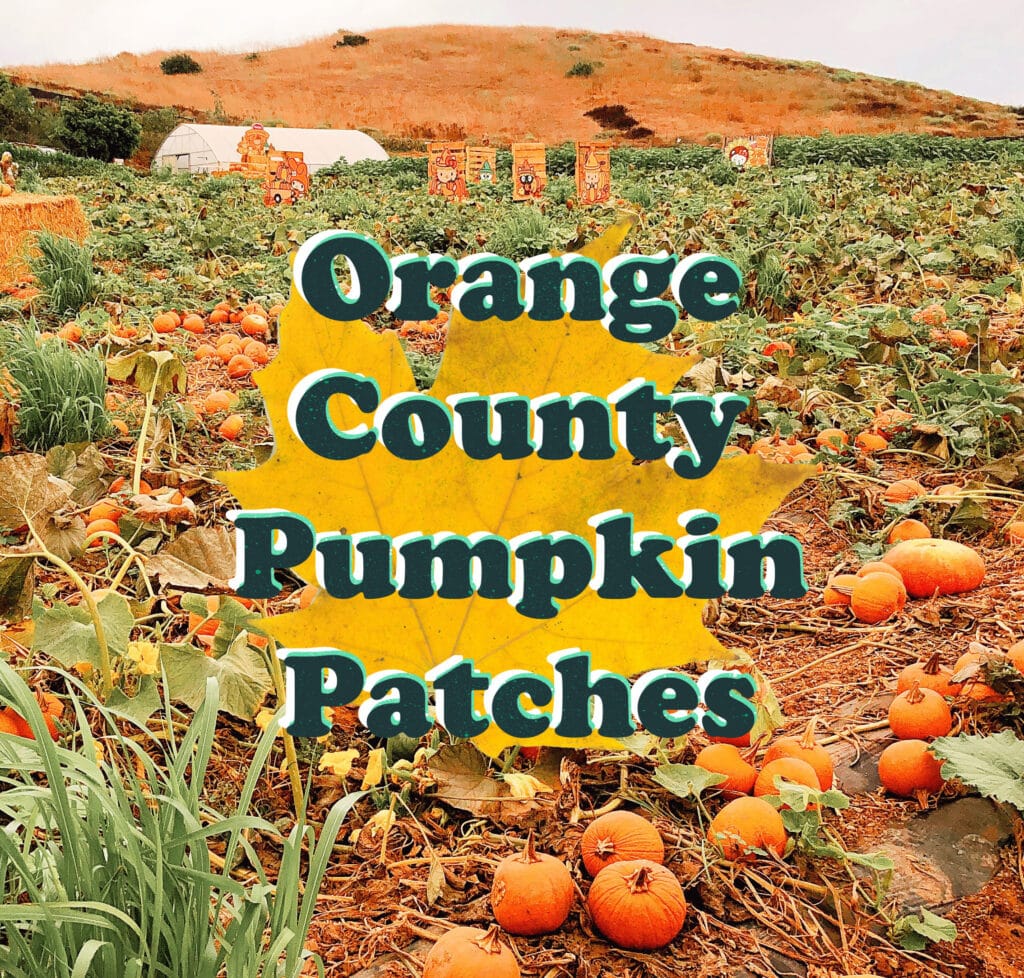 Originally published on October 23, 2023. Last Updated on October 23, 2023 by Pattie Cordova