Dia de los Muertos (Day of the Dead) is coming up soon, and we have your list of where to celebrate this holiday. Family fun and cultura all wrapped into one!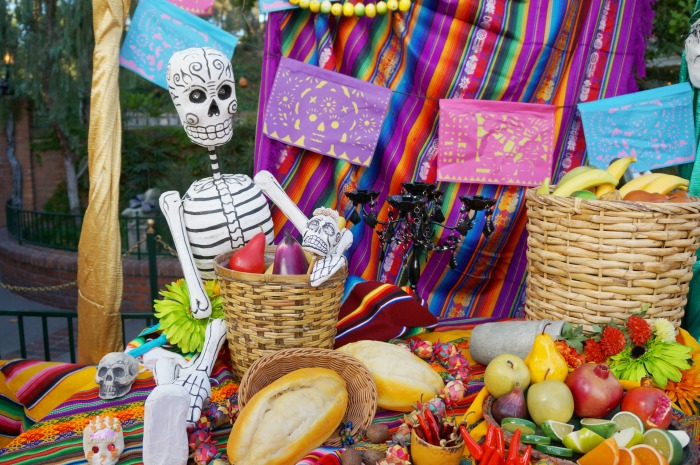 About Day of the Dead
Day of the Dead celebrates the unity of life and death, considered by many to be the most important holiday of the year in Mexico and other Latin American countries. This is the time when the spirits of loved ones who have died return to earth to celebrate this holiday with friends and family. It is not Halloween, nor is it meant to be scary. The holiday is spent in celebration with friends and family, as a time to offer hospitality to the spirits and to honor and remember loved ones.
Every year, I create a Day of the Dead altar in memory of my dad then visit a few Day of the Dead celebrations to share my memories with others. The events highlighted below are those loved by families year after year, and organized by city. Don't see a favorite on the list? Let me know!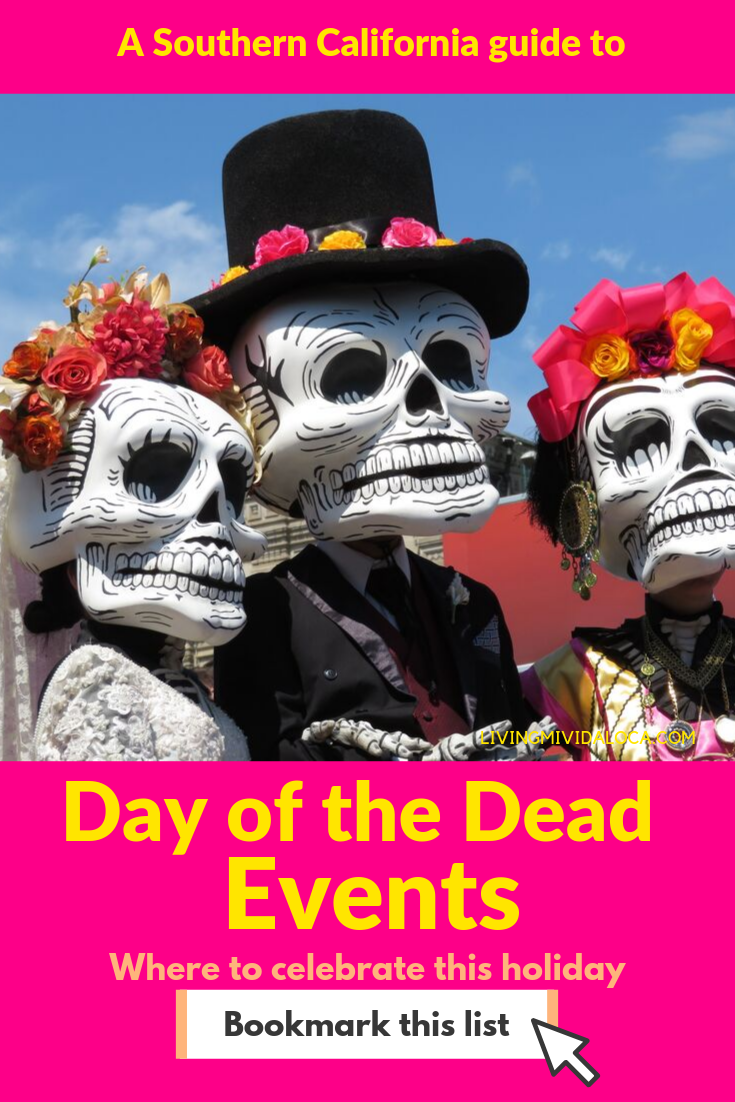 Where to celebrate Day of the Dead (Dia de los Muertos) in Southern California
Day of the Dead events in Fullerton
FREE Día de los Muertos
The Muckenthaler Cultural Center | October 30, 2022
12:00PM-4:00PM
Join us to celebrate Día de los Muertos! We will have festive activities for the whole family, live music, local artisans, and arts and crafts for kids.
---
Day of the Dead events in Garden Grove
FREE Sugar Skull Decorating
Garden Grove Tibor Rubin Library – 11962 Bailey St. | October 25, 2022
3:00PM-6:00PM
Decorate a calavera de azucar, or sugar skull, for Dia de los Muertos! No registration required. All materials provided. Free!
FREE Dia de los Muertos | Dimond & Shannon Mortuary, 10630 Chapman Ave
6:00PM – 8:00PM
Ceremonial Event including a Community Altar, Folkloric Dancers, Mariachi Concert, Photos with La Catrina and Refreshments! Free to Attend, Open to the Public
---
Day of the Dead events in Los Alamitos
FREE Dia de los Muertos
St Isidore Historical Plaza | Oct. 29, 2022
2:00PM-9:00PM
There will be an Altar Display Contest, Costume Contest, Face Painting, Folkloric Dancing, Live Music, and delicious food and drinks. The public is invited to participate in the creation of Altars. The altars are truly the heart and soul of this important cultural event. Altars can be created through a wide spectrum of dedications, depending on one's creative desire. This is your opportunity not only to honor your loved ones who have departed from this world—it is also an opportunity to come together as a community to embrace this celebration of life. Reserve your altar display space – Call (562) 596-9918 for information.
---
Day of the Dead events in Mission Viejo
$5 Día de los Muertos Fiesta
Potocki Center of the Arts | October 23, 2022
3:30pm
The festivities will provide the chance to explore the educational and cultural significance of Day of the Dead traditions. Enjoy live Mariachi music, Folkloric Dance, sugar skull decorating, face painting, and arts and crafts. You can also bring a photo of a loved one or pet that passed too soon to add to our special Ofrenda (memorial altar).
This fun, low-cost celebration includes a screening of "Coco" at 6:30 pm. Patrons should bring a low-back chair or blanket to watch the movie, which is sponsored by the MV Diversity + Inclusion Task Force.
Tickets are $5 per person for age 3 and older and require a signed waiver. To purchase tickets, call 949-470-3062 or visit cityofmissionviejo.org/register. Food, beverage, beer and wine will also be available to purchase at the event.
---
Day of the Dead events in Orange
FREE Community Ofrenda
El Modena Branch Library | October 1-November 3, 2022
OPEN
The El Modena Branch Library will display a community Día de los Muertos ofrenda beginning October 1 through November 3 to honor the memories of loved ones who have passed away. If you would like to add a photograph of a loved one to the library display, please bring your family friendly picture(s) to the One Desk at the El Modena Branch Library between these dates. Photographs must be 5" X 7" or smaller.
---
Day of the Dead events in Santa Ana
Gente Night Market
Heritage Museum | October 23, 2022
12:00PM-5:00PM
•Altars
•100+ vendors
•Live entertainment
•Resources
•Food and drinks
Dia de los Muertos
FREE Fairhaven Memorial Park and Mortuary | November 2, 2022
12:00PM-1:00PM
Honoring Those Who Came before Us with a Special Dia de los Muertos Service…A Bi-Lingual Remembrance Service featuring a Traditional Offertory and Special Entertainment by Trio Los Salazar Mariachi & Las Estrella's Dancers from OCSAFree to Attend
Open to the Public
FREE Dia de los Muertos
Bowers Museum | November 6, 2022
11:00AM-3:00PM
Observe Mexican Day of the Dead as we remember those friends and family members that are no longer with us. We celebrate the joy and happiness they brought into our lives with music, dance, art, and special foods. Bring a photo for our Ofrendas (memorial altar) honoring our loved ones and that special pet that left too soon. Enjoy performances by Mariachi Anacatlan, Relampago del Cielo, Los Cuates, Xipe Totec and Joel Aceves.
FREE for Bowers members age 62+ | General $7 Mexican Day of the Dead Sugar Skulls
Bowers Museum (John Lee Court) | October 27, 2022
10:00AM-12:00PM
A very special arts engagement program for seniors. Decorate a sugar skulls to place on an ofrenda (memorial altar), or to gift a friend, during this traditional Mexican holiday.
FREE Viva La Vida Santa Ana
Downtown Santa Ana | November 5, 2022
2:00PM-10:00PM
Celebrate life the Latino way—artistic and compassionate. Santa Ana's Dia De Los Muertos Festival captures this spirit through live performances, art installations and vendors, traditional altars, live music and community closeness. So, get your face paint ready and celebrate the Day of the Dead at Viva La Vida Santa Ana.
---
Day of the Dead events in Santa Fe Springs
FREE Dia de Los Muertos
Heritage Park | October 15, 2022
5:00PM-10:00PM
An evening of traditional music, delicious food, artisan vendors, and entertainment for all. Bring the whole family to learn the art of decorating traditional sugar skulls through our Sugar Skull Workshop. Honor a member of your family by participating in our Community Ofrenda Showcase. Food and drinks will be available for purchase.

Skulls can be purchased individually for $10 or in a bundle of 3 for $25. Sugar skull decorating is geared for individuals 8 years of age and older, as we will utilize icing and other craft materials. Registration for the sugar skulls decorating begins September 21st at 10:00 a.m.
---
Day of the Dead events in Stanton
FREE Day of the Dead Skull Craft – Calavera Luminaries
Stanton Library | November 1, 2022
5:00PM-6:00PM
Color and craft a festive luminary for your departed loved ones!
We will color bright skull "calaveras" on milk jugs for Day of the Dead, then fill with glowing lights to light up our homes and graveyards.
Free, no registration required. Fun for the whole family. All supplies will be provided.
Originally published on October 19, 2022. Last Updated on October 25, 2022 by Pattie Cordova