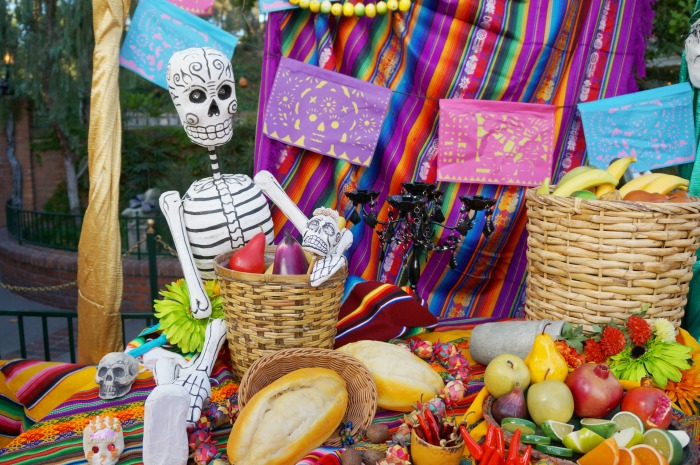 Holidays
Top 20 Day of the Dead books for kids
This Day of the Dead books for kids page contains affiliate links. If you make a purchase using these links, I may receive a small commission (at no extra cost to you). Read our full disclosure policy here.
Day of the Dead is celebrated all throughout Mexico… but also in the United States!!! We love seeing all the different Day of the Dead celebrations throughout Orange County and beyond. We celebrate in our homes and we teach our children this beautiful tradition through the creation of the altar, sharing stories of our loved ones, and reading Day of the Dead books for kids about this memorable holiday.
This month, we share our favorite Day of the Dead books for kids that you can read to your children and pass on this tradition, or simply learn more about the holiday.
If you have a favorite book about Dia de los Muertos that you'd like to share with us – please let us know in the comments below! We're always looking for a good read.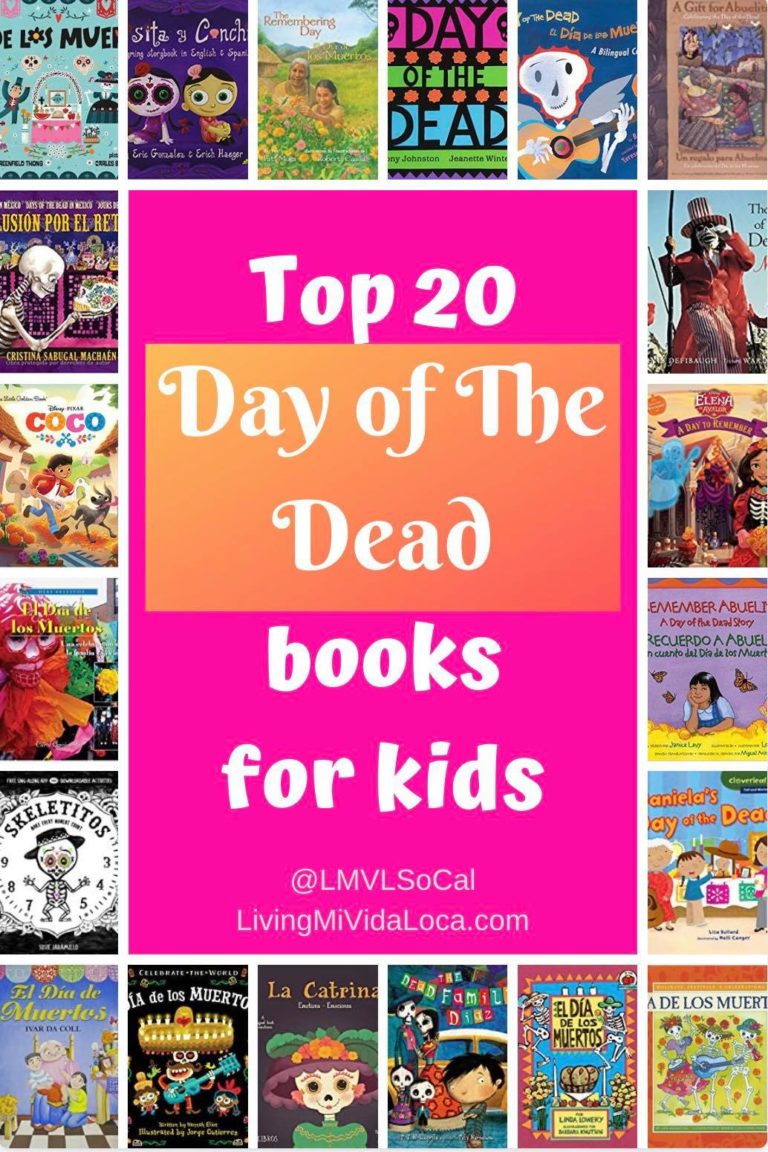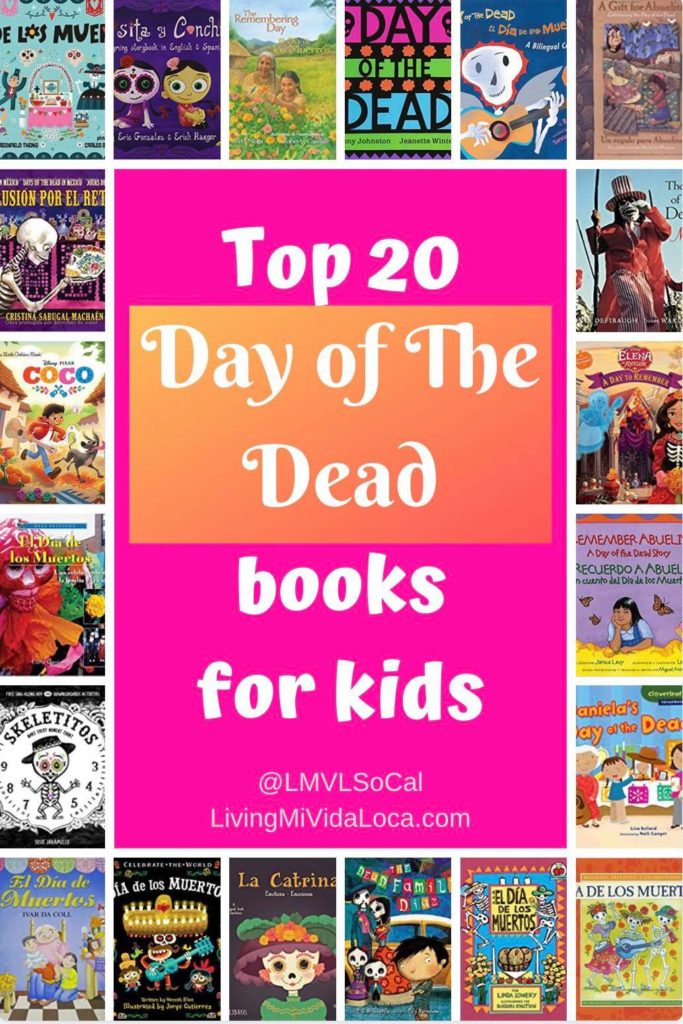 Day of the Dead books for kids
La Catrina: Emotions – Emociones (English and Spanish Edition)
A lil' libros book of emotions. Inspired by one of the most recognized symbols of Dia De los Muertos (Day of the Dead), this book introduces little ones to emotional expressions and their first English and Spanish words―and teaches them to recognize feelings like emocionado (excited), triste (sad), and confiado (confident). Buy here.
Día de los Muertos (Celebrate the World)
At the end of October each year, it's time to celebrate an ancient tradition: Día de los Muertos! With vibrant illustrations by Golden Globe–winning Mexican illustrator Jorge Gutierrez, this festive board book teaches that Día de los Muertos honors ancestors and loved ones who have passed. From sugar skulls to papel picado, this is a holiday that truly commemorates the cycle of life. Buy here.
Dia de Los Muertos
It's Dia de Los Muertos (Day of the Dead) and children throughout the pueblo, or town, are getting ready to celebrate! They decorate with colored streamers, calaveras, or sugar skulls, and pan de muertos, or bread of the dead. There are altars draped in cloth and covered in marigolds and twinkling candles. Music fills the streets. Join the fun and festivities, learn about a different cultural tradition, and brush up on your Spanish vocabulary, as the town honors their dearly departed in a traditional, time-honored style. Buy here.
Rosita y Conchita / Rosita and Conchita (English and Spanish Edition)
Help Conchita celebrate the life of her dealy departed sister as she sets up a memorial altar for her on the Day of the Dead. This heartfelt story book rhymes in English & Spanish. Includes how to make your own sugar skulls activities. Buy here.
Coco Little Golden Book (Disney/Pixar Coco)
Despite his family's baffling generations-old ban on music, Miguel (voice of newcomer Anthony Gonzalez) dreams of becoming an accomplished musician like his idol, Ernesto de la Cruz (voice of Benjamin Bratt). Desperate to prove his talent, Miguel finds himself in the stunning and colorful Land of the Dead following a mysterious chain of events. Along the way, he meets charming trickster Hector (voice of Gael García Bernal), and together, they set off on an extraordinary journey to unlock the real story behind Miguel's family history. Buy here.
I Remember Abuelito: A Day of the Dead Story / Yo Recuerdo a Abuelito: Un Cuento del Día de los Muertos
It's the Day of the Dead! It's time to celebrate! In this bilingual book, a young girl is busy helping her family prepare to honor those who have died–especially her grandfather. She misses him very much and is excited for his spirit to visit that night. Buy here.
The Day of the Dead
With sweet-smelling marigold petals and joyful songs, a family welcomes back their beloved ancestors. This lively and colorful (and not too scary) tribute to a unique holiday is in English and Spanish. Buy here.
Gift For Abuelita / Un regalo para Abuelita: Celebrating the Day of the Dead/En celebracion del Dia de los Muertos
Rosita wishes that her grandmother, whom she adored, could be remembered in a special way. She uses the occasion of el D!a de los Muertos to make a gift that is just right to celebrate abuelita. This is an exceptional book to use in a classroom to discuss the loss of loved ones. Buy here.
Day of the Dead
Above a small town in Mexico, the sun rises like a great marigold, and one family begins preparations for an annual celebration, El día de los muertos, the Day of the Dead. Soon they will go out into the night, join their neighbors, and walk to the graveyard to welcome the spirits of their loved ones home again. Framed by decorative borders and peppered with Spanish words, Day of the Dead is a glorious introduction to a fascinating celebration. A note at the end of the book provides factual information about the holiday. Buy here.
El dia de muertos / The Day of the Dead
Rhyming verse describes the good food, decorations, and stories when grandmother arrives for the annual celebration of the Mexican holiday, Day of the Dead. Buy here.
The Remembering Day / El dia de los muertos
Long ago in what would come to be called Mexico, as Mama Alma and her granddaughter, Bella, recall happy times while walking in the garden they have tended together since Bella was a baby, Mama Alma asks that after she is gone her family remember her on one special day each year. Includes facts about The Remembering Day, El dia de los muertos. Buy here.
Day of the Dead: Día de Muertos
The people of Oaxaca, Mexico, believe the souls of the dead, the antepasados, return every year for a twenty-four-hour visit. They are welcomed into their former homes with gaily decorated altars and offerings of food and gifts. Then they are escorted back to their resting places in the cemeteries. In recent years, Dia de los Muertos has become widely known not only throughout Mexico but also in the United States, drawing tourists in large numbers. Buy here.
Dia De Los Muertos / All Souls Day
Introduces the history and festivities associated with the Mexican Day of the Dead, with instructions for craft projects related to the holiday. Buy here.
LA ILUSIÓN POR EL RETORNO: Día de Muertos en México – Days of the dead in Mexico – Jours des morts au Mexique
The dead are celebrating October ends and in the first days of November in Mexico the days of the dead are celebrated, which are actually a song to life.Those who no longer live have the permission of the beyond to visit those who were their homes and are received with lovingly prepared offerings under magnificent altars adorned with fruits, flowers and breads in a profusion of light, colors, flavors and scented aromas, whose essence will be the Food for the souls that will come in the form of butterflies, bees, grasshoppers or simply as a wind blow. There are innumerable artistic expressions that reach their highest level in these days that are characterized by the jocular and affectionate way of seeing Death.In this beautifully illustrated book you can approach and enjoy some of the most symbolic traditions that in this country acquire magical and unique characteristics. Buy here.
El Día de los Muertos (The Day of the Dead) (Yo solo: Festividades (On My Own Holidays))
The Day of the Dead is a special holiday celebrated in many places like Mexico and parts of the United States to honor people who have died. It's celebrated between October 31 and November 2 and there are costumes, but no one says, "trick-or-treat." There is candy, but this candy is shaped like coffins and skeletons. People picnic in cemeteries, go to parades, set off fireworks, and bake special breads and meals to remember friends and family members who have died. Buy here.
Daniela's Day of the Dead (Cloverleaf Books ™ ― Fall and Winter Holidays)
Daniela is preparing for the Day of the Dead―the first one since her grandpa died. She makes an ofrenda with Grandpa's favorite things and toy skeletons. Her family has a party to remember Grandpa. Buy here.
The Dead Family Diaz
Every skeleton in the Land of the Dead is excited to celebrate el Día de los Muertos with the Living. But not Angelito. His big sister has told him all about their horrifying bulgy eyes and squishy skin. So when Angelito is separated from his family in the Land of the Living, he's petrified—until he makes a new friend who is just as terrified of THEM as Angelito is. Then his new buddy turns out to be (gulp!) a living boy! Angelito runs as fast as his bony feet can carry him. Fortunately the traditions of the Day of the Dead reunite the two boys, just in time for some holiday fun. Buy here.
Elena of Avalor A Day to Remember
Elena loves celebrating Dia de los Muertos-The Day of the Dead-in Avalor. It's a day of remembrance to honor and celebrate her ancestors with an exciting festival full of food, activities, dance, and fun! Join the celebration in this colorfully illustrated storybook that includes two sheets of stickers. Buy here.
Skeletitos: Make Every Moment Count
Tomba-la-ca, tomba-la-ca, tomba-la! Come enter into the creepy-crawly, mischievous and mysterious world of Skeletitos, where being on the other side of life is never an excuse for not having a good time! Inspired by the beautiful Mexican calavera art by Jose Guadalupe Posada, Skeletitos is a celebration of the ordinary and the completely extraordinary. Tap your fingers or stomp your feet, no need to sit still. After all, before you know it, our time will be up! Buy here.
There you go! Our top 20 Day of the Dead books for kids. We would love to hear which one you liked the best!!!
Originally published on October 17, 2019. Last Updated on October 17, 2020 by Pattie Cordova