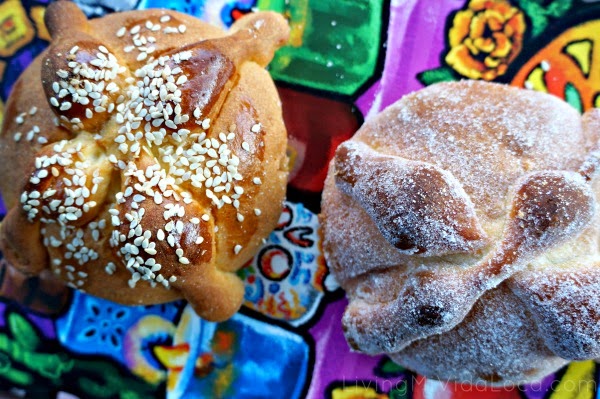 It's that time again, time to buy some pan de muerto! Pan de muerto, or Day of the Dead bread, is a bread that is a special bread used to commemorate our loved ones during the annual Mexican holiday, Day of the Dead, which is celebrated annually on November 2. In Southern California, we have a lot of Day of the Dead events to celebrate this holiday.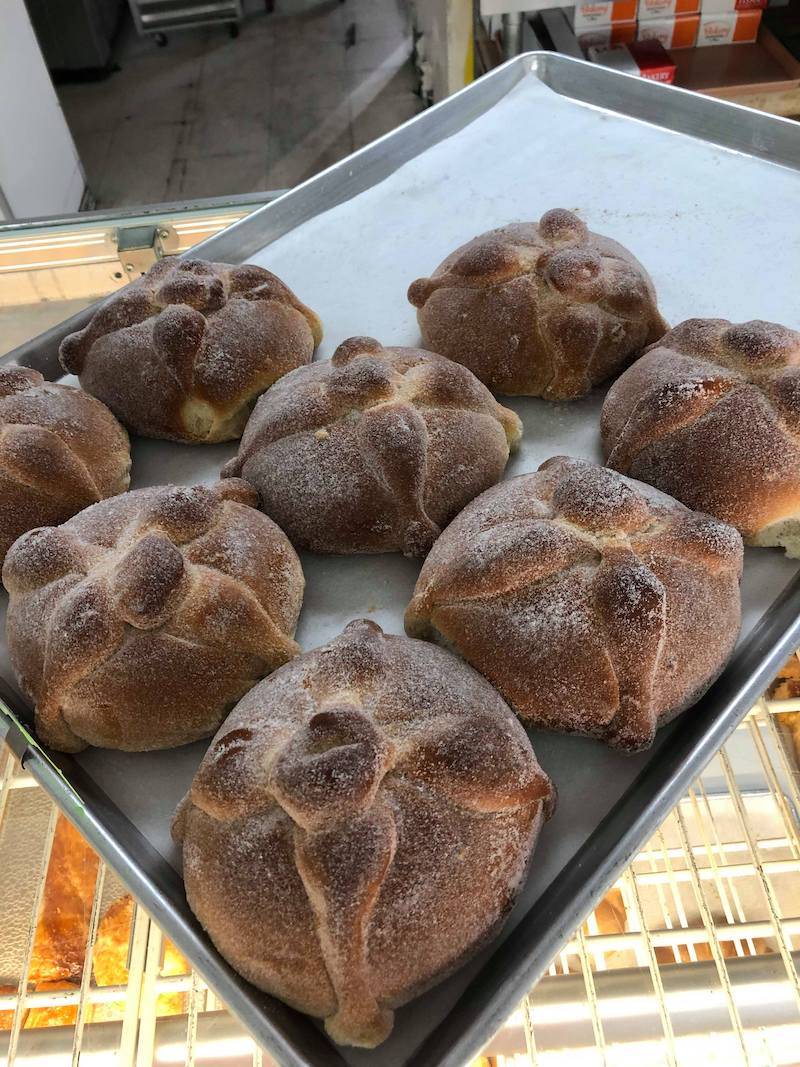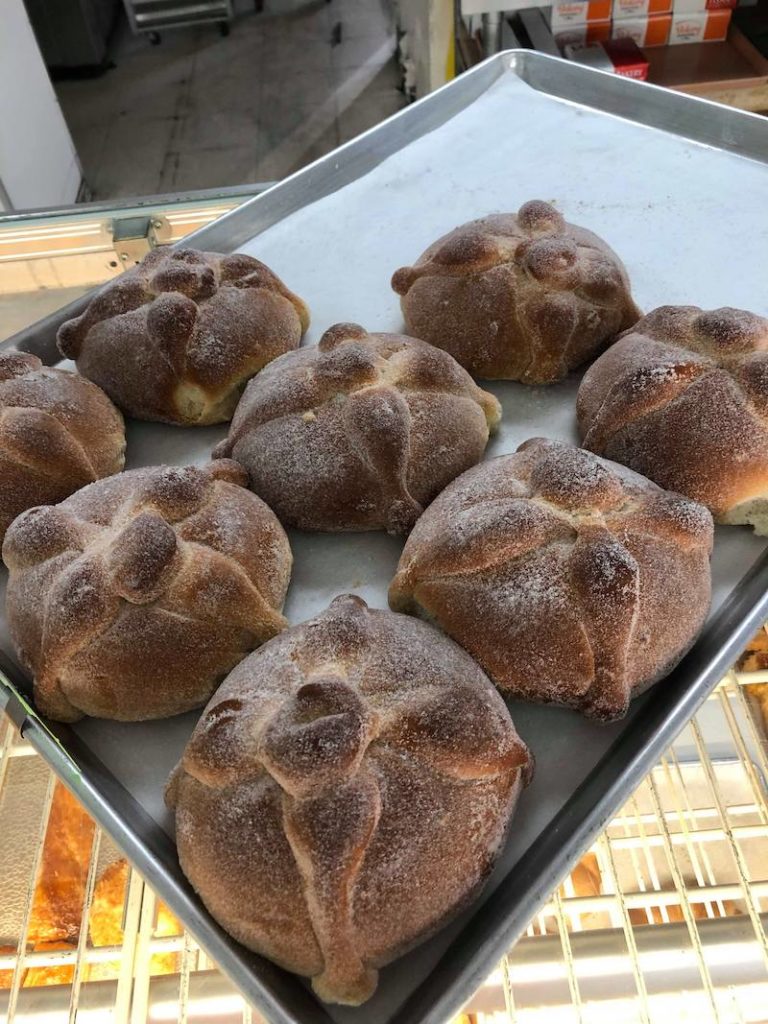 One way to celebrate Day of the Dead is to place pan de muerto on our altars to honor a loved one that has passed away or someone famous that you want to honor with an altar. We call placing the bread on an altar an ofrenda. Basically, it is an offering made to your loved one.
Lucky for us, even though pan de muerto is commonly placed on altars for the holiday, we can also enjoy it all month long with our cafécito, champurrado or Abuelita Mexican hot chocolate.
What is Day of the Dead bread
Day of the Dead bread is a type of pan dulce that is traditionally from Mexico but it has become very popular in the United States during the weeks leading up to November 2nd. You can often find this bread in Mexican grocery stores or Mexican bakeries throughout the month of October (or you can make your own Day of the Dead bread using this Day of the Dead recipe!).
The bread is usually shaped like a bun and it has bone-shaped pieces in the center that make a sort of cross shape. The bread is usually flavored with anise, orange flower or orange zest but there are various variations. Some bread has pieces of candied fruit on top and some are made into ice cream sandwiches or have fillings in the middle.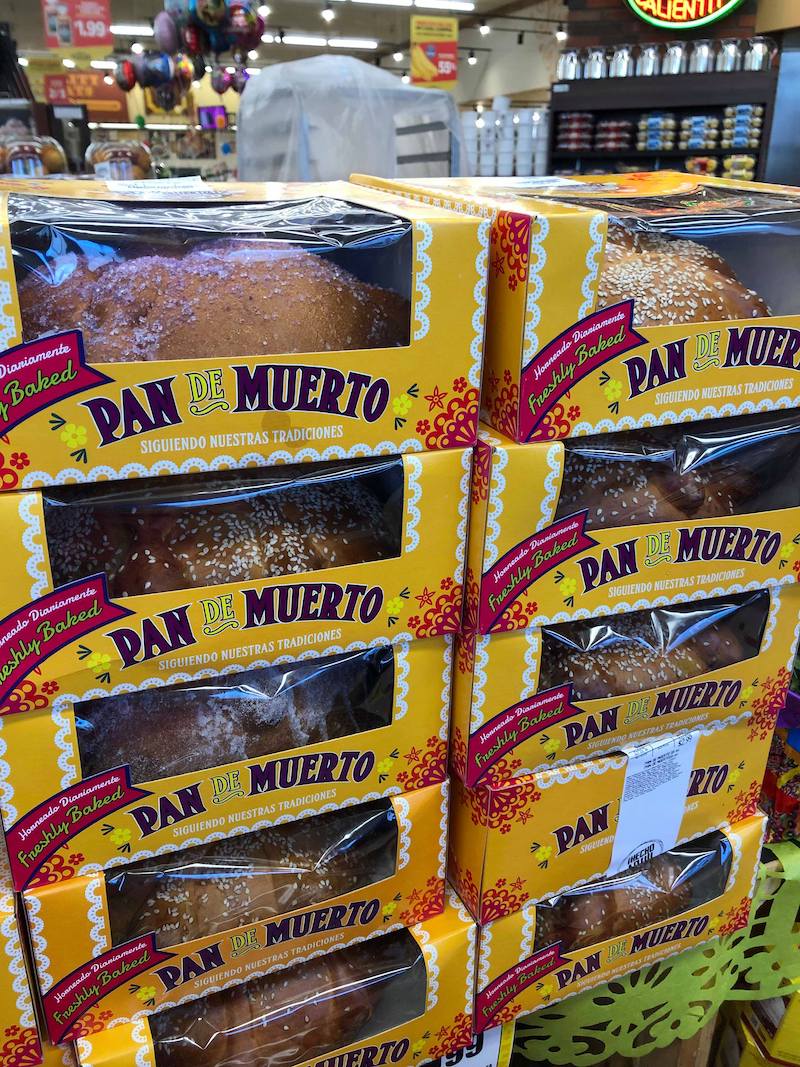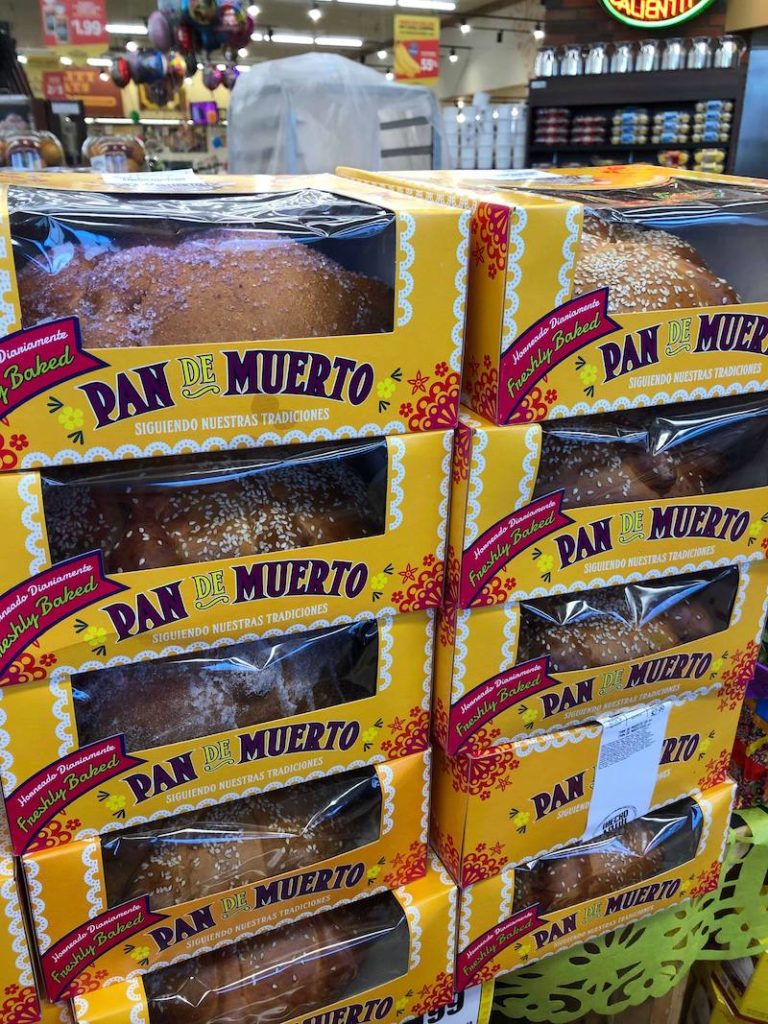 This month, we gathered our favorite spots in Orange County to find Pan de Muerto to share with you. Many of these bakeries have multiple locations throughout Orange County and beyond, and we encourage you to share with us your favorite spots to buy Day of the Dead bread! We love discovering new bakeries and are always on the look out for traditional breads.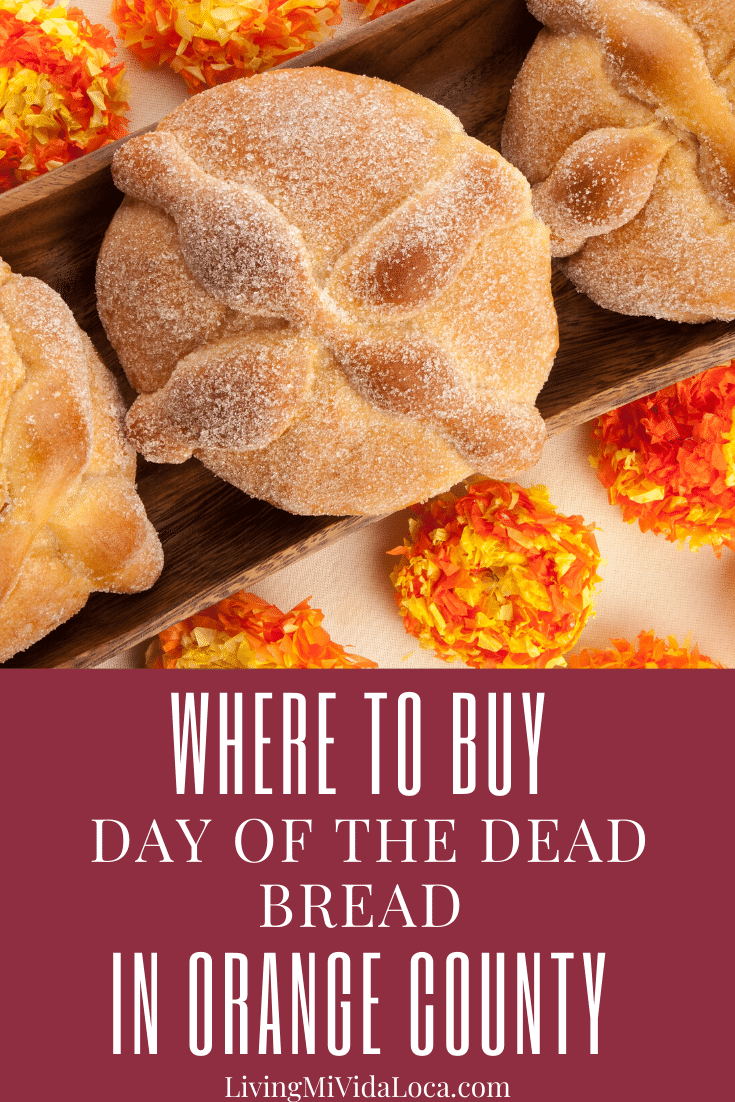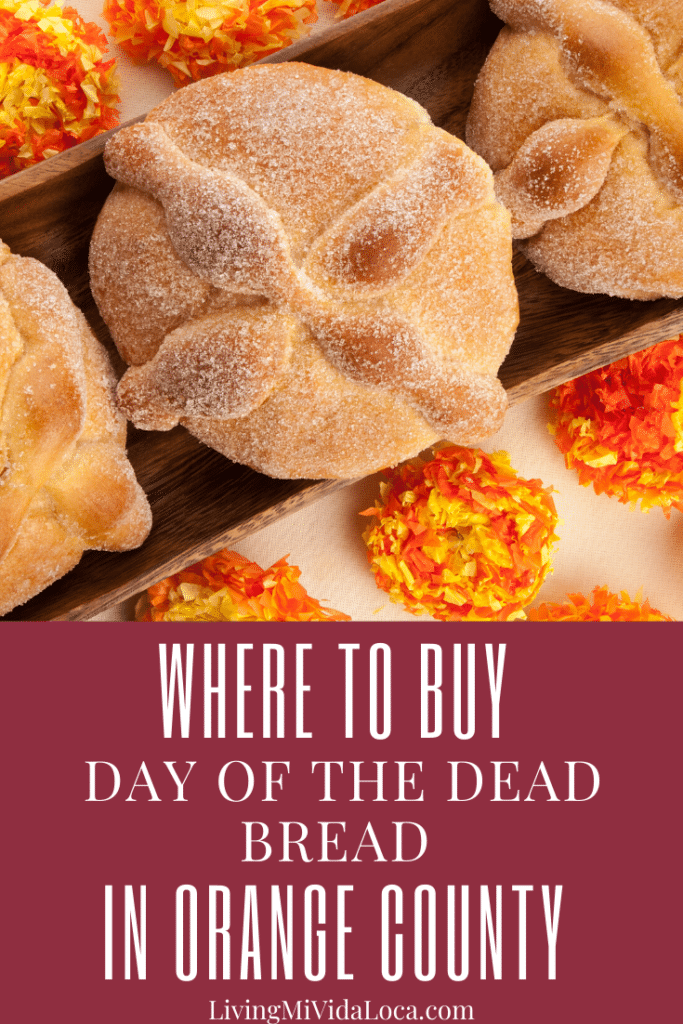 Best places to buy Pan de Muerto in Orange County
The following bakeries are just some of our favorites out here in Orange County. Call ahead to make sure they have some on hand, and to confirm pricing.
Café Cultura – Santa Ana
324 W 4th Street, Santa Ana, CA 92701, (714) 662-2002
This place is so popular with their pan de muerto that it may be sold out when you arrive. The bread comes in an individual size and sells for $2.50. They can prepare it for you with a filling if you'd like for an extra charge. You should call before you go to make sure they have it.
We also recommend trying their horchata latte or Abuelita latte. It's the perfect combination to your pan de muerto. They also offer food and other pastries if you'd like, such as chilaquiles or conchas.
Café Cultura is in the heart of downtown Santa Ana, so don't be surprised if you see local business professionals meeting for some breakfast and cafécito in the morning at this place. It's the perfect spot for that impromptu business meeting.
There is limited street parking, but the parking meters accept credit cards as well as coins.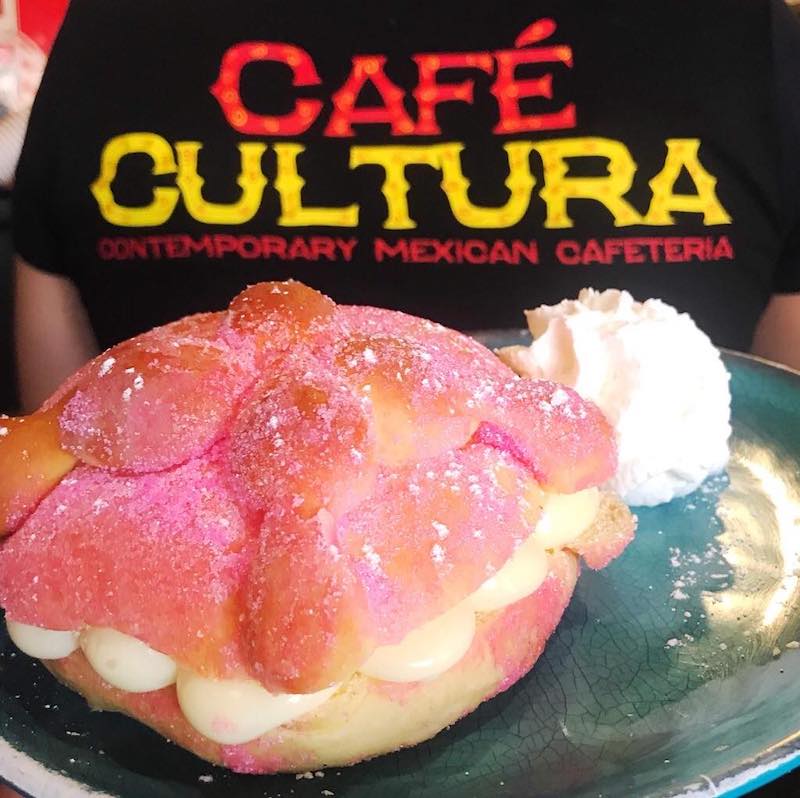 Northgate Markets
Various Locations
We like the various flavors and sizes you can find at Northgate Markets. We tried one of the individual sized pan de muerto in pineapple flavor. It was just okay, but next time we will try a different flavor – like the one topped with sesame seeds. It looks delicious!
The medium sized breads have a price tag of $2.99. Not bad at all and they come in cute decorated boxes – perfect to give as a gift.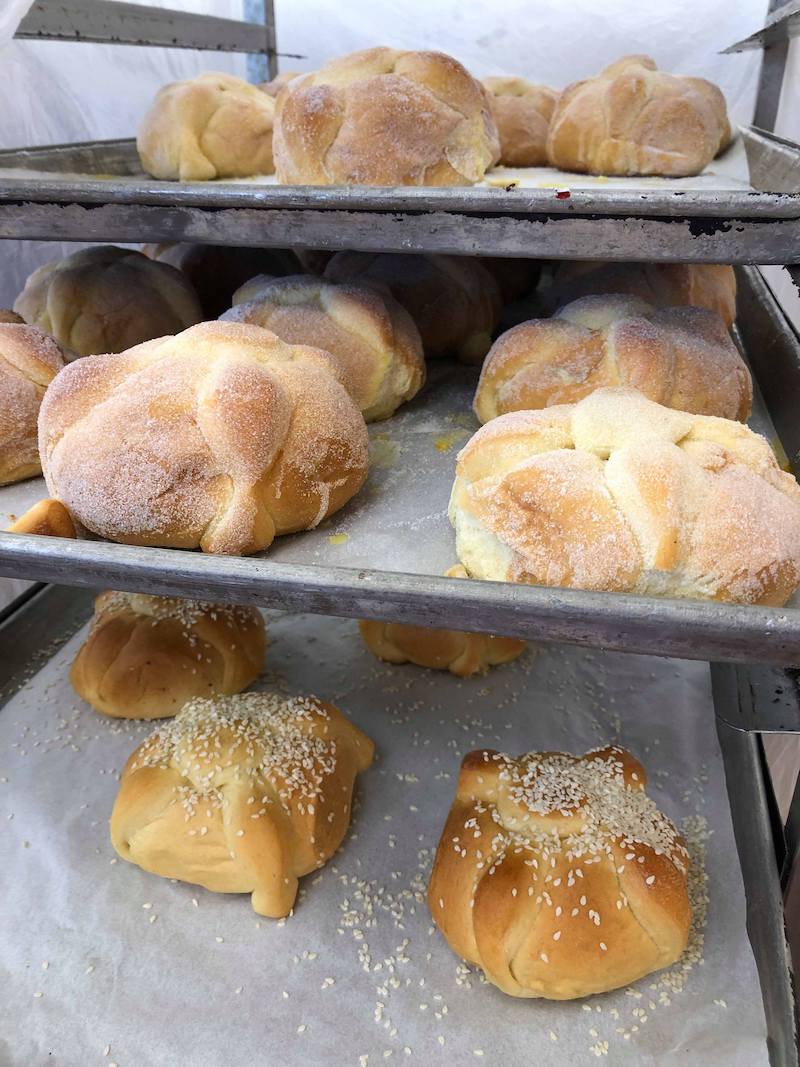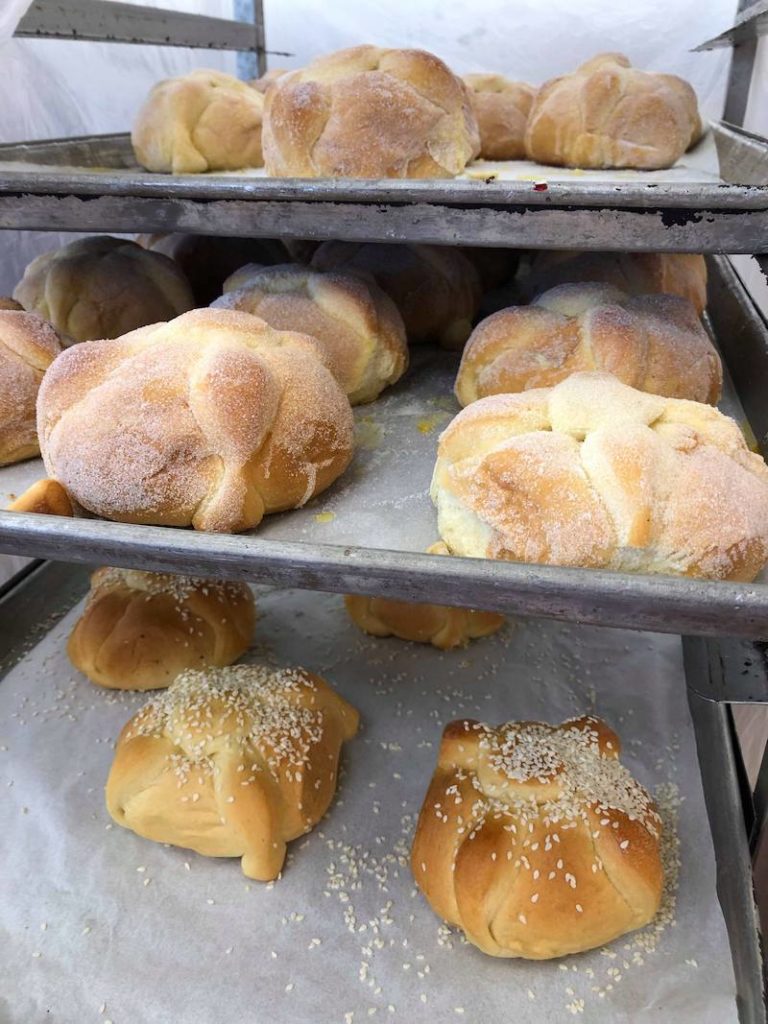 The Mill Bakery – Santa Ana
We visited: 312 S Main St, Santa Ana, CA 92701 (714) 543-4233
116 W MacArthur Blvd, Santa Ana, CA 92707, (714) 540-7278
This place is super popular with their pan de muerto and they have various sizes to suit your needs. This place is one of our favorites and their recipe for pan de muerto has been around for many decades.
Not only do we like the flavor here, there are large sizes of the bread here so you can take it to a family gathering or party and bring enough to share. This place is also famous for their conchas but you must get their early because they will run out. There are two locations in Santa Ana and the price ranges we saw were $1.95 to $3.95 depending on the size.
We've been going to this bakery for decades and one perk if you're a police officer is that you get free coffee with your order anytime you visit.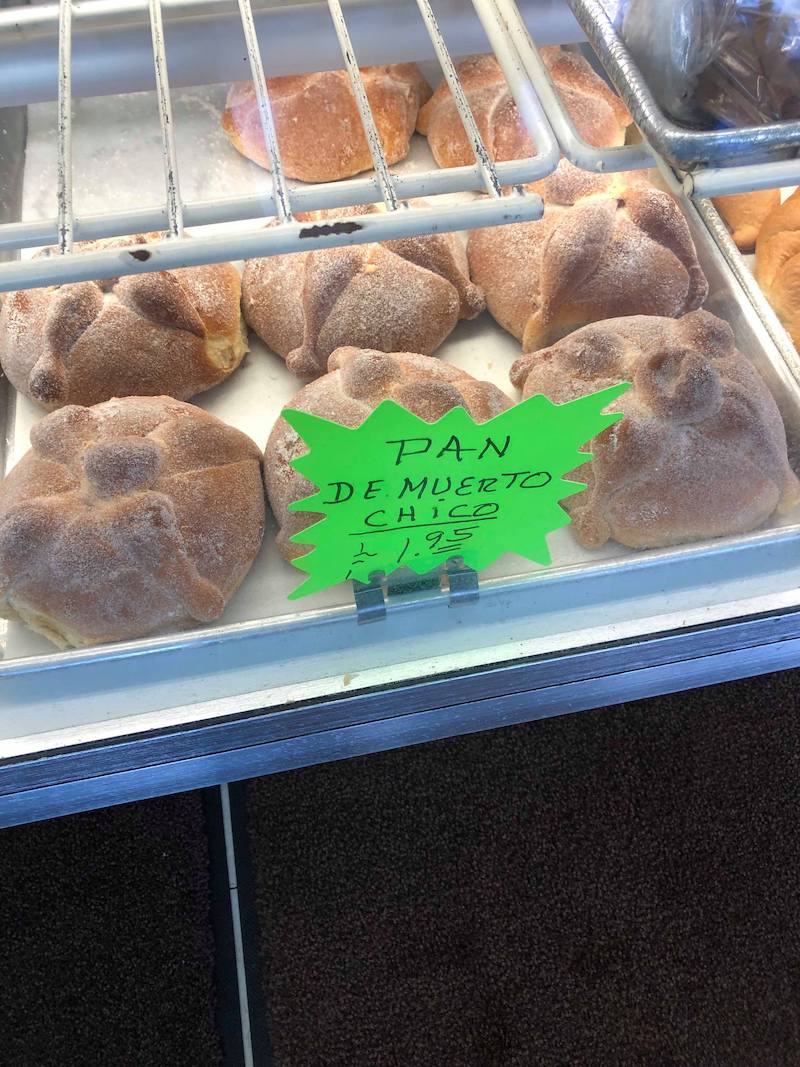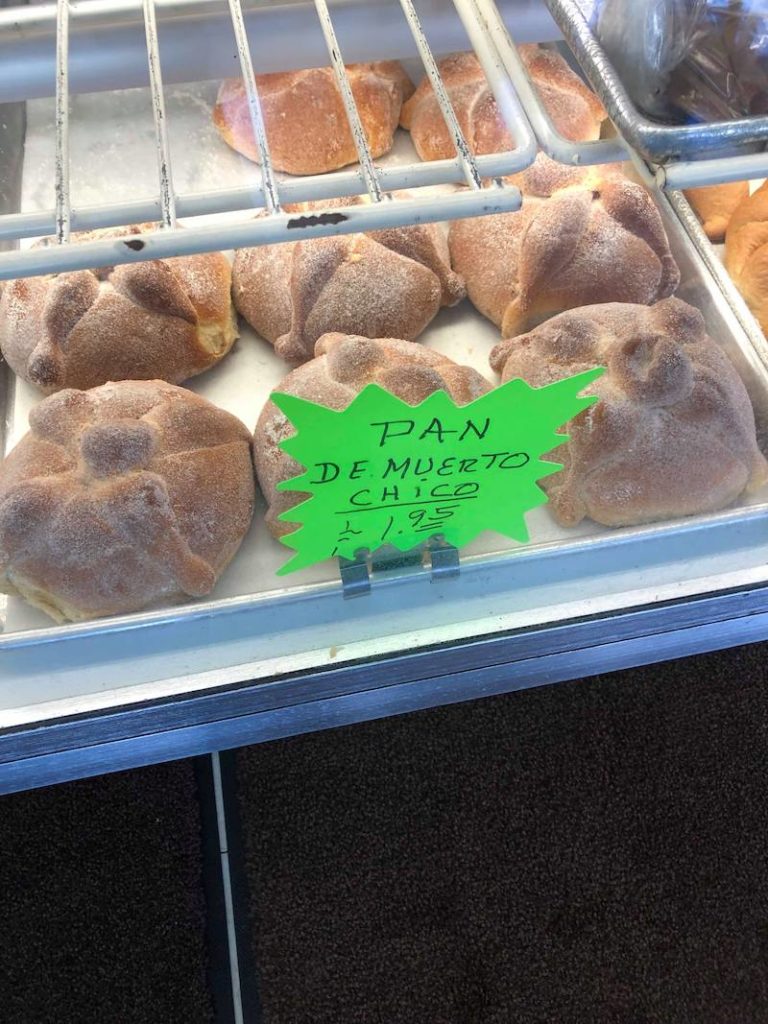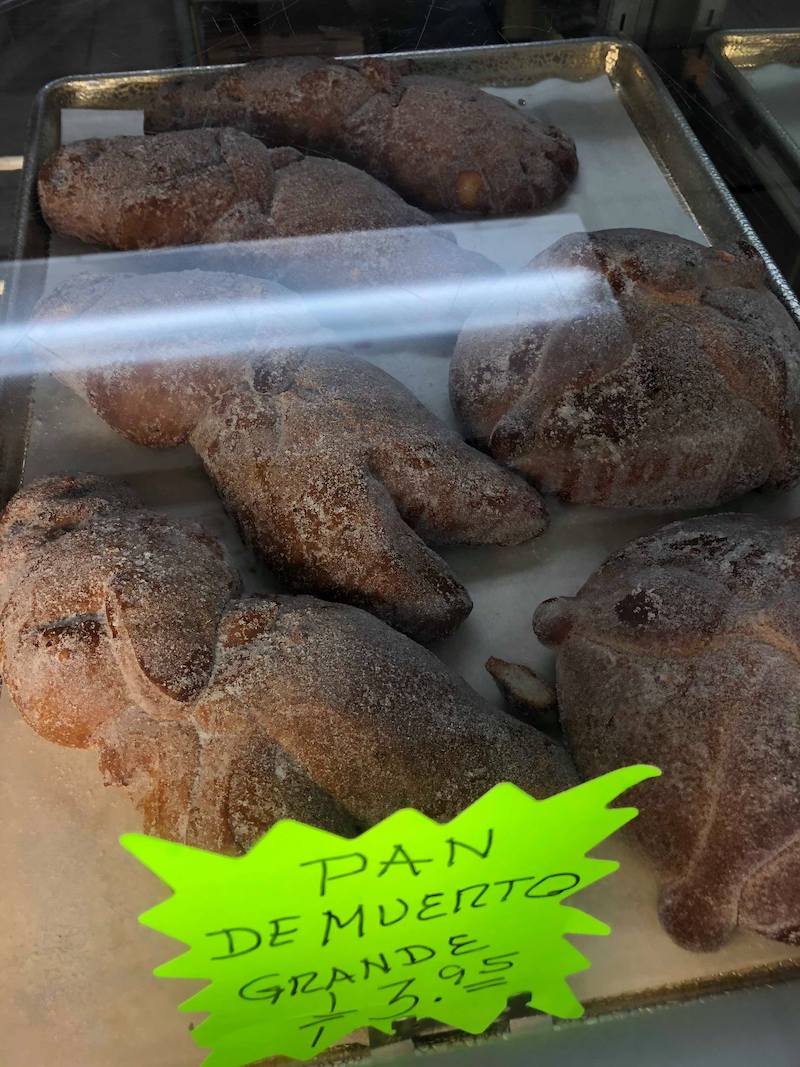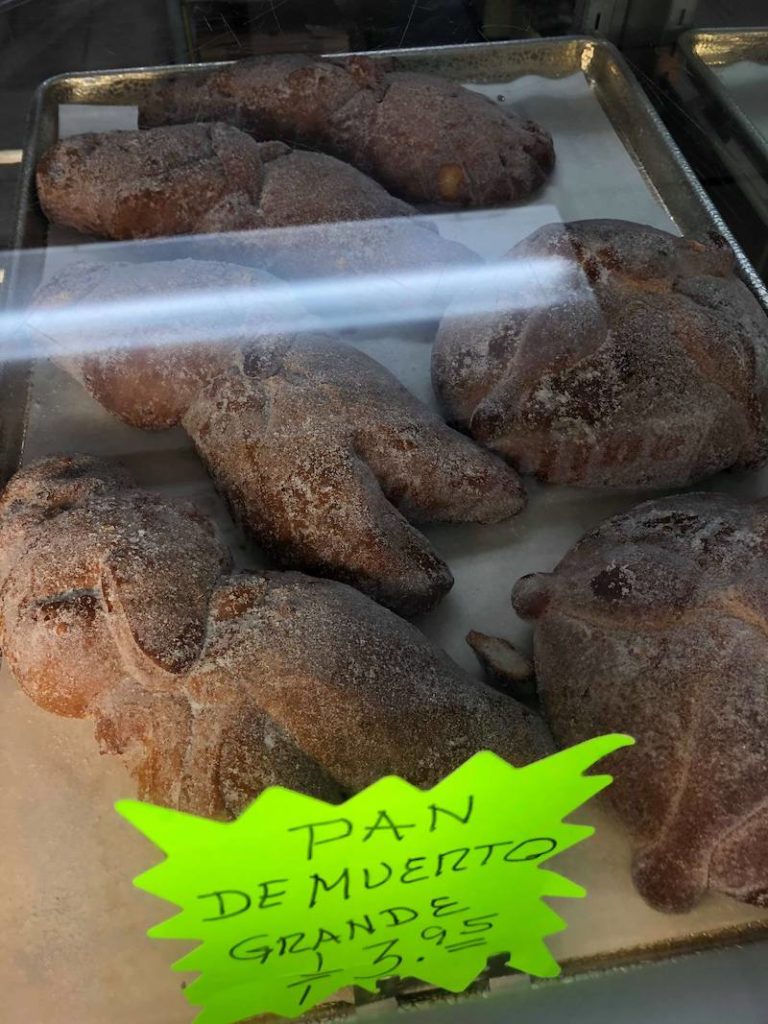 Tlaxcala Bakery Panaderia – Santa Ana
1208 S. Standard Ave, Santa Ana, CA 92707 (714) 547-8265
This neighborhood bakery has a few different sizes and flavors. The medium sized breads cost $3 and the small/individual sized ones cost $1.
Some small ones have pink sprinkles on top and others have sesame seeds on top. We liked the one with plain sugar on top and the flavor was very good and tastes like your traditional pan de muerto. We like this place because they have fresh pan dulce coming out all day and you never know what they will put out next. They had plenty of pan de muerto when we went, so it looks like they are keeping it well stocked throughout the month.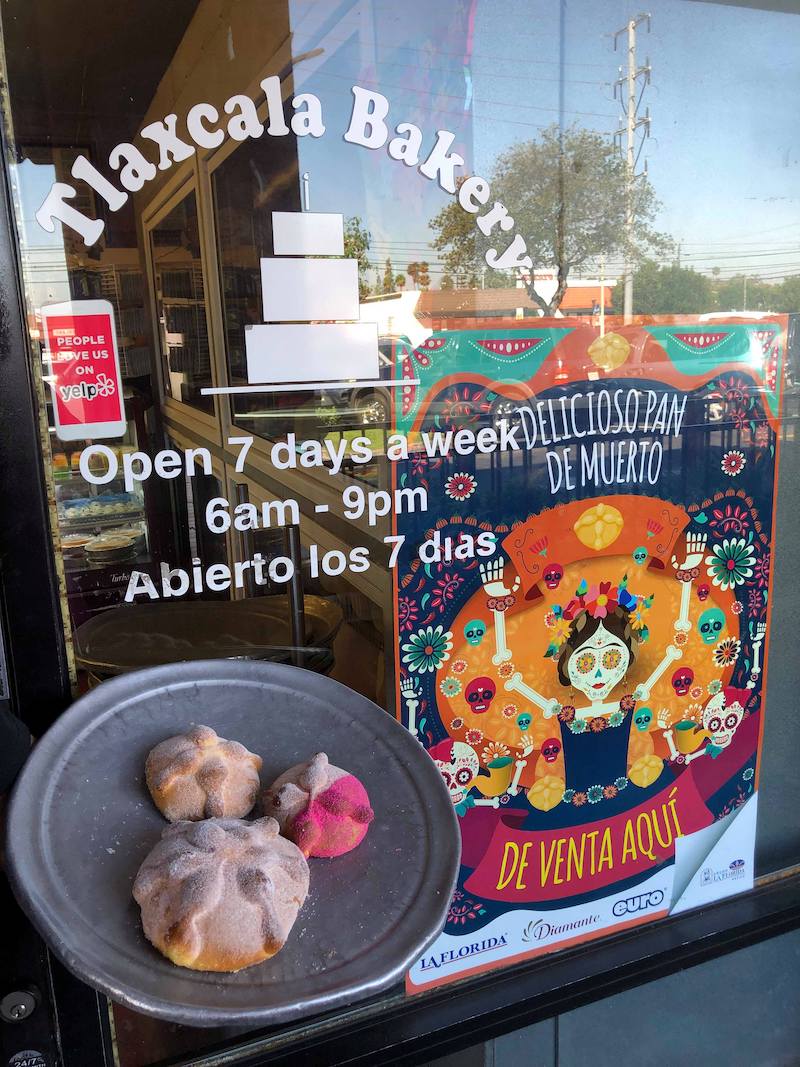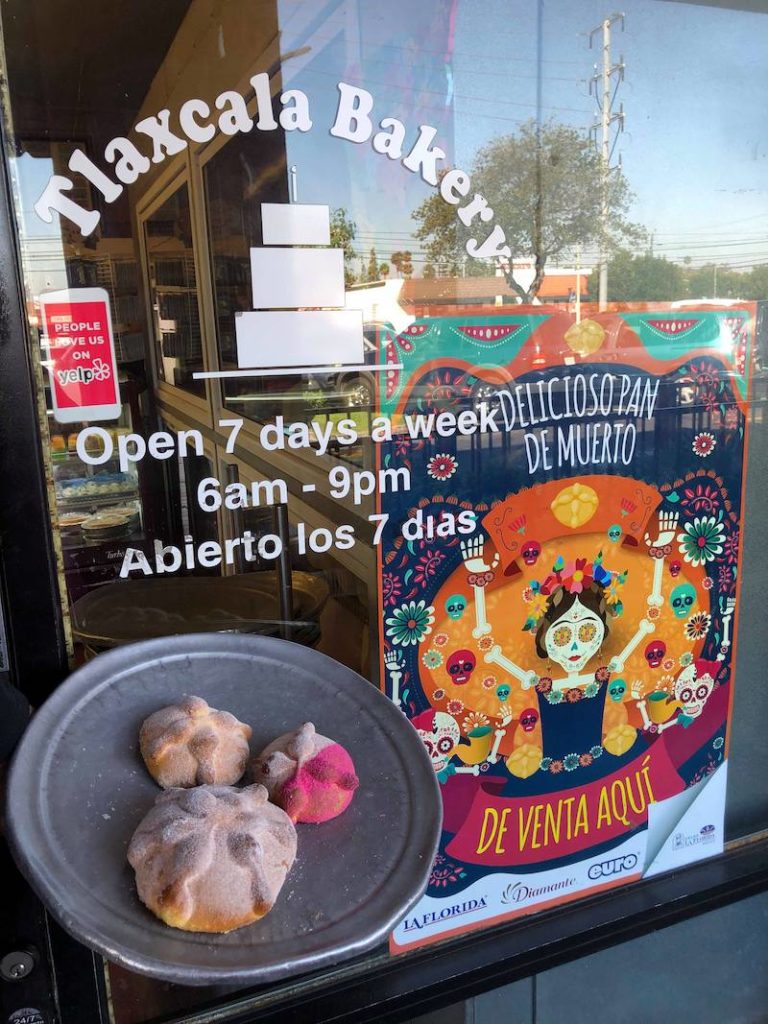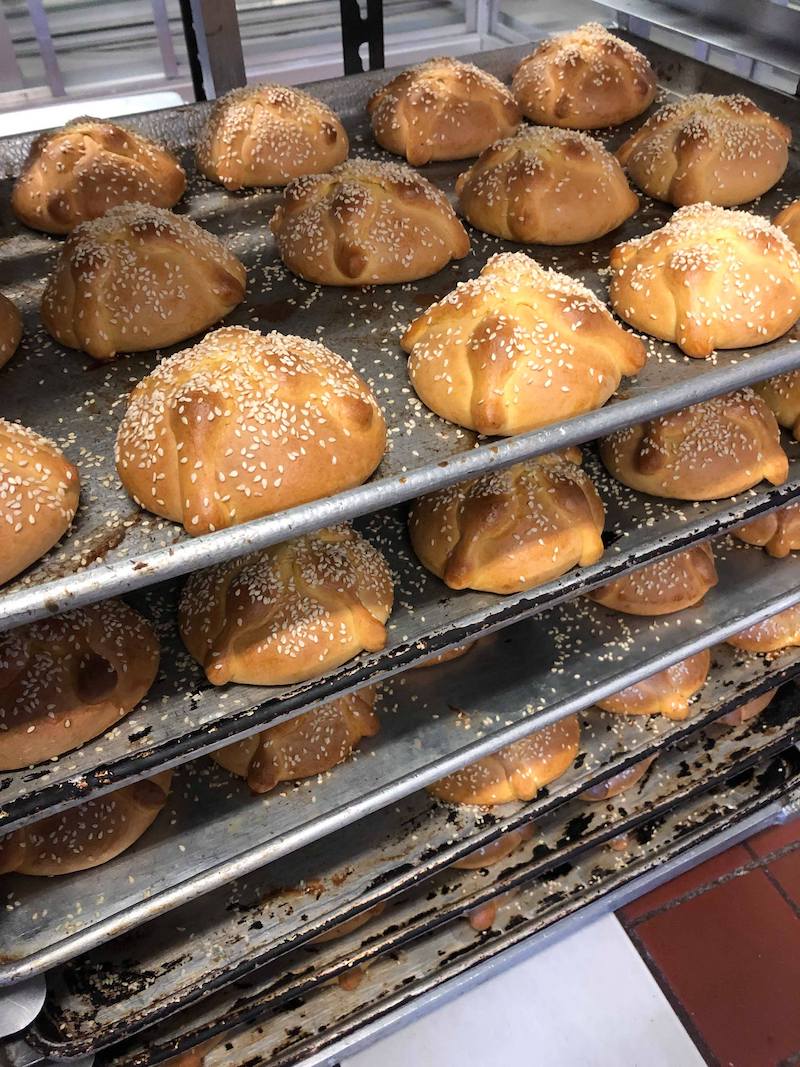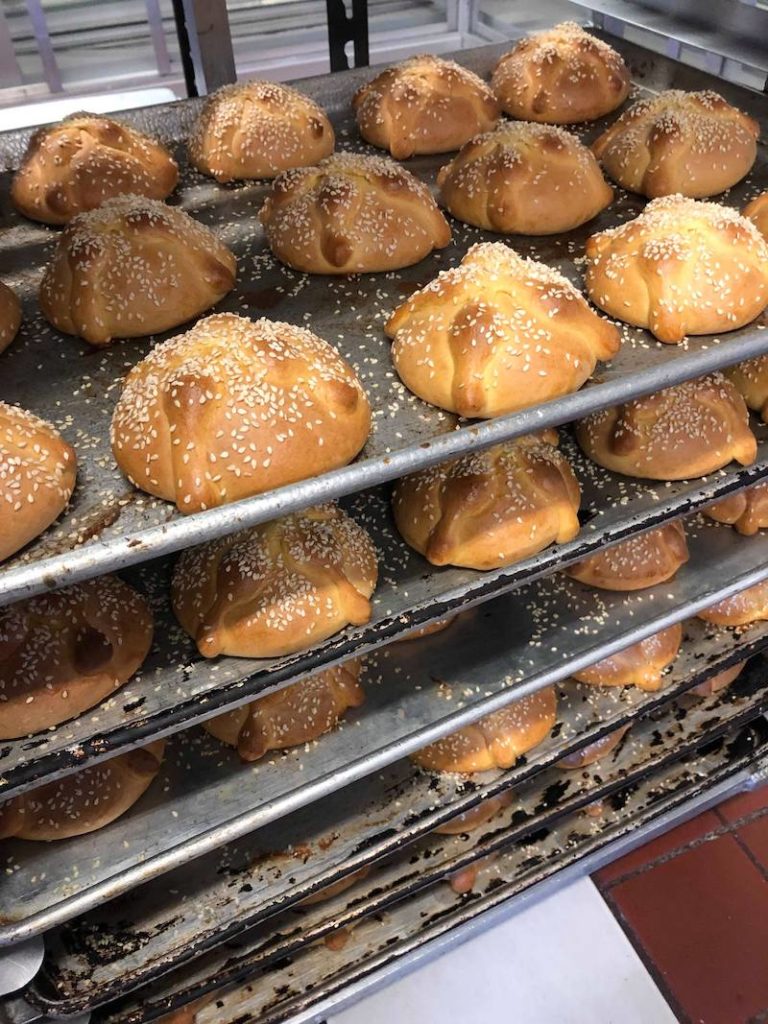 El Gallo Giro
Various location. We visited: 1442 S Bristol St, Santa Ana, CA 92704 (714) 549-2011
We loved writing this post because we taste tested all the bread and El Gallo Giro is definitely one of our favorites. We went to El Gallo Giro in Santa Ana around 8pm on a Saturday night and there were two pieces of regular pan de muerto (one sesame and one sugar) and two pieces of the strawberry filled kind. That's it.
We tried both the sesame and sugar and we loved both, but we especially liked the one topped with sesame seeds. The bread at El Gallo Giro is individual sized; there is no large sizes. Get there early before they don't run out!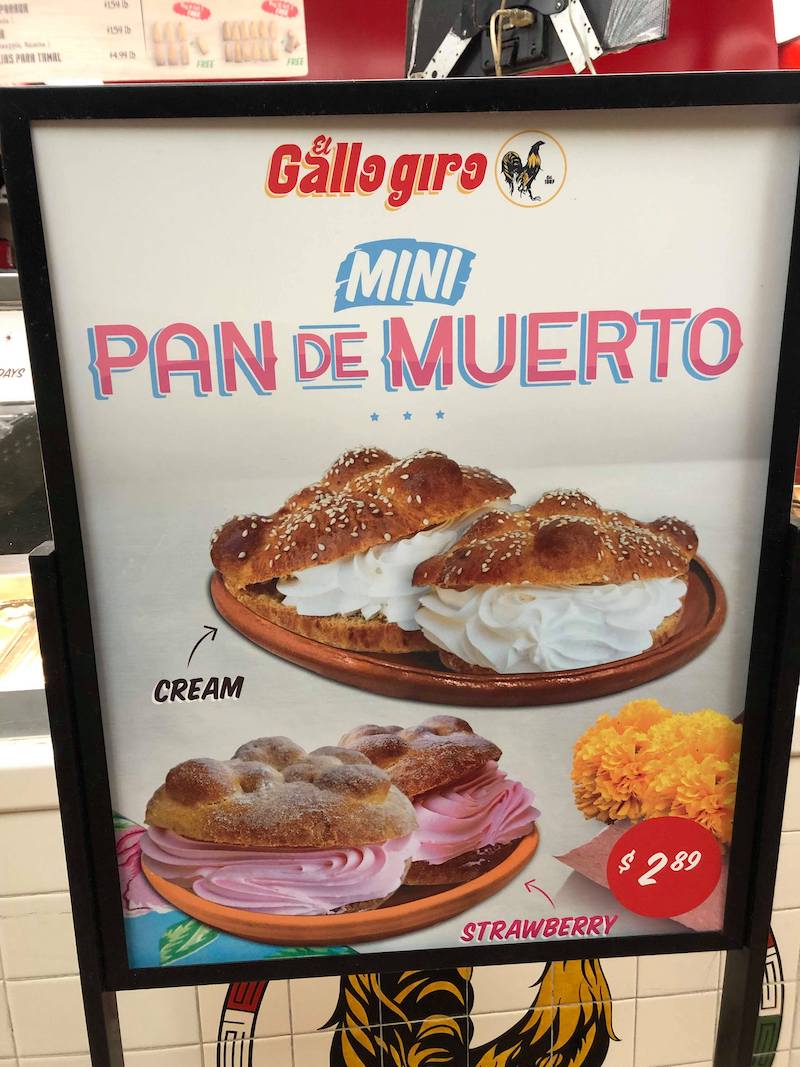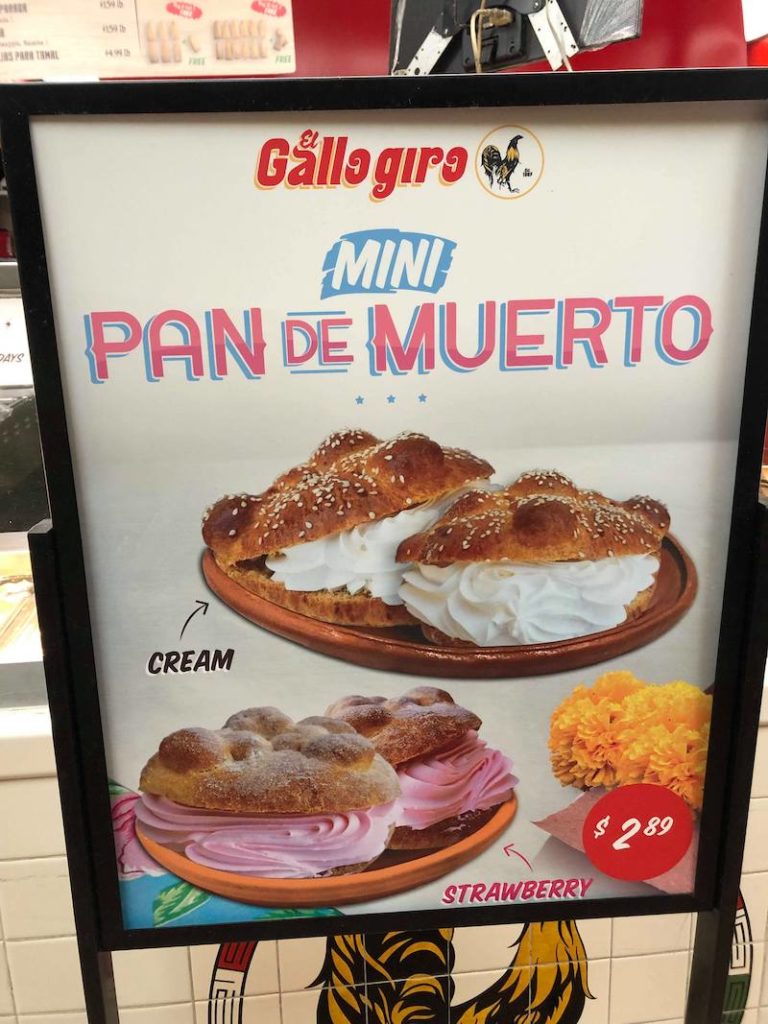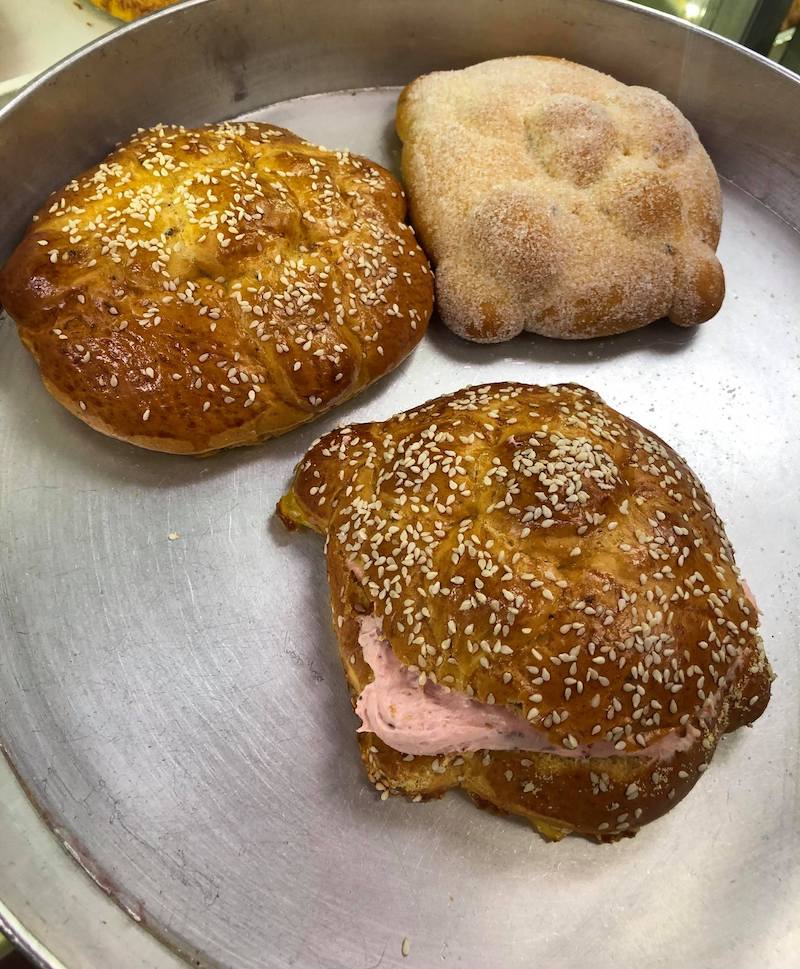 Porto's Bakery & Cafe
Various locations. We visited: 7640 Beach Blvd, Buena Park, CA 90620, (714) 367-2030
Although you won't find any pan de muerto for a few more weeks at Porto's, you can still stop by for some Day of the Dead cupcakes and cookies. Good news all around!
There are chocolate flavored Parisian cupcakes for $2.35 and you can also purchase sugar cookies with Day of the Dead decoration for $3.50.
They would make the perfect gift for that office party or potluck around Halloween time. We picked up some cookies to take to the office and some cupcakes for the kiddos. We can't wait until they offer their pan de muerto. This place never disappoints us!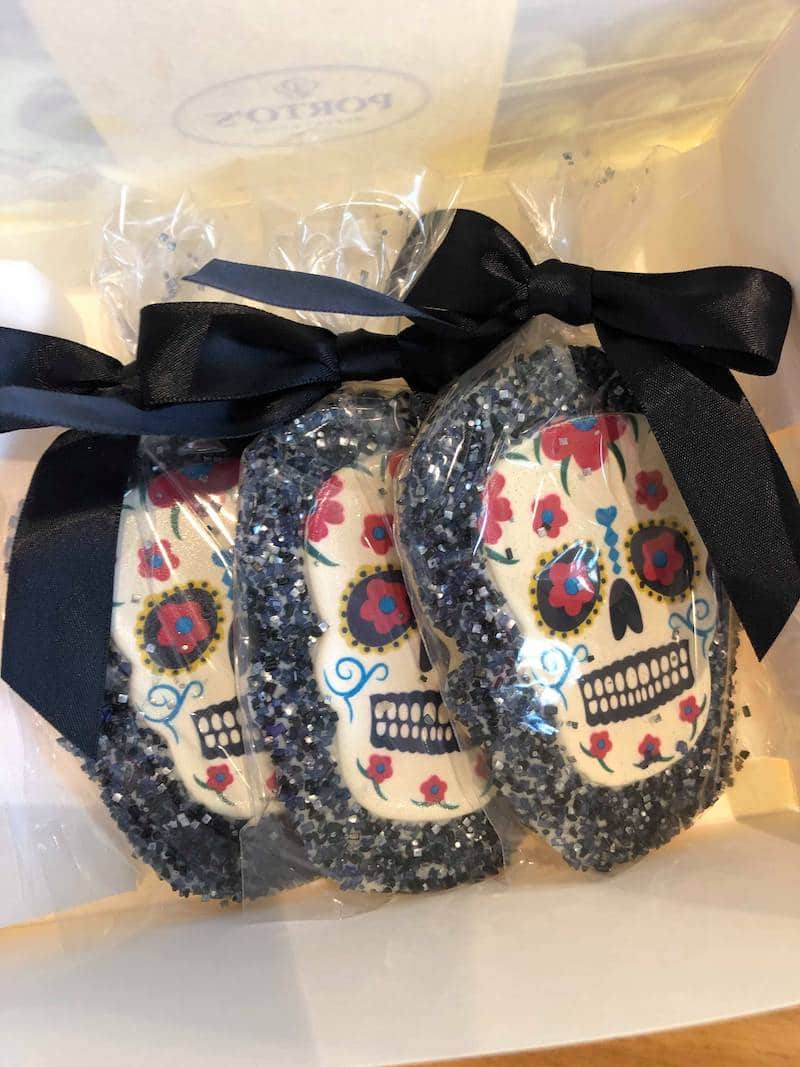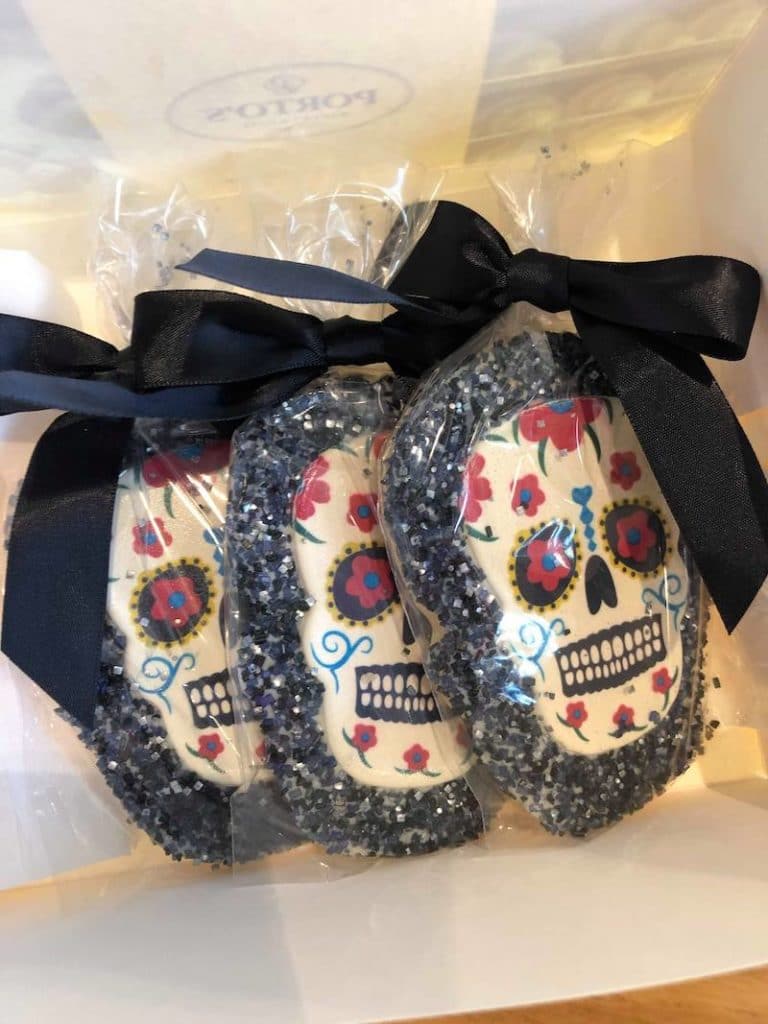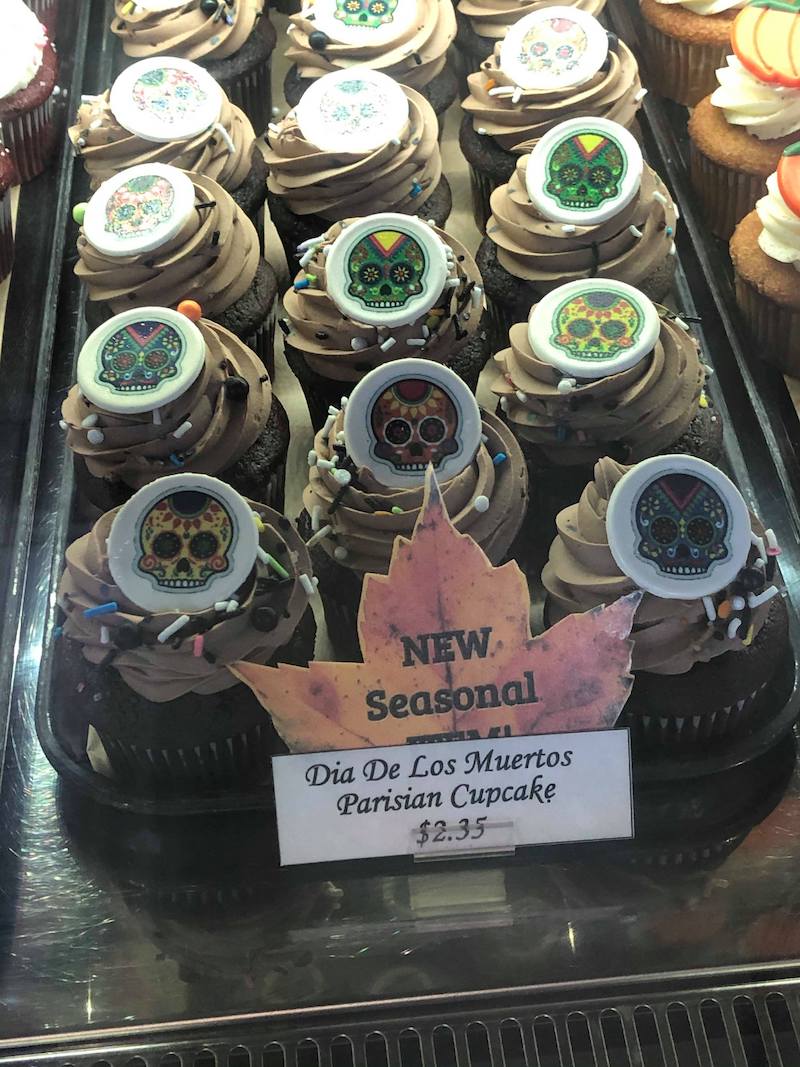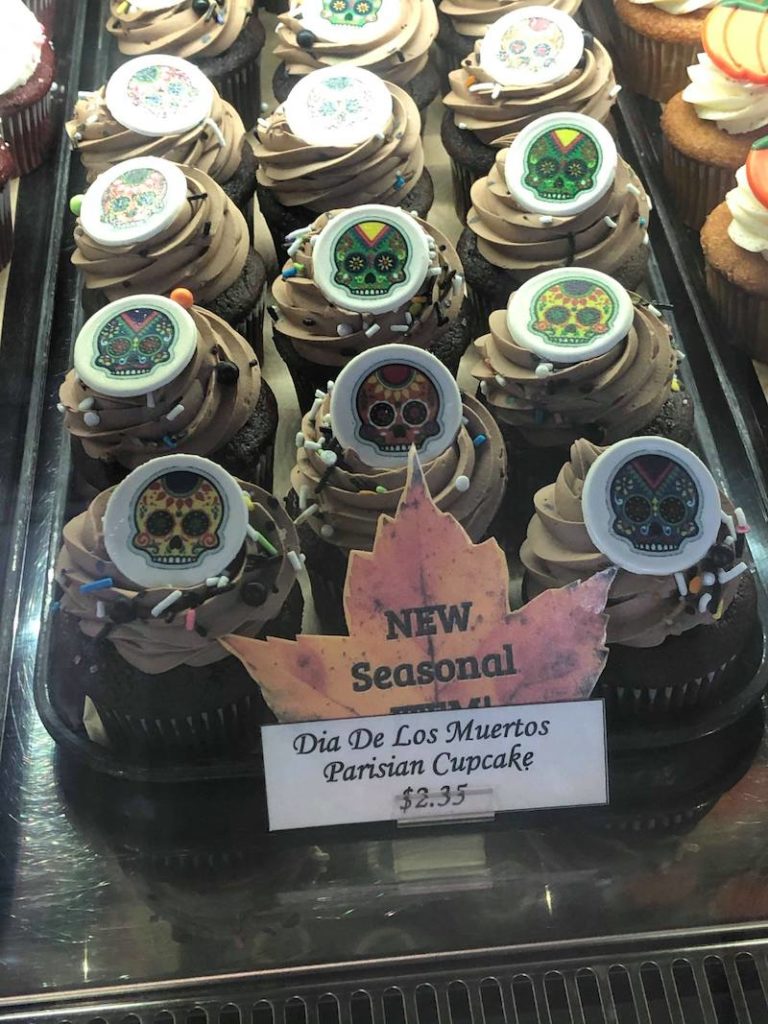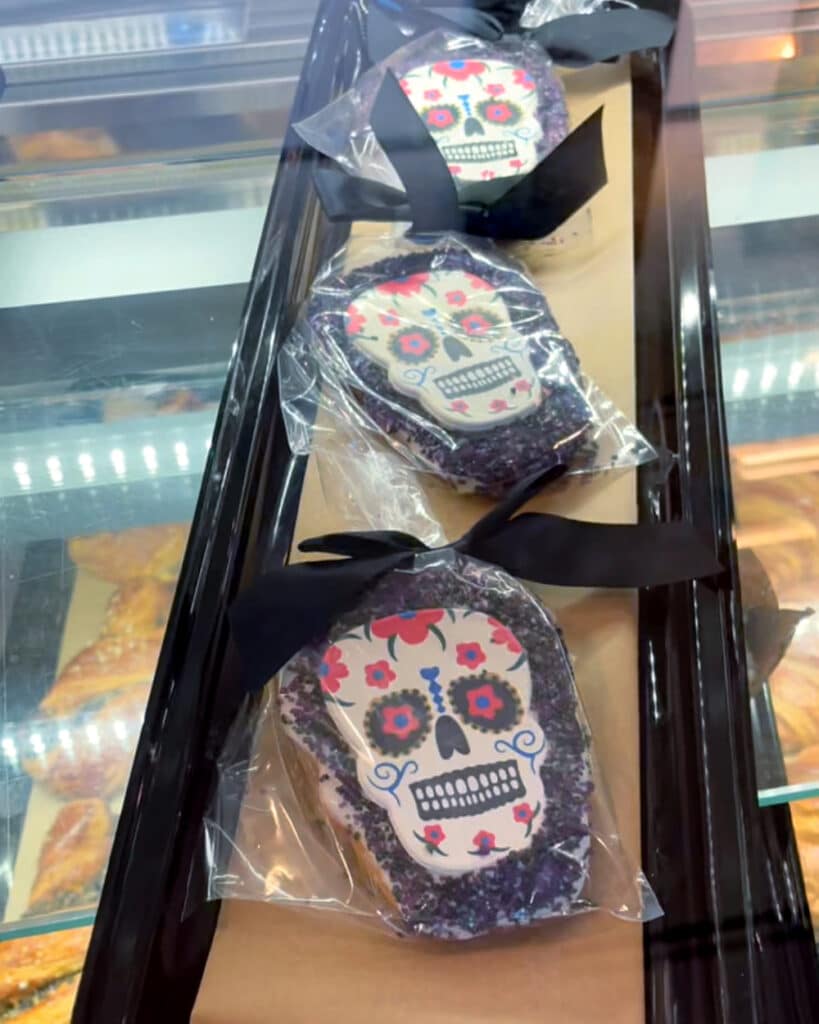 La Reina Markets
Various locations. We visited: 909 N. Tustin St. Orange, CA 92867, (714) 997-9525
We love La Reina Markets for their fresh meals, nopales, salsa, meats and tortillas. Their pan dulce and bolillo, however, takes the cake.
La Reina Markets offers two different variety of pan de muerto (topped with sugar, topped with seeds) and the size is enough to share.
Available for $4.49.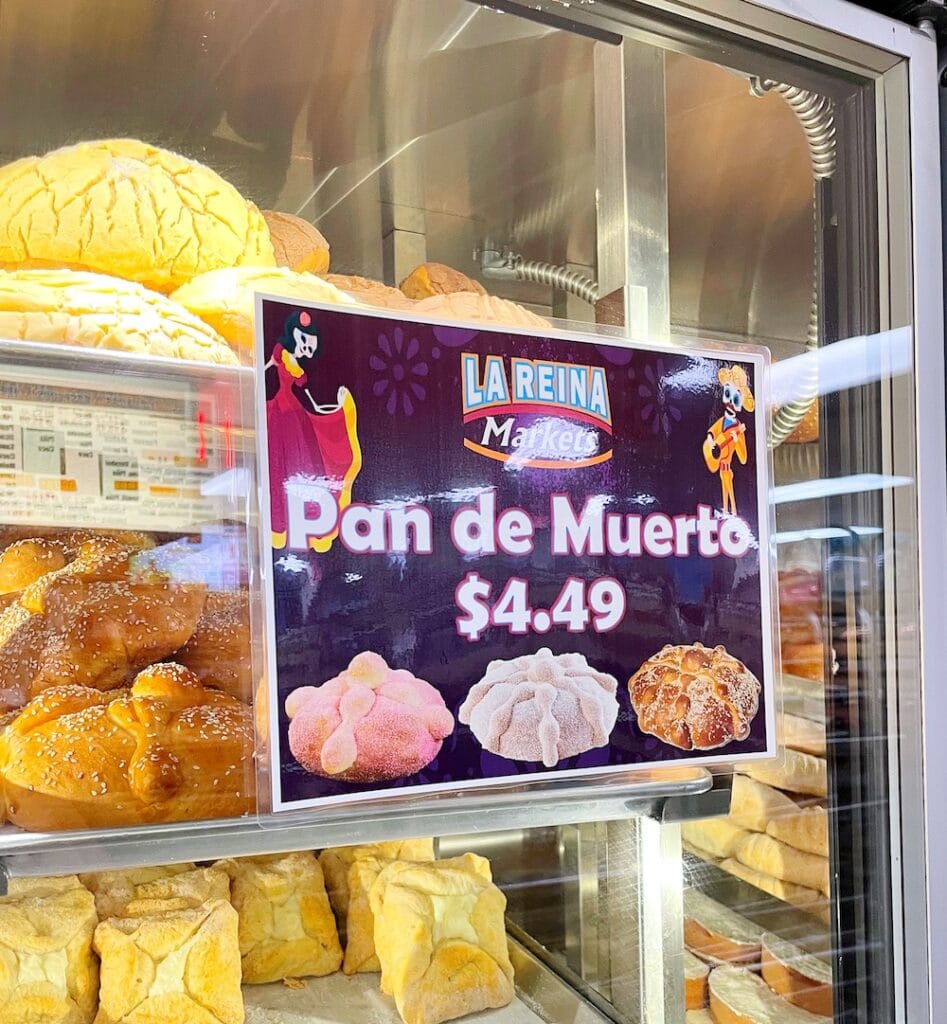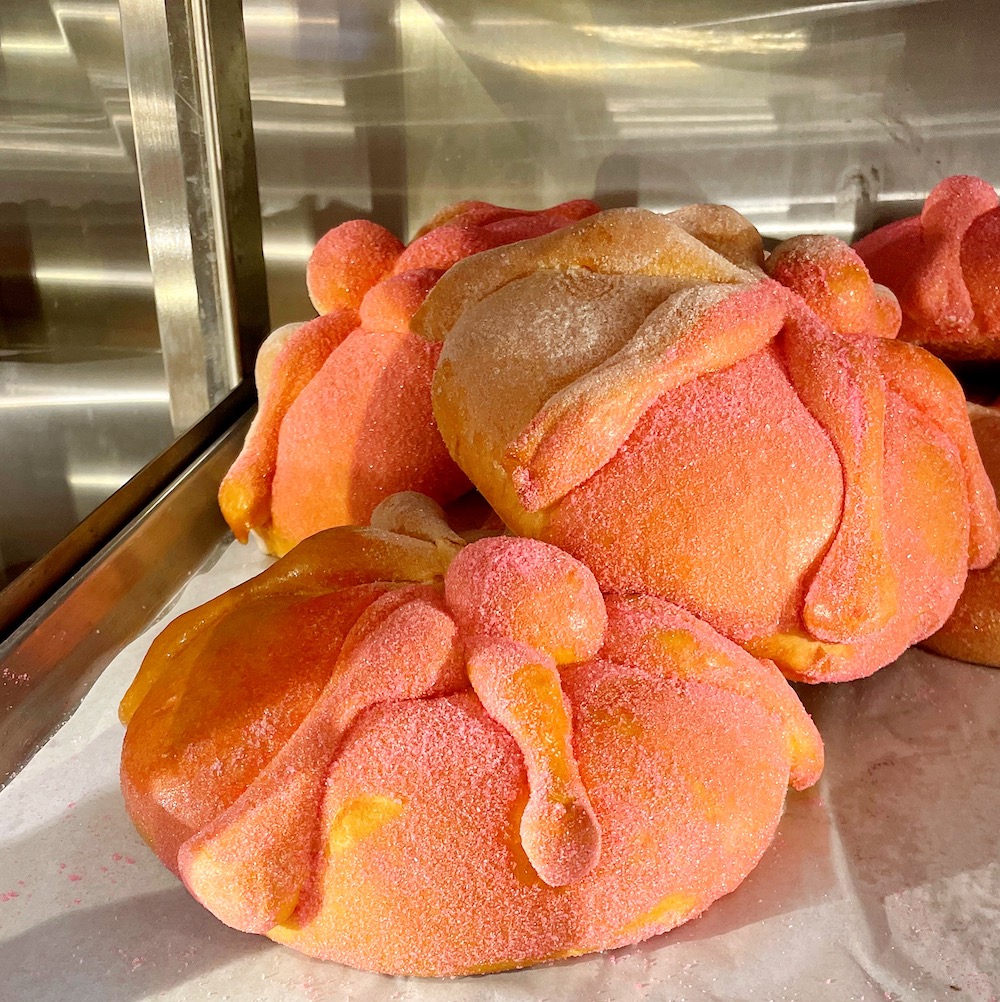 We hope you will try a pan de muerto that will cater to your taste buds. We have found that they all taste a little different and are made with different toppings and fillings. However, one thing they all have in common is that it celebrates our Hispanic heritage and we love to pass on traditions to our little ones.
Whether you use the bread to place at an altar to honor someone or whether you enjoy it around the table with a hot beverage, we hope you will share this wonderful tasty bread with your family that is only offered once a year. Hope you enjoy Day of the Dead on November 2 with your family.
Originally published on October 2, 2019. Last Updated on October 11, 2021 by Pattie Cordova