A visit to Knott's Berry Farm starts quick because of how easy it is to park, and the proximity of the Knott's Berry Farm parking lots to the front gate. Knott's Berry Farm parking is hassle-free, easy and just a quick walk to get the fun started.
In fact, we actually filmed ourselves walking from the parking lot, under the bridge, crossing the street into the Marketplace, going through security and walking up to the front gate and it was under seven minutes! You can scroll down to see the full video below.
Now… here are some common questions regarding the parking situation at the park. From the parking cost to parking at the Knott's Berry Farm hotel, we have your parking questions covered.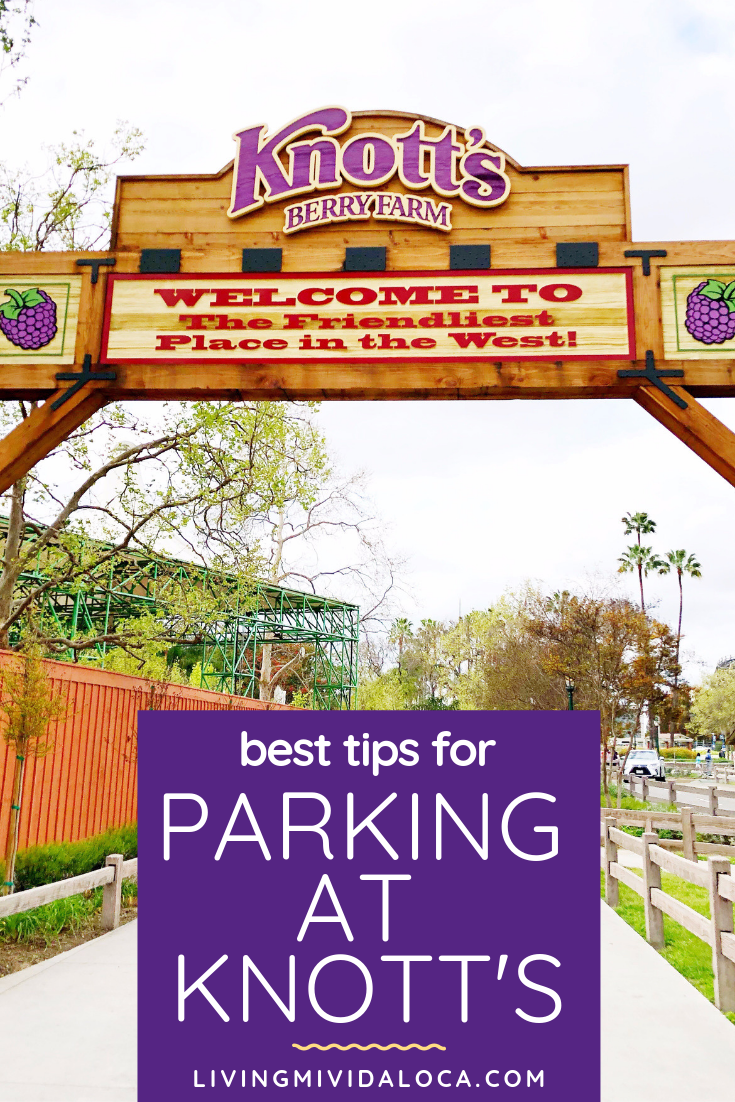 Knott's Berry Farm parking
How much does Knott's Berry Farm parking cost?
As of the date of this article, daily parking is $20 and general RV or bus parking is $25.
How much does a Knott's Berry Farm parking pass cost?
You can add parking to your 2020 Knott's Season Pass for only $75. This will be valid for general or RV parking any public operating day at Knott's Berry Farm through December 31, 2019. This season long parking pass is also valid for Knott's Scary Farm parking. You can add the parking pass online, with an added processing fee and be eligible for a payment plan, or purchase at the park without a processing fee but not be eligible for a payment plan.
Also, if your family frequents the park as a group, you only need to get the parking pass on one season pass. Most parents add the parking pass to a child's season pass so they always have parking covered, no matter which parent goes.  Platinum season passes have the parking pass included.
Where are the Knott's Berry Farm parking lots?
I took the liberty of marking where all the parking lots are located for Knott's Berry Farm. The parking lot that connects to both Knott's Berry Farm and Knott's Soak City is called the East Lot and can be access off of both Grand Ave and Beach Blvd. That's the parking lot that we used in the video.
Shopping and Dining Parking Lot
The Shopping and Dining parking lot (marked as the Marketplace parking lot on the map) is located in front of the California Marketplace, by TGI Friday's, and can be access off of Grand Ave. It offers complimentary parking for up to one hour. Each additional half hour or portion thereof is $10 each with a maximum daily charge of $30. All lost tickets are charged $30. You can get an additional two hours of free parking by showing a validated ticket and receipt showing a $19 or more minimum purchase from any California Marketplace restaurant or shop at the exit.
Knott's Berry Farm Hotel Parking
Parking for the Knott's Berry Farm Hotel can be accessed off of Crescent Avenue. When you pull up to the booth, let them know that you're there for a stay at the hotel. Once you check-in at the hotel, you'll be given a parking pass to place in your vehicle.
What time do the parking lots open?
Parking lots generally open an hour before the park opens. The Grand Lot (next to Marketplace parking) is the closest lot and fills up very quickly. Be sure to arrive no later than 10am.
Knott's Soak City Parking
The East Lot Parking for Knott's Soak City can be access either off of Grand Ave. or Beach Blvd. However, if you want a shorter walk, once you enter the parking lot, you can head towards Stanton Ave and park closer to the Soak City entrance. In that same regard, there is also access to this parking lot off of Stanton Avenue.
Where to park with a disabled person placard.
Guests with a disabled placard may park all-day in the Shopping and Dining lot for the regular vehicle single day parking rate, or free of charge with the all-season parking pass. There are also handicapped parking spots in all other parking lots.
Where are the preferred parking lots at Knott's Berry Farm?
Marketplace and Grand Lot is used as preferred parking during events like Scary Farm or unless specified. During normal park operations, you can still park at the Grand Lot. If you park at the Marketplace with plans of staying at the theme park for the day, you will get charged their normal parking rates – even with a season parking pass.
VIDEO: Knott's Berry Farm – from parking lot to front entrance in under seven minutes
Hotels near Knott's Berry Farm
Knott's Berry Farm Hotel – our first choice because it's literally within the resort. Your hotel stay also includes parking and if you book the Snoop room, Snoopy himself tucks you in (plus, you get two Snoopy plushies).
Courtyard by Marriott Anaheim – within walking distance to Knott's Berry Farm (only half a mile away). Hotel stay includes free self-parking.
Fairfield Inn & Suites Anaheim Buena Park – one mile away from Knott's Berry Farm. Hotel stay includes breakfast and free self-parking.
Where to get discounted Knott's Berry Farm Tickets
Buy your Knott's Berry Farm season pass before the year is over to get the best deals!
NOTE: Prices increase throughout the year. Visit Knotts.com for updated pricing.
Originally published on January 8, 2019. Last Updated on August 15, 2019 by Pattie Cordova