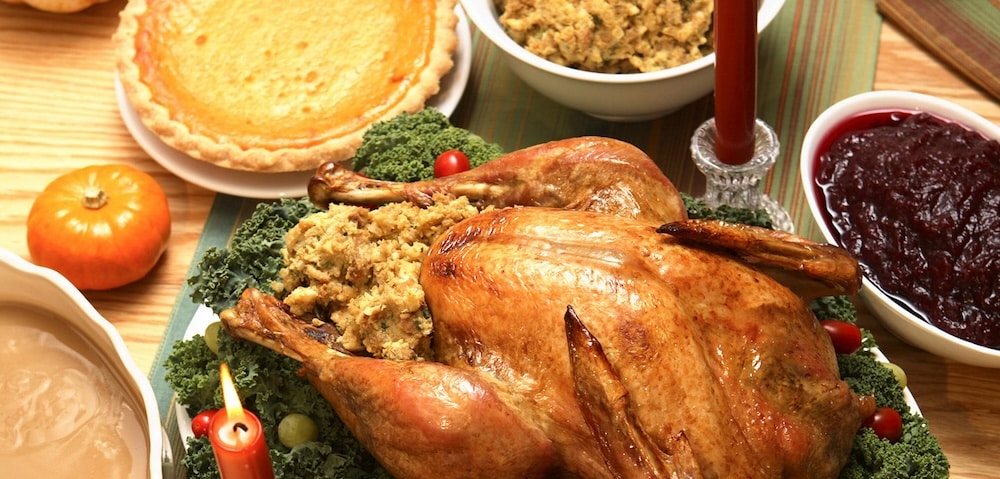 Knott's Berry Farm Thanksgiving Dinner
We've been celebrating Thanksgiving Day with the Knott's Berry Farm Thanksgiving dinner for many years now.
Our first time ordering Mrs. Knott's Thanksgiving Feast was in 2012, and we're happy that it hasn't changed much.
Knott's Thanksgiving dinner menu has stayed the same – with the same alternative options.
Pick-Up Times for Knott's Thanksgiving Dinner:
Nov 22, 9am – 6pm
Nov 23, 8am – 4pm
Pick-up time slots are limited and can sell out.
Where to pick up Knott's Thanksgiving Dinner:
Meal must be picked up on the date and time chosen. Pick-up location on Nov. 22 & 23 is the East Lot near Soak City Waterpark. Enter the East Lot directly from La Palma Ave between Beach Blvd and Stanton Ave. Once in the lot, follow the directional signage to the pick-up location.
Cost of Knott's Thanksgiving Take Home Dinner
Thanksgiving dinner from Knott's Berry Farm is priced at $249, and $225 for Knott's Berry Farm passholders.
Knott's Thanksgiving Take Home Dinner
Dinner Menu Includes:
12–14 lb. Roasted Turkey OR 8–10lb Glazed Ham
3 sides of Country Apple Stuffing
3 sides of Mashed Potatoes
3 sides of Candied Yams
2 sides of Green Beans Almondine
2 sides of Whole Kernel Corn
8 oz. of Cranberry Sauce
8 oz. of Bread and Butter Pickles
1 Dozen Dinner Rolls
1 Quart of Country Gravy
Butter and 4oz Jar of Boysenberry Preserves
Choice of Boysenberry Pie or Pumpkin Pie
How to order a Knott's Thanksgiving Dinner
We went online to order our Thanksgiving dinner with a pick-up option of Thanksgiving Day.
You'll be presented with eight different purchasing options – four for Knott's passholders, and four for non-Knott's passholders.
Thanksgiving Champagne Buffet
Mrs. Knott's Chicken Dinner Restaurant is open from 9am – 4pm on Thanksgiving Day.
With a Thanksgiving Champagne Buffet reservation you can enjoy a Thanksgiving buffet that includes all of the classics like turkey, stuffing, and mashed potatoes, plus the home-style goodness of Mrs. Knott's fried chicken and countless other offerings. Plus champagne!
All OpenTable reservations made for Thursday, November 24, 2023 will be for our Champagne Brunch. Regular dining will be available via walk-ins only.
Knott's Berry Farm is open on Thanksgiving.
If you go into the theme park you'll find that Knott's is crowded during Thanksgiving. Which makes sense because so many people are off that day.
Some guests will also enjoy Thanksgiving dinner at Knott's Berry Farm at Mrs. Knott's Chicken Dinner Restaurant, or at the Amber Waves restaurant inside the Knott's Hotel.
Originally published on November 13, 2023. Last Updated on November 14, 2023 by Pattie Cordova