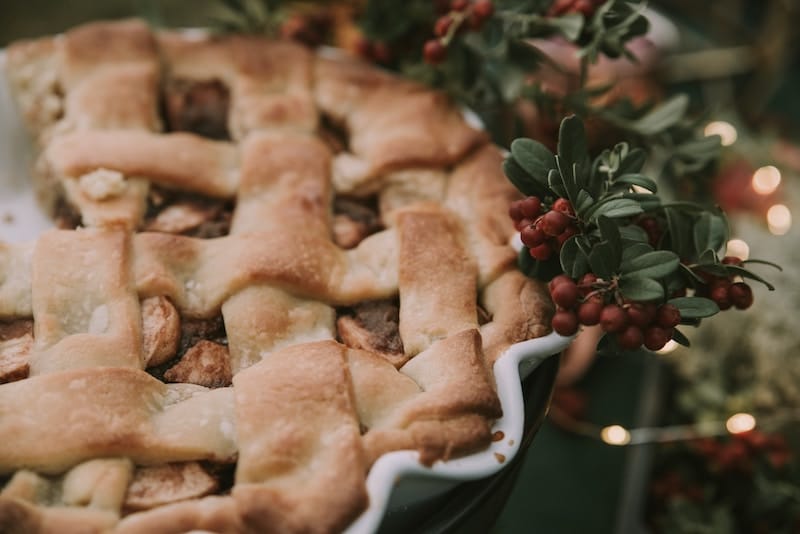 Updated November 1, 2021 with new Knott's Thanksgiving Dinner prices and dates.
Original post published on November 15, 2012.
I'm pretty sure I've mentioned here before how I'm not much of a cook. In fact, my mantra is if it can't be cooked in under 30 minutes, then it wasn't meant to be. The hubster is all about pushing me to the limits so we have decided to host Thanksgiving dinner this year. It's basically a recipe for disaster because if I had it my way, all the carnivores would be having turkey sandwiches and the rest would be feasting on pumpkin pie with coffee. That's why pre-made dinners are a MUST in our Thanksgiving feast – like the Knott's Thanksgiving Dinner offered by Mrs. Knott's Chicken Dinner Restaurant.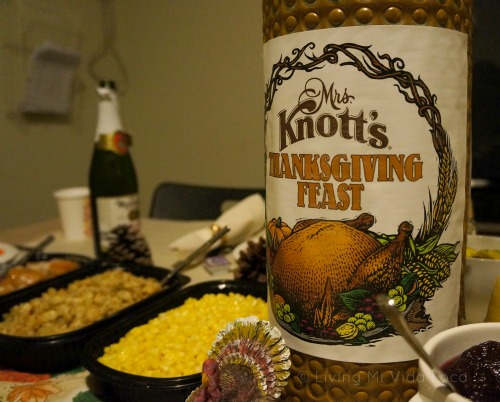 I had the pleasure of inviting over our parents and kids to a Thanksgiving dinner run-through. I pulled into Mrs. Knott's Chicken Dinner restaurant an hour before we were scheduled to get together to pick up our dinner from the restaurant. I was so happy to see the 15 minute parking spot so I could run in and get it.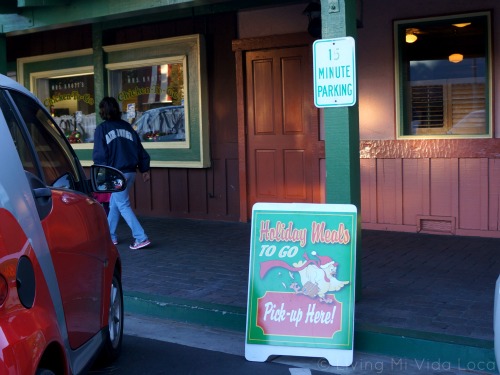 As it turned out, I only needed five minutes because I was in and out in that short amount of time. My box full of dinner goodies was all set and ready to go.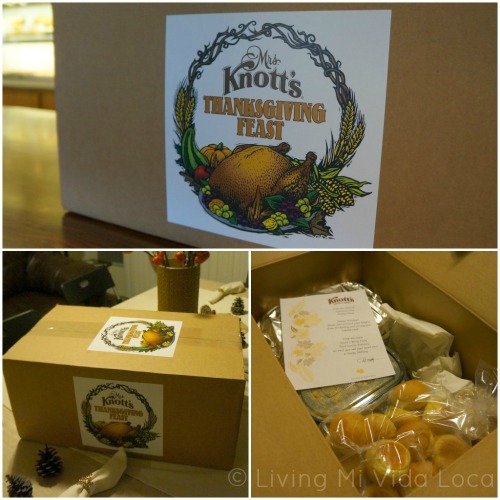 I was informed that I would need to finish cooking the turkey at home and that instructions were included in the box. I hoped that it wouldn't take too long because the hubster and the rest of the family would be pretty hungry soon.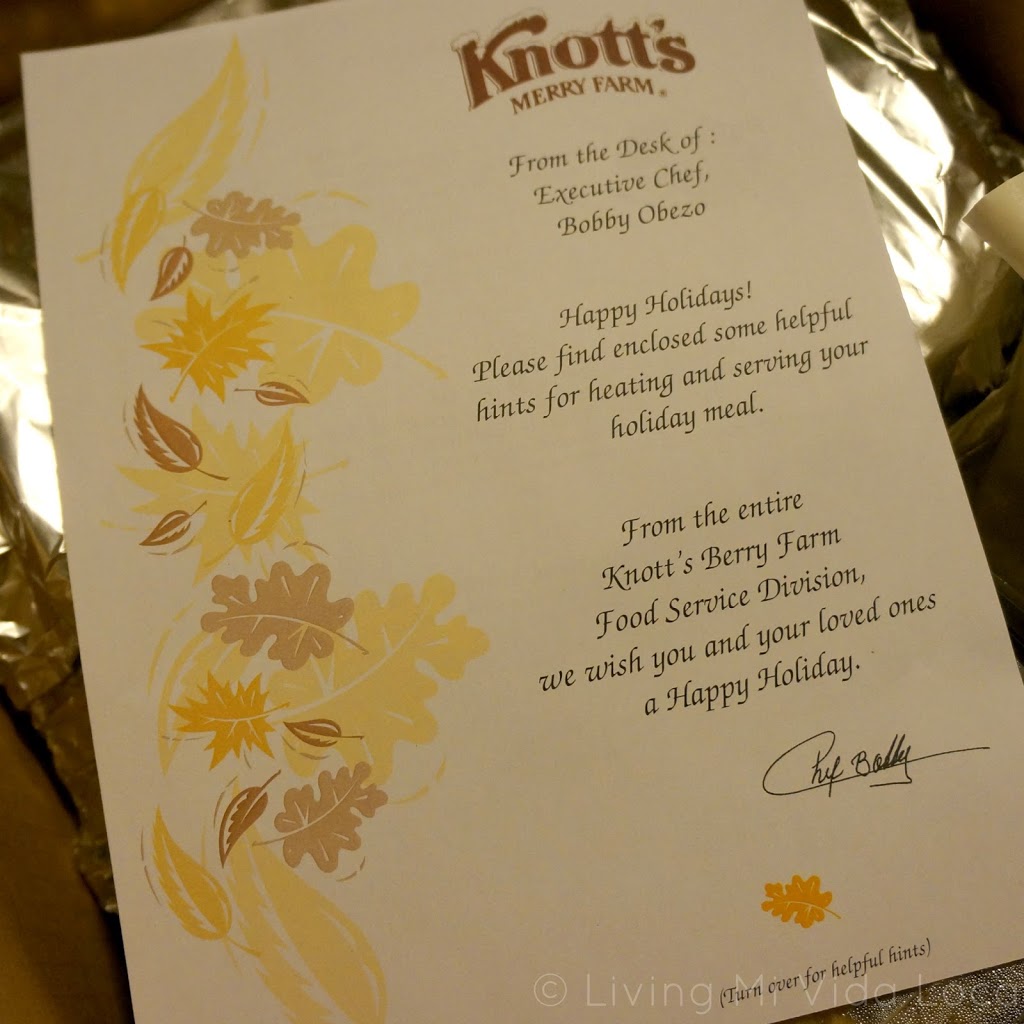 I pulled out the sheet from the box, turned it over and it informed me that the bird would need to cook for an additional hour or until the desired temperature of 165 degrees was reached. That turkey was HUGE. It weighed somewhere between 12 and 14 pounds and I could tell that the hubster would have enough for next day's lunch as well – even if everyone had more than one serving.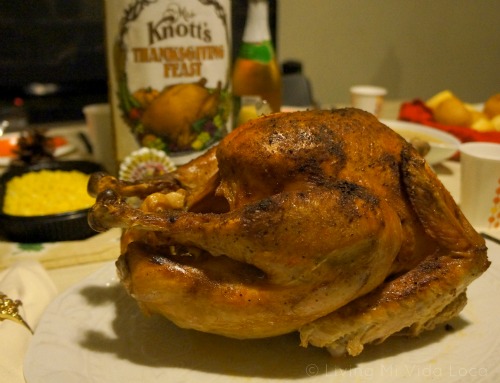 We heated up the turkey in the oven, and the sides in the microwave. The sides, which is basically what I feasted on, were spot-on and super filling.
While it was weird (to me) to have bread and butter pickles at a Thanksgiving dinner, it was actually my favorite part of the meal. They were sweet, savory and seasoned perfectly. My youngest gobbled them right up too. The cranberry sauce was pretty scrumptious. It wasn't overly sweet and I imagine that it would taste pretty good on turkey (or in my case – Tofurky). The candied yams was the side that surprised me the most. I do yams on Thanksgiving, but for me it's usually without the melted marshmallows because I think yams are sweet enough without anything candied on them. These yams though were a different story. The marshmallows on them did not make them taste like dessert, it was more of a sweet complement to the mashed potatoes (because they needed a little bit more flavor).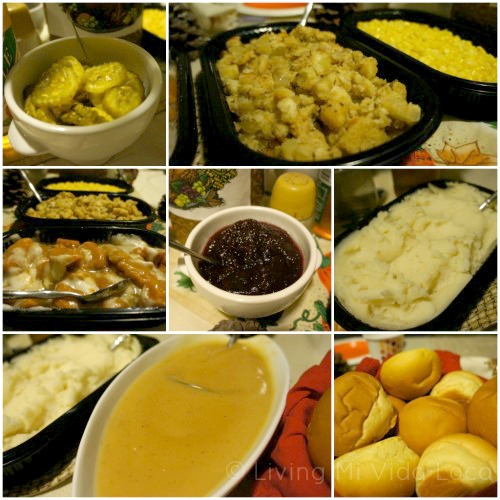 The hubster, the carnivore in the family, and the rest of the group couldn't stop gushing over the turkey. They mentioned how juicy, succulent and flavorful it was. Apparently, it wasn't dry like other pre-made turkeys that came before in other dinners. Instead, this poor pretty bird was cooked to perfection. Like I predicted, there were plenty of leftovers. The hubster saved some and in the following days, he made turkey sandwiches, turkey burritos and even mixed some sofrito with the turkey and topped it off with crema and salsa de aguacate on tostadas (which also saved me from making dinner).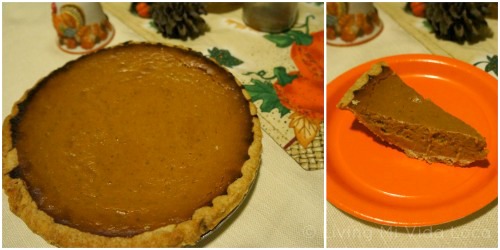 My favorite part, dessert, did not disappoint. We had a nice sized pumpkin pie as part of the meal and when paired with coffee, it pretty much took the meal to another level. It was very apparent that it was homemade and so freakin' delicious.
I only wished that there were more than a dozen rolls with the meal. I'm HUGE on bread (and butter), and twelve rolls just wasn't enough for everyone. We received butter and preserves in our meal and all of those were used too.
I wish I could tell you that I went the extra step and served each item in a beautiful porcelain dish, but I can't. The truth is, I didn't even serve on "real" plates! I went paper all the way. I kept the side dishes in their black containers and even used them to send leftovers home with our guests. The point is, I made this dinner as easy and painless as possible. Having the dinner pre-made was only the beginning. I also asked for utensils from Knott's and they were nice enough to give them to me. Double-score!
Knott's Thanksgiving Takeout Dinner
What does the meal include?
The take-home Thanksgiving dinner is a complete meal with all the fixings and includes:
12-14 lb. Roasted Turkey OR 8-10lb Glazed Ham
2 Quarts of Country Apple Stuffing
3 Quarts of Mashed Potatoes
2 Quarts of Candied Yams
8 oz. of Cranberry Sauce
8 oz. of Bread and Butter Pickles
1 Quart of Green Beans Almondine
1 Quart of Whole Kernel Corn
1 Dozen Dinner Rolls
1 Quart of Country Gravy
Butter and 4oz Jar of Boysenberry Preserves
Choice of Boysenberry Pie or Pumpkin Pie
How much does it cost?
Complete dinner package is $145.99 plus tax.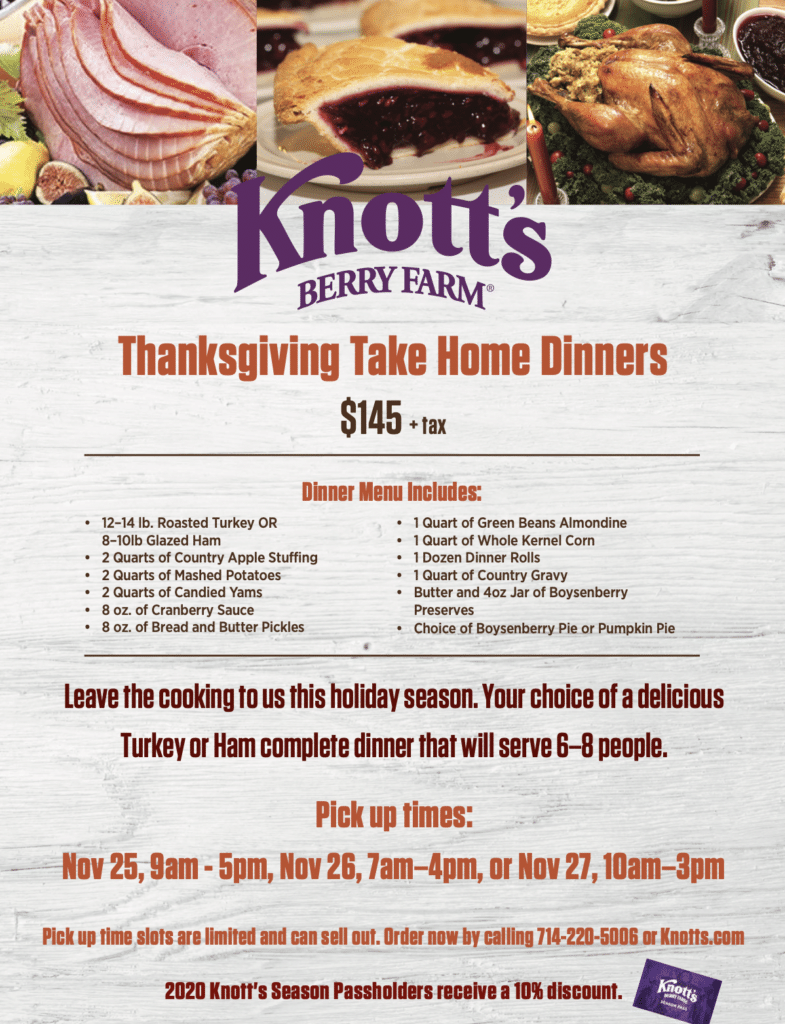 How many people does it serve?
It's supposed to serve 6-8 people, but we had ten total in our dinner party (6 adults, four kids), and we had leftovers!
Can I use my Knott's Berry Farm passholder discount?
Yes!!! Knott's Berry Farm passholders get a 10% discount.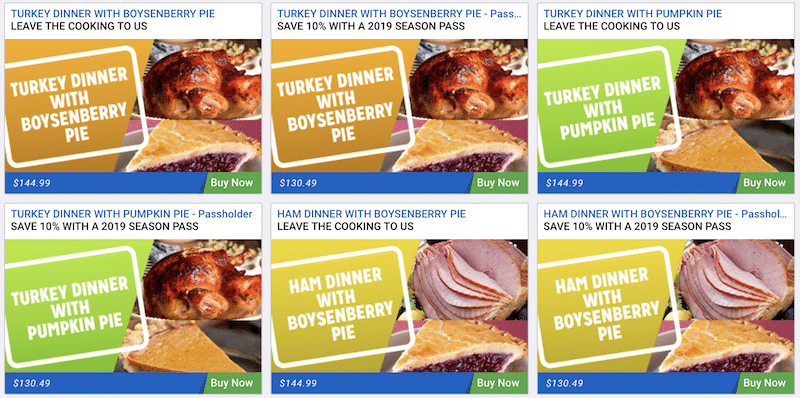 Where do I pick up the Thanksgiving Takeout Dinner?
There will be a "drive through" type of set-up for you to just drive by, give them your name, and your meal will be ready to go. You won't even need to get out of your car! Meal must be picked up on date and time chosen. Pickup location on November 25 and 27 is in the East Lot near Soak City Waterpark. Enter the East Lot directly from STANTON AVE between La Palma Ave and Maple Dr. Once in the lot, follow the directional signage to the pickup location. Does not include park admission.
Order Knott's Thanksgiving Dinner
The Knott's Thanksgiving Dinner serves 6-8 people. Place your order by visiting Knotts.com or call (714) 220-5006. Pick up times: Nov. 25 from 10AM-6PM (Order by Nov. 24), Nov. 26 from 7AM-4PM (Order by Nov. 25) or Nov. 27 from 10AM-3PM (Order by Nov. 26).
Knott's Thanksgiving Champagne Brunch
Enjoy a Thanksgiving buffet that includes all of the classics like turkey, stuffing, and mashed potatoes, plus the home-style goodness of Mrs. Knott's fried chicken and countless other offerings. Of course, what Thanksgiving bruch would be complete without bottomless mimosas? You can choose from traditional and Boysenberry options!
Prices
Adults – $49.99
Seniors – $30.99
Kids (3-11) – $18.99
All prices plus tax.
Knott's Season Passholders receive a discount!
Reservations
Make your reservation by calling 714-220-5006 beginning October 28th.
When
Thursday, November 28, 2019
Where
Mrs. Knott's Chicken Dinner Restaurant: 9am – 2pm
Spurs: 11am – 5pm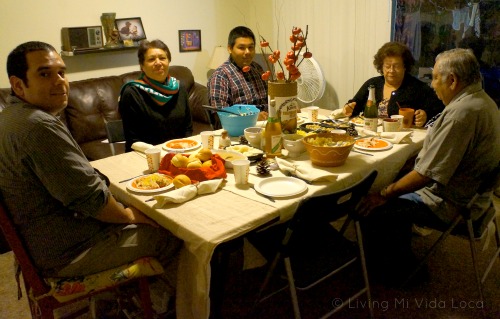 ---
Where to stay in Buena Park
Knott's Berry Farm Hotel – our first choice because it's literally within the resort. Your hotel stay also includes parking and if you book the Snoop room, Snoopy himself tucks you in (plus, you get two Snoopy plushies).
Courtyard by Marriott Anaheim – within walking distance to Knott's Berry Farm (only half a mile away). Hotel stay includes free self-parking.
Fairfield Inn & Suites Anaheim Buena Park – one mile away from Knott's Berry Farm. Hotel stay includes breakfast and free self-parking.
Discounted Knott's Berry Farm Tickets
Goldstar offers discounted Knott's Berry Farm tickets and discounted Knott's Soak City tickets.
Groupon offers discounted Knott's Berry Farm tickets.
Travelocity offers discounted Knott's Berry Farm tickets and discounted Knott's Soak City tickets.
NOTE: Prices increase throughout the year. Visit Knotts.com for updated pricing.
This is not a sponsored post. I was given a Knott's Thanksgiving dinner courtesy of Knott's Berry Farm to facilitate my review. All thoughts, images and opinions remain my own.
Originally published on October 16, 2019. Last Updated on November 1, 2021 by Pattie Cordova