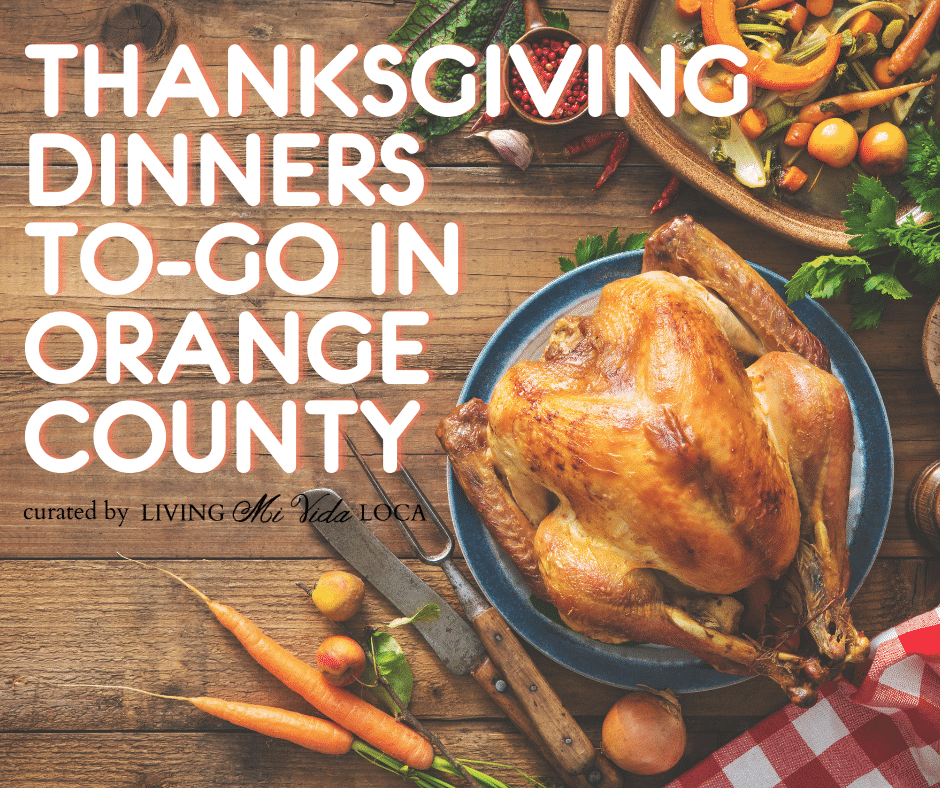 November is a time to hang out with family and enjoy a delicious Thanksgiving dinner… but one that you don't necessarily have to cook yourself. Check out our list below featuring Thanksgiving dinner meals available in Orange County.
If we missed a dinner package – please let us know!
Thanksgiving dinner packages in Orange County
Lucille's Smokehouse BBQ
Various locations
$219 includes all the fixin's: Turkey, Ham, biscuits, mashed potatoes, stuffing, gravy, vegetables, cranberry sauce and a sweet potato pie.
Orders must be placed by 5pm on Monday, November 23. You may pick up your feasts on November 25 and 26.
You may also order items a la carte such as whole smoked turkey for $85.99 or beef brisket. (See your location for pricing for beef brisket). You may also order sides a la carte as well as dessert.
Mrs. Knott's Chicken Dinner Restaurant
Knott's Berry Farm, Buena Park, CA
$145 + tax. Choose from a full turkey or ham dinner including gravy, mashed potatoes and other delicious sides. Plus, top it off with your choice of boysenberry pie or pumpkin pie for dessert.
Meal must be picked up on date and time chosen at purchase. Pick-up times: Nov 25, 9am – 5pm, Nov 26, 7am–4pm, or Nov 27, 10am–3pm
The Winery Restaurant and Wine Bar
2647 Park Ave, Tustin, CA 92782
If you'd like a Thanksgiving meal to go at this place, you can order now! Just go to the website and select your location, and the Thanksgiving offer will pop up for you. It is a traditional turkey dinner with "all the fixings" and serves up to 6 guests for $395. You can also order extra sides a la carte.
Orders must be placed by Monday, November 22nd by 3 pm and picked up on Wednesday 24th between 1:30-8 pm *Refunds/cancellations must be requested by Saturday, November 20th
Buca di Beppo
Various locations (Anaheim, Brea, Huntington Beach)
This restaurant is offering a Thanksgiving Feast which includes: Sliced White Meat Turkey, Homestyle Gravy, Roasted Garlic Mashed Potatoes, Spicy Italian Sausage Stuffing, Green Beans, Cranberry Sauce and Pumpkin Pie. You can also order their Italian classics a la carte. You can start pre-ordering now and can pick it up hot or cold. There is a small size that feeds 3 for $78.99 and a large size that serves 6 for $148.00.
The restaurant will also be open on Thanksgiving Day for dine-in!
Fleming's
Anaheim
This restaurant is offering dinner to go or for dine-in on Thanksgiving Day.
In-Restaurant experience and At-Home experience will both offer "3-course menu for adults and children that includes a starter, Herb-Roasted Turkey to pair with all of the fixings and dessert. Beyond turkey, we're also offering our 3-course with Filet Mignon or Prime Bone-In Ribeye."
The Dine-In experience costs $53 per person. For children 12 and under, it's $23. Available from 11am-8pm.
Boston Market
Costa Mesa, Huntington Beach, Laguna Niguel
You can order the whole spread and pick it up the week of Thanksgiving. You can also order a la carte. You can also order home delivered Thanksgiving meals. The restaurant will also be open on Thanksgiving Day if you'd like to pick up meals to go that day. Thanksgiving meals are served for 4-6 people and start at $99.99. You can select ham, turkey or prime rib as the main dish. They also have meals for 12 people and those start at $129.99.
Albertson's
Various Locations
You will go the Albertson's website and select your local store. Then you can choose between a Homestyle Turkey Dinner starting at $59.99, a Spiral Ham Dinner starting at $59.99 and a Prime Rib Dinner starting at $79.99. The homestyle turkey dinner serves 6-8, the spiral ham dinner serves 8-10 and the prime rib dinner serves 5-6.
Ralphs
Various Locations
Go to the website and click on Thanksgiving on the left hand bar and then choose your store. You can then order a turkey or ham meal starting at $55. You can also order a la carte items to add to your order.
Stater Bros
Various Locations
Turkey dinners serves 6.
Include: Butterball Cooked Turkey (10 to 12 lbs. Average Weight), Cornbread Stuffing (28 oz.), Mashed Potatoes (48 oz.), Homestyle Gravy (24 oz.), Cranberry Sauce (14 oz.) and King's Hawaiian Rolls (12 Pack)
Vons
Various Locations
For Vons, you will want to choose your home store and then it will give you an option to order a holiday meal. Similar to Albertsons, meals start at $64.99. Albertsons and Vons are the same company so the options are basically the same.
Whole Foods Market
Various Locations
Whole Foods is offering a festive feast for 12 for $299.99. Visit the website, enter your local store and see the various offerings. You can also order smaller meals or a la carte. The festive feast includes a turkey, ham, mashed potatoes, stuffing, green beans, roasted butternut squash, turkey gravy, a pumpkin and apple pie and more!
Polly's Pies
Various Locations
Holiday full feast is $109.99 +tax & tin deposit. Full turkey or ham feast. Serves up to 8.
50 oz. sliced Turkey Breast with 1 quart Turkey Gravy
or 50 oz. sliced Glazed Ham with 1 quart Brown Gravy
1 dozen freshly baked dinner rolls
2 quarts red skin Smashed Potatoes
1 quart Smashed Sweet Potatoes
1.5 quart Seasoned Green Beans**
2 quarts Homestyle Stuffing
1 pint Zesty Cranberry Sauce
CHOOSE YOUR PIE: Famous apple, Famous apple-pumpkin, pumpkin maple crunch
Marie Callender's
Various Locations
Holiday full feast is $129.99 + tax.
Turkey Breast Feast with Pumpkin PieFeast Trimmings Include: Apple-Sage Stuffing, Fire-Roasted Yams, Cranberry Sauce, Fresh Mashed Potatoes, Turkey Gravy, Chef's Vegetables, Fresh Cornbread, a Whole Pumpkin Pie. All Feasts require 3 hours reheating time.
Bosscat Kitchen
Various Locations
Holiday full feast is $175 for 5 people; $275 for 10 people
Choice of maple bourbon brined turkey or brown sugar baked ham. Includes sides: sweet potato or garlic mashed potato, mac and cheese, cornbread stuffing, green vegetables, rolls and apple or pumpkin pie.
Zov's
Various Locations
Full Dinner with All the Fixings (serves 12-15 guests)
Sliced Boneless Turkey Breast $550
Whole Free-Range Turkey $650
All dinners include:
Wild Mushroom & Jasmine Rice Stuffing
Sage Gravy
Maple Glazed Roasted Yams
Mashed Potatoes
Cranberry Citrus RelishClassic Creamed Corn
Baby Mixed Green Salad with Blue Cheese, Toasted Walnuts, Balsamic Vinaigrette
Dinner Rolls
Choice of Pie: Pumpkin, Apple Crumb or Pecan
Family Size feeds 6-8 $85. Individual size $25
Roasted Turkey Breast, Garlic Mashed Potatoes, Traditional Stuffing, Green Bean Casserole, Candied Sweet Potatoes, Fresh Cranberry Sauce and Rolls
Dessert Menu
Apple Crisp $15
Vanilla Bean Ice Cream $8 a pint
Dark Chocolate Almond Pumpkin Cups 6 for $10 or $20 a dozen.
Javs BBQ
Anaheim
$175 for 12-14 people
20 LB bird, Mac & Cheese, Mashed Potatoes, Turkey Gravy, Green Beans, Stuffing and Cranberry Sauce

Stefano's
Yorba Linda
$175 for 6 people
7-8 lb Golden Baked Ham or Oven Roasted Turkey Breast or Whole Bone In Turkey & the following 6 side dishes: Mashed Potatoes, Stuffing, Gravy, Dinner Rolls, Cranberry Sauce, & Green Bean Almandine.
Originally published on October 27, 2020. Last Updated on November 16, 2021 by Pattie Cordova