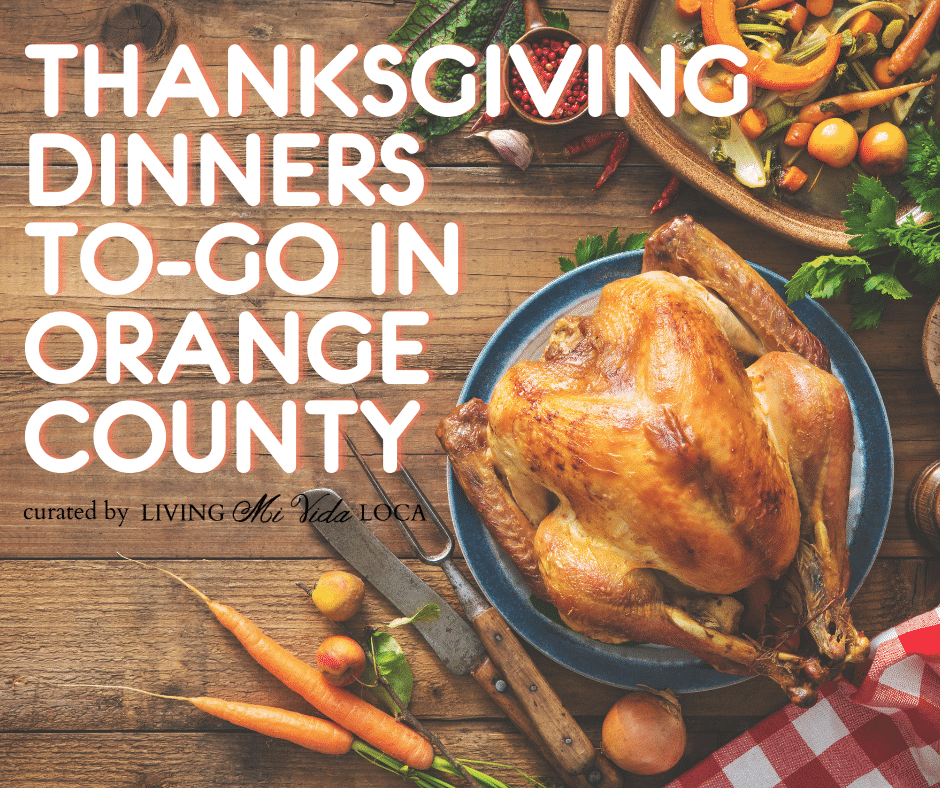 Food
Thanksgiving Dinner packages in Orange County
Thanksgiving is a time to hang out with family and enjoy a delicious meal… but one that you don't necessarily have to cook yourself. Check out our list below featuring Thanksgiving dinner packages available in Orange County.
If we missed a dinner package – please let us know!
Thanksgiving dinner packages in Orange County
Various locations
$209.99 includes all the fixin's: Turkey, Ham, biscuits, mashed potatoes, stuffing, gravy, vegetables, cranberry sauce and a sweet potato pie.
Orders must be placed by 5pm on Monday, November 23. You may pick up your feasts on November 25 and 26.
You may also order items a la carte such as whole smoked turkey for $79.99 or beef brisket. (See your location for pricing for beef brisket). You may also order sides a la carte as well as dessert.
Mrs. Knott's Chicken Dinner Restaurant
Knott's Berry Farm, Buena Park, CA
Choose from a full turkey or ham dinner including gravy, mashed potatoes and other delicious sides. Plus, top it off with your choice of boysenberry pie or pumpkin pie for dessert.
Meal must be picked up on date and time chosen at purchase.
34091 Pacific Coast Hwy
Dana Point, CA 92629
If you'd like to dine in for Thanksgiving, check out this elegant restaurant where they welcome you in for a "quality experience." There are 7 starters, 10 entrees, 8 sides and 4 desserts to choose from. They've got everything from turkey breast to filet mignon, ribs, pork chops and salmon to name a few entrees. For dessert, the pumpkin bread pudding sounds amazing!
The Loft at Montage Laguna Beach
30801 South Coast Hwy
Laguna Beach, CA 92651
This is a restaurant inside a beautiful hotel where you will have a four course menu for $135 per adult and $50 per child ages 4-12. The dining will take place from 12pm-9pm on Thanksgiving Day. For dining reservations, call (949) 715-6420. There are a few seafood options for the entrees that look delicious and they also offer pumpkin pie as one of their desserts. You can't have Thanksgiving dinner without some pumpkin pie, right?
The Winery Restaurant and Wine Bar
3131 West Coast Hwy
Newport Beach, CA 92663
2647 Park Ave
Tustin, CA 92782
If you'd like a Thanksgiving meal to go at this place, you can order now! Just go to the website and select your location, and the Thanksgiving offer will pop up for you. It is a traditional turkey dinner with "all the fixings" and serves up to 6 guests for $350. You can also order extra sides a la carte. You can order now until November 20th at 12pm. Pick up is Wednesday November 25th from 1:30pm-8pm. You don't have to choose the traditional turkey because they have a choice of main entrees such as salmon, shrimp, beef, pork chops and pork belly. If you have a large family, this would be a great option.
Various locations (Anaheim, Brea, Huntington Beach)
This restaurant is offering a Thanksgiving Feast which includes: Sliced White Meat Turkey, Homestyle Gravy, Roasted Garlic Mashed Potatoes, Spicy Italian Sausage Stuffing, Green Beans, Cranberry Sauce and Pumpkin Pie. You can also order their Italian classics a la carte. You can start pre-ordering now and can pick it up hot or cold. There is a small size that feeds 3 for $68.99 and a large size that serves 6 for $138.00.
The restaurant will also be open on Thanksgiving Day for dine-in!
455 Newport Center Drive
Newport Beach, CA 92660
This restaurant is offering dinner to go or for dine-in on Thanksgiving Day.
In-Restaurant experience and At-Home experience will both offer "3-course menu for adults and children that includes a starter, Herb-Roasted Turkey to pair with all of the fixings and dessert. Beyond turkey, we're also offering our 3-course with Filet Mignon or Prime Bone-In Ribeye."
For your At-Home experience "Large party pre-orders can be picked up 10AM–11AM Thanksgiving Day." Order in advance now. Cost starts at $45 per person and includes 4 guests. They also have large party options for different prices.
The Dine-In experience costs $53 per person. For children 12 and under, it's $23. Available from 11am-8pm.
Costa Mesa, Huntington Beach, Laguna Niguel
You can order the whole spread and pick it up the week of Thanksgiving. You can also order a la carte. You can also order home delivered Thanksgiving meals. The restaurant will also be open on Thanksgiving Day if you'd like to pick up meals to go that day. Thanksgiving meals are served for 4-6 people and start at $99.99. You can select ham, turkey or prime rib as the main dish. They also have meals for 12 people and those start at $129.99.
Various Locations
You will go the Albertson's website and select your local store. Then you can choose between a Homestyle Turkey Dinner starting at $59.99, a Spiral Ham Dinner starting at $59.99 and a Prime Rib Dinner starting at $79.99. The homestyle turkey dinner serves 6-8, the spiral ham dinner serves 8-10 and the prime rib dinner serves 5-6.
Various locations
Go to the website and click on Thanksgiving on the left hand bar and then choose your store. You can then order a turkey or ham meal starting at $55. You can also order a la carte items to add to your order.
Various Locations
For Vons, you will want to choose your home store and then it will give you an option to order a holiday meal. Similar to Albertsons, meals start at $59.99. Albertsons and Vons are the same company so the options are basically the same.
Yorba Linda and Rancho Santa Margarita
Blind Pig is offering a Thanksgiving Feast for $250 that feeds 6-8 people. It comes with 4 lb of prime rib roast, 4 giant turkey legs, 3 delicious sides and dessert. You need to preorder by Sunday November 22nd for pickup days of Tuesday and Wednesday (24th and 25th) during normal service hours. You may call RSM (949) 888-0072 or YL (714) 485-2593 to order for pick up.
Various Locations
Whole Foods is offering a festive feast for 12 for $279.99. Visit the website, enter your local store and see the various offerings. You can also order smaller meals or a la carte. The festive feast includes a turkey, ham, mashed potatoes, stuffing, green beans, roasted butternut squash, turkey gravy, a pumpkin and apple pie and more!
Various Locations
Popeye's will be offering a deep fried Cajun turkey for Thanksgiving! Turkeys start at $39.99 and will be available at participating locations. The Cajun Style Turkey comes precooked so all you need to do is heat up the bird. To pre-order your own whole turkey, call or visit your local Popeyes and schedule a pick up. You can also orders items a la carte such as their mashed potatoes and gravy.
6460 E Pacific Coast Highway #125
Long Beach, CA 90803
This restaurant is offering a Thanksgiving Dinner that serves 6 people for $275. It comes with either a pasture raised traditional chicken or natural diestel turkey breast as the main dish. It also includes cranberry orange relish, yukon gold mashed potatoes, roasted butternut squash with candied ginger, maple bacon green beans, stuffing, dinner rolls and your choice of dessert. Dessert options are a classic pumpkin tart, olive oil cake with mixed berry compote or a spiced rum apple tart. There will also be additional items to purchase a la carte. Place your order by November 22 and it will be ready for pick up on November 25. Re-heating instructions will be provided. Delivery available within Long Beach for $25.
Various Locations
Holiday full feast is $109.99 +tax & tin deposit. Full turkey or ham feast. Serves up to 8.
50 oz. sliced Turkey Breast with 1 quart Turkey Gravy
or 50 oz. sliced Glazed Ham with 1 quart Brown Gravy
1 dozen freshly baked dinner rolls
2 quarts red skin Smashed Potatoes
1 quart Smashed Sweet Potatoes
1.5 quart Seasoned Green Beans**
2 quarts Homestyle Stuffing
1 pint Zesty Cranberry Sauce
CHOOSE YOUR PIE: Famous apple, Famous apple-pumpkin, pumpkin maple crunch
1325 W. Katella Ave
Orange, CA 92867
This restaurant will be open for dine in on Thanksgiving Day and they are also offering a holiday feast. The holiday feast serves four and costs $99.99. It includes hand-carved roasted turkey, garlic mashed potatoes, green beans, stuffing, gravy, cranberry sauce, buttermilk biscuits and a whole pie (apple or pumpkin). You can also order a la carte items to add to your meal. Orders must be placed in advance by calling (714) 997-9191.