We're sharing places to volunteer on Thanksgiving in Orange County for 2021 in this list.
Thanksgiving is almost here and with that comes even more opportunities to give our time and donate goods to those in need. We invite you to take advantage of all the amazing Thanksgiving volunteer opportunities available to help others during the holidays. Whether it's donating time, a "Turkey Basket," or monetary gifts, no act of kindness is too small.
And if you're looking for Thanksgiving events to do with your family, check out our post on Thanksgiving Events in Orange County!!!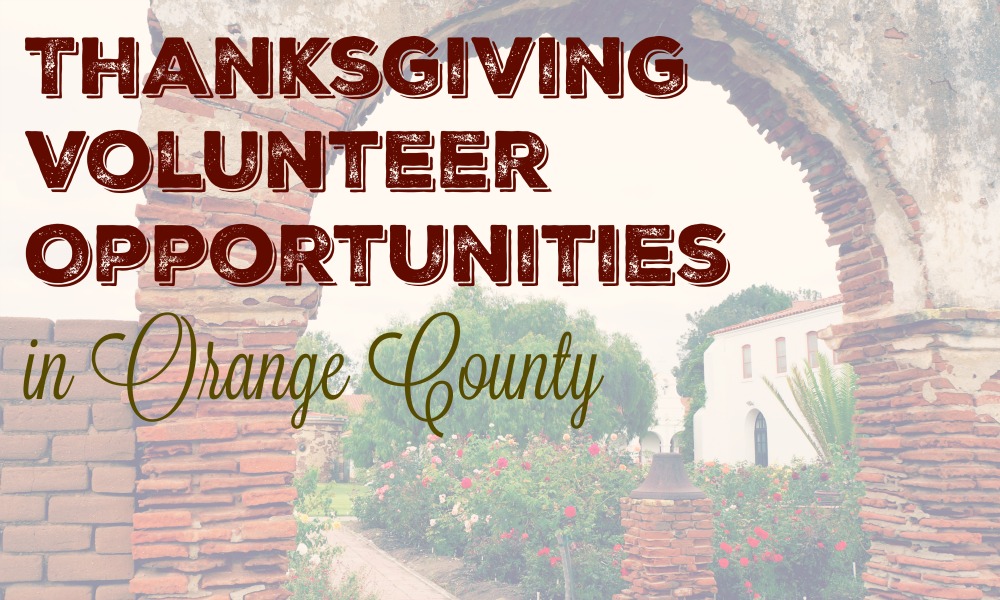 We've put together some volunteer opportunities available to us in Southern California. If you see that we've missed one, please let us know either by email ([email protected]) or by leaving a comment below so we can update our list. We would love to help get every volunteer position filled for this holiday. ¡Gracias!
Thanksgiving Volunteer Opportunities in Southern California
Volunteer Opportunities in Anaheim
We Give Thanks
Honda Center, Anaheim
More information: http://www.wegivethanksinc.org

Due to Covid restrictions, last year's We Give Thanks event was a drive through which provided nearly 20,000 meals. Plans for 2021 Thanksgiving are still in the works, and will depend on state and local restrictions, and community needs. Please stay tuned for updates.
---
Volunteer Opportunities in Costa Mesa
Someone Cares Kitchen
More information: http://www.someonecareskitchen.org/pages/volunteer.html or call 949-548-8861 x201
Someone Cares Soup Kitchen (Soup Kitchen) provides a daily nutritional meal to homeless, unemployed, working poor families, senior citizens, the unemployed or under-employed, the mentally and physically challenged and most important . the children.
Age restrictions: Minimum 15 years age requirement.
---
Volunteer Opportunities in Garden Grove
Thomas House Family Shelter
More information: https://ggcity.org/events/thomas-house-family-shelter-holiday-partnership-opportunities
Thoughtful Thursday Serving Supper (November 4, 11, 18; December 2, 9, 16). Sign up for the selected dates (1 group per date) to provide a meal to a family. You can either provide food and have staff serve on-site or drop off food and Thomas House staff can serve. Guest count is 60.
---
Volunteer Opportunities in Tustin
Turkey Trot OC
More information: http://turkeytrotoc.com
Reignite your family tradition, or take advantage of our flat and fast course to improve your 5K time, all in-person!
Now in its 8th year, we invite you to join us for our annual Turkey Trot OC 5K on Thanksgiving morning at 8am.
Join us to raise the funds to provide 30,000 meals for the hungry and homeless of Orange County. Your participation will continue the work of ending homelessness, one life at a time.
Age restrictions: None
Operation Warm Wishes
Tustin
More information: http://operationwarmwishes.com or contact: TyRon Jackson, Director, Phone: 714.363.6621
The free yearly event which runs from 11 a.m. to 3:00 p.m. on Thanksgiving Day at Peppertree Park at 230 West First St. in Tustin is expected to draw participants and volunteers from across Southern California. Attendees will be able to enjoy an unlimited desserts & beverages, a spectacular kids craft area, live music, and a wide array of amenities including haircuts, clothing, food bags, doggy grooming, and much more! Event runs from 11:00 pm to 3:00 pm.
Age restrictions: None listed
---
Donations needed
Project Hope Alliance
Costa Mesa
More information: https://projecthopealliance.org/thanksgiving2021/
There are two ways to help: Make a donation, and PHA will use it to purchase food and $50 grocery store gift cards for our families. Head to the grocery store and pick up everything on their list. Then drop the items at their office. One completed list is one family fed. Drop gift cards, food, and bags off at their office: 1954 Placentia Ave. #202, Costa Mesa, CA 92627. They will be accepting donations Monday-Friday from 10 am to 4 pm. All donations needed by November 10th.
Friendly Center
Orange
More information: https://friendlycenter.org/turkeys/ or call (714) 771-5300
Collect items and put together a "Turkey Basket." Each basket/box should contain a $25 grocery store gift card to purchase a turkey, stuffing, cranberry sauce, dry potatoes, turkey gravy, candied yams, two cans of green beans, two cans of corn, a bag of dinner rolls, and one pumpkin pie (no frozen and keep separate). They then distribute them to families that come line up later that day to recieve. It's wonderful way to give during a season of thanks. Drop-offs will be in 10 minute increments, 8:30AM-4:30PM, on Nov. 22, 2021.
South County Outreach
Irvine
More information: http://www.sco-oc.org/volunteer/ or call 949-380-8144, ext. 22
Donate turkeys or grocery store gift cards so people in need can have a happy Thanksgiving.
OC Food Bank
11870 Monarch St.
Garden Grove, CA 92841
More information: https://www.capoc.org/hope/ or call (714) 897-6670
Make a $20 donation to purchase a turkey for a hungry family, or buy a "flock of turkeys" to feed more than one family. Also looking for individuals, groups and organizations to host virtual and a physical food drive.
Share Our Selves
Costa Mesa
More information: http://www.shareourselves.org/services/seasonal-programs/ or call (949) 270-2171
This Thanksgiving season SOS will be providing a holiday food bags for Orange County families and individuals. The bags will be filled with supplies that can be used to prepare a holiday dinner.
Donations for SOS' Thanksgiving Food Drive are greatly appreciated and will help make the holidays a little brighter for the Orange County community in need. Items can be dropped off at Share Our Selves (1550 Superior Ave, Costa Mesa, CA 92627).
Orange County Rescue Mission
Village of Hope campus
1 Hope Drive
Tustin, CA 92782
3rd Saturday of the month
More information: https://www.rescuemission.org/urgent-thanksgiving-food-needs/

With the help of volunteers and donors, homeless men, women, and children enjoy a warm, family style meal on Thanksgiving Day. They are so thankful to have this special meal!

Below are some of the items we need to prepare the meal. But remember, we serve over 119,000 meals in the month of November alone! All of your food donations will be put to good use throughout all of our Rescue Mission programs.

Turkeys, Boxed or canned stuffing, Canned cranberries, Frozen mixed vegetables, Frozen green beans, Frozen corn Frozen carrots, White granulated sugar, Brown sugar, Flour, Chicken stock, Beef stock, Vegetable Stock, Cream of chicken soup, Cream of mushroom soup, Cream of celery Cream of broccoli, Flavored coffee creamer, Crackers, Snack bars, Canned fruit, Pudding or jello dry mix
Sweet Makeup OC
Care Package Donation Drive
November 2-22
More information: https://www.instagram.com/p/CV3W1-bPHBn/

Please help us on getting couple items listed on the second picture of this post. You're also welcome to venmo me and I can purchase the items on your behalf in these special moments full of memorable memories and being together, not everyone is fortunate to have even the basic needs. So let this be the best way to give back. The care packages will go to the homeless
Originally published on September 29, 2019. Last Updated on October 25, 2022 by Pattie Cordova