Travel
Thanksgiving Volunteer Opportunities in Orange County
Thanksgiving is almost here and with that comes even more opportunities to give our time and donate goods to those in need. We invite you to take advantage of all the amazing opportunities available to help others during the holidays. Whether it's donating time, a "Turkey Basket," or monetary gifts, no act of kindness is too small.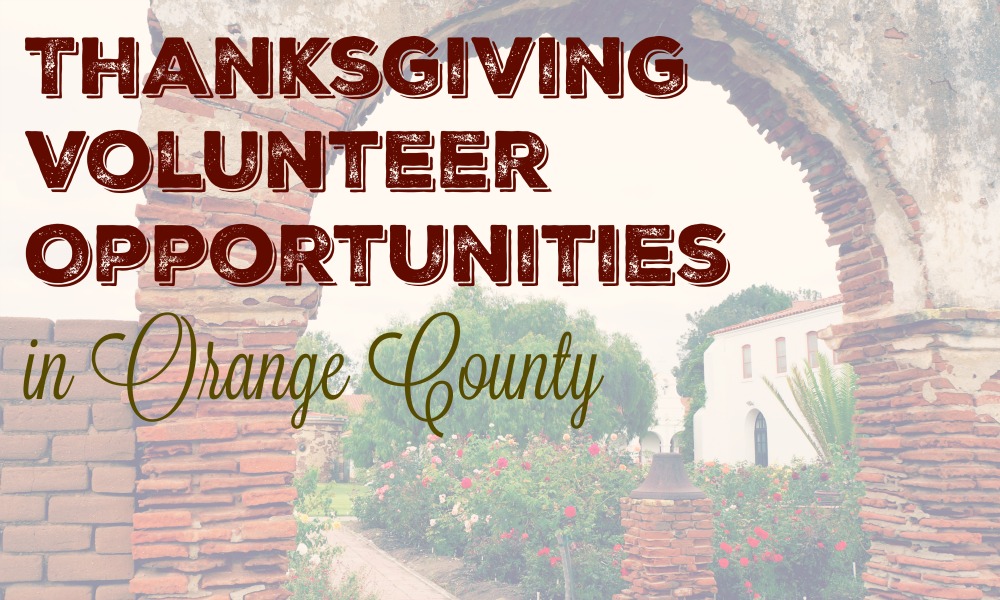 We've put together some volunteer opportunities available to us in Southern California. If you see that we've missed one, please let us know either by email (SoCal@livingmividaloca.com) or by leaving a comment below so we can update our list. We would love to help get every volunteer position filled for this holiday. ¡Gracias!
Thanksgiving Volunteer Opportunities in Southern California
We Give Thanks
Honda Center, Anaheim
More information: http://www.wegivethanksinc.org
The mission of We Give Thanks is to enhance the well being of the less fortunate in Southern California by making ongoing efforts and contributions to their well being. This includes bringing the community together on Thanksgiving Day for a special holiday meal, entertainment, and meeting place.
Age restrictions: Volunteers for Wednesday at the Anaheim Convention Center must be 14 years or older. Volunteers for Wednesday at the Hilton Anaheim and Anaheim Marriott must be 18 years or older. Volunteers for Thursday must be 18 years or older to work in the kitchen area.
Volunteer sign-ups: November 1st
Someone Cares Kitchen
Costa Mesa
More information: http://www.someonecareskitchen.org/pages/volunteer.html or call 949-548-8861 x201
Someone Cares Soup Kitchen (Soup Kitchen) provides a daily nutritional meal to homeless, unemployed, working poor families, senior citizens, the unemployed or under-employed, the mentally and physically challenged and most important . the children.
Age restrictions: Minimum 15 years age requirement.
Turkey Trot OC
Tustin
More information: http://turkeytrotoc.com
Participate in the third annual 5k Turkey Trot to raise money to feed the homeless! All children 5 and under can run with an adult FREE of charge! Unregistered children will not receive a race goody bag or bib, but can still participate in all of the fun!
Age restrictions: None
Operation Warm Wishes
Tustin
More information: http://operationwarmwishes.com or call 714-363-6621
Operation Warm Wishes will host and serve a FREE 3-course Thanksgiving dinner, with all the trimmings, for all members of the community at Peppertree Park in Tustin. (230 W 1st Street Tustin, CA 92780). Attendees will be able to enjoy a community red carpet (with step and repeat), live music, game trucks, game booths, haircuts, clothing, shoes, petting zoo, movie, tent, crafts and so much more!! Event runs from 11:00 pm to 3:30 pm.
Age restrictions: None listed
American Family Housing
Westminster Community Center
8200 Westminster Blvd., Westminster, CA 92683
VAHSA will be having an event called the American Family Housing Thanksgiving Dinner Service, on Thursday, November 22 from 12:30pm to 4pm. And in the American Family Housing program, they will be feeding the homeless! This service will take place on Thanksgiving day. They will be providing persons in need with warm dinners throughout the Southern California area with a goal of 1000 dinners served!
More information: http://afhusa.org email: volunteer@afhusa.org or (714) 897—3221 x 115.
Age restrictions: Unaccompanied volunteers must be at least 16 years old
3rd Annual Thanksgiving Harvest Feast
First Presbyterian Church Santa Ana
600 N Main St, Santa Ana, California 92701
More information: https://www.facebook.com/events/290348655137275/
Join us on Sunday, Nov.18th from noon-4pm as we serve a dinner of Turkey/Ham with all the yummy Thanksgiving sides and desserts.
Face painting, balloons, arts n crafts, and a bounce house for the kiddos. And nothing brings more joy than having the EVER POPULAR Hula Girls Shave Ice bring a little Hawaiian flavors to this event. Chuco Respados will come through with some refreshing Agua Frescas and Il Caccia Coffee will be there to whip up your favorite espresso drinks. We have live bands such as Cosmic Reaction,Female artists Aubrey King and Zhavea, Mariachi Juvenil Herencia Michoacana,and more.
We'll have haircuts and other giveaways as well and BEST of all, it's FREE for anyone in the community in need of a hot meal.
For more information or to donate for this event,please contact Jason Mercado at The Sweet Mission Project 215.315.7982. For volunteer opportunities, PLEASE email us at thanksgivingharvest2018@gmail.com
Orange County Catholic Worker – Isaiah House
316 Cypress Ave
Santa Ana, California 92701
More information: https://www.facebook.com/events/755004478182992/
We will prepare a feast fit for a King on November 26th at Isaiah House. Join them in feeding the homeless at 5:00 P.M.
Newport-Mesa Family YMCA's Homeless Veterans Event
The Crossing Church
2115 Newport Blvd
Costa Mesa, California 92627
Newport-Mesa Family YMCA is proud to be involved with an amazing collective to help our Veterans experiencing homelessness in the community. This is an opportunity to provide a hand up to the Costa Mesa neighbors going through a difficult time and show them that they are loved and cared for.
If you would like to volunteer your time to help our Veterans in need, sign up here: https://www.lovecostamesa.org/communityservice or contact cares@ymcaoc.org.
---
Donations needed
Illumination Foundation
Orange
More information: https://www.ifhomeless.org/thanksgiving-meal-kit/
Complete the form to host a Thanksgiving Meal Kit Drive and help Illumination Foundation reach their goal of collecting more than 300 meal kits for unstably and recently housed families. Meal kits are requested with Thanksgiving friendly, non-perishable items and grocery store gift cards for all of the families in their housing program. You may also send Thanksgiving Meal Kit Items directly to Illumination Foundation by using the Amazon IF Thanksgiving Meal Kit Wish List
Donations are requested by Friday, November 16, 2018. Please drop off donations at the Orange office, 1091 N. Batavia Street, Orange CA 92867 between 9am- 5pm, Monday – Friday.
This is something you can do with your friends, coworkers, neighbors or any other group. After completing this form, they will send you flyers and provide you with additional information you will need to help you host your donation drive.
Project Hope Alliance
Costa Mesa
More information: http://projecthopealliance.org/hope-for-the-holidays/
Individuals and smaller groups can bring in food bags, complete with each item on the Thanksgiving checklist to give a family a full Thanksgiving meal. All non-perishable food items should expiration dates no sooner than 01/01/2019. Please have all food bags at the PHA office no later than November 5th. For more information email volunteer@projecthopeallirance.org or call (949) 791-2717. Thank you!
Friendly Center
Orange
More information: https://friendlycenter.org/index.php/events/turkey-basket-drive/ or call (714) 769-8869
Collect items and put together a "Turkey Basket." Each basket/box should contain a $15 gift card to Stater Bros. or Food 4 Less to purchase a turkey, stuffing, cranberry sauce, dry potatoes, turkey gravy, candied yams, two cans of green beans, two cans of corn, a bag of dinner rolls, and one pumpkin pie. They then distribute them to families that come line up later that day to recieve. It's wonderful way to give during a season of thanks. Drop off by November 20th at 147 W. Rose Ave., Orange or at 900 S. Melrose, Placentia.
South County Outreach
Irvine
More information: http://www.sco-oc.org/volunteer/ or call 949-380-8144, ext. 22
Donate turkeys or grocery store gift cards so people in need can have a happy Thanksgiving.
OC Food Bank
11870 Monarch St.
Garden Grove, CA 92841
More information: http://ocfoodbank.org/holiday/ or call (714) 897-6670
Make a $20 donation to purchase a turkey for a hungry family, or buy a "flock of turkeys" to feed more than one family. Also looking for individuals, groups and organizations to host virtual and a physical food drive.
Share Our Selves
Costa Mesa
More information: http://www.shareourselves.org/services/seasonal-programs/ or call (949) 270-2171
This Thanksgiving season SOS will be providing a holiday food bags for Orange County families and individuals. The bags will be filled with supplies that can be used to prepare a holiday dinner.
Donations for SOS' Thanksgiving Food Drive are greatly appreciated and will help make the holidays a little brighter for the Orange County community in need. Items can be dropped off at Share Our Selves (1550 Superior Ave, Costa Mesa, CA 92627) before November 18th, 2016.
Thanksgiving Cars & Coffee and Food Drive
Wicked Auto ProtectionIrvine
16842 Hale Ave
Irvine, California 92606
More information: https://www.facebook.com/events/614964228900142/
In lieu of our regular monthly Italian & supercar cars & coffee meet, we're hosting a general meet (open to all makes & models) and food drive to benefit Families Forward, a local charity that helps homeless and at risk families. We ask that all in attendance please bring canned/dry food goods for donation.
As always, donuts & coffee will be provided. Please remember to obey all traffic laws when entering and leaving the event.
Family-Friendly Saturday Morning Volunteer Opportunities at Orange County Rescue Mission
Village of Hope campus
1 Hope Drive
Tustin, CA 92782
3rd Saturday of the month
More information: https://www.rescuemission.org/volunteer/
Come join us with a variety of different service opportunities at the Village of Hope: food box assembly, hygiene kit assembly, prepping and serving food in our kitchen, assisting with landscaping, a cleaning project around campus, etc. RSVP by Friday 12 noon before the 3rd Saturday.