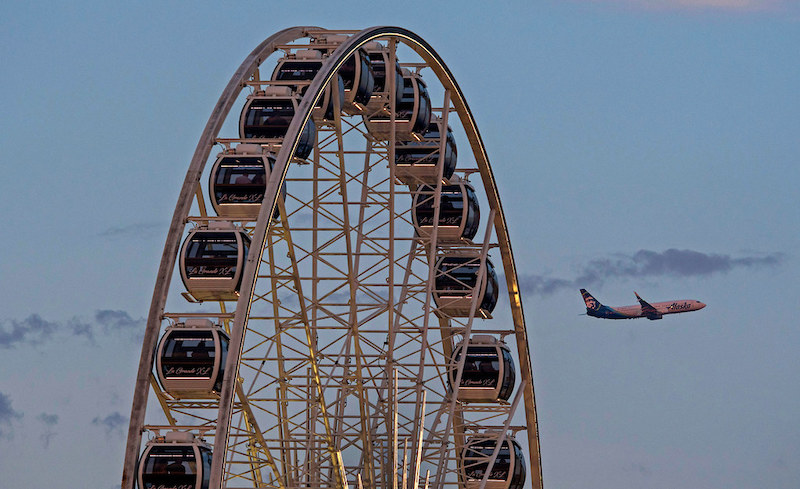 Travel
OC Fair 2019 discounts, tickets and prices
The OC Fair is back at the OC Fairgrounds at 88 Fair Dr., Costa Mesa, CA 92626, with a new theme, "Acres of Fun." The 2019 OC Fair starts July 12th and ends on August 11 (that's 23 days and nights!), and to make your visit more budget-friendly, we are sharing ALL the OC Fair discounts available this year. Read on for more info on how to save when visiting the OC Fair, ticket information and prices for admission and parking, and their super-popular OC Fair Super Pass.
OC Fair discounts, tickets and prices
OC Fair Super Pass
The OC Fair Super Pass is valid for one admission each day of the 2019 OC Fair for owner of pass only. Pass is non-transferrable. Other Super Pass perks: Express entry at all admission gates, 2019 OC Fair souvenir pin (while supplies last), discounted food and drinks at Baja Blues, Hussong's and Vinnie's, free admission to OC Market Place through Dec. 29, 2019, 2-for-1 tickets for select events, and up to 10 general admission Fair tickets for $10 each.
General (ages 13-59): $35 (March 1-May 31) $40 (June 1-Aug. 9)
Senior (ages 60+): $28 (March 1-May 31) $33 (June 1-Aug. 9)
Youth (ages 6-12): $28 (March 1-May 31) $33 (June 1-Aug. 9)
OC Fair Single-Day Admission Prices
Tickets below allow entrance into the OC Fair. Additional admission may be required for shows in Pacific Amphitheatre, The Hangar, Action Sports Arena and other special events. Concert tickets and action sports reserved seats include free Fair admission.
General (ages 13-59): $12 Wednesday – Friday
General (ages 13-59): $14 Saturday-Sunday
Seniors (ages 60+): $7
Youth (ages 6-12): $7
Children 5 and younger are free; active and retired military free with valid ID
OC Fair Parking
Parking tickets are only available at the gates. Please remember that it's CASH ONLY and tickets do not include in-and-out privileges.
FREE satellite parking is available on Saturday and Sunday at the Experian parking structure (475 Anton Blvd., Costa Mesa), located off the Bristol Street exit of the I-405, from 10 a.m.-1 p.m. every weekend during the Fair.
General $10
Buses and Limos $20
OC Fair Express
Take advantage of the OC Fair Express on Saturday and Sunday. Ticket price are $2 bus fare each way ($4 round trip; $1.50 for seniors) and you'll also get $4 admission to the Fair with valid OCTA rider coupon (day of service only). Buses run 10 a.m.-midnight on Saturdays and Sundays from July 13 through Aug. 11 during the Fair. Go to ocfairexpress.com for details and locations.
How to get FREE admission to the OC Fair 2019
Friday, July 12, noon-3 p.m.: Free 'Til Three on Opening Day – Free admission and parking until 3 p.m.
Every Thursday: Kids Day – Children 12 and under are admitted free all day.
Every Friday: Seniors Day – Guests 60+ are admitted all day for $5 ($2 discount). Seniors can also enjoy one free Ferris wheel or merry-go-round ride.
Daily: Salute to Heroes – Free admission for all veterans and active-duty military with valid ID. Each military member can also purchase up to six general admission tickets for half price.
Daily: Babies, Toddlers & Preschoolers – Free admission for guests age 5 and younger.
Every Wednesday, noon-3 p.m.: We Care Wednesday – One free admission and one carnival ride per person with valid donation.

School Supply Drive
Wednesday, July 17, noon-3 p.m. Donate school supplies valued at $5 or more (receipt required). Benefiting Share Our Selves.
Food Drive
Wednesday, July 24, noon-3 p.m. Donate five canned food items. Benefiting Second Harvest Food Bank and OC Food Bank.
Children's Book Drive
Wednesday, July 31, noon-3 p.m. Donate three new or gently used children's books. Benefiting THINK Together.
Clothing Drive
Wednesday, Aug. 7, noon-3 p.m. Donate five clothing items (new or gently used). Benefiting Goodwill of Orange County.

Daily: Fair It Forward – Guests with a ticket to the San Diego County Fair, Riverside County Fair, San Bernardino County Fair, or Ventura County Fair can receive free admission to the OC Fair. Original ticket stub must be presented for scan. Save your 2019 OC Fair admission ticket for one free admission at the 2020 Riverside County Fair (Feb. 14-23).
August 7-11: First Responders and Law Enforcement Week – Free admission to active-duty and professional staff of the police, sheriff, fire and emergency services departments. Issuing agency ID is required.
Best OC Fair 2019 Discounts and Deals
Every Saturday & Sunday, 11 a.m.-1 p.m.
Best Deal Ever – $7 general admission plus half the carnival tickets to ride.
Every Sunday, 11 a.m.-1 p.m.
Sunday Fun Day – $7 general admission plus half the carnival tickets to ride. Sunday guests also have the option to purchase a $35 unlimited ride wristband. The wristband is sold until 1 p.m., valid until 4 p.m.
Every Thursday, noon – 4 p.m.
$3 Taste of Fair Food – Sample select Fair food for $3 each.
OC Fair 2019 Coupons
Every Saturday and Sunday
OC Fair Express Coupon – Riders traveling to the OC Fair on the OC Fair Express bus (direct bus service provided by OCTA) receive a coupon for $4 admission.
Riders can catch the OC Fair Express at the following locations:
Anaheim: Anaheim Regional Transportation Intermodal Center (ARTIC), 2626 E. Katella Ave.
Anaheim: Anaheim Canyon Metrolink Station, 1039 N. Pacificenter Drive
Fullerton: Fullerton Park-and-Ride, 3000 W. Orangethorpe Ave.
Huntington Beach: Goldenwest Transportation Center, 7301 Center Ave.
Irvine: Irvine Metrolink Station, 15215 Barranca Parkway
Laguna Hills: Laguna Hills Transportation Center, 24282 Calle de los Caballeros
Laguna Niguel: Laguna Niguel/Mission Viejo Metrolink Station, 28200 Forbes Road
Orange: The Village at Orange, 1500 E. Village Way
Santa Ana: The Depot at Santa Ana, 1000 E. Santa Ana Blvd.
OC Fair Carnival Promotions
$35 Unlimited Ride Wristband
Every Wednesday and Thursday sold until 5 p.m., valid until 8 p.m.; every Sunday sold until 1 p.m., vaild until 4 p.m.
$2 Rides and $2 Games
Every Friday; sold until 4 p.m.
Read & Ride
Children ages 5-11 who read two books and complete the online book report form (available at bit.ly/readride2019) will receive three free carnival rides. Completed forms can be redeemed for the ride passes at the Kidland Information Booth during regular Fair hours.