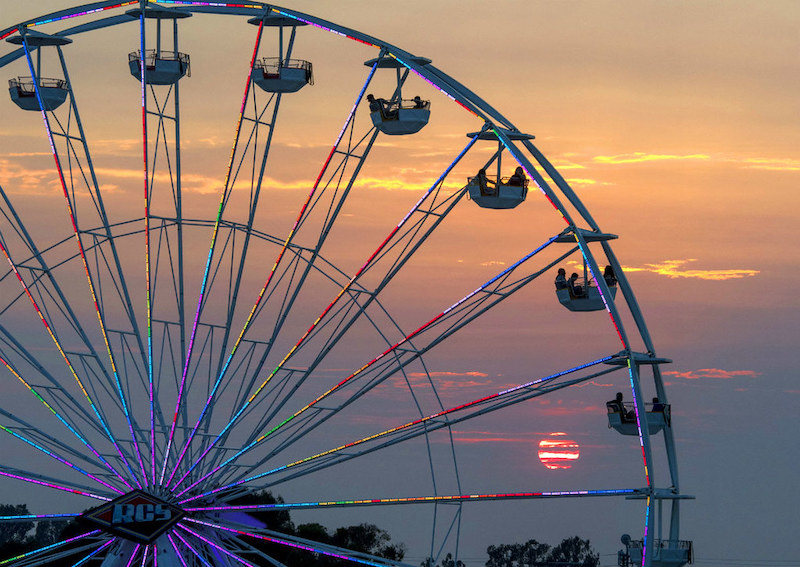 The OC Fair is in town and that means lots of fried food, carnival rides and fun, fun, fun!!! All this fun can be hard on our wallets. So when we visit the OC Fair every year we like to look for free things to do (besides the OC Fair free days). The great thing about the OC Fair is that finding free fun things is not hard. Here are our favorite free things to do with kids at the OC Fair.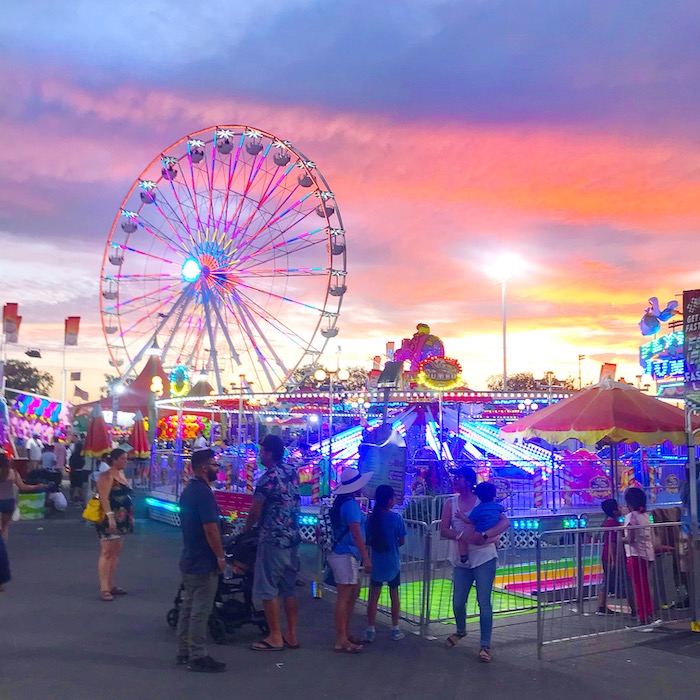 Petting Zoo
The petting zoo is usually our first stop. It is covered by a tent and they have fans running. It's a great place to linger when it gets hot.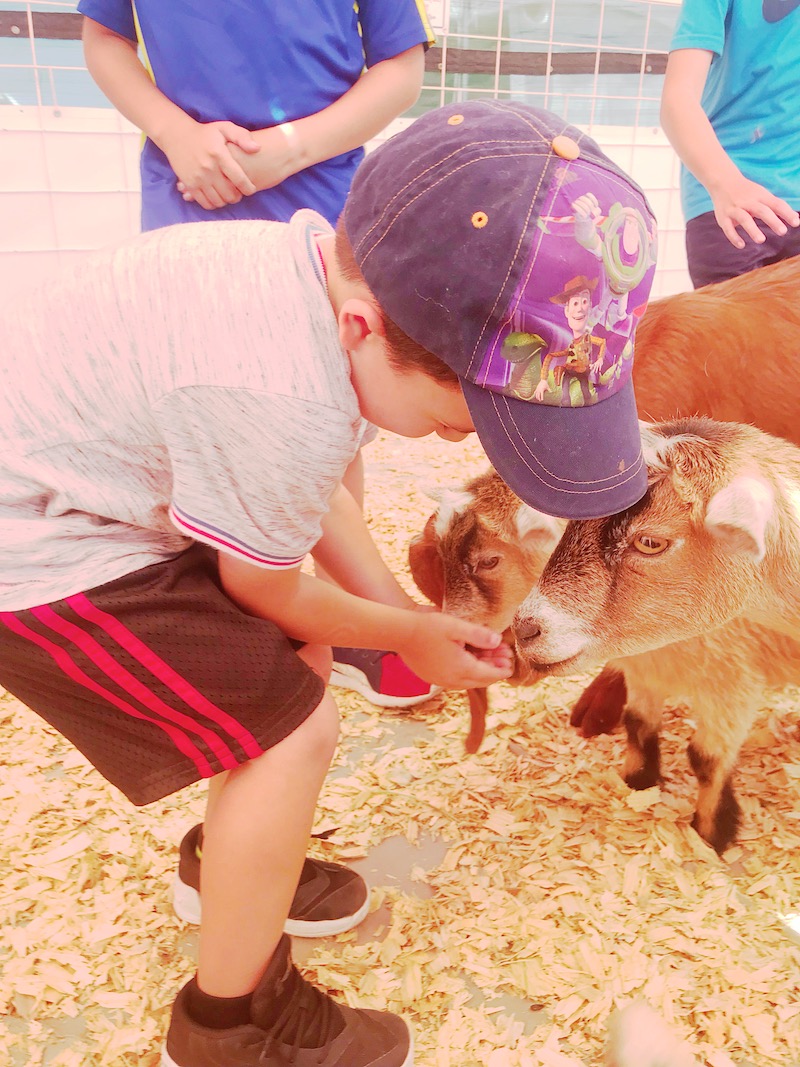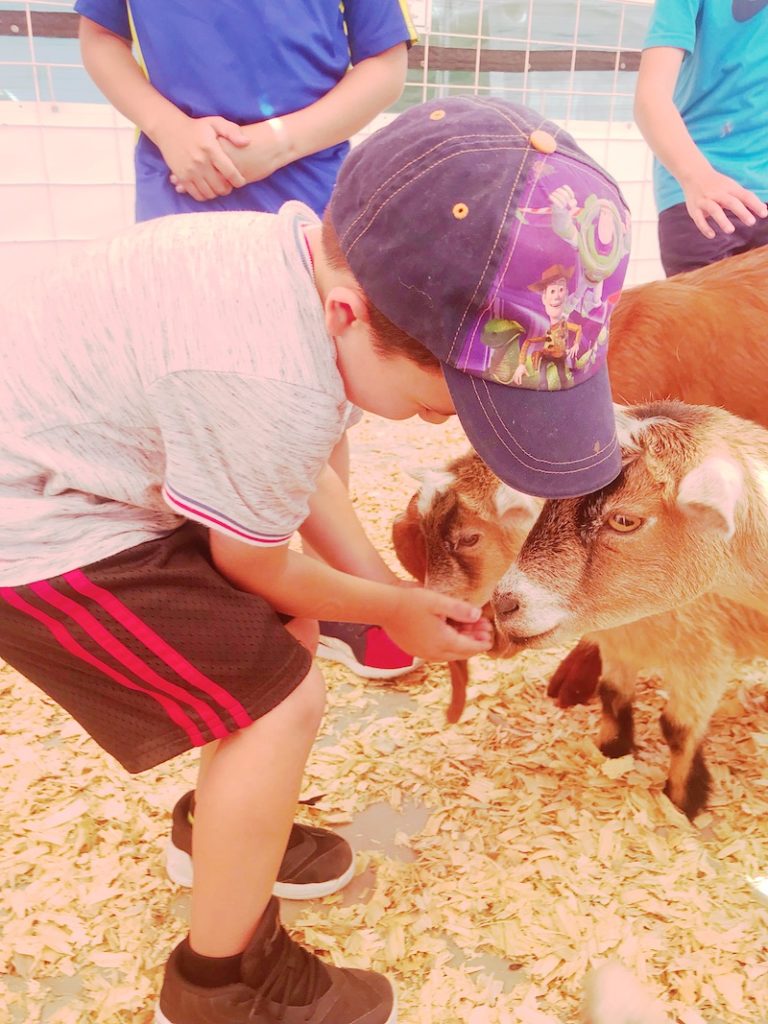 Entrance to the petting zoo is free, but they do sell food to feed the animals.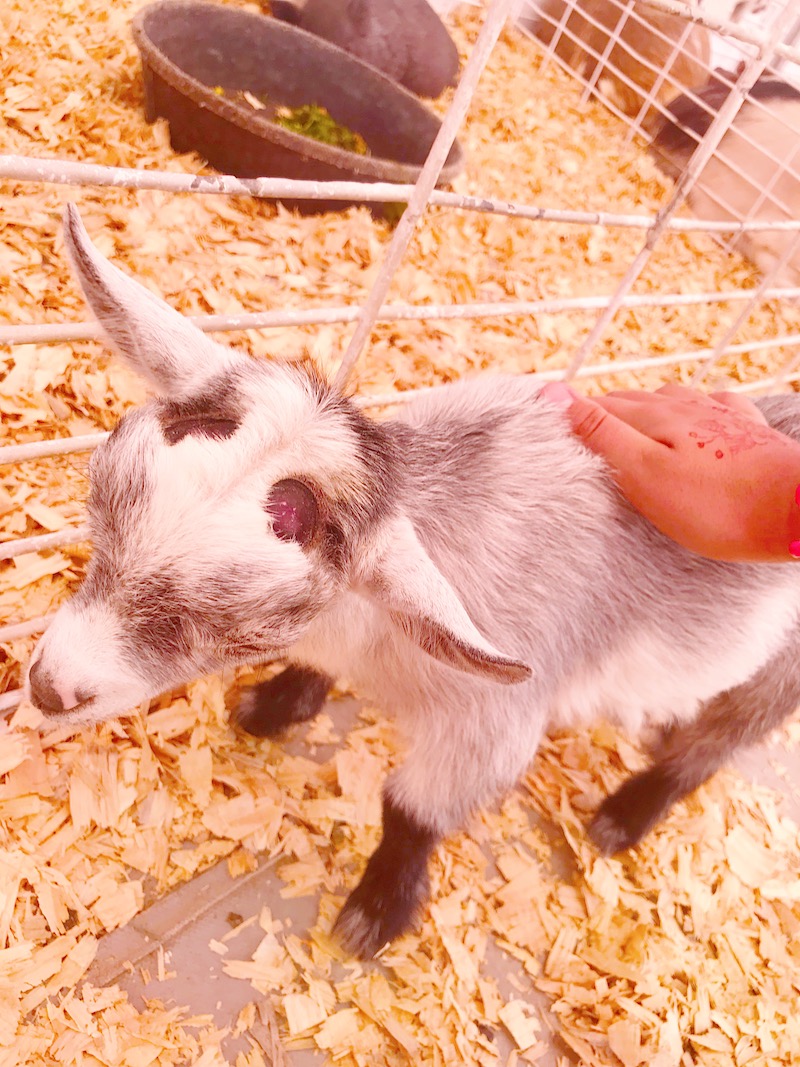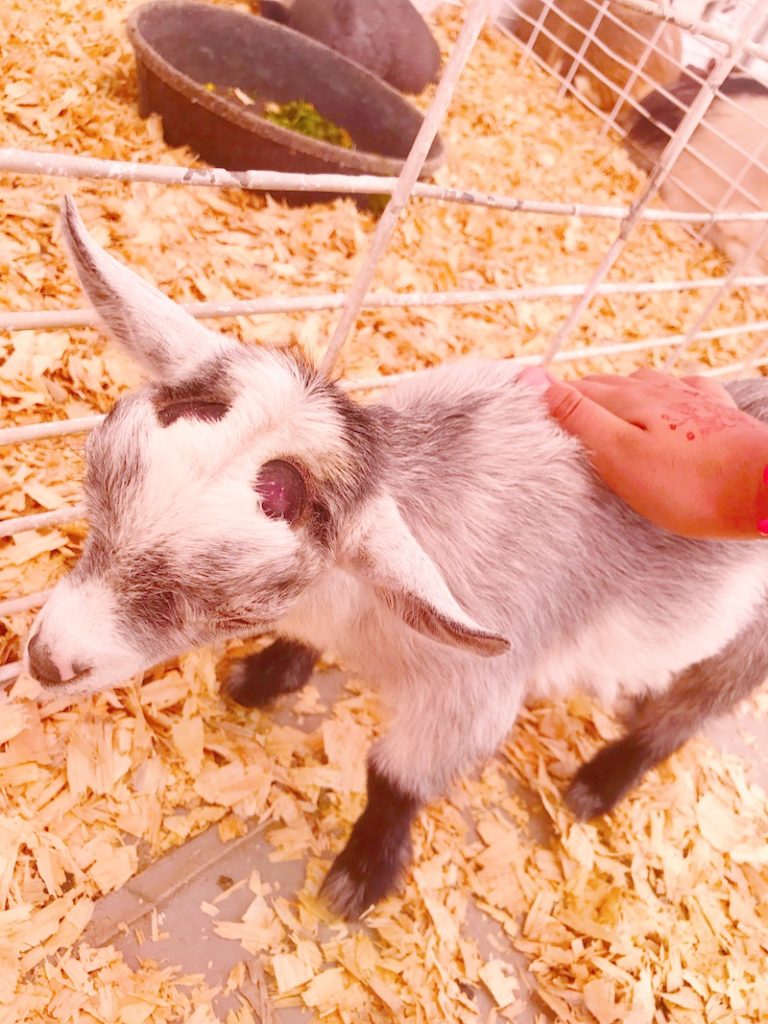 Tip: Guests will find machines at the petting zoo that sell small amounts of food for $.50 cents… instead of the $3 dollars at the entrance. The animals are really friendly, meaning they chew on purses, dresses and shirts, you've been warned.
The Russel Brothers Circus
The circus has been a staple of the fair for years. The little ones will love the acrobats, silly acts, and daring chair tricks. We like to arrive early to get a good spot. It is a great place to relax after all the walking and get away from the summer heat. They have shows all day from 12:30pm, 2pm, 3:30pm, 5pm, 6:30pm and 8pm every day. The little ones will love it.
Explorium
The huge tent in the middle of the fair is our favorite kid friendly spot. The Explorium is right next to the kids carnival rides. There are tons of fun activities inside this huge tent and they change every year according to the theme.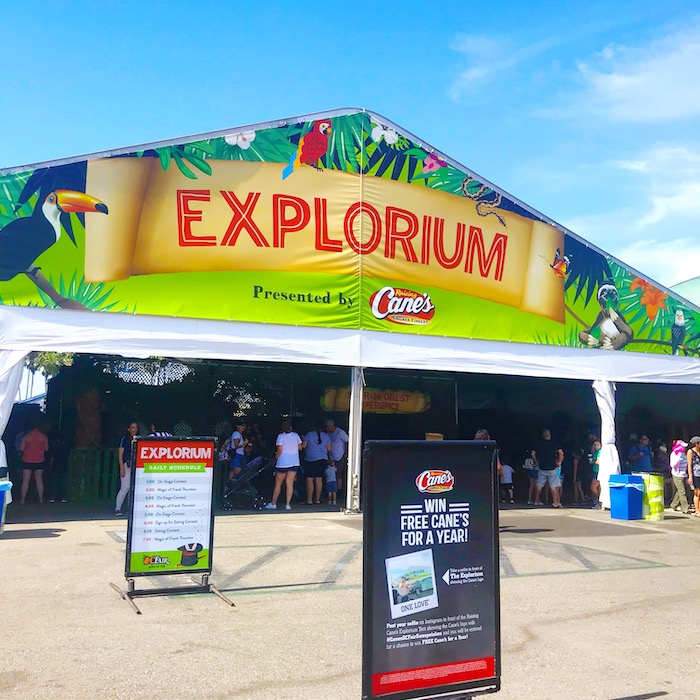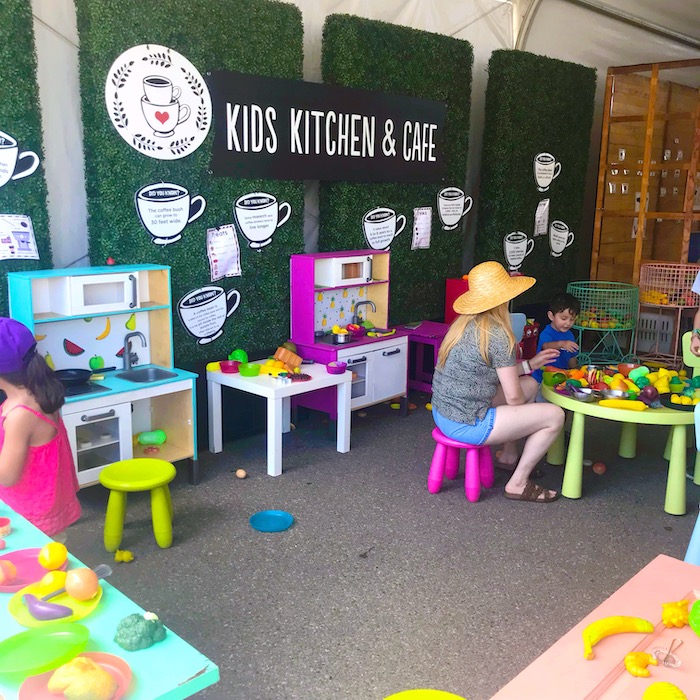 You will find a Kids Kitchen & Cafe area with tons of food, mini stoves and tables for little ones to play.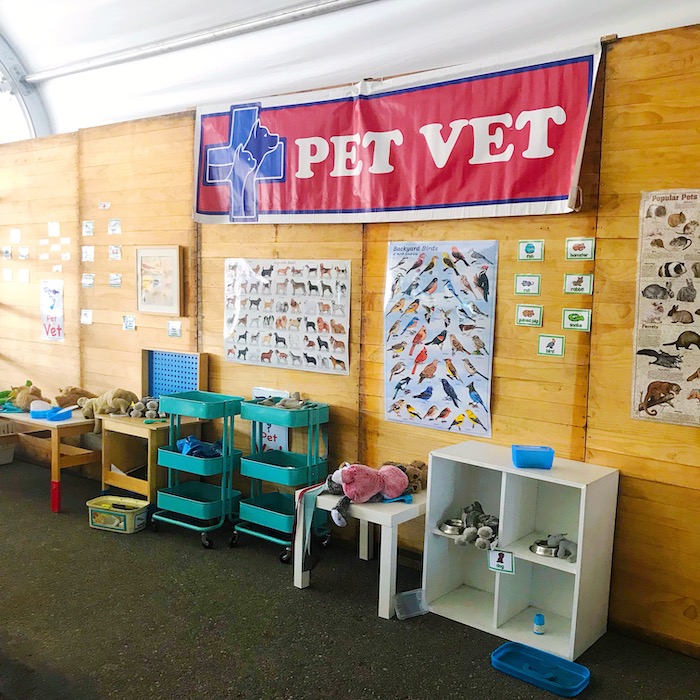 The Pet Vet section is full of stuffed animals and vet tools to play for hours. If you get hot then Pitch Burst gets you cooled off with a water balloon pop game. The huge sand pit with buckets and shovels is great for kids to create sand castles.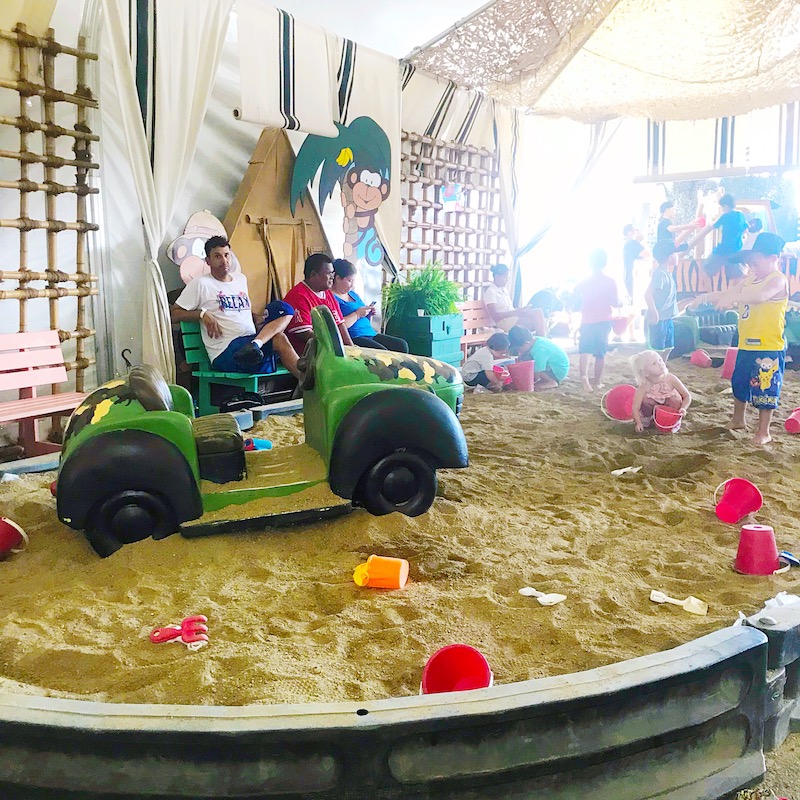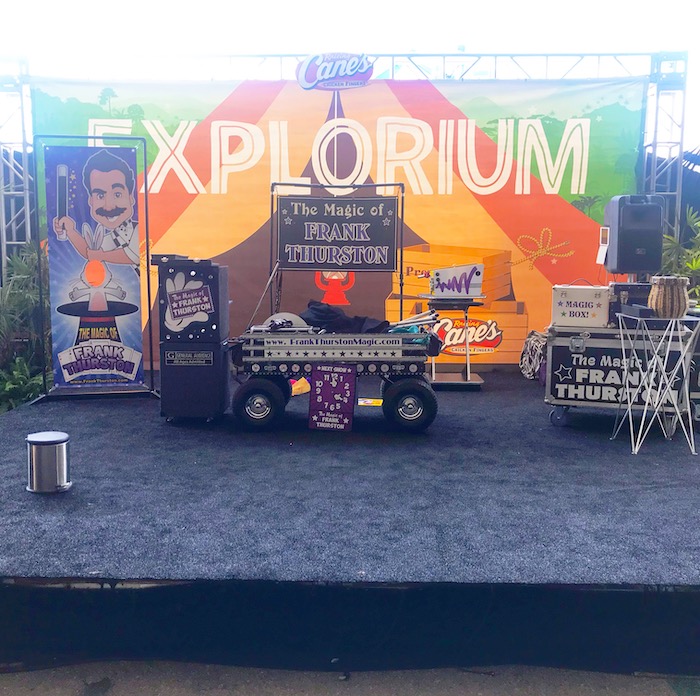 The Explorium also has free crafts, magic shows and kids contest all day. This is the spot to enjoy lunch or dinner while kids play.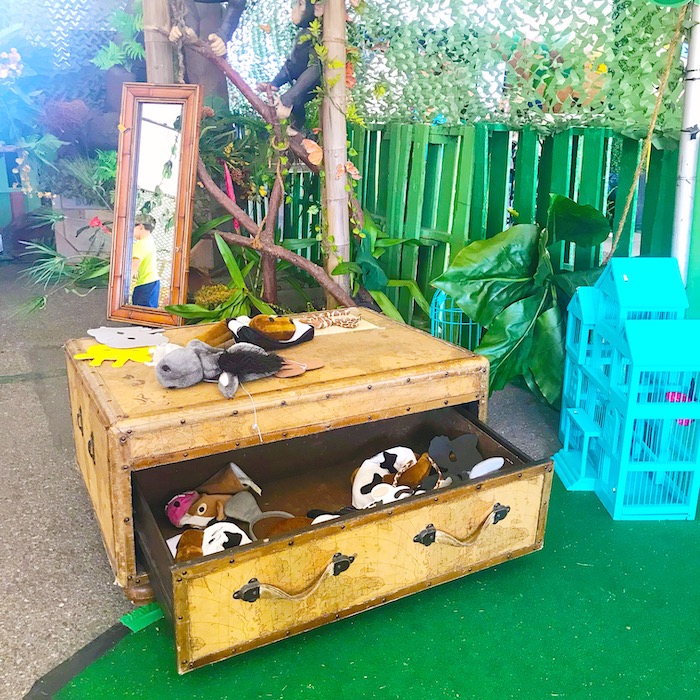 Pig Races
The pig races is my kids' favorite activity at the OC Fair. You will only see pigs racing at the fair so don't skip on one the many shows.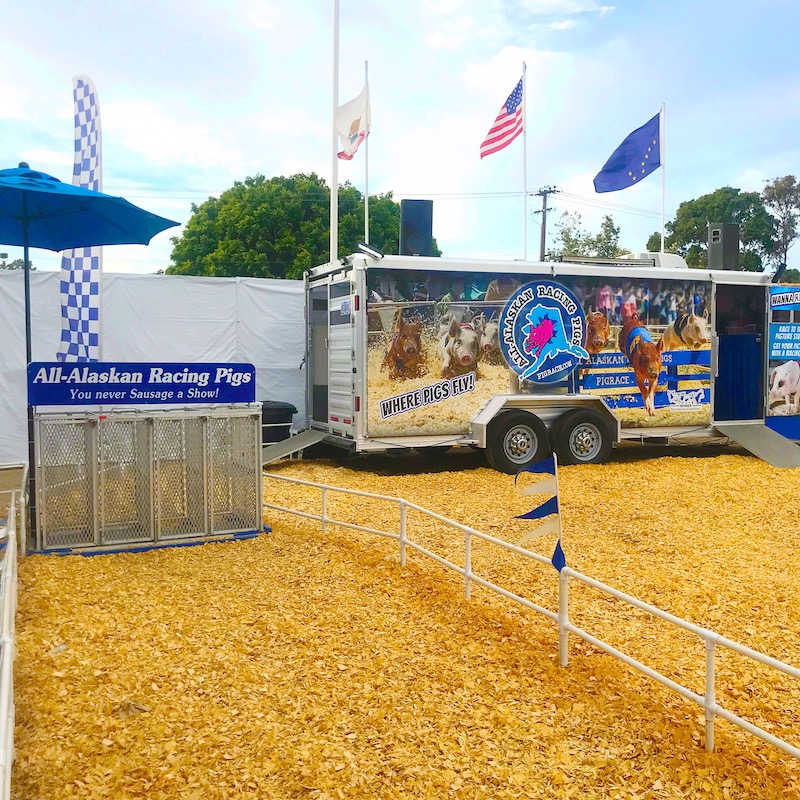 Make plans to arrive early because every show gets full and you will want to be in the shaded area. It is a hollering fun time and the crowd is encouraged to scream and yell. The kids really like cheering on their favorite pig and they are so fun to watch.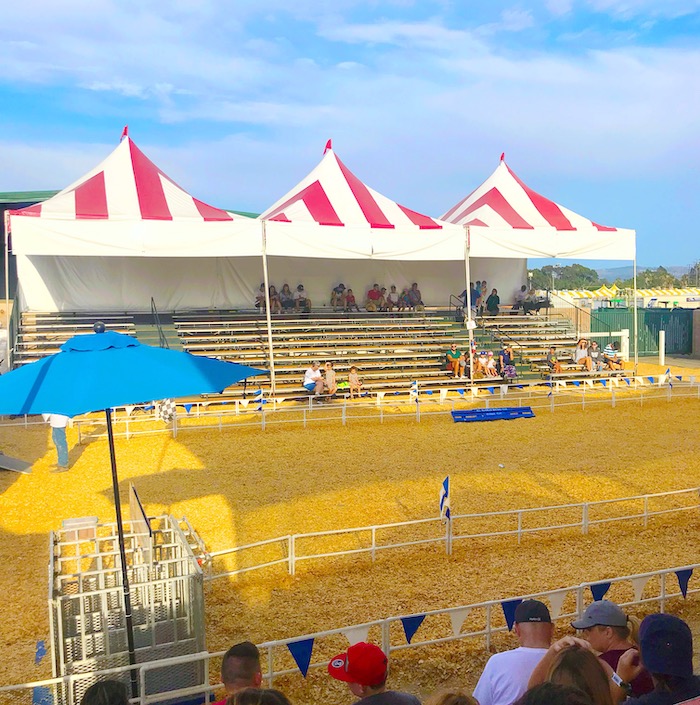 Centennial Farm
Centennial Farm is great for our city kids to see farm animals up and close. They have pigs, chickens, goats and cows. It seems like every year a momma pig has a new liter of piglets!
The kids love seeing the baby piglets suckling on their mamma. They have cow milking demonstrations, which makes for a fun conversation about where milk comes from with a toddler.
Tip: If you miss visiting the Centennial Farm during the OC Fair, just come back another day! The farm is open year round and always offers free entrance.
Splash Pad
The splash pad area is the best to beat the heat, especially when it is over 90 degrees. The area is small, but the kids will love running around trying to get wet. There are a few benches around so grab a seat and take a break. Make sure to bring extra clothes and towels.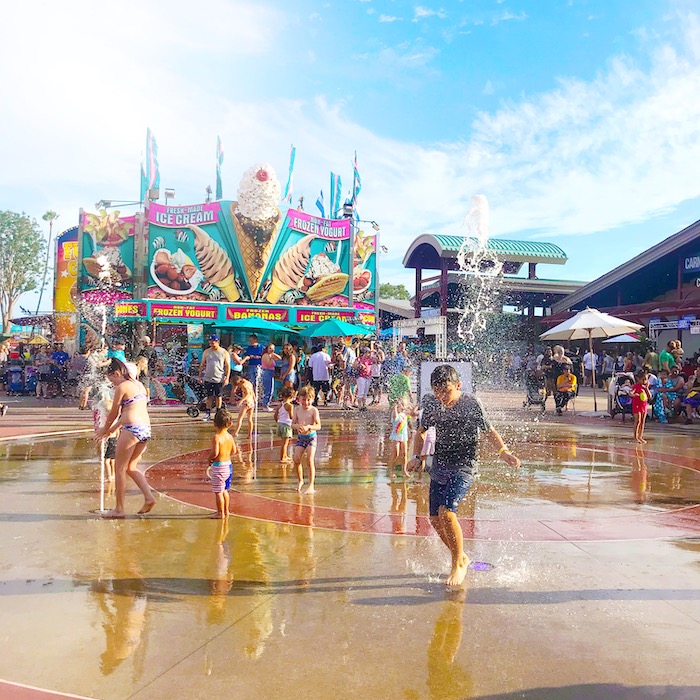 Heritage Stage
If you stay till evening, Heritage Stage has family friendly shows. This grassy area has tons of tables and chairs to enjoy dinner. This year you can watch Polynesian dance group Tupua daily at 5:15pm, 7:15pm and 9:15pm.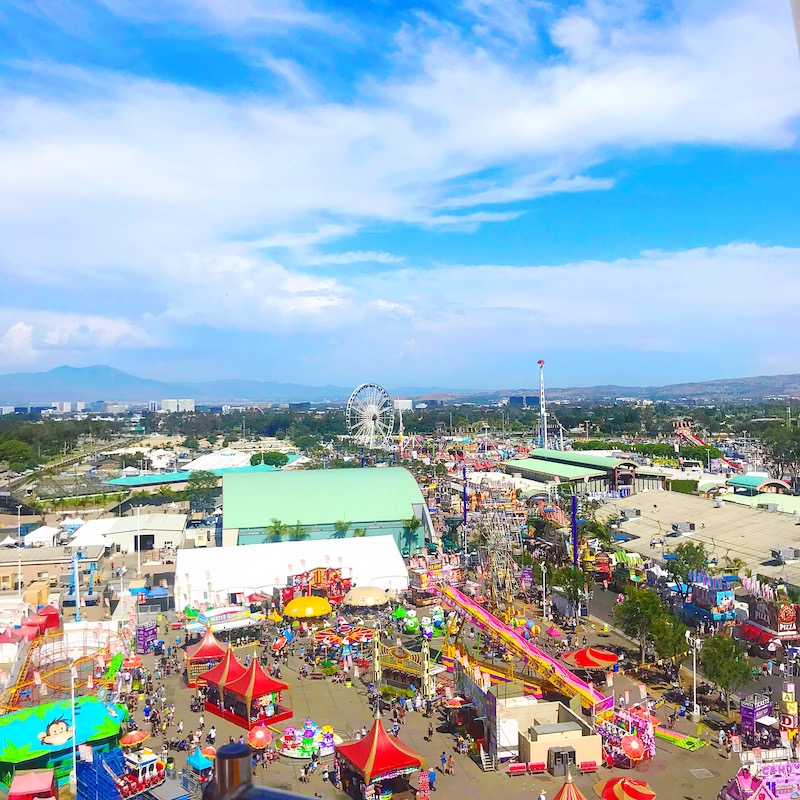 After the dance performance there is a comedy hypnotist. Mark Yuzuik has three nightly shows, 6:15pm, 8:15pm and 10:15pm, that are hilarious for entire family. He makes participants dance, sing and just act silly. It is well worth staying until late to catch his show.
OC Fair Free Days
Take advantage of OC Fair's many free activities without the need to spend your entire paycheck. We also like to take advantage of OC Fair Free Days to get in for free on Free Admission Wednesdays (more on that below) and it includes a free carnival ride ticket.
To get three carnival ride tickets, have kids read two books and fill out Read & Ride form. Each kid will end up with four carnival ride tickets then head to all the free activities. This will save you tons to spend on a much deserved funnel cake topped with ice cream.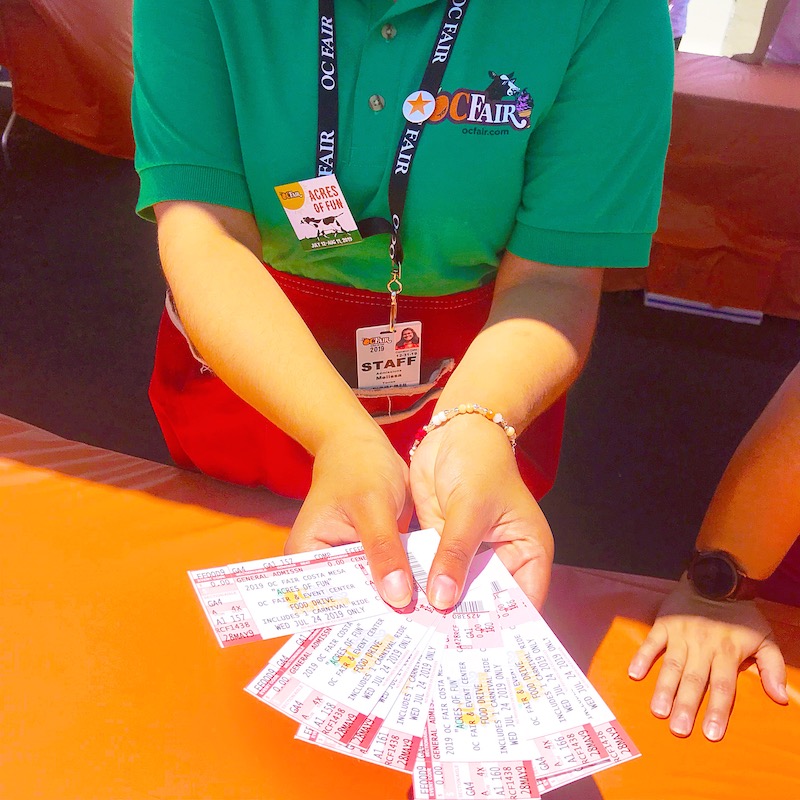 How to get FREE admission to the OC Fair 2019
Friday, July 12, noon-3 p.m.: Free 'Til Three on Opening Day – Free admission and parking until 3 p.m.
Every Thursday: Kids Day – Children 12 and under are admitted free all day.
Every Friday: Seniors Day – Guests 60+ are admitted all day for $5 ($2 discount). Seniors can also enjoy one free Ferris wheel or merry-go-round ride.
Daily: Salute to Heroes – Free admission for all veterans and active-duty military with valid ID. Each military member can also purchase up to six general admission tickets for half price.
Daily: Babies, Toddlers & Preschoolers – Free admission for guests age 5 and younger.
Every Wednesday, noon-3 p.m.: We Care Wednesday – One free admission and one carnival ride per person with valid donation.

School Supply Drive
Wednesday, July 17, noon-3 p.m. Donate school supplies valued at $5 or more (receipt required). Benefiting Share Our Selves.
Food Drive
Wednesday, July 24, noon-3 p.m. Donate five canned food items. Benefiting Second Harvest Food Bank and OC Food Bank.
Children's Book Drive
Wednesday, July 31, noon-3 p.m. Donate three new or gently used children's books. Benefiting THINK Together.
Clothing Drive
Wednesday, Aug. 7, noon-3 p.m. Donate five clothing items (new or gently used). Benefiting Goodwill of Orange County.

Daily: Fair It Forward – Guests with a ticket to the San Diego County Fair, Riverside County Fair, San Bernardino County Fair, or Ventura County Fair can receive free admission to the OC Fair. Original ticket stub must be presented for scan. Save your 2019 OC Fair admission ticket for one free admission at the 2020 Riverside County Fair (Feb. 14-23).
August 7-11: First Responders and Law Enforcement Week – Free admission to active-duty and professional staff of the police, sheriff, fire and emergency services departments. Issuing agency ID is required.
Originally published on July 30, 2019. Last Updated on October 26, 2022 by Pattie Cordova