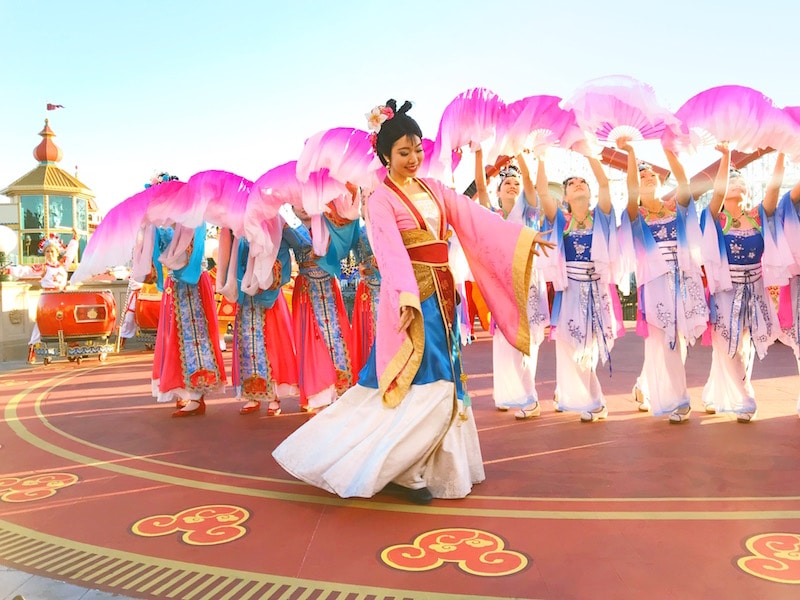 Holidays
Where to celebrate Lunar New Year in Orange County
We're lucky enough to live in SoCal where we're exposed to different cultures and celebrations… and we have a great list of where to celebrate Lunar New Year in Orange County!
In 2022, Lunar New Year begins on Tuesday, February 1, but you can enjoy celebrations in Orange County starting in January and running through February.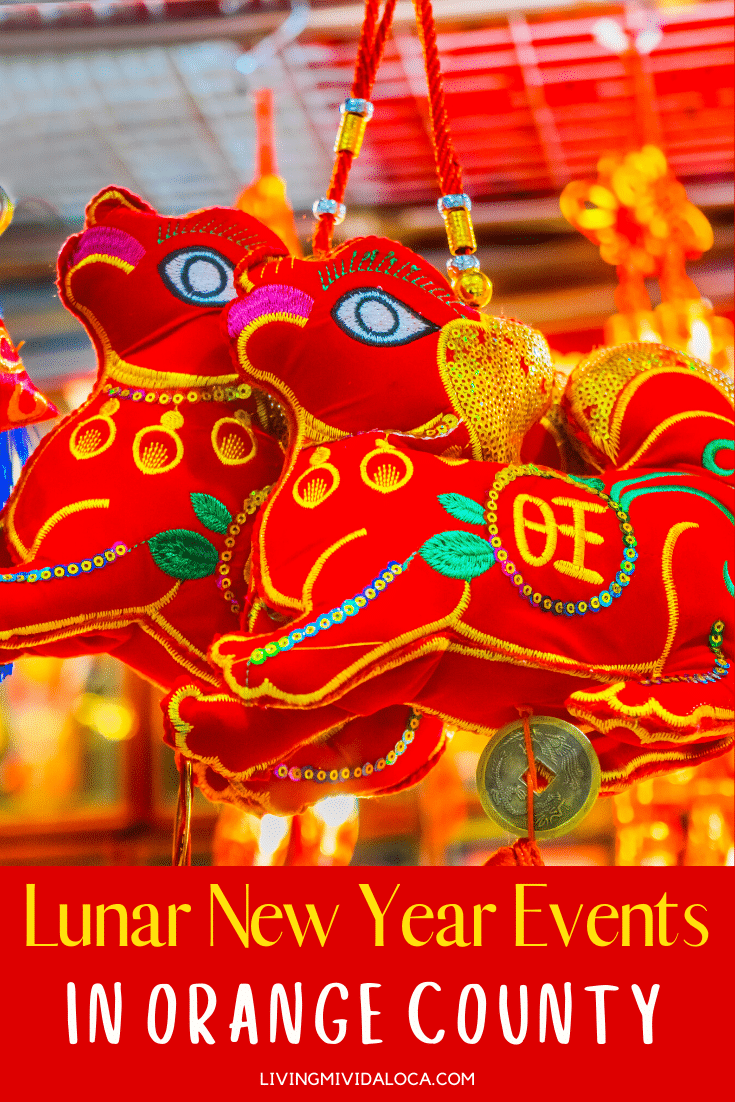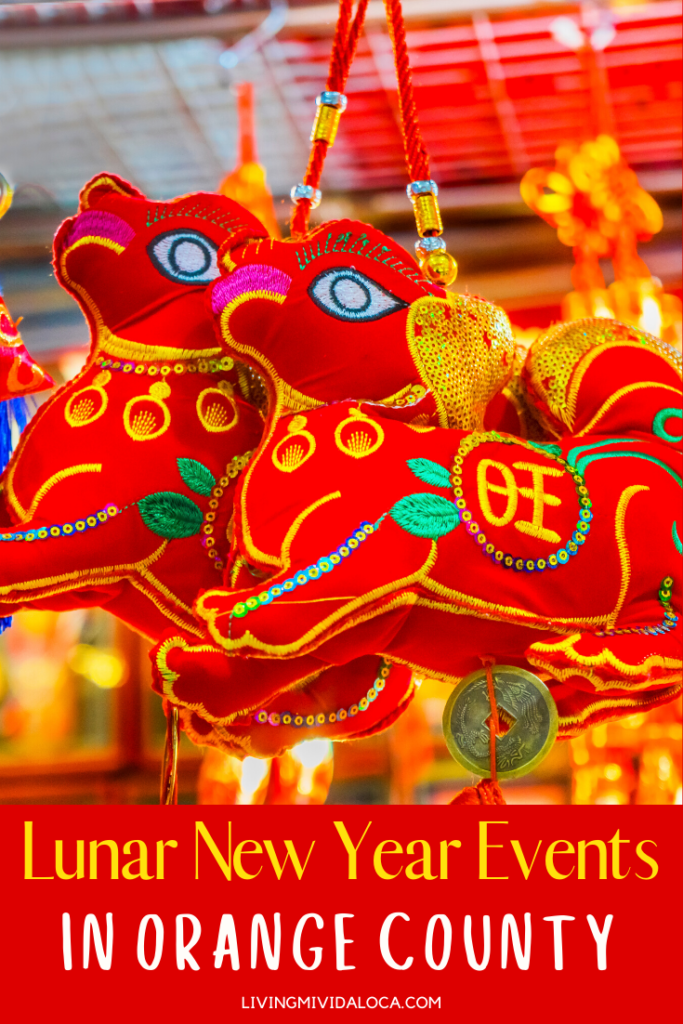 About Lunar New Year
Lunar New Year is celebrated in Asian countries and people often go to the temple to honor their ancestors. This year, Lunar New Year is celebrating the year of the tiger.
When is Lunar new year?
Lunar new year celebrations begin with the first new moon of the lunar calendar and ends on the first full moon of the lunar calendar, 15 days later.
What are the themes for Lunar new year?
Themes for Lunar New Year are the color red, which brings good luck, presents, fireworks, little red envelopes filled with money and red lanterns.
During this time, it is very common for people to give red envelopes with money to their loved ones – especially children!
How is Lunar new year celebrated?
During this time, many celebrations will have a dragon parade, lion dances and time is spent with family following traditions and enjoying a feast
It is a time to say goodbye to the old year and hope to have good luck in the new year. People also wear traditional clothing.
Another tradition done during this time is cleaning house. Like in other cultures, it is a tradition to clean your house for the Lunar New Year because a clean house will bring good luck.
Oranges are also a symbol for good luck so people try to eat them during Lunar New Year.
Lunar New Year events in Orange County
Lunar New Year in Orange County is celebrated at many different locations and we are excited to share some places where you can attend with family. Check out our list of Lunar New Year events in Orange County below (organized by city) and share with a friend using our share buttons above.
If we missed a favorite Lunar New Year celebrations of yours, let us know in the comments below!
Lunar New Year events in Anaheim
Disneyland Resort
January 31 – February 13, 2022
May health, luck and prosperity be yours! Ring in the new year at Disney California Adventure Park with the Year of the Tiger! Usher in the New Year with a joyous tribute to Chinese, Vietnamese and Korean cultures. Guests of all ages are invited to join us for an unforgettable experience—it's the perfect opportunity to spend this auspicious occasion with family and friends. Here's to your year-round good fortune!
See the Disney Lunar New Year Processional here: https://www.instagram.com/p/CZBBaGIhwHK.
---
Lunar New Year events in Cerritos
Cerritos Towne Center
January 29, 2022| 12:00pm – 2:00pm
Bring the family to the Lunar New Year Celebration at Cerritos Towne Center on Saturday, January 29 from 12 PM to 2 PM, in the Edwards Stadium Courtyard.
This free event will include Chinese Lion Dance performances, kids' crafts, photo opportunities and Lucky Red Envelope Giveaway.
*Guests are asked to comply with all state and local COVID safety recommendations. This event is subject to change or cancellation based on restrictions in place at the time of the event.
---
Lunar New Year events in Costa Mesa
Segerstrom Concert Center Hall
February 5, 2022 | 8:00pm
Join us for Pacific Symphony's annual festivities honoring the Lunar New Year! Celebrating the Year of the Tiger, this performance is sure to sell out once again as audiences from across our communities come together to feast on a colorful presentation of Eastern and Western music and dance.
Audience Advisory:
All ticketholders must wear a mask AND provide proof of full vaccination against COVID-19 or a negative COVID-19 PCR test taken within 48 hours of performance or a negative Antigen test taken within 6 hours of performance. Ticketholders over the age of 18 must also bring photo ID.
OC Fair & Event Center
February 5-6, 2022
The Tết Festival (Hội Tết Sinh Viên) of Southern California is recognized as the largest Vietnamese Lunar New Year Festival. UVSA's vision to hosting the Tết Festival stays true, and that is to create an avenue for everyone to have a better understanding of the Vietnamese culture in many ways: vibrant arrays of traditional food, traditional performance and entertainment, and cultural exhibitions. This year, everyone is welcome to celebrate Tết with at the 40th annual UVSA Tết Festival.
South Coast Plaza
January 27 – February 20, 2022
South Coast Plaza ushers in Lunar New Year with a spectacular Year of the Tiger celebration January 27–February 20. You're invited to visit our boutiques marking the occasion with coveted limited-edition timepieces and jewelry, tiger-inspired items and festive fashion, and coveted red envelopes. Celebrate at participating restaurants and enjoy a special menu filled with inspired flavors. Stop by Jewel Court to view our splendid Year of the Tiger botanical display, and remember to make a wish for the new year.
---
Lunar New Year events in Fountain Valley
Mile Square Park
February 4-6, 2022
Tet, the Vietnamese Lunar New Year, is the most important celebration in the Vietnamese community. It is a time for families to gather and express their respect and remembrance for their ancestors. It's also a time of renewal and rejuvenation to signify new beginnings.
At the OC Tet Festival, visitors will have an opportunity to experience the Vietnamese Cultural Center, where they will be transported to some of the most iconic landscapes from different regions of Vietnam and enjoy the flavors of Vietnamese cuisine. Visitors will also enjoy live entertainment, carnival rides, and more! For more information, call 714-834-3110, or email [email protected]
---
Lunar New Year events in Garden Grove
Lunar New Year | Steel Craft
January 29, 2022 | 12:00pm – 9:00pm
FREE The outdoor food hall will feature a pop-up market, lion dancing, firecrackers, lantern-making, crafts and more.
Lunar New Year events in Irvine
Pretend City
February 5-6, 2022 | 11:00am – 3:00pm
The Lunar New Year, also referred to as the Spring Festival, has long been celebrated for centuries. Join us as we celebrate and honor this special day with bright colors, music, art, and stories.
Diamond Jamboree Shopping Center
Jan 29, 2022|6pm
– KKAP UCI: Dance Team performance at 6PM
– Qing Wei Troupe: Lion Dance at 7PM
Irvine Spectrum
February 5, 2022 | 11am-2pm
Immerse yourself in the celebration while enjoying instrumental performances, Martial Arts Demonstrations and a traditional Lion Dance. Performances will take place in the following areas:
Instrumental Performances – Near Apple
Lion Dance – Near Old Navy
Martial Arts Demonstrations – Giant Wheel Lawn
Fremont Canyon Nature Preserve
February 1, 2022 | 6:00pm – 9:00pm
Discover unique historical tales about the Irvine Ranch Natural Landmarks as we celebrate different cultures together! Each month, a different culture and celebration will be highlighted, with the possibility of the program presented in multiple languages which will allow for everyone to fully enjoy the beauty of the land.
This month we will focus on the Chinese Lunar New Year. Come explore how people who are born in the Year of the Tiger are brave, competitive, unpredictable, and confident. They are very charming and well-liked by others, just like those who enjoy the Irvine Ranch Natural Landmarks!
---
Lunar New Year events in Orange
Chapman University
Feb 2, 2022 | 4:00pm – 10:00pm
Lunar New Year Celebration at the Cultural Center
---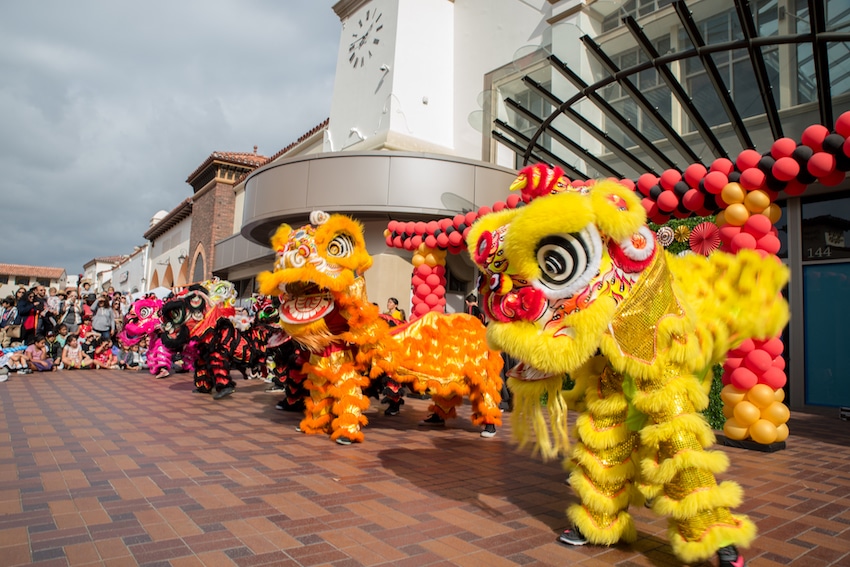 Lunar New Year events in San Clemente
San Clemente Outlets
Feb 1-15, 2022 | While supplies last
Visit customer service next to GUESS Factory store for your free red envelope while supplies last. One per household.
Casa Romantica
February 6, 2022 | 10:00am – 2:00pm
Enjoy FREE admission to Casa Romantica with a scavenger hunt, crafts, and activities celebrating the traditions of Lunar New Year.
---
Lunar New Year events in Santa Ana
MainPlace Mall
January 29, 2022 | 2:00pm – 5:00pm
FREE Ring in the Year of the Tiger with an extra-special Lunar New Year celebration right here at MainPlace. During the event guests will enjoy a variety of entertainment and activities, including stilt walkers, zither performances and themed crafts in Center Court, a creative balloon twister at the south end of the mall (near The Children's Place) and beautiful decor throughout the center!
Be one of the first 500 people to attend and check in at the welcome table located in Center Court and you will receive a red envelope filled with $2 bills, plush tigers and fortune cookies!
The first 50 MyPerks members to check in at the MyPerks Lounge will receive a bamboo plant and tiger tassel. Not a MyPerks member? No problem. Click here to sign up for FREE today: https://bit.ly/3AlP2vs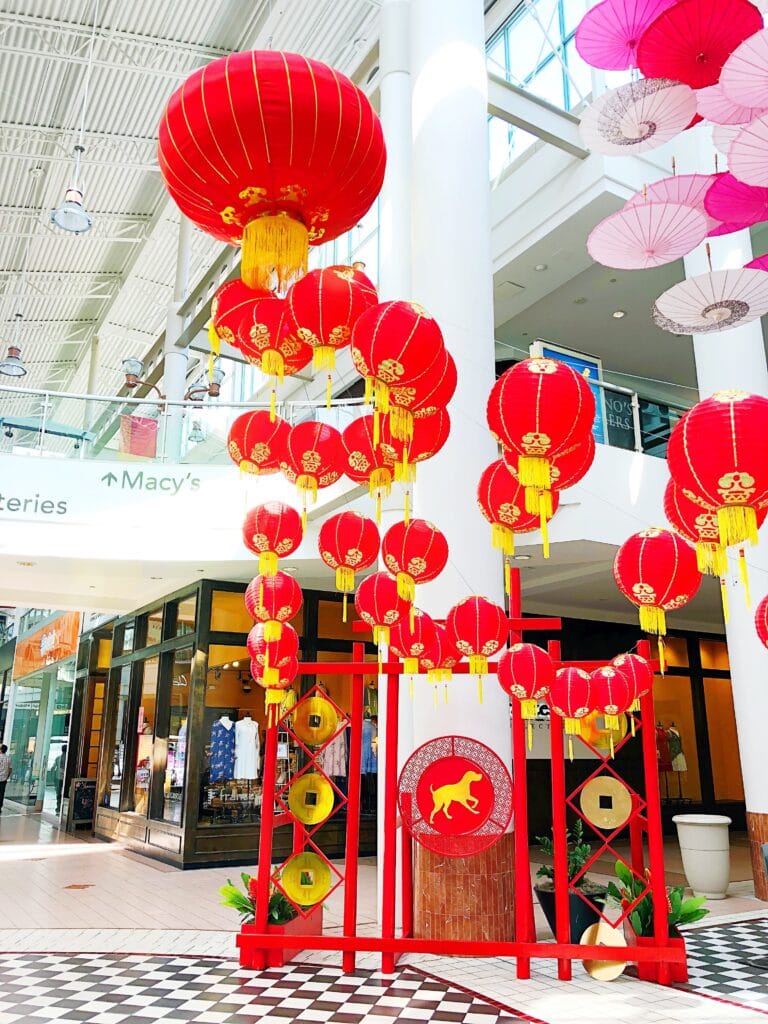 Bowers Museum
Feb 6, 2022 | 11:00am – 3:00pm ONLINE
Ring in the New Year with the roar of the Tiger! Dance with a dragon and lion and watch beautiful traditional performances from China. The entire family will enjoy art projects and face painting.
---
Lunar New Year events in Tustin
February 5 | 12pm-2pm
Free Family Celebration. Families can enjoy lion dance performances, martial arts shows, Chinese fan dancers, glitter tattoos, Asian-themed kid's crafts, and a Live DJ.  Plus, the first 500 attendees will receive a Red Lucky Envelope with a $2 bill and tenant offers inside.  The event will be held in the AMC Courtyard Fountain. There is also a Year of the Tiger photo display from now until February 6th that lights up at night in front of the AMC Courtyard Fountain.
Lunar New Year events in Westminster
Westminster Mall
February 1 | 12:00 PM – 1:00 PM
FREE Lunar New Year KidX Event! We will have crafts, giveaways, and Traditional Drummers and Lion Dancers at the lower level court next to John's Incredible Pizza from Noon until 1pm on Saturday, February 1.
Not a KidX member? You can sign up for FREE at the event or click here: https://westminstermall.com/events-news/program/kidx-club
Diamond Seafood Palace
Feb 6, 2022 | 5:00 pm – 10:00pm
Every Lunar New Year, Vietnamese distributors around the world gather to Little Saigon, Westminister, a capitol town of Vietnamese in United States, in California to attend the traditional program of the Kangen Water Vietnam team. This year this tradition has opened to multi racial cultures and welcome all Enagic distributors to join in to success. The "New Year Gala 2022" will be held at the Diamond Seafood Palace 3 on February 6th 2022. With the huge convergence of Vietnamese, Phillipino, Latino, American leaders from all over the world. There will be special guests of Enagic Company and Enagic staff, which promises to give all of you a great night with great foods, enjoyment and an endless source of inspiration for Enagic's opportunity.
Asian Garden Mall
February 1, 2022 | Noon
The Little Saigon Flower Festival dates will be from Jan 14 to Jan 30, 2022 from 10am to 10pm daily. Firecrackers on Feb 1st at 12 noon.
---
Worth the drive for these Lunar New Year events
The Grove
January 24 – February 6, 2022
The festive nature of the holidays continues with the 2022 Lunar New Year. The storied meaning, tradition and symbolism behind this celebration are all apparent in the dazzling décor seen throughout The Grove.
Celebrate the Year of the Water Tiger with can't-miss offers by some of our top-rated brands, plus enjoy delicious discounts when you order from your favorite restaurants.
The Huntington
February 5-6, 2022 | 10:00 am – 5:00 pm
Celebrate the lunar new year and welcome the Year of the Tiger at The Huntington's Chinese New Year Festival Feb. 5 and 6. Families can enjoy lion dancers, a mask-changing artist, martial arts demonstrations, Chinese music, art and craft demonstrations, and more. The festivities will take place in and around the Chinese Garden and other performance spaces.
In accordance with the mandate from the Los Angeles County Department of Public Health regarding masks, all visitors regardless of vaccination status are required to wear masks indoors. (Children under age 2 are exempt.) Masks are strongly recommended outdoors in crowded settings. An inherent risk of exposure to COVID-19 exists in any public place where people are present.
China Town LA
Feb 1, 2022 | Shops open
Due to COVID-19 precautions, the traditional Golden Dragon Parade and the Chinese New Year Festival have been canceled. Stay tuned to LA Chinatown's instagram – @LAChinatown, to celebrate virtually throughout the Lunar Holiday Season.
Citadel Outlets
January 29 – 30, 2022
On Saturday & Sunday, January 29-30, Citadel Outlets will host a Lunar New Year Celebration! Watch exciting lion dances, traditionally used to bring good luck and fortune, taking place throughout the center and in Center Court hourly from noon to 2pm.
Universal Studios Hollywood
Late January – Early February 2022
Celebrate Lunar New Year at Universal Studios Hollywood where you can meet your favorite characters like Po and Tigress from the award-winning Kung Fu Panda franchise, Illumination's Minions in traditional Chinese attire and a Mandarin-speaking Megatron from TRANSFORMERS™, grab a delicious meal at Mr. Ping's Noodle Shop and experience live performances and more.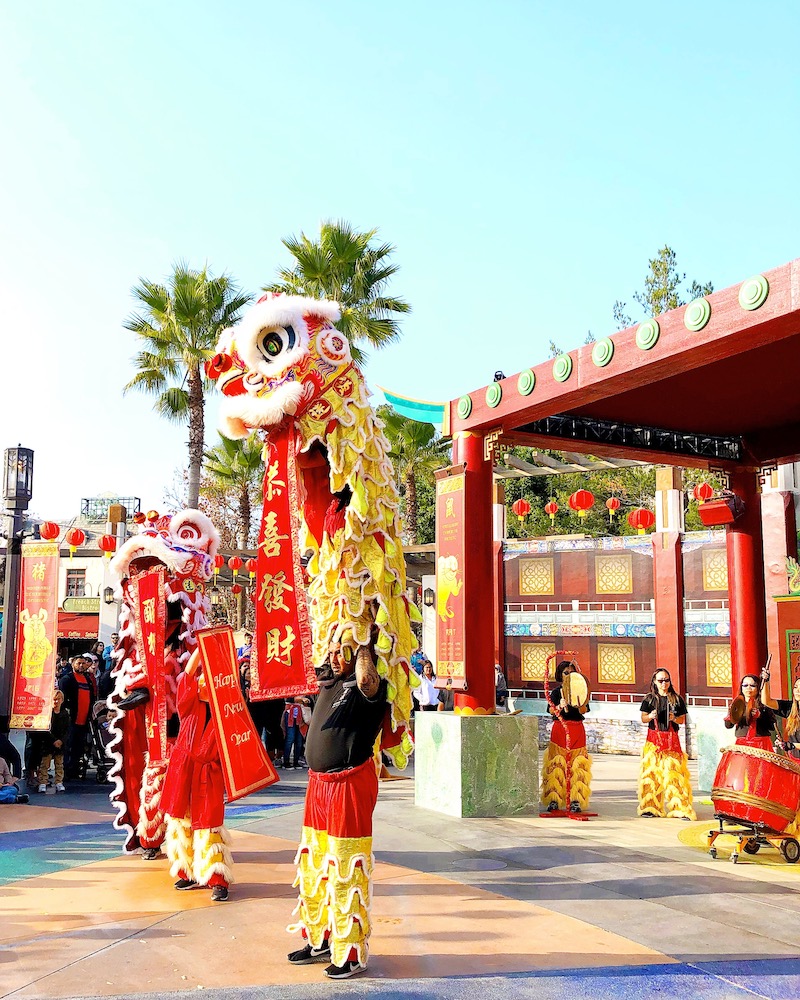 Originally published on January 8, 2020. Last Updated on February 7, 2022 by Pattie Cordova