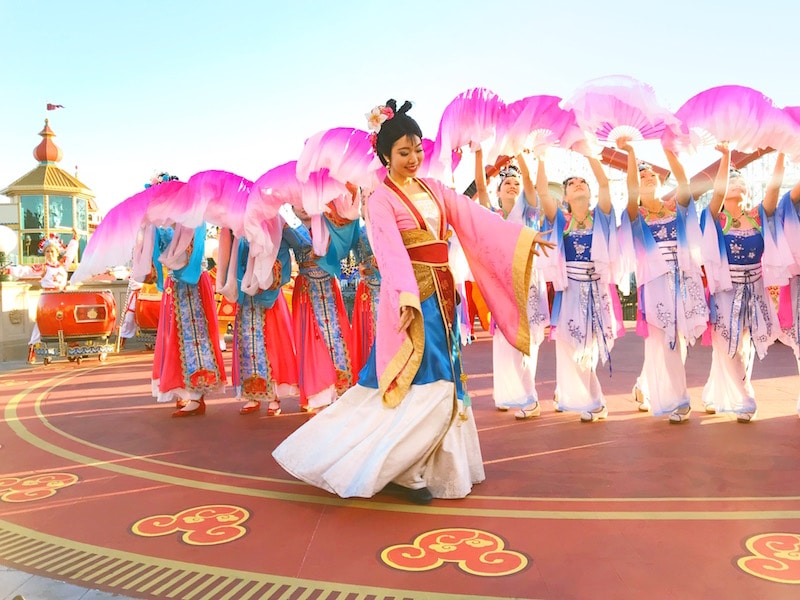 Celebrate
Where to celebrate Lunar New Year in Orange County
We're lucky enough to live in SoCal where we're exposed to different cultures and celebrations… and we have a great list of where to celebrate Lunar New Year in Orange County!
In 2020, Lunar New Year begins on Saturday, January 25, but you can enjoy celebrations in Orange County starting early in January and running through February.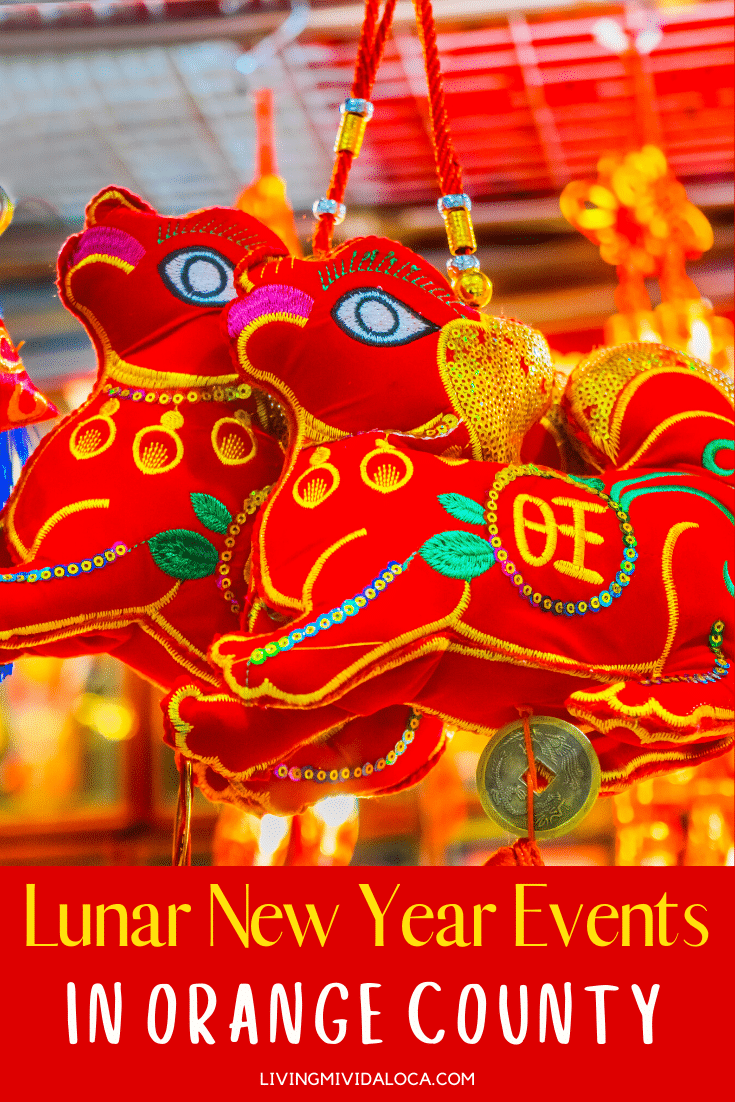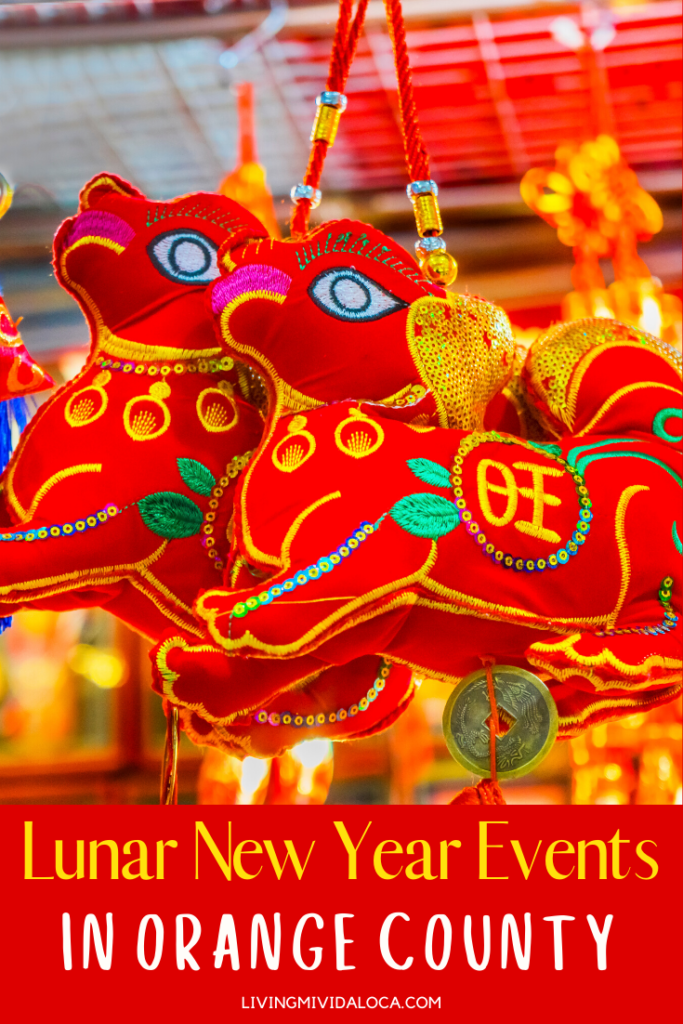 About Lunar New Year
Lunar New Year is celebrated in Asian countries and people often go to the temple to honor their ancestors. This year, Lunar New Year is celebrating the year of the rat.
When is Lunar new year?
Lunar new year celebrations begin with the first new moon of the lunar calendar and ends on the first full moon of the lunar calendar, 15 days later.
What are the themes for Lunar new year?
Themes for Lunar New Year are the color red, which brings good luck, presents, fireworks, little red envelopes filled with money and red lanterns.
During this time, it is very common for people to give red envelopes with money to their loved ones – especially children!
How is Lunar new year celebrated?
During this time, many celebrations will have a dragon parade, lion dances and time is spent with family following traditions and enjoying a feast
It is a time to say goodbye to the old year and hope to have good luck in the new year. People also wear traditional clothing.
Another tradition done during this time is cleaning house. Like in other cultures, it is a tradition to clean your house for the Lunar New Year because a clean house will bring good luck.
Oranges are also a symbol for good luck so people try to eat them during Lunar New Year.
Lunar New Year events in Orange County
Lunar New Year in Orange County is celebrated at many different locations and we are excited to share some places where you can attend with family. Check out our list of Lunar New Year events in Orange County below (organized by city) and share with a friend using our share buttons above.
If we missed a favorite Lunar New Year celebrations of yours, let us know in the comments below!
Lunar New Year events in Anaheim
Jan 17- Feb 9, 2020
May health, luck and prosperity be yours! In early 2020, Disney California Adventure Park ushers in the Lunar New Year with a joyous tribute to various Asian cultures. Guests of all ages are invited to join us for an unforgettable experience—it's the perfect opportunity to spend this auspicious occasion with family and friends. Here's to your year-round good fortune!
Jan 15, 2020|5:30pm
Celebrate the Chinese New Year. Join us for fun crafts, stories, and more! This program is for children.
---
Lunar New Year events in Buena Park
Jan 24, 2020| All day
2020 Lunar New Years, the year of the rat, come celebrate at the Source Buena Park.
---
Lunar New Year events in Cerritos
Feb 1, 2020| 12pm-2pm
This FREE event will include two Chinese Lion Dance performances, Kid's Crafts, Balloon Art, Lunar New Year Specials, and the first 500 people will receive Lucky Red Envelopes.
---
Lunar New Year events in Costa Mesa
Segerstrom Concert Center Hall
Jan 25, 2020|8pm
Join us for Pacific Symphony's annual festivities honoring the Lunar New Year! Celebrating the Year of the Rat, this performance is sure to sell out once again as audiences from across our communities come together to feast on a colorful presentation of Eastern and Western music and dance.
Jan 24-26, 2020
Tet, short for Tet Nguyên Đán, is the Vietnamese Lunar New Year, the most important holiday in Vietnamese culture. Tet celebrates the arrival of a new spring where families reunite, enjoy each other's company, forget about the troubles of the previous year and look forward to a better upcoming year.
January 25–26 and February 1–2 | 1–4pm
Enjoy Asian cultural performances and new talents, including Lion Dance, UniStar Children's Variety Show, Konnect Dance Group, Goreu Traditional Art Group, UCI Tender Night, Irvine Chinese School/South Coast Chinese Cultural Center, Chinese American Mutual Association, American Southern California Economic and Cultural Association, Kingsman Dance Group, Children's Orchestra and more.
Carousel Court, Level 1
---
Lunar New Year events in Fountain Valley
Jan 24-26, 2020
The OC Tet Festival marks the beginning of the new year and is the most important celebration in the Vietnamese-American community. This Lunar New Year marks a time of renewal, rejuvenation, and a time to remember our loved ones and our ancestors.
---
Lunar New Year events in Irvine
Jan 25, 2020| 11am- 3pm
Lunar New Year Celebration Tuesday, February 5: Lunar New Year 新年快樂! Happy New Year! Join us as we celebrate this most special date on the Chinese Calendar.
Diamond Jamboree Shopping Center
Jan 25, 2020|7pm-8pm
Join us for our annual Lunar New Year celebration at Diamond Jamboree on Saturday, January 25th at 7pm we will host a traditional Lunar New Year Lion Dance in the main rotunda area located in front of Lollicup and Chef Hung. Celebrate the 2020 Lunar New Year of the Rat with lots of good luck and family friendly fun at our center.
Jan 25, 2020| 5pm
Join us as we celebrate the Year of the Rat! This is a hands on workshop where Lil' Chefs will learn to follow a recipe and work together to complete each recipe and knife skills.
Jan 25, 2020| 2pm-4:15pm
Come celebrate the Lunar New Year at the library! There will be a variety of fun crafts, storytime, activities, and candies. Plus, there will be a very special lion dance performance! Free event! No registration required.
Jan 21, 2020|2pm-6:30pm
Lunar New Year is possible through the generous support of the UC Irvine Long-U.S. China Institute and its partners. This event will feature food, culture, a street festival, Disney raffle, lion dance and parade and a light and sound show. The event is free and open to the public. UC guest parking is available for $2 per hour or $10 per day in the Social Science Parking Structure. The School of Social Sciences is hosting it and the event is being sponsored by Disneyland and South Coast Plaza.
Feb 1, 2020| 12pm-2pm
Celebrate Lunar New Year and the Year of the Rat at Irvine Spectrum Center
Activities to take place in the Giant Wheel courtyard include: Chinese dragon dance, Lion Dance, Greeters distributing fortune cookies, Lucky envelopes, Arts & Crafts*, and Entertainment
---
Lunar New Year events in Newport Beach
Jan 25, 2020- Feb 20, 2020
Join Fashion Island in celebrating Lunar New Year from January 25 – February 9 with a unique one-of-a-kind Year of the Rat interactive installation along with special promotions from retailers and restaurants.
Little Naturalist Lunar New Year
Jan 23, 2020|9:30am-10:30am
We will read "The Pet Dragon" by Christoph Niemann, meet our very own Dragon, & create Chinese Nature Symbols with sand painting.
---
Lunar New Year events in Orange
Memorial Hall Chapman University
Feb 12, 2020|6:30-8pm
Join us for our annual Lunar New Year Celebration and enjoy performances from our K-8th grade Mandarin Immersion Students from Fletcher Elementary and Cerro Villa Middle School.
---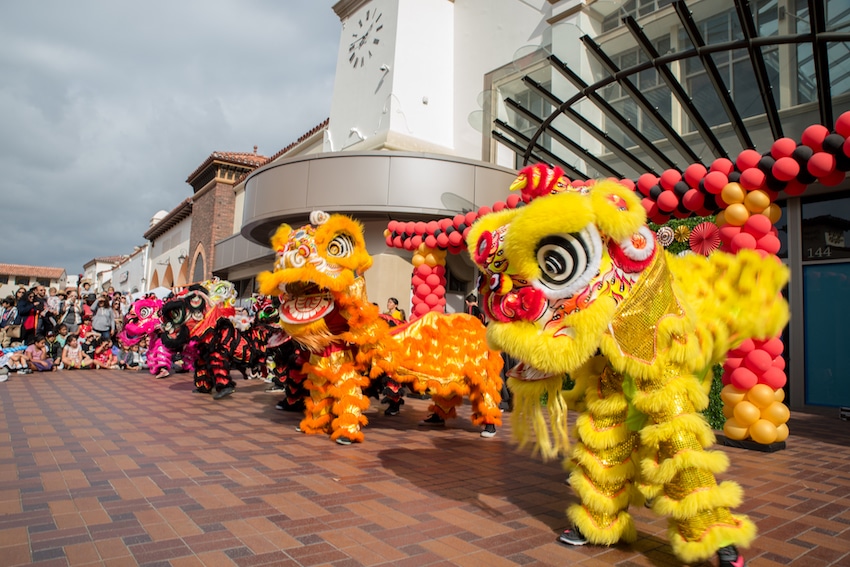 Lunar New Year events in San Clemente
Jan 25, 2020|1pm-2pm
Honoring the Year of the Rat, the fifth annual Lunar New Year Celebration returns with more than 50 performers from the Irvine Chinese School and San Diego-based Three Treasures Cultural Arts Society. Highlights include a Dragon Dance, the ever-popular interactive Lion Dance, martial arts demonstrations, arts and crafts activities, Red Envelopes and more.
---
Lunar New Year events in Santa Ana
Jan. 18, 2020| 2pm-5pm
It will be a fun afternoon for the whole family with a face painter, a balloon twister, crafts, stilt walkers, calligraphy artist, Wishing Tree, Lion Dances, giveaways and more! Performances will be hosted by the UVSA (Union of Vietnamese Student Associations of Southern California).
Feb 2, 2020|11am-3:30pm
Celebrate the Year of the Rat with dance, music and art from China, Vietnam and Korea. Dragon and lion dances by JC Culture will welcome in the new year. Enjoy a sample egg roll while creating paper lanterns and art scroll projects as you contemplate the diligence and positivity of those born in the year of the Rat.
---
Lunar New Year events in Tustin
Jan 25, 2020|12pm-2pm
Bring your family to celebrate The Year of The Rat at The District at Tustin Legacy's Lunar New Year Celebration on Saturday, January 25th from 12pm – 2pm in The Promenade near Union Market Tustin. The FREE family festivities will feature performances including Lion Dances throughout the promenade, family activities, kid's crafts, glitter body art, balloon twisting, and a Lucky Red Envelope giveaway to the first 500 guests*.
---
Lunar New Year events in Westminster
Jan 3, 2020| 10am| Jan 23, 2020| 10am
The Flower Festival is open daily from 10 a.m. to 10 p.m. and draws thousands of people each day to shop the collection of exotic flowers, trees, and gifts and experience amazing food from several vendors. The Festival celebrates the tradition of decorating homes to welcome the Lunar New Year and bring luck into the household. Many booths will also be selling a variety of lì xì – or red envelopes – used in the tradition of giving money to children to welcome the new age on the first day of Lunar New Year. Fresh fruits, trays of dried candies and roasted seeds, and other red and gold adorned decor are used in various Lunar New Year traditions as well. As you snack on Vietnamese favorites and sweet treats throughout the day, you'll be able to immerse yourself in the rich culture and festive atmosphere unique to Westminster.
Jan 26, 2020
The Little Saigon Tết parade proudly presents a unique and effective marketing opportunities to promote your brand and business to tens of millions Vietnamese in Orange County and worldwide. This year, the Parade will take place on Sunday, January 26th, 2020. The parade route will go on Westminster Avenue for more than a mile from Brookhurst to Euclid Street through the heart of Little Saigon, Capital of the Vietnamese community, where more than six hundred thousand Vietnamese American call home.
Feb 1, 2020|12pm-1pm
Come and join us as we kick off 2020 with a free Lunar New Year KidX Event! We will have crafts, giveaways, and Traditional Drummers and Lion Dancers at the lower level court next to John's Incredible Pizza from Noon until 1pm on Saturday, February 1. Not a KidX member? You can sign up for FREE at the event.
Feb 1, 2020|6pm-10pm
Every Lunar New Year, Vietnamese distributors around the world gather to Little Saigon in California to attend the traditional program of the Kangen Water Vietnam team. This year this tradition has opened to multi racial cultures and welcome all enagic distributor to join In together to success. The "New Year Gala" will be held at the Diamond Seafood Palace 3 on February 1st, 2020.
---
Worth the drive for these Lunar New Year events
Jan 25, 2020
Celebrate Chinese New Year aboard the majestic Queen Mary on Saturday, January 25, 2020. Chinese New Year: Shanghai Nights will honor the Year of the Rat with two evening seatings including traditional Chinese cuisine and entertainment featuring Wushu Shaolin Entertainment's dragon and lion dancing, Chinese martial arts and acrobatics, face changer, Sound of China Guzheng Ensemble, and more.
Tickets to Chinese New Year: Shanghai Nights aboard the Queen Mary are currently on sale and all tickets include dinner and entertainment. General Admission is $103 per person for the 4pm seating and $119 for the 8pm seating time.
Feb 1, 2020|10am-5pm
Celebrate the Lunar New Year at The Huntington as the Year of the Rat begins. The festivities will include lion dancers, mask-changing performances, martial arts, Chinese music and dance, painting and calligraphy demonstrations, children's activities, and more.
Jan 24, 2020|12:30am
LA Chinatown kicks off the Year of the Rat at Thien Hau Temple where attendees can experience traditional incense burning, make offerings to deities, watch traditional lion dancers, and witness 500,000 firecrackers in action.
Jan 25-26, 2020
Celebrate Lunar New Year, the Year of the Rat, at Citadel Outlets!On Saturday & Sunday, January 25-26,Citadel Outlets will host our annual Lunar New Year Celebration! Watch exciting lion dances, traditionally used to bring good luck and fortune, and take-home art from calligraphy and watercolor artists.
Weekends Jan 11, 2020- Feb 2, 2020
Celebrate as the sights, sounds and aromas of Asia come alive during this local San Diego festival that's fit for the whole family happening weekends January 11, 2020 – February 2, 2020 (to include Monday, January 20, 2020.) You won't want to miss SeaWorld San Diego's one-of-a-kind Lunar New Year celebration, featuring an incredible Chinese acrobats show, local performers, and delicious culinary delights. Dig into the Asian-inspired offerings of Ramen, Lo Mein, Bao Buns, Dim Sum, rice dishes and more.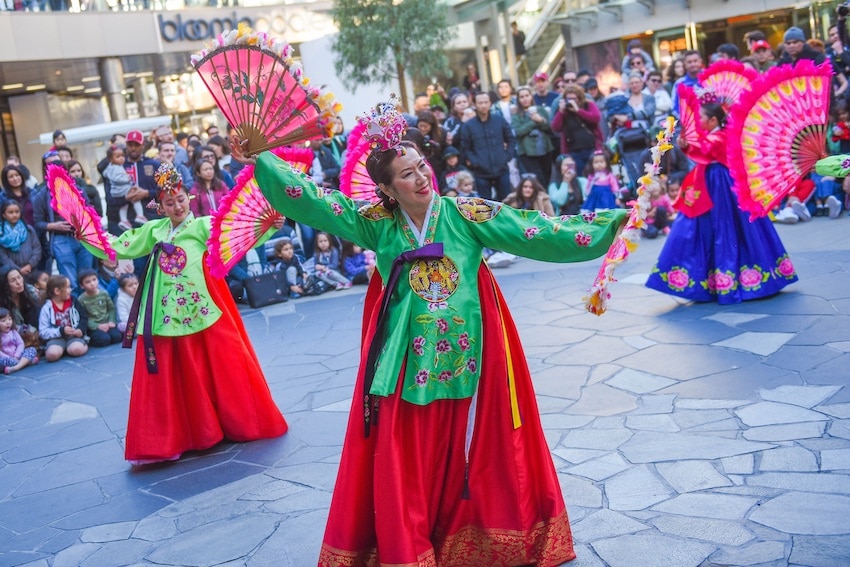 January 25, 2020 | 2pm-5pm
Visitors and shoppers can ring in the Year of the Rat at Santa Monica Place's free Lunar New Year Celebration! Hosted by comedian Paul "PK" Kim, celebrations will include authentic cultural performances and activities such as the traditional Chinese lion dance, Korean fan dance, stilt-walkers, traditional dough artist, balloon twister, family-friendly arts and crafts, and New Year's Wishing Trees, which will be placed near the event for patrons to hang a wish on the branches.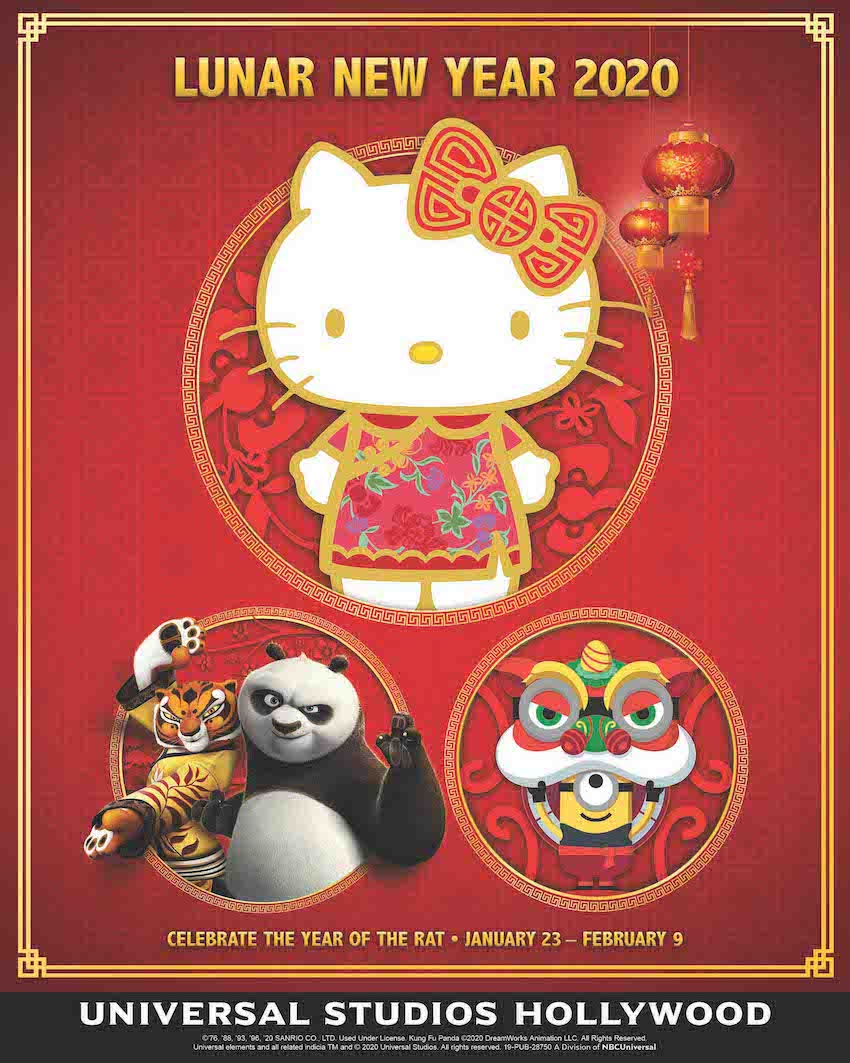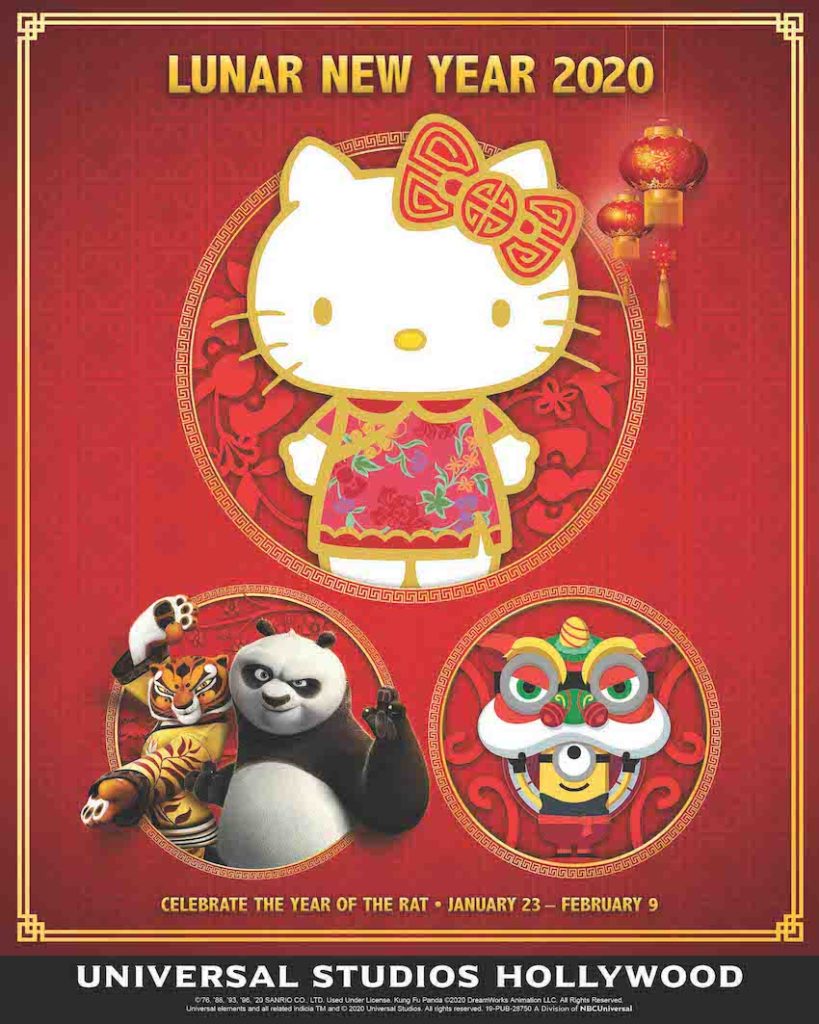 January 23 – February 9, 2020
Universal Studios Hollywood ushers in the "Year of the Rat," the first of the Chinese zodiac animals, as the theme park celebrates with the Lunar New Year event. Lunar New Year is included in the price of admission to the theme park.
This spectacular themed Lunar New Year event will take place within Universal Plaza, located at the heart of the theme park. Under a curtain of traditional red Chinese lanterns and stunning plum blossom Wishing Trees, the festivities will come to life as guests discover the 12 zodiac animal signs accompanied by their symbolic attributes.