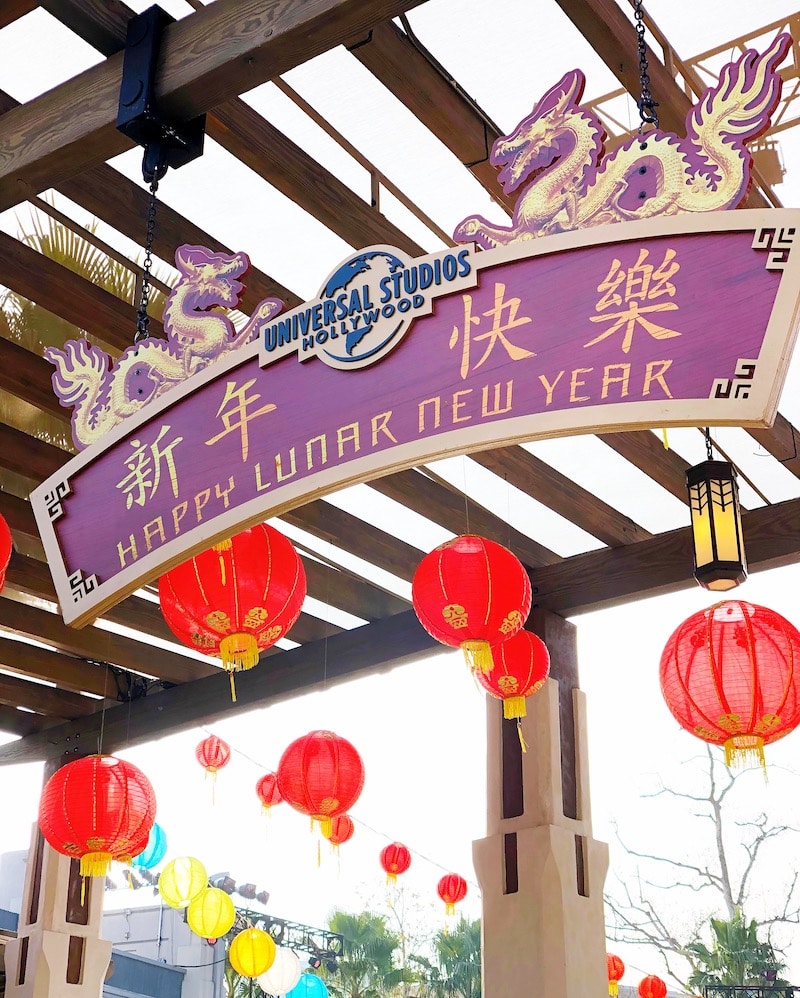 This Lunar New Year post is in partnership with Universal Studios Hollywood.
Southern California offers many opportunities to celebrate cultural holidays, like Lunar New Year, and this year is no different. We visited Universal Studios Hollywood to celebrate Lunar New Year and we were excited to see the theme park draped in red and filled with a celebratory ambiance that encouraged us to dive deeper into what it's like to celebrate Lunar New Year. Like in our last visit, we used the Universal Express Pass to save us time and allow us to go on every ride in the park at a quicker pace.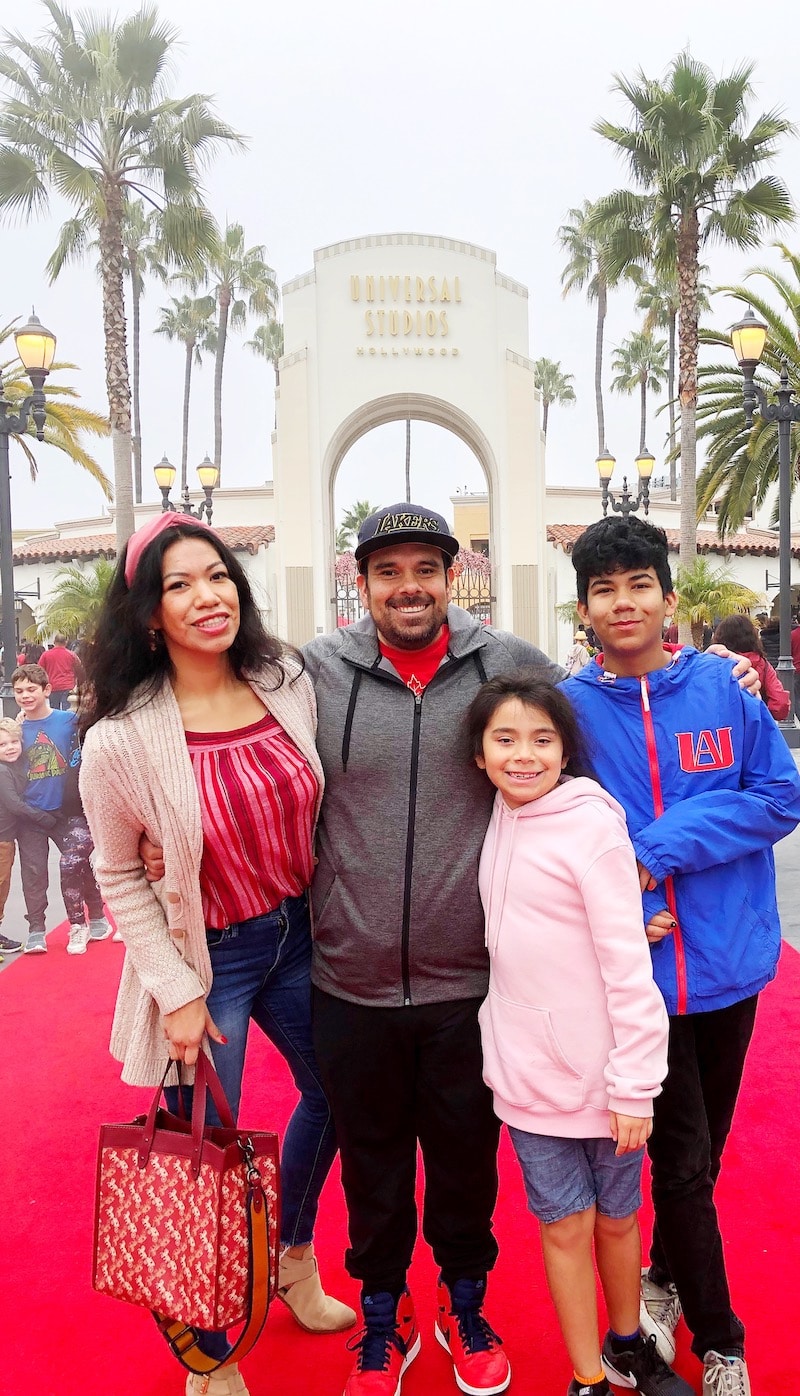 For the 2020 calendar year, Universal Studios Hollywood has a host of activities and features to celebrate Lunar New Year. Following are our seven ways to celebrate Lunar New Year at Universal Studios Hollywood.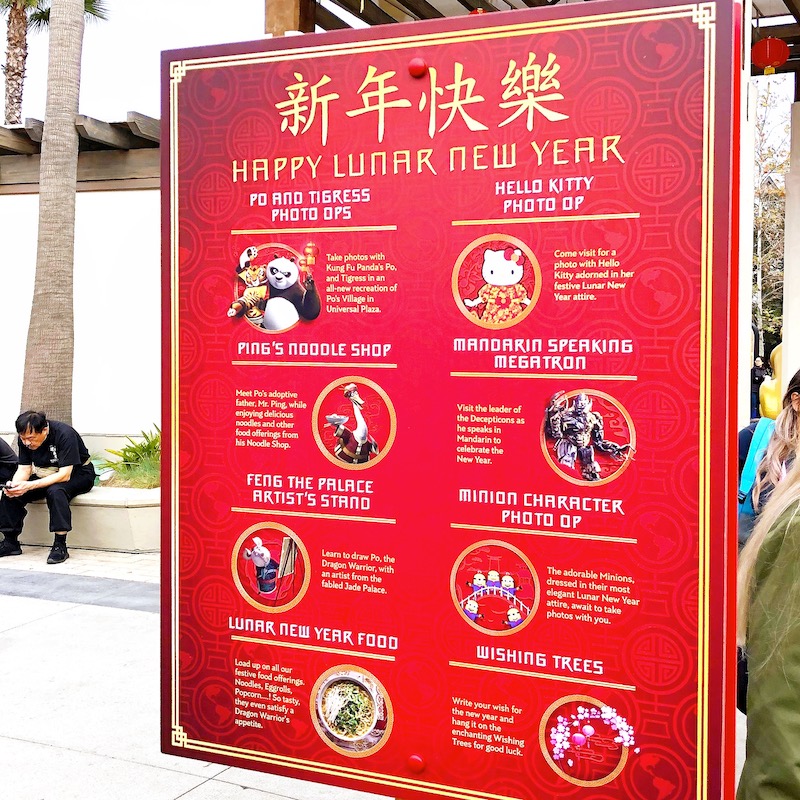 7 ways to celebrate Lunar New Year at Universal Studios Hollywood
Universal Plaza decorations
Universal Plaza is decorated in customary red Chinese lanterns going from one end to the other. It's a treat just to walk into the plaza!
At the middle of the plaza, guests are encouraged to visit the plum blossom wishing trees where you can write your own wish on red cardstock and hang it on the tree. It's a beautiful way to commemorate the holiday.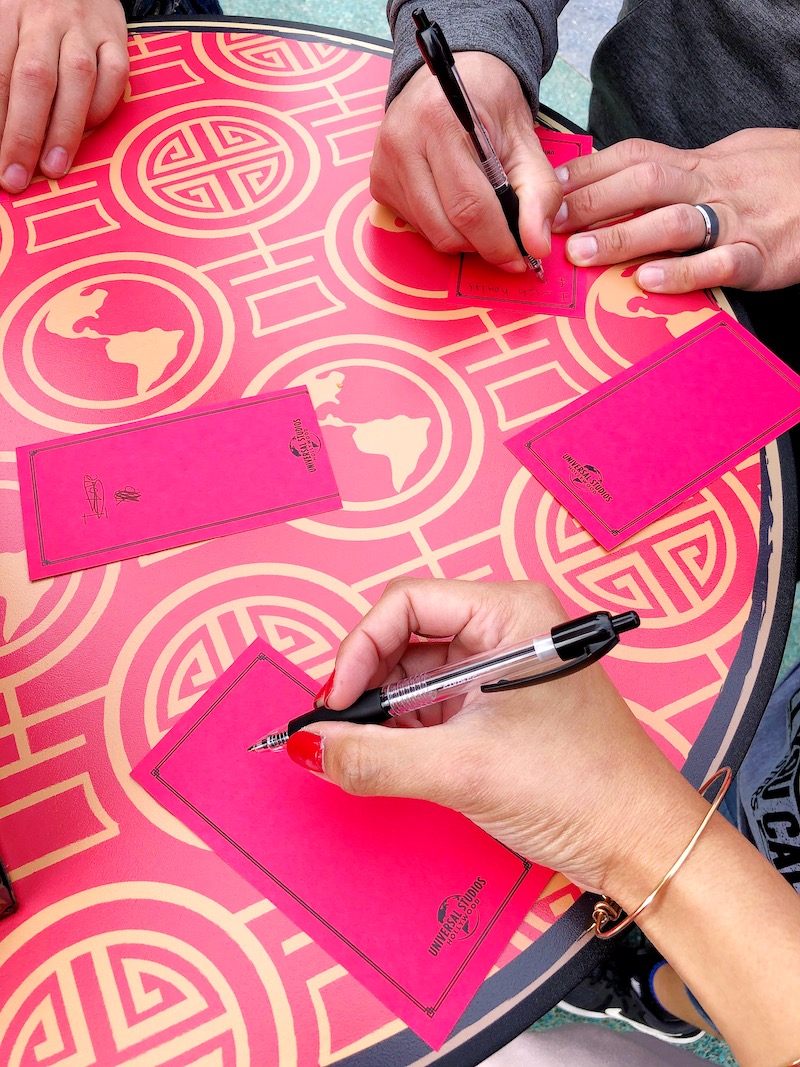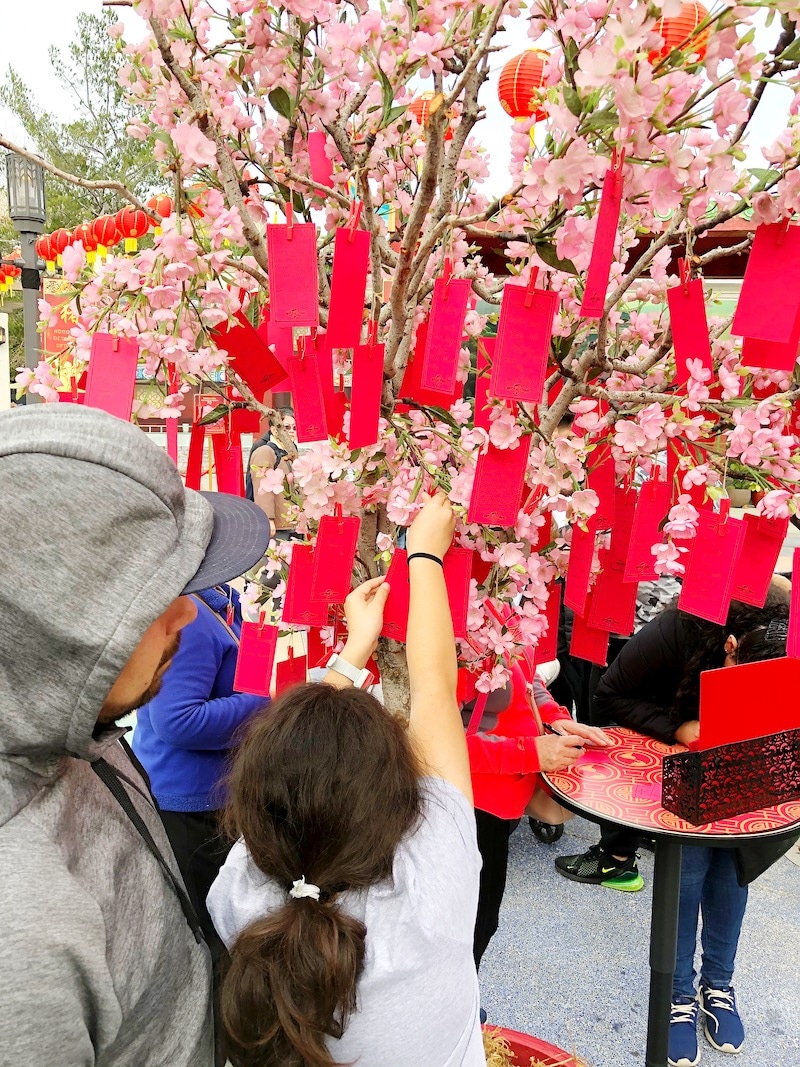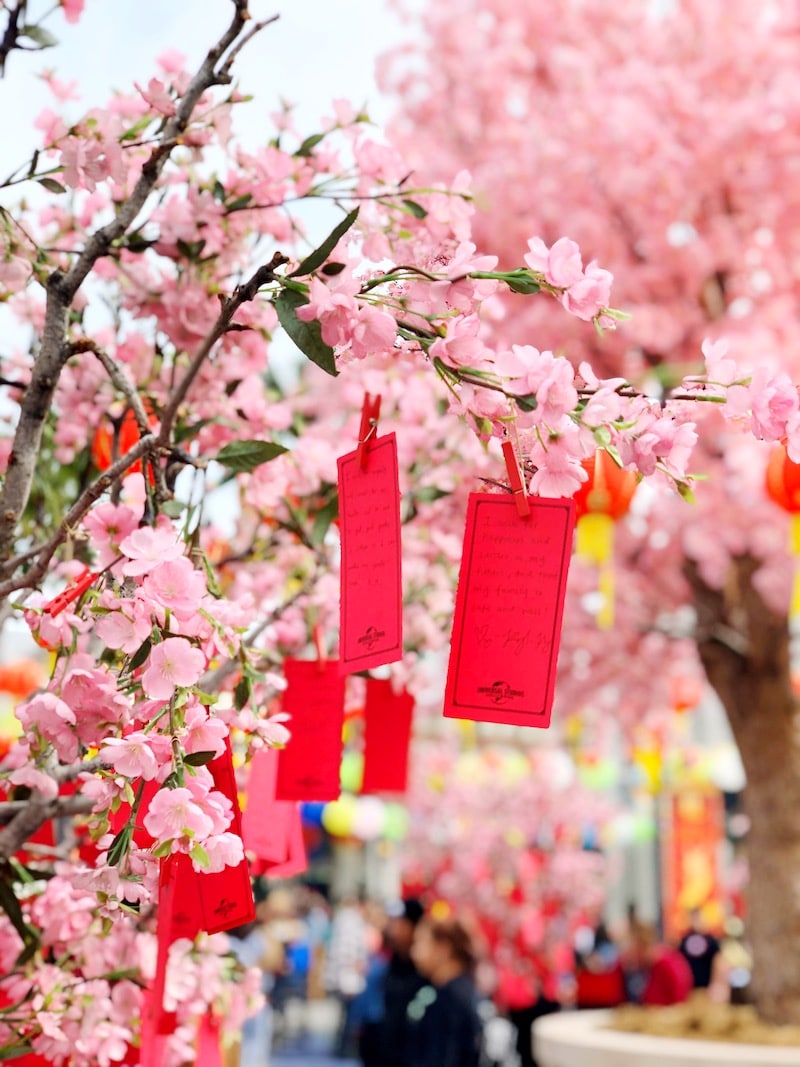 Around Universal Plaza, you'll also see the twelve zodiac animal signs and their symbolic attributes. Walk around and look for your birth year! The kids have a blast doing this.
Have lunch at Mr. Ping's Noodle Shop
Mr. Ping's Noodle Shop from Kung Fu Panda comes to life, including Mr. Ping himself who invites guests to enjoy his culture-themed fare.
We loved how they offered a vegetarian ramen soup!!! This was a rare treat for me since I am vegetarian and usually ramen soup has a chicken or fish base.
The vegetarian ramen broth was just the tiniest bit spicy so I probably wouldn't recommend it for kids that are not used to eating spicy food. It was topped off with green onions and mushrooms. It was definitely good 'til the last drop.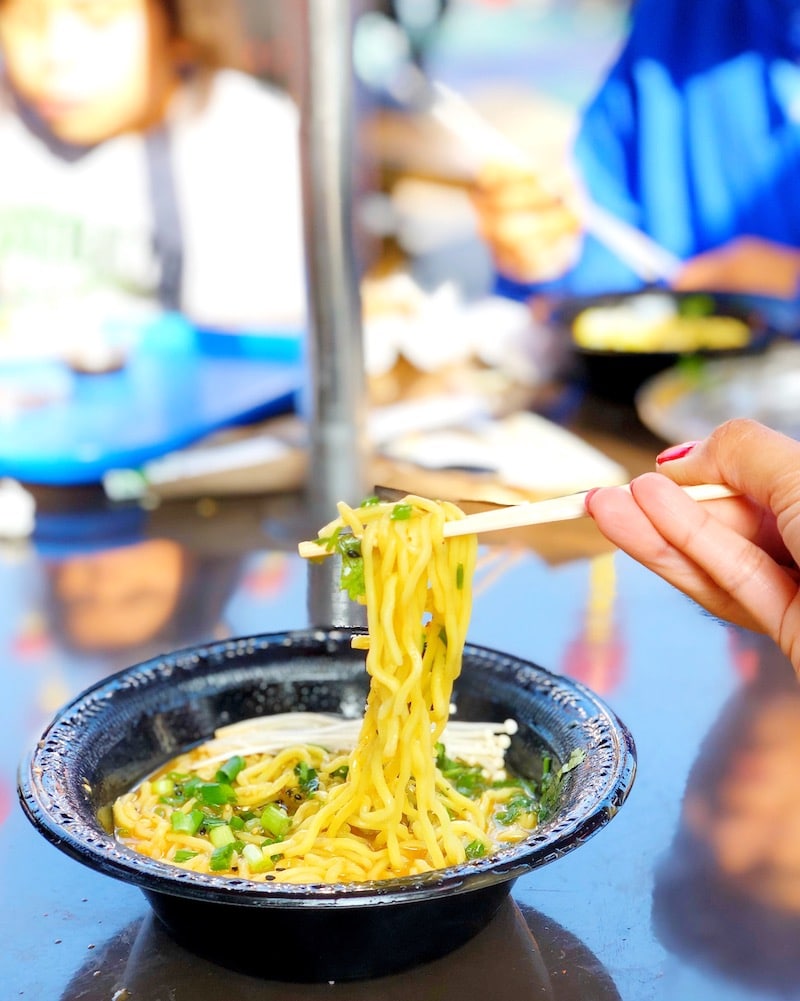 The hubster had pork ramen that had a different base than the vegetarian bowl. It wasn't spicy and came with the meat, egg and green onions served on top.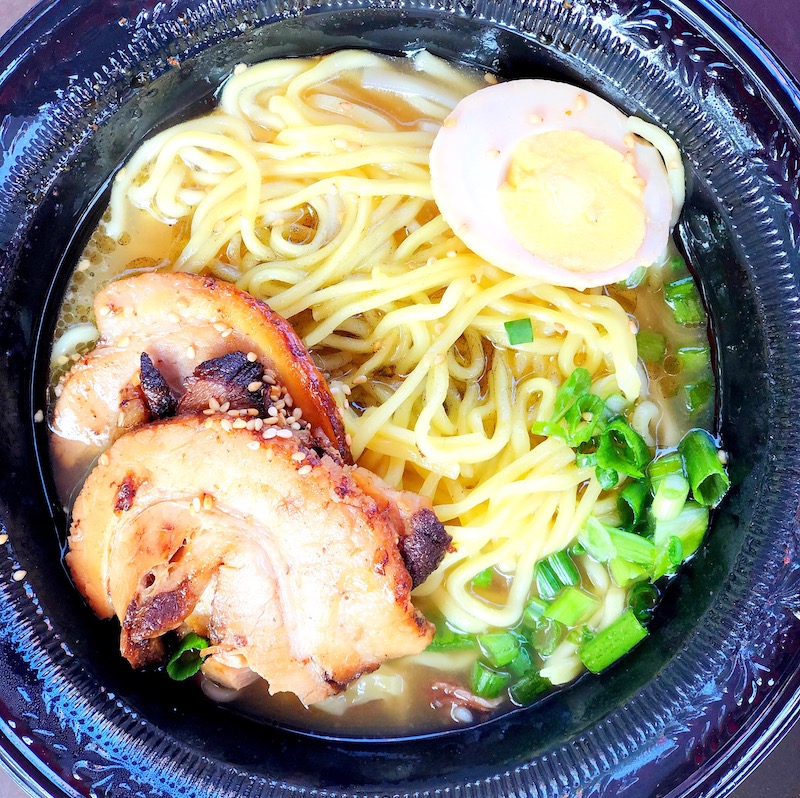 The meals are large and a bargain for the delicious taste.
I would note, however, that Mr. Ping is really popular so you might have to wait a little bit for your meal.
The cashiers will give you a number and they call out the number as the meal is done. While you wait, you can hop over to the side of the shop and meet with Mr. Ping to say hello and take a picture with him.
The menu is limited and I would suggest you order an appetizer for the younger kids. It's a smaller portion and should fill them up.
We ordered the dumplings for my eight year old chiclet. It comes in a dish with three of them plus the sauce.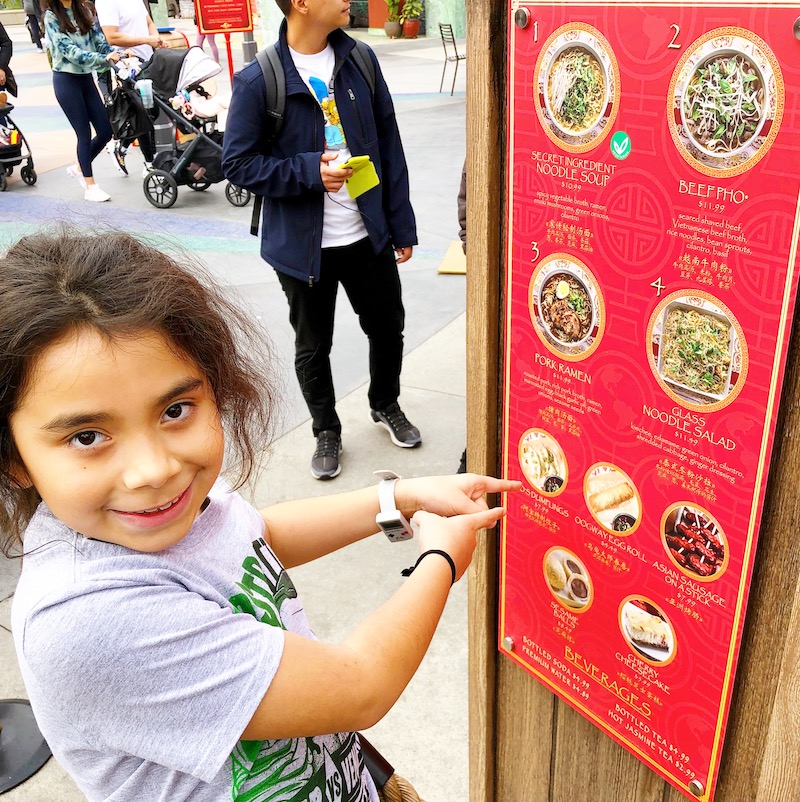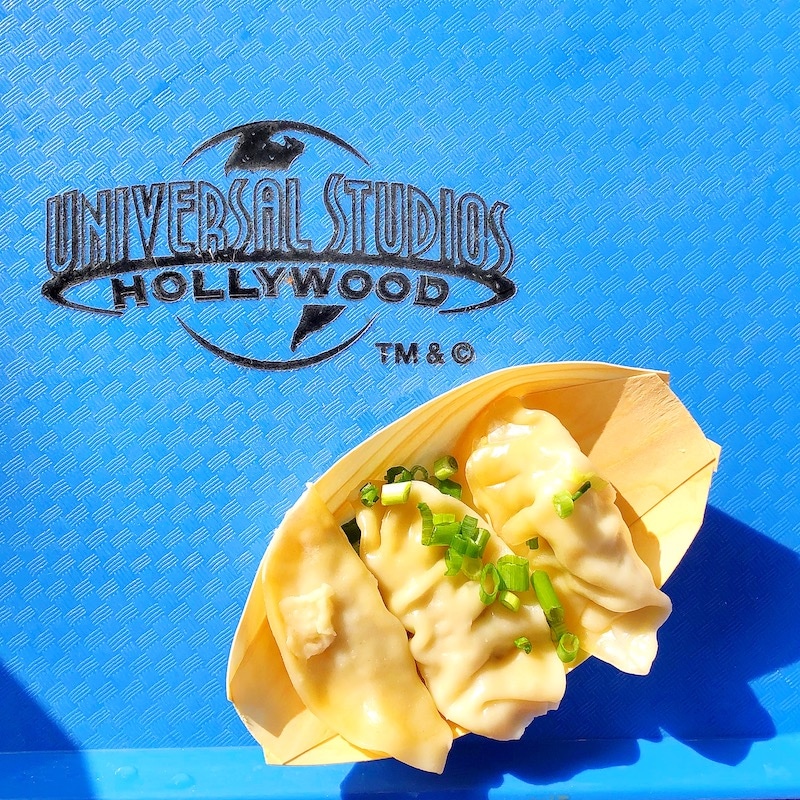 Meet Hello Kitty
I'm a huge Hello Kitty fan and meeting her at Universal Studios Hollywood is also a major draw for me. However, during the Lunar New Year you can grab a picture with her her signature red bow and custom designed Lunar New Year attire!!!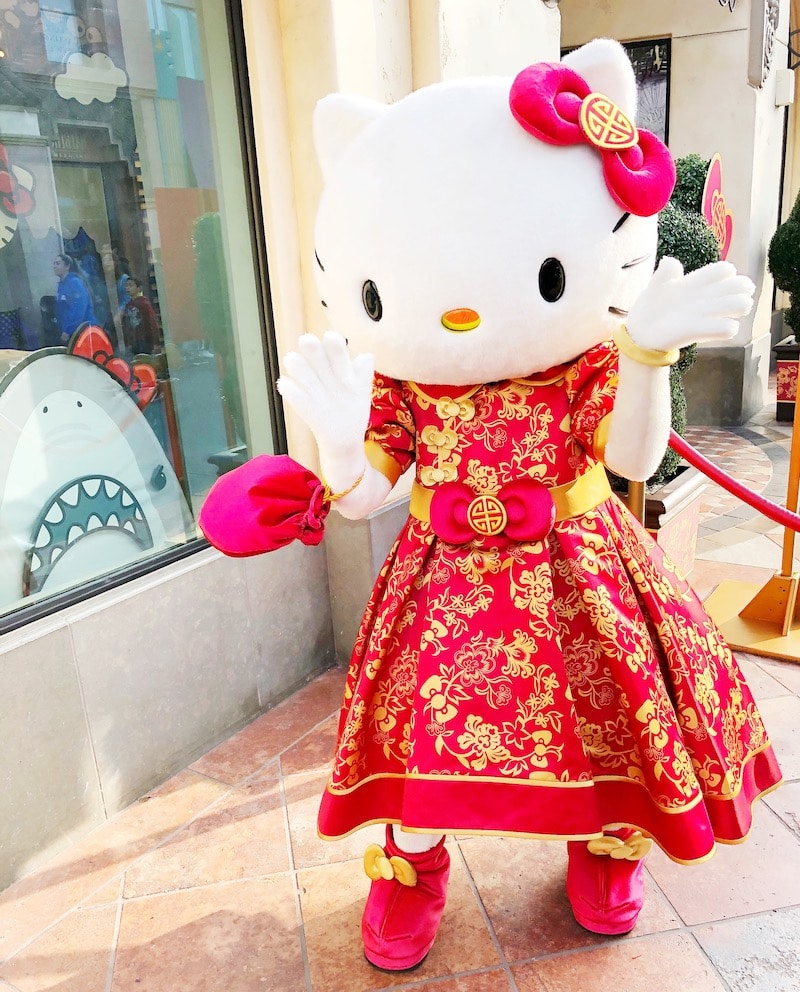 Look for her outside her cute store. There's a red carpet set up and the staff will gladly take your picture.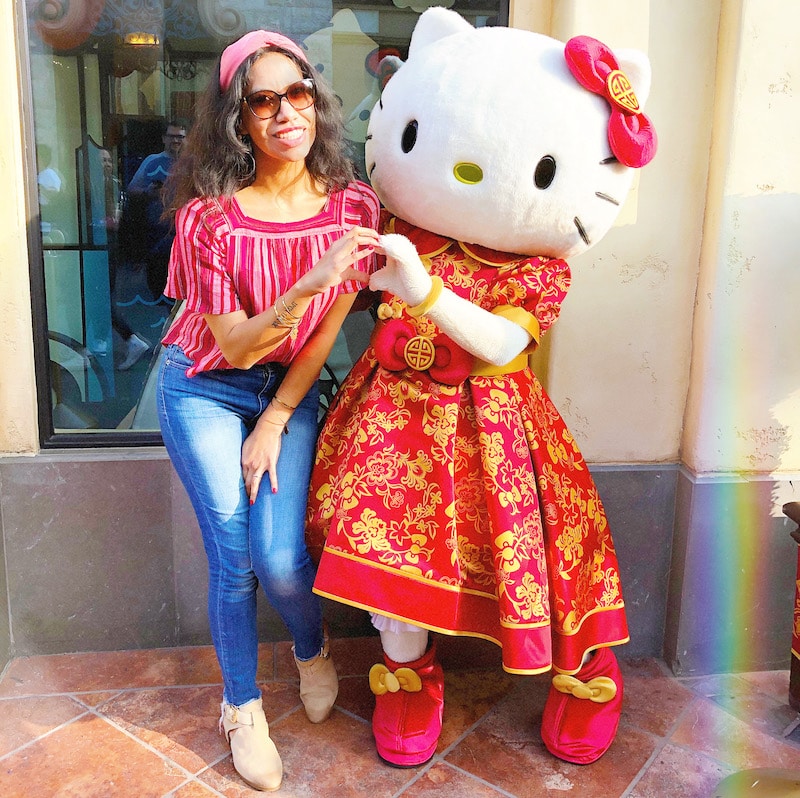 Take a picture with Mandarin-speaking MEGATRON
Visit Mandarin-speaking MEGATRON from Transformers outside the Universal Plaza – across from the Despicable Me Minions.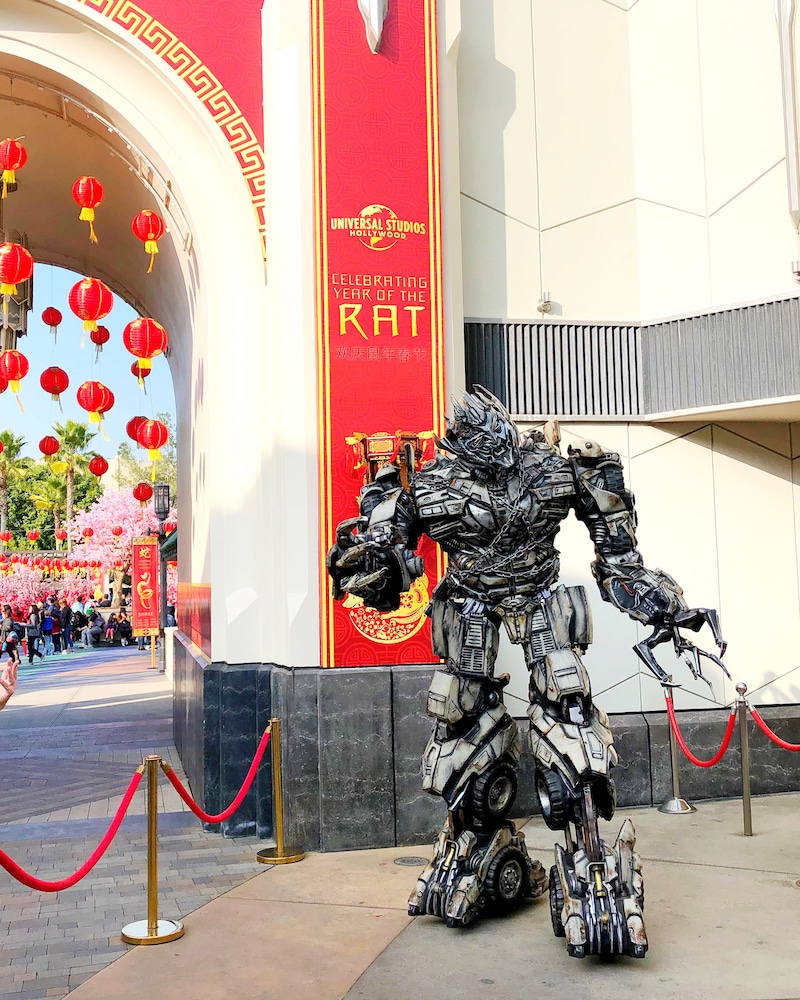 This MEGATRON differs in that it interact with guests, engaging them both in Mandarin and in real-time conversation characteristic of his persona! It's a real treat to see.
Check out the Minions
It's a treat to see the Despicable Me Minions when you're at Universal Studios Hollywood (by the way – have you been on Minions Mayhem)?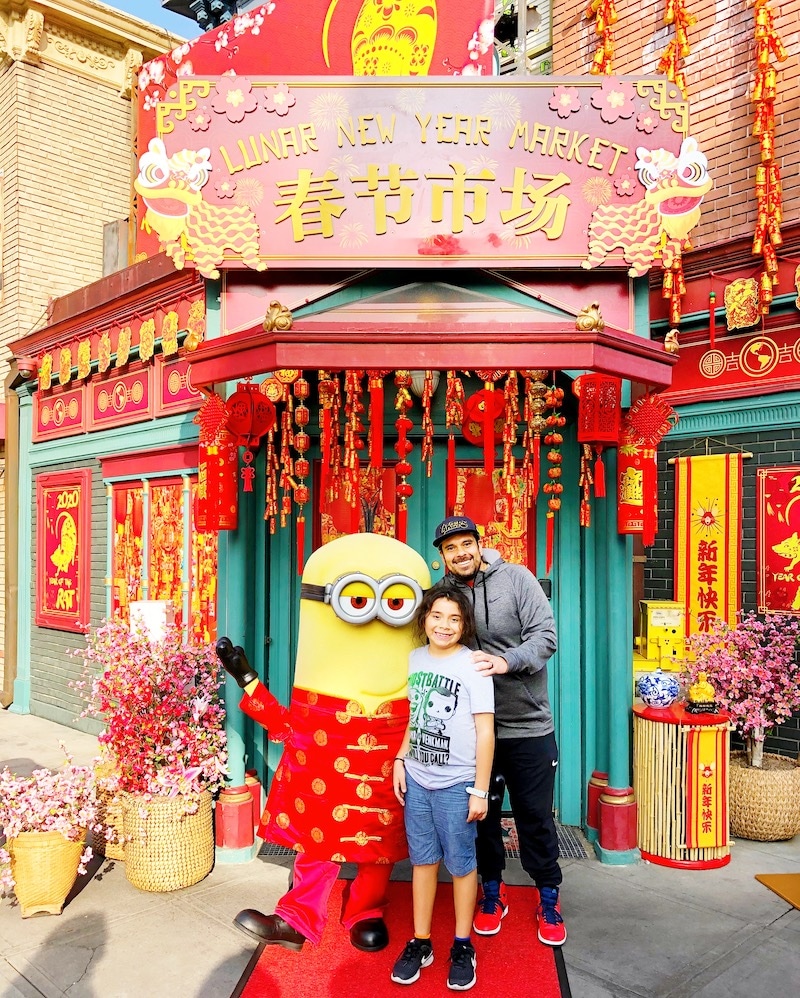 While you're near Universal Plaza, stop by and take a picture with the Despicable Me Minions dressed intraditional Lunar New Year attire! The backgdrop is super cute and will make a cute Instagrammable photo!
Learn to draw Po
Guests can participate in a "Po" drawing demonstration at Universal Plaza. A drawing instructor stands against a screen that mirrors what the instructor is doing on the iPad.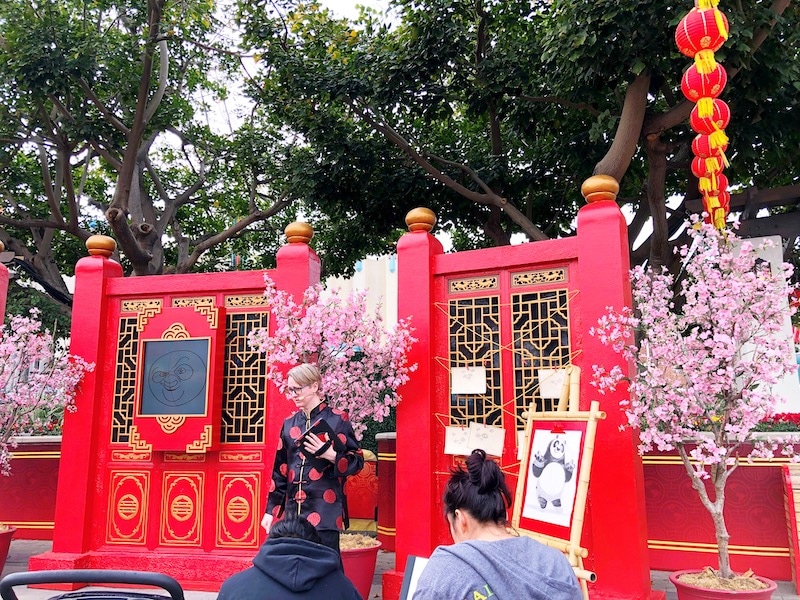 Each step is pretty easy to follow and by the end, you'll have your very own Po to take home!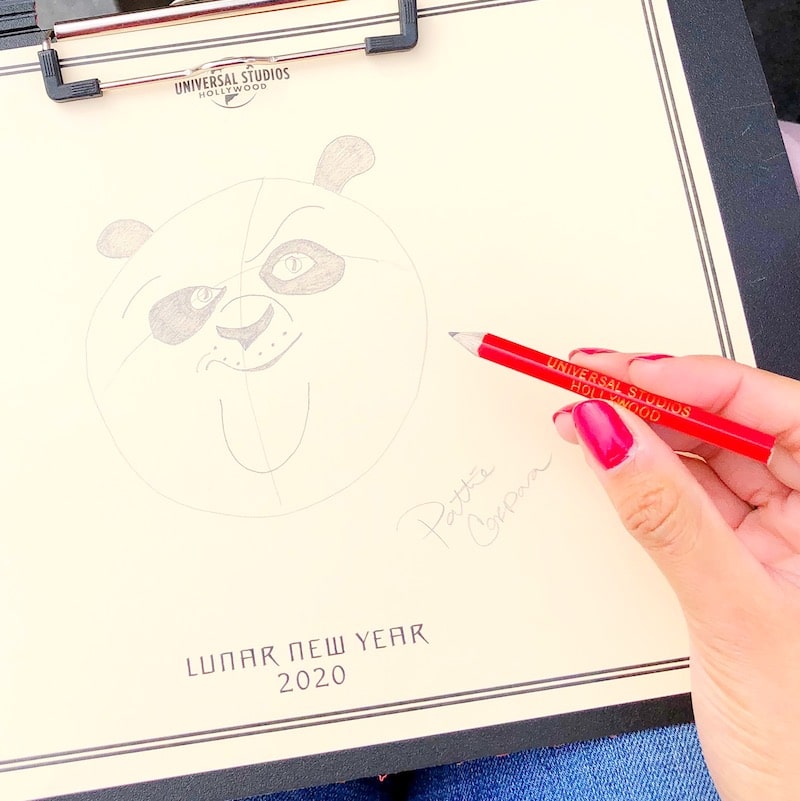 To participate, just ask for a black portfolio. Inside, you'll find a piece of paper and a pencil. Take a seat on one of the benches and you'll be ready to go!
Enjoy a Lunar New Year cultural performances at Universal Plaza
I had never been to a Lunar New Year festival and seeing my first one at Universal Studios Hollywood was a pretty big deal. We found a spot about fifteen minutes before the performance and waiting for the show to begin.
To see a performance, you'll want to be in the area where you can take a picture with Po. Everyone will set up in a semi-circle giving the performers enough space to do their thing.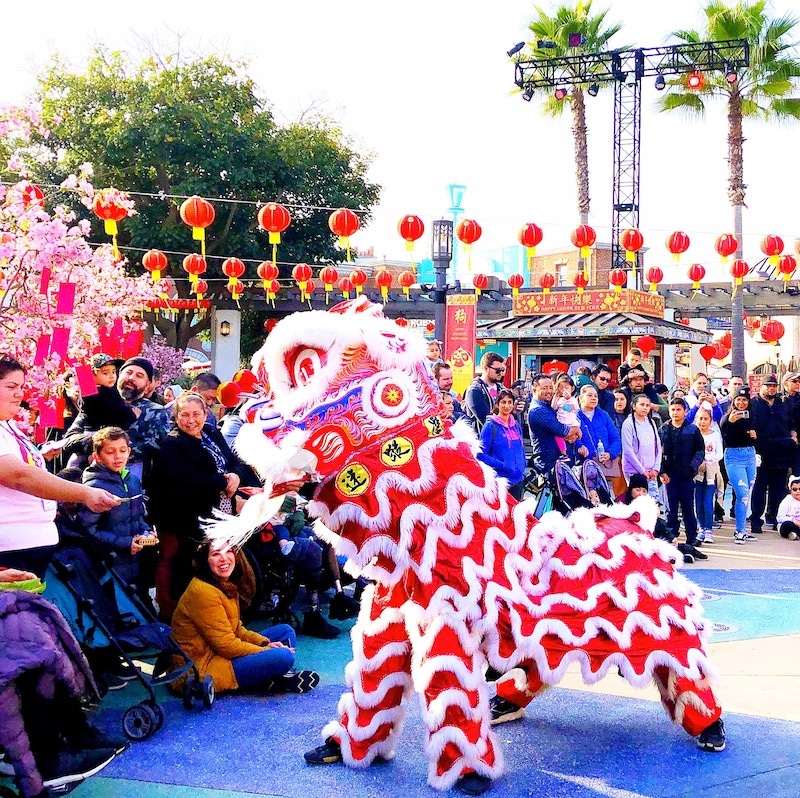 The Lunar New Year performance that we saw featured two lions in the Lion Dance. I discovered that at the end of the dance, the lions will go up to you and do a special little dance if you give them money. Later I found that it is customary for the people to "feed" money to the Lion because it brings good luck and fortune and is considered a donation for the martial arts school setting up the performance.
During this dance, you'll also see the Lions consume the lettuce and spit it out. This is to spread out the good luck and it also a symbol for a fresh start for the new year.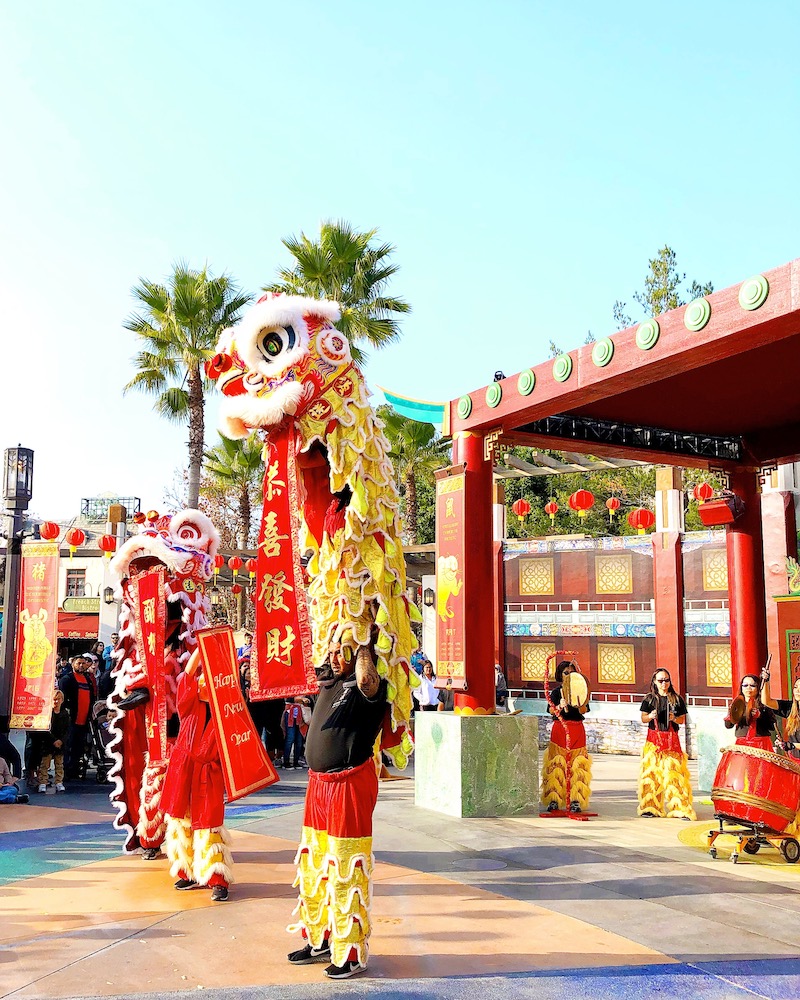 The mandarin oranges used in the performance are a symbol of good luck.
The Lion Dance was by far my favorite part of the visit to Universal Studios Hollywood for the Lunar New Year. It was such an educational moment for both me and my family, and immersing a bit in the culture was a real treat.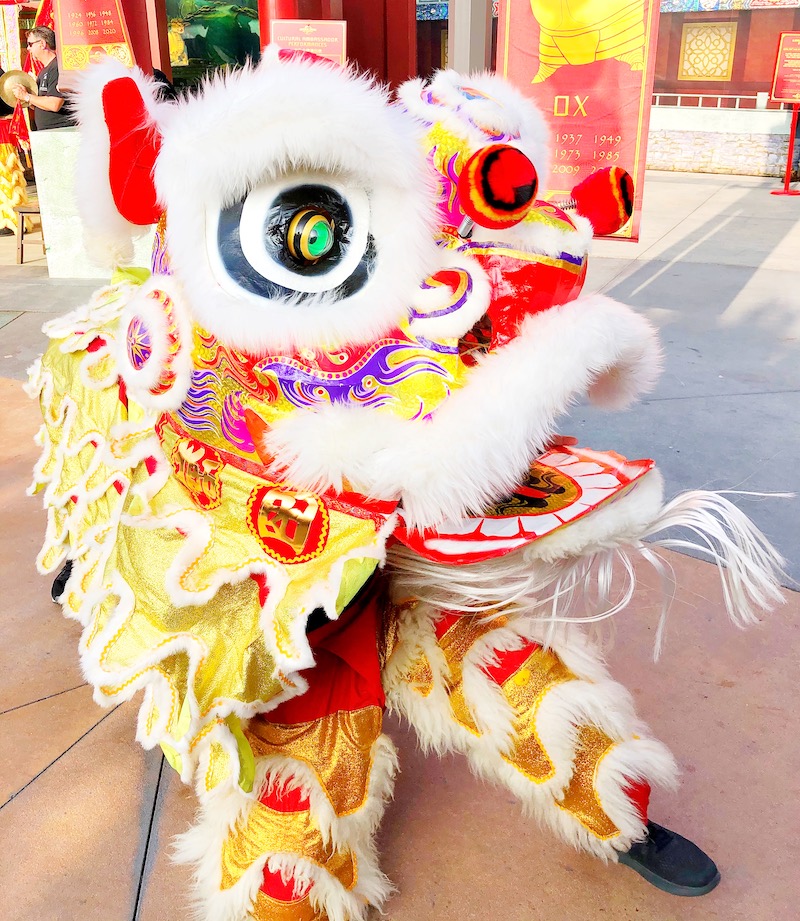 Lunar New Year at Universal Studios Hollywood is happening now through February 9th. Visit UniversalStudiosHollywood.com for more information!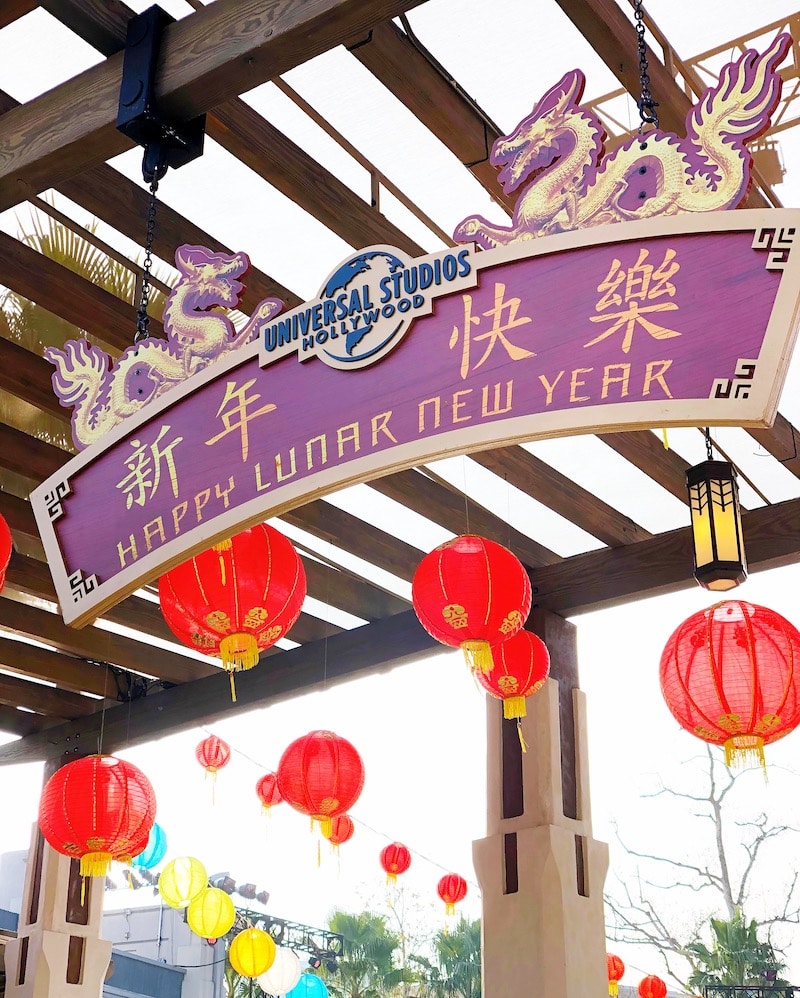 Originally published on January 31, 2020. Last Updated on March 15, 2021 by Pattie Cordova