Travel
Live Nativity Events in Southern California
As a parent, I can see how sometimes it is hard to show kids what the true meaning of Christmas is all about. Especially since every shopping mall has a Santa Claus or tree lighting. As much as we love tree lighting ceremonies, I also wanted to show my kids the other side of Christmas, and live nativity events are the perfect opportunity to do so!
We have a great list of live nativity events happening in Los Angeles, Orange County and Inland Empire. Did we miss one? Let us know in the comments below, or email: [email protected]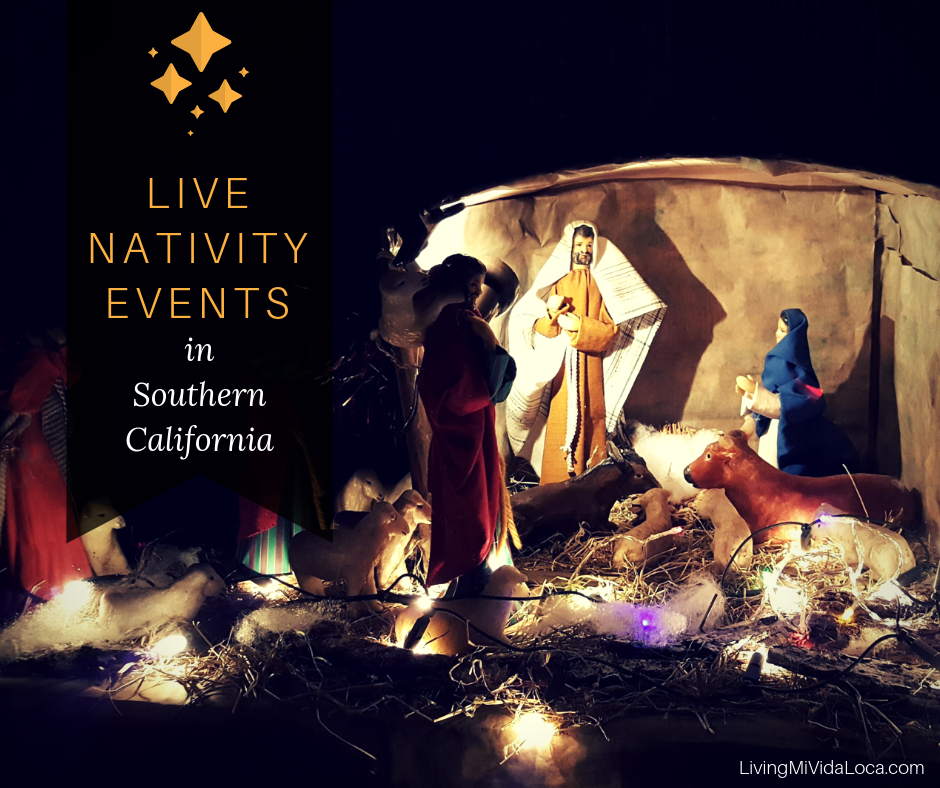 Live Nativity Events in Southern California
Live nativity events in Los Angeles
Journey to the Manger 2019
12/5-12/6; 6-9pm
Diamond Canyon Christian Church, 3338 Diamond Canyon Rd, Diamond Bar
Your own journey should be in groups of 5-10 people and only take about 30 minutes. Also, come and enjoy live musical performances, food and hot drinks, a petting zoo, along with the narrated story walk-through experience.
https://www.diamondcanyon.org/upcoming-events/
Portraits of The Prince of Peace Pageant 2019
12/13-12/15; 7:30-9pm
5500 E Wardlow Rd, Long Beach
Through the combined efforts of 6 different Churches the story of the birth of Jesus is presented in a fun filled way with music, live actors, beautifully decorated murals,and live animals.
https://www.facebook.com/pages/category/Religious-Center/Portraits-of-the-Prince-of-Peace-Pageant-248841455177991/
The Living Nativity 2019
12/13-12/15; 7pm & 8pm
The Church of Green Hills, 2200 W. Imperial Hwy, La Habra
Featuring live animals, classic Christmas music, cookies, hot chocolate, and more. This fun-for-all-ages event is sure to be a highlight of the Christmas season for you and your family.
https://thechurch.life/
Journey to Bethlehem 2019
12/13-12/15; Fri. 6-8pm , Sat.-Sun. 5-7pm
Purpose Church, 586 N. Main Street, Pomona
Sign the census, avoid the Roman soldiers, interact with the potter, weaver, carpenter, and other merchants. Spend some shekels, visit the animals, and make your way under the giant star to discover the newborn King, baby Jesus. Food is available for purchase at Bethlehem Cafe.                    Admission Fri. $5, Sat $6 and Sun $7, Free kids 12 and under
https://purposechurch.com/bethlehem/
Drive-Thru Living Nativity / Closed 2019
Under Construction 2019, Open till Dec. 2020
CrossRoads Community Church, 2610 Calvary Rd, Bel Air
Come to Bethlehem to be inspired once again with the true meaning of Christmas. See the angels, shepherds, wise men and townspeople, all from the convenience of your car
Explore Bethlehem 2019
12/8; 4-6pm
CVC Church, 4001 La Crescenta Ave., La Crescenta
Experience the town of Bethlehem as it was in the year of Jesus birth. Kids can make candles, their own perfume, pottery and leather work. Free camel rides for kids.
https://www.cvchurch.com/
Living Nativity 2019
12/12-12/15; 5-9pm
Granite Creek Community Church, 1580 N. Claremont Blvd., Claremont
The Living Nativity Outdoor Drama and Marketplace includes Petting Zoo, outdoor fire pits, hot cocoa, food trucks, tons of vendors, and lots of unique gifts. $5 donation for Living Nativity performance. Order tickets online.
https://www.facebook.com/events/284516182163736/
The Live Nativity
12/14-12/17 ; 6:30-8:30pm
Glendora City Hall, 116 E. Foothill Blvd., Glendora
Enjoy hot cocoa, see shepherds, wise men, and manger animals all while learning about the hope that Christmas brings. Live Nativity on the grass lawn up at Glendora city hall!
http://www.grace-church.com/livenativity/
Las Posadas 2019
12/16-12/24; 6:30-9:30pm
Placita Olvera, 125 Paseo de la Plaza, Los Angeles
The nine-night presentation of the journey of Mary and Joseph to Bethlehem portrayed with singing, a candlelight procession on Olvera Street and a children's piñata breaking. Enjoy a free theatrical performance of the classic Mexican comedy La Pastorela following each evening procession.
https://elpueblo.lacity.org/sites/g/files/wph1176/f/Schedule%20of%20Events%20Rev.9.17.19_1.pdf
Live Nativity 2019
12/17-12/18; 6-8pm
Church of Nazarene, 8221 College Ave, Whittier
Come EXPERIENCE the true meaning of Christmas. Artistic visual presentation of the Gospel every 1/2 hour. Live animals will be on hand for the children to pet between shows.
http://cacnaz.org/
Live Nativity events in Orange County
Live Nativity Play 2019
12/15; 5:30-8pm
Old World, 7561 Center Ave., Huntington Beach
International Celebration of Christmas, a celebration that brings together a diverse group of churches, singers, dancers for a celebration that highlights the true meaning of the holiday season. Free admission.
http://www.oldworld.ws/nativity.html
The Live Nativity 2019
12/4-12/6; 6pm
First Christian Church, 1207 Main St., Huntington Beach, CA. 92648
Actors and live animals tell the story of Jesus' birth through nine different scenes. Whether you're driving through or walking, the true magic of Christmas will be remembered as you celebrate with friends and family.
https://fcchb.com/livenativity/
A Walk Through Bethlehem 2019
12/6-12/8; 4-9pm
Fullerton Free Church, 2801 Brea Blvd, Fullerton
This year's live nativity will include 125 costumed actors, as well as live animals (camels, sheep, goats) on an expansive "first-century" set built right into the church's central outdoor plaza and extending indoors.
https://www.christmasblvd.com/event-information/
Follow the Star- A Living Nativity 2019
12/6-8; Fri-Sat 6-9pm, Sun 5:30-9pm
29441 Altisima, Rancho Santa Margarita
Come celebrate the true meaning of the Christmas season at this annual living nativity. Follow the Star is a living portrayal of Christ's birth as recorded in the New Testament. Show repeats every 30 min with the last show at 8:30 pm. Hot chocolate served.
http://www.smstake.church/events/2018/10/17/follow-the-star
Drive-Thru Live Nativity 2019
12/6-12/7; 6-10pm
Mount of Olives Lutheran Church, 24772 Chrisanta Dr, Mission Viejo
This is a drive-through nativity experience with a life-size retelling of the Christmas Story from the comfort of your car. Live actors, animals and narration's available through your car radio! You can also enjoy the drive-through nativity on foot if you prefer. The church is also collecting non-perishable food donations at the drive-thru nativity to support local families in need.
http://www.moochurch.org/contentpages.aspx?parentnavigationid=0&viewcontentpageguid=219abf55-b8d8-433a-b905-cbe1f80f6483
The Nativity
TBA
Church of Jesus Christ of Latter Day Saints, 151 N Poplar Ave, Brea
The Nativity. Join with members of the local community in celebrating the birth of our Lord and Savior. This is an outdoor performance and the nights get chilly. Enjoy music, light refreshments, crafts for kids and nativity displays inside after the live outdoor performance.
https://www.facebook.com/BreaNativity/
Night in Bethlehem 2019
12/7-12/9; Fri. 6-8pm, Sat-Sun 5-7pm
Liberty Baptist Church, 1000 Bison Ave, Newport Beach
Experience what it might have been like on that very first Christmas night. Our interactive tour of Bethlehem features live animals, souvenirs, a free family portrait and much more. Make this your new Christmas tradition!
https://anib.libertybaptistchurch.org/
Journey to Bethlehem: A Living Nativity 2019
12/13-12/15; 5-8pm
Crossline Church, 23331 Moulton Parkway, Laguna Hills
Experience a huge cast bringing Bethlehem to life as it was 2000 years ago. Enjoy the petting zoo, cookie/craft decorating, and holiday treats/hot drinks all of which make Crossline Church the perfect spot to celebrate the holiday season with your family
http://www.crosslinechurch.com/christmas/
Living Nativity 2019
12/14-12/15; 4-9pm
12671 Buaro St., Garden Grove
Join us on a tour through Bethlehem as we celebrate the birth of Jesus. Every 15 minutes, a tour will walk through the streets of Bethlehem and find their way to the nativity. There will be live interactions along the way that tell the Christmas story and give an idea of the setting of Christ's birth. This is a great way to remind ourselves of the message of Christmas. The nativity will be open Dec 14 and 15th from 4p to 9p. Admission is free and tours will last about 20 minutes each. We will be having a petting zoo this year as part of the tour.
https://www.facebook.com/events/292567921564107/
Live Nativity events in Inland Empire
The Living Nativity 2019
12/8-12/9 & 12/15-12/16; 6-7:30pm
Calvary Chapel Conference Center, 39405 Murrieta Hot Springs Rd, Murrieta
A free event for the entire family celebrating the true meaning of Christmas. There will be live performers and animals.
https://www.calvarysunrise.org/the-living-nativity/
Living Nativity
12/21-12/22; TBA
New Beginnings Community Church, 9010 Limonite Ave, Riverside
This Christmas season invite your unsaved family and friends to The Living Nativity at New Beginnings Community Church in Jurupa Valley. This dramatic, Biblical reenactment includes a live camel, donkey and sheep! And is a powerful opportunity to share the Christmas Story in a loving and friendly way.
https://www.ksgn.com/events/featured/event/29797-living-nativity-at-nbcc-norco
Living Nativity 2019
12/13-12/15; 6:30-8:30pm
LDS Church, 6829 Etiwanda Ave, Rancho Cucamonga
Live actors, real animals (petting zoo), choir music, refreshments and an authentic stroll through the town of Bethlehem. Presentations at 6:30, 7:15 and 8pm, each lasting 15 minutes.
http://www.livingnativityrc.com/
Streets of Bethlehem: The Story of Christmas
TBA; Showtimes 5pm and 7:30pm
Corpus Christi Catholic Church, 3760 McKinley St, Corona,
A faithful story beautifully told from Mary's conception, through the Roman Oppression and The Birth of Christ. Kids choir and live animals.
General Admission: $5 / Purchase Tickets online
https://www.streetsofbethlehem.net/
A few other events you might also enjoy:
Las Posadas 2019
12/16; 10am-4pm
Pretend City, 24 Hubble, Irvine
It's time to celebrate Las Posadas! This colorful Mexican holiday celebrates the 9 days leading up to Christmas! Join us for some festive activities, art, and events at Pretend City! Kids will love making a posada placemat, a luminaria and special reading time.
https://www.pretendcity.org/event/las-posadas/
Christmas on Euclid 2019
11/22/2019 – 1/2/2020
Ontario Town Square, 224 N. Euclid, Ontario
Part of the tradition of Christmas on Euclid Experience is the twelve Nativity Scenes that are placed on the Euclid Avenue median. The Nativity crèches and statues are displayed for the enjoyment of area residents and visitors to the City of Ontario.
https://gocvb.org/discover/events/christmas-on-euclid/event-program