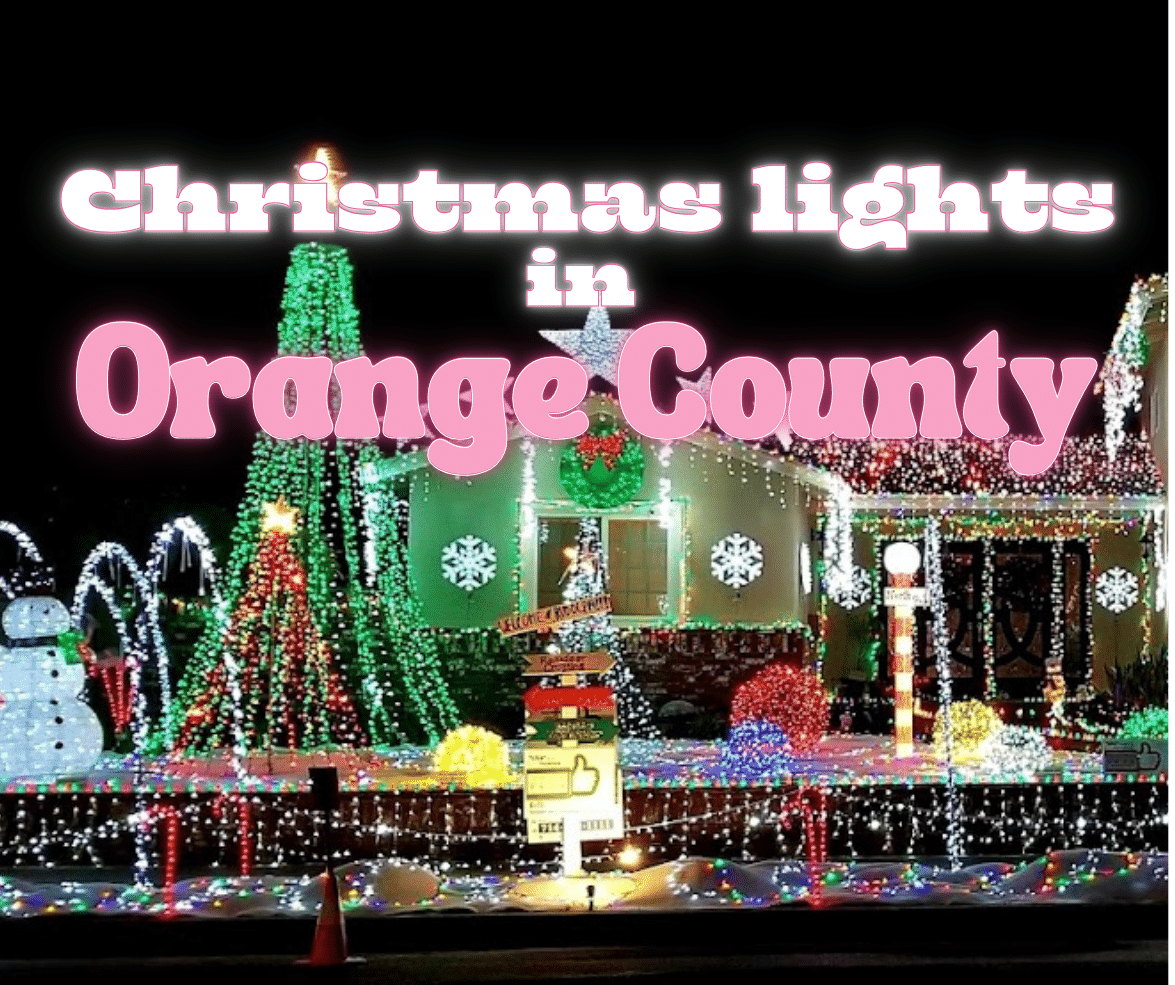 Holidays
Christmas Lights in Orange County (2023)
There's nothing better than driving around Orange County and seeing our beautiful neighborhoods showing off their Christmas lights displays! This year, it means even more to the community to have so many houses beautifully decorated with lights.
We're sharing where to go see Christmas lights in Orange County in our list below!
Let's keep this time-honored tradition of driving around to see the different Christmas light displays in Orange County and beyond. This also works as part of a list of things to do on Christmas Day in Orange County!
And don't forget our 150+ Winter, Christmas and Holiday events happening in Orange County!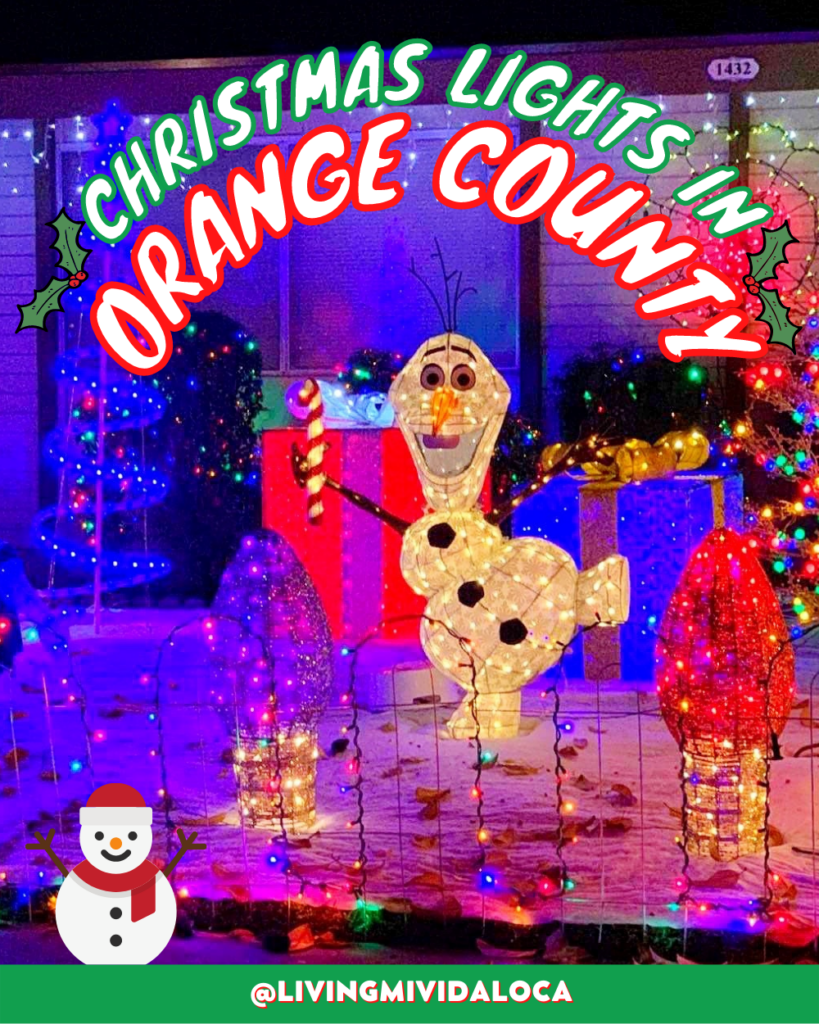 Below you'll find a few of our favorite Christmas lights displays in Orange County, organized by city. Check them out and if you see that we missed a neighborhood – please let us know in the comments below! We'd love to keep this list updated with the best Christmas light displays in Orange County.
Also – check back throughout the season as we'll be adding more Christmas light displays to this list as they become available to us.
Where to see the best Christmas light displays in Orange County
Aliso Viejo Christmas lights
2 Falcon Crest Lane
Carmel Neighborhood (Canyon Vistas & Pacific Park Drive)
Glenwood Community
Grandbriar Street
Summerland Circle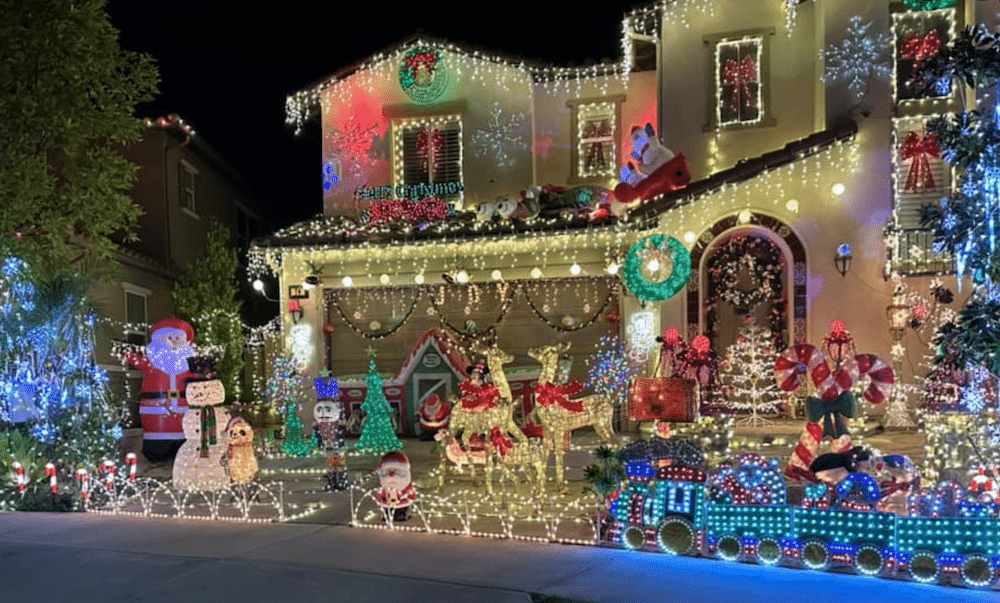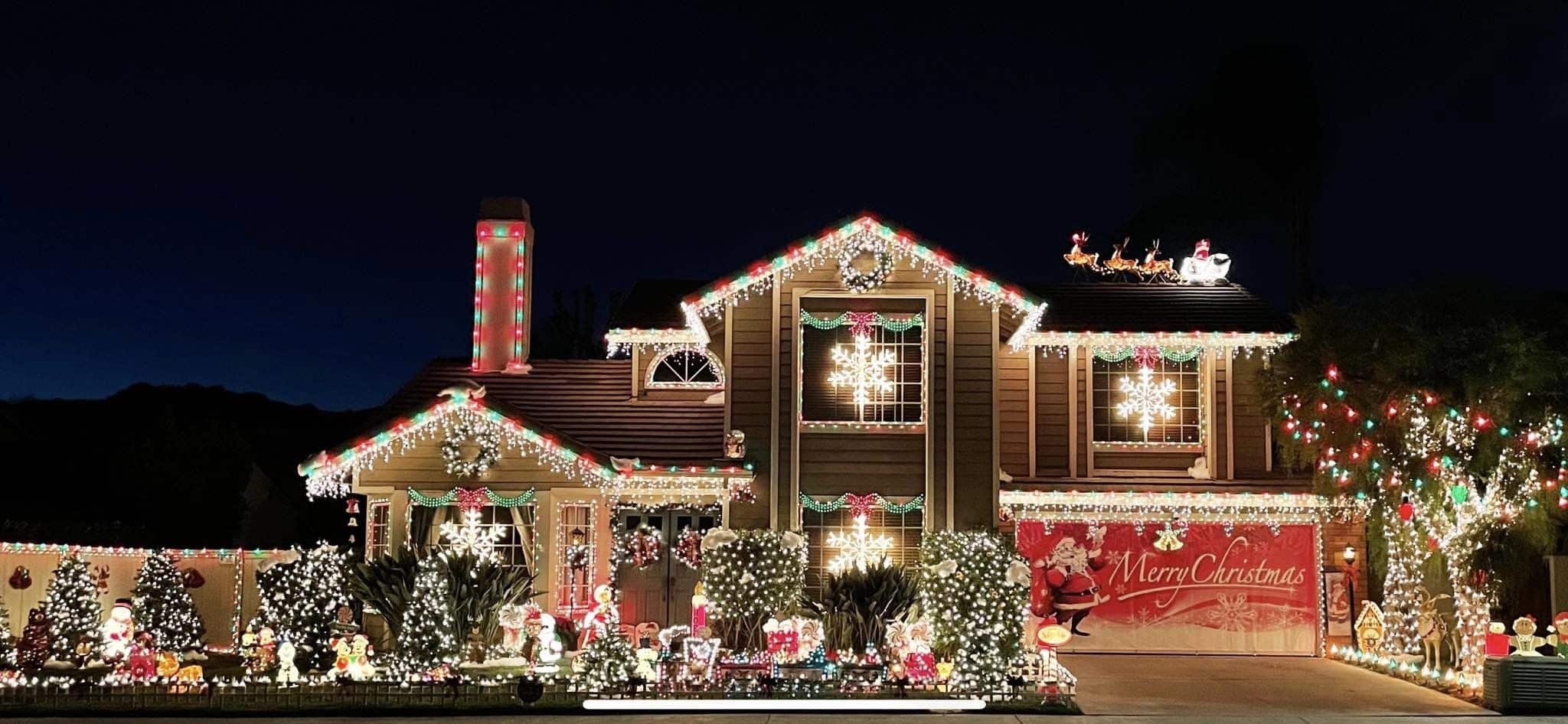 ---
Anaheim Christmas lights
306 Barryknoll Street
2715 N. River Trail Road
8382 E. Quiet Canyon Court
224 E. Broadway
151 S. Jeanine Way
2118 W. Minerva Avenue
215 S Kirkwood Circle
975 Canyon Heights Dr
7517 E Calle Durango
6441 Cymbal St
580 S Dune St
8710 E Garden View Dr
---
Anaheim Hills Christmas lights
Bel Air Neighborhood 92801
---
Costa Mesa Christmas lights
Snoopy House Holiday Display (5:30pm-8:30pm)
3150 Bear Street
Lilac & Santa Ana Avenue
Mesa Verde & Adams Avenue
Myrtlewood & Redwood
2981 Redwood Avenue
Maui Pl
St. Clair
---
Coto de Caza Christmas lights
---
Cypress Christmas lights
5208 Cumberland Drive
Corner of Cerritos and Holder
5412 Camp Street
---
Dana Point Christmas lights
Monarch Beach Homes
Calle Fortuna
---
Fountain Valley Christmas lights
La Casita & Santa Madrina
Brookhurst and Heil (Filbert Street)
La Rosa Lane
17213 Santa Catherine
17156 Santa Lucia
---
Fullerton Christmas lights
---
Garden Grove Christmas lights
6541 Belgrave, Garden Grove

12112 Wutzke Street

6141 Killarney Avenue
---
Huntington Beach Christmas lights
Brookhurst & Meredith Drive – Meredith Gardens
Humboldt Island – Huntington Harbour
Mayville Place
Shelton Court & Sutherland Drive
Springdale & Brassie
Trinidad Island – Huntington Harbour
Davenport Island – Huntington Harbour
La Cresta Circle; Spinnaker Drive (Brookhurst and Indianapolis)
Shively Street
6212 Larchwood Drive
---
Irvine Christmas lights
4262 & 4291 Fireside Circle
Deerfield on Poinsettia.
---
La Palma Christmas lights
Houston Avenue
Tiara Lane
5172 Huntswood Circle
---
Ladera Ranch Christmas lights
Baudin Circle, Ladera Ranch
156 Sellas Road South
Potters Bend (Potters Bend, Fieldhouse, Wishing Well, and Flowerdale) 
Sterling Glen 2 (Shively Road)
Fairfield 1 (Chantilly Lane, Pleasanton Lane, and Waverly Place)
6 Shively Road
3 Whidbey Drive
7 Sugarcane Lane
3 Platinum Circle
17 Shively Road
33 Lansdale Court
21 Shively Road
Winslow Street (They're hosting Winslow Winter Wonderland on December 15)
Martino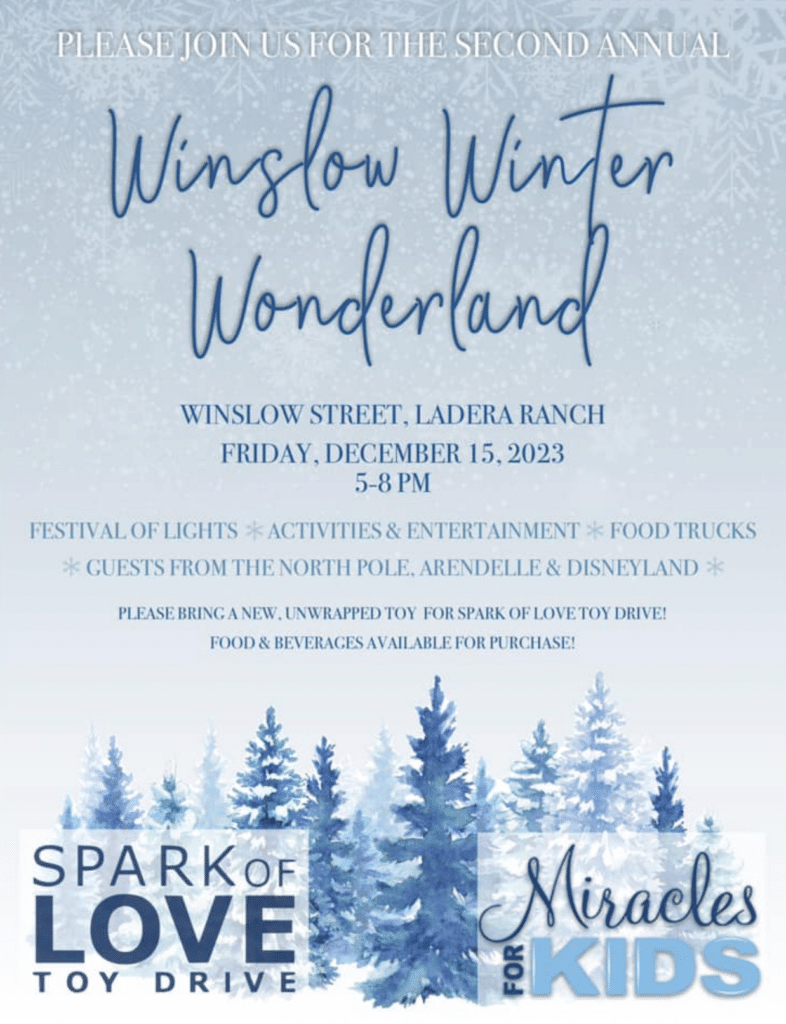 ---
Laguna Hills Christmas lights
Mawson Drive

25276 Orellano Way

23561 Marsala – A Merry Marsala Christmas

25473 Nellie Gail Road

26041 Spur Branch Lane

25241 Northrup Drive – The Northrup Pole

24422 Avenida De La Carlotta Suite 120A (M-F 9-5)

54 Laurel Creek Lane – Olaf Saves Christmas

25325 Gallup Circle – Elves Spreading Holiday Cheer

24832 Largo Drive – Holiday Lights Mish Mash

24155 Laguna Hills Mall – Christmas At The Village

25071 Buckskin Drive – Light Festival

24992 Express Drive – Snowman Junction

26192 Bridlewood – Candy Cane Lane

25392 Champlain Road – Celebrating Christmas

24203 Avenida de la Carlotta – Oh Christmas Tree

26141 Red Corral Road – Candy Cane Lane #2

25301 Hillary Lane – A Christmas Miracle
25511 Lone Pine – Snowman Season
28431 Lost Trail – River Rock Christmas
24631 Ashland Drive – A Marshmallow World
24996 Hendon Street – The Ramirez Family House Of Lights
24712 Kim Circle – Up Up and Away
26162 Buena Vista Court – The Gift Of Lights
25151 Northrup – Merry Christmas We Wish You
24902 Grissom Road – Away In A Manger
27322 Lost Colt Drive – Underseas Christmas
26295 Eva Street – Ho Ho Lights
24771 Rittenhouse – Abujudeh Family Christmas
25882 Spruce Lane – Santa's Landing
---
Laguna Niguel Christmas lights
28365 La Bajada
Hillhurst Christmas Lights (23852 Hillhurst Dr)
Nellie Gail Road
Elder Court Neighborhood – Full street of lights
5 Tunis
---
La Habra Christmas lights
---
Lake Forest Christmas lights
22981 Belquest Drive
Rushford Drive
Ashbrook Street
23932 Barton Street
Buckwood Street
25982 Dundee Drive
24952 Greenbay Drive
Parkwood Street
Rimrock Street
Peachwood & Tamarisk
Trabuco Canyon & Lake Forest Drive
25141 Steinway Circle
22472 Sunlight Creek Ave
20947 Parkridge
24162 Jagger St
20 Alta Vista
19572 Aliso View Cir
24756 Scott Ln
28322 Millwood Rd
24842 Rollingwood Rd
Skylark Dr & Nightengale Ct
20941 Paseo Nogal
22281 Parkwood St
---
Los Alamitos Christmas lights
---
Mission Viejo Christmas lights
27021 Ayamonte
21965 Birchwood
25412 Brussels
26141 Buscador Buscador Street
27942 Cabo Rosa
73 Cantata
24445 Chamalea
22101 Cosala
24432 Diamante
27695 Estepona
25282 Fairgreen
25512 Gloriosa Hollyhock Lane
28365 La Caleta
23866 Lindley
27572 Minaya
27156 Neda
27093 Pinario
25941 Portafino
24791 San Andres
23864 Sycamore
16 Tesoro
23091 Tiagua
27151 Valia
23745 Via Astorga
24592 Via Alvorado
27322 Via Burgos
26001 Via Del Norte
23611 Via Estella
26526 Via Lara
21151 Whitebark
25022 Spadra
25213 Terreno Dr.
23912 Bough Ave
Via Amistoso
21232 Bishop
21322 Bishop
27811 Naranja
21921 Cosala
23271 Via Guadix
4 Amato
26362 Ibeza
26166 Buscador
27146 Ayamonte
---
Newport Beach Christmas lights
---
Orange Christmas lights
451 N. Citrus Street (Locust & Glassell)
7633 E. Saddlehill Trl
Pine Street & Chapman, Old Towne Orange (aka Candy Cane Lane)
1900 block of N Woodside St.
1907 N. Ridgewood
2700 block of River Trail Road
300 block of Lime Street

1138 West Cherry Drive

Athens Street
584 S. Laurinda Lane
557 N. La Nae Circle
2532 El Sereno Drive
1767 N. Lindenholz Street
463 N. Emerald Drive
2715 N River Trail Rd
238 E Palmyra
237 N. Harwood
321 E Palmyra
200 N Pine
802 W Almond
205 S Pine
378 Olive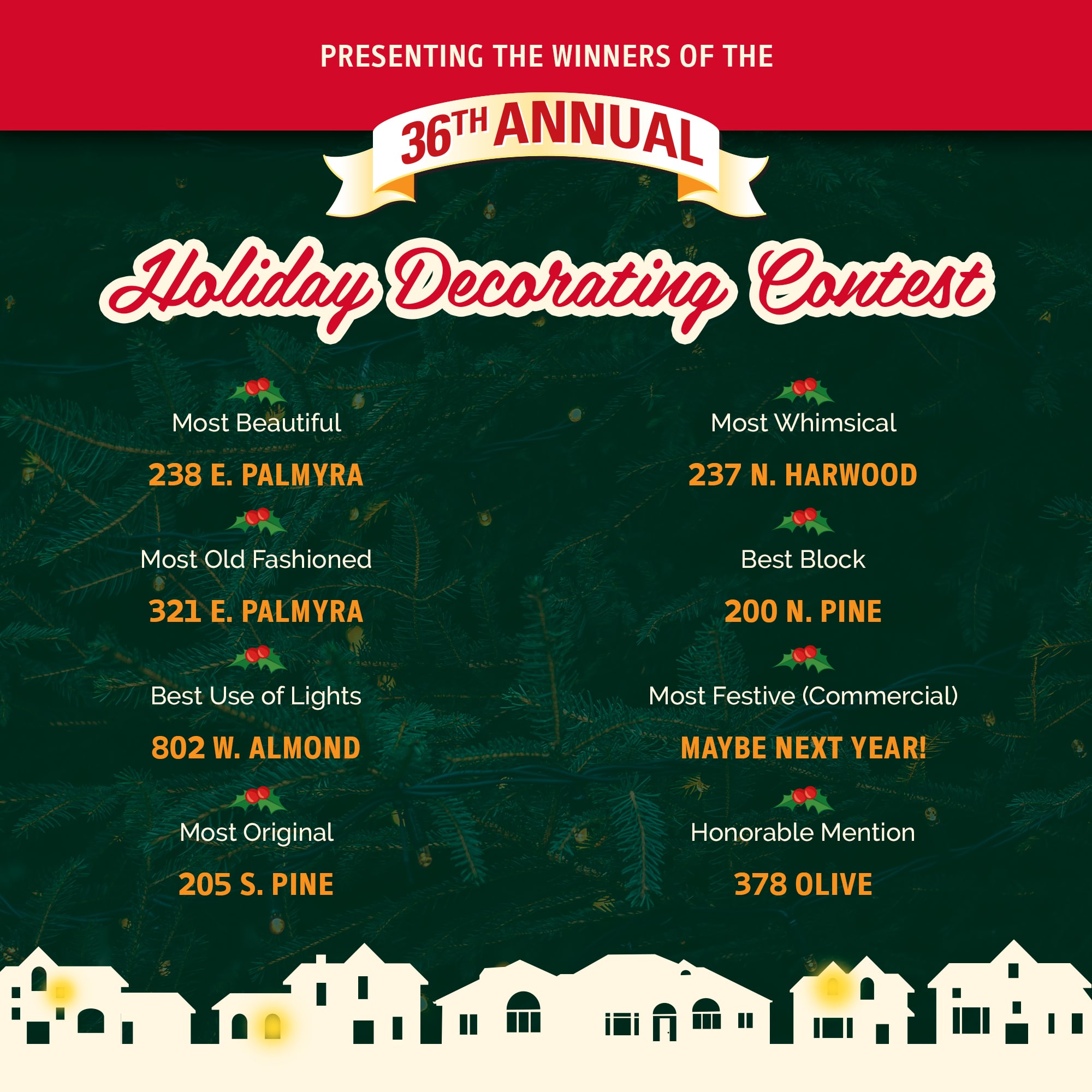 ---
Placentia Christmas lights
444 Normandy Avenue
Brea Eagle Hills Neighborhood
1707 Cartlen Ave
---
Rancho Santa Margarita Christmas lights
16 Calle Liberacion (From 5:30pm to 9:30pm during the week, and Friday-Saturday's till 10:00pm. Over 40,000 lights synced to music like Star Wars, Light of Christmas, Disney favorites, etc.)
El Corzo Lane (Candy Cane Lane – Neighborhood Light Display) Located near 241 off Melinda Road
11 Twilight Lane
107 & 109 Calle De Los Ninos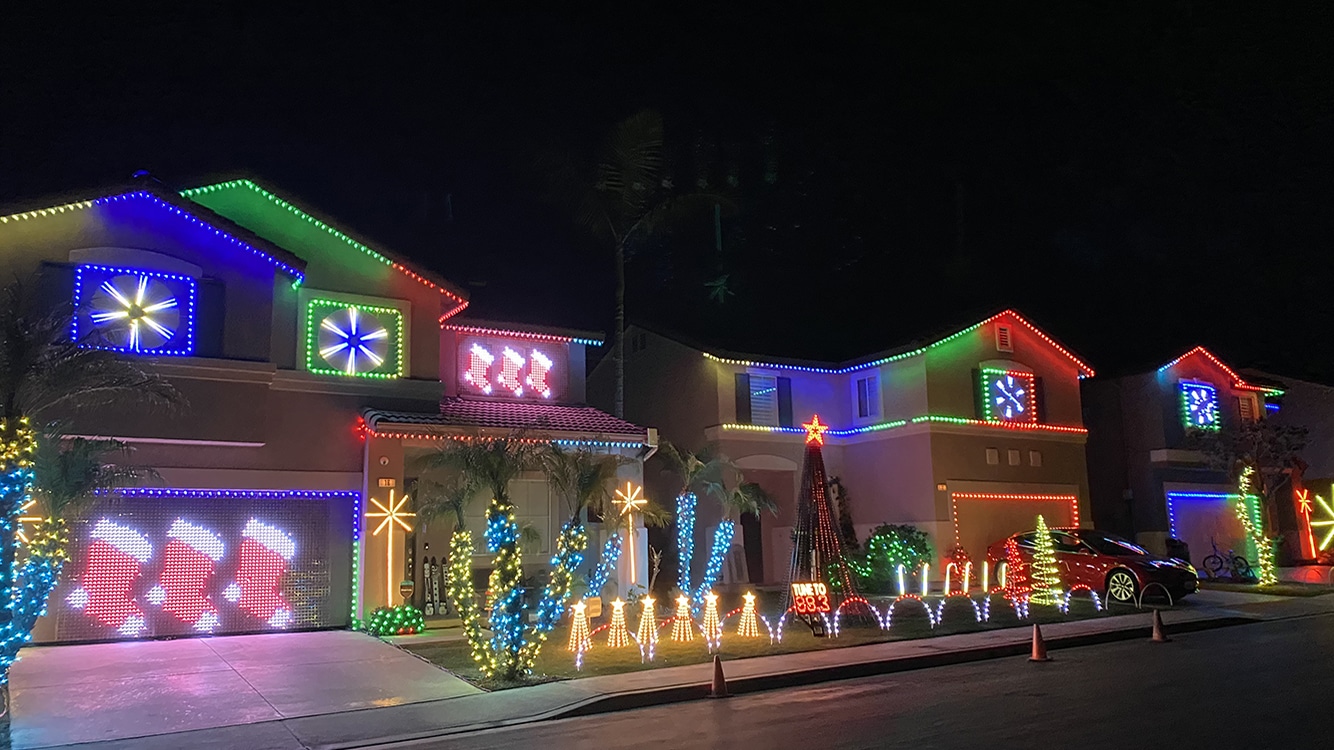 ---
San Clemente Christmas lights
3912 Calle Andalucia
Talega Seaside Neighborhood
Talega Stella Mare Neighborhood
---
San Juan Capistrano Christmas lights
30941 Calle Santa Rosalia
31192 Calle Del Campo – Santa & Toy Drive with USMC – December 16, 2021 6:30PM – 8:30PM
---
Santa Ana Christmas lights
1306 Richland Avenue
18th & Bristol Street
1225 W. 18th Street
1606 N Linwood Avenue
2002 W. Elder Ave
1815 N. Heliotrope Dr.
1811 N. Heliotrope Dr.
2115 N Heliotrope Dr.
2402 N. Flower St.
340 19th Street
2307-2331 Benton Way
2208 N. Ross St.
2008 N. Greenleaf St.
---
Trabuco Canyon
Wagon Wheel Neighborhood
23 Kingfisher Court
28322 Millwood Road
---
Tustin Christmas lights
2181 Maple Ct.
13202 Silver Birch Dr
Irvine Blvd. and Redhill Ave
Red Hill Avenue & Olwyn Drive
14185 Paseo Corto
3318 Brenham Street
2351 Caper Tree Drive (Off Walnut between Tustin Ranch & Browning)
Owlyn Dr in Tustin, across Red Hill from Red Hill Lutheran Church
14431 Heights Dr (village with train will run every Friday through Sunday from 6:00 – 9:30pm)
Lear Lane
White Sand Dr.
Ranchwood Rd.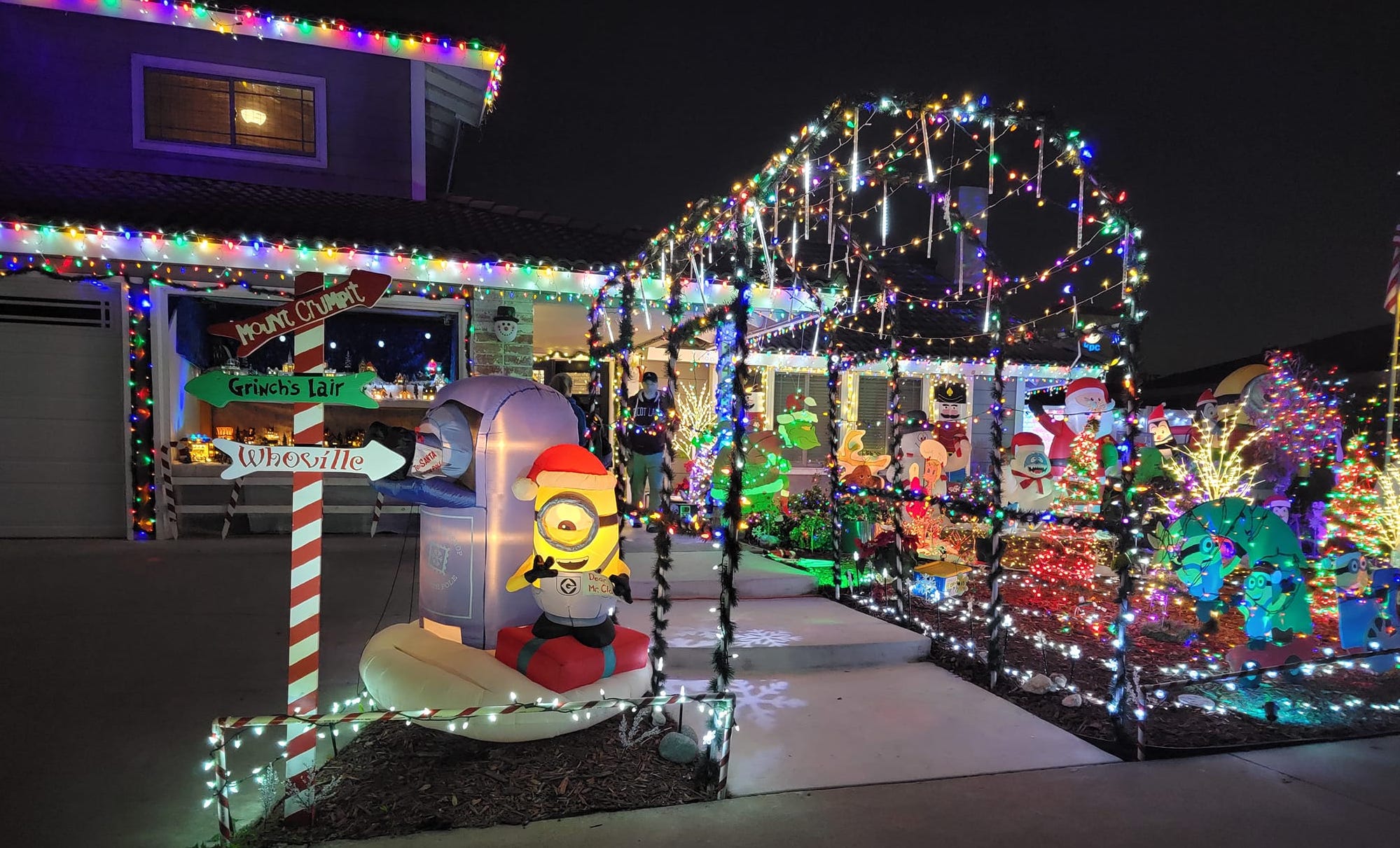 ---
Villa Park Christmas lights
---
Westminster Christmas lights
6212 Larchwood Drive
Bolsa Chica & Westminster Boulevard
5755 Westminster Boulevard
5152 Northwestern Way
---
Yorba Linda Christmas lights
D and J Custom Crafts, 16621 Lathrop Dr, Yorba Linda
20630 Vista Del Sol, Yorba Linda
5325 Village Center Dr, Yorba Linda
5474 Berryhill Dr, Yorba Linda
Paseo de las Palomas and Vista Laguna, Yorba Linda

20628 Calle Tranquillo

18162 Buena Vista Avenue
5792 Grandview Avenue
East Lake Village (Village Center Drive/Avenida De Las Polmas)
18665 & 18974 Seabiscuit
18181 Magnolia Way
4381 Avenida Rio del Oro
5512 Raintree St.
24555 Avenida de Marcia
20628 Cll Tranquilo
Buena Vista Ave
Via Sanlucar
Via Pamplona
Camino Poniente
Via Tapaste
Via Fonte
Via Rene
Southview Drive
---
Take a look at our winter holiday events in Orange County if you're looking for more fun things to do in Orange County during this season. Email ([email protected]) or message us on Facebook.
Originally published on November 27, 2023. Last Updated on December 4, 2023 by Pattie Cordova