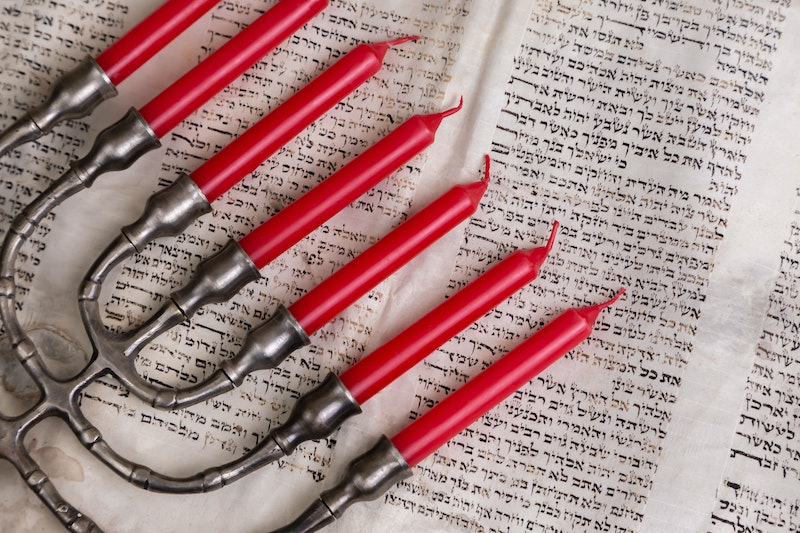 We are so excited to be bringing you a list of Hannukah events and celebrations in Orange County, due to popular demand!
For ease of use, this hannukah events in Orange County list is organized by city in alphabetical order. Take a look and let us know if we missed one of your favorite hannukah holiday events! Email ([email protected]) or message us on Facebook.
In case you are not familiar with Hannukah, it is a very important 8-day Jewish festival that takes place in December and is also known as the "Festival of Lights."
YOU MIGHT ALSO LIKE: Winter Events in Orange County
Every night, there is a menorah lighting, special prayers and eating special foods such as "latkes" (potato pancakes). It celebrates the rededication of the Holy Temple and this year it takes place from December 18, 2022 through December 26, 2022.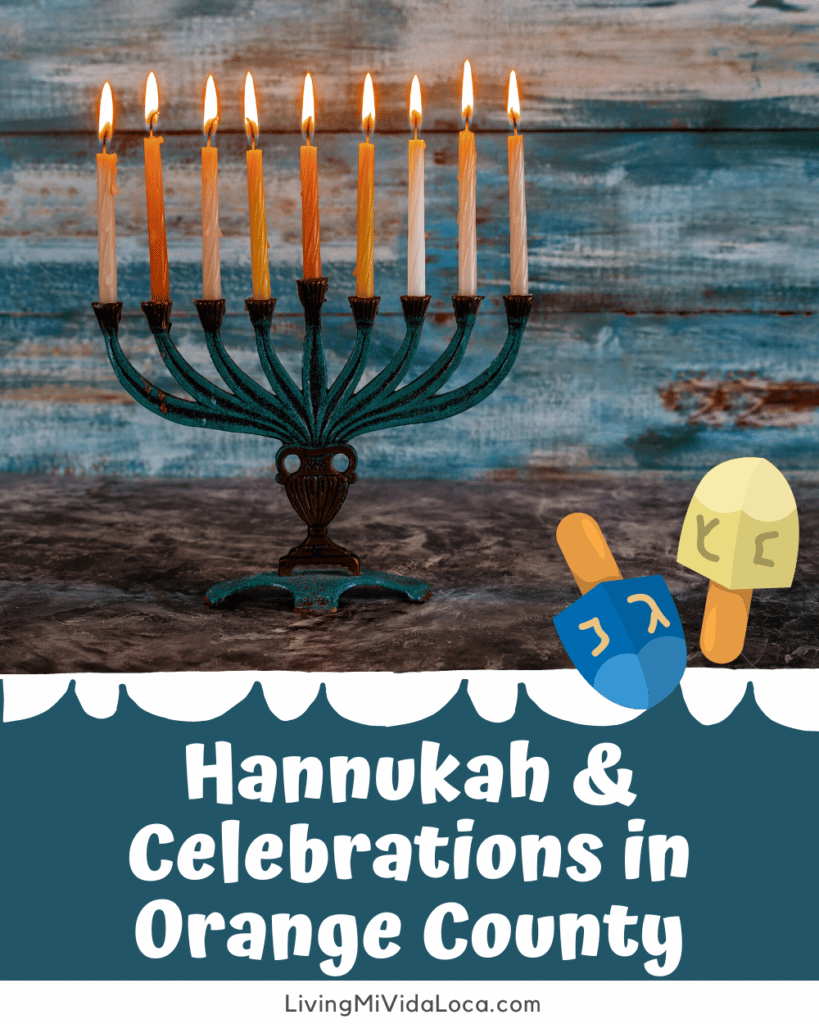 Hanukkah Events & Celebrations in Orange County
COSTA MESA
Menorah Workshop | The Home Depot- 2300 S Harbor Blvd
November 25, 2022 | 11:00am-1:00pm
Build your own Menorah, Free worker's apron, Channukah treats, fun for the whole family. Please reserve your spot online.
IRVINE
Hannukah | Pretend City
December 18, 2022 | All Day
Help your child learn about different cultures and holidays through arts and crafts, story time and movement.
Menorahs & Martinis | Irvine, Exact location upon RSVP
December 4, 2022 | 8:00pm
Design and create a beautiful menorah to light up your home.
Various Events | Merage JCC Orange County
Various events that include a Chanukah Boutique (Dec 1), Latkes and more (Dec 14) and Cookie Decorating (Dec 18). Contact the JCC for more information. You will need to sign up.
FREE Chanukah Bowl | Irvine Lanes, 3415 Michelson Dr
December 6, 2022 | 5:30pm
Join us for bowling and Menorah lighting, fun for the whole family.
LADERA RANCH
Menorah Lighting | Town Green, 28801 Sienna Pkwy
December 18, 2022 | 4:00pm – 6:00pm
Come join us as we celebrate Hanukkah as a community at the Ladera Ranch Festival of Lights on the last night of Hanukkah. This year LARCS is partnering with local organizations to create an evening of community with music, dancing, dreidels, crafts, candle lighting, and traditional Hanukkah snacks!
LAGUNA NIGUEL
Hanukkah Feast class | 30100 Town Center Drive
December 18, 2022 | 5:00pm-8:00pm
Get ready to start the celebration with your family by learning to cook up some holiday favorites. This class will cover the following: Potato Latkes with Chive Sour Cream, Honey Glazed Spiced Carrots & Roasted Brussel Sprouts, Classic Brisket with Roasted Onions, Sweet Noodle Kugel.
NEWPORT BEACH
Menorah Lighting | Fashion Island
December 2, 2022 | 3:30pm
Honoring 8 Holocaust survivors. Children's Choir, Channukah crafts, dreidels and doughnuts, balloon animals, face painting, gifts and treats for the kids.
Chanukah/Holiday Boutique | Temple Bat Yahm
November 20, 2022 | 9:00am-2:00pm
Take a peek as to who's selling unique items at the Chanukah/Holiday Boutique. Over 20 vendors attending.
PLACENTIA
Menorah Lighting | Placentia City Hall
December 1, 2022 | 6:30PM
RSVP: ocjewish.com/cityhall
SAN CLEMENTE
Chanukah at the Outlets | Outlets at San Clemente
December 20, 2022 | 4:00pm-5:00pm
Event includes:
– Stilt walker with Gelt and Dreidel parachute drop
– Balloon twisting
– Variety Show
– Hot Latkes
– Crafts for children
– Donuts
– Music
– and even more!
SANTA ANA
MENORAH LIGHTING | Main Place Mall
December 18, 2022 | Starts at 3:00PM
Celebrate the first night of Chanukah with MainPlace Mall hosted by Temple Beth Ohr today, Sunday, 12/18 at 3pm. There will be a Menorah lighting ceremony at our new Chanukah display in Center Court. You will also learn about the story of Chanukah and learn the significance of the menorah, dreidel and other Jewish customs and traditions.
TUSTIN
Menorah Lighting at Tustin City Hall | 300 Centennial Way
December 18 | Starts at 5:00PM
Join us for the Lighting of the Menorah at the Tustin City Hall Outdoor Courtyard.
Live Music, Latkes, Fun for the whole Family!!
YORBA LINDA
Hanukkah Celebration at the Nixon Library | 18001 Yorba Linda Blvd
December 11 | Starts at 10:15AM
Community Menorah Candle Lighting and Musical Performances by various community organizations.
OUTSIDE OF ORANGE COUNTY
Riverside
Chanukah Festival 2022 | Riverside County Historic Courthouse- 4050 Main St
December 19, 2022 | 6:00pm-8:00pm
You're invited to Riverside's 18th Annual Chanukah Festival! All Are Welcome, Free Admission Entertainment for the entire family. Join us to experience the joy of Chanukah like never before!
Los Angeles
Five Senses of Hanukkah | Skirball Cultural Center- 2701 N Sepulveda Blvd
December 2, 2022 | 7:00pm
Dwell in community and explore the ways Hanukkah reflects many of the values we hold most dear in Jewish and American life.

Inspired by the book "A Festival of Light: The Meaning of Hanukkah" and led by its authors Paul Small and Josh Freeman, this program fuses music, art, poetry, traditional foods, and holy oil rituals to create a moving and multisensory experience centered on the Jewish value of charity.
Hanukkah Festival | Skirball Cultural Center- 2701 N Sepulveda Blvd
December 18, 2022 | 2:00pm-5:30pm
Make Hanukkah memories at the Skirball! Beloved klezmer rockers Mostly Kosher headline this year's festival with support from Dublab DJ Callie Ryan and dance leaders Bruce Bierman and Gilberto Melendez.

Plus, the Skirball Storytellers bring the Hanukkah story to life with a theatrical performance featuring music and puppetry. Share a plate (or two) of latkes and jelly doughnuts, strike a pose in a holiday-themed photo booth, and light up the night with a handcrafted torch-making activity. At sundown, join your light with ours for a joyous community candle lighting. Walk-ups welcome on a first-come, first-served basis.
Hanukkah Magic at The Point | The Point Shopping Center- 850 S Pacific Coast Highway
December 11, 2022 | 1:00pm-3:00pm
Celebrate Hanukkah magic with noshes, nibbles, balloon animals, magic & crafts. Meet the world's cutest Judah Maccabee and experience holiday mischief to knock your socks off! This event is free and open to the public.
Home for the Holidays | 5628 Vineland Ave
December 20, 2022 | 8:00pm-10:00pm
In this show inspired by A Christmas Carol, a family grapples with the grief of losing a beloved grandfather as the holidays begin. As Monica and David prepare their family for celebrating both Hanukkah and Christmas, siblings Veronica and Ben fight with them and cancel the holidays. After the tweens try to sneak out of the house, their grandfather Jim's ghost appears and kidnaps the kids for a time traveling reckoning – from the very first night of Hanukkah to their family's future celebrations. To get out of time and go home, the siblings must learn the true meaning of the holidays and traditions their family celebrates.
Whether you identify as Jewish or not, we hope you take the time to learn about other cultures and their traditions because it is the appreciation of diversity that will make us a stronger community.
For more Jewish celebrations of Hannukah, we invite you to visit this list of Orange County Jewish synogagues to inquire about how they're celebrating. Happy Hannukah!
Originally published on November 7, 2022. Last Updated on January 8, 2023 by Pattie Cordova