Cabazon Dinosaurs Christmas : Santa Rex
You can go to Cabazon Dinosaurs Christmas now through the end of the year to take photos with Santa Rex, Mrs. Claus-o-saurus and their new dinosaurs!
The Cabazon Dinosaurs have long been regarded as one of the most iconic roadside attractions. Featured in cult classics such as Pee Wee Herman's Big Adventure and The Wizard, the dinosaurs have staked their place in pop culture.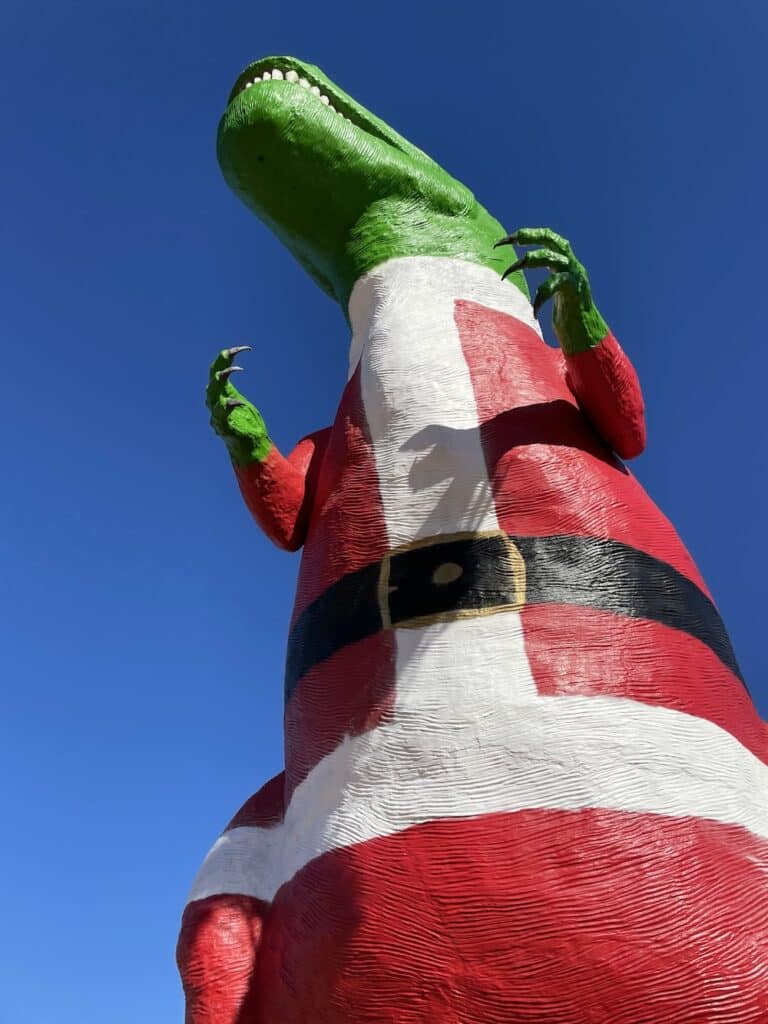 Go inside the Cabazon Dinosaurs Christmas edition
Going inside the Cabazon Dinosaurs is a lot of fun… and a lot of tiny stairs.
The winding stairwell has a lot of tiny steps all leading to the inside of the T-Rex's head.
From inside the mouth, you can have a scenic view of the highway, and below.
Admission inside the Cabazon Dinosaur T-Rex is included with your ticket.
How to see the Cabazon Dinosaurs without paying
You can still take pictures with both the Cabazon Dinosaurs without paying by parking in the lot and grabbing a picture with them outside the event center.
The dinosaurs are not gated off, so you can really arrive whenever you'd like.
Nearby, you'll find some quick eateries in case you want to grab something to eat and eat it at the available picnic benches.
Photos with Santa at Cabazon Dinosaurs Christmas
Mr. Rex, Dinny and their more than 100 dinosaur friends provide perfect picture photo ops for you and your loved ones.  
Santa and his Sleigh will be available for pictures Friday, Saturday and Sundays 3 pm to 8 pm beginning Saturday, November 11, 2023.
See the dinosaurs in Cabazon glow at night
Their new 'Colorful Days of Dinosaurs' and 'Dinosaur Nights in Lights' is now open! Both these events feature 28 new life-size dinosaurs that are beautifully colored during the day and glowing at night. 
"Colorful Days of Dinosaurs" is open 9am until 5pm.
"Dinosaurs Nights in Lights" is open 5pm until 9pm.
Cabazon Dinosaurs ice cream 
Cabazon Dinosaurs ice cream is available on select days – usually during the weekends. There is a Wafflesaurus Truck located outside of Cabazon Dinosaur Park where you can purchase it on limited days.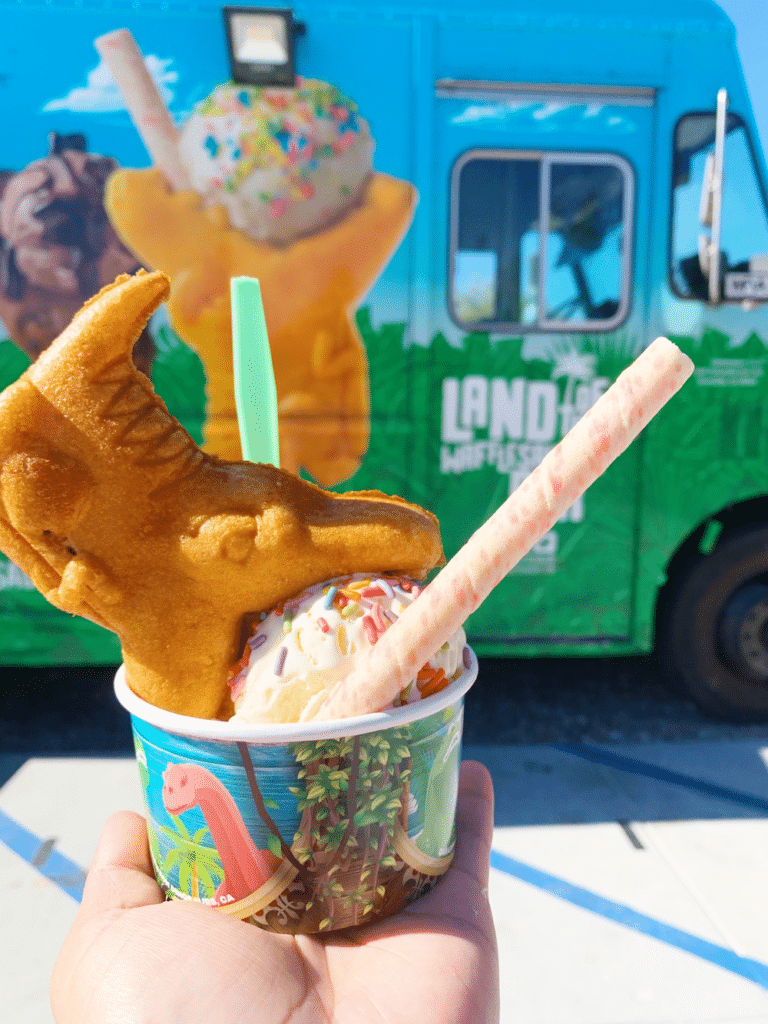 Ticket prices for Cabazon Dinosaur Park
Adults $15 Ages 13-55
Children $13 Ages 3 – 12
Seniors & Military $11
Cabazon Dinosaur Park Hours
Open to the Public Daily Hours: 9am-9pm (ticket sales end at 8:30pm)
Cabazon Dinosaur Address
50770 Seminole Drive, Cabazon, CA 92230 (909) 272-8164
Cabazon Dinosaur Park Gift Shop
Real Gemstone and Fossil bags are available in the gift store for use with their Panning Sluice.  Their gift stores are located in the museum and in the belly of the Apatosaurus, and carry a wide variety of dinosaur themed toys, jewlery, Cabazon dinosaur t-shirts, and more.
Thank you for reading! Stay updated on fun things to see, eat and do in Orange County by following us on Facebook, Instagram and TikTok!
Originally published on November 14, 2023. Last Updated on November 14, 2023 by Pattie Cordova