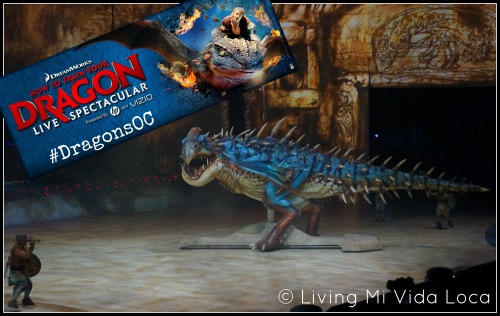 The How To Train Your Dragon Live Spectacular is truly magical, well choreographed and the technology utilized is really top-notch. The show features fire-breathing dragons, a few dance sequences and amazing video that is projected onto walls that allows characters to fully immerse into a fantasy world.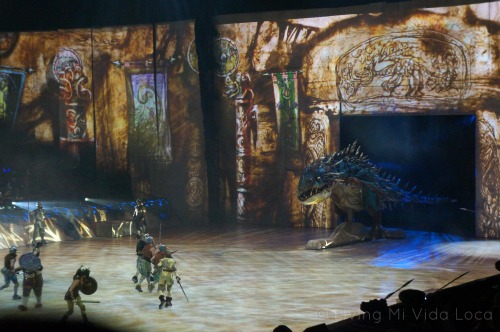 It's a family-friendly show made for kids and adults of all ages. Our family (2 adults and 2 kids – 5 years and a 19 month old) all truly enjoyed and found it to be the perfect length. It started a few minutes after 7 p.m. and it finished around 9 p.m. (with a 20 minute intermission in between). I will tell you though, it was pretty loud and some kids might get scared with the dragons, fire, noise, etc.
The actors and dancers were spectaculars and really gave it everything they had for the entirety of the show. "Hiccup" did a fabulous job of walking the wall and even from rows away from the stage, I felt that he cared for the "Toothless" (the dragon). There was also an incredible energy in the building that really had us cheering for both the vikings and the dragons. And if you're wondering if the dragons really were breathing fire and flying around the stage, the answer is YES!
I'm happy to share that there are still tickets available for the previously sold-out performances at the Honda Center. If you're looking to get a deal, here are two discount codes you can use:
RONALD – Get discount tickets as low as $15.50. Bonus: a $5 donation will be made to the Ronald McDonald House of Orange County.
MOM – Save up to 25% via Ticketmaster.com
This is one performance where you'll want to get merchandise available there. How to Train Your Dragon toys are a rarity because there weren't many produced. At our show, there were many goodies available for purchase, including a few that light up. The viking hats that light up were the best because they light up red and blue and so I would look out into the audience and see a lot of blue and red lights. So what did we get? A necklace ($8), a flashlight ($10) and a mug ($15) that will be used as a pencil cup.
I tried to take fabulous pictures for you, but per the vikings request, flash photography was not allowed so as not to bother the "dragons." So I tried my best and what you get is a slideshow I created especially for you with about 35 pictures that I took. It's under 3 minutes long and it'll give you a great idea of the fabulousness you can expect at the show.
How to Train Your Dragon Live Spectacular Slideshow
How to Train Your Dragon Sneak Peak

How to Train Your Dragon Live Spectacular will at the Honda Center until January 20th. Not in Orange County? Additional tour markets in 2013 will be announced soon on their website.

This is not a sponsored post. We received complimentary media tickets to attend the show. How to Train Your Dragon logo provided by Dreamworks. All thoughts and opinions remain my own.

Originally published on January 19, 2013. Last Updated on January 2, 2019 by Pattie Cordova