Order your pizza, get your popcorn ready and join the #HOMEMovieParty with la familia at home!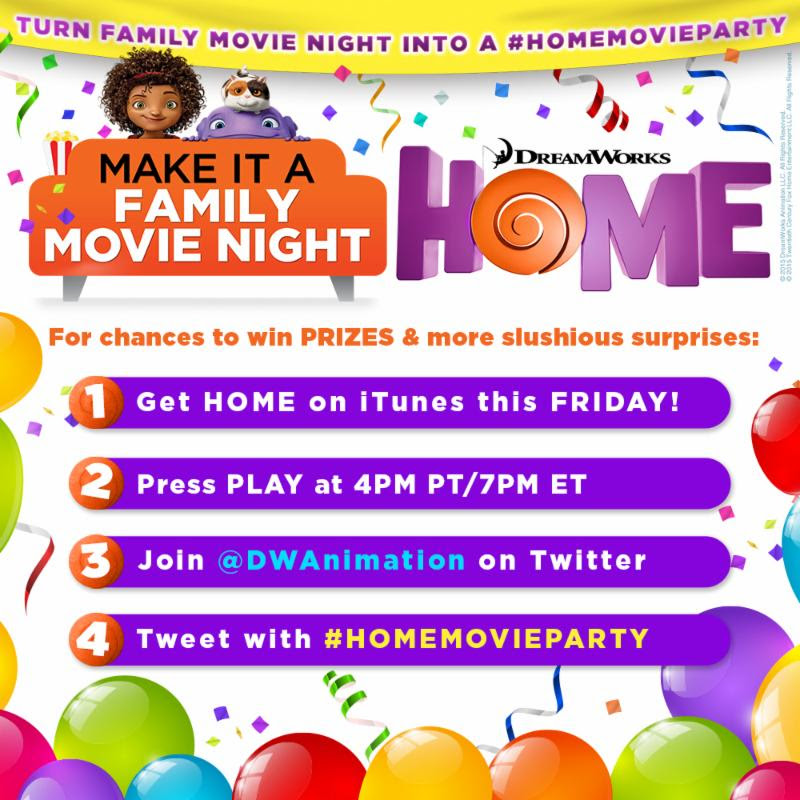 We've been fans of the film months before it officially released in theaters. Here on Living Mi Vida Loca, we have shared coloring sheets and our own movie review of the film, and now we're giving away a copy of HOME on Digital HD for one lucky reader to redeem and watch HOME at… home!
The HOME PARTY EDITION is Packed with over an Hour of Hit Music and Fun Dancing Content that will Get the Whole Family Shaking Their Boov Thing!
DreamWorks animated film "HOME" will be available for digital download as of Friday, June 26th and available at local retailers on July 28th.
DreamWorks Animation's HOME Blu-ray 3D™, Blu-ray™ & Digital HD includes:
Feature film in high definition
Special Features:
* Best Party Ever! – A Boov-tastic introduction, featuring a HOME montage and voiceover from Oh, inviting you to enjoy all the out-of-this-world extras!
* Party Play All – A Boov bonus meter fills up as you watch the fun-packed special features, leading up to an explosion of color and bubbles!
* Oh's Shake Your Boov Thing – Get up and dance with this exciting mash-up of feature footage and music that combines to create an exciting HOME dance video!
* "Feel the Light" by Jennifer Lopez – Music Video – Move and groove to the Boov beat watching Jennifer Lopez's hit music video from the HOME soundtrack!
* "Feel the Light" by Jennifer Lopez – Lyric Video – Watch Jennifer Lopez's hit music video with colorful on-screen lyrics to help you sing along!
* Oh's Boovy Jukebox – Oh's interactive jukebox includes 16 songs and will take you directly to all the magical music moments in HOME!
* Oh's Party Planning Tips – Oh's top tip's for party planning let you create an impressive Boov bash of your own!
* This is Being Boov – Get to know all about the Boov in this humorous, handy guide showcasing the characteristics of this unique alien species!
* Almost Home – See the trials and tribulations of the Boov on their journey across the galaxy, before they discovered Earth!
* Testing Lab – See how the Boov tested out some uniquely human items in their super-secret Boov testing lab.
* Deleted Scenes – The hilarious HOME adventure continues with 25 minutes of deleted scenes you couldn't see in theaters!
* Be an Artist! – Animator Andy Erekson introduces you to the HOME character drawing tutorials!
* Stars of Home – Meet the characters of HOME and the extremely talented human actors who voice them!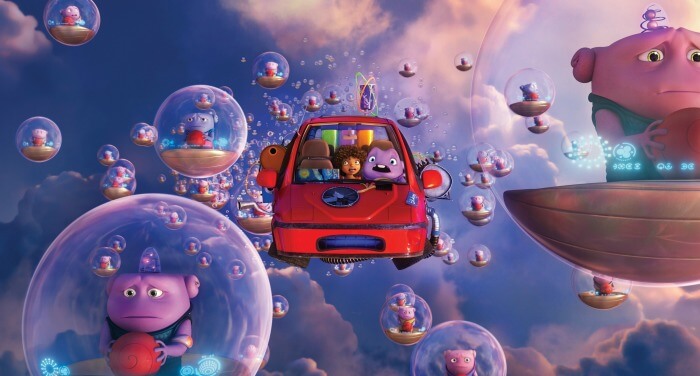 HOME on Digital HD Giveaway
We're giving away a copy of HOME on Digital HD! Codes are redeemable on iTunes. To enter:
1) Leave a comment below telling us if you've had a chance to see the film already.
2) Want an extra entry? Click the "retweet" button and leave the link to the tweet below.
Enter for a chance to #win HOME on Digital HD & join the #HomeMovieParty ! http://t.co/vggsyZEm1U via @PattieCordova pic.twitter.com/mBPBEZ0JT7

— Pattie Cordova (@PattieCordova) June 26, 2015
Giveaway ends on Friday, June 25 at 3 p.m. (PST) Code will be emailed to the winner then. ¡Buena suerte!
Originally published on June 25, 2015. Last Updated on January 2, 2019 by Pattie Cordova