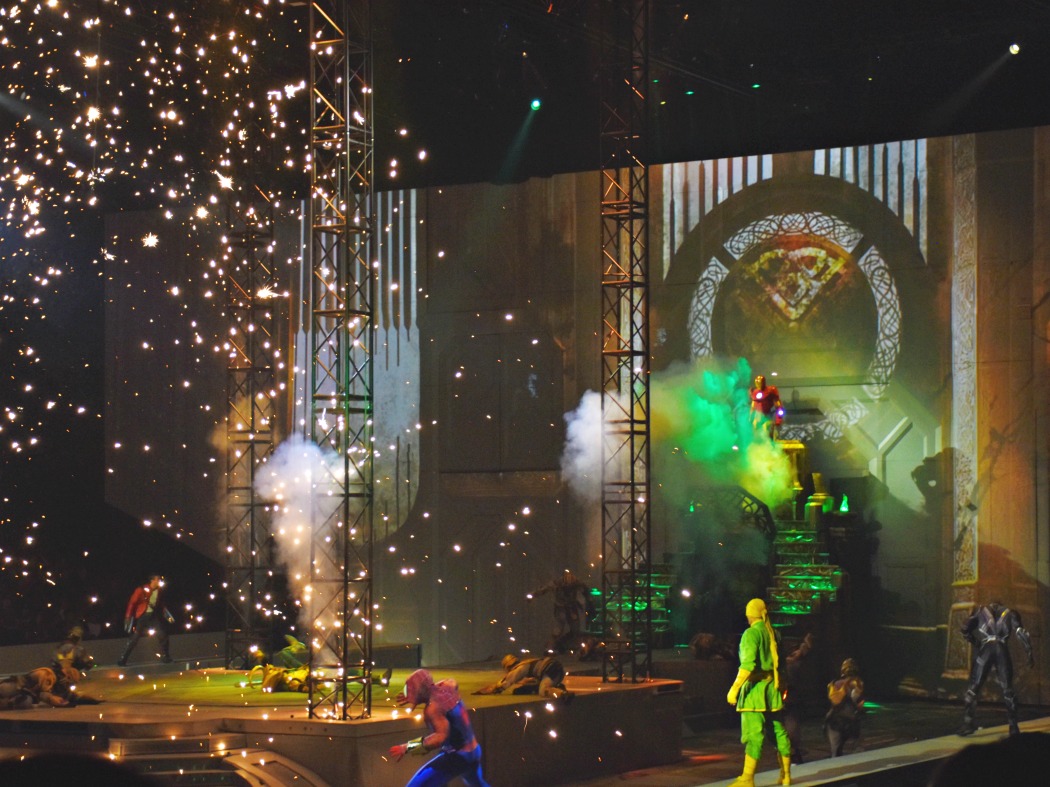 We were invited to attend Marvel Universe LIVE! Age of Heroes at the Honda Center last night, and we had A BLAST!!! It was SO much fun to see all of our favorite Marvel characters on stage, doing stunts, with special effects, and a fun storyline.
Super hero action, thrills and drama will soar, smash and burst into arenas across the country starting this summer with the debut of the all-new action-packed adventure Marvel Universe LIVE! Age of Heroes.The iconic Marvel Super Heroes Spider-Man and The Avengers are joined by the Guardians of the Galaxy, including Star-Lord, Gamora, Groot, Rocket and Drax, in a legendary battle to defend the universe from evil.
Marvel Universe LIVE! Age of Heroes will be playing at Honda Center in Anaheim AND you can get up to 20% off select performances when you use code MOM20. Visit MarvelUniverseLIVE.com to get your tickets!
Earlier this week we were also invited to get a backstage first look to the show and the chiclets had a blast. They were able to try on some costume props, meet a few of the cast members and see some of their stunt moves (and they even learned a few of their own!). It was a great pre-cursor to the show.
About Marvel Universe LIVE!
Called on by Doctor Strange, the Guardiansof the Galaxyjoin Marvel Universe LIVE! Age of Heroeson a momentous crusade against the schemingNebula who teams upwith the conniving andloathsome villains Loki and Green Goblin.The incredible superhuman forcesof Iron Man, Thor, Black Panther,Hulkand Black Widowwill unitein clashes that pit student against mentor, sister against sisterand brother against brother.
Immersive video projection and cutting-edge special effects will captivate and transport audiences across the universe from the fantastical Savage Land to New York City and beyond. Spider-Man and Wasp's dynamic aerial stunts along with Captain America's daring motorcycle skills will be on display in the ultimate race against time to save mankind.
Ticket and Show Information
WHEN: Thursday, July 20- Sunday, July 23
Thursday, July 20 at 7:00 PM
Friday, July 21 at 7:00 PM
Saturday, July 22 at 11:00 AM, 3:00 PM, & 7:00 PM
Sunday, July 23 at 1:00 PM, & 5:00 PM
WHERE: Honda Center
2695 E. Katella Avenue, Anaheim, CA 92806
TICKETS:
Tickets start at $25 each
Tickets available for purchase online at Ticketmaster.com, charge by phone at 800-745-3000 or in-person at the venue Box Office
Ticket prices subject to change; tickets may be subject to service charges, facility and handling fees.
Special Discounts
Select performances offer up to a 20% discount. Simply type in the offer code MOM20 at checkout. It expires July 23, so take advantage and don't miss out on this special offer!
Originally published on July 21, 2017. Last Updated on March 24, 2021 by Pattie Cordova