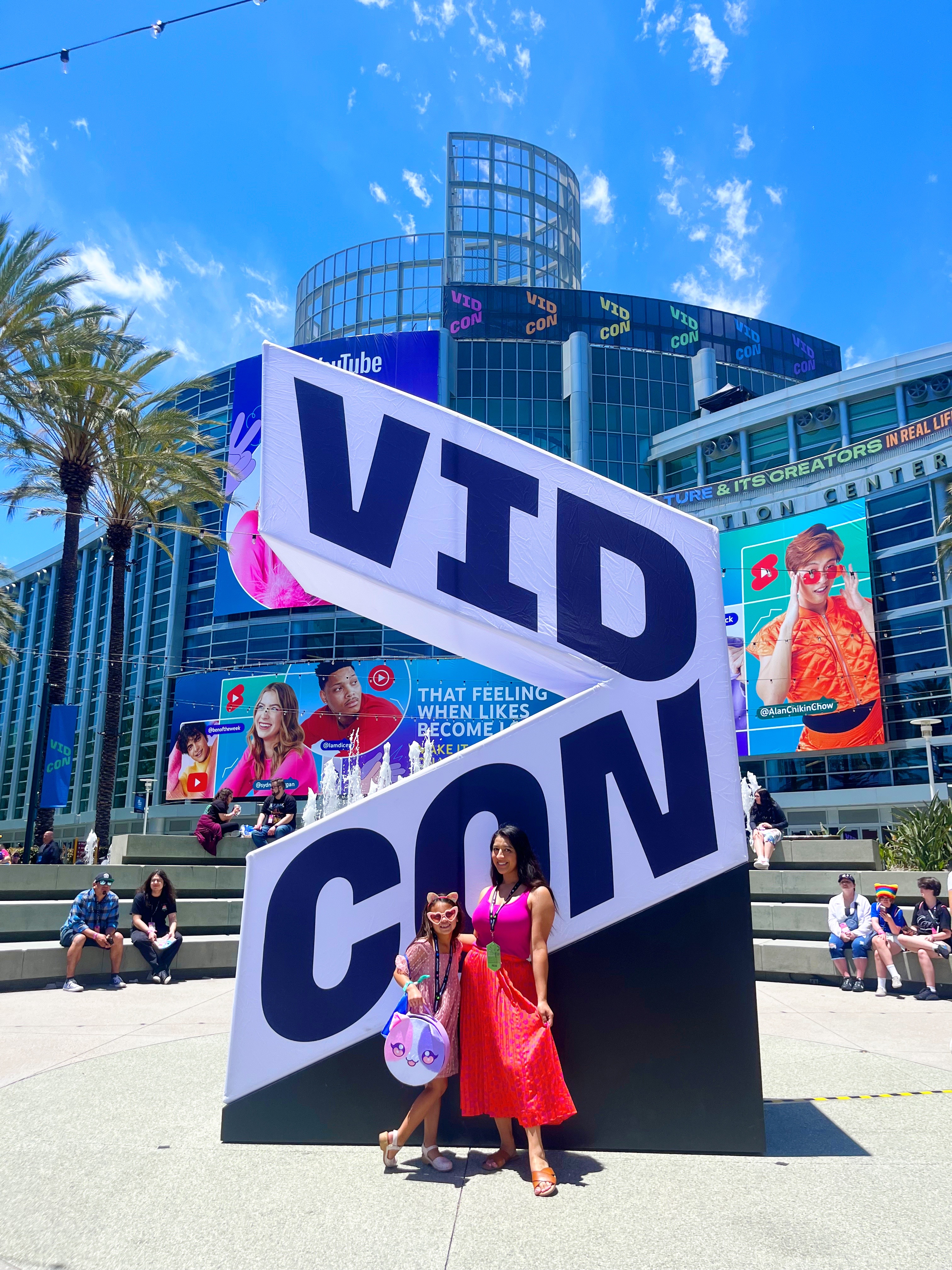 5 tips for attending VidCon at Anaheim Convention Center
Get your ring lights and tips ready! We're sharing 5 tips for attending VidCon at Anaheim Convention Center – the annual extravaganza for creators, fans, and digital enthusiasts.
VidCon was held in Orange County, and it was the ticket of the year for digital creators and consumers alike.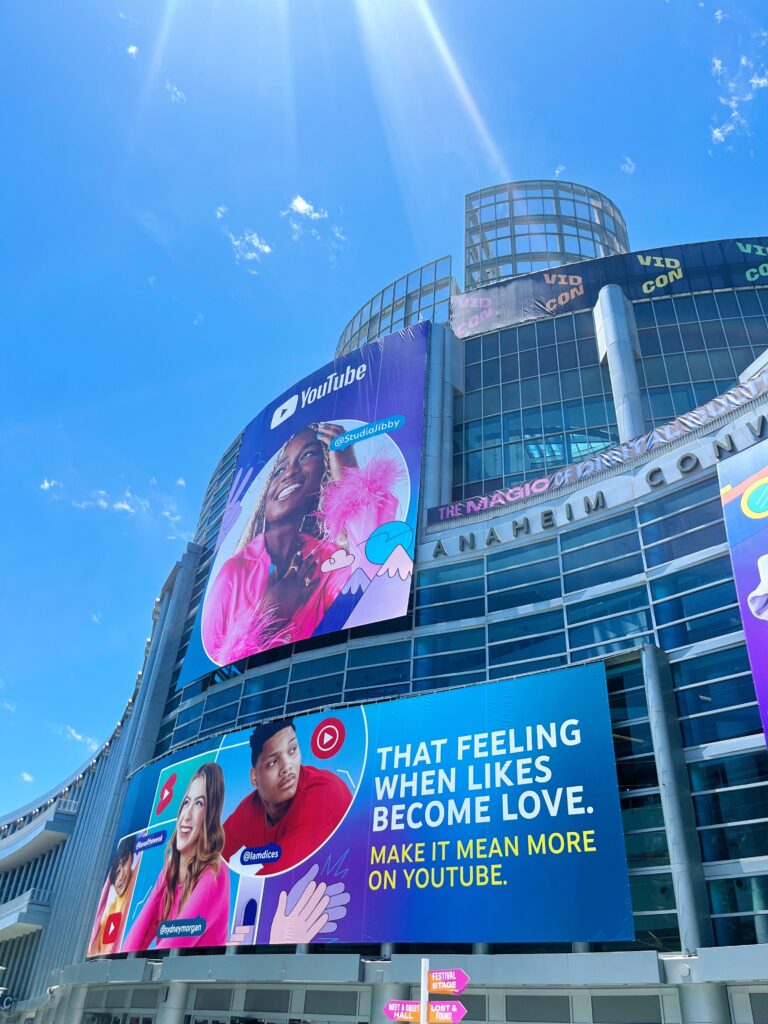 This fun event was held at the magnificent Anaheim Convention Center. There were thousands of content creators from YouTube, TikTok, Instagram, and beyond.
We saw our favorite online personalities up close and personal, talked to them and took pictures with them.
VidCon provided a unique opportunity to connect with the stars of the digital realm.
This year, VidCon 2023 happened June 21st through June 24th, and it was a great event to attend and to start off summer break!

5 tips for attending VidCon at Anaheim Convention Center
Here are 5 tips for attending any convention in Anaheim Convention Center.

If you have a Disney Magic Key pass, try parking at the Toy Story parking lot. Depending on your pass you'll be able to park there for free or get a discounted rate. It's right across the street from Anaheim Convention Center.
Arrive early. You'll want to avoid long lines, and it helps if you know where you want to go first.
Make sure you bring a portable charger or a charging cable with you. Anaheim Convention Center has many outlets for its attendees.
Bring your own snacks from home, especially if you're attending the convention on a budget.
Make sure to plan out your day, from panels you want to see, to booths you want to visit and photo ops you want to take pictures at. Lines can get pretty long.
BONUS: Download the app from the convention for information on the times and locations of your favorite YouTuber. They also have booklets around the convention to help you navigate your visit.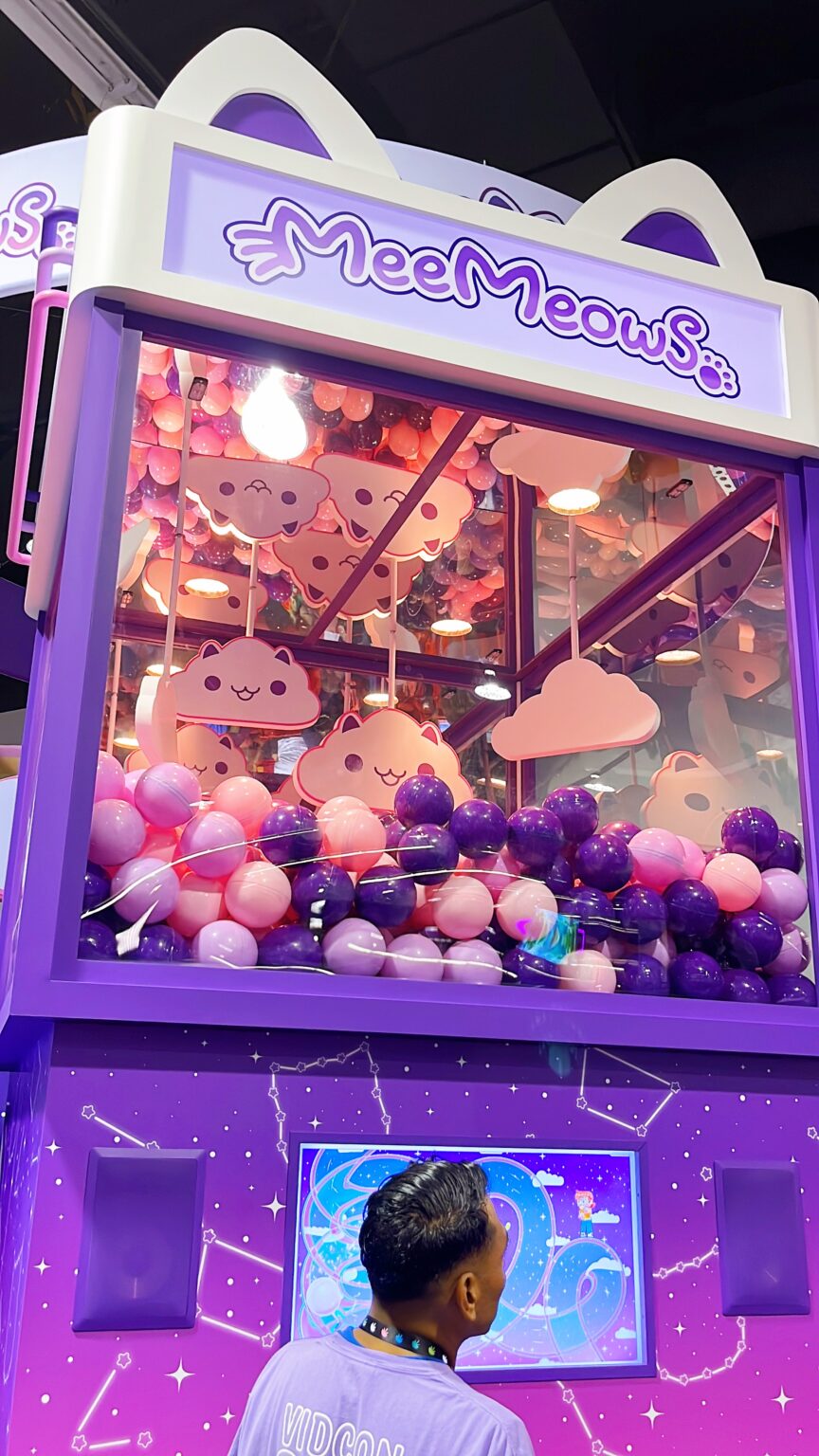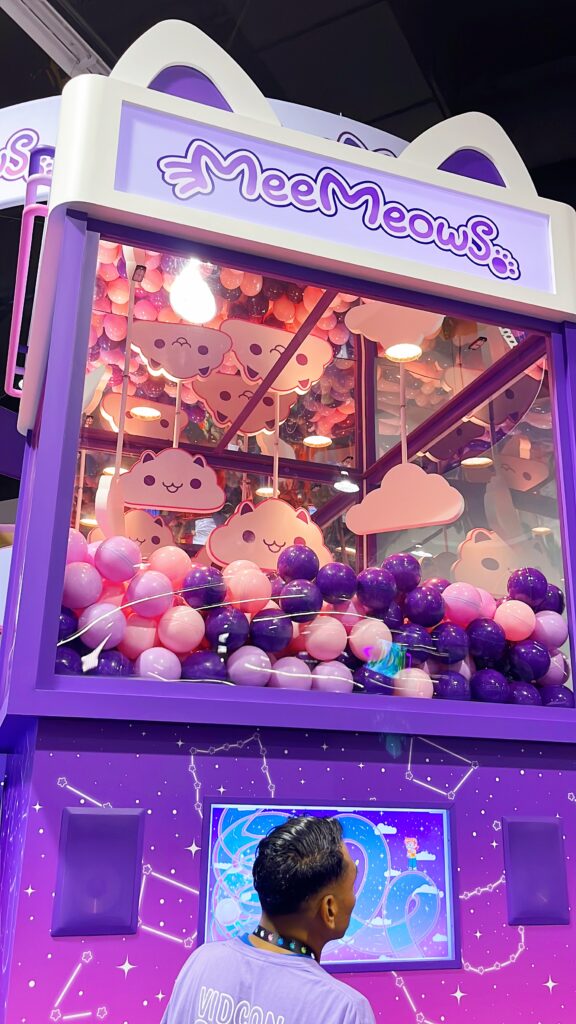 Our favorite spots at VidCon 2023
One of the biggest booths at VidCon, was the colorful and purple booth of Aphmua. They had a sparkly adorable photo op, some of Aphmua friends came to take photos with the attendees.
Did we mention they also had merchandise on hand? But it gets better! They had a giant Gumball toy machine and inside the giant gums are mystery plushies.
The line was insane, but that's why we said, "Come early to avoid long lines"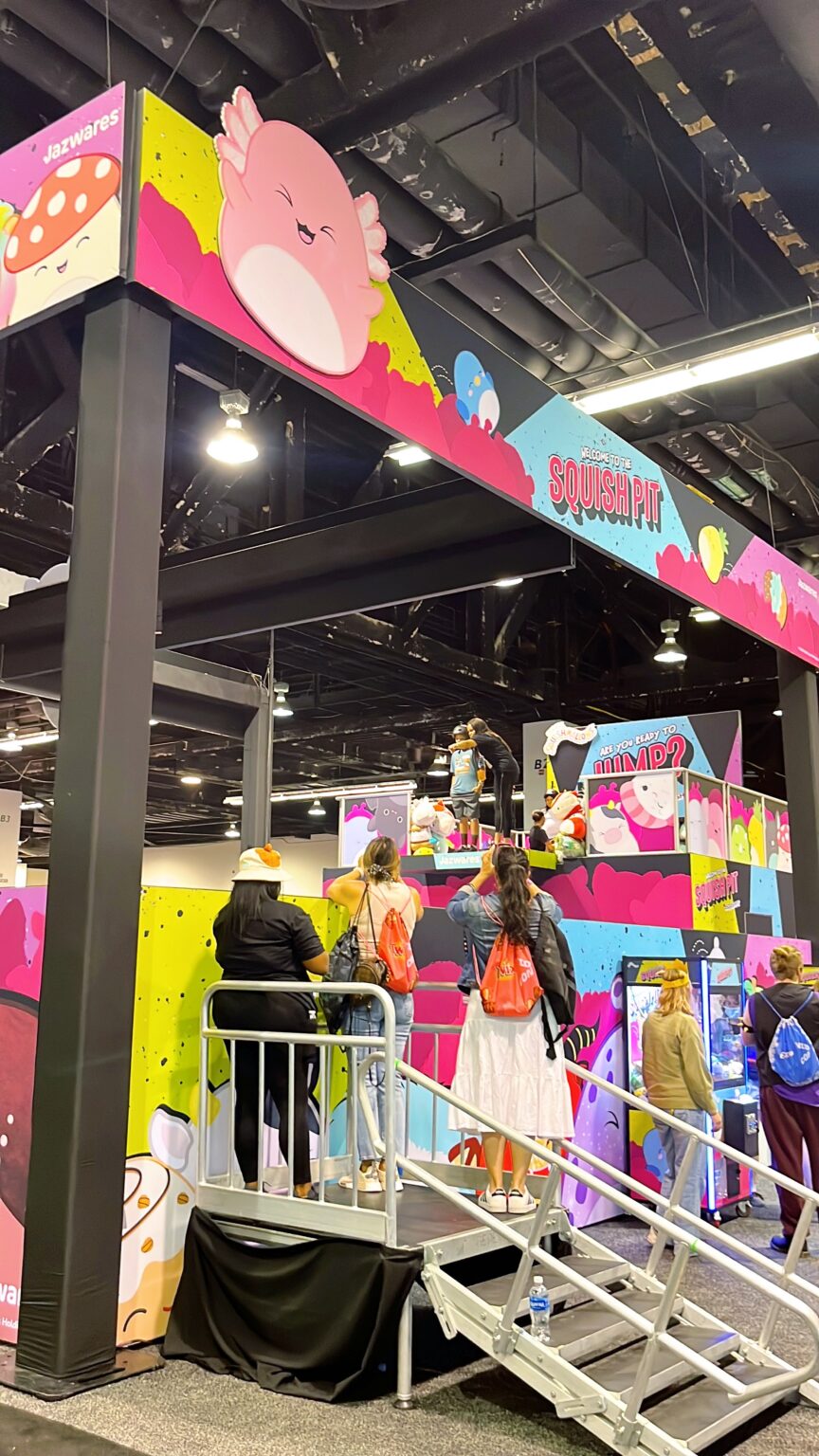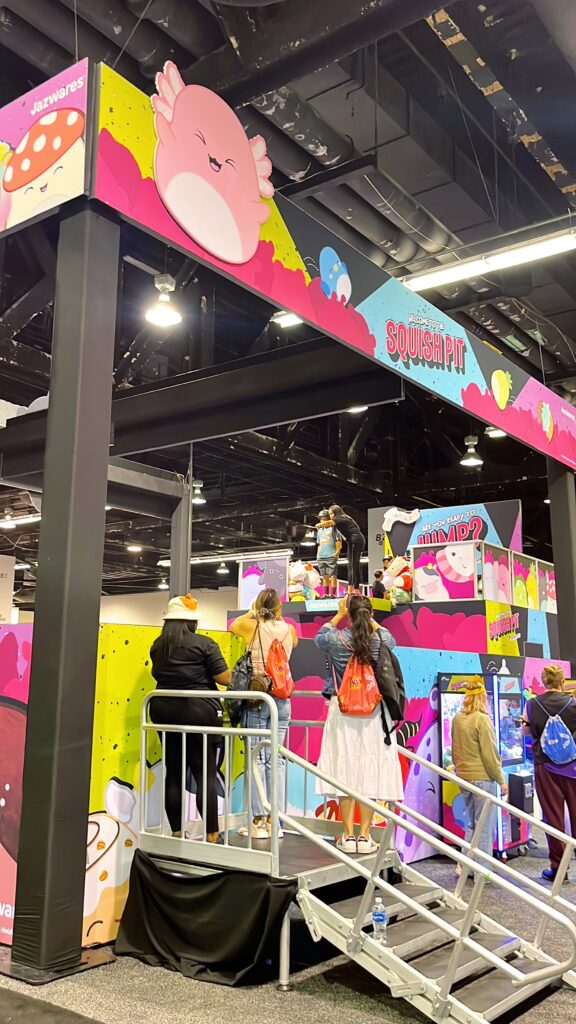 Another popular booth was the Squishmallows pit!
VidCon attendees are able to jump into a pool full of squishmallows and film their experience with a GoPro helmet.
Don't forget your free plushie after your jump. You can find more fun photo ops around the Squishmallows booth.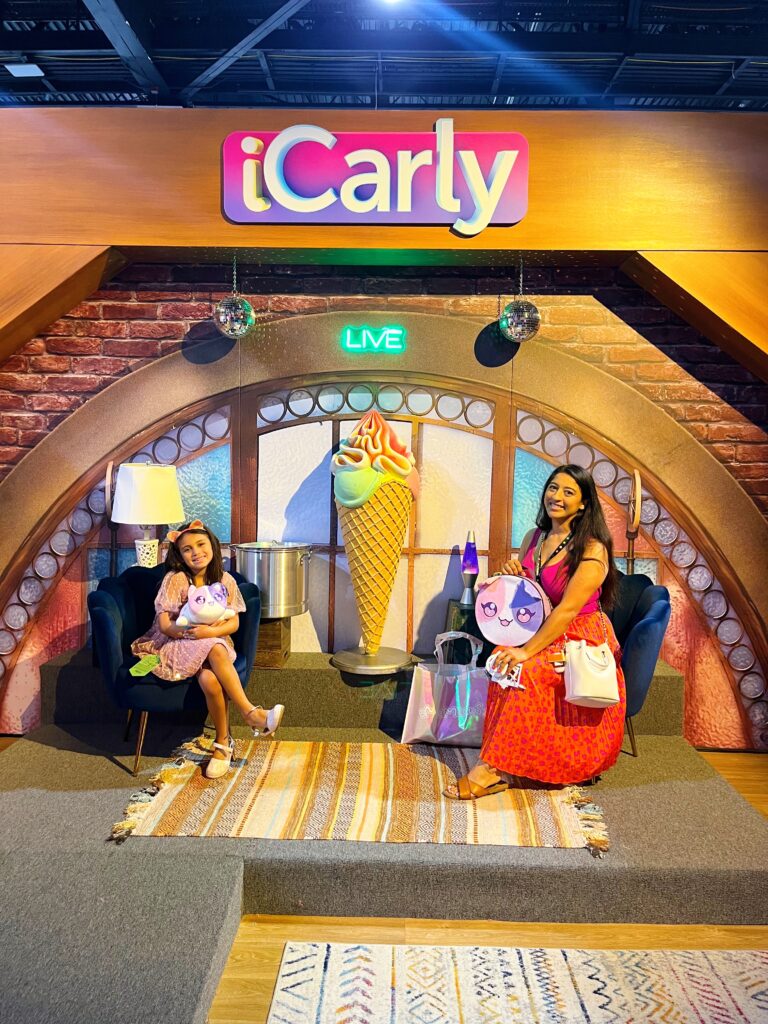 We loved our visit to the Paramount Plus "The Lodge" booth.
They have so many entertaining photo ops.
Before entering the Lodge, employees greet you with a personalized Paramount Plus portable ring light.
The Lodge has 5 Photo ops, Zoey 102, Paramount Plus Stage 23, ICarly, Krusty Krab, and Nickelodeon.
This is a must and worth waiting for photo op booth. We had so much fun taking pictures here! Employees took polaroid photos of you at each location.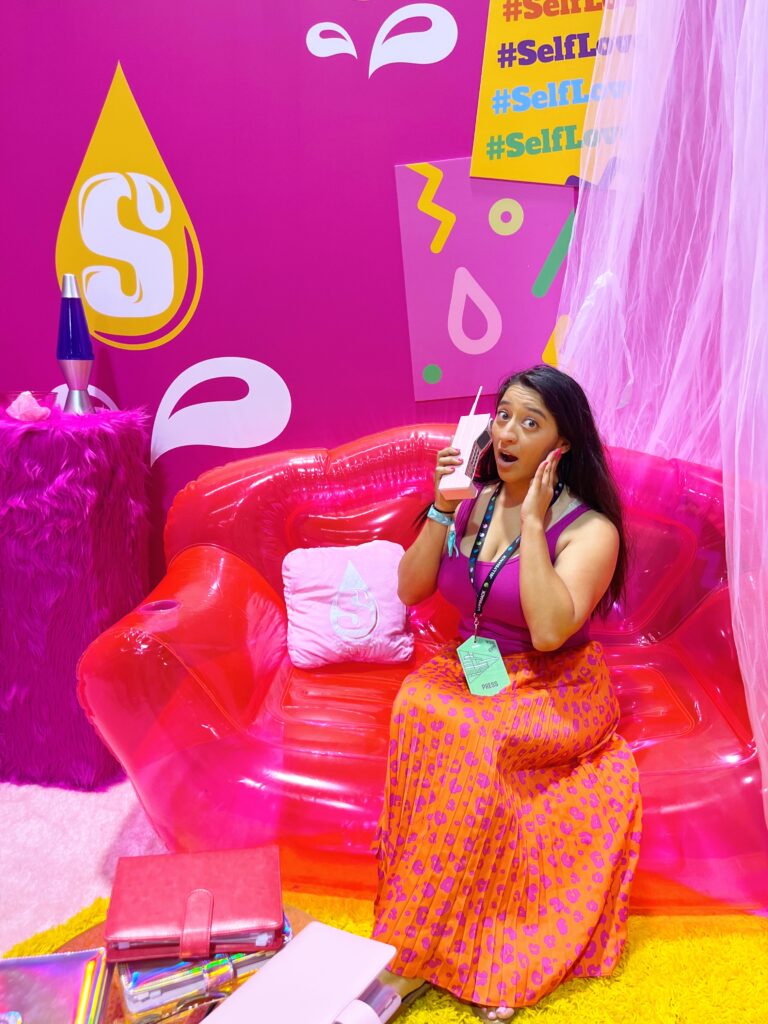 We have a sweet tooth so we visited Sweetfield Plaza, another Photo op booth.
This Sweet photo op took us back to a 90's mall filled with candy.
They have eight sections. Each section is a candy themed room: Twix Fountain, Extra Portrait Studio, Orbits Salon, Snickers Sporting goods, M&M's Music World, Starburt Pinkify, 5 Thrill Arcade, And Skittles food court.
We got a tour guide with a group and they assisted us with taking photos and making sure we are enjoying our time. They were so sweet to us.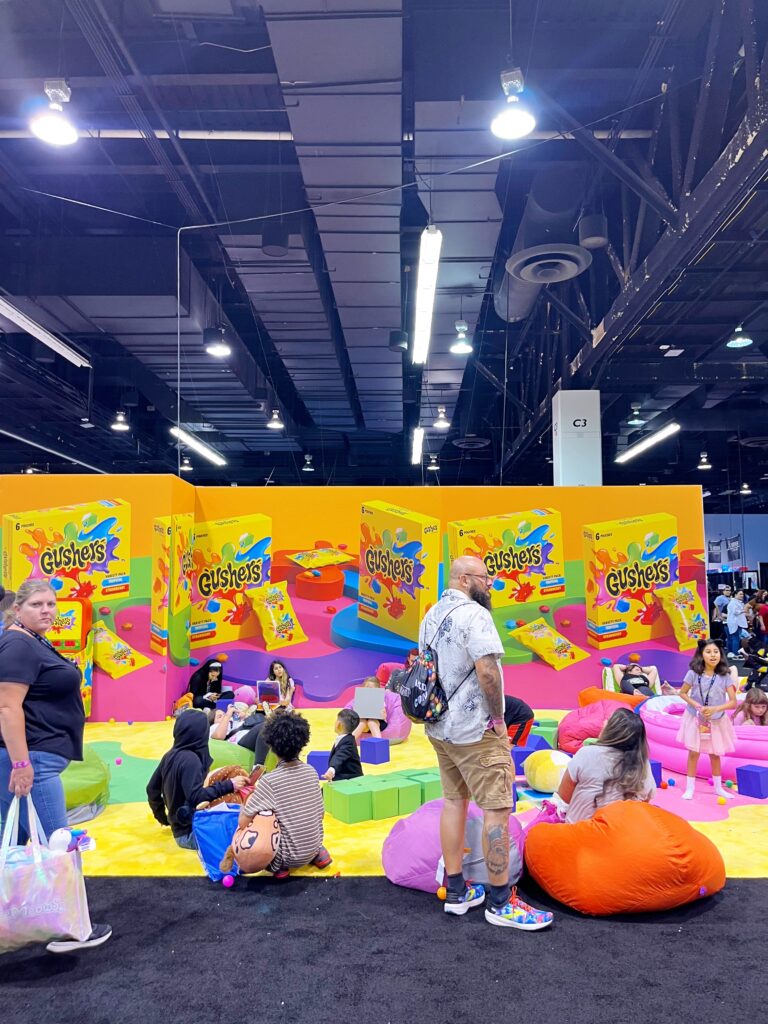 We know going to a convention can be exhausting. Thankfully, VidCon had many lounging areas for toddlers, kids, teenagers and adults.
This was such a great idea for everyone. These areas had lounge chairs, activities, toys for kids and a chance for us to rest our feet. This was such a fun event and we can't wait to visit again.
This is just one of the many fun things that Anaheim has to do (besides Disneyland).
Check out visitanaheim.org to plan your next visit to Anaheim.
Originally published on June 27, 2023. Last Updated on June 27, 2023 by Pattie Cordova