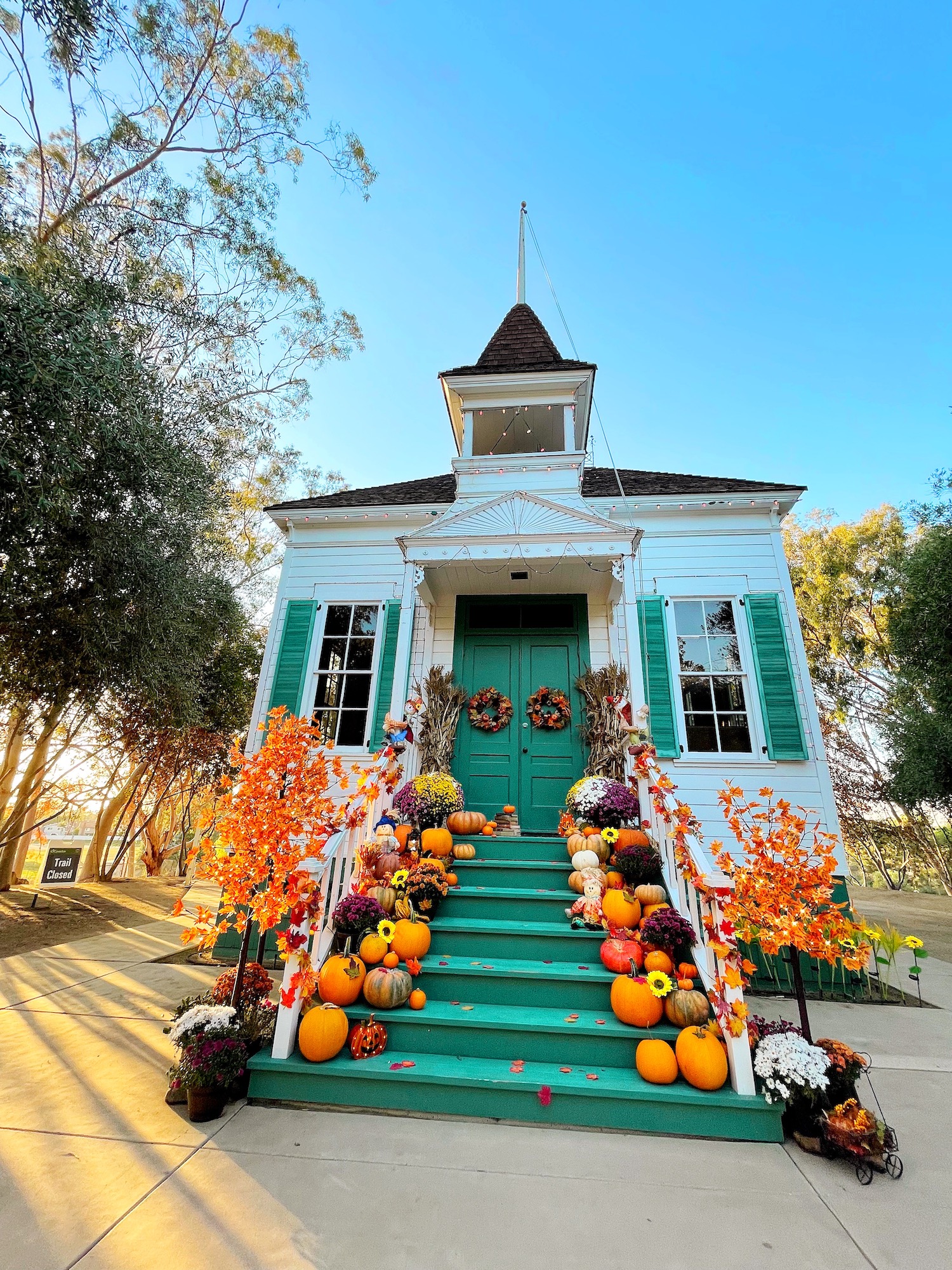 There are so many fun Halloween events happening in Orange County. We've done many, but it would be impossible to do them all!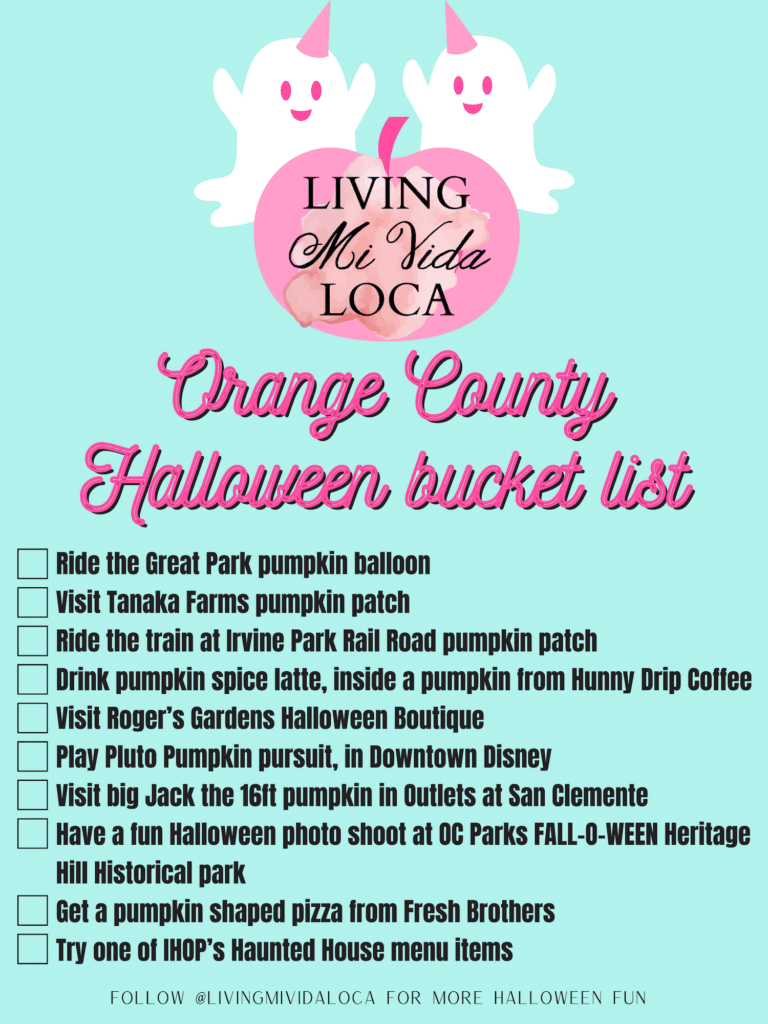 Instead, we chose some of our favorites to highlight in our Orange County Halloween bucket list. Check them out and let us know which one(s) you do! We can't wait to see.
Orange County Halloween bucket list
Ride the Great Park pumpkin balloon
Riding the pumpkin balloon ride is FREE! Must register in person at the visitor center. First come first serve.
🗓 Thurs-Fri
⏰10am-3pm | 7pm-10pm
🗓 Sat-Sun
⏰9am-3pm | 7pm-10pm
CLOSED Mon-Wed
Free parking, visitors center has tickets for carousel, charging area, and a snack area which the store is only open Fri-Sun
Visit Tanaka Farms pumpkin patch
🎃OPEN DAILY FROM 9AM – 6PM. ENTRY GATES CLOSE AT 5:30PM. *
🎃No reservations are needed Monday thru Thursday, or Friday before noon. Parking Passes are required Fridays starting at noon, Saturdays & Sundays.
🎃*Parking lot opens at 8:30am, Pumpkin Patch Entry Gates open at 9am.
Pricing:
General Admission: $6 per person (2 years and under are FREE, Military is FREE)
Unlimited Wagon Rides: $6 per person
Barnyard Educational Exhibit: $6 per person
Value Package (Save $2! Includes Entry, Wagon Ride, & Barnyard): $16 per person
Parking Pass: $10*
Ride the train at Irvine Park Railroad pumpkin patch
Such a Fall favorite!
🎃OPEN 7 DAYS A WEEK (weather permitting)
September 18 – October 31, 2021
Weekdays 10:00 am – 5:00 pm
Weekends 9:00 am – 6:00 pm
🎃ENTRANCE TO THE PUMPKIN PATCH IS FREE
Activity tickets are $6.00 each
Book of 15 tickets are $80.00 ($10.00 savings)
🎃IRVINE REGIONAL PARK ENTRANCE FEE
Weekdays $3.00 per vehicle
Weekends $5.00 per vehicle
Holidays $7.00 per vehicle
Drink pumpkin spice latte, inside a pumpkin from Hunny Drip Coffee
Head over to Hunny Drip Coffee for their adorable and very delicious pumpkin spice latte in a mini pumpkin! It was amazing! 🎃
$6.75
257 S Euclid St, Anaheim, CA 92802
6am-5pm
(714) 845-9533
Visit Roger's Gardens Halloween boutique
Such an Amazing work! Starting off with the Bates Motel, the swamp monster, Frankenstein and his bride, the Mummy, 🧛🏽‍♂️ Dracula and Annabel
So much to see! We loved it all, parking is free and event is free as well. So many photo ops!
📍2301 San Joaquin Hills Rd
Corona Del Mar, CA 92625
⏰9am-6pm
Play Pluto Pumpkin pursuit in Downtown Disney
Pluto's Pumpkin Pursuit at Downtown Disney! This is such a family activity to do with the family!
Playing card is $10 each, pumpkins are scattered through out DTD (13 pumpkins)
You can choose to get your tumbler first and then go for the hunt or have your surprise tumbler at the end of the hunt.
4 different tumblers to choose from.
Ends November 7th, 2021
Visit "Big Jack" – the 16ft pumpkin in Outlets at San Clemente
So many fun pictures you can take against "Big Jack"!
Have a fun Halloween photo shoot at OC Parks Fall-o-Ween Heritage Hill Historical Park
We visited Heritage Hill Historical Park in Lake Forest for their inaugural Fall-O-Ween event. We had such a fun time running around taking pictures at all the fun photo opportunities, checking out the gorgeous scenery decked in lights, and enjoying the Fall and Halloween season at this beautiful Orange County park.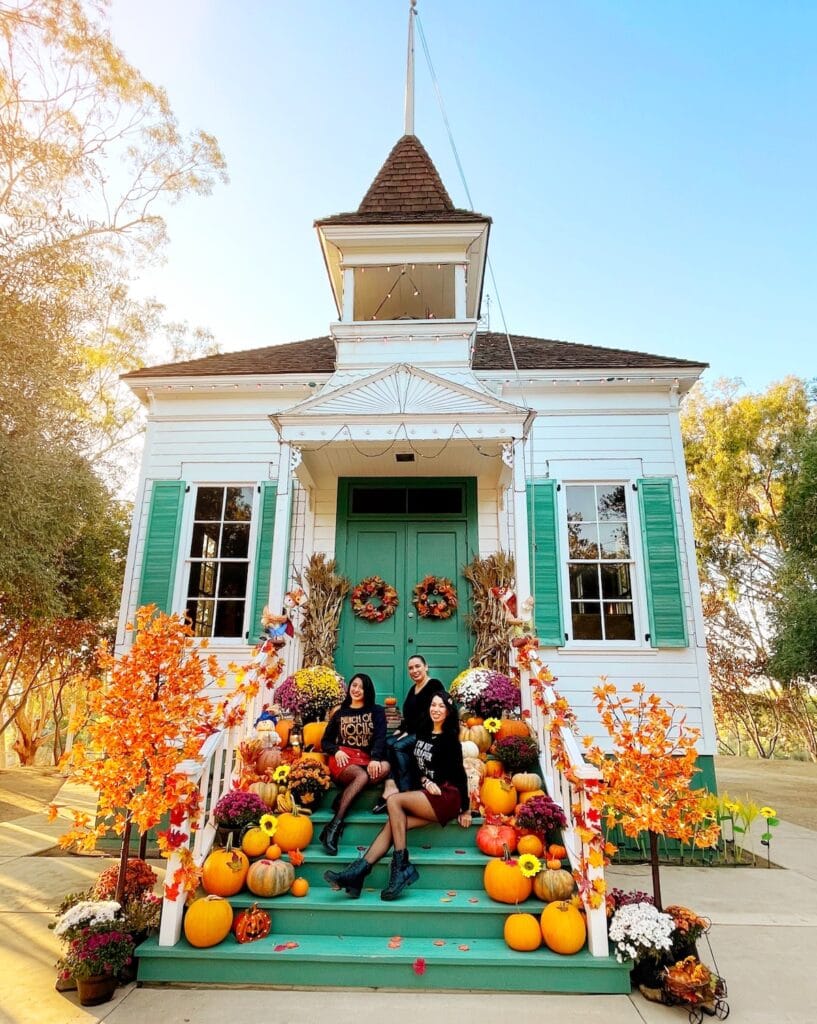 Get a pumpkin shaped pizza from Fresh Brothers
Pumpkin shaped pizza from Fresh Brothers perfect for scary movie nights!
Try one of IHOP's haunted house menu items
IHOP International HAUNTED house of pancakes. They have such yummy fun breakfast for this spooky season!
Kids loved decorating their scary face pancake.
There you have it! Don't forget to tag us in your pics! We're @LivingMiVidaLoca on Instagram and Facebook, @LMVLblog on TikTok and Twitter.
Did we miss one? Email ([email protected]) or message us on Facebook or on Instagram.
Thanks for reading! If you found this post helpful, please consider sharing it with a friend! 
Originally published on October 19, 2021. Last Updated on June 4, 2023 by Pattie Cordova