We visited Heritage Hill Historical Park in Lake Forest last year for their inaugural Fall-O-Ween event. We had such a fun time running around taking pictures at all the fun photo opportunities, checking out the gorgeous scenery decked in lights, and enjoying the Fall and Halloween season at this beautiful Orange County park. We are so happy to see that it's coming back for 2023!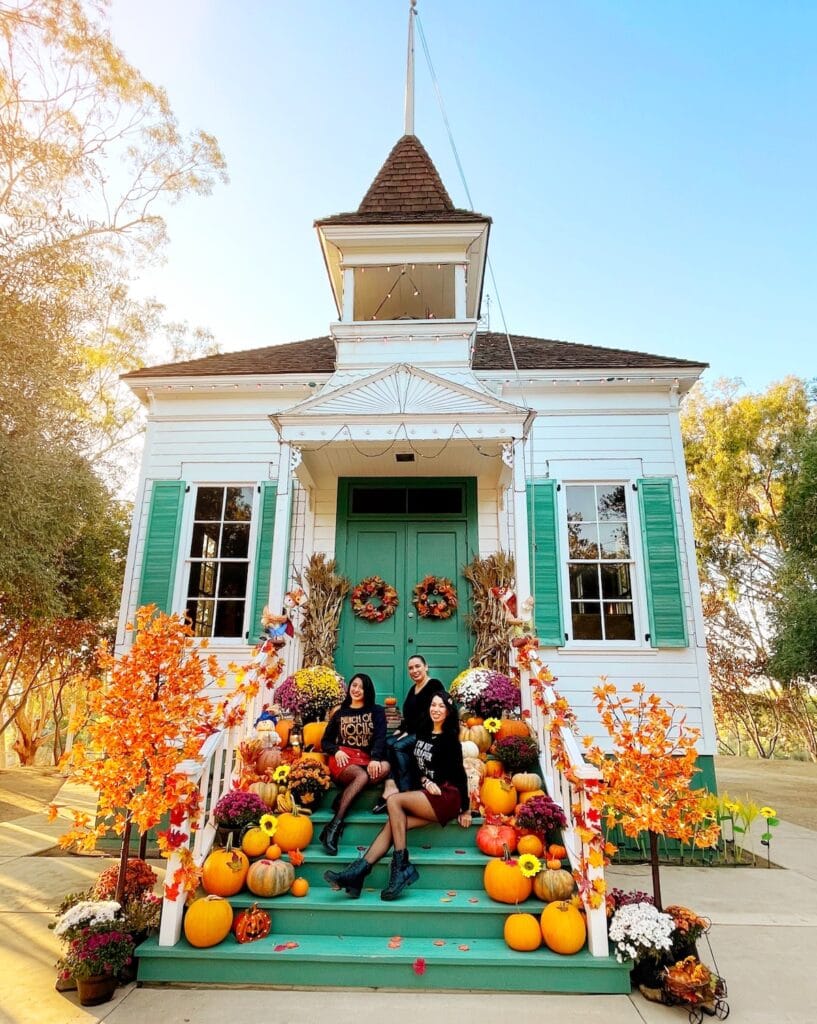 It's gotten to be a habit for us girls to dress for the photo opps, and last year was no different. We chose dark Fall colors to complement the beautiful settings available to us.
Top our outfits with the perfect golden hour lighting and we were in pure Fall heaven.
There are so many fun Halloween events happening in Orange County this year, and we were happy to check out Fall-o-Ween in person.
As you go into the park, you are encountered with a hay maze that kids (and dogs!) will like to go through over and over again.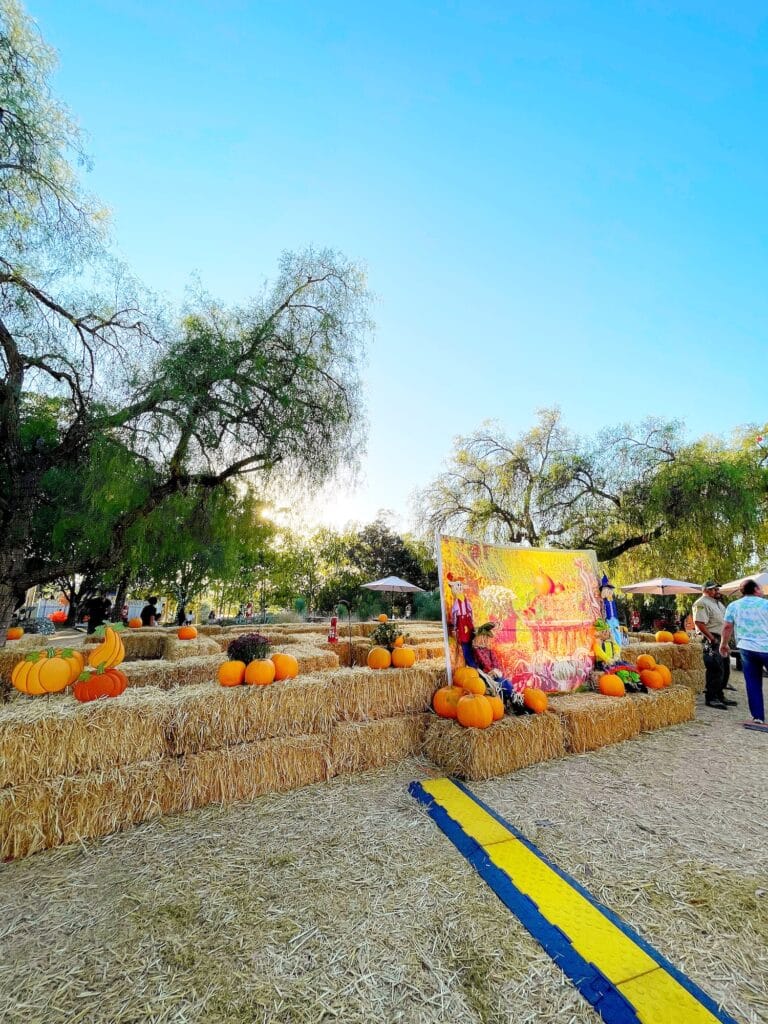 Once you're out of the maze, stop for a moment to take pictures on the hay! It's a fun picture against all the hay.
As you walk outside of the hay maze, stop and check out the haunted wagon. It's picture perfect with all the cool skeletons and pumpkins.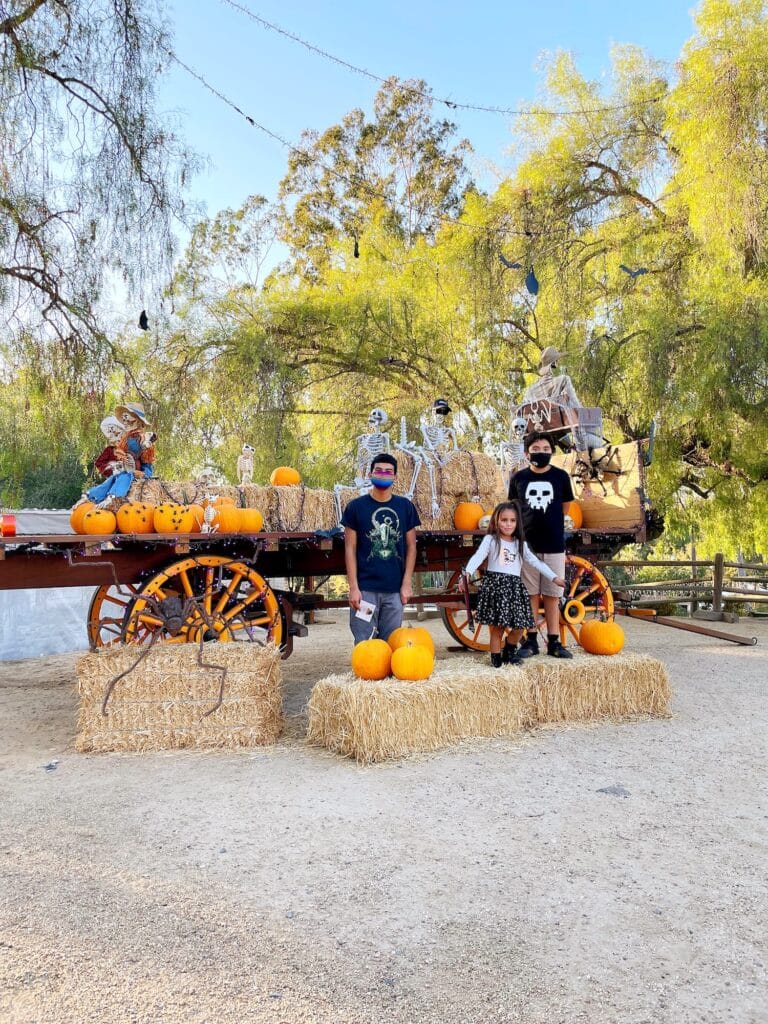 Down the stairs you'll find a creepy looking cemetery.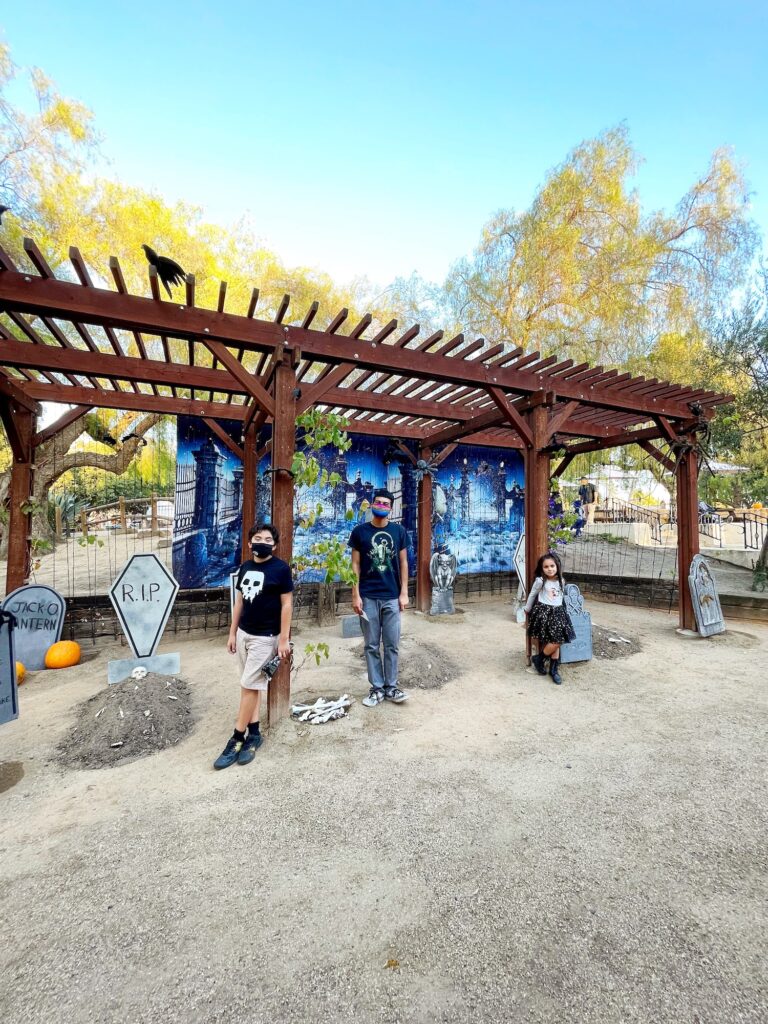 A little beyond that is our favorite photo opportunity – the old school house.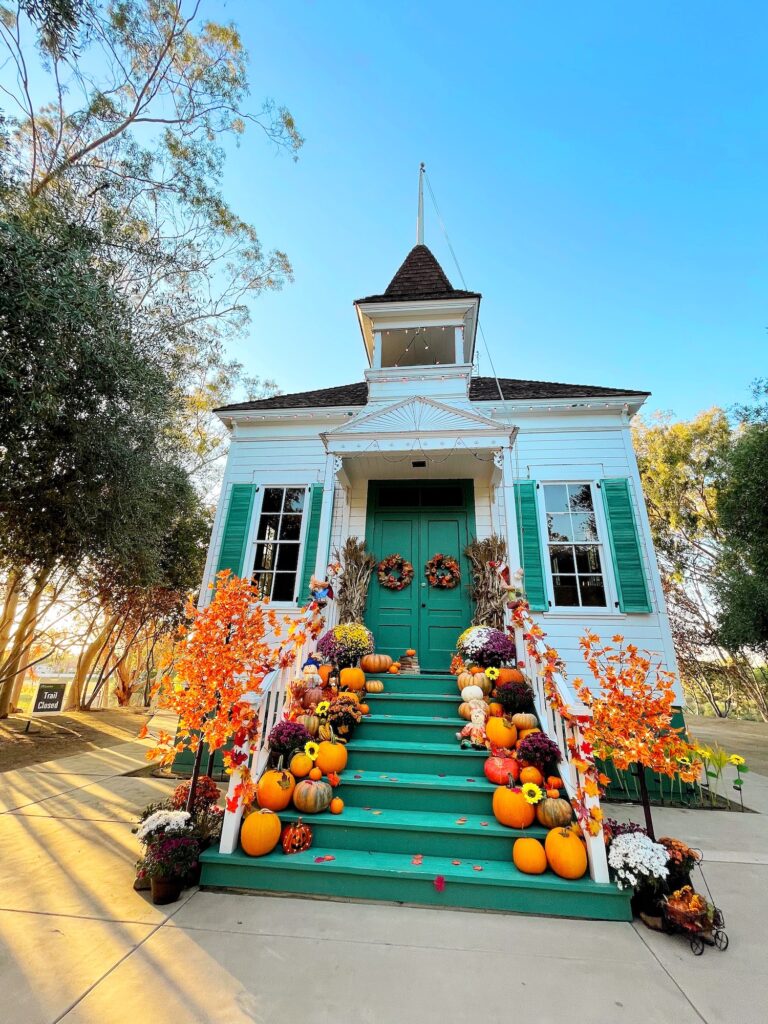 For this shot we zoomed out on our iPhone to capture the entire school house. We were there around 5:30 for the most beautiful golden hour lighting.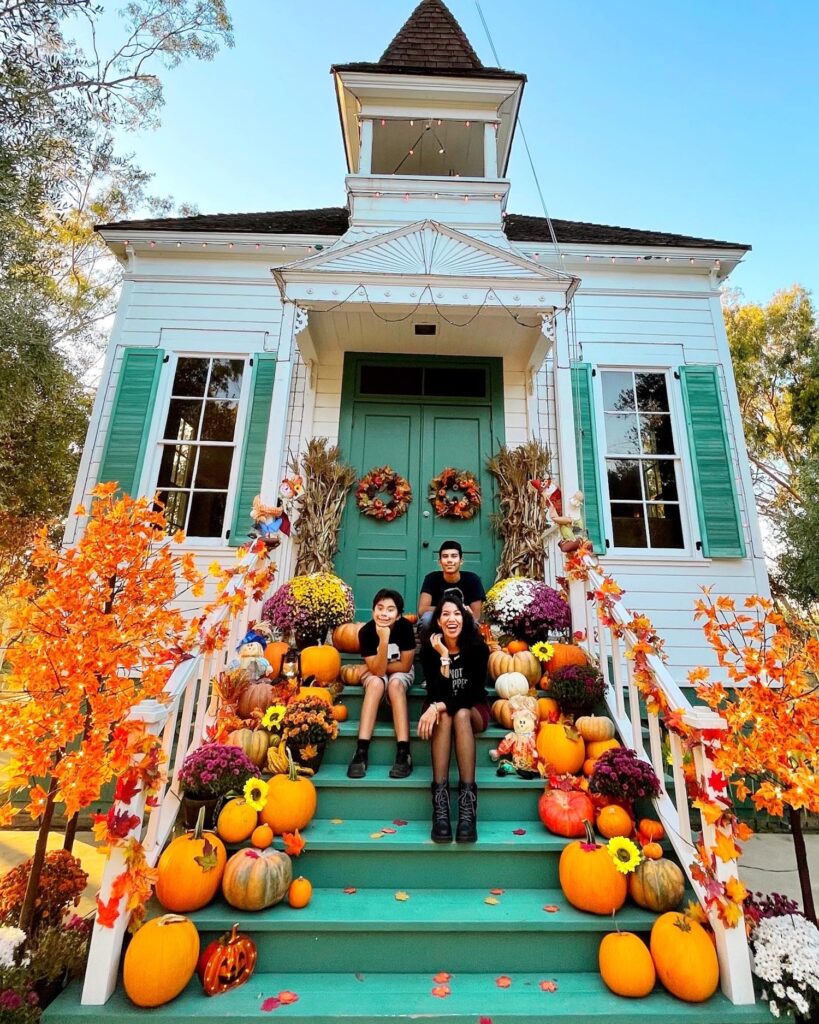 We headed out to the spider house after and got there just in time. We managed to see it in both daylight and evening light!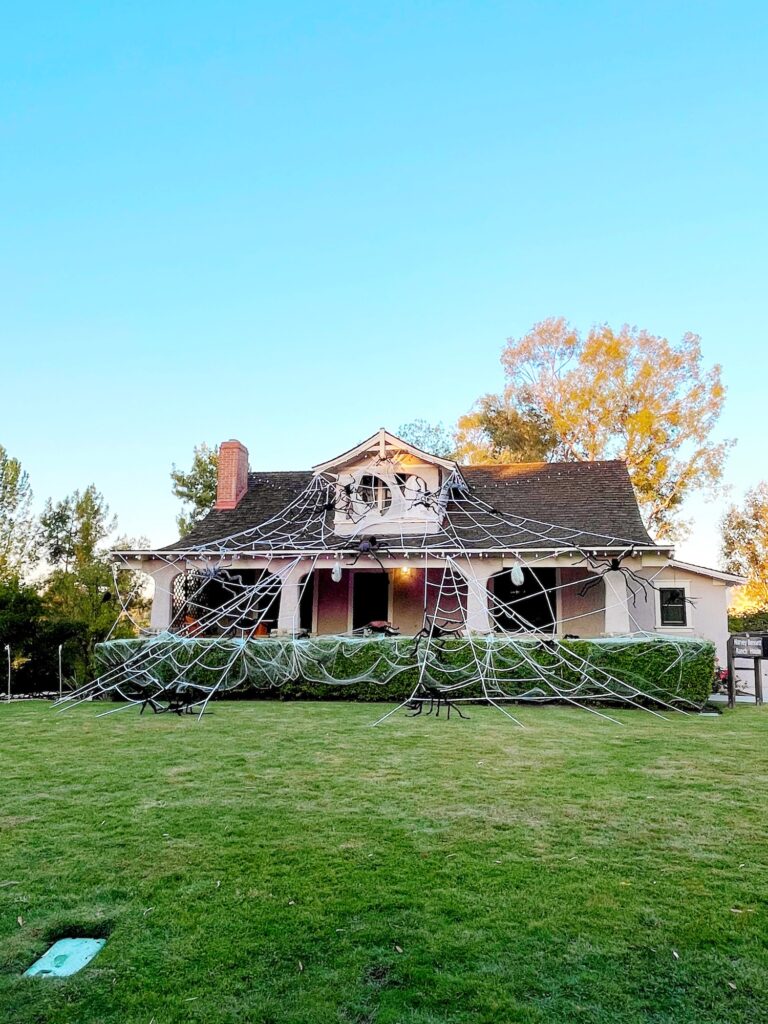 Finally, there's one last photo opp, and it's right up against the fence. A pile of hay surrounded by pumpkins.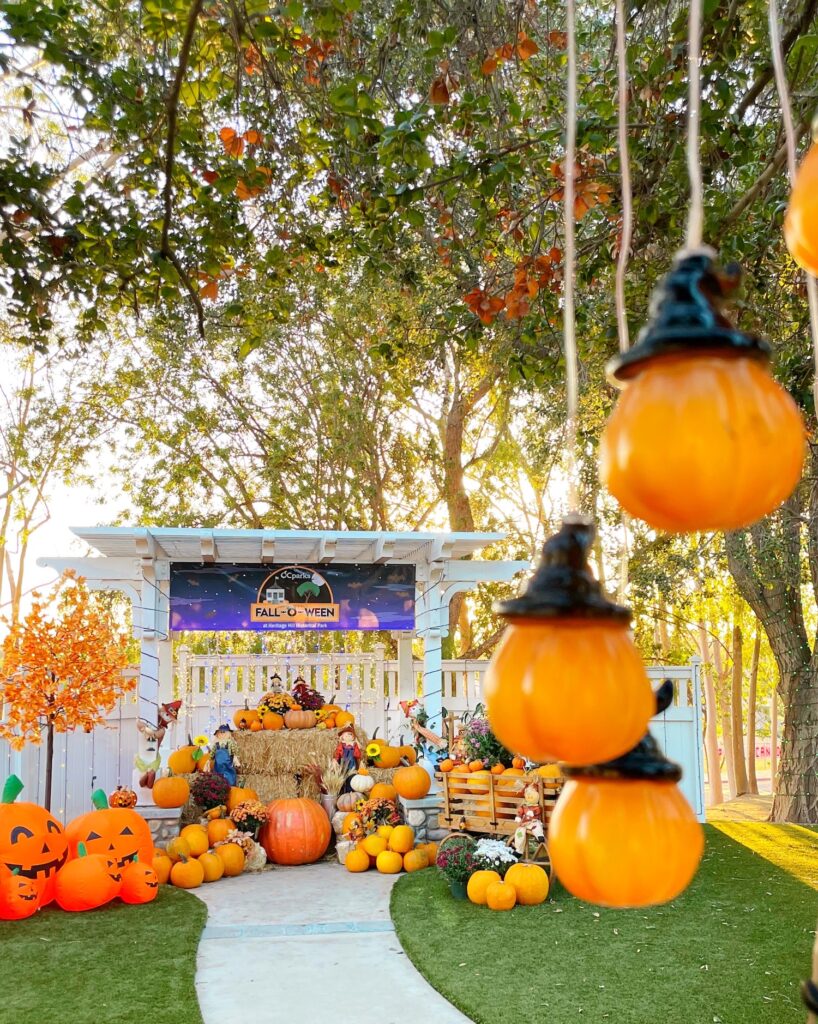 A few more things you may want to know before heading out…
How much does Fall-o-Ween at Heritage Hill Historical Park cost?
This event is hosted by OC Parks and completely FREE to attend with FREE parking!
What can you expect?
Guests can tour the decorated historical grounds during special park hours and take your picture at a variety of fall and Halloween-themed photo opportunities.
Additional, little ones are encouraged to try to find your way through the hay maze and complete a scavenger hunt for ghoulish goodies.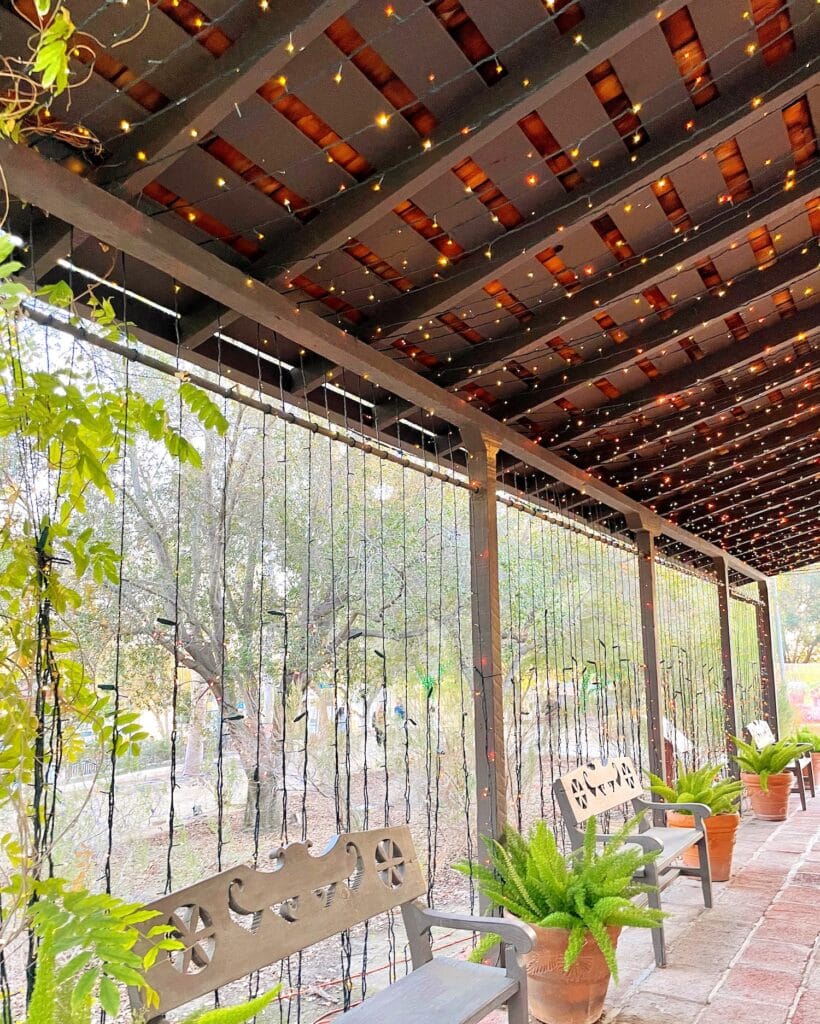 Are costumes allowed?
Costumes are encouraged
Can you bring your pet to this Halloween event?
Pets are welcome on leashes no longer than 6 feet.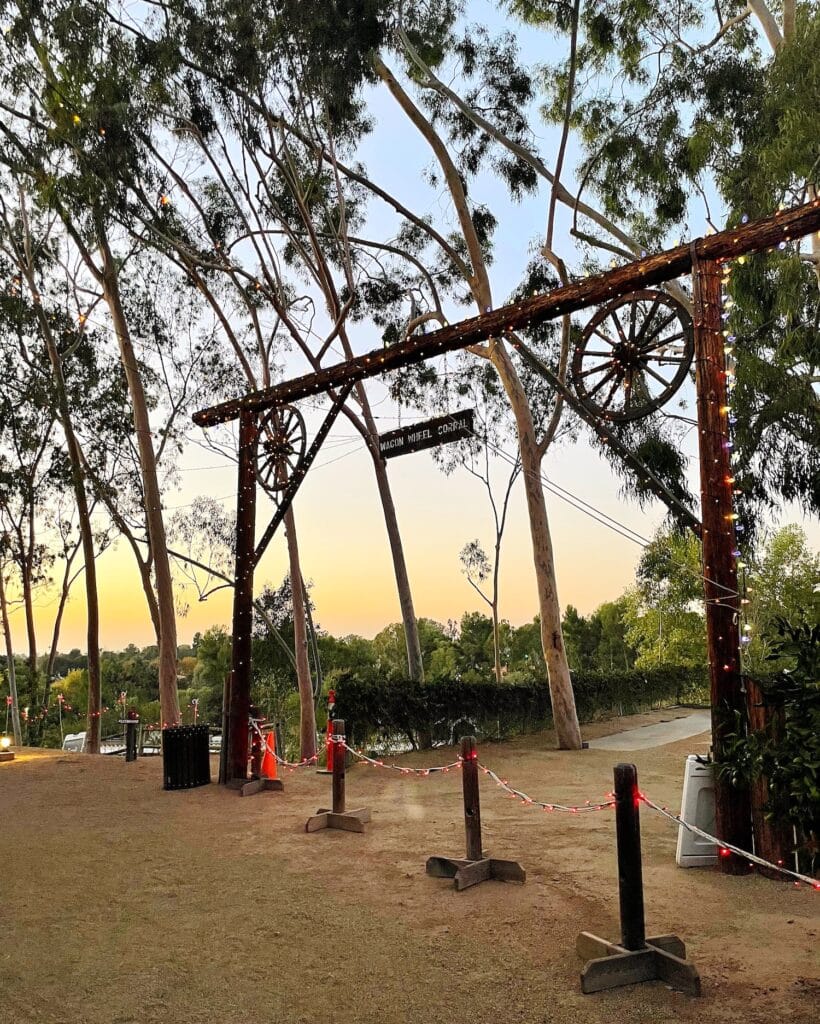 How much is parking at Fall-o-Ween?
Parking is FREE!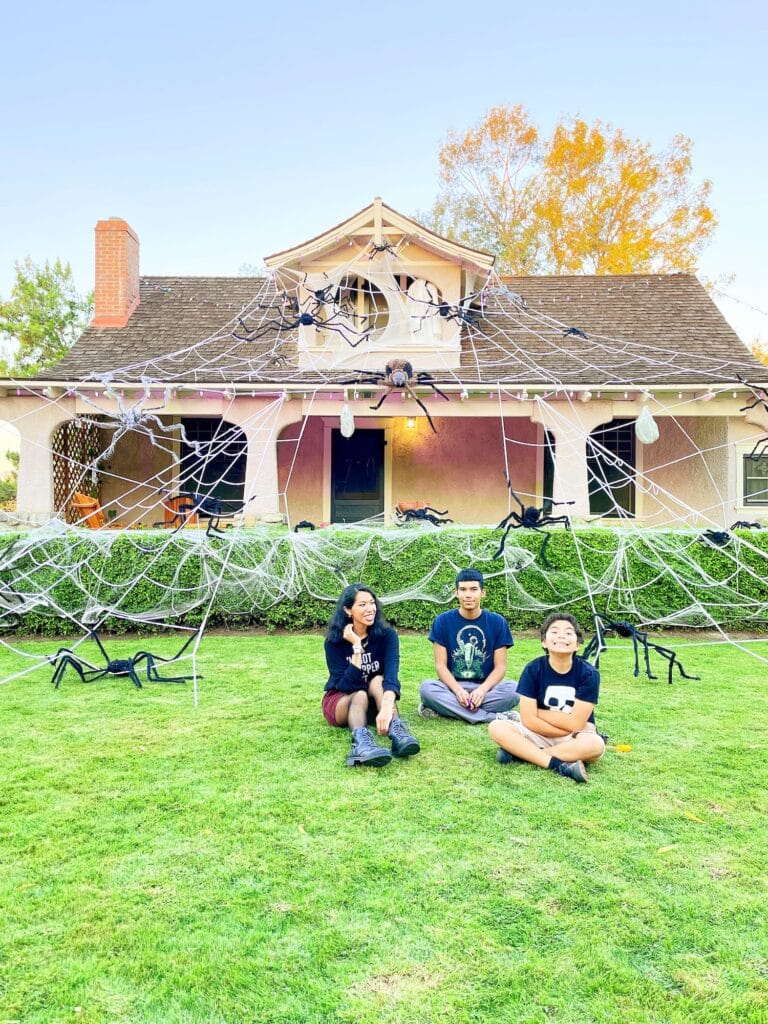 When is this Halloween event open?
Fall-o-Ween at Heritage Hill Historical Park in Lake Forest is open to the public two weekends in October. October 13-15th and October 20-22th
What hours does this Fall event run?
Fall-o-Ween is open from 4:30 to 8:30 p.m. We recommend getting there right before golden hour for the most beautiful pictures. Stick around as the sun sets to enjoy the park with all the lights twinkling in the night.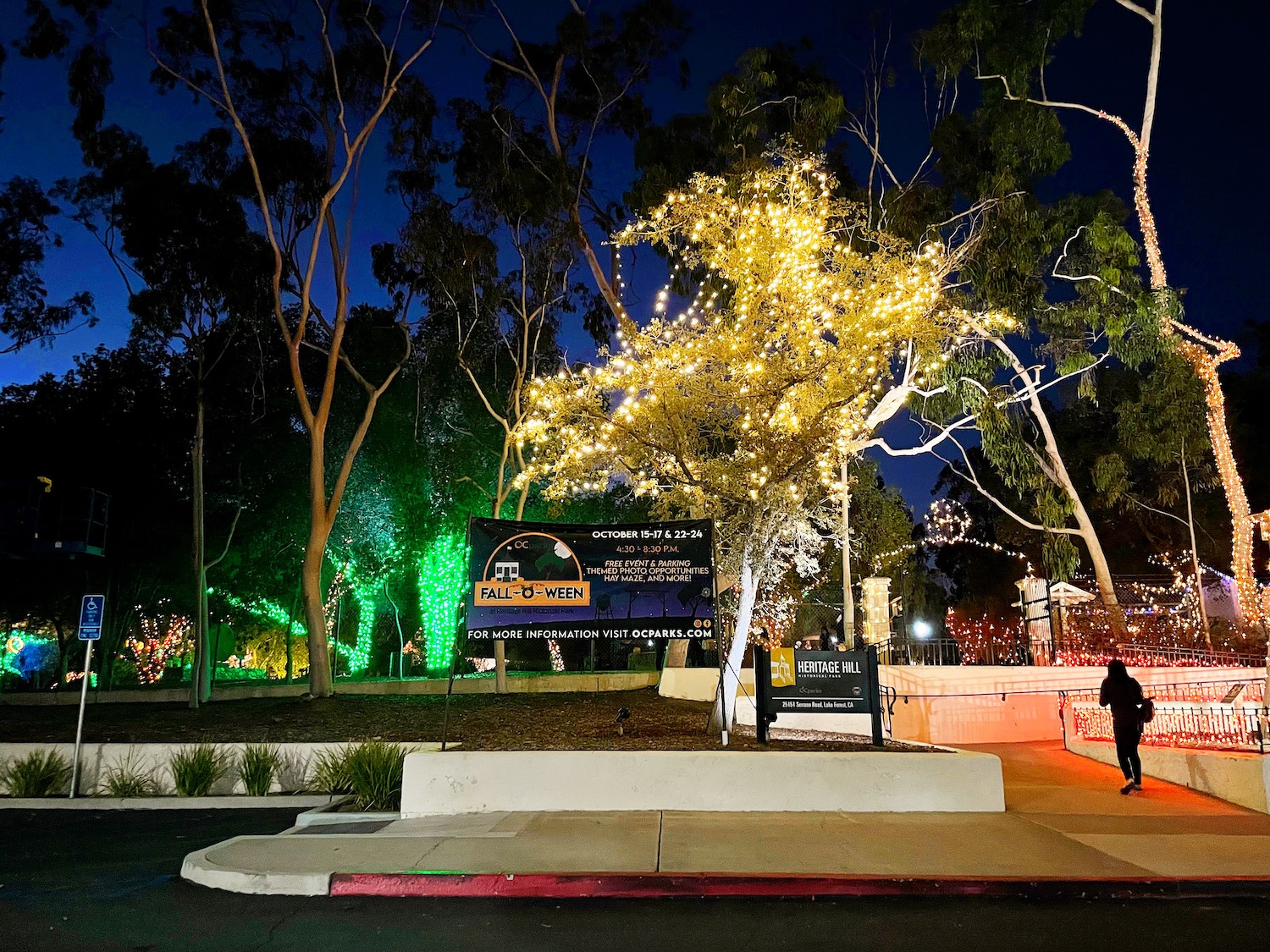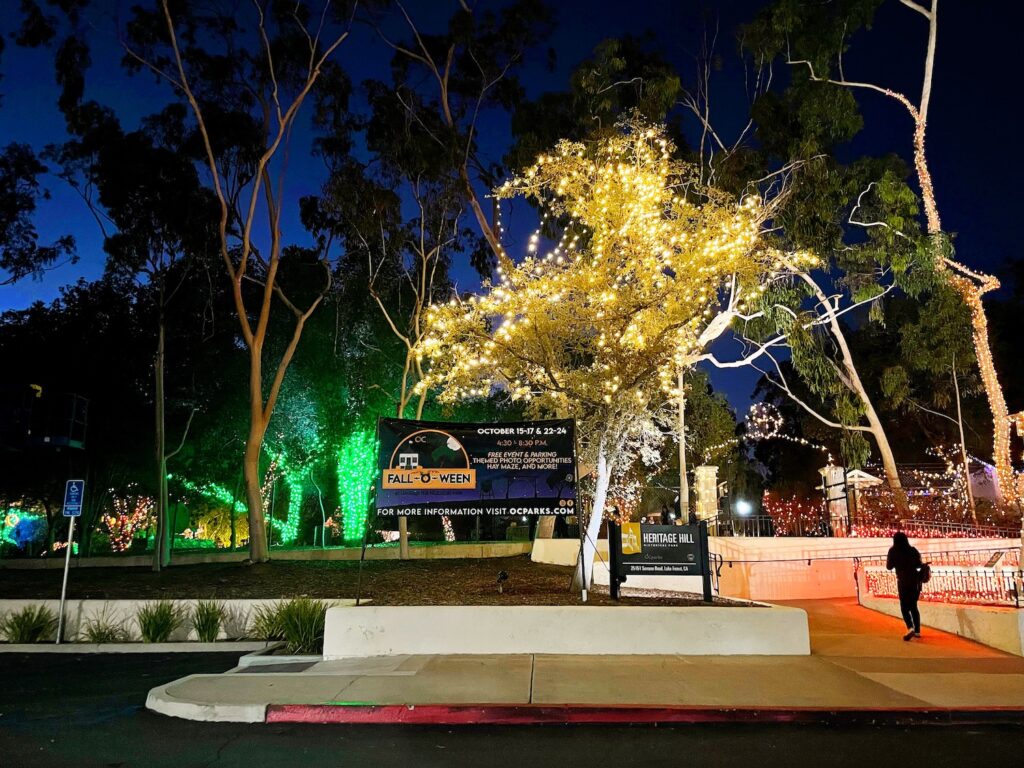 Where is Heritage Hill Historical Park?
25151 Serrano Road, Lake Forest, CA 92630
We hope you visit Heritage Hill Historical Park in Lake Forest for this fun Halloween/Fall event. It's low-key, casual and super pretty. Visit more than once – it's FREE to attend!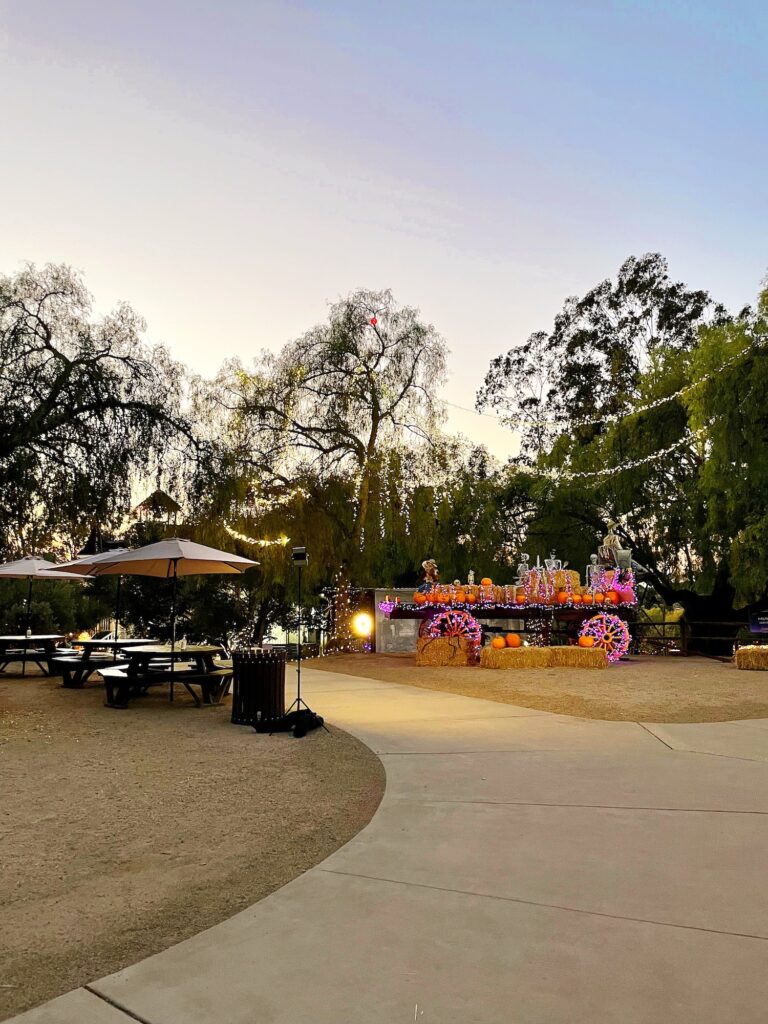 Looking for more Halloween events? Check out our 2023 Halloween Events in Orange County guide!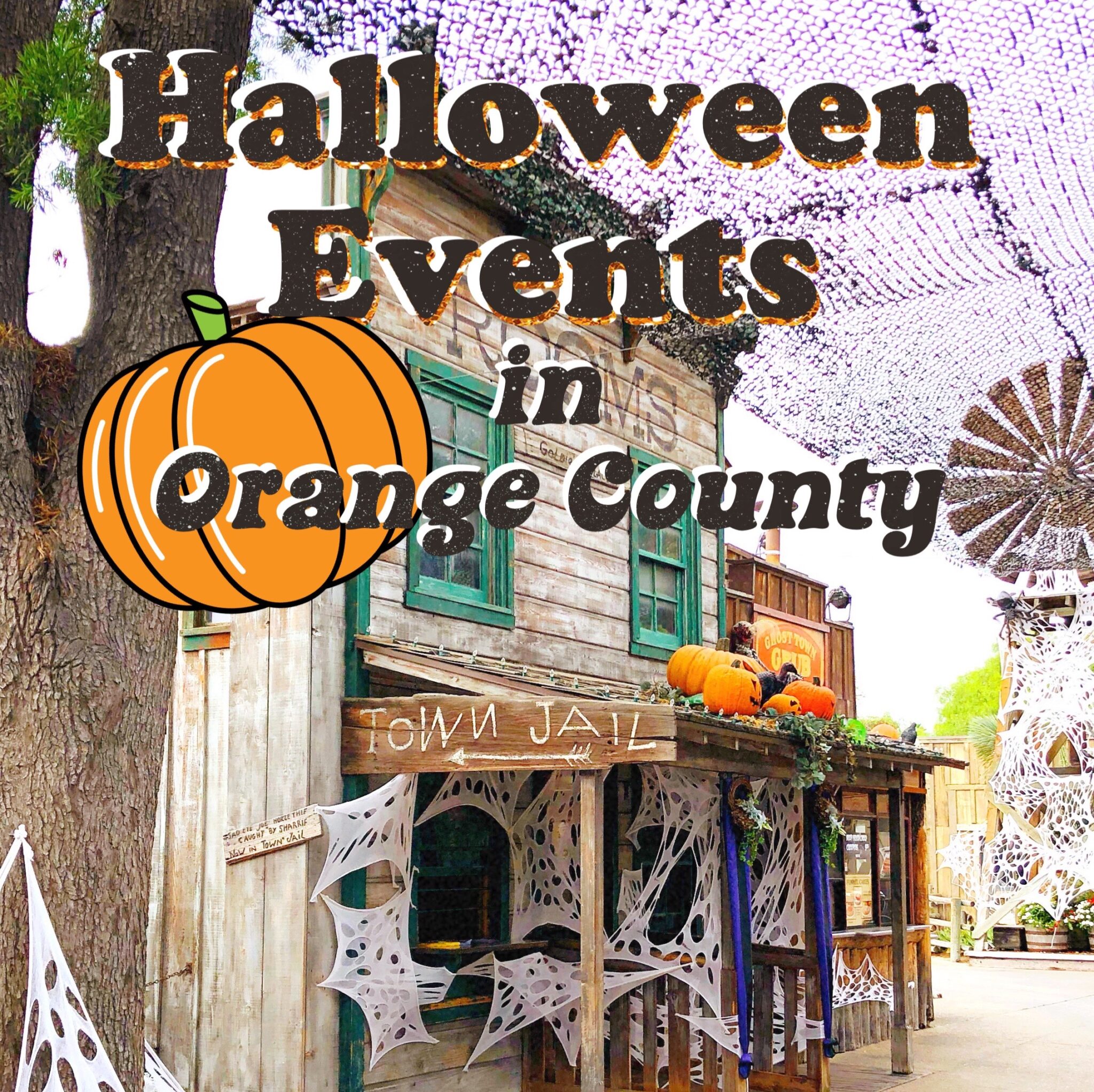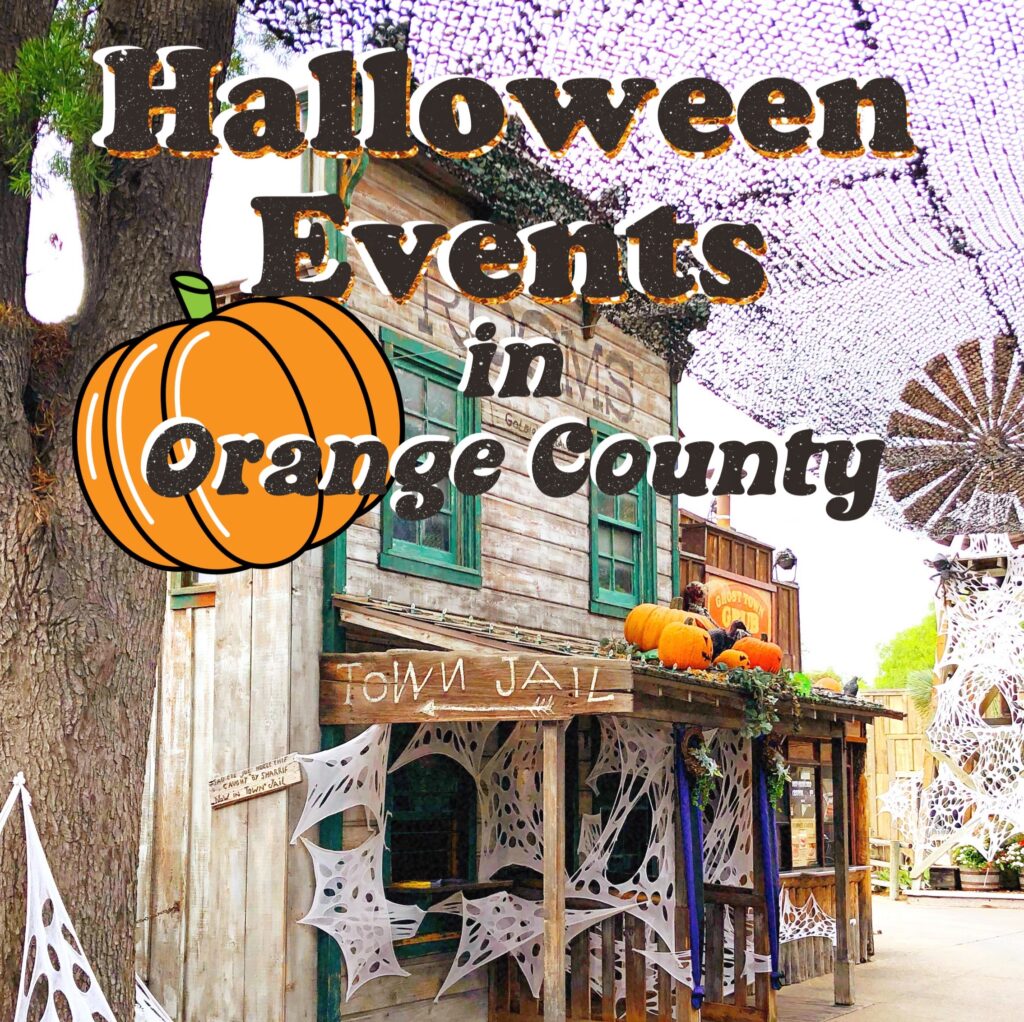 We also have a great pumpkin patch in Orange County list.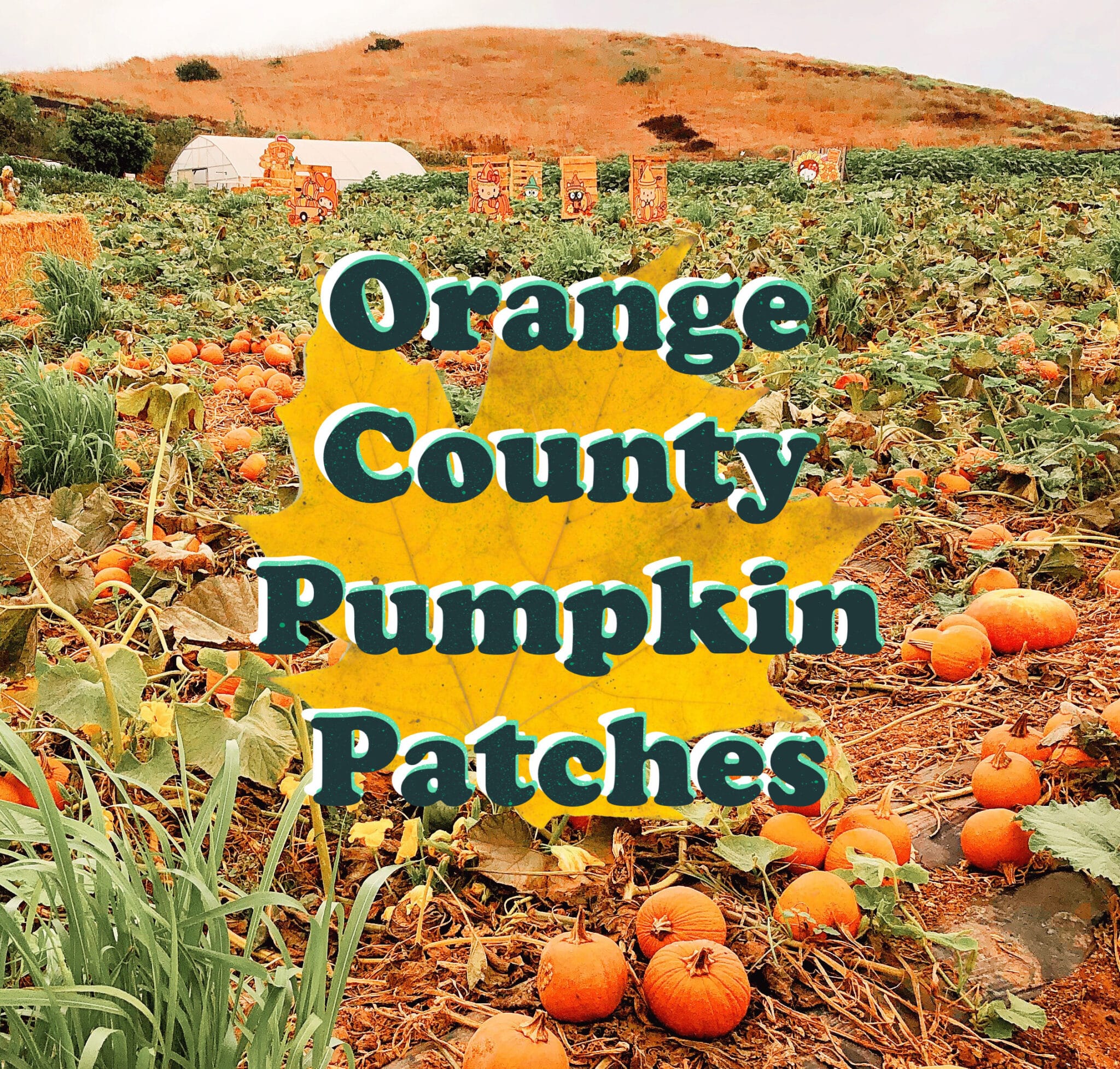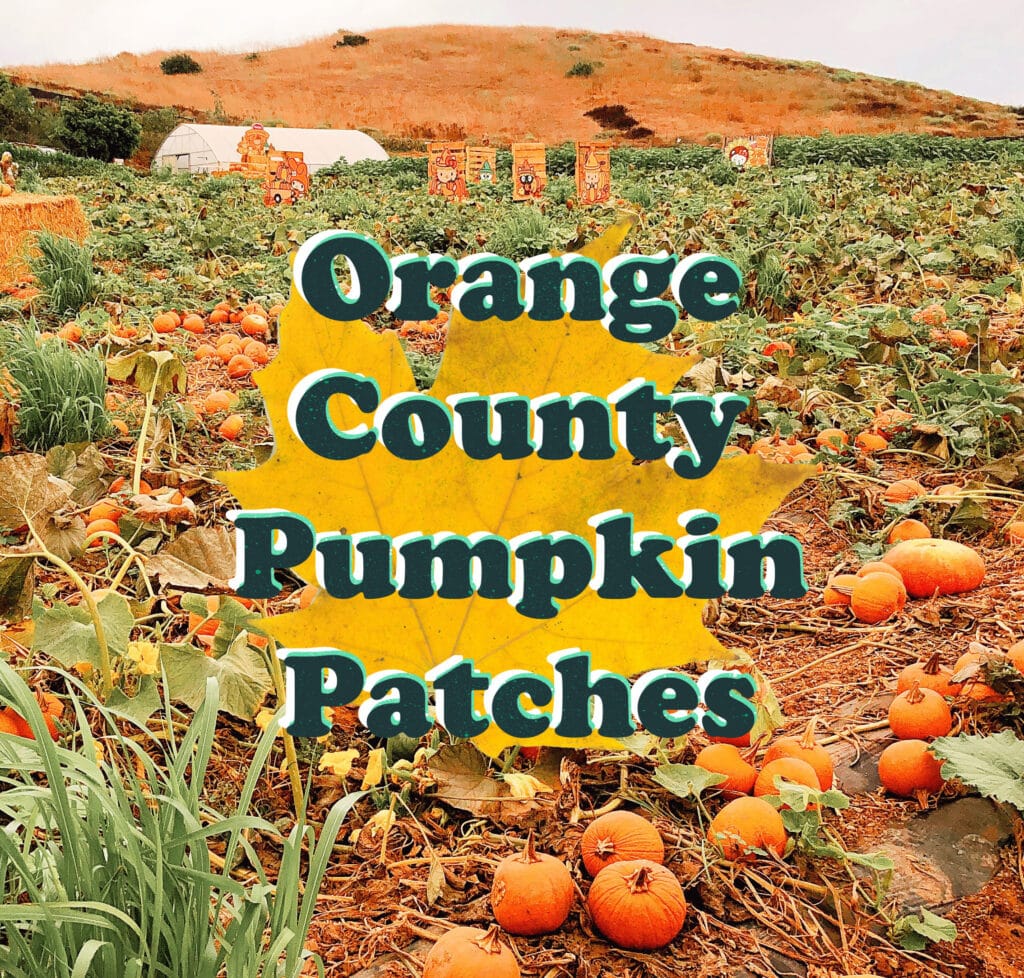 Originally published on September 5, 2023. Last Updated on September 18, 2023 by Pattie Cordova