We were hosted at Knott's Spooky Farm (now in it's second year) over the weekend and had a great time! We began our visit early Sunday morning hoping to catch all the Halloween and Day of the Dead festivities before the Southern California sun got too warm.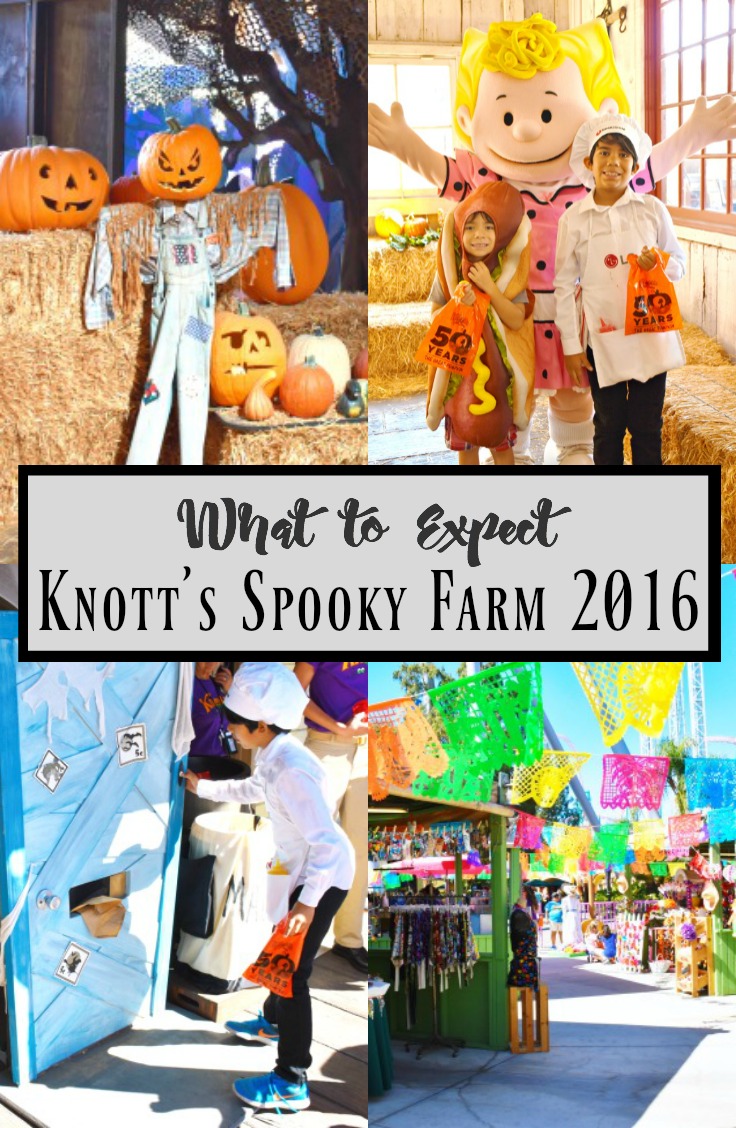 There's still time for your family to visit Knott's Spooky Farm this season – it happens only on weekends during the month of October. Like with any other visit, it's always best to have a list of things you have to do and see.
It always bums me out to come home, search the hashtag (in this case, #KnottsSpookyFarm, and see that I missed something cool. So we'll spare you that FOMO feeling and give you the heads up on what things you have to do at Knott's Spooky Farm this season.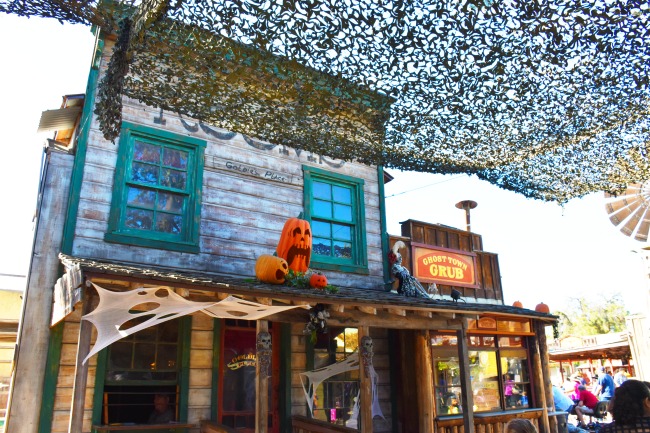 Trick-or-Treat at Ghost Town
You'll be given a map at the entrance showing you the trick-or-treat route and stops. It'll weave you through Ghost Town and kids can stop by each doorbell and barrel set-up for their treat, meet with a spooky character and push the doorbell! The characters are super friendly and they love to chat with the kids and take pictures with them.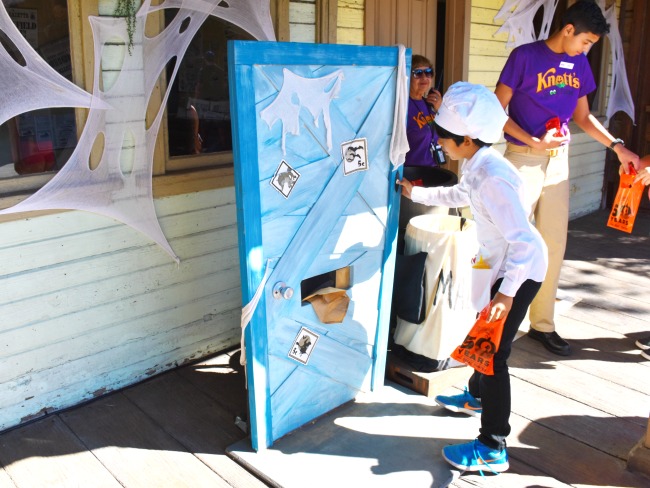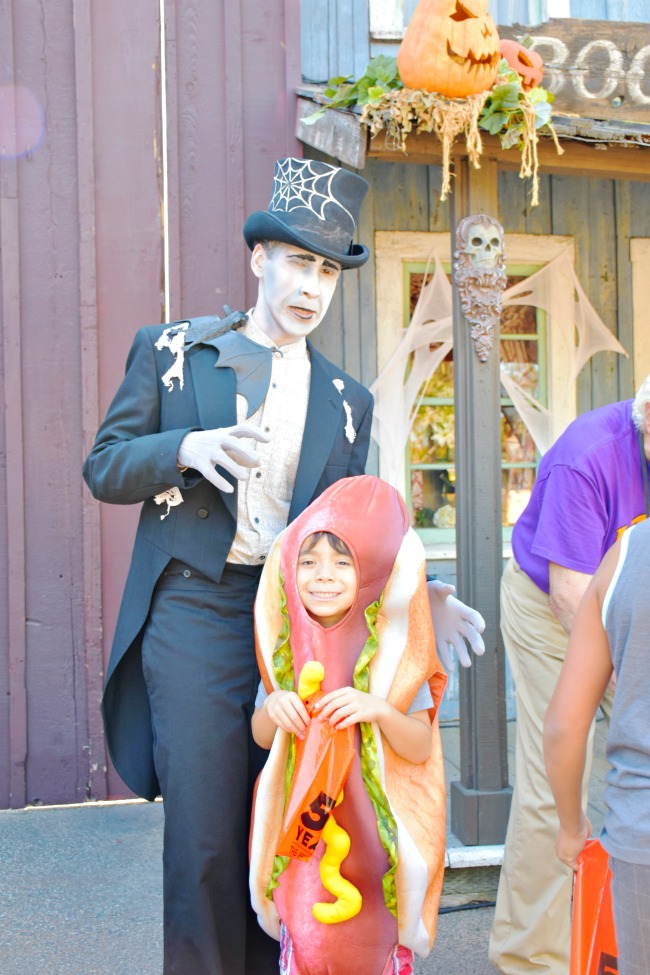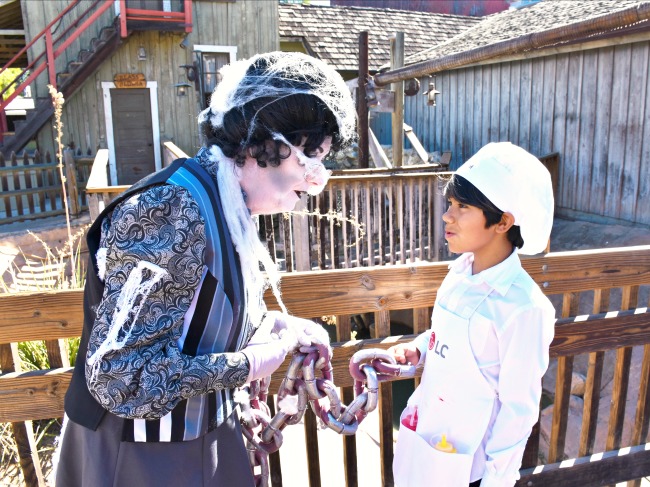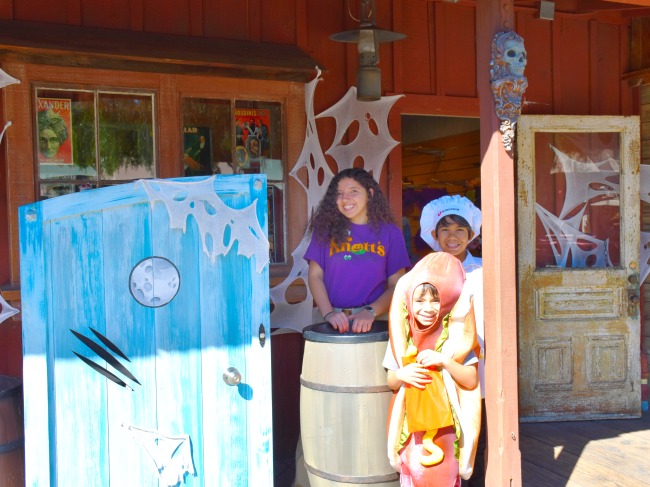 This year the route is more spread out than the trick-or-treat route last year (it was all within that one little stretch in Ghost Town by the blacksmith). The last stop is close to the saloon.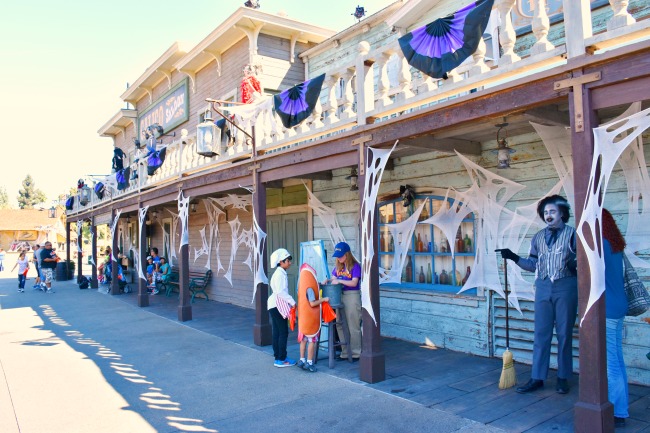 Linus' Great Pumpkin Patch
Afterwards, we walked to the barn located by the windmill. Inside it was all pumpkins! There was a spot for kids to color, another for kids to throw beanbags through a giant jack-o-lantern, a mini hay maze, and of course, there was a corner where the animated classic It's the Great Pumpkin Charlie Brown! was being projected onto a screen. Bales of hay were set up for kids to sit down and enjoy the film. Peanuts characters greeted us as we walked out and we took the opportunity to get a picture!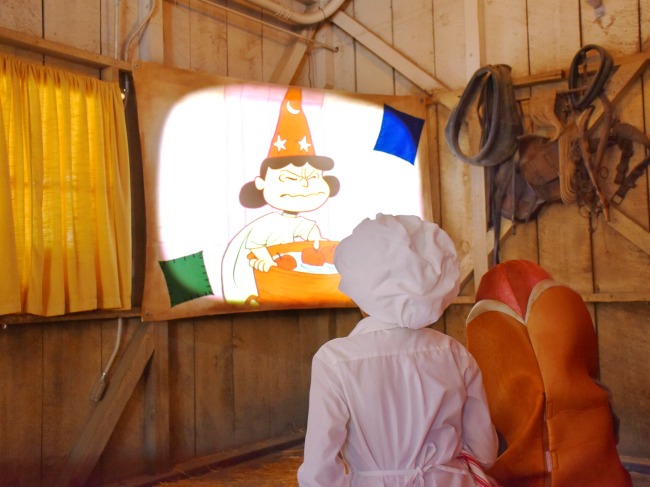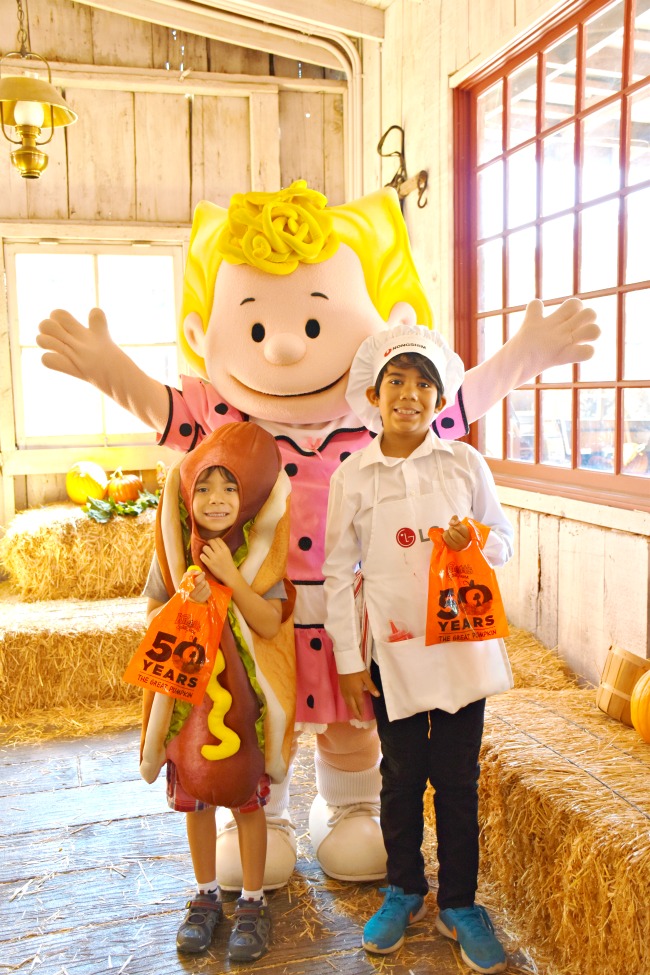 Pony Express Outpost
We did stop by the Pony Express Outpost while trick-or-treating to check out all the creepy crawly creatures. This year, one of the Knott's Berry Farm characters was in the outpost with a container of walking stick insects. Guests couldn't touch the insects, but they can take pictures of them. Also on display? Snakes (ew!), hissing cockroaches, bearded dragon, tarantulas and other insects.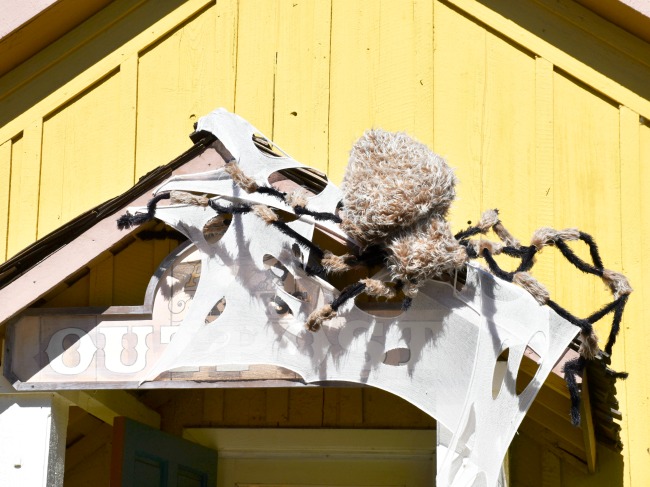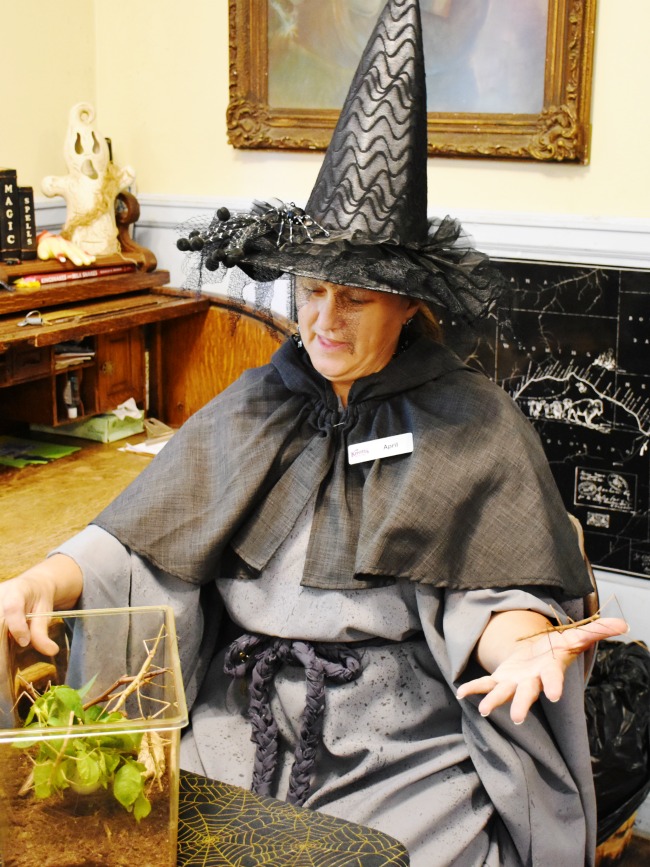 The Ghastly Gallery
We had to make our stop at Starbucks for a boysenberry latte, but not before catching Lucy and Charlie Brown at the Monsterpiece Theatre. It's about a ten minute show and a great spot to chill out during the day.

Day of the Dead court at Fiesta Village
New this year was the Dia de los Muertos celebration at Fiesta Village. Last year there was a Spooky Hollow Maze where you can now find the Day of the Dead celebration, altar, cookie decorating and marketplace. This was perhaps my favorite addition to Knott's Spooky Farm because of the local artists that sell their goods in the marketplace. There's also a lot of signs with mini-educational lessons spread throughout the area.
The kids enjoyed all the hands-on activities like making the puppets dance with a simple push of a button and the different photo opportunities.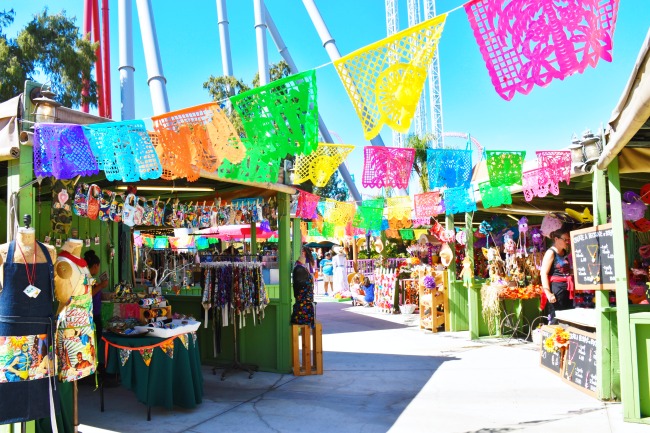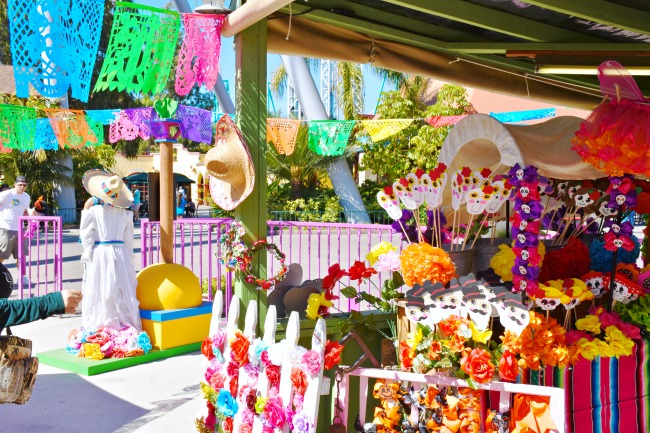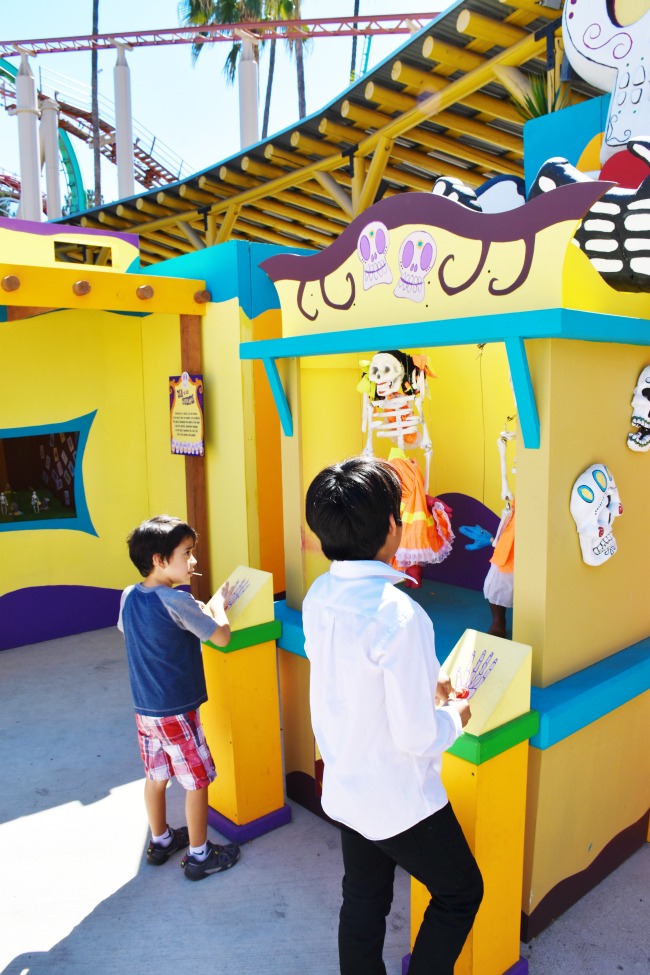 p.s. Cookie decorating is $3.99 and they'll give you a sugar skull cookie along with frosting to decorate the cookie. You can munch on it as you walk throughout Fiesta Village checking out the rest of the Day of the Dead decorations.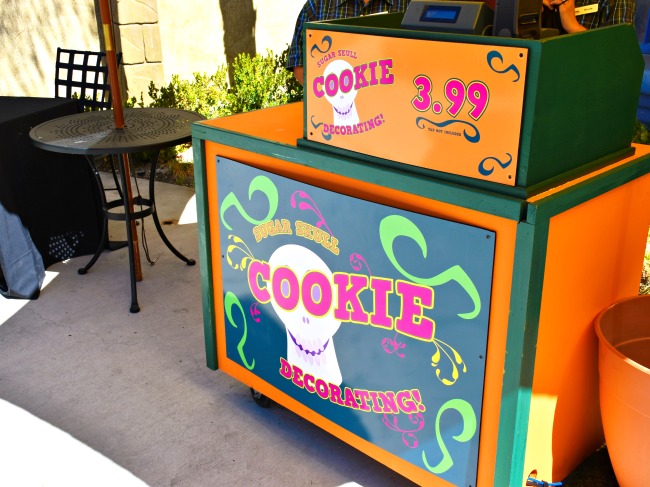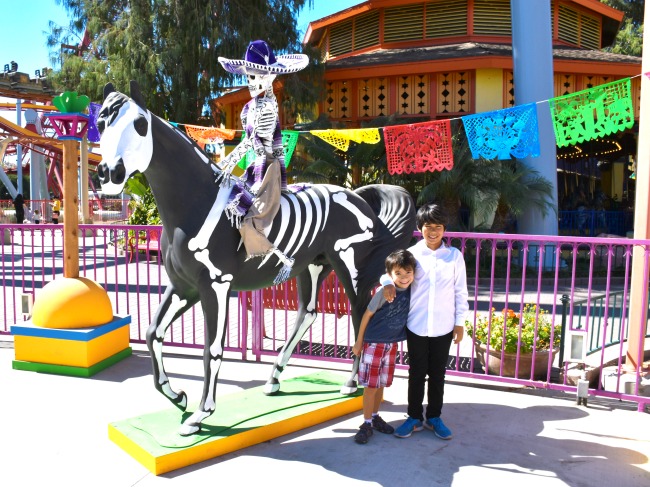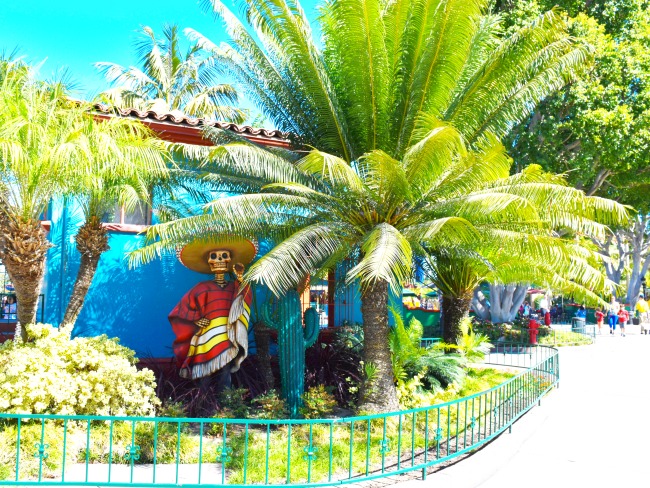 Spooky Hollow Maze
Remember the maze I told you about that used to be at Fiesta Village? Well this year it's in an area behind Camp Spooky Theatre. Entrance is free and you can expect a forest with a hay maze, plenty of photo opps and a hay tunnel. The kids like going inside there because it's dark and just the right amount of spookiness.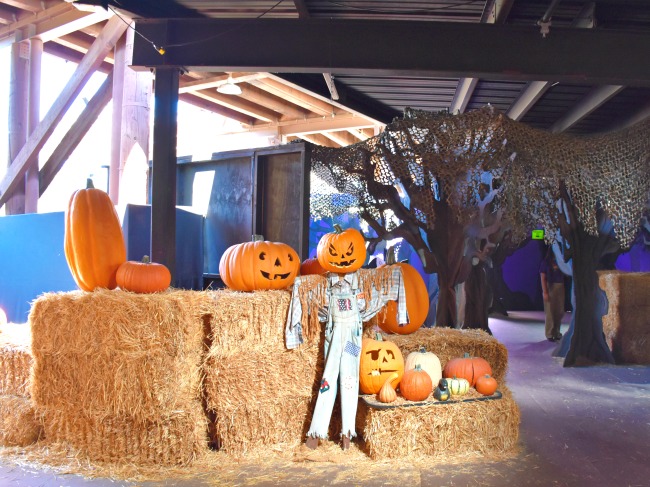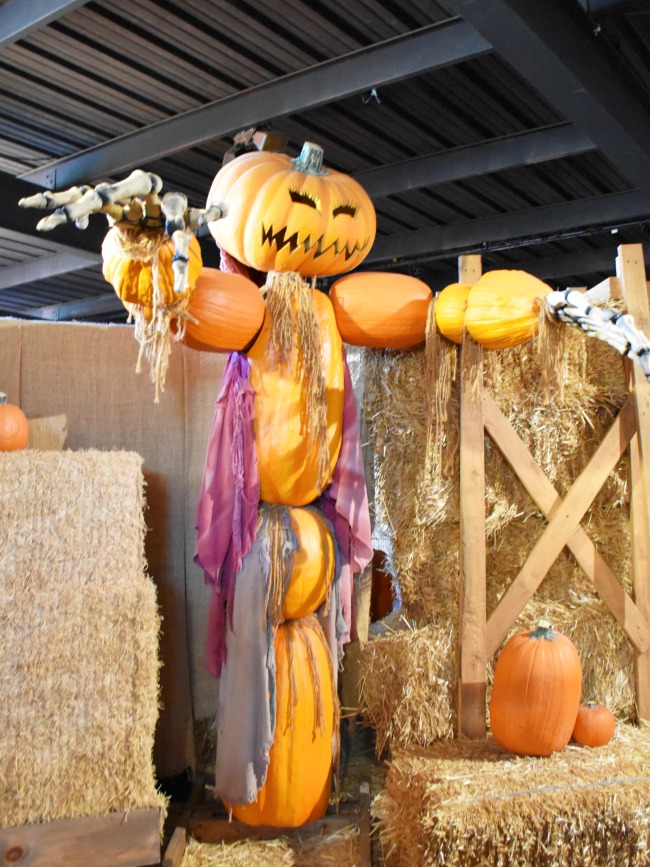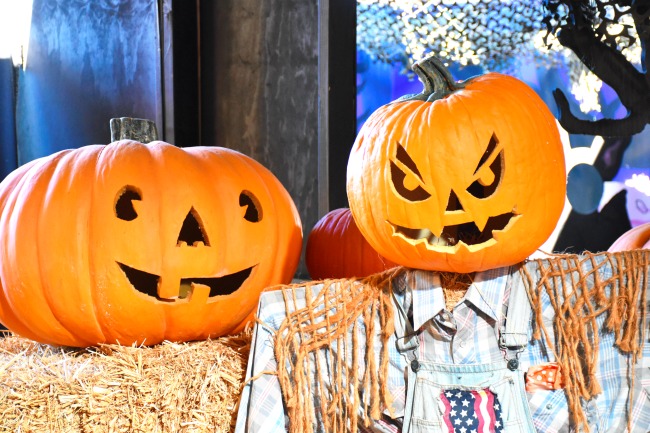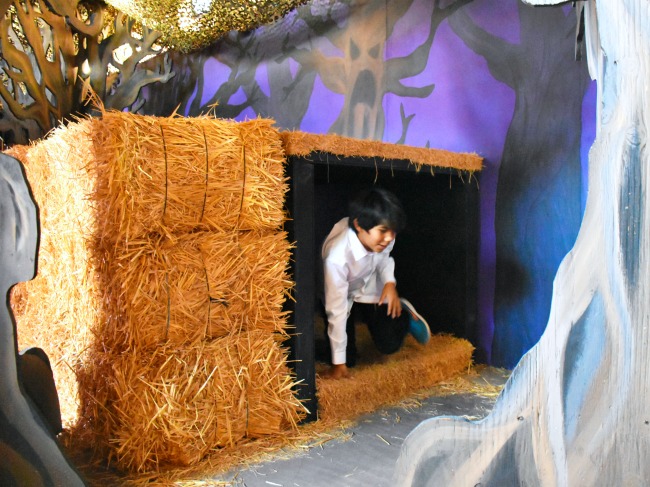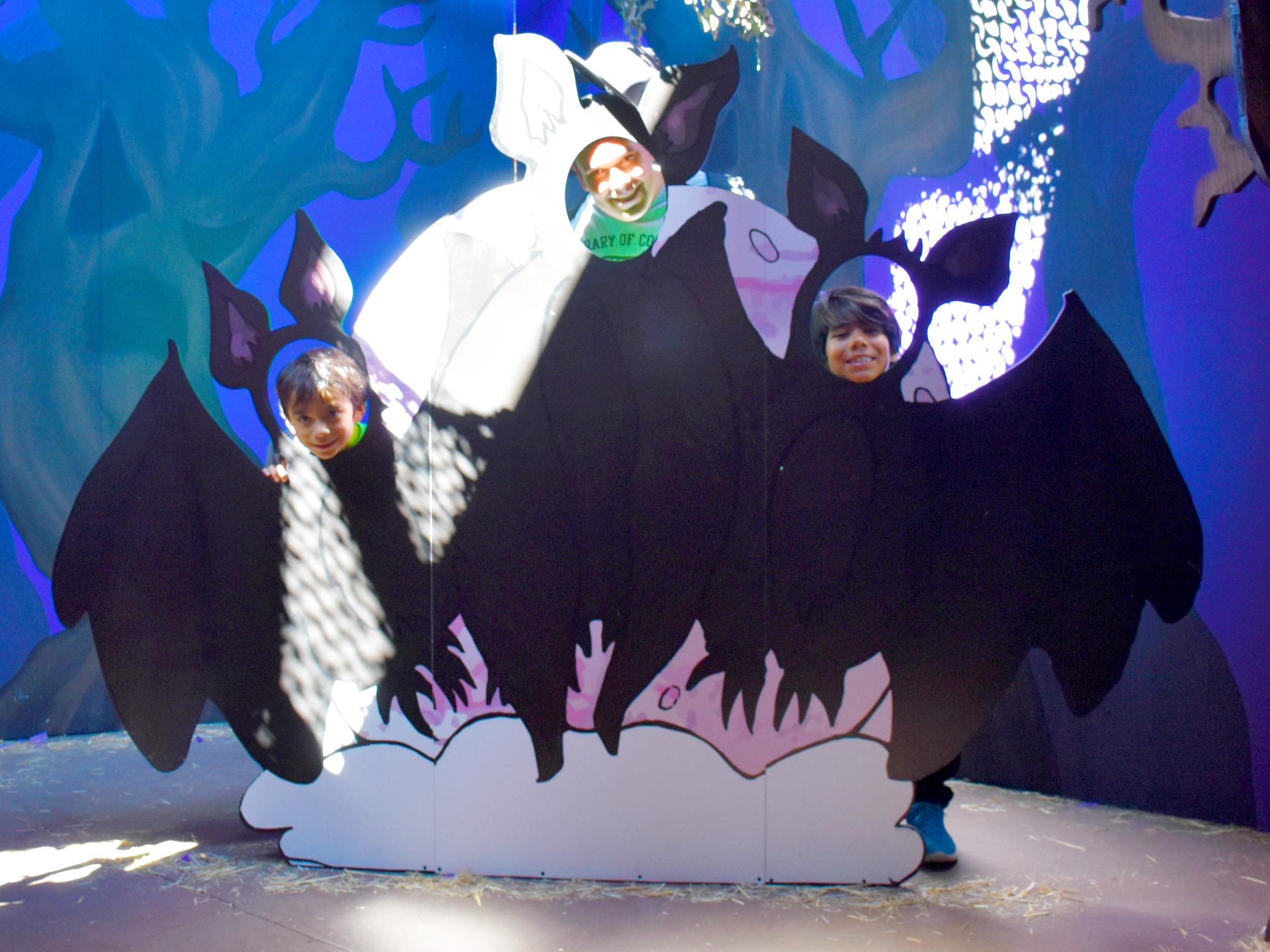 Camp Spooky Theatre
Hopefully you'll get a chance to visit Camp Spooky Theatre around the same time as the Peanuts Gang perform, "The Monsters Are Coming, Charlie Brown." It's a classic that the kids love to see because they get the audience involved by performing Halloween favorites and the Peanuts Gang come down to the audience and dance. The Peanuts characters are also dressed in their Halloween costumes – something that you won't see any other time of the year.
At 3:45 p.m. costume wearers can participate in the spooktacular costume contest!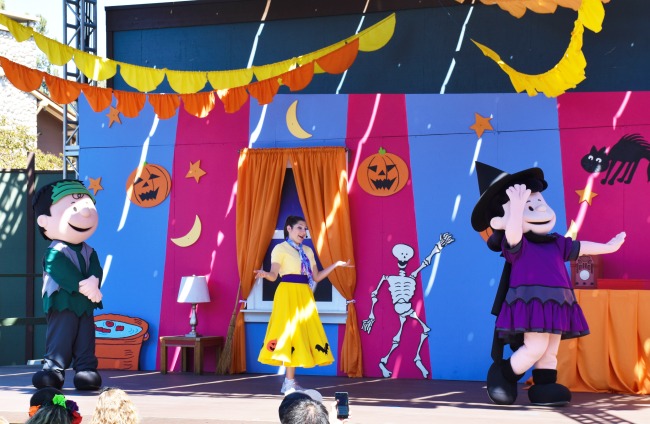 Knott's Spooky Farm is always a lot of fun for the whole family. The entertainment is a blast, the entire park is decorated for the holidays and you'll capture photos that you can only get during this time of the year. Hope you can make it to Knott's Spooky Farm this year!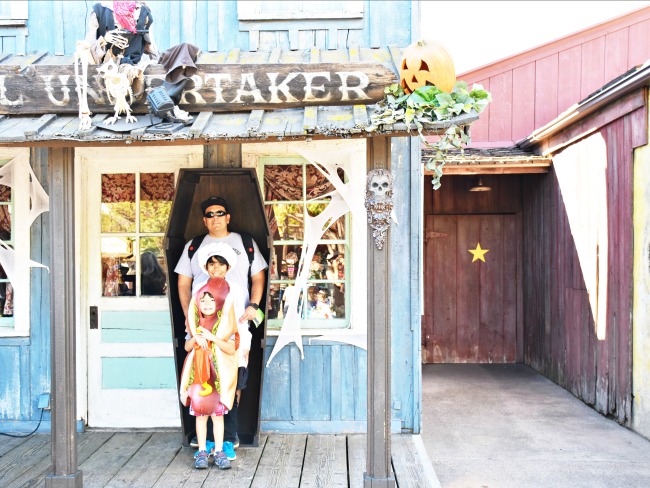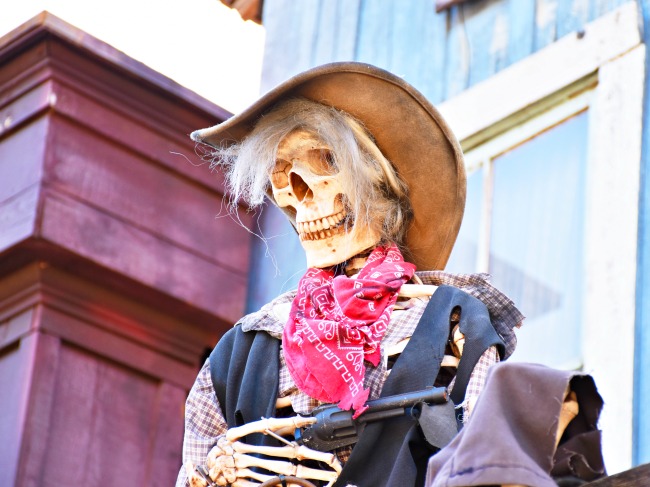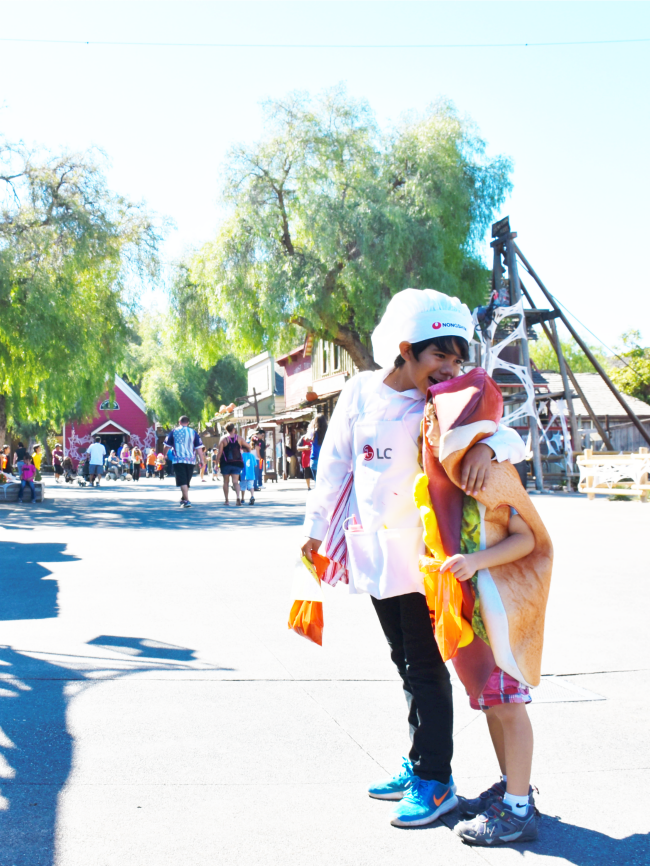 Knott's Spooky Farm 2016 at Knott's Berry Farm in Buena Park, California offers family-friendly activities, included with your admission. Knott's Spooky Farm happens every weekend throughout October. Kids can join the costume contest, go trick-or-treating, celebrate Day of the Dead at Fiesta Village, and go through the Spooky Hollow Maze in Camp Snoopy.
For more information on all the exciting things that are going on at Knott's Berry Farm and how to take advantage of the Knott's Berry Farm dining plans, visit them online at knotts.com and follow the conversation using #KnottsSpookyFarm.
Originally published on October 12, 2016. Last Updated on June 22, 2017 by Pattie Cordova