We've been visiting Knott's Spooky Farm during the Halloween season for years now – this year, it was a whole different experience. They revamped the entire event, making this daytime, non-scare celebration even better!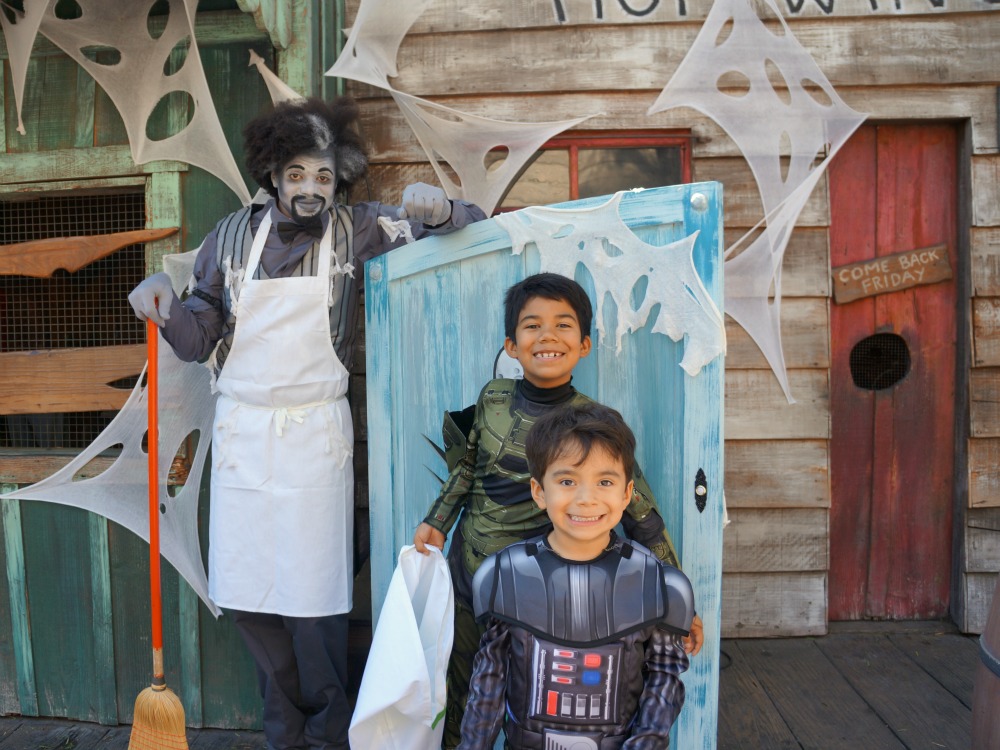 Knott's Spooky Farm is the event of the season with shows, activities, and of course, a costume contest – all geared for children ages 3-11.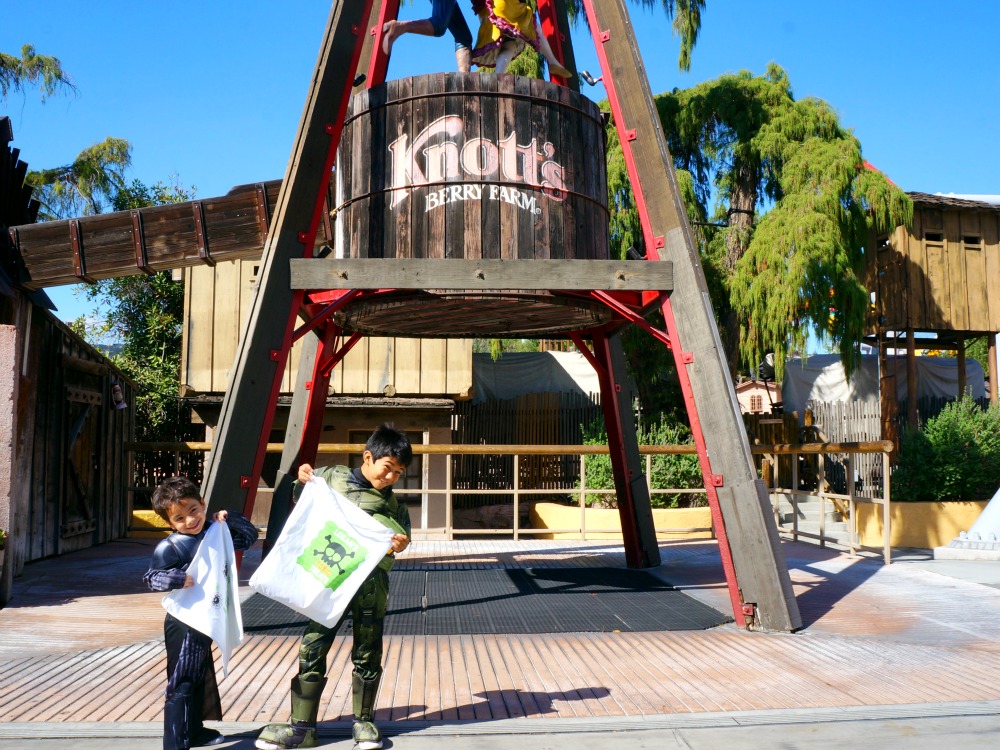 The kids put on their costume and we headed over to Camp Spooky on a Saturday afternoon with their personalized trick-or-treat bags in store. We didn't know how much everything had changed until we walked through the gates. Immediately, we saw everyone gathered throughout the streets of Ghost Town meeting with "monsters" and getting candy from the Knott's employees. The hubster and I stood in line and walked the kids up so they could ring each doorbell, get their piece of candy and take a picture with the monsters. It was something different, and definitely more interactive. The kids loved the doorbell most of all.
Once we left Ghost Town, we stopped by the "Monster Masquerade Ball Karaoke" at the Boardwalk area where they got the opportunity to design their own masks and listen to kids sing karaoke. It was THE CUTEST thing ever!!! We even captured some of it on camera.
VIDEO: What to do at Knott's Spooky Farm
We kept following the Camp Spooky trail and ended up at the Spooky Hollow Maze. The best way to describe it is basically Scary Farm, Jr. It's a maze filled with pumpkins, fall decorations, spooky sounds and some amazing photo opportunities. It was the tiniest bit creepy, but definitely at a level where kids weren't completely freaked out. My four year old kept wanting to go back again and again. It was a lot of fun. (The video above has snippets of this too).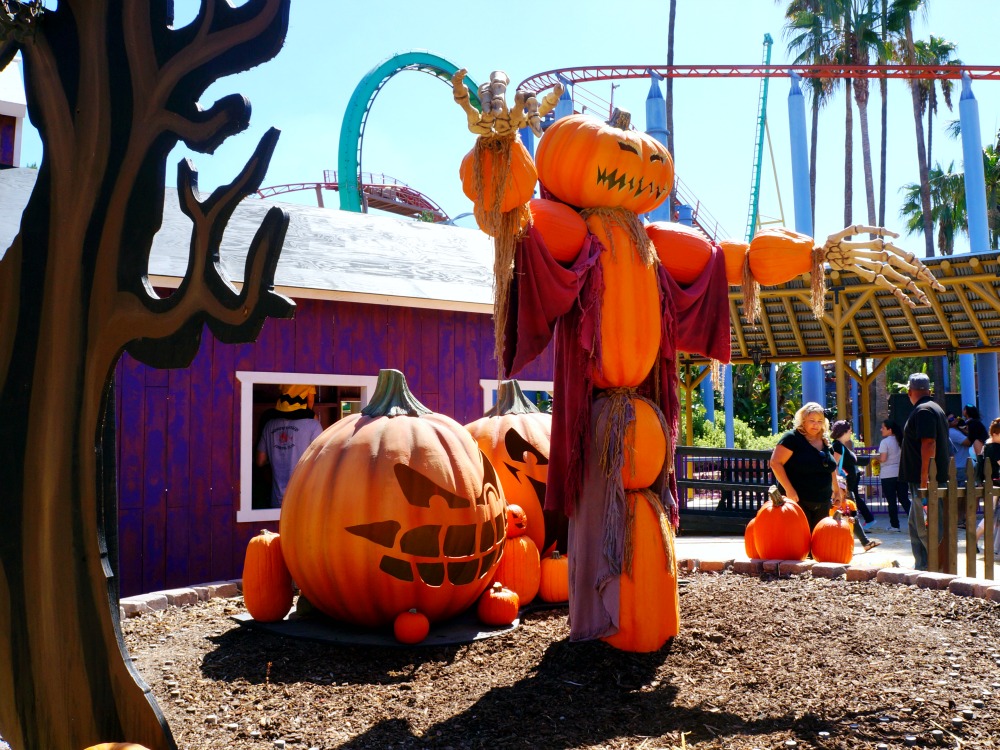 >A few other new things at Camp Spooky this year is the Creepy Crawler Cabin out by Pony Express. The outpost is full of bugs, insects and reptiles. The kids had a lot of fun looking at all the animals. Thankfully, there are benches outside so I waited there. They're so creepy!!!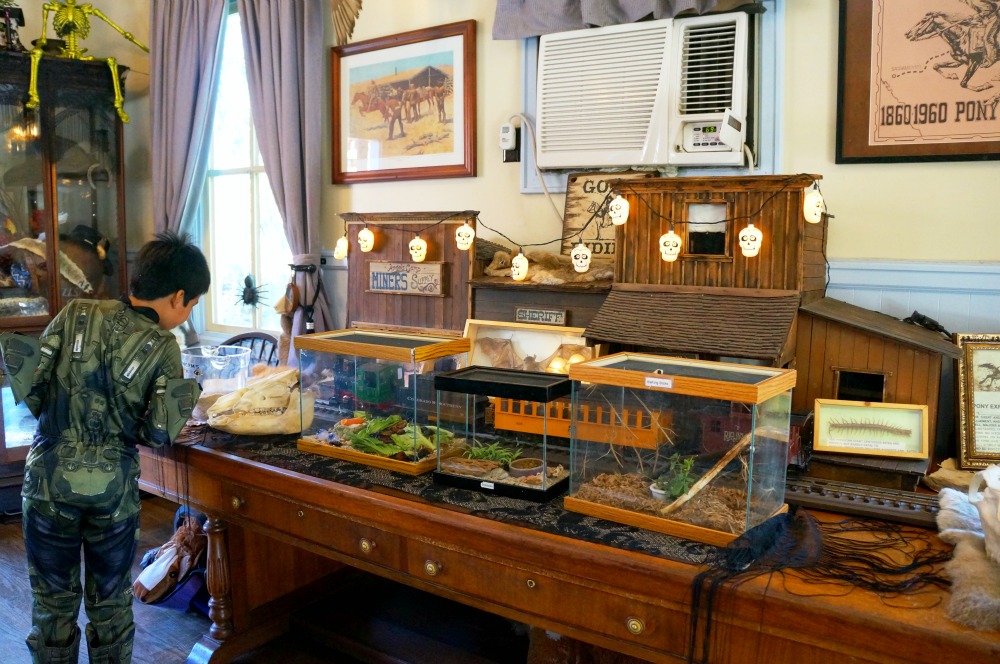 Throughout the weekend, kids can dress up and take part in "Snoopy's Costume Contest and Dance Party" and also visit the Camp Spooky Theatre to view "The Monsters are Coming, Charlie Brown", a new Halloween show where everyone will be singing and dancing in the aisles to all their favorite Halloween tunes. Try to get there at least a half hour before the show begins because seats fill up fast.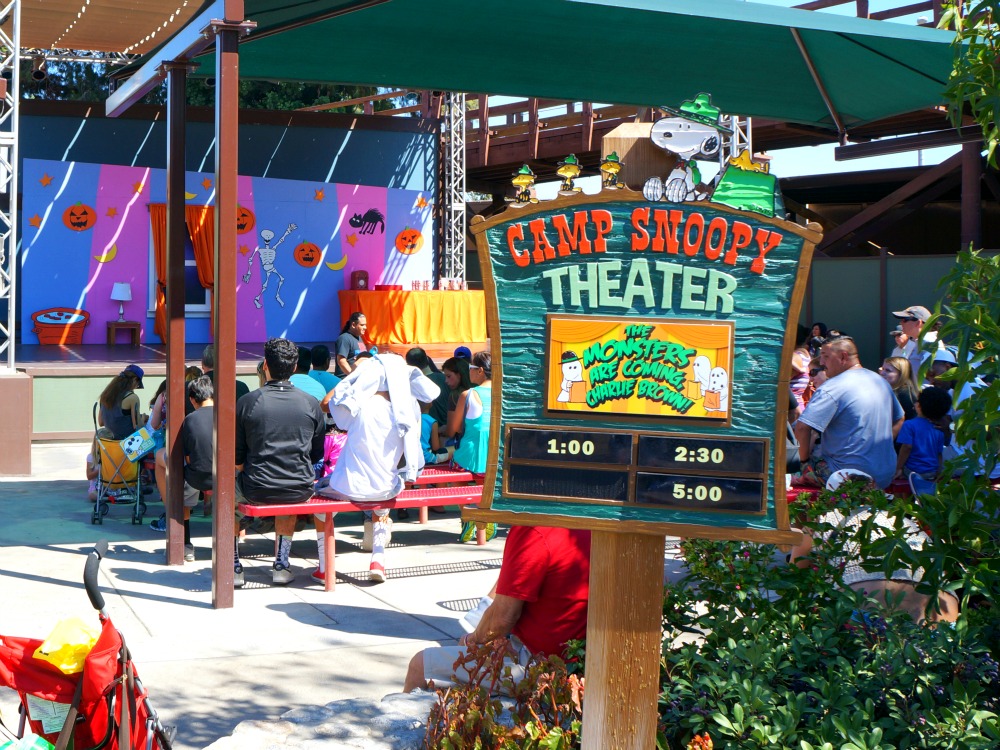 All activities at Knott's Camp Spooky are included with general admission, with the exception of the pumpkin decorating at Spooky Hollow Maze (it's $5).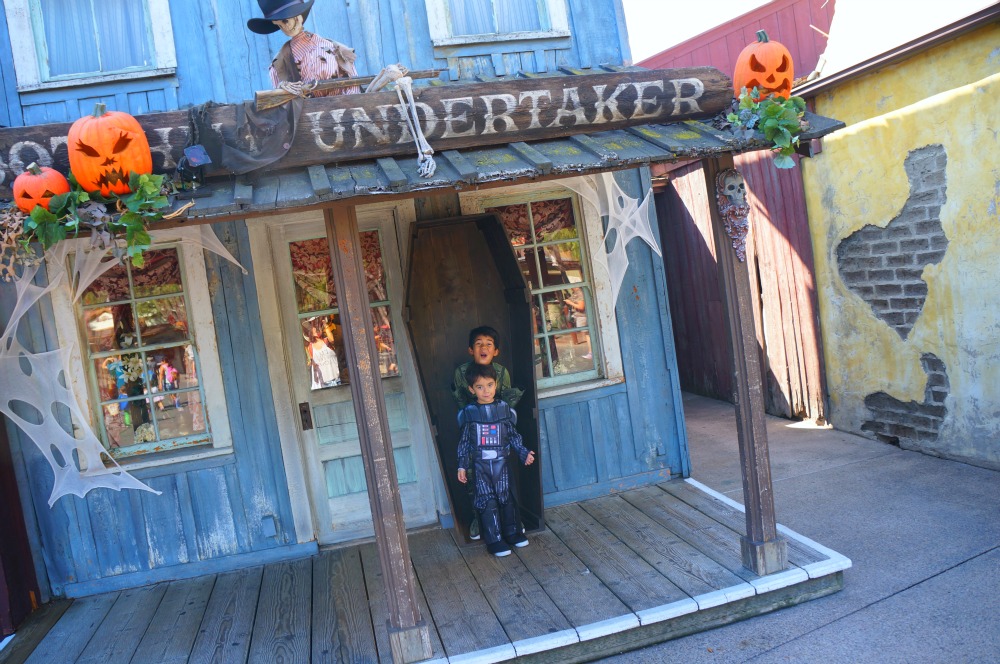 Throughout the park, you'll find plenty of photo opportunities. My favorites are at Ghost Town, but you may find a few favorites of your own.
And don't forget to pick up the limited edition Knott's Camp Spooky t-shirt! We get one every year for the kids. It's practically a tradition!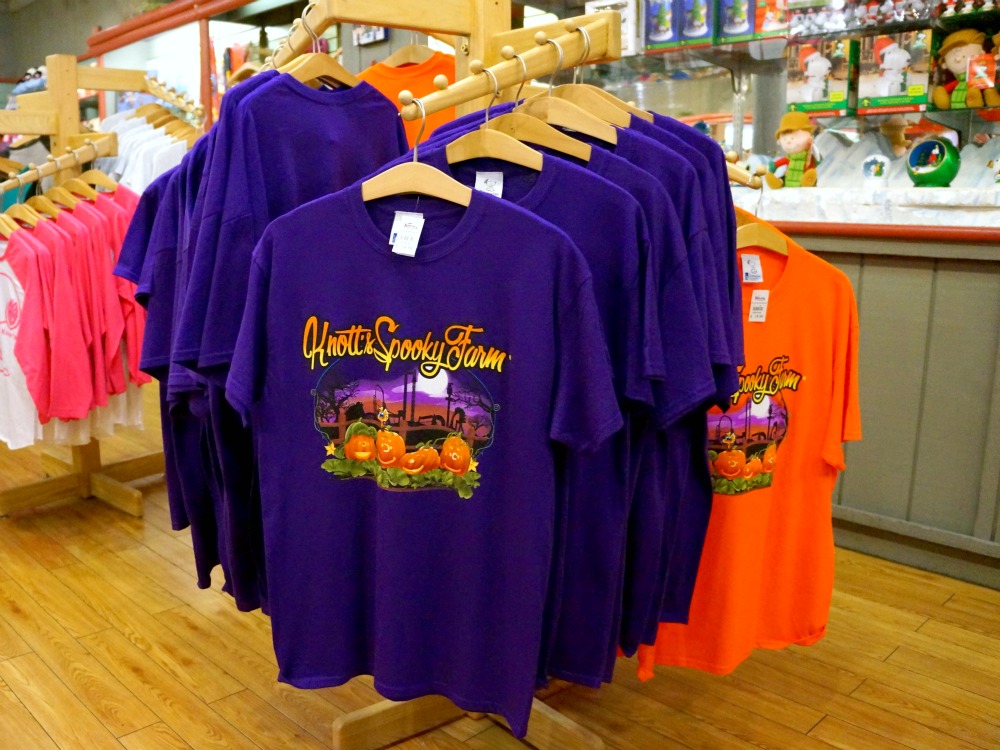 p.s. I highly recommend you pick up the Knott's Season Pass while you're there. You can apply your same-day ticket towards the season pass AND you'll get another ticket to come back in 2015! Knott's Merry Farm is just around the corner and you won't want to miss that.
You can pick up the Knott's 2016 Season Pass and pay for it using "Easy Pay Payments" – only 9 easy payments of $9! And if you can, get the All Season Dining Plan with your 2016 Season Pass for only 9 easy payments of $20. This plan (which I currently have and LOVE) will get you both lunch AND dinner when you visit the park. Click to get more information on Knott's season passes.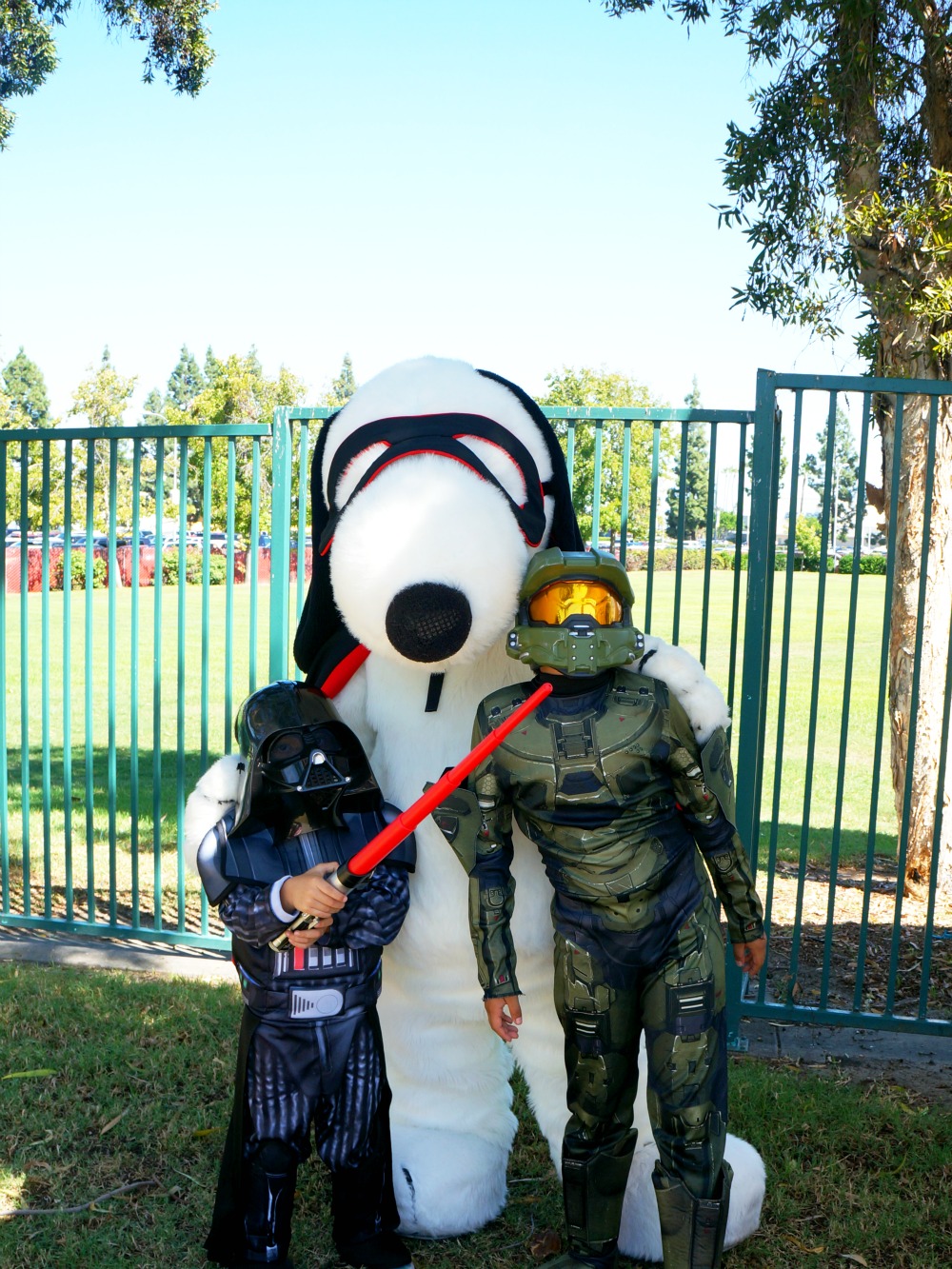 The opinions in this article are my own. I do not work for, or with, any brand mentioned in this article, nor do I have any official relationship with them. I have a relationship with GigaSavvy, for whom I create original editorial content.
Originally published on October 23, 2015. Last Updated on September 17, 2018 by Pattie Cordova