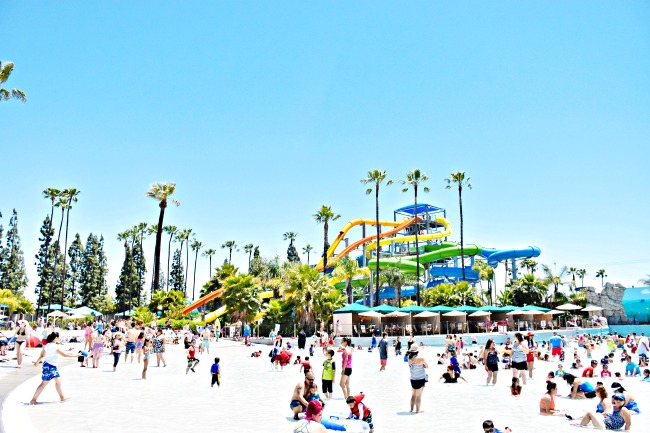 Water parks in Southern California open around June, the perfect time to give families the opportunity to get out there and soak in some fun during summer vacations. We've rounded up the most family-friendly water parks in the SoCal area to help you get the most out of your visit!
water parks in Southern California
Los Angeles
Raging Waters Los Angeles
Raging Waters Los Angeles is California's largest water park. It is literally a theme park full of water rides, including California's only hydro-magnetic water coaster, the Aqua Rocket, that propels four-person rafts uphill to speeds exceeding 30 m.p.h. Raging Waters Los Angeles is family friendly with four areas just for kids and its own sand beach. It also offers a variety of dining options, including some LA favorites like Pink's Hot Dogs and Yogurtland.
If you're short on time, consider buying the H2Go Pass. It's not a front-of-the-line pass, rather, it's a wait-out-of-line pass. You have to wait the regular line time, but you can do it while checking out their other attractions and dining. The standard pass lets you do just this. The premium pass cuts your waiting time significantly.
Six Flags Hurricane Harbor
If your family is into crazy thrill rides, then you'll love this water park. Adjacent to Six Flags Magic Mountain (a 262-acre theme park) is Six Flags Hurricane Harbor. This water park is great for families who want to hang out in the wave pool, stroll down a lazy river and go on rides together. There's also a handful of rides set for thrill seekers who are at least 48″ tall. Their newest slide, Bonzai Pipelines, is a 50-foot free-fall followed by an enclosed, pitch black course and 200 feet of looping body slide action. Arrive early, because once they reach capacity, they will close the gates.
Also, Six Flags Hurricane Harbor is open on weekends only from August 27 through October 2 – just in case you want to squeeze in one last trip before school starts.
Orange County
Knott's Soak City
Located just across the street from America's first theme park, Knott's Berry Farm, is Knott's Soak City, its sister property.
Knott's is located just beyond an Independence Hall replica and offers an assortment of rides and splash pads.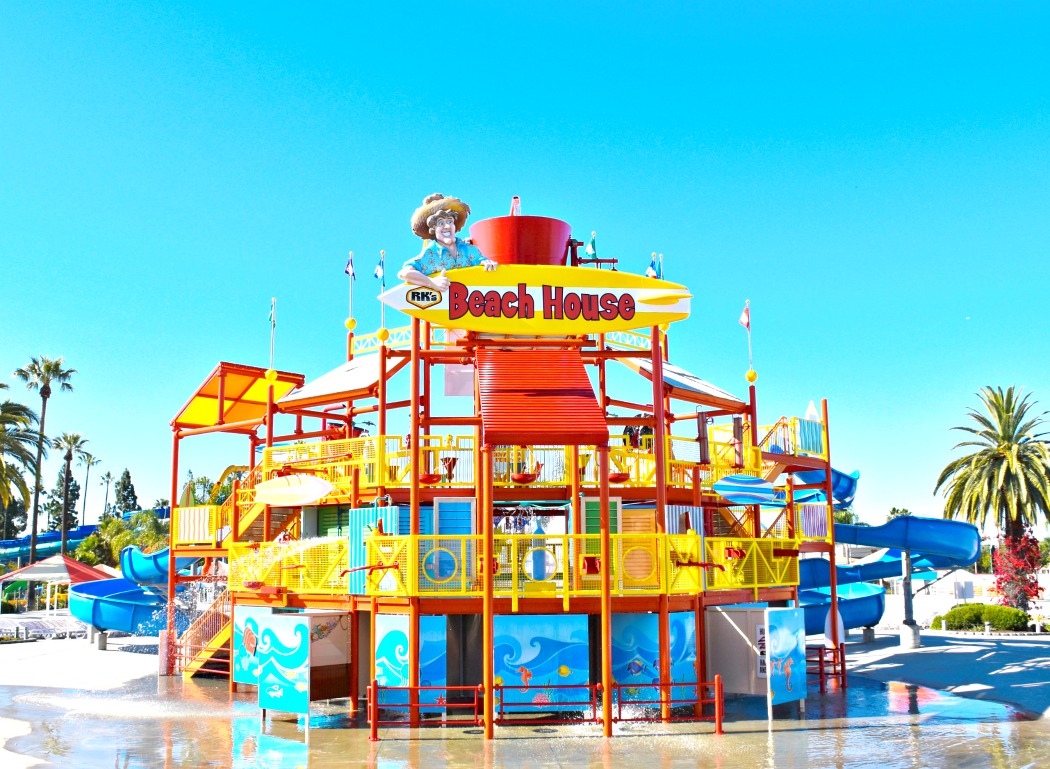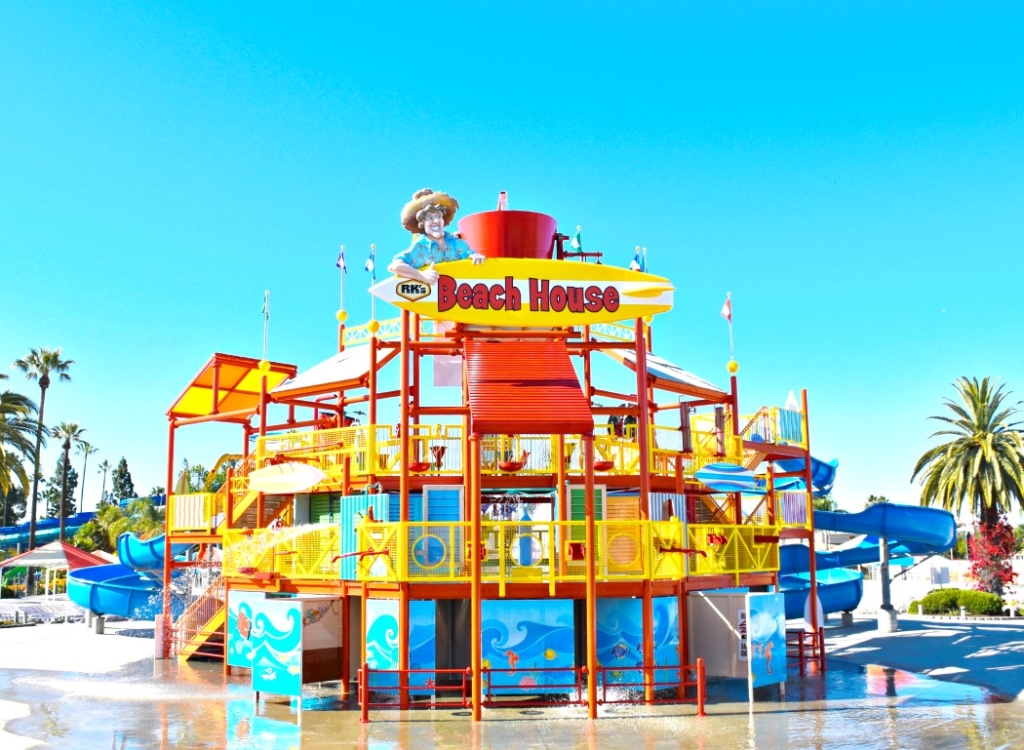 Hang out by "Gremmie Lagoon" if you have toddlers and preschoolers, but head out to the "Beach House" if you have school age kids who like to have giant buckets of water splashing over them.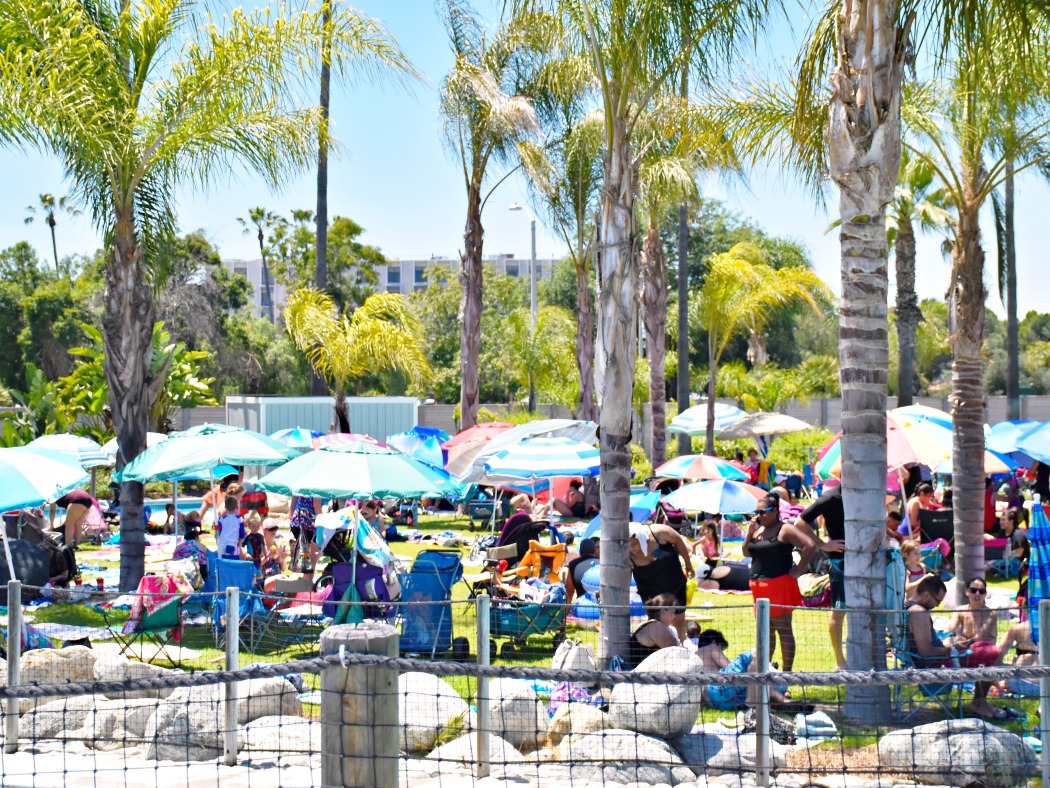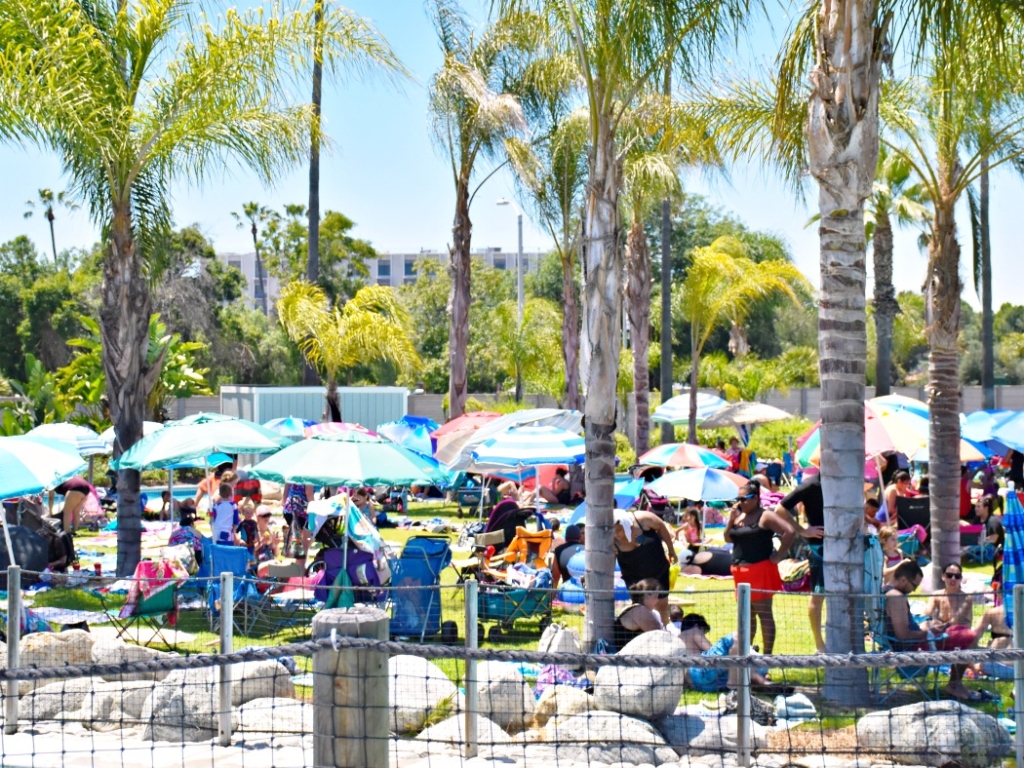 Its "Sunset River" is also one of the longest water park lazy rivers in the world! Get there early if you want to sit in the shade, or rent a cabana if you plan on staying all day.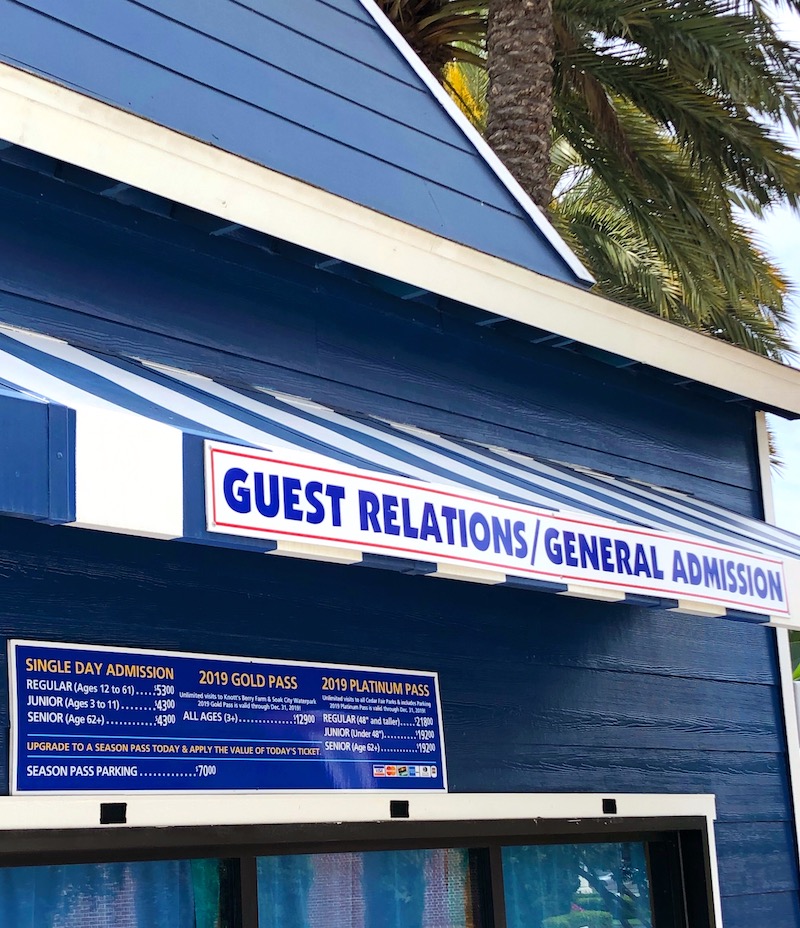 If you're up for the challenge, buy a Ride & Slide ticket online and enjoy Knott's Berry Farm and Knott's Soak City on the same day – and save $50 off the price at the park.
Great Wolf Lodge
Southern California's first indoor water park is now open! A stay at the Great Wolf Lodge resort ensures entrance into its water park.
Get access to it as early as 1 p.m. on the day of your check-in, and all day on your check-out day. The temperature inside is always warm, but you'll never have to worry about getting sunburned.
Great Wolf Lodge has a variety of rides and attractions, and it's open late so you'll have plenty of time to do it all. Their signature thrill slide, Alberta Falls, is simply amazing!
Do it during the day, and at night, for a different experience. Also, if you have budding surfers, check out the Wolf Rider Wipeout surf simulator. Younger kids will have a blast inside its massive water fort treehouse with a huge tipping bucket.
San Diego
LEGOLAND Water Park
Visitors can access LEGOLAND Water Park from inside LEGOLAND California by upgrading any LEGOLAND ticket for just $30. LEGO lovers will find that the theme has been carried into the water park with its giant LEGO building blocks, LEGO Chima themed play area and various building stations.
Parents can dig their feet into the beach sand by the wave pool and watch their kids build their own boats to race down a river.
There are also plenty of photo opps and play areas specifically geared towards young kids. If you have LEGO fans at home, this water park is definitely a must-visit. Note that peak visiting hours are between 1- 3 p.m.
Southern California offers a diverse selection of family-friendly water parks. They're a great alternative to a day at the beach, and easily accessible, no matter where you stay in Southern California. If a water park visit is in your plans, take a look at our suggested packing list below.
Water Park Packing List
Sunscreen
You'll go through a lot of it, especially if the kids are running in and out of the water.
Water shoes
Most water parks allow you to wear water shoes in the pools, lazy rivers and play areas. I personally like them more than sandals because the rubber sole keep the kids from slipping on the wet concrete.
Plastic zippered bags
If you don't have a waterproof phone case, stash it inside a plastic bag with a zipper closure to keep it from getting wet.
Change of clothes and a towel
Before you leave the hotel room for the water park, pack one of their towels, a travel-size shampoo and body wash, as well as a plastic bag to put your wet clothes in. When you're ready to leave for the day, use the showers provided to shower and change into a dry set of clothes.
Waterproof action camera
This is definitely a nice-to-have, but if you can, bring along a waterproof action camera. Some of the water parks even let you take them with you on the ride!
Hat and sunglasses
You can't guarantee that you'll find a shady spot at the water park, so make sure to pack sunglasses and hats for the whole family.
Originally published on May 11, 2020. Last Updated on May 11, 2020 by Pattie Cordova