Are you looking for a great deal on a family vacation? Look no further than Great Wolf Lodge! With their current deals, you can save big on your next getaway. But if you're really looking to pinch some pennies, we've got some great ideas for you too. From free activities to dining discounts, we'll help you make the most of your trip without breaking the bank. So pack your bags and get ready for some fun!
Great Wolf Lodge in Anaheim has become a must-visit in Orange County. We are extremely fortunate to have one so close and save money on airline tickets. Even with the proximity, however, Great Wolf Lodge can still be a big expense for families. This is where our best Great Wolf Lodge deals and penny pinching ideas come in.
Our large family, for example, needs two rooms when we stay and it can get fairly pricey. We were able to visit last year and I learned a few penny pinching ways to visit Great Wolf Lodge.
Keep in mind that in order to save some extreme money you will need to do some extra work. If that sounds like your cup of tea, or cafécito, then these Great Wolf Lodge deals and tips are for you!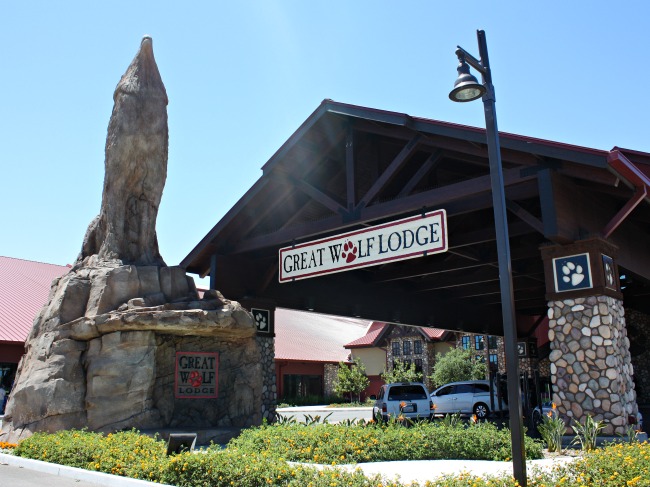 Lets start with some easy ways to save:
Great Wolf Lodge Souvenir Cup
Great Wolf Lodge's souvenir cup deal is awesome! It might not seem like much, but with its unlimited refills on day of purchase, it's an easy money saver.
They have food stands inside water park for easy refill stations. This was the single best thing for us, especially with our five kids who always seem to be thirsty.
The cup offers FREE refills of Coca-Cola and ICEE products (where available) during your stay. It cost $12.99 and to make it better, can be used for future visits for a discounted refill price.
We still have our cup in hopes to use it on another visit. Keep in mind that Great Wolf Lodge does not allow food not purchased on premise inside water park.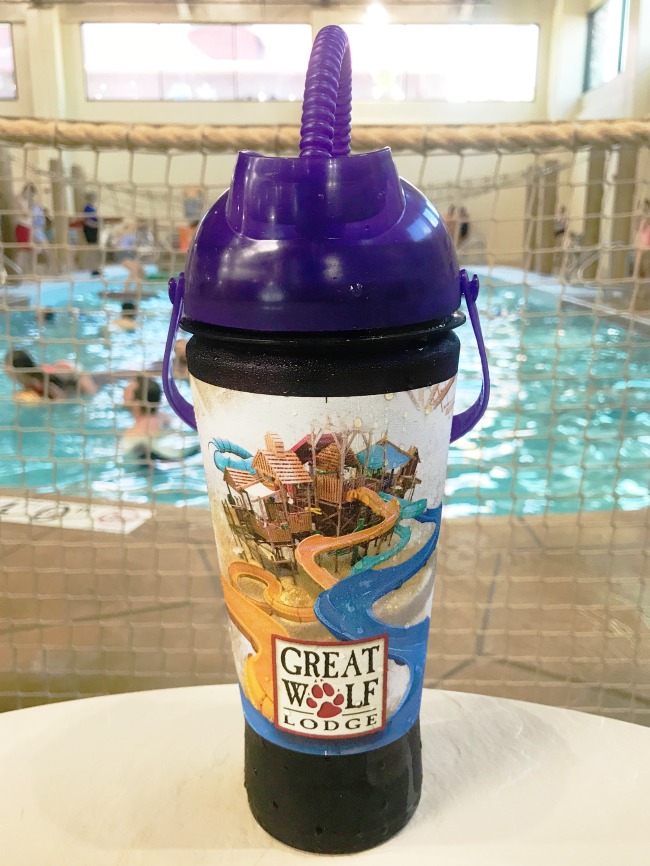 Sign Up for their Email Subscription
Great Wolf Lodge offers a FREE email membership. Just visit their website and sign-up. It takes ten minutes and can save you some serious dinero. They offer 15% off their Best Deal for email subscribers.
Also, if you book through them 60 days in advance you can save up to 50%. It's definitely worth it. An extra bonus, if you have stayed before and booked through them, expect to receive best offers for future visits.
My sister booked a room for $212 a night for four people because she had stayed before. Great Wolf Lodge has a great return rate and this is part of it. They love their loyal customers!
Great Wolf Lodge: best deals online
Using these sites can save you some serious cash. Groupon (if the deal doesn't automatically populate, search "great wolf lodge" in the top search bar) offers these savings since Great Wolf Lodge uses them to sell their empty rooms during low season.
The manager at Anaheim location spoke highly about visitors using these sites for savings. If he is saying this, then it must be true.
Groupon is your best bet for mid-week deals.
On Priceline you can expect to find best deals on rooms. On Groupon you can put an alert on deals you are watching out for. How easy is that? The only drawback is that you will have to accommodate your dates to their deals. All part of being a penny pinching saver.
These next two are were you can save the most but will take some work. The work will payoff with all the savings you can expect. No work no gains, right?
How to save on food at Great Wolf Lodge
This is where I noticed a huge savings for our big family. Pools plus kids equals constant, "I'm hungry." It can get very expensive to feed a family of four at Great Wolf Lodge.
Their rooms include a mini-fridge and microwave. These are great money savers. By putting a little effort, you can heat up and prep easy meals in your room.
Breakfast can be made easy with cereal, bagels, or microwaveable breakfast sandwiches. Ham sandwiches, ramen soups, microwaveable corn dogs, are a few of our go-to lunch options. Next to Great Wolf Lodge is Harbor Town and Country Shopping Center.
Here you can find El Pollo Loco, Rite Aid, and El Super Grocers. El Super Grocers is an inexpensive grocery store, perfect to grab food and snacks, to prep in room.
One mile away is Harbor Place, another great shopping center with drive-thru options, 99 Cent Store, and grocery store.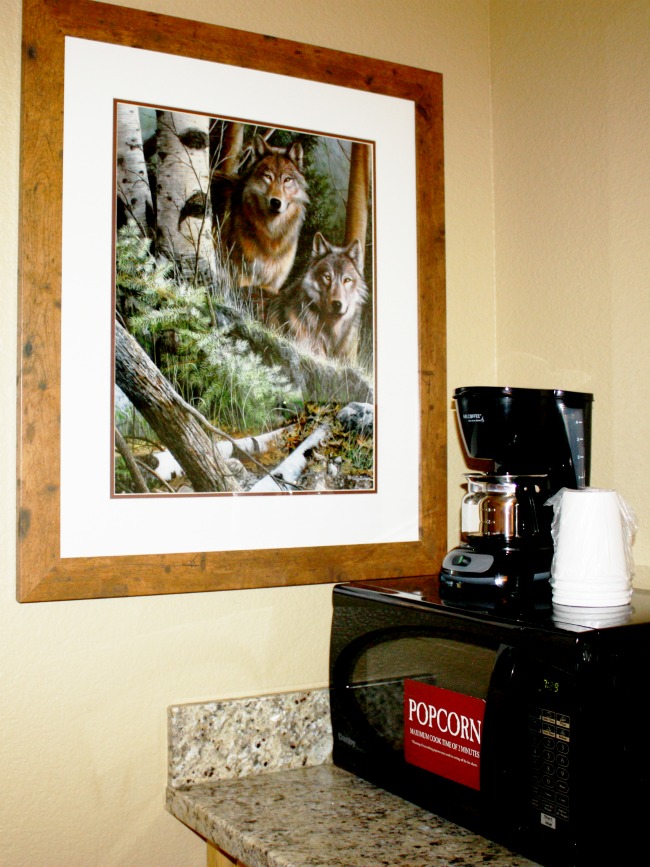 Across the street from Great Wolf Lodge is a McDonald's and 7-Eleven for quick cheap meals.
Little Caesars is only one and a half mile away, (13047 Chapman Ave, Garden Grove, CA 92840) you can't beat $5 large pizza. Keep in mind that No Outside Food is allowed into water park area.
Take a quick break from pools and head to your room for inexpensive meals.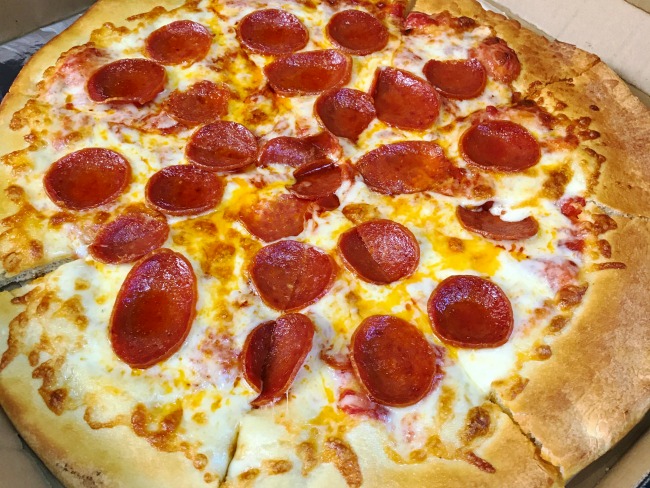 Eating onsite? Then your cheapest option is The Hungry Wolf Pizza. We enjoyed their large pepperoni pizza for $16.99. Combined with our refillable souvenir cup this was a penny pinching meal onsite.
There is also a Dunkin Donuts onsite, which offers breakfast sandwiches, coffee and donuts. These are the most cost conscious options inside Great Wolf Lodge.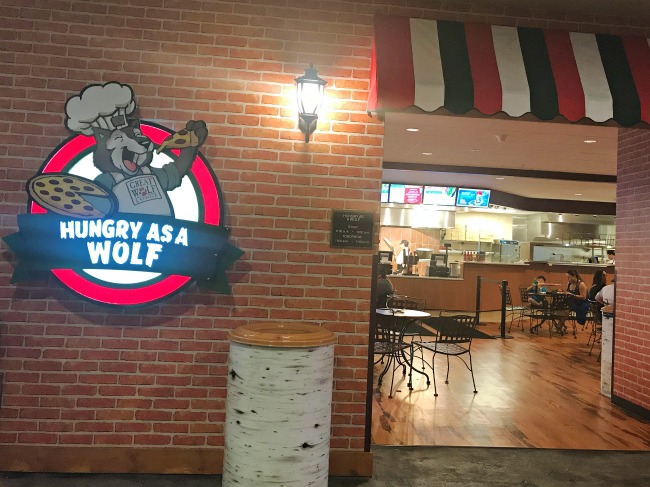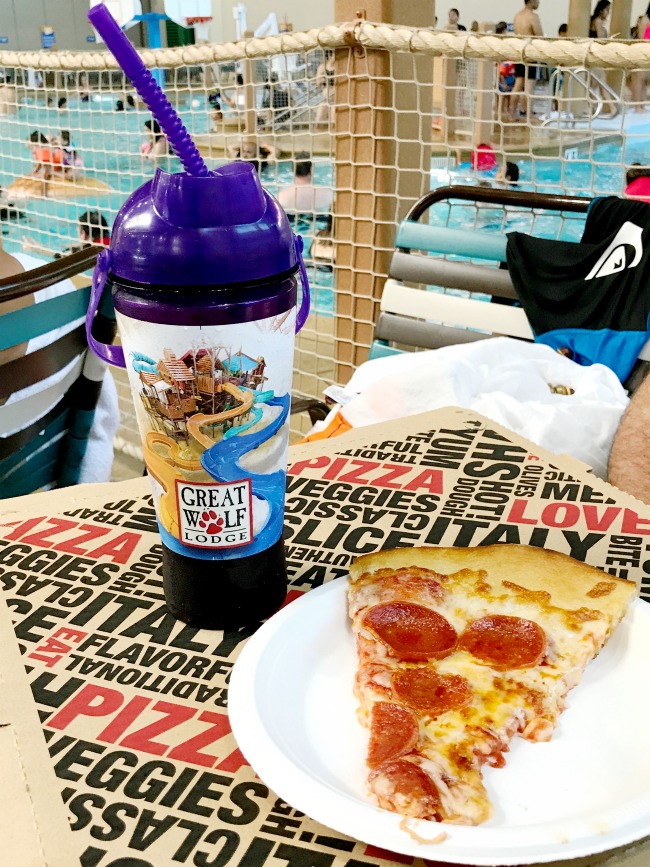 It's All About When You Visit
This will be the most cost cutting way to visit Great Wolf Lodge. It all comes down to WHEN you visit. If you are serious about saving money, then going during the low season is a must. This will be avoiding summer months, Thanksgiving, winter break, and spring break.
Remember the biggest advantage to Great Wolf Lodge is that it's indoors. It will always be a nice 80 degrees inside water park, making it great year round.
The biggest recommendation from Great Wolf Lodge manager was visiting Tuesday through Thursday during the low season. This is when Groupon and email membership will be offering the best deals.
I know it might not be easy because of work and kids schedules, but extreme savings require extreme sacrifices. Trust me, the niños will not mind missing school for Great Wolf Lodge. Taking a sick day to enjoy some family time on the slides never hurt anyone.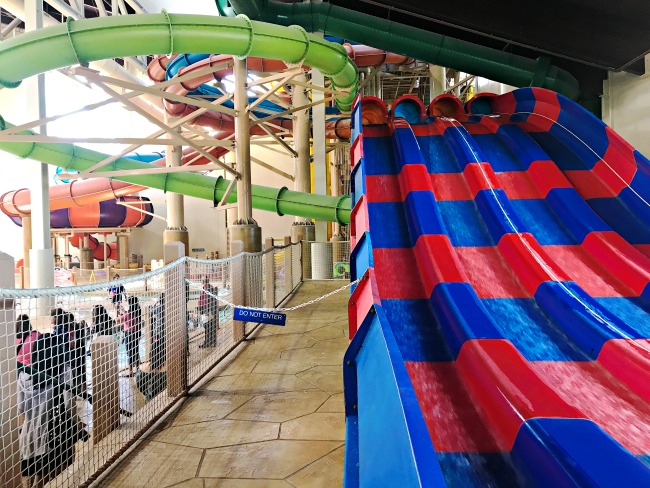 If you use these tips you can expect a savings of over 50% off normal room rates plus huge savings on food. A quick example would be my sister who booked mid September from Wednesday to Thursday, through their website using her email subscription discounts.
She paid $212, before taxes, for a four person occupancy room. This room during high season or weekends would have cost over $399, before taxes. This is just one example, prices may vary person to person.
If visiting Great Wolf Lodge is on your families bucket list, then I hope these penny pinching tips will help make it more feasible. It is a great vacationing spot and fun for entire family. We hope you'll try these Great Wolf Lodge deals on your next visit!!!
For more tips on what to expect at Great Wolf Lodge visit: 5 Things You Need to Know About Great Wolf Lodge
We want to be friends! Join our super fun Facebook group here where we share fun things to see, eat and do in Orange County!
Pin this article for later!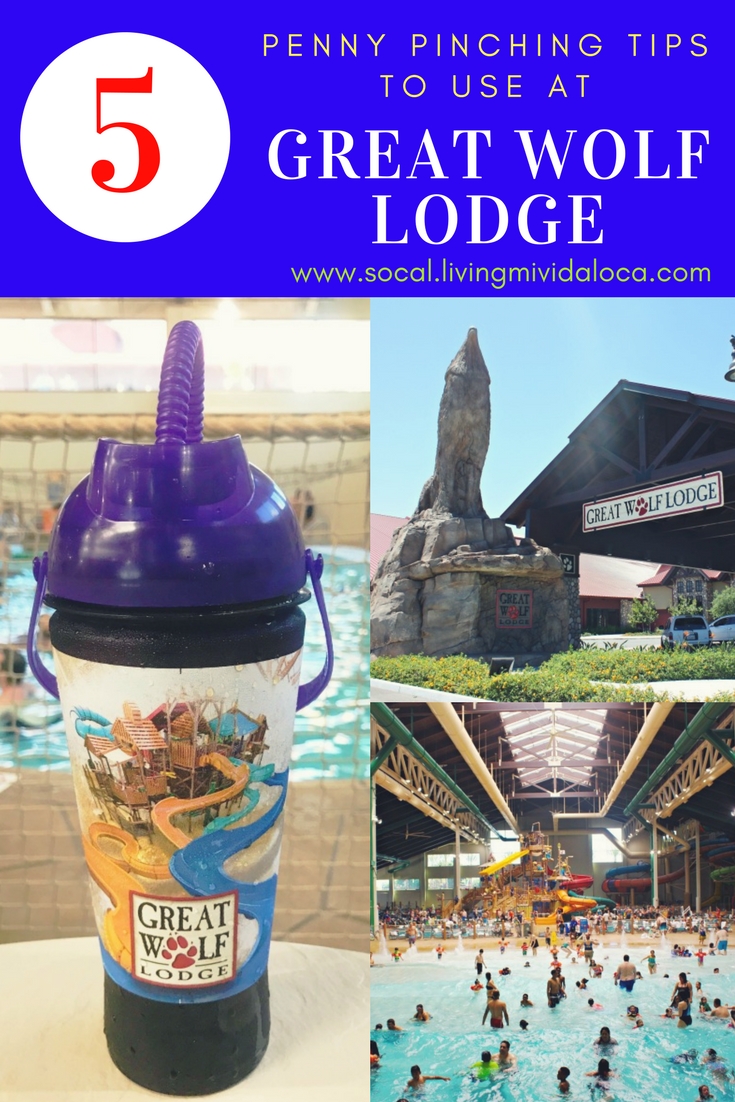 Originally published on January 23, 2019. Last Updated on June 13, 2023 by Pattie Cordova