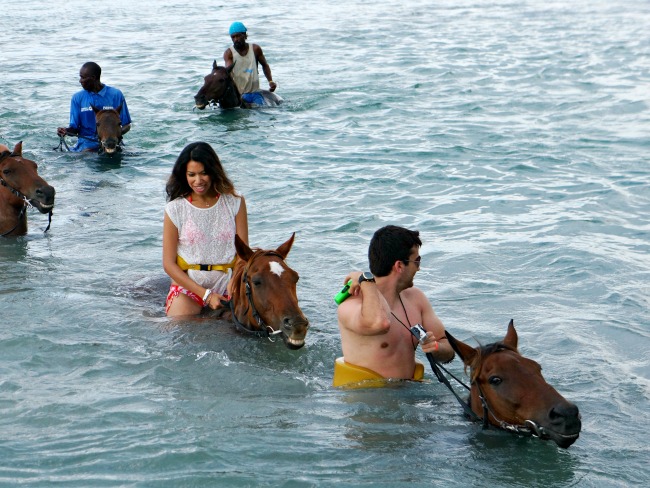 One of my favorite experiences that I had during a press trip to Jamaica was going on a horseback ride and swim in Montego Bay, Jamaica. Before then, I didn't know horse tours in the Jamaican hills were a thing, let alone horses swimming in the sea. It was fantastic!
Horseback Ride and Swim in Montego Bay, Jamaica
Our tour started at Chukka Sandy Bay Ranch in Montego Bay. If you want a similar experience and won't be going to Montego Bay, note that they offer similar tours in Ocho Rios and Negril.
Our bus led us into their ranch near their gift shop. We got off and walked over to a rack and picked out a helmet to get ready for our ride.
Now let me tell you, the last time I had lice (and yes, it happened to me as an adult) was when I went horseback riding in Puerto Vallarta wearing a borrowed helmet. I was determined to not repeat that experience, so I was one of "those" girls that put on a plastic bag to protect my hair. I recommend you do the same.
One by one we were called over to mount a horse. Everyone at the ranch was super helpful and patient with us. Our horseback ride through Jamaica's backcountry started once we were comfortably seated (well, as comfortable as you can be seated atop a horse). I was happy to see that we had more than one guide leading our pack – especially since many of us weren't used to riding horseback.
Our guide shared with us some of Jamaica's history as we traveled through the farmland. He answered any questions we had and gave us insider info about the 18th century sugar plantation that we passed. Our guide would also point out native flowers and trees here and there, and even tore off leaves from the trees and plants giving them to us so could smell and taste. It was such an immersive experience.
We found ourselves riding past rivers and gorgeous mountain sides. It was super picturesque and I wish I would have taken my camera with me. But honestly, I was super nervous to be riding a horse through hills and over rocks that I don't think I could have taken many pictures.
Related post: Visiting Tensing Pen in Negril, Jamaica
Soon after, we found ourselves back at the ranch. We were taken to this spot where we got off our horses so we could get ready to go "swimming" with our horses in the warm Caribbean Sea!
And then we were back on our horses – bareback. These horses though… they are amazing. They are incredibly powerful and comforting at the same time. The experience was surreal.
The horses all stayed in one line, with guides nearby. I could feel the rocks and sand underneath the horse's hoofs. At times, it felt like he was slipping on them, but at all times I felt safe. I just wanted to hug him the whole time he was taking me through the Caribbean Sea.
And then I started thinking about horses… pooping. I don't know why, it's just something that came to mind. I thought about how they don't really have a time to "go." They just do. And then I wondered if they stopped from going poop when they were in the water. It wasn't long after that thought that I got my answer. THEY DO NOT.
Yup. So the picture above is me seeing poop floating in the water, laughing and thinking, "okay, I'm done with horseback swimming. It was fun while it lasted."
All in all, I had the best time. It was definitely a highlight of my trip to Jamaica and next time I visit Montego Bay, I fully plan on taking the kids to go horseback riding and swimming as well.
Visit the Chukka website to find out more details on their two hour horseback ride 'n' swim tour.
Chukka Caribbean Adventure Tours
#2, Montego Freeport Shopping Centre
Montego Bay, Jamaica
Email: [email protected]
Tel: 1-877-424-8552 (Toll Free)
More Jamaica Related posts
Originally published on August 23, 2016. Last Updated on September 9, 2021 by Pattie Cordova