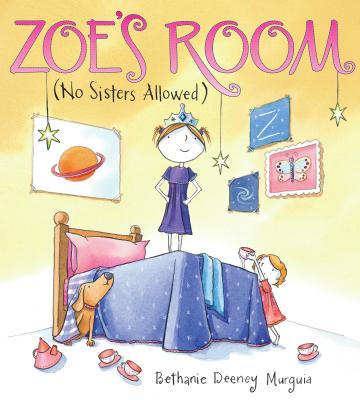 My kids aren't gender biased when it comes to… well, anything. I mean, they have their own tastes, but I've made it a point to not tell them, "pink is for girls, dolls are for girls, etc." I want them to grow up thinking that the whole world is open to them so whenever I get a chance to introduce to them "girly" things, I do it.
Recently, my boys were given the opportunity to read Zoe's Room (No Sisters Allowed) – and they enjoyed it! My youngest especially (he's 2 years old). The cover is this great looking glittery pink and the book itself features two sisters. It's a book that's relatable to either gender. It's been making the rounds in our families – my nieces are currently enjoying it!
About Zoe's Room (No Sisters Allowed)
Zoe rules as Queen of the Universe — or at least, her room! — in this sweet, funny companion to Zoe Gets Ready.
Zoe is the Queen of the whole Universe … but her favorite place in the Universe is her own room, where she hosts tea parties, builds empires out of blocks, and gazes out upon the stars.
Then her parents announce that her little sister Addie is moving in to Zoe's room. Little sisters aren't good at tea parties (too rude), block-building (too clumsy), and starwatching (just plain too young!). So the Queen's new roommate is a royal pain . . . until Zoe discovers that even her smallest subjects can be useful in a storm!
For ages 3-5 years.
About Bethanie Deeney
Bethanie Deeney Murguia earned an MFA in Illustration from the School of Visual Arts. Bethanie lives with her family and her fifty pound lap dog, Disco, in Sausalito, CA. She is the creator of Zoe Gets Ready and Buglette, the Messy Sleeper.
Zoe's Room (No Sisters Allowed) Giveaway
We're giving away three copies of Zoe's Room (No Sisters Allowed)! Enter below using the easy Rafflecopter widget. ¡Buena suerte!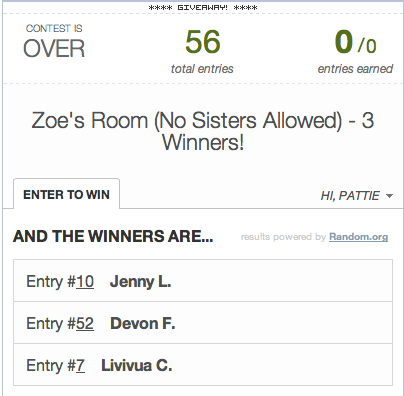 This is not a sponsored post. I received this book for my kids. All thoughts and opinions remain my own.