We had the most amazing time at Knott's Soak City on Sunday. Mother Earth seemed to have gotten my memo because we had the most perfect Southern California weather. Hot enough to make the water inviting, but not so much that you'd start sweating just by standing there.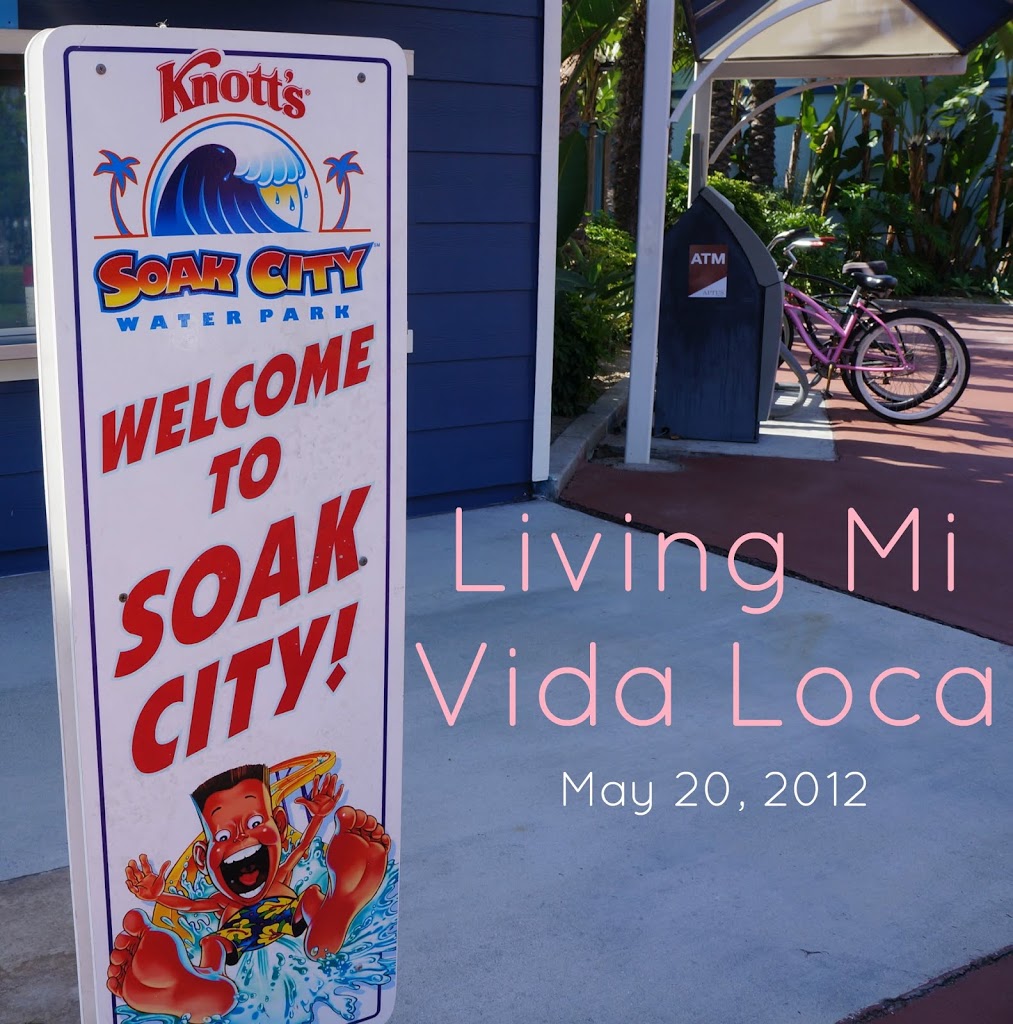 We walked towards Soak City and were greeted by roosters, chicken and ducks on the way there. We had to keep leading the kids (my son and niece) forward because they kept aweing and pointing at them as though THEY were the main attraction.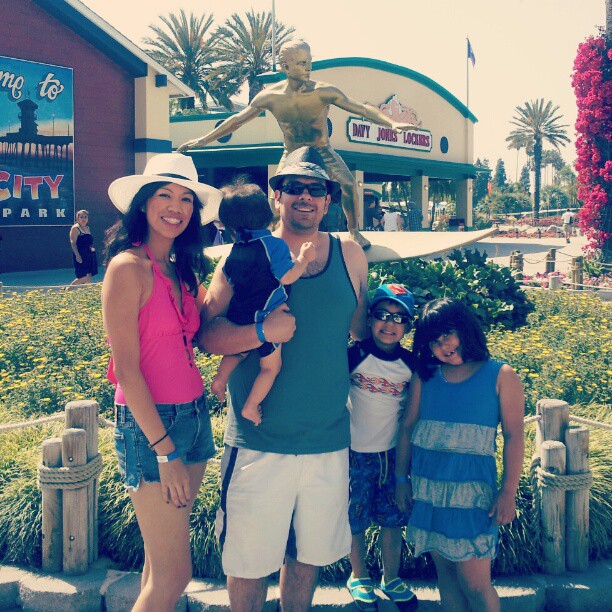 If you've never been to Knott's Soak City let me tell you that it's a great place for EVERYONE in the family to spend a fun water-filled day with great music playing in the background. No swimming required (life vests are available FREE of charge) and there is something for everyone. Seriously! We took our Radio Flyer wagon, stuck our 11 month old in there along with our beach totes and off we went. We took out the baby everywhere we stopped and just let him roam free. His favorite spot was Gremmie Lagoon. He's a tiny little man and yet he was able to splash around just fine and have his Soak City fun. Of course, if you plan on taking your babies with you make sure to slap on one of those swimming diapers. This was our first time using them and they work like a charm.
My first stop was Banzai Falls, mainly because it's the first slide that we passed and I was dying to do something that would get the adrenaline going. I was not disappointed. My six year old niece went on with me and yes, she was a little freaked out but she still did it.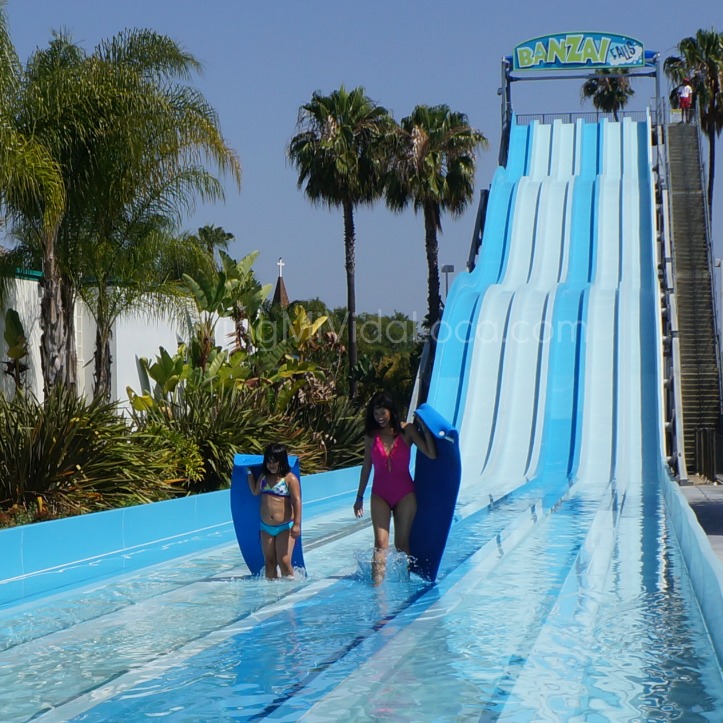 My next stop should have been Old Man Falls, but the kids set their eyes on the Beach House and we were there for the next hour and a half. My boy who is four years old wasn't sure about going down the water slide but in the end he did and I was happy to see that he liked it! By the way, there is a height requirement of 42″ inches to go down the slides at the Beach House.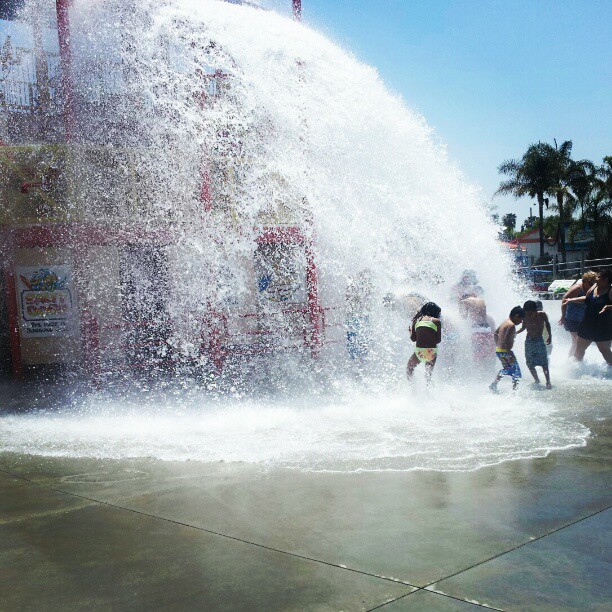 The hubster and the kids stood under the huge bucket a few times and waited for it to tip over and drench them. It's really cool to see it happen.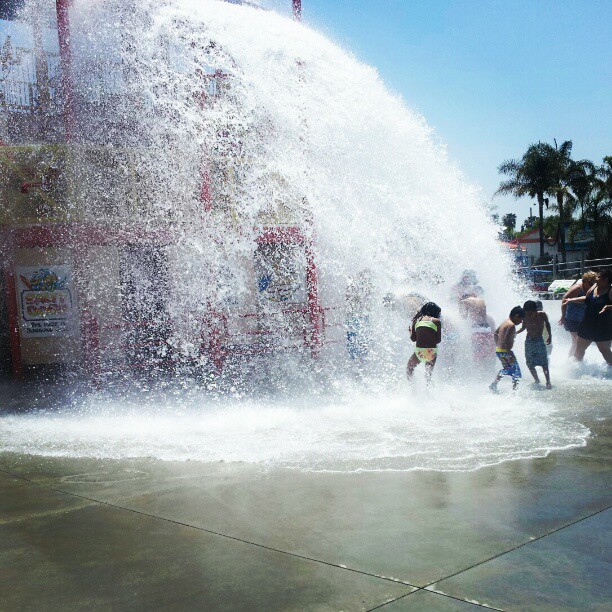 Soak City also has these Big Squirt Fill Stations at the kid's playgrounds where they can fill up their Big Squirt and have water fights. Big squirts are available for purchase in their gift shops, just make sure to bring them back with you on your return visit!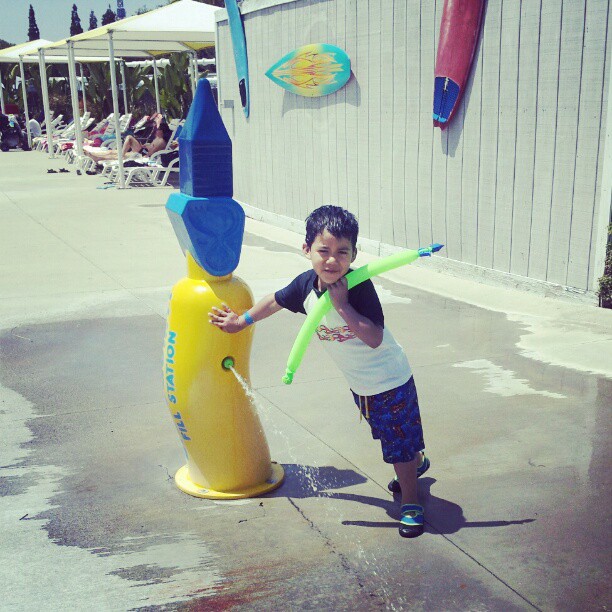 Our next stop was the Sunset River. I stuck my 11 month old on one of those tubes and he floated down the river. It must have been really relaxing because he fell asleep! This is one of those attractions at the park where you can just lie there and relax. If you choose to, you can also walk it, but where's the fun in that?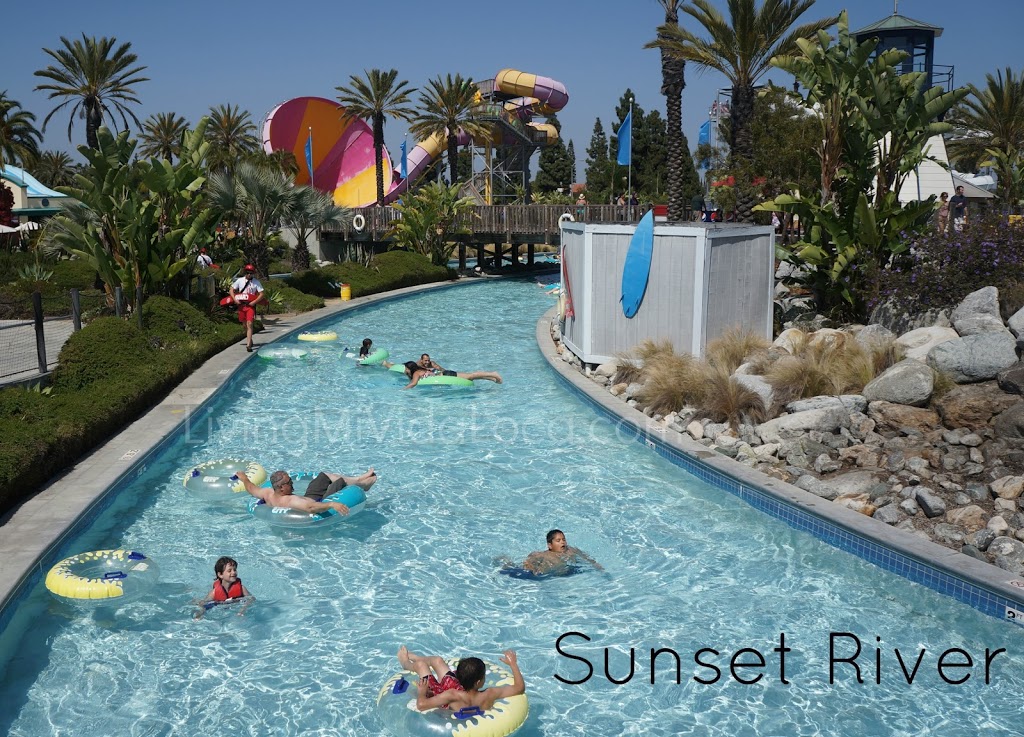 We had a BBQ lunch at the birthday zone and then headed to the Gremmie Lagoon where we spent the remainder of the day. This was the PERFECT spot for the baby because there's a small layer of water that allows the kids to splash around and again, no swimming required. My son loved going down the mini-mini water slides.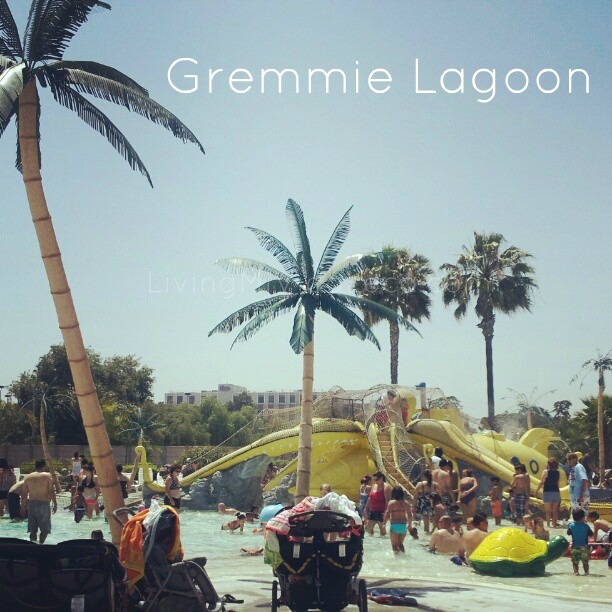 We finished the day with Dippin' Dots and one more bucket dump at the Toyota Beach House. It was such a great day and the kids were asleep about three minutes after we got in the car.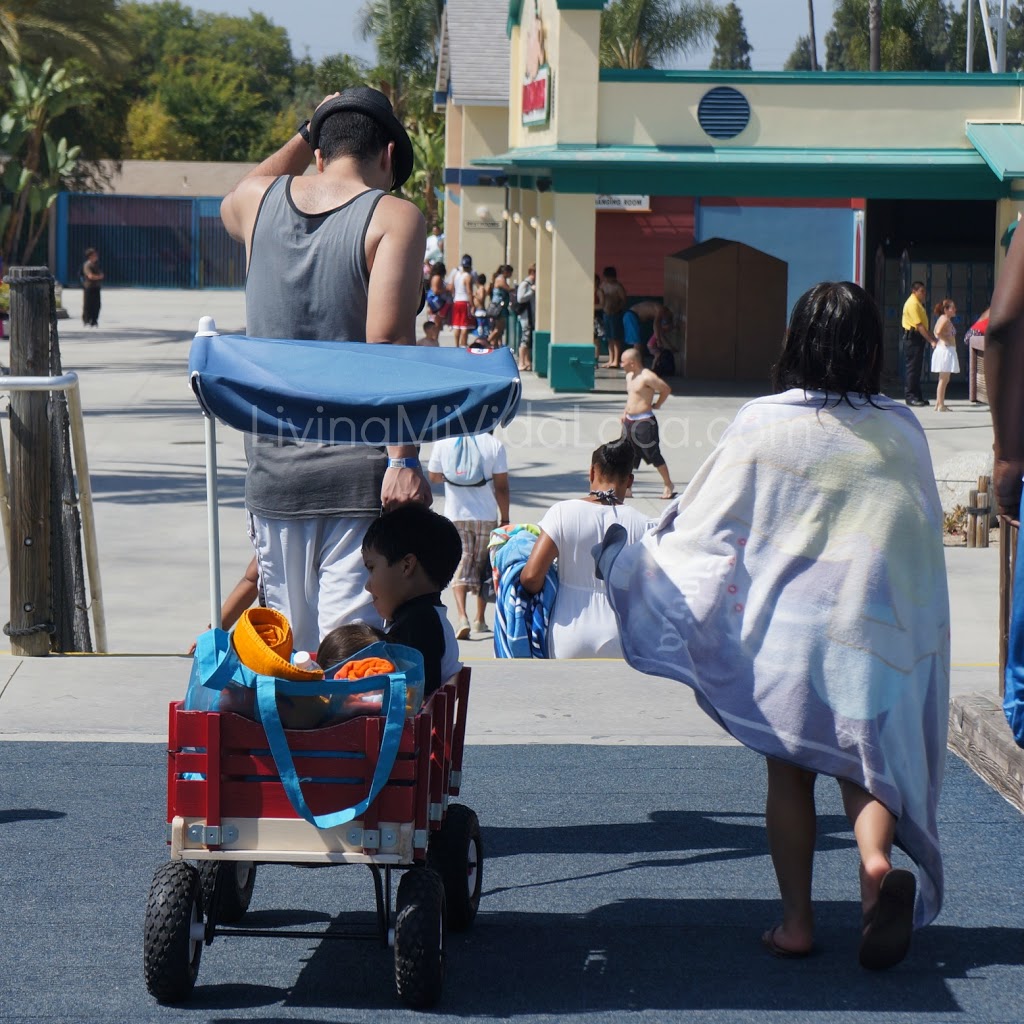 Knott's Soak City is the perfect place to spend the day and it's only open seasonally so I highly suggest you pack up your family, take a trip over there and live it up! Season passes are available as are cabana rentals. Heck, you could even host a birthday party at Knott's Soak City! It's so the place to be at during those hot Summer days. There are three locations in California and though I've never been to the other two, I'm sure they're as great as the Orange County location.
Here are a few tips that may be helpful to you when planning your visit:
DO NOT FORGET YOUR SUNSCREEN! You can get sunburned being out all day. Although there are shaded areas at Knott's Soak City, you're not going to be under the shade all day and I can tell you, I saw plenty of folks getting sunburned because they forgot their sunscreen. Sunscreen is also available for purchase at the gift shop.
There are grassy areas where you can set up shop. I saw a few families with sport-brellas (outdoor umbrellas) set up with towels underneath. Grassy areas are right outside the restaurant and around Gremmie Lagoon.
Strollers and wagons are allowed. We opted for the wagon and got plenty of use out of it. Our 11 month old spent time in there and even napped in it!
Outside food and drinks are allowed, but there are also three great concession stands where you can purchase food. We got a veggie wrap from one of them and it was huge!
The huge slides all have a lot of steps to get to the top of the slide. They may or may not be wheelchair accessible.
Lockers are available to rent as soon as you walk into Soak City.
Wi-fi is available throughout the park.
Get there early to snag a chair under a canopy.
Bring your reusable Knott's cup – there are three refill stations throughout the park.
Bring your own towels. Knott's does not have towel service.
I have tons more pictures on our Facebook page. Stop on by and take a look!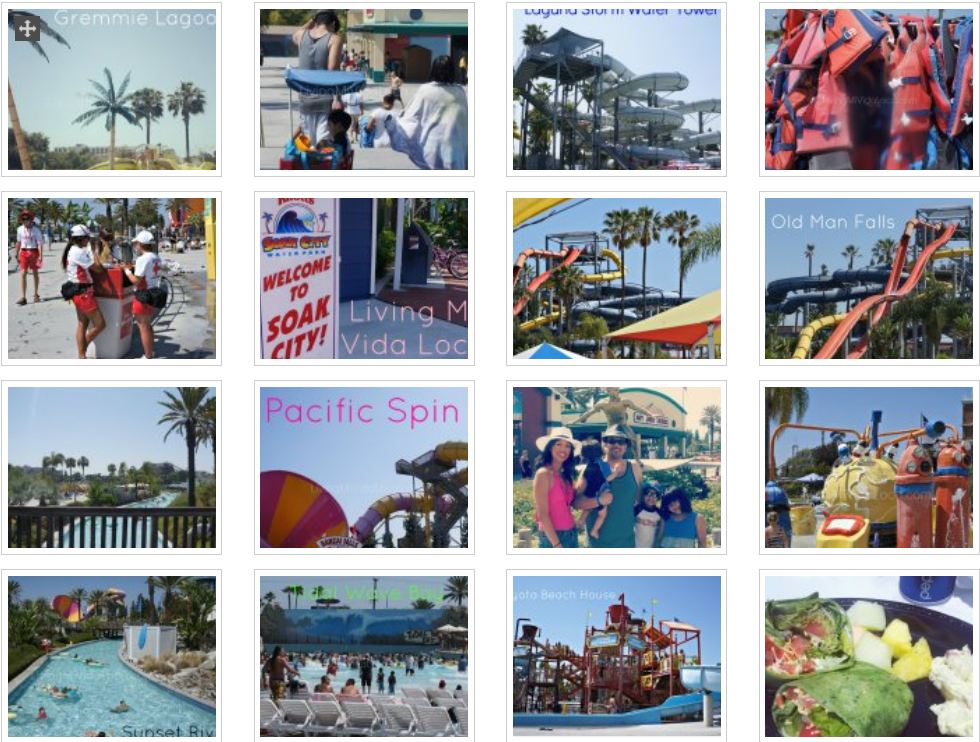 Like this post? Check out our Destination Guide!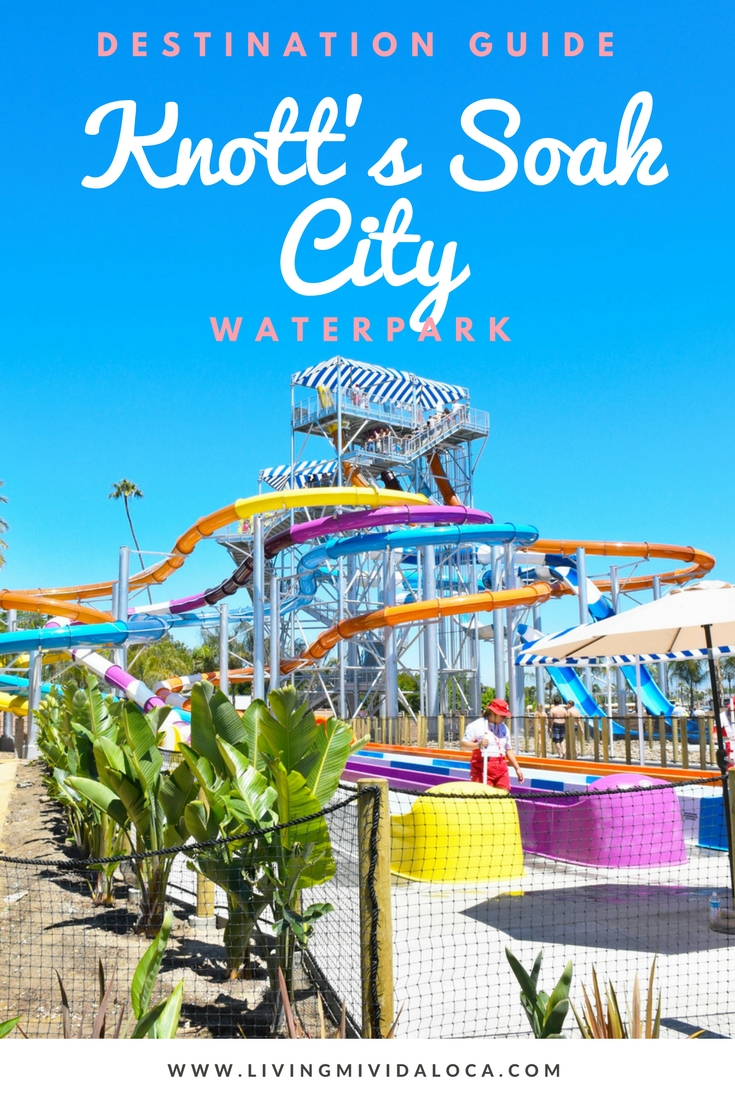 [disclaim]My family and I were invited to spend the day at Knott's Soak City as their guests. Even so, my opinion and thoughts were not compromised in any way.[/disclaim]
Originally published on May 22, 2012. Last Updated on July 13, 2017 by Pattie Cordova