Guest post by Justine Burgess
11/9/2014 update: Now is the perfect time to stock up for winter by picking up a few new-to-you pieces at the Savers 50% off sale on Tuesday, November 11! Before you hit the sale, consider making room for all your great finds by donating a few of your gently-used items from the past year at your local store, too.
Additionally, Club Card members have the chance to shop the sale early on Sunday, November 9th – but if you're not a member, sign up here before the big day.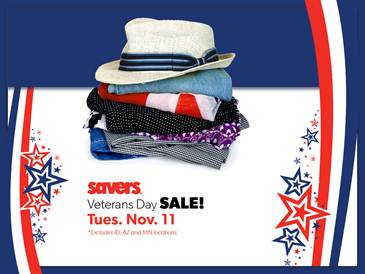 2014 update: Shop Savers 50% off sale on January 20, 2014. Tweet your favorite finds to @SaversVVillage!
---
Originally published January 18, 2013
We can't wait to see your thrifty finds – tweet us your favorites at @SaversVVillage!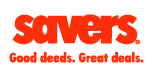 Bargain alert! Thrifters and frugal fashionistas, take note! This Monday, January 21st, all Savers Thrift Stores across the U.S. are holding a 50% off sale! That's right- 50 percent!
I am so excited- Savers sales are some of the most fun you can have at a thrift store. Whenever I've been to one of these special sale days, they make it THE place to be by having fun trivia contests and games. This is a great opportunity to shop for upcoming parties (like, say, Superbowl or Oscar parties), find some decorations for Valentines Day, Easter, or next Christmas, or simply because you want to refresh the look of your home or your wardrobe. At some past events, they've offered Savers bucks as game prizes to spend in store that day. At the last sales I attended (Presidents Day and Memorial Day), trivia questions (related to the holiday) were asked every few minutes, and I won several Savers bucks for the correct answers. My son and I also yodeled (that's right, YODELED) over the intercom and then hula-hooped (not very successfully, I might add) in public – the lure of three Savers bucks was too great a temptation to resist. Heck, I'd tap-dance like Fred Astaire or Gene Kelly if it meant getting even more savings.
I shop at Savers often, and in my opinion the prices are very reasonable. Stores are clean and extremely well organized- clothes are organized by type, size, and color, making it easy to find just what you need. Household goods are carefully displayed on the shelves, and smaller items are bagged together and priced as a lot. Even the toy section is kept fairly organized, and that's a minor miracle in the thrift store world. Plus, the people that work at the Savers I frequent are incredibly helpful and invariably cheerful, which makes for a very pleasant shopping experience. It's the only thrift store my 5 year-old son actually LIKES shopping at with me. I've been known to spend up to 8 hours shopping there. Ok, that sounds slightly insane… but I managed to score a pair of authentic True Religion jeans for $15 and a pair of Seven for all Mankind jeans for $6.50, along with a plethora of other awesome finds that day.
Super Savers Club card
Don't forget to sign up for the Super Savers Club Card to get email updates and special offers. You can also sign up in-store when you head down there on Monday for the sale. And don't forget to bring any donations you might have! You'll be helping out a good cause by bringing in gently used items you no longer need.
When
Monday January 21st
Time
9:00 a.m. to 9:00 p.m.
What
50% sale day discount (does not include jewelry, books, new items, or items tagged housewares or furniture, and no other coupons or discounts apply).
Shopping at Savers is a great way to keep more money where it belongs- in your wallet. Click here to find your local store.
UPDATE: Club card members can get sale prices a day early as well, on Sunday!