The long-awaited Candeeland Kids at MainPlace Mall is open! Candeeland Kids opened to the public on Friday, February 14th with a special deal!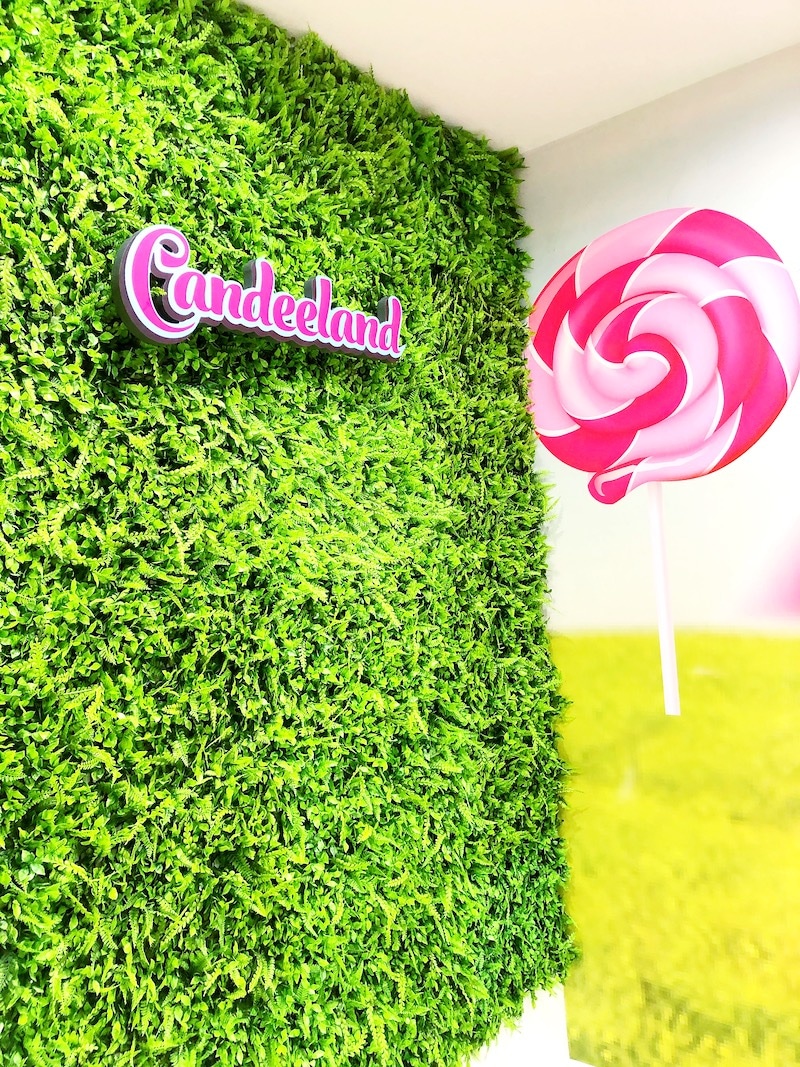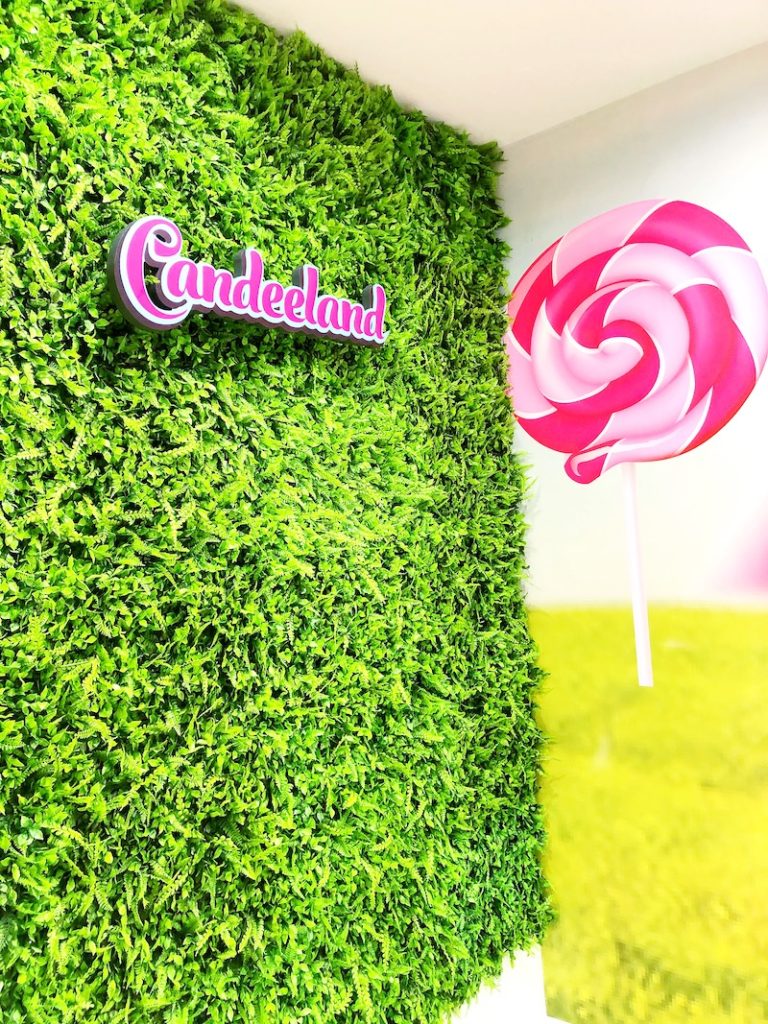 Candeeland Groupon Special
Save on your Candeeland visit with this special Groupon deal!
https://www.groupon.com/deals/candeeland?deal_option=70a09b36-577e-4209-8fac-54b87f24f32f
Bypass the waiver line
You can skip the line and complete the waivers online. Not necessary to do this – but if you have kids who are impatient, you might want to do this. Click here to access the waiver online.
Grip socks needed
Grip socks are needed for kids AND adults. They will be available for purchase for $2.50 each.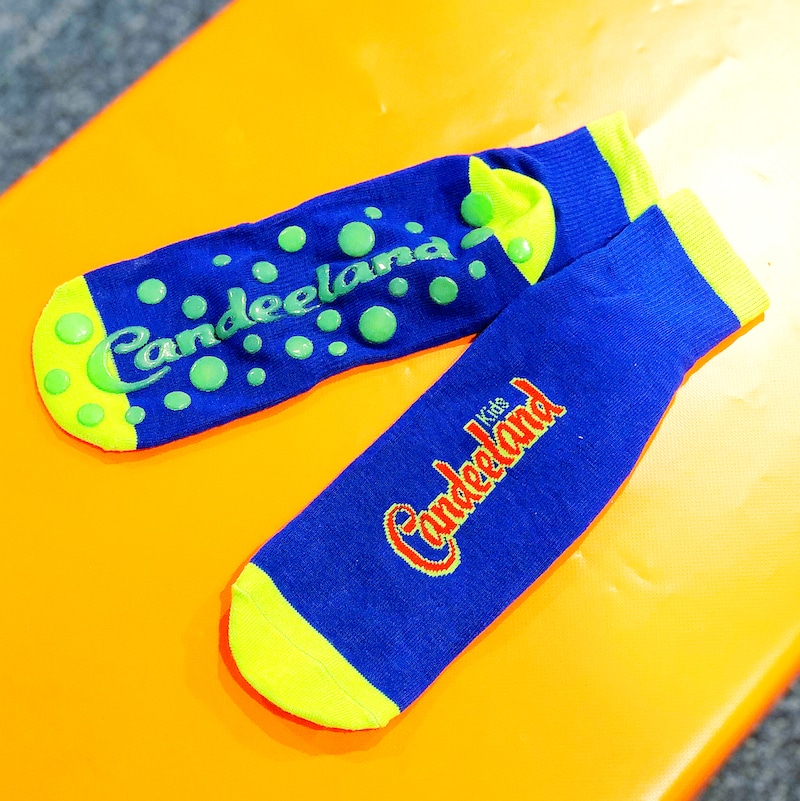 Best place to park for Candeeland Kids
Candeeland Kids is located in the upper level next to Ashley HomeStore. We recommend parking closest to CPK and walking through Ashley HomeStore to get to Candeeland. Otherwise, we would also recommend parking by Round 1 then walking through the bowling alley and going up the escalator.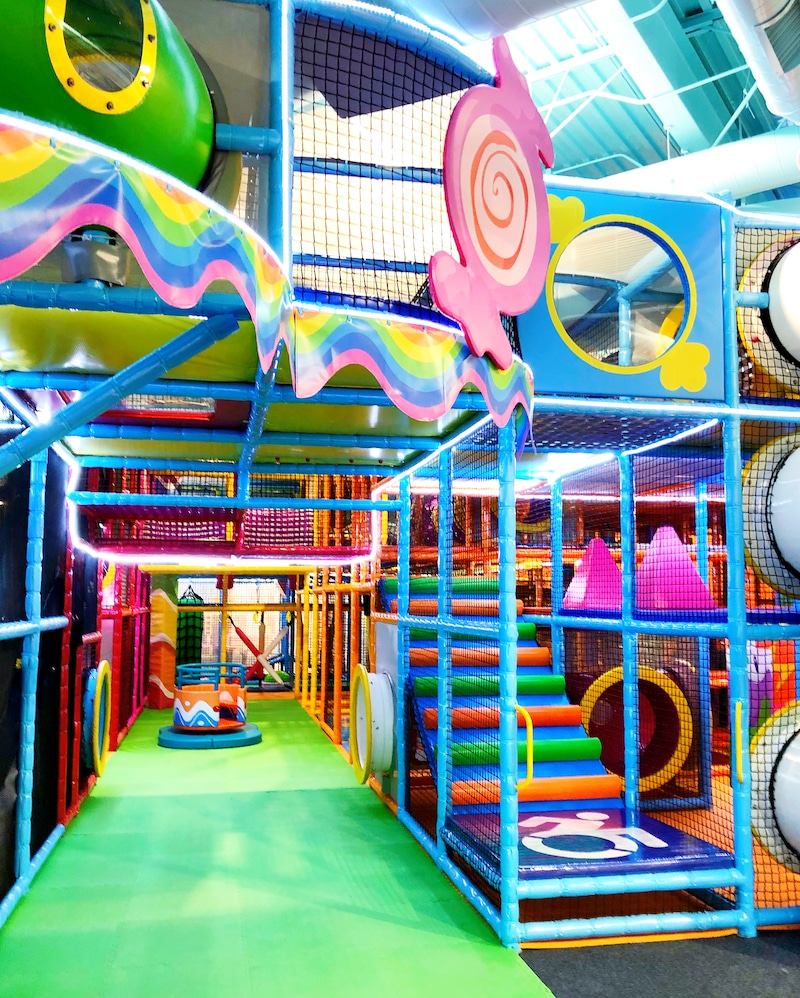 Candeeland Kids admission prices
This indoor playground charges admission based on time spent inside the location. Prices vary, but they'll be cheaper during the weekday.
When you purchase your admission ticket, you'll have a name printed on there as well as the check-in time and the time that your time expires.
If you're not ready to leave, just add more time at the end of your shift!
Yearly memberships and group rates will be available for sale later.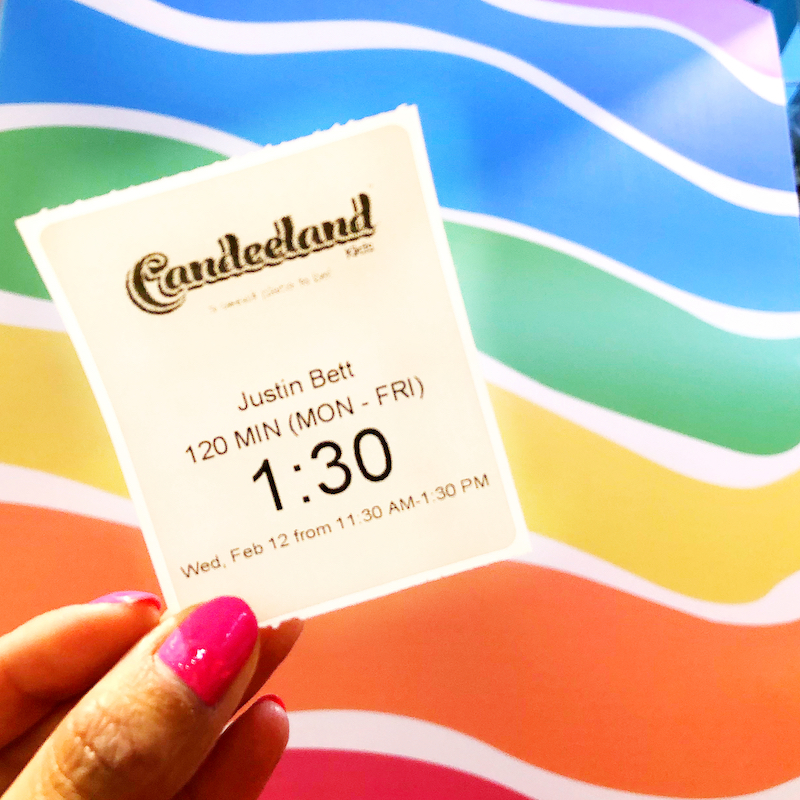 Monday – Friday
$10 for 60 Min
$12 for 90 Min
$15 for 120 Min
$18 for All Day
Saturday – Sunday + Holidays
$12 for 60 Min
$16 for 90 Min
$18 for 120 Min
$20 for All Day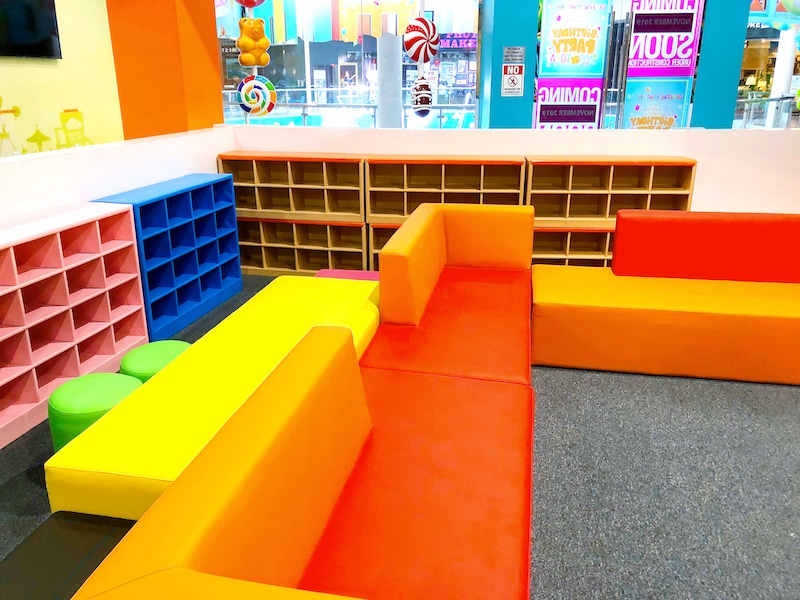 Candeeland Kids Hours
Regular mall hours will apply to Candeeland Kids. The snack bar will open once the indoor playground is open.
Monday – Friday | 10am – 9pm
Saturday | 10am – 8pm
Sunday | 11am – 7pm
Snack bar
The snack bar will host cold drinks, pre-packaged snacks and coffee!!! Candeeland Kids has a coffee machine that will make coffee, lattes and cappuccinos.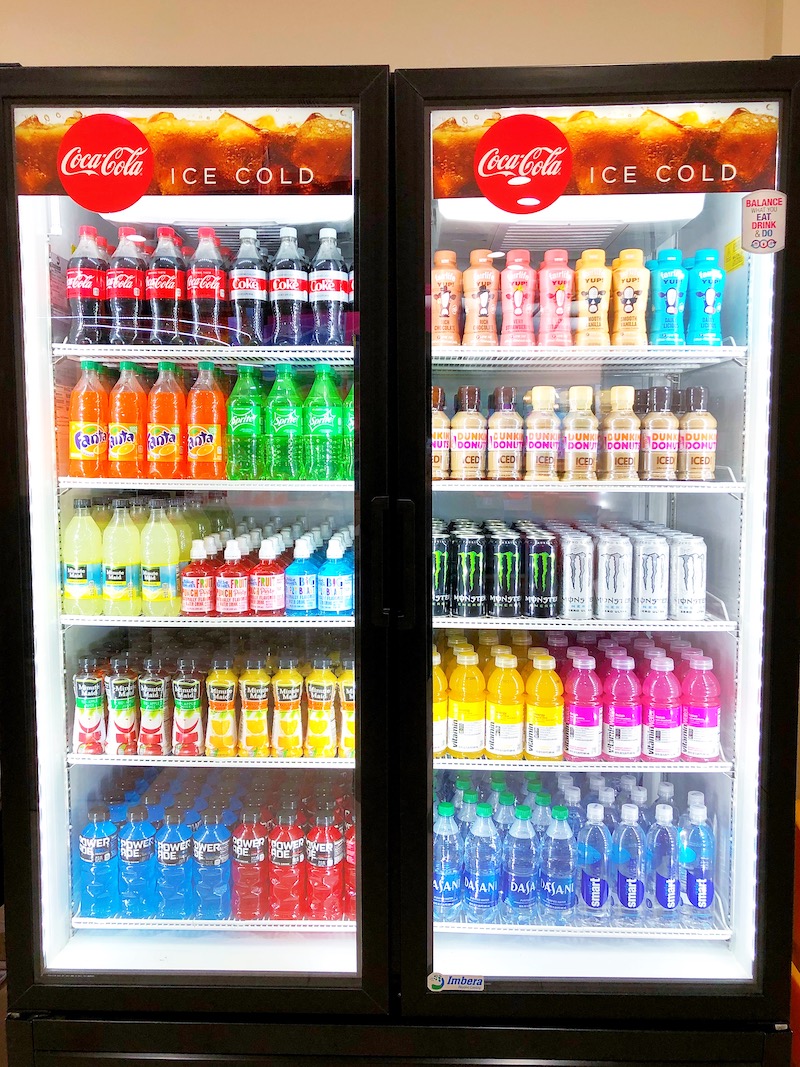 Little Land play area for pre-schoolers
Candeeland Kids has an area just for kids four years and under! This area has a giant gumbball machine with colorful balls that bounce around in the area.
There's also another place where you push a button and air comes on to suck up the colorful balls that drop into a huge yellow basket. Kids can then pull the black cord and the basket drops all the balls!
Parents can hang out on orange benches while their kids play. The benches are set around the perimeter by the window.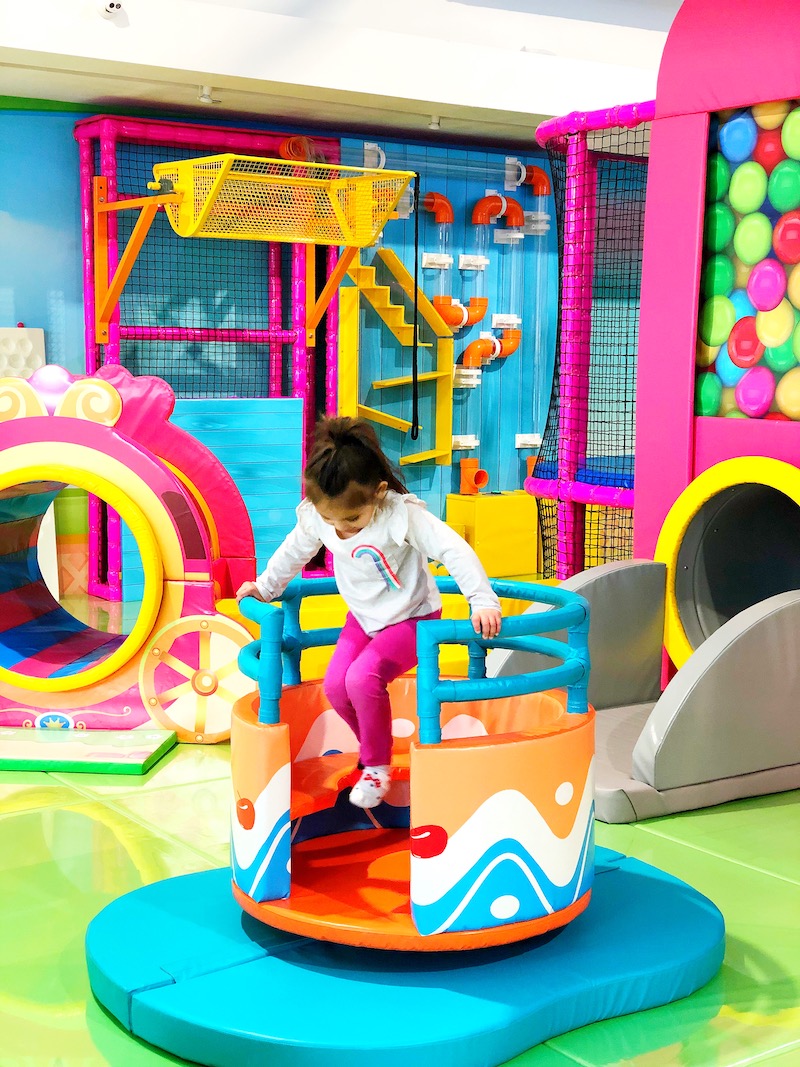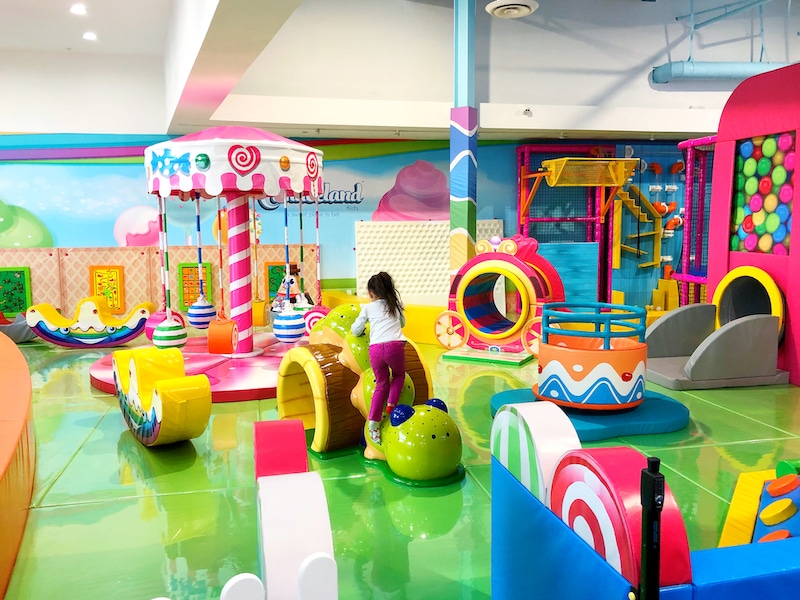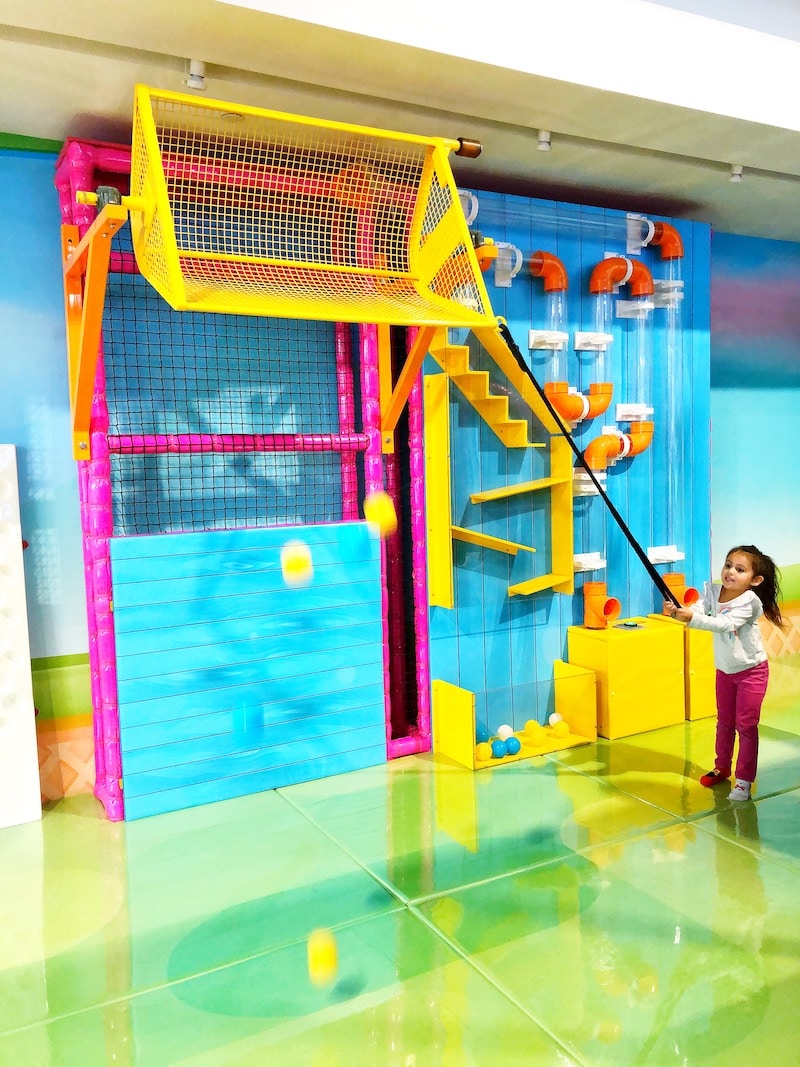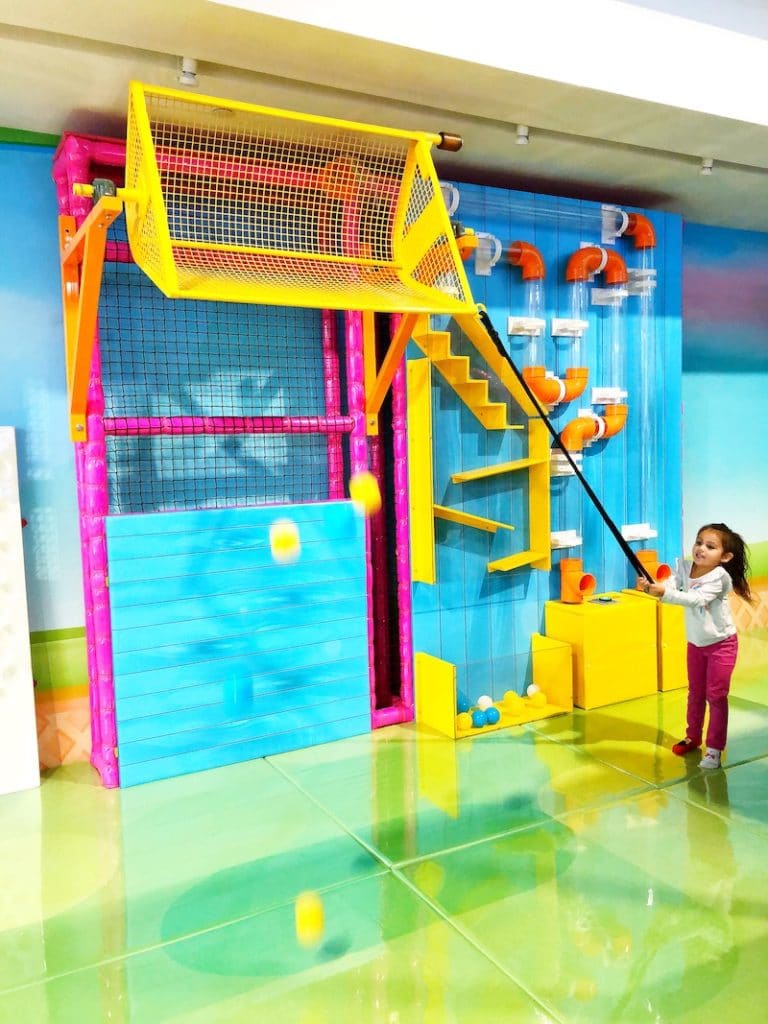 Play area for parents
Well there's really not a play area… but this is pretty cool! Guests have access to massage chairs where you can purchase a timed mini massage while you watch the kids play!
Parents also have access to a comfortable lounge area with sofa seats, TV and charging stations.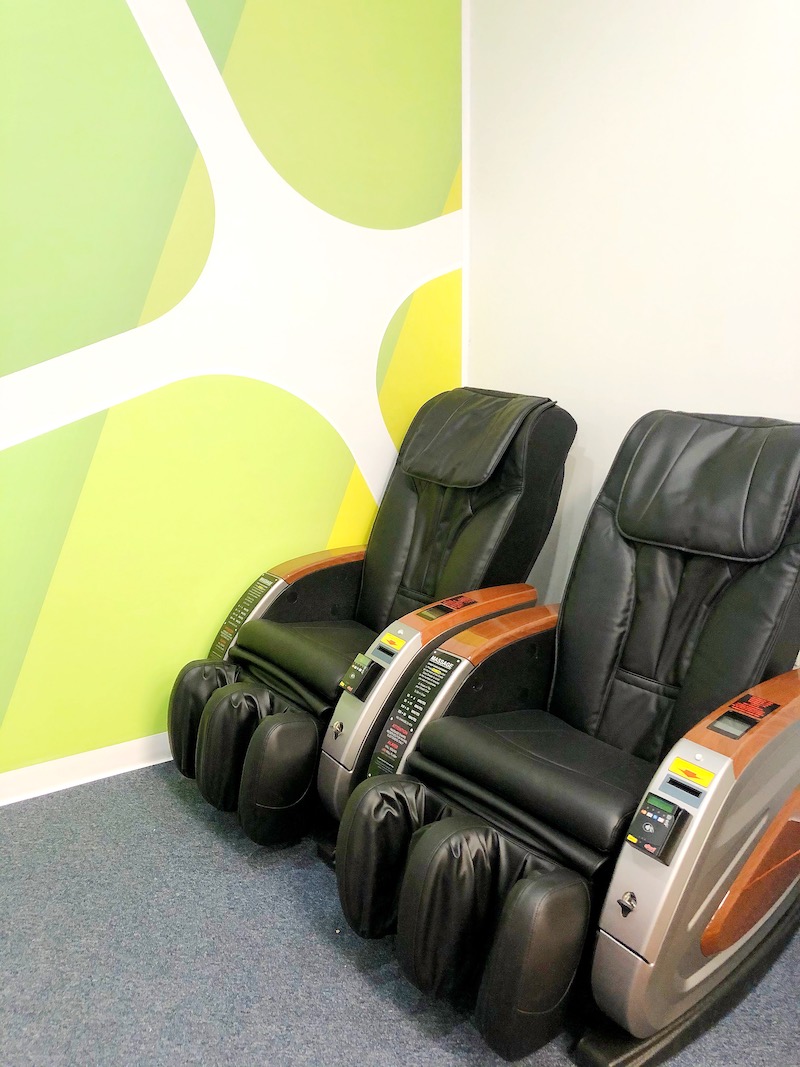 Regular play area
Kids have access to three levels of soft play structures including a ninja course challenge, slides, mini zip & tunnels. There's also swings and a ball blaster. Kids will love climbing, crawling & going through the towers & jumpers.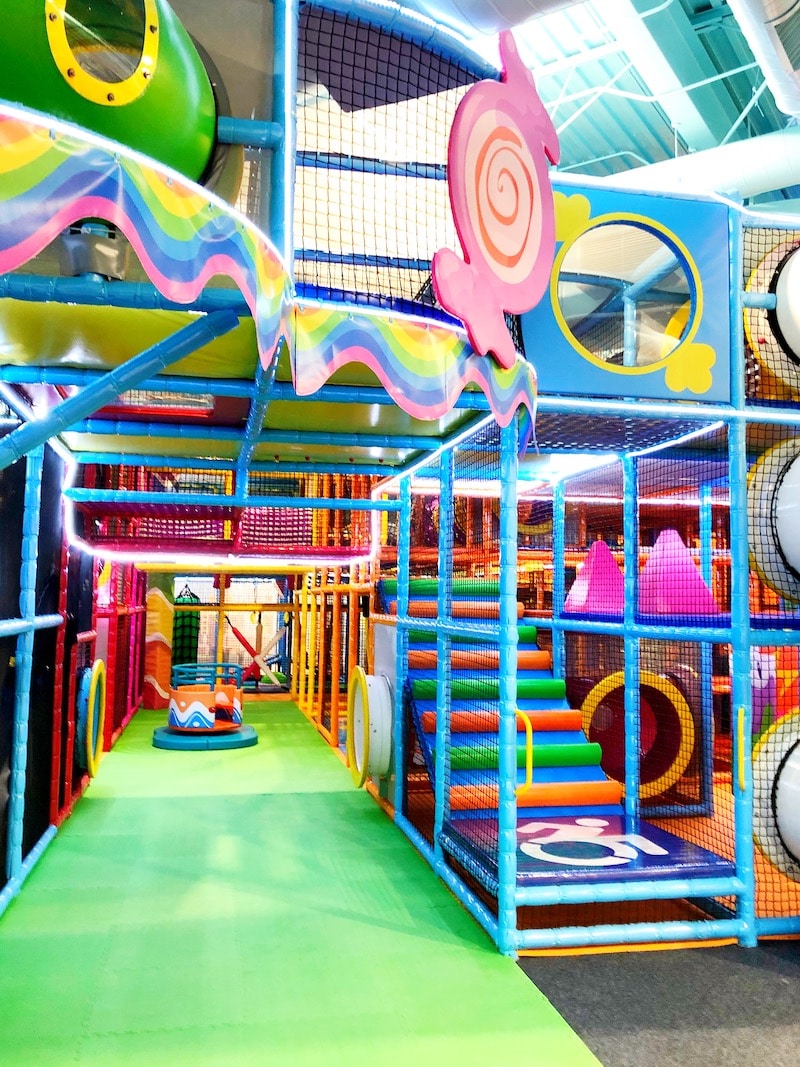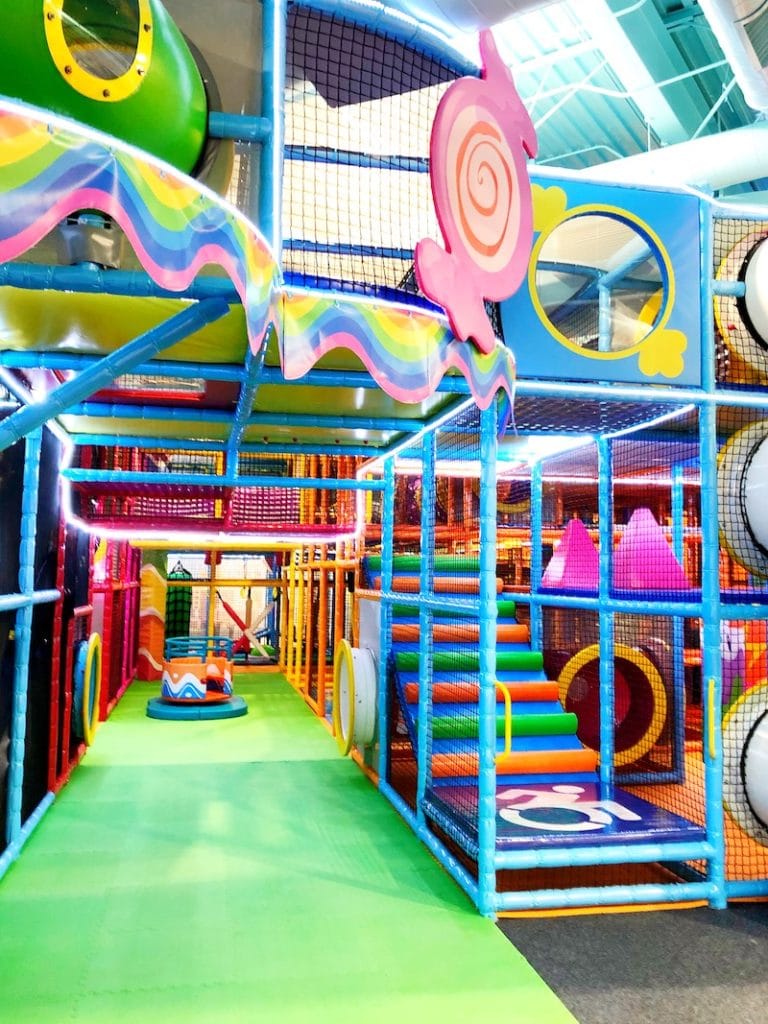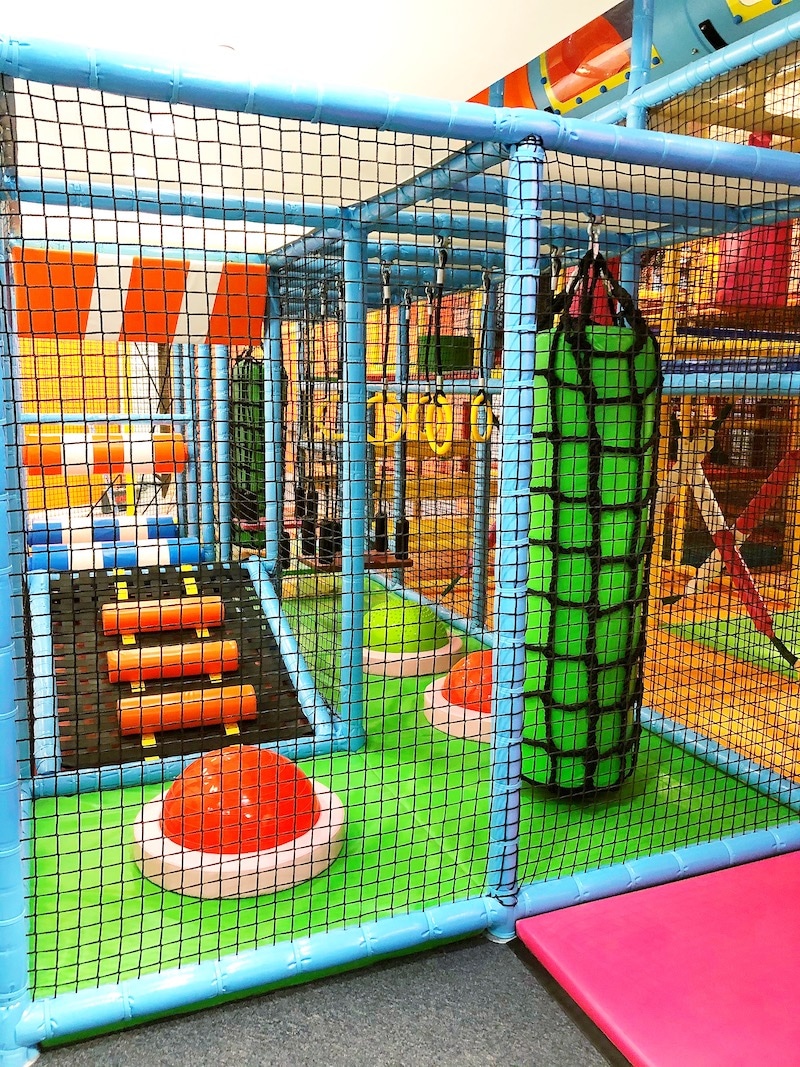 Candeeland Kids Birthday Party or a Special Events
Candeeland has three party rooms available for rent. Each room can be reserved for one hour each.
The small room is big enough for 15 people. While the other two rooms hold up to 30 kids each. If you have a really big party, the two bigger rooms can be joined together as one and hold up to 60 people.
Guests are encouraged to bring their own food and snacks to the party rooms. Candeeland has also partnered with Sbarro pizza to provide hot pizza delivered straight to your party room!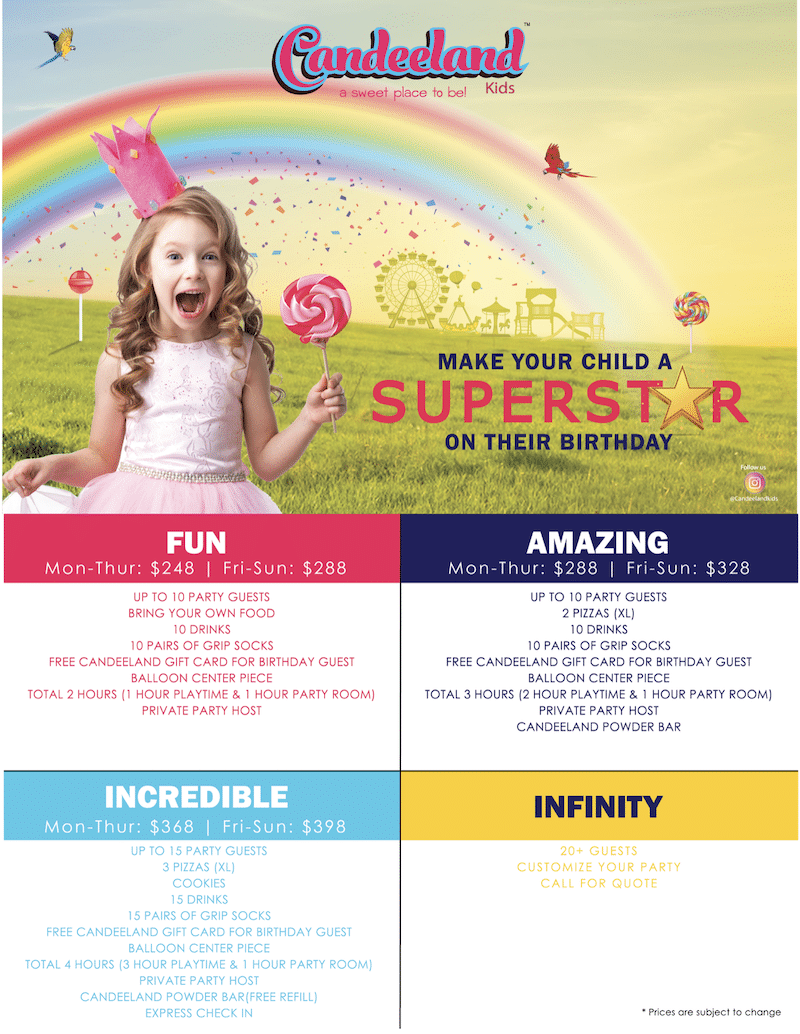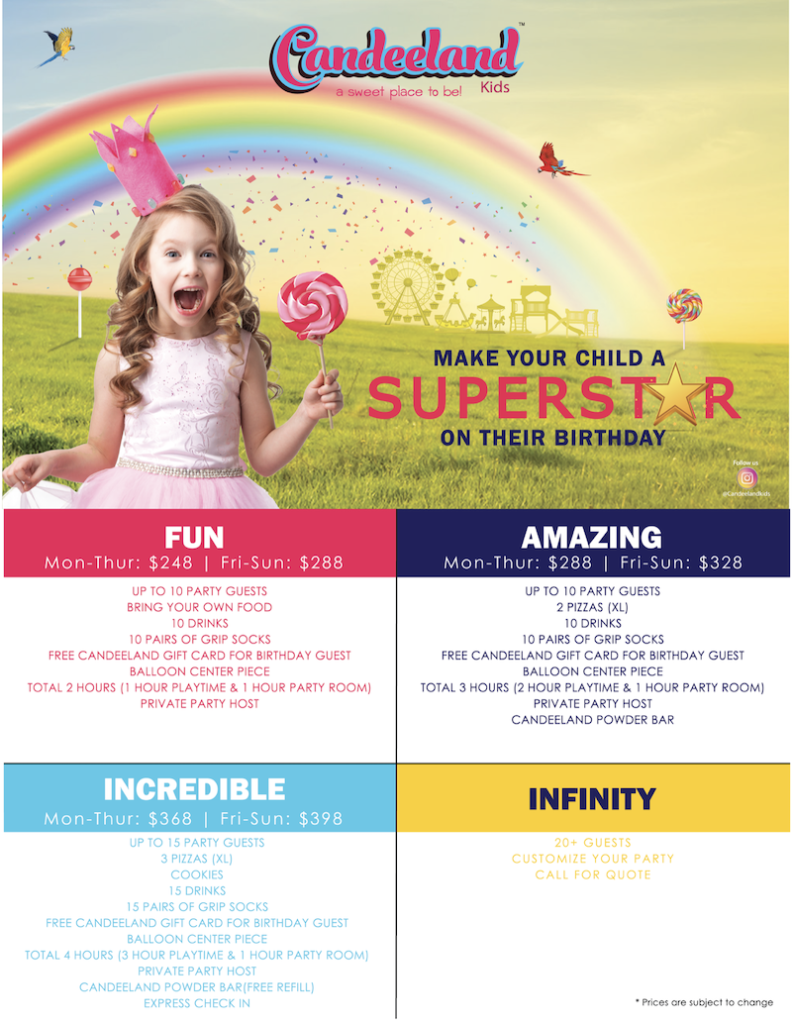 There are separate men and female restrooms available, with changing tables in each of them. Candeeland Kids also uses green products, which I'm especially happy to hear.
On the way out, we suggest that parents stop by the Candeeland Powder Bar to get a tube filled with candy. It might make the transition out of the play area a little easier.
You'll also notice TV screens throughout the indoor playground. One screen will show sports, while the rest will be a combination of advertisements, menu prices and admission prices. The loudspeakers will also have kid-friendly music playing.
Candeeland Kids is the first indoor playground in Santa Ana and we're so happy to see it come to MainPlace Mall. It's the perfect addition to the other shops and restaurants also open at the mall.
Get a Groupon deal and save on your trip to Candeeland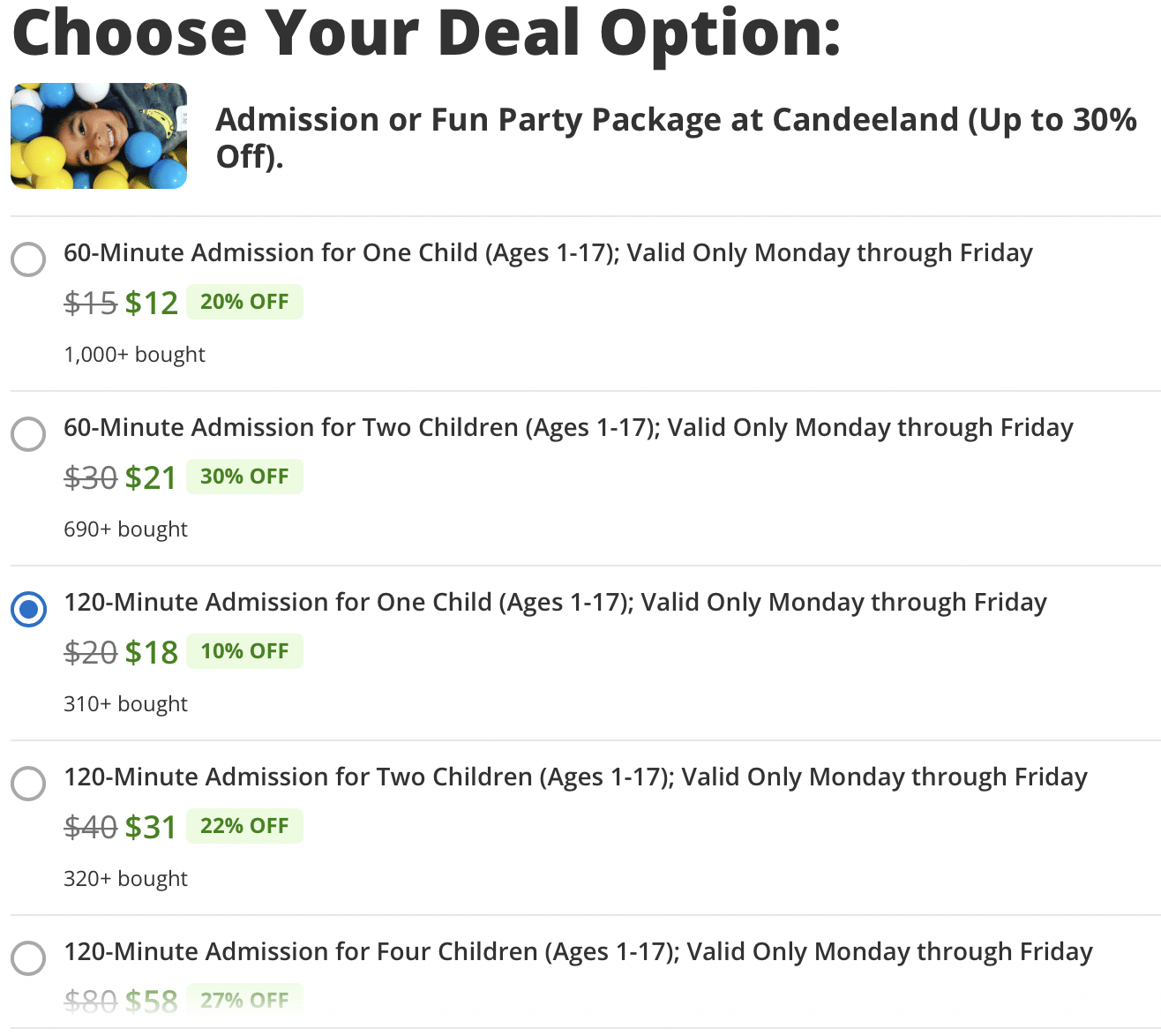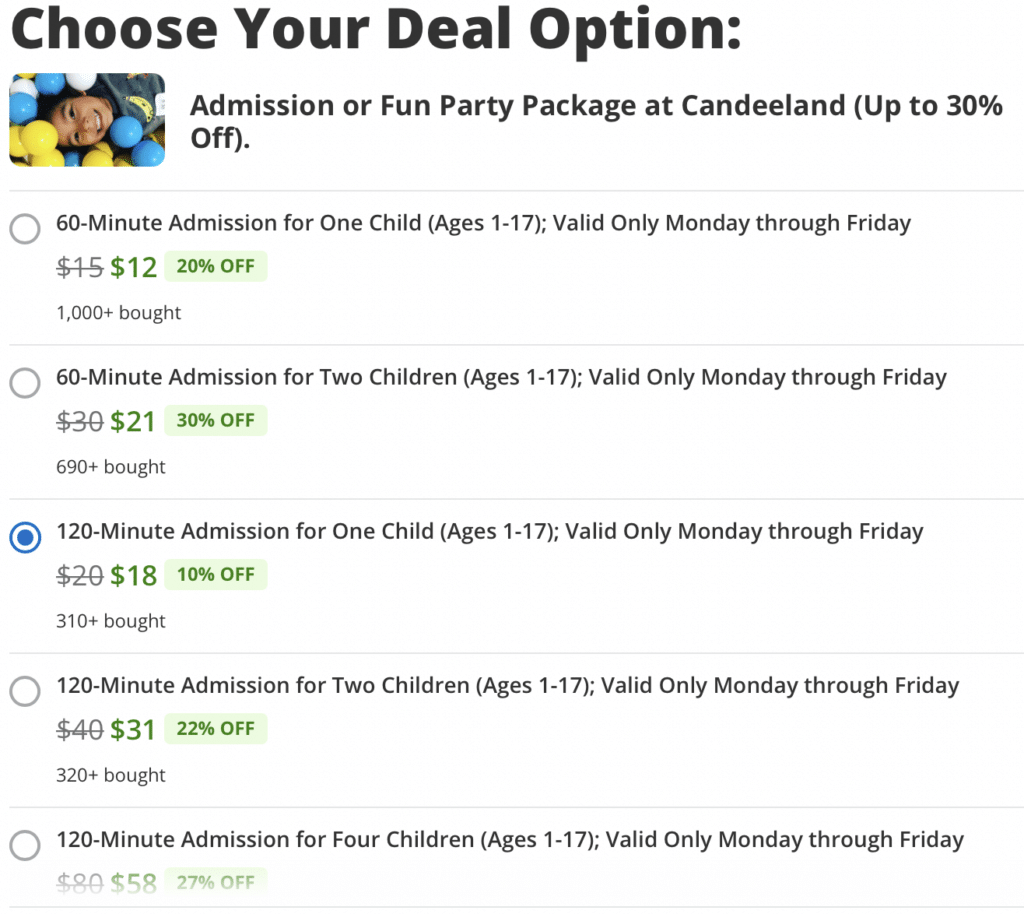 Originally published on February 12, 2020. Last Updated on October 25, 2022 by Pattie Cordova