This year is bringing about new things for this site – including meet-ups!!! Our team has been talking about taking our conversations offline for years now, and we're so happy to be finally jumping into it. We would love it if you could join the LMVL team on this new adventure we're calling "Cafécito with LMVL"!!!

Some of you may know that Living Mi Vida Loca has a subsection titled LMVL SoCal to make it easier for our Southern California audience to connect with things happening in Orange County, Los Angeles, Inland Empire and parts of San Diego. We post daily doses of SoCal news, updates, deals, events and fun finds on the LMVL SoCal Instagram page and our Facebook page, and now – our Facebook group!
"Cafécito with LMVL" is a meet-up that will happen in different areas of the Orange County, with the first meet-up happening at Old Town Orange's fountain!
We invite you to join us on February 19th from 9:30 am to 11:30 am for a casual get-together. We'll be hosting a couple of giveaways to make it even fun! Let us know if you'll be joining us by leaving a comment below!
If you have ideas/suggestions on where we should do our next meet-up – please let us know!!!
Cafécito with LMVL
February 19, 2020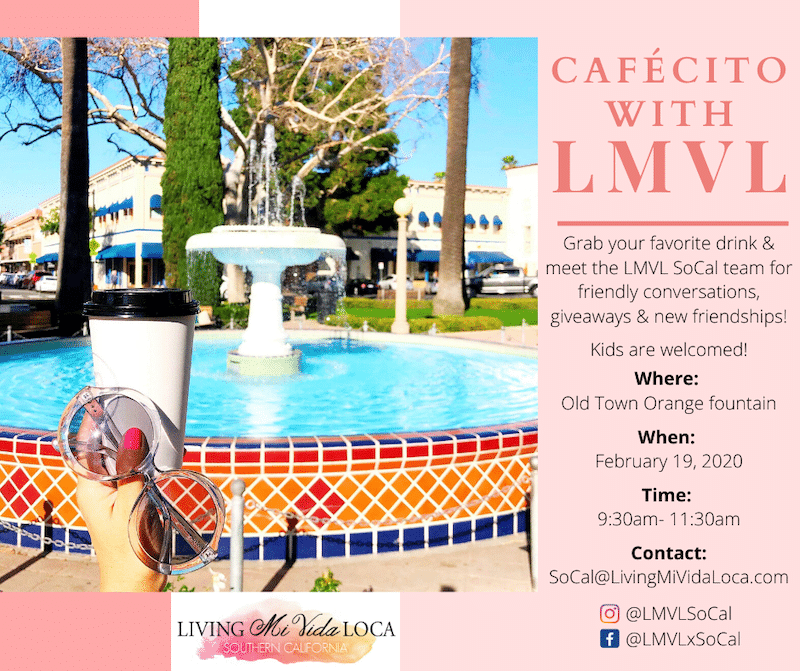 Originally published on February 10, 2020. Last Updated on October 25, 2022 by Pattie Cordova