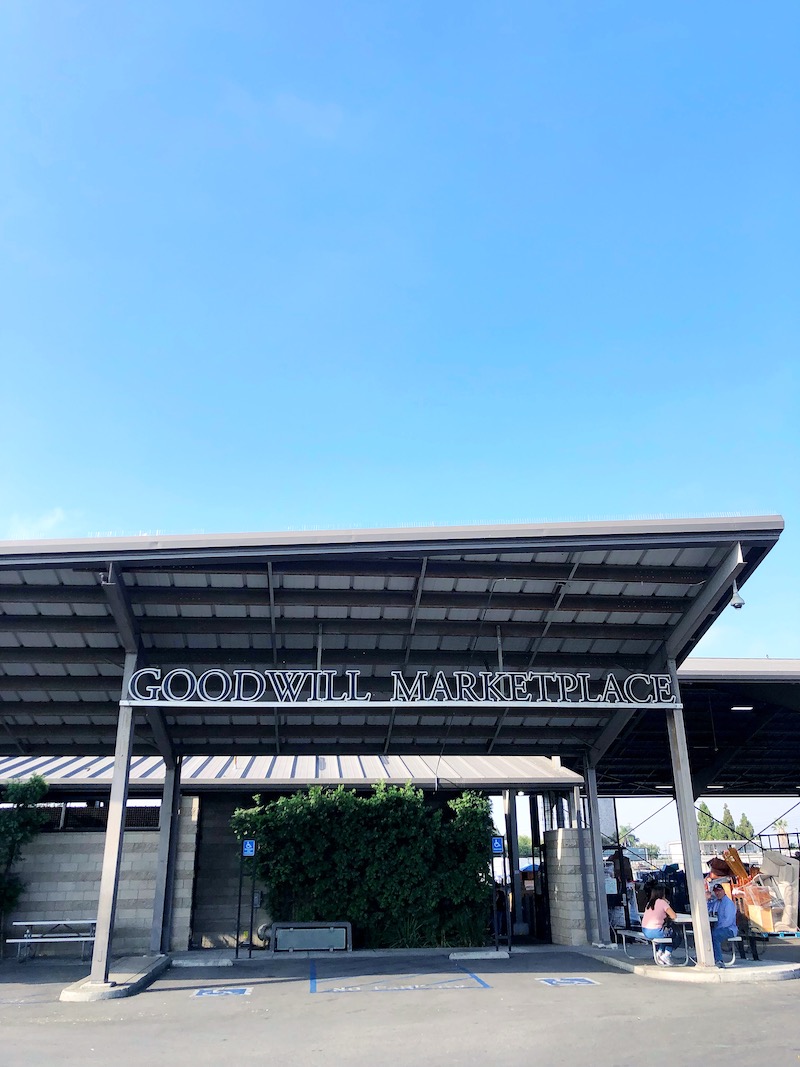 Contributing post by Justine Burgess
The Goodwill bins (aka "the Goodwill Marketplace") in Orange County, specifically Santa Ana, is a must-visit if you're into thrifting and have the time to sort through items.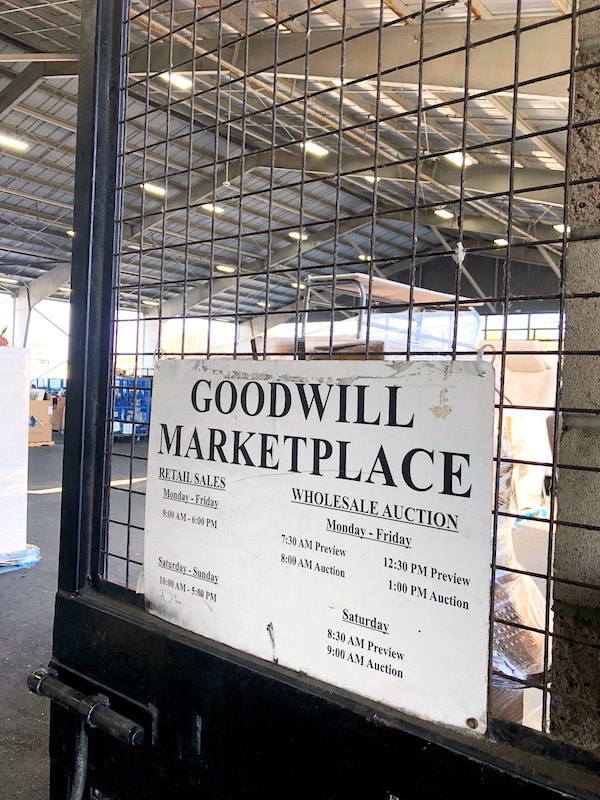 You won't be troweling in the dirt, but it is physical and patience-requiring work…and totally worth it if you find goodies that make you happy!!!
A word of warning, though- this is not for the faint-of-heart or casual browser. This type of thrifting requires you to roll up your sleeves and be willing to dig, quite literally.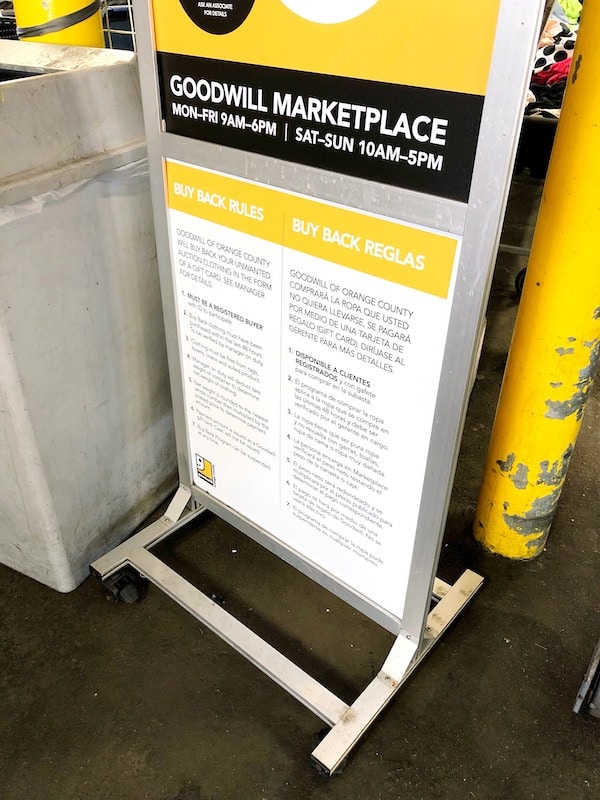 The Goodwill Marketplace in Orange County, a.k.a. the "As-Is" yard a.k.a. "the Bins" is really that – a giant warehouse filled with bins full of thrifting treasure. Mound upon endless mound of clothing, shoes, books, accessories, and more.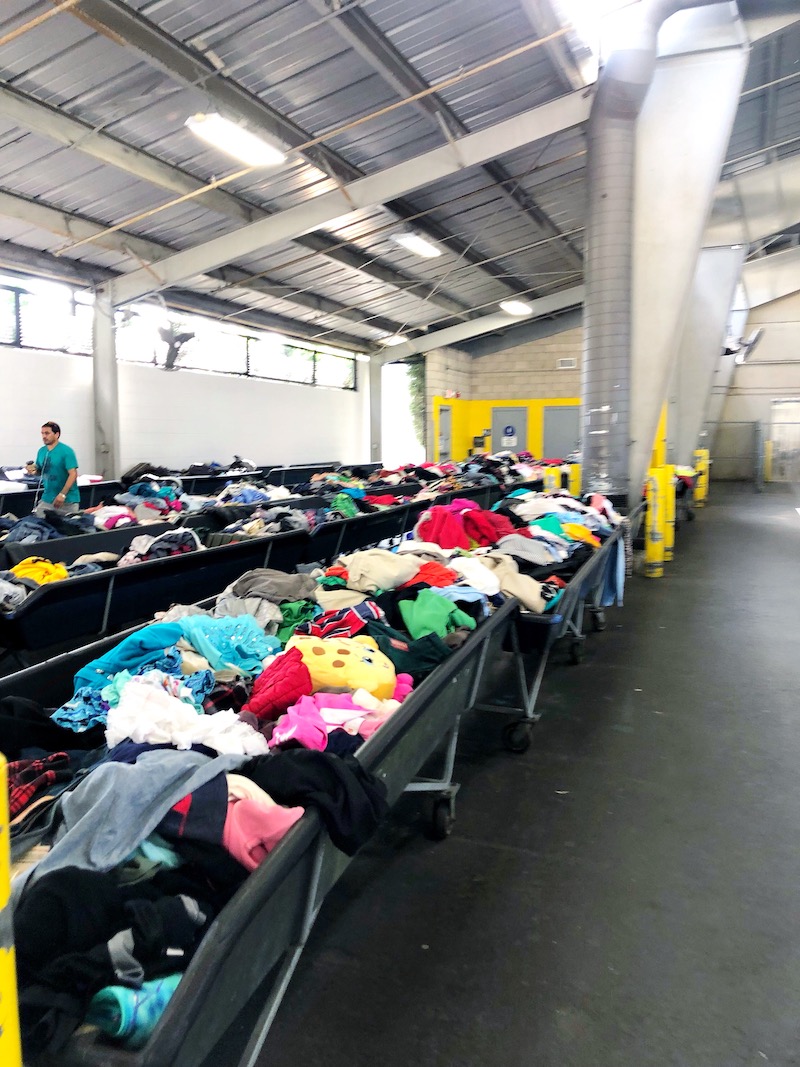 The Marketplace caters to auctions in the back section, and the bins are located in the front. You can go and bid for huge lots, or you can dig for items sold by the pound (currently $2.49/lb).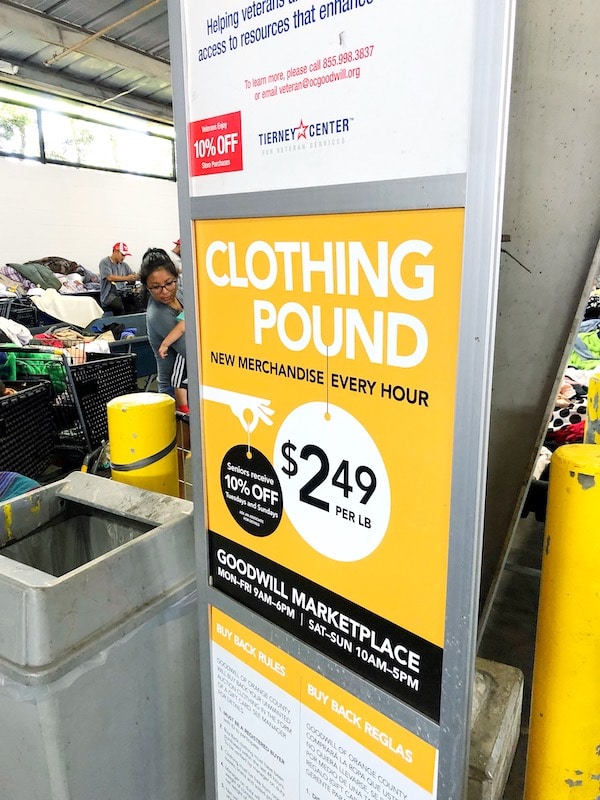 There are also furniture pieces and other large household goods near the front.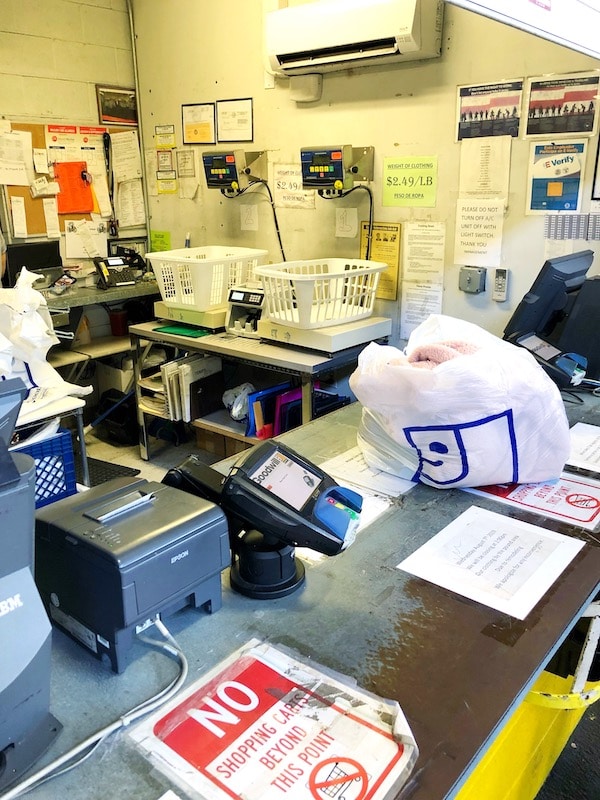 Tips for shopping the bins at the Goodwill Marketplace
Read this list of tips before your next trip:
Grab a cart on your way in (if you get there early enough) or you may have to get creative to carry your finds.
Bring cash instead of a credit card if you're on a budget. It will limit your spending if you only have $20.
Bring hand sanitizer, wipes, and/or even gloves. A lot of hands have been there before yours.
To dig: Start at one end, pick a bin, and go through it by making an empty space on one end and moving clothing or items into the space. Work your way from one side to the other. This is your digging… and your upper body workout for the day. If you make it through all of the bins, you'll feel like you just did about a hundred lateral pull-downs.
When you find items, grab them right away and put them in your cart. They probably won't be there later and you can always filter through your picks.
Check potential purchases carefully. Once you've accumulated a giant pile of items (and you will), go through them for stains or non-repairable rips.
Stock changes rapidly daily. Some days you'll find a lot. Some days, nothing.
Be patient. Treasure hunting takes time.
New bins are brought out often. You'll see people lining up to wait for them. Find a close spot, or just wait it out. There is a serious feeding frenzy once the bins arrive- I almost lost a hand one day! My 15 year-old niece literally dove into the crowd and I didn't see her again until she resurfaced with a gorgeous Quicksilver jacket and three pairs of Abercrombie jeans.
Cull with care. Even if a shirt only costs 25 cents, that's too much if you never wear it. I usually leave with 25-50 percent of what I originally grabbed.
Items like blankets, heavy jackets, books, shoes, and accessories are priced at the register individually. Prices may vary, but it is still likely to be quite a bargain.
Once you've exhausted yourself, gotten a fabulous workout, and found enough awesome clothing (and other assorted items) to last for the next few years, take all your goodies up to the front to be weighed and/or priced. You might find you bought more than you intended…but hey, look at all you saved, right?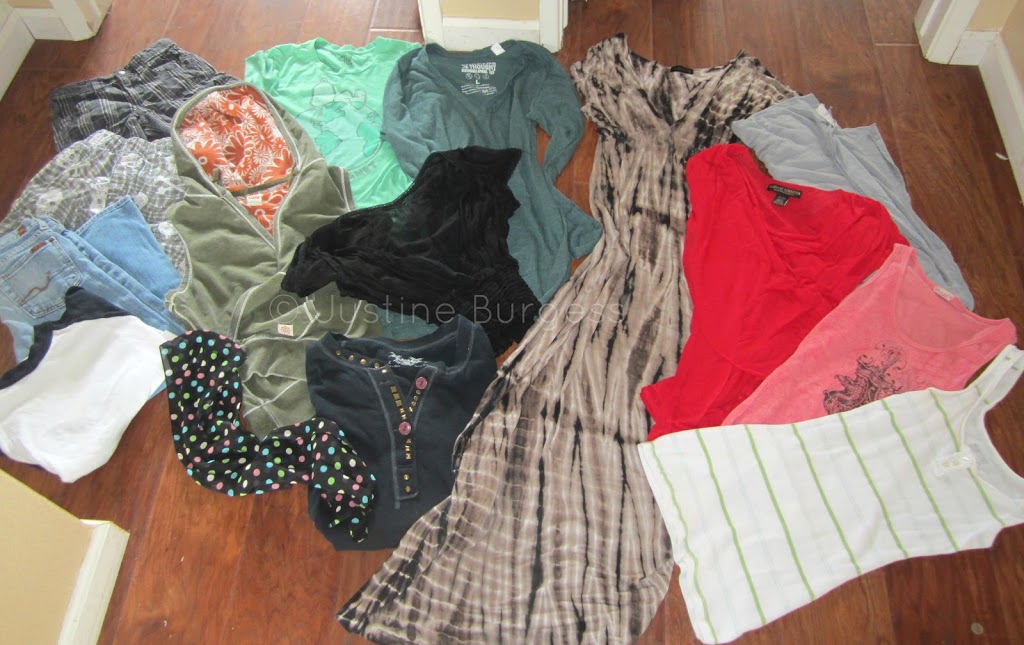 This is a recap of my best day ever at the Bins just to show you the possibilities:
New green and white Mossimo tank top
Pink and black "Check It Out" tank top
Cute, tiny, sheer black top (maker unknown)
New red "Morphine Generation" drape neck burnout T-shirt
Dark green "Threads for Thought" organic cotton sustainable L/S t-shirt
"9Love Mighty Fine" light green Peanuts T-shirt
Black "Free People" L/S studded shirt
New green/orange "Lucky Brand" sleeveless hoodie
"Crimson Ivy" tie-dye maxi-dress in brown and black
New grey "Foreign Exchange" maxi-wrap (serious find!)
Vintage multi color polka dot scarf
"Basic Editions" skull shorts
"WRG Jeans" plaid shorts
"Seven for All Mankind" signature jeans
"Soffee shirts" baseball sleeves T-shirt
And all this for (drum roll, please…)…. $8.62. I spent less for all of it than I would have for even the cheapest new retail price on any single item.
Not every "bins" adventure will be like this one, but you never know what you might find! Happy digging!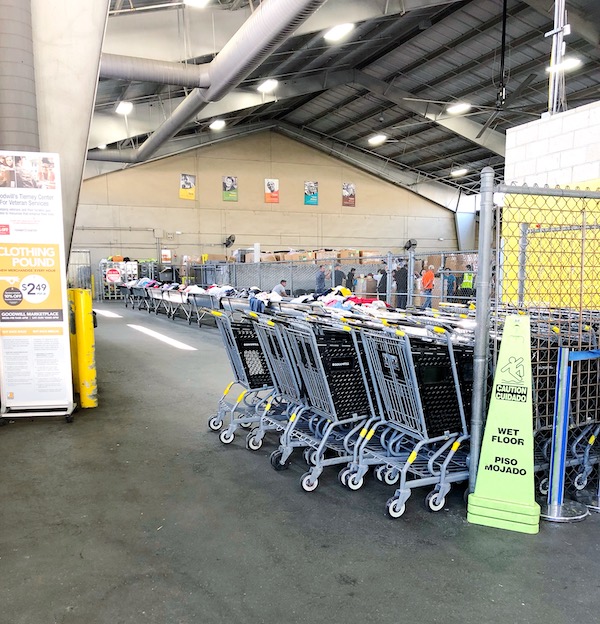 Goodwill Marketplace in Santa Ana
Goodwill Marketplace is part of Goodwill of Orange County. There are numerous retail locations to serve you. By shopping at Goodwill, you are supporting an organization that provides jobs and education for people with disabilities and other barriers to independence.
Address: 2722 W. Fifth Street (at Fairview), Santa Ana, CA 92703
Telephone: (714) 541-0406
Hours of Operation: M-Fri: 9AM–6PM, Sat-Sun: 10AM-5PM
Cash and credit cards accepted.
If digging through the bins isn't your thing, check out Savers Thrift Stores instead. All of their racks are organized by size and they periodically have their very-popular Savers 50% off sales where all of their clothing. shoes and accessories ring up at 50% off.
Originally published on October 26, 2012. Last Updated on September 9, 2021 by Pattie Cordova