Beyond Orange County
Visit the 4th Annual Rose Hills Dia De Los Muertos Cultural Festival and Marketplace
Check out our Day of the Dead Events Calendar here: DayoftheDeadSoCal.com
There are many Dia de los Muertos (Day of the Dead) events happening in Los Angeles, Orange County and San Diego during the month of October and early November. Dia de los Muertos is in large part represented through an altar that is used as a respectful ritual in memory of the dead to attract the spirit of the loved one. It consists of offerings such as favorite foods that are available on the altar for the day when their spirit returns to relive memories. The celebration takes place over the course of two days, and this year, the 4th Annual Rose Hills Dia De Los Muertos Cultural Festival and Marketplace will celebrate it on Sunday, November 3, 11:00 a.m. – 5:30 p.m. at:
Rose Hills Memorial Park & Mortuary 
3888 Workman Mill Road
Whittier, CA
Entrance Gate 1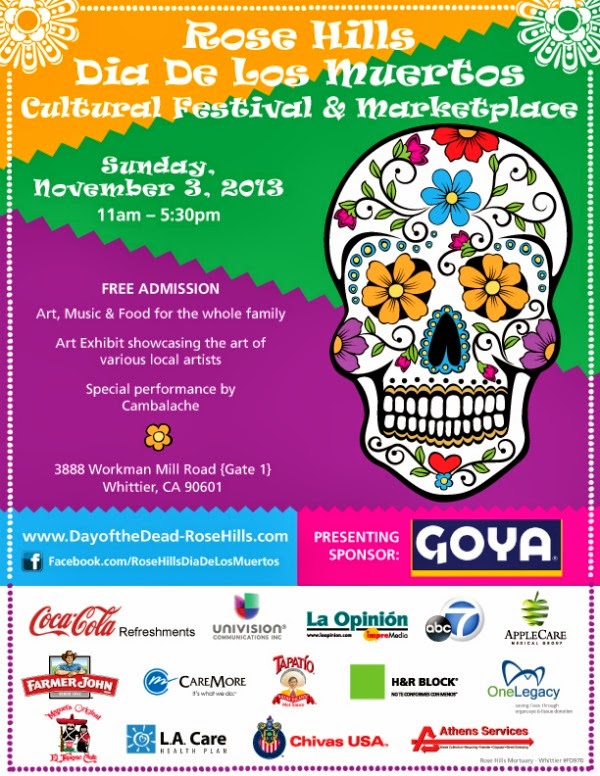 This FREE cultural festival was created for the whole family and includes activities and performances for everyone to enjoy and participate.
The event features some favorites of years past including:
Art Gallery. A unique art exhibit inside SkyRose Chapel with art pieces showcasing the talents of featured artist, Yolanda Gonzalez.
Children's Craft Corner. A special arts and crafts area for children, including mini workshops and activities presented by local artists as part of the festivities.
The Marketplace.  A variety of vendors offering items such as jewelry, apparel and art that tie into the history and iconic figures of Dia de los Muertos.
Food Zone. A delicious array of traditional food and drinks.
Center Stage. The focal point of the day's entertainment, featuring musical and dancing groups including a special performance by Cambalache as well as the community altar and costume contests.
This year, you can also enter their altar contest and take home the grand prize of $350.
Altar Contest and Celebration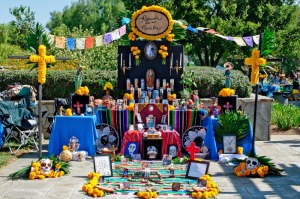 To register for the altar contest, you'll have to click here and complete registration. Don't forget to include the traditional items found in an altar, such as:
Fruits or favorite family dishes that feed the souls with rich aroma
Confetti or papel picado
Water
Candles (one for each soul remembered, and an extra candle for the forgotten soul)
Salt
Cempasúchitl (marigold flower)
Photographs of loved ones
Follow Rose Hills – Dia de los Muertos on Facebook and stay up-to-date on all the news regarding this event.

This post is brought to you by Rose Hills Dia de los Muertos. All thoughts and content are my own.
Originally published on October 22, 2013. Last Updated on October 16, 2018 by Pattie Cordova