As most of you know, I was laid off from my full-time Executive Assistant position in 2009. Since then, I have cut back on purchases here and there. First to go was our travel budget, followed by my accessories budget and so on. I have even scaled back on beauty purchases. I used to be the gal that had the V.I.B. pass at Sephora… no more. However, I do feel that there are certain splurges that cannot be done away with. These include: facial cleaners and moisturizers, shaped and threaded brows, microdermabrasions and I have just added: lash extensions. Yes mujeres… lash extensions. If you don't have them – get them. Never tried them? Do it! I'm not kidding, the transformation that is done in such a short amount of time is unbelievable!
I was invited to the lovely and modern LashSpot Spa in Costa Mesa to try my first set of lashes last week. We received a mini-mini lash service that gave me the confidence of a full lash service. As I was escorted to the room, I couldn't help but feel special and totally in the "in." The white-washed walls with simple accents give you the feel of an upscale salon with a down-to-earth staff. Maureen, my "extenstionist", was uber-nice and answered my 101 questions.
One of the questions that I had was just how long they lasted. Because they are glued to your own eyelashes, they last the duration of the lash life. I didn't know my lashes fell off in 60-90 day intervals, but I was happy to know that simply applying water to them wouldn't make them fall off.
I was also concerned with the lashes looking "fake". Yes, I know they're fake, but I don't want the world to know that! Unlike the strip lashes that are applied to the base of the eyelashes, these will be attached to your lashes and they will curl at the end, giving them a natural look.
LashSpot only uses premium silk or mink lashes. The lashes are animal cruelty free, made of a synthetic material to emulate a silk or mink material. They are the highest quality lashes. The silk and mink feel softer, lighter, and look more luxurious than a normal lash extension. The extenionist will choose a length that is most appropriate for you based on your current lashes. You don't want them to look fake, right?
Here is a great example of the challenge they had in me:

Notice my eyelashes… how straight and very blah-ish. They refuse to keep a curl even with tons of mascara on. I just don't have lashes that I can bat at the Hubster. I have lashes that keep dust out of my eyes. I know… boring. Notice also the eyebrows. I let them grow for about three weeks. Yes! THREE WEEKS! I wanted to see just how great they would do in shaping brows because that is another service that they are known for. Thankfully, I also had my bangs cut so the eyebrows couldn't really be seen in the mess that they were in.
She walked me through the procedures and put these soft, cushiony pads under my eyes that both held and moisturized my skin.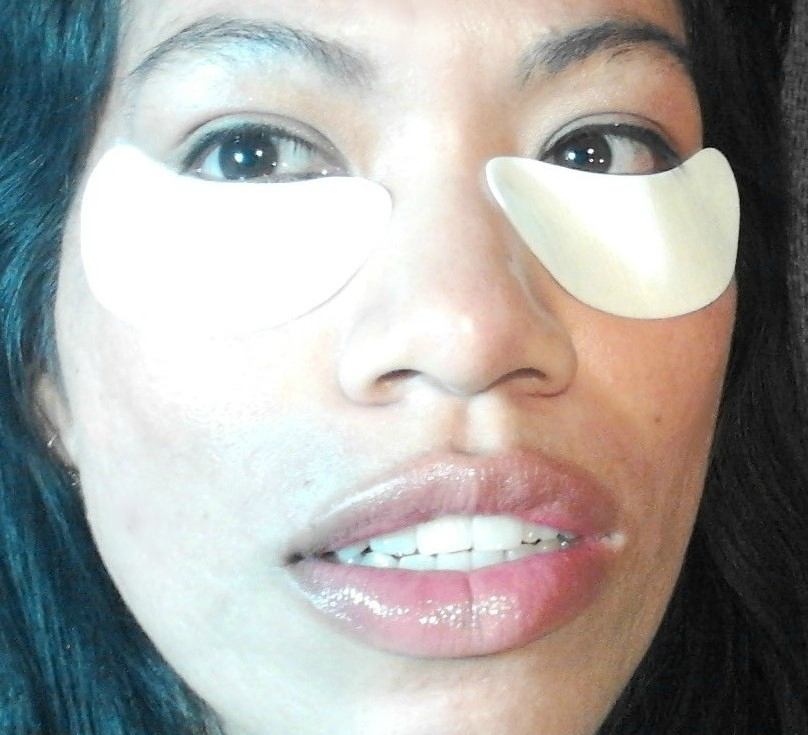 About a half hour later, I opened my eyes to this:
Notice the lashes, the extension in them and the natural look? I'm hooked, I'm in love, I will do everything that I can to get them for.the.rest.of.my.life. I am not kidding. Because of these beautiful little lashes, my eyes look brighter, I look better rested, my make-up process has been cut down dramatically and I have actually gone days without applying any make-up on. I can totally pull the "natural" look and still look a little made up. I'm the biggest fan and proponent of lashes out there.
And my eyebrows don't look too shabby either:
LashSpot Spa is THE place to go if you're in Orange County and looking to invest in your awesome self. The process is so relaxing that moms have been known to take naps during the application. They provide blankets to make you even more comfortable and play soft music in the background. It's an experience that will keep you coming back.
The gals there professional, know what they're doing and will make you look stunning. They also offer a monthly membership that gets you great discounts on different services. I really can't say enough about them and how great they make me feel every time that I look into a mirror. If I have you so pumped up that you just HAVE to try it out for yourself, then save yourself some money too and check out their first-time client specials.
A few other things: if extensions aren't for you, but you have sad lashes like mine, then ask about their lash perm. It'll last just as long, but without the addition of fake lashes. Also, they offer a special cleanser for removing eye make-up, including mascara. It's safe for the lashes and for you. Just spray it on and splash gently with water to remove it.
I should also note that I felt my vision a little tiny bit blurry afterwards. Because you're not supposed to wet the lashes at least 24 hours after the application, I think I was being extra careful not to blink too much, or maybe it was the glue drying. Either way, my vision got back to normal the day after.
Check 'em out on Facebook and if you're in the area, check them out in person too. Make it a girl/mom's day out and enjoy a little pampering. Let them know I sent you!
LashSpot Spa 
435 E. 17th Street Suite A
Costa Mesa, CA 92627
P: 949.515.7600
E: [email protected]
[disclaim]I was given complimentary services and a gift bag that included the cleanser to facilitate my review.[/disclaim]
Originally published on March 30, 2012. Last Updated on January 3, 2018 by Pattie Cordova