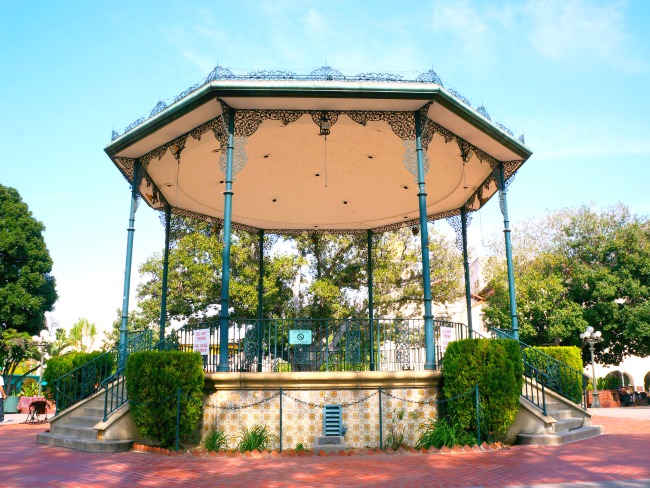 Now in its fourth year, the Wells Fargo-sponsored Discover the Arts program offers discounts of up to 50% off on admissions, gift store items and more at 50 cultural institutions across Los Angeles. The City's longest and largest arts campaign is to make the arts accessible to all. You can go here to read more about the museums that are participating.
I was invited to partake in the festivities last week and I had such a blast. We started the day with a press conference featuring Mayor Villaraigosa, a giant puppet from the National History Museum and Ozomatli.
We then took a tour of some local museums located around Placita Olvera. It was my first time there and I was instantly enamored by the culture and vibe of the streets.
For those of you not familiar with Plaza Olvera, it's located at North Main St. and West Cesar E Chavez Ave. in Los Angeles. Known as the birthplace of the City of Los Angeles (in 1781), it's resembles a Mexican-style plaza filled with many shops who offer authentic Mexican souvenirs. It has huge paid parking lots across the street from it and it's located about one block from Chinatown. It's also right across the street from Union Station and with bus stops all around the placita, it's a high-traffic kind of a place.
Local museum guides gave us a great personalized tours and I came to find out that they offer these services for FREE! If you get a chance to go down to Plaza Olvera, I highly recommend that you take advantage of this service. You'll appreciate the plaza and its history a lot more.
We stopped by the Pico House for refreshments (provided by El Paseo Inn). A couple of delicious Jamaicas later we were given the history of the place. I learned that the Pico House was the first three story building constructed in Los Angeles. The inside is BEAUTIFUL. It really takes you back in time and I couldn't help but think how many people had passed through there (well actually, I was wondering if there were any "spirits" in the place).
We walked across the street to the Chinese American Museum where we learned more about their new exhibit: Breaking Ground: Chinese American Architects in Los Angeles (1945-1980).
We then took a short stroll to the first firehouse constructed in Los Angeles. It was built in 1884 and served as a firehouse until 1997. It is here that I saw the oldest fire engine… so old that it has the reins where it was pulled once by horses!
We finished off our tour with a scrumptious lunch at El Paseo Inn. It's located in the Plaza Olvera – where it was also once a winery. Greeted by a group of musicians, we found a place to sit in the back of the restaurant and munched on delicious tapas and more of their aguas frescas.
We walked through another historic landmark and ended our day at Cafe de Camacho. I had my first taste of Cafe de Olla which is black coffee with a touch of piloncillo (Mexican unrefined brown sugar). Sooo good. I also had this mocha-type coffee with a shot of espresso. I'm a humungous coffee lover and their coffee was so tasty that I was honestly felt like I was in coffee heaven. It was a perfect ending to a great day.
If you get a chance to come down to the Olvera Street in Los Angeles, I HIGHLY recommend you stop and visit the places I visited above. They were nothing but gracious hosts and I learned so much from them! Questions are welcomed and I now have a deeper understanding and appreciation for this little part of town.
Also, please take advantage of Discover the Arts going on right now in LA. There are so many great deals for museums and museum shops right now.
Originally published on February 17, 2012. Last Updated on March 24, 2021 by Pattie Cordova