[disclaim]This post is sponsored by OFF! ®, all opinions are my own.[/disclaim]
There's so much that still needs to be done to our patio. However, it's a bit difficult to get things done in California with the drought, hot weather and insects biting like crazy. We're located right behind a river bed, so our spot is prime for all kinds of little pests. Thankfully, I partnered with OFF!®, who showed me two new products that make it much more tolerable to get back outdoors and get things done.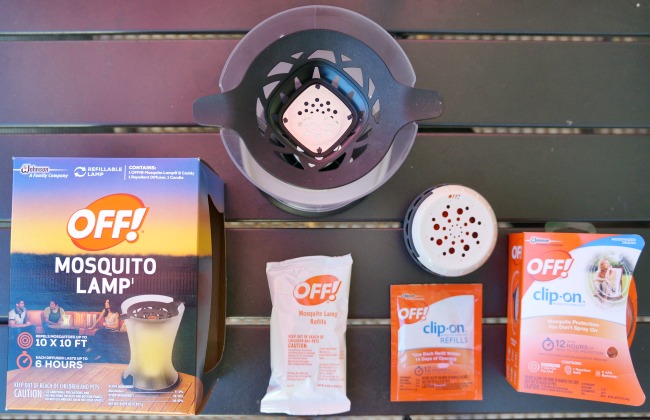 Since moving, we've gone without insect repellent. We do our best to keep the screen doors closed so insects do not fly inside. But it's a different story when we go outside to do some yard work. Those little insects are everywhere and they look like clouds as they move back and forth over the flowers, grass and trees. It's a crazy sight, but we are ready to fight back in a scentless kind of way with OFF!®.
So, when we finally decided to get back out there, we started with planting. We knew we wanted plants that were drought-tolerant. We figured succulents would be the way to go. I unpacked the OFF!® Clip-On™ Mosquito Repellent and clipped it on to my red jeans. It provided protection without spraying anything directly on my skin. In fact, there's no spray at all; the OFF!® Clip-On™ circulates an odorless repellent using a quiet, battery-powered fan and provides head-to-toe protection for up to 12 hours!
After a quick trip and a few laps around the gardening section at our local home improvement store, we changed our game plane. While we loved the way the succulents looked, we decided on a dwarf fruit tree because we have always wanted a fruit tree in our home. A dwarf tree doesn't grow over 7 feet tall and we knew that a baby tree would be the best bet for our small space. We loaded it into the cart, added a bag of soil, some fruit tree food and a shovel and headed home before the sunset so we could start planting our tree.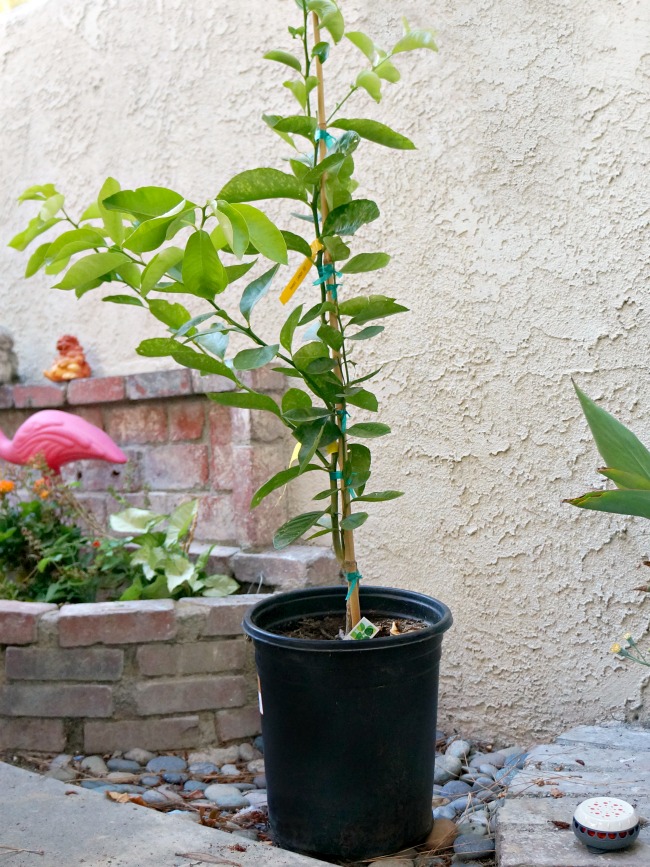 Once home, I took off my OFF!®  Clip-On™ and placed it next to where I was working: not taking any chances being bitten by insects while adding our little tree.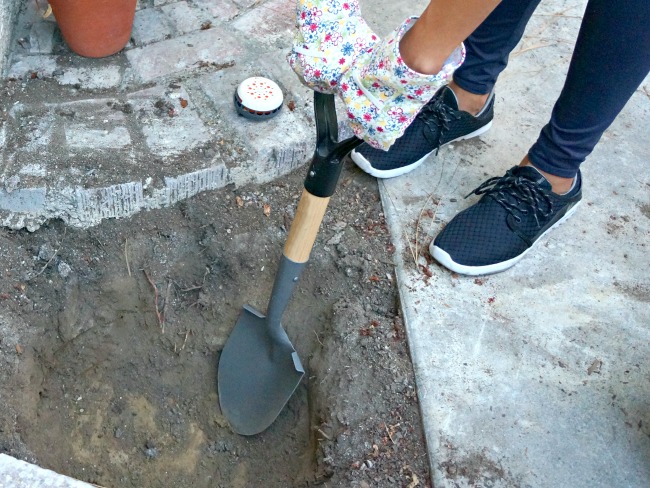 I also learned a few new things about planting, including that the hole in the ground has to be as deep as the pot in which a plant arrived and twice as wide. I'm so glad we picked up a shovel.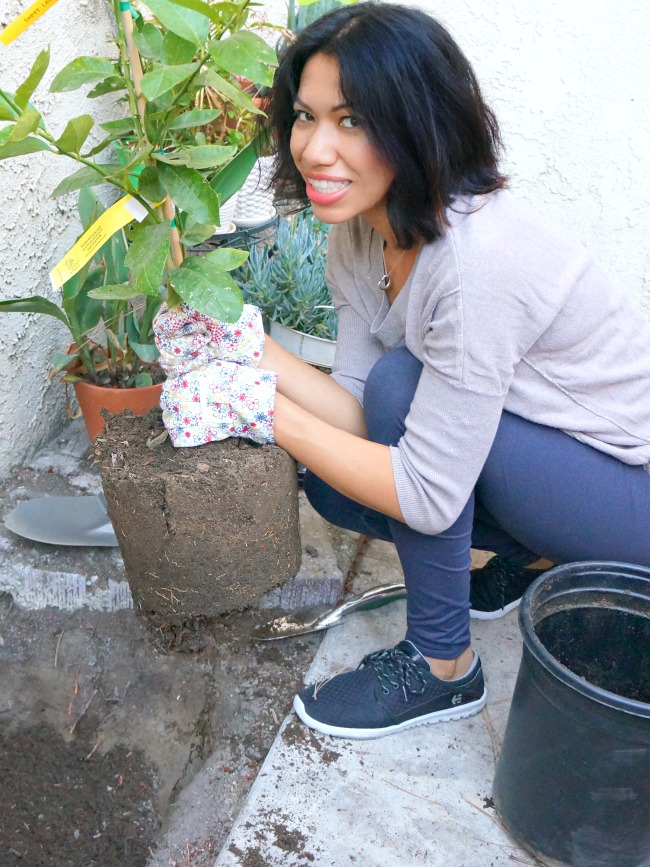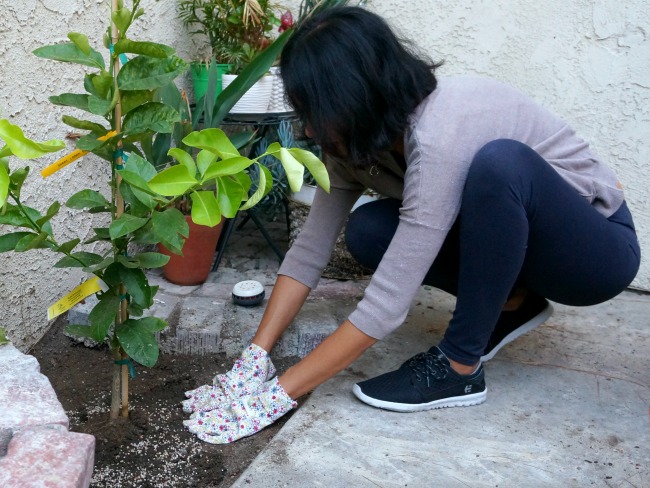 We dug a huge hole, planted the tree, added the soil and some plant food. The entire process was not only pretty easy but also relatively quick.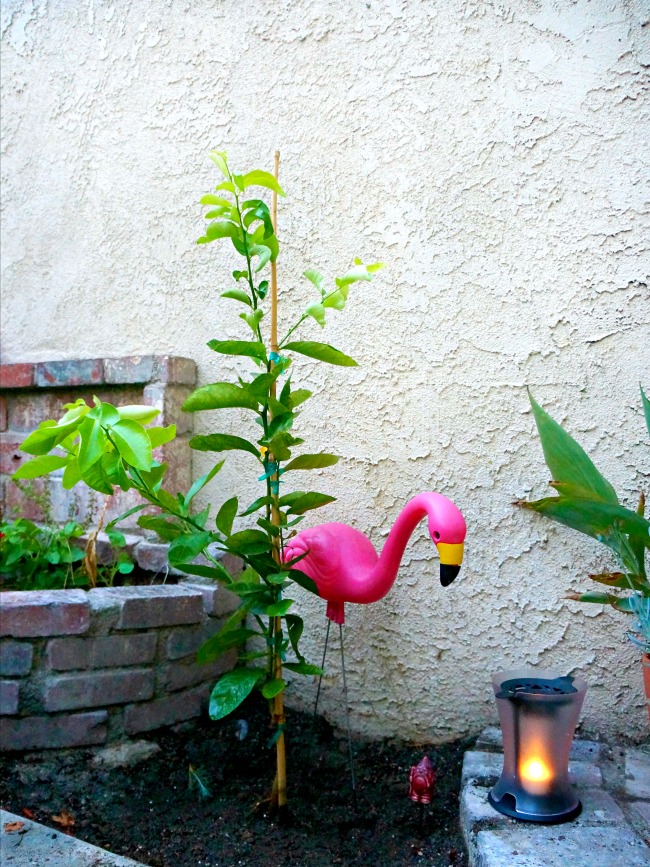 And in no time, the tree has become the best addition to our patio. While the hubster and I hung out admiring our work, we used the OFF! ® Mosquito Lamp to provide us with scentless mosquito protection. It protects an area up to 10 times larger than the leading citronella candle!* It lasts up to six hours.
As long as we're talking about bugs – here are a few tips from the experts at OFF!®  to help you stay bug free this season:
The hours dusk to dawn are peak biting times for many species of mosquitoes.
Be mindful when you're active: believe it or not, just breathing can attract mosquitoes. They're drawn to carbon dioxide, which you release when you exhale. Additionally, people give off two mosquito attractants – body heat and lactic acid (a substance the body emits when people perspire). Stay protected when participating in sports or other outdoor activities.
Avoid fruity and floral fragrances: Those pesky insects may be attracted to them. So skip scented soaps, lotions, perfumes and hair products if heading outside.
OFF!® products are available in the insect repellents, lawn and garden and sporting good sections of food, drug, do-it-yourself and mass-merchandise stores such as Target, Walmart and CVS.
Check out OFF.com, getbackoutthere.off.com, facebook.com/OFF and instagram.com/offoutdoors for more information about the entire OFF!® Insect Repellent line of products.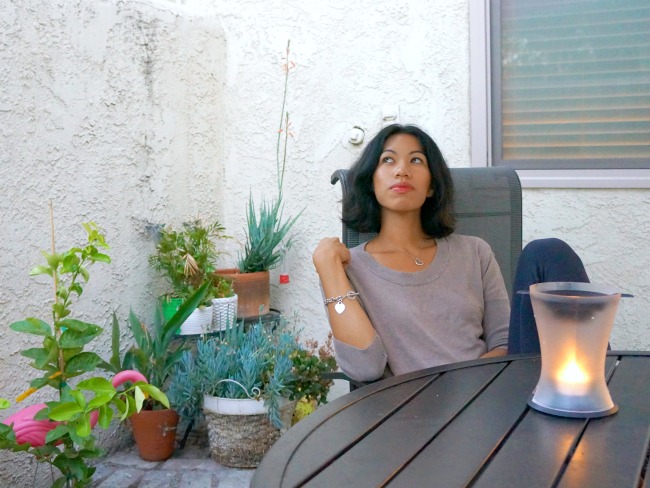 *Based on AC Nielsen XAOC 52-week data ending on 1/24/15
[disclaim]This is a sponsored post in partnership with OFF! All thoughts and ideas remain my own.[/disclaim]
Originally published on September 3, 2015. Last Updated on June 14, 2016 by Pattie Cordova