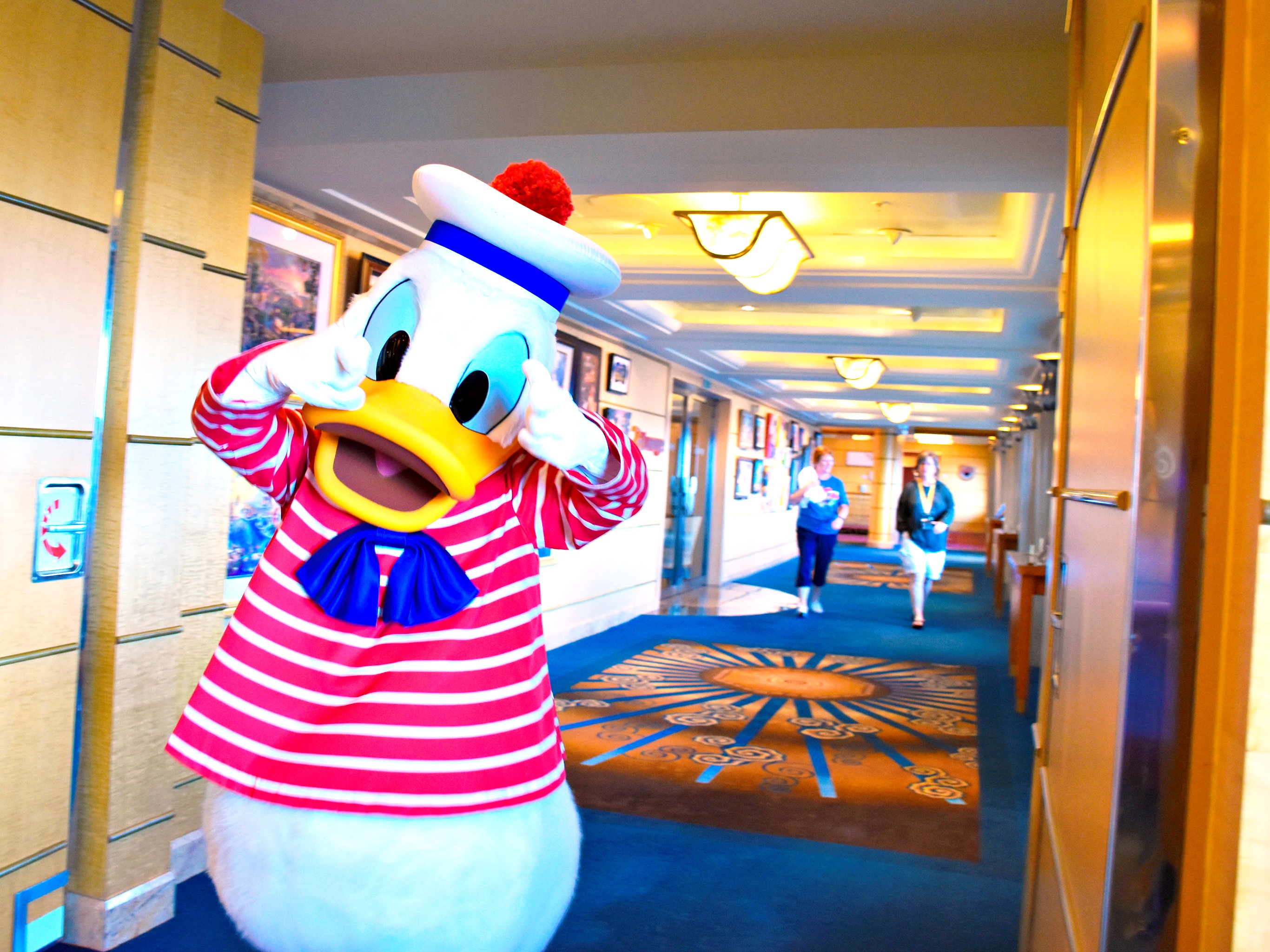 We dipped our feet into the Disney Cruise pool (literally) during a three-day cruise that left from Florida and included a stop at Castaway Cay. We had a blast and really feel like we did everything we could to get the most out of our first three-day Disney Cruise.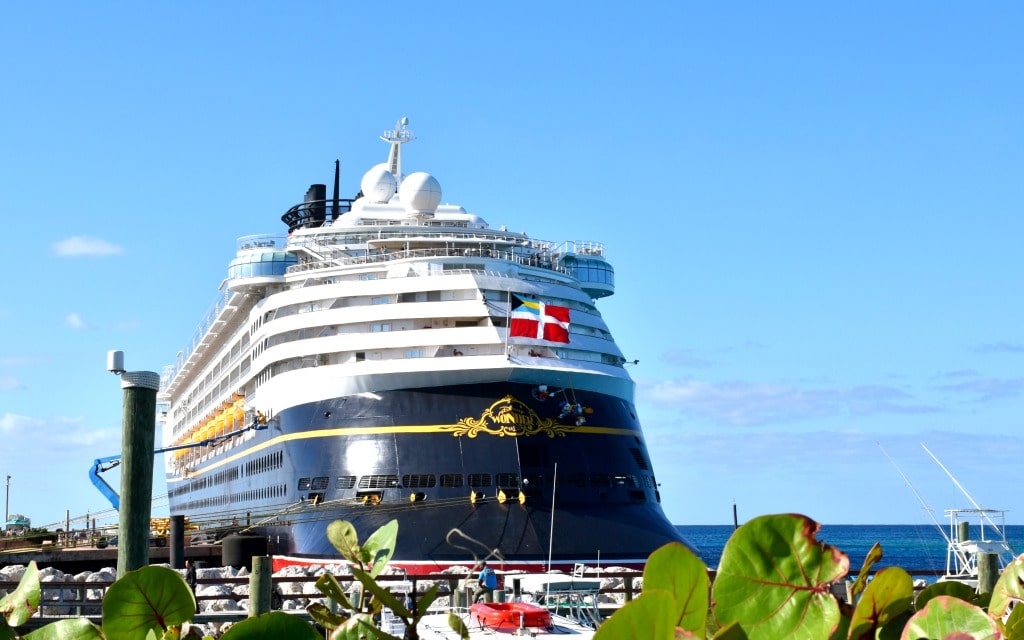 There is so much to do on the ship, so we put together this list that you can take with you to make sure you get a taste of everything that the cruise has to offer.
Have a favorite activity that you like to do on a cruise? Please share it with us in the comments below!
Top 10 things to do on a Three Day Disney Cruise
Make and pack fish extenders and door magnets.
The doors on the Disney Cruise ships are magnetic, so you can decorate them with Disney and Star Wars themed magnets. DIY them at home or order them online.
Fish extenders on a Disney Cruise are a fun way to meet other cruisers and exchange gifts. The name comes from the fish located outside each door that is typically used for notes from the crew. This fish is also the perfect hook for hanging your fish extender.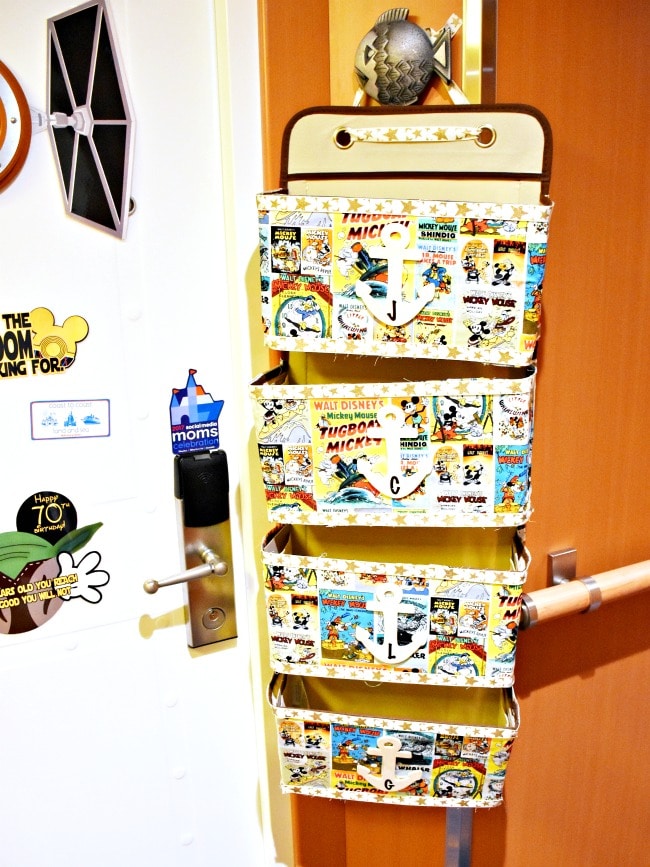 Click here for fish extenders and door magnet ideas. If you miss them while you're packing, you can also pick up some door magnets at the Disney Cruise gift shop.
Celebrate the beginning of the cruise at the sail away deck party.
Go up to the top decks and dance along with your favorite characters as you sail away from your port. The staff will supply streamers for the party, and the party will be going full blast to set the tone for the rest of the cruise.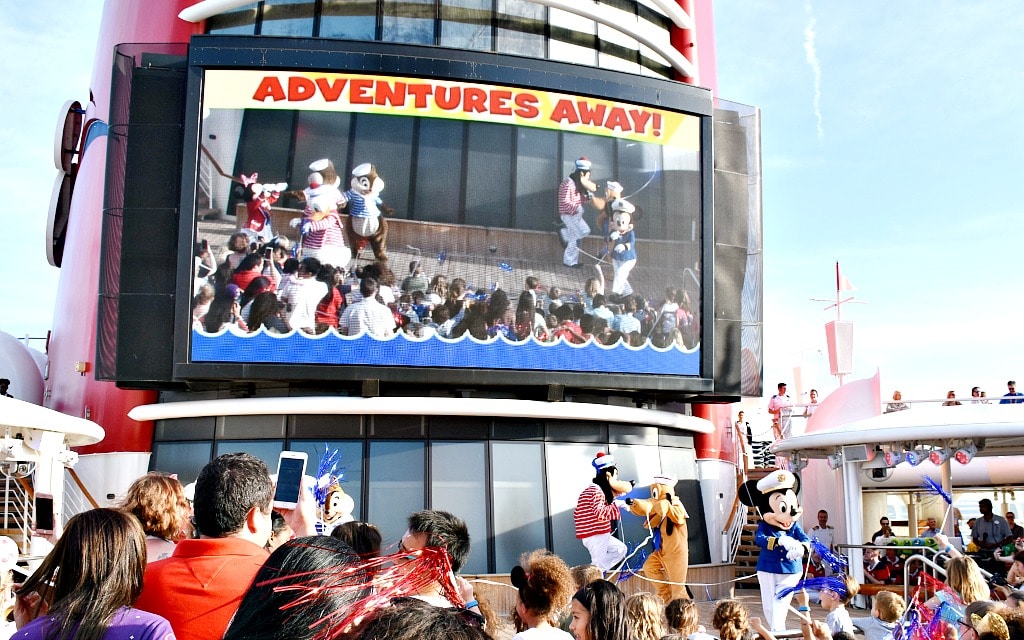 Eat something different or new at every dinner service.
Your dinners will be incredible on the ship, so take advantage and order something you wouldn't normally indulge in (escargot anyone?).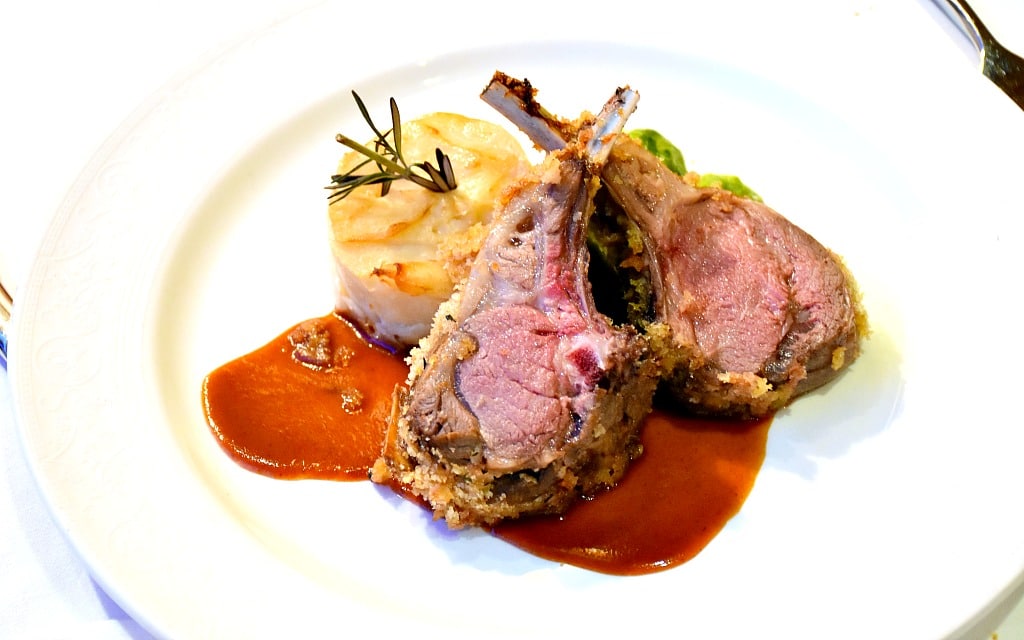 Add to that dessert. Always say yes to dessert… like this creme brûlée.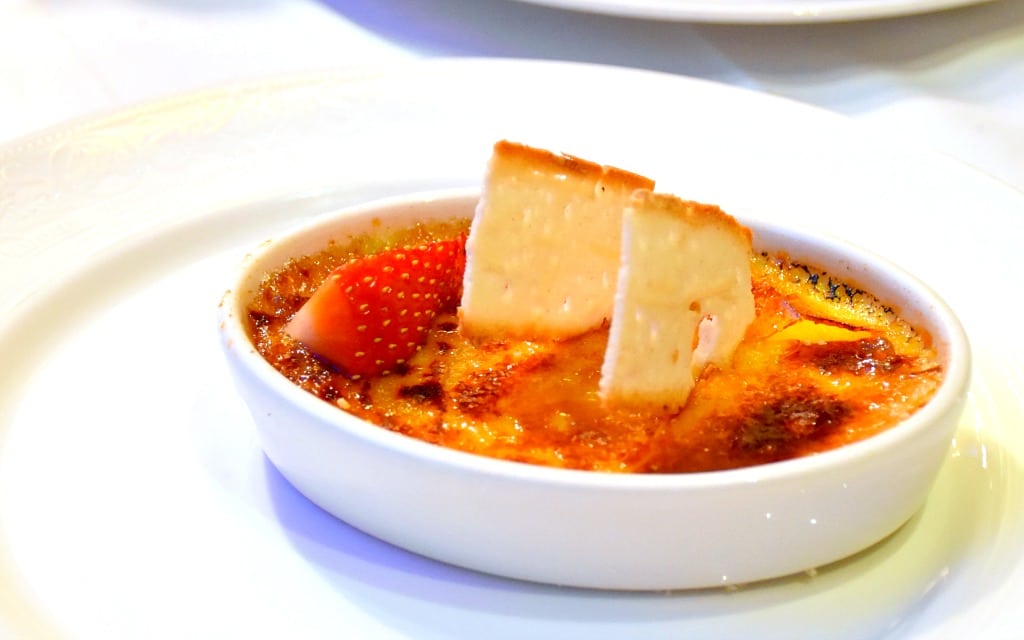 Pick up some fries and catch a Disney film at the theatre or by the pool.
We made the time to watch two films on our trip, one at their theatre and another by the pool under the stars. Before both films, we picked up fries and pizza and indulged as we watched the film. It felt like we were doing something sneaky!
Oh, and don't worry if you get chilly while watching your film outside – they also supply blankets!
Take the kids to the pool.
The kids love a good pool, and the slides on a Disney Cruise are made even better because they're on a ship!
The kids love being at the top of the stairs and seeing the ocean as they go down the swirly slide. There is also a spot for the younger kids if they're not into pools.
If you're looking for a kid-free pool experience, visit the adults-only pool.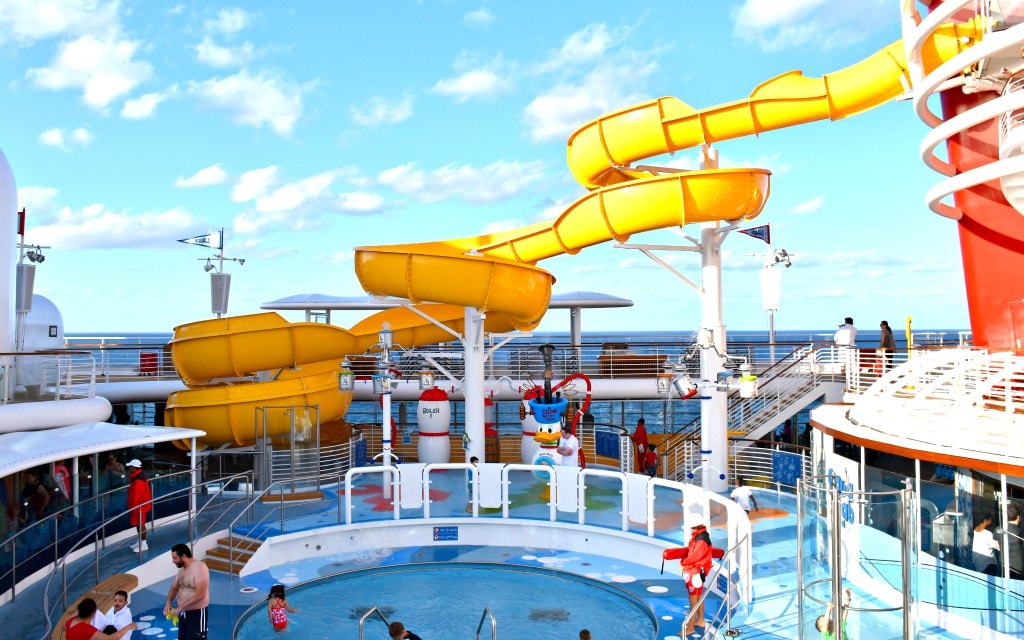 Play dress up for the Pirate Night Deck Party.
Pack the costumes or make a reservation to get dressed up as a pirate for the festivities. You'll see people dressed up for dinner in their costumes, taking professional pictures before the party, and then living it up on the deck after dinner.
Not feeling the pirate vibe? Dress up like your favorite Disney character!
Costumes and accessories are also available for purchase in the gift shop.
Watch the Broadway-style shows.
Our first show was the Golden Mickey's (think Disney-themed "Golden Globes") and we were hooked on the shows after that. They're clever, beautifully choreographed and performed to perfection.
The kids looked forward to watching the show after our dinner seating. Plus, it helps that they feature their favorite characters.
Participate in family activities and competitions.
My family loves to play board games and do projects together, and we were happy to see that we could continue to do so on the cruise.
We joined the fun at BINGO, crafts, and "name that tune" competitions. The activities only last 30 minutes, but that's just enough time to reconnect and slow down a bit.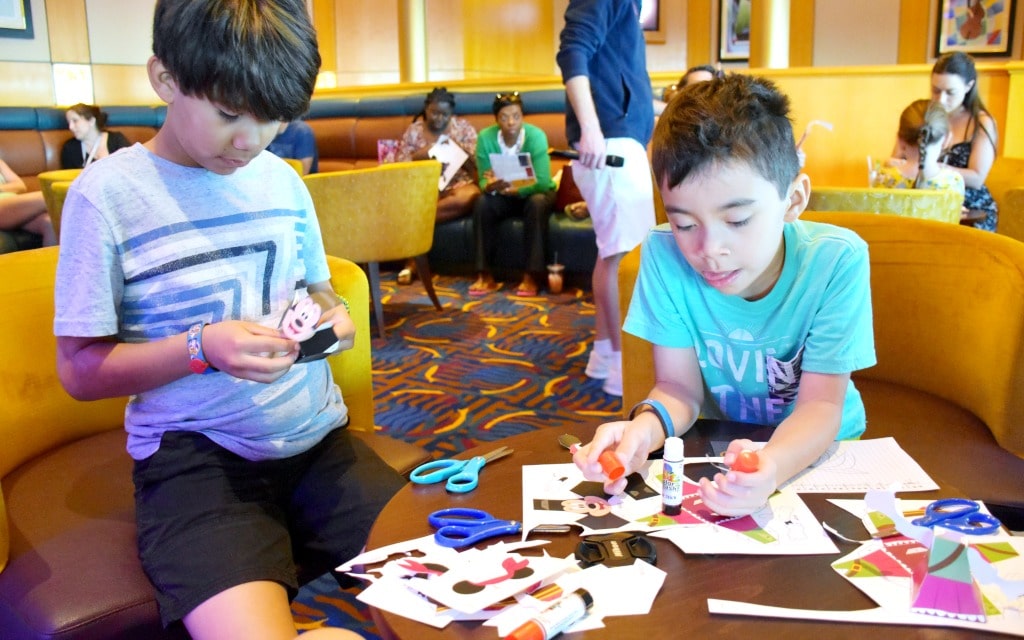 Take advantage of all the photo opportunities.
You'll want to remember every day of your trip, and the array of photo opportunities makes it easier for you. Take your family for a quick sitting with a photographer before heading in to dinner.
Visit with your favorite Disney character and have the photographer take a picture there too.
When you disembark at Castaway Cay (or another destination on your cruise) – you'll get another chance for a professional picture! Purchase and have them printed or get a digital copy on board.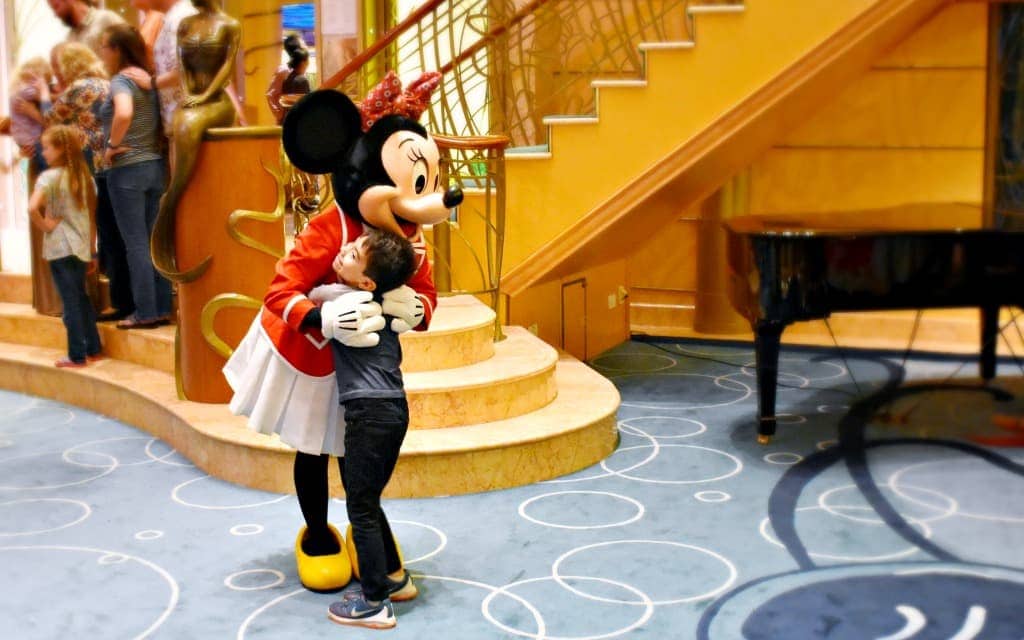 Be sporty.
Pick up a game of basketball, table tennis or shuffle board. Maybe get up extra early and do a few laps around the ship before breakfast?
The fresh air makes for a great pick-me-up any time of the day.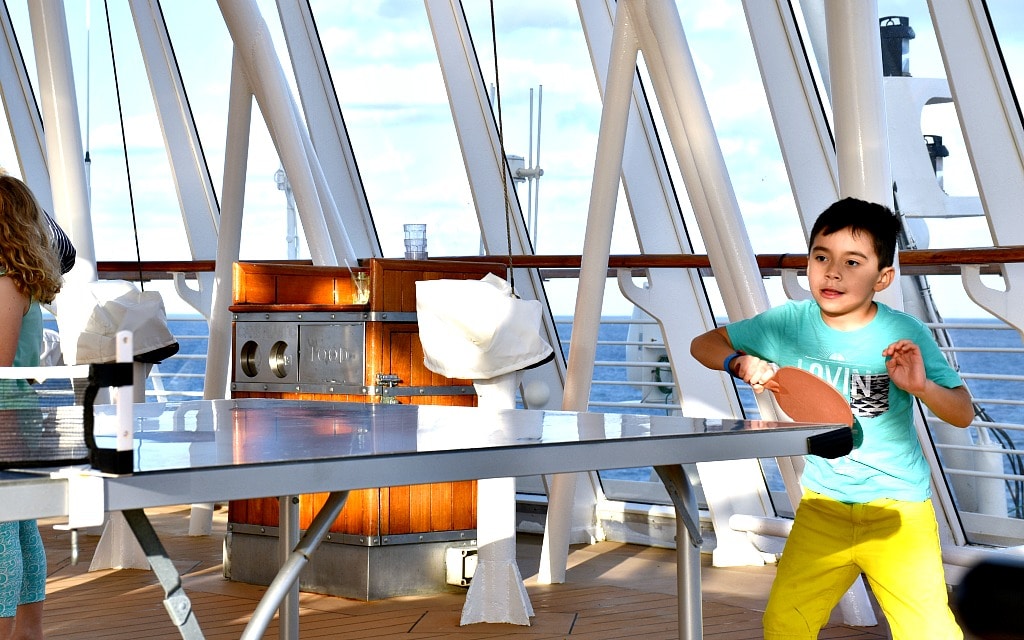 There is so much to do on a Disney Cruise, and I hope that this list of things to do on a three-day Disney Cruise will get you on the track to getting the most out of your trip.
Originally published on April 21, 2020. Last Updated on April 21, 2020 by Pattie Cordova