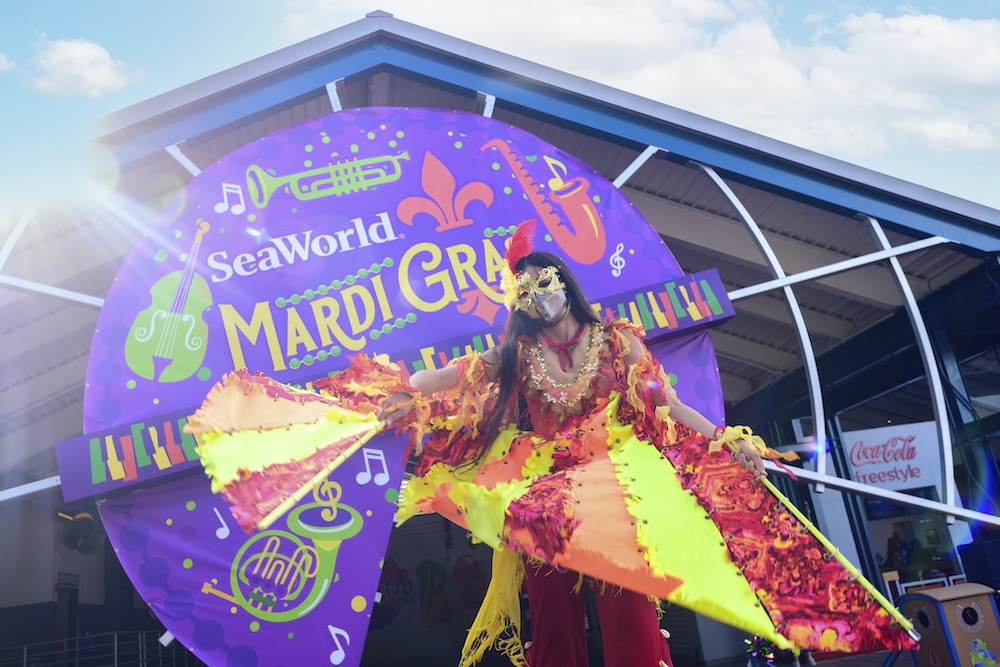 SeaWorld San Diego has a new family friendly Mardi Gras event on Saturdays and Sundays during the month of February, plus February 18th and 21st. The SeaWorld Mardi Gras celebration is included with park admission!
If this is your first time visiting SeaWorld, you'll want to read our tips for visiting SeaWorld for the first time.
This seasonal Mardi Gras event in San Diego features a walking parade with colorful characters along with SeaWorld's very own "Bourbon Street." There is also a face painting booth, fair-style games and other fun kids' activities.
SeaWorld San Diego Mardi Gras Celebration
"C'est si bon!" This French term means "it is so good" and made famous after the song Eartha Kitt and Louis Armstrong made. When we tried the Cajun and Creole food at Sea World for their Mardi Gras, "c'est si bon!" We loved being able to celebrate Mardi Gras in Southern California, a holiday made famous in New Orleans. We recently visited Sea World and their Mardi Gras event overall is "C'est si bon!"– so good!
Performers and Entertainers
You will see entertainers walking around handing out beads throughout the day. Feel free to take pictures with them – or even dance alongside them while jazz music plays in the background.
There are also performers that do acrobatic tricks to upbeat jazz music. You can see the schedule for these performances posted at the park.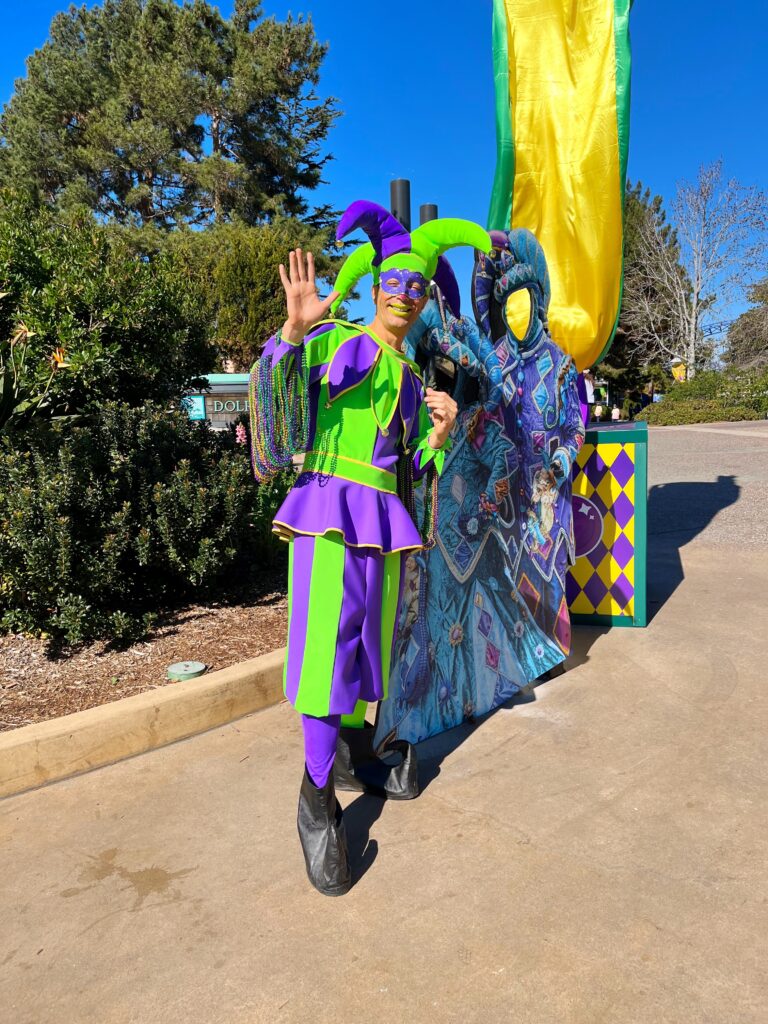 Creole and Cajun Food at SeaWorld San Diego
There is an all-new menu with delicious Mardi Gras-inspired Creole and Cajun cuisine. We tried the jambalaya, shrimp and sausage skewers and Lobster Po'Boy.
Our meal was finished off with King Cake, the beignets drizzled with chocolate and Funfetti King Bars. We loved all of it!
Please note that no outside food, beverages, or coolers are allowed to be brought into SeaWorld San Diego, except you may bring a bottle of water or a refillable water bottle. Exceptions may be made for Guests with special dietary needs, including food allergies and baby food/formula.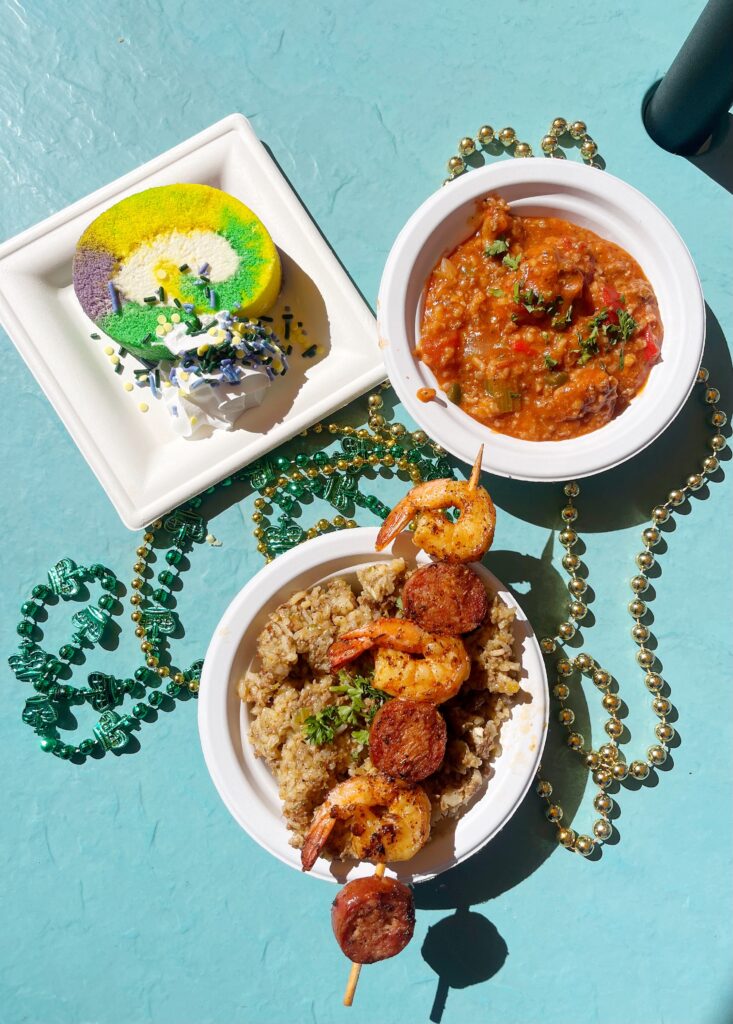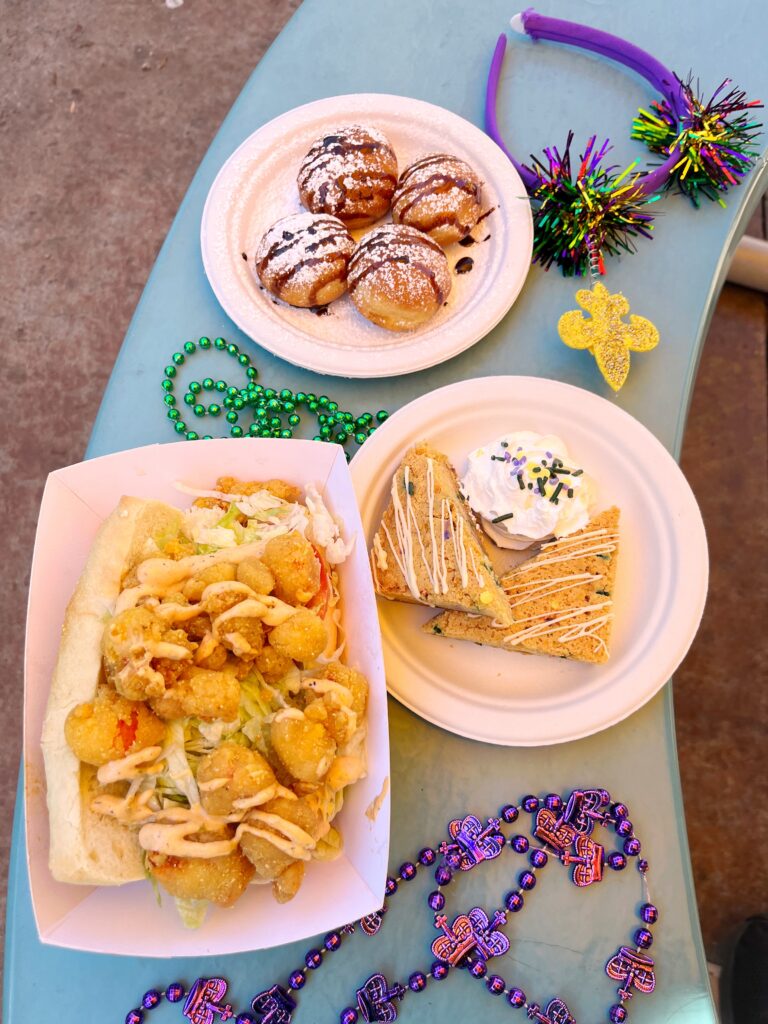 Mardi Gras cocktails at SeaWorld
We tried two of the featured alcoholic beverages and we loved them. We love that Sea World is fun for everyone and has adult beverages that include mixed drinks, blended drinks and beer.
We tried the Hurricane and the Green Apple Margarita which you can find near SkyTower Lawn. All of the Mardi Gras festivities can be found around this area.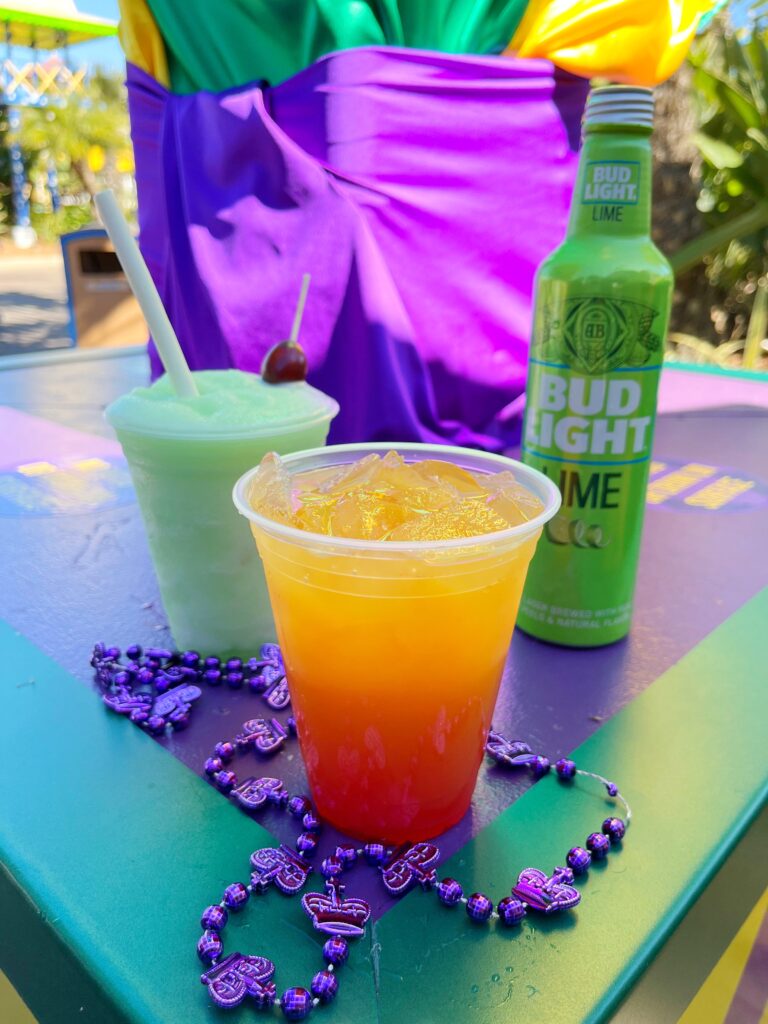 Jazz Music
We loved the jazz band that was performing throughout the day. This is popular for kids and adults because the kids enjoy dancing and the adults can sit on the nearby benches and enjoy it as well.
On select dates, you can also see the San Diego Marine Corps Marching Band and other genres of music that include Dixieland.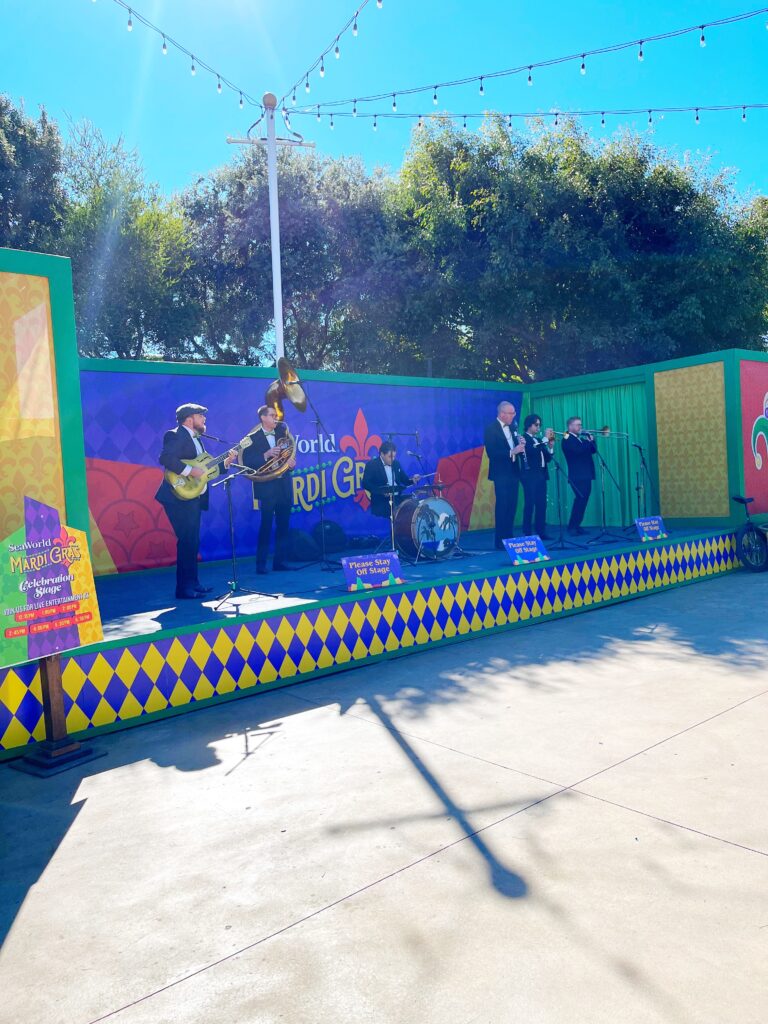 Face Painting
Our little girl loved the face painting and chose a design she picked herself from the available choices. The price for face painting varies from $16-22 depending on the design.
When we arrived, there was no line and the face painting process doesn't take long. We recommend you get to the park early to avoid long lines.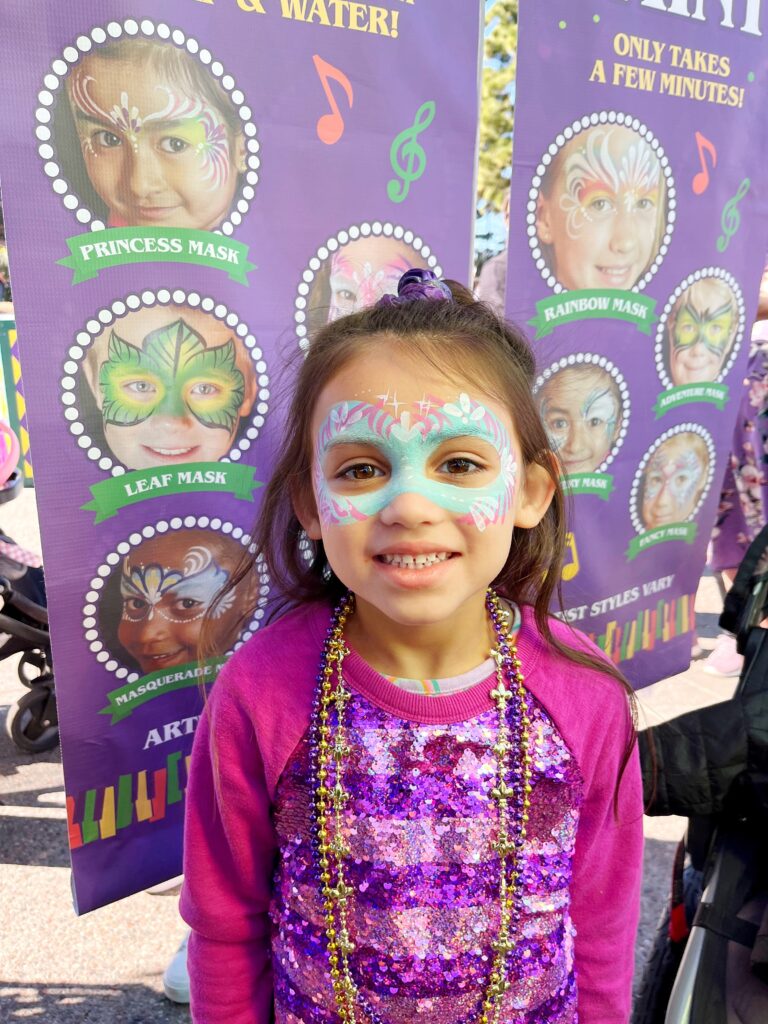 SeaWorld Mardi Gras Merchandise
We loved all the beautiful themed merchandise for sale at the park. We especially loved the mugs and shirts. The masks are also perfect with your beads.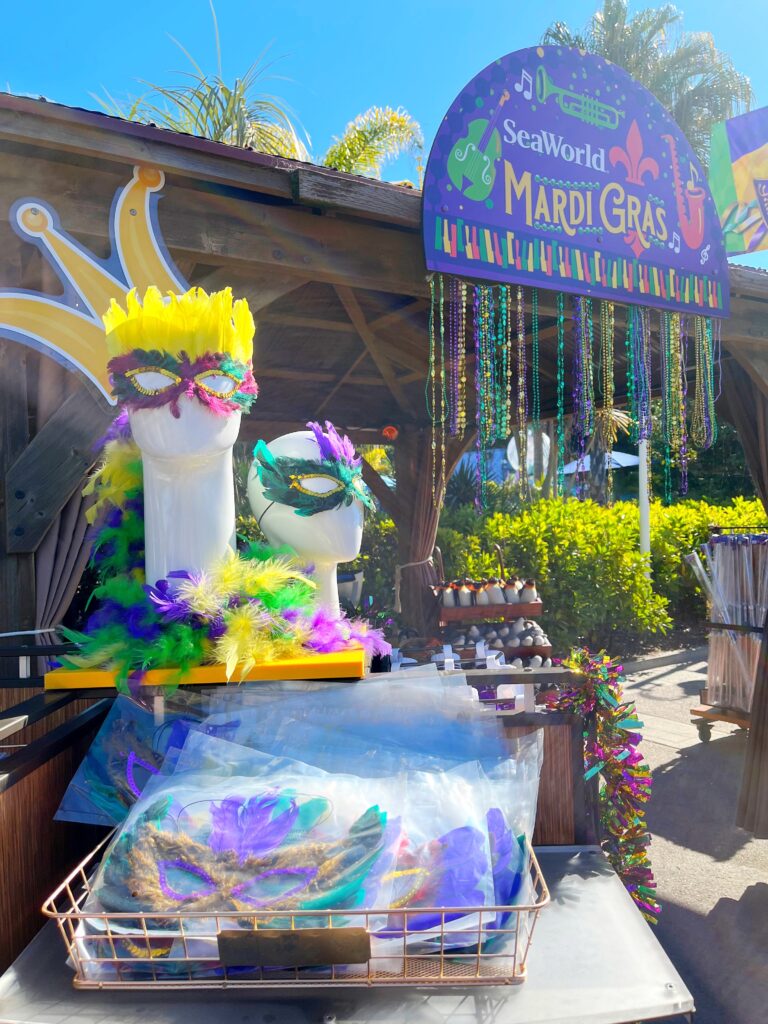 Tickets to SeaWorld San Diego
We loved visiting SeaWorld's Mardi Gras event and we recommend it to you too!
Day passes are available starting at $64.99.
If you live in Southern California and want a yearly pass, the SeaWorld SoCal Pass is back for unlimited admission for only $120!
This pass allows for unlimited visits for 12 months (Blockout dates apply). 50% off general parking and discounted Howl-O-Scream tickets.
Parking at SeaWorld San Diego is $30, but included for silver, gold and platinum pass members.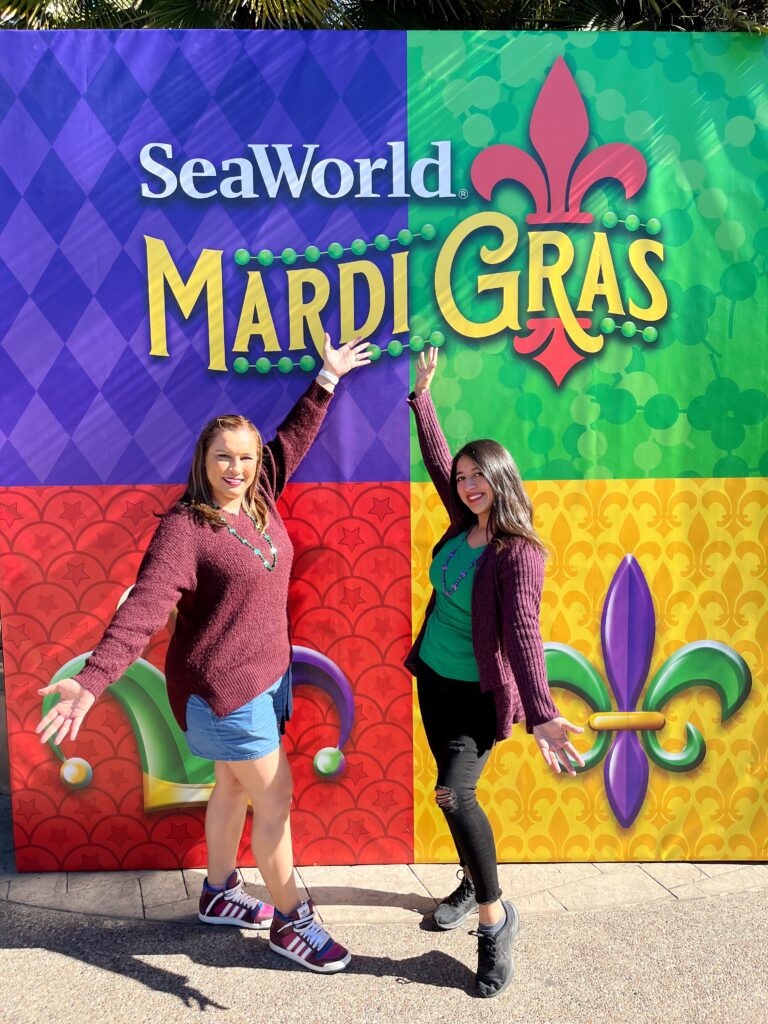 SeaWorld San Diego opens at 10:00am on Saturday and Sundays, and 10:30am on weekdays.
It is located at 500 SeaWorld Drive, San Diego, CA 92109. For more information, please visit the SeaWorld San Diego website.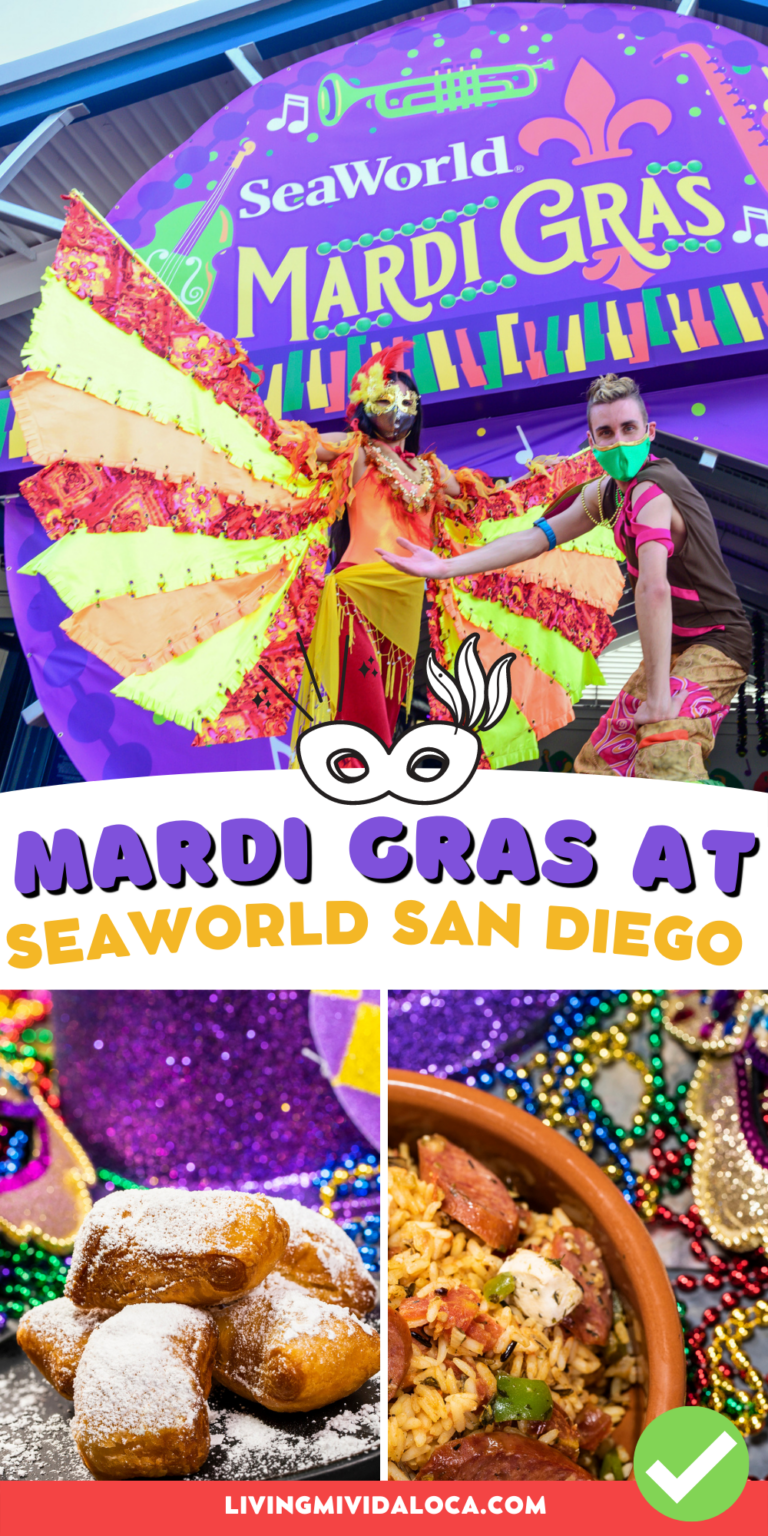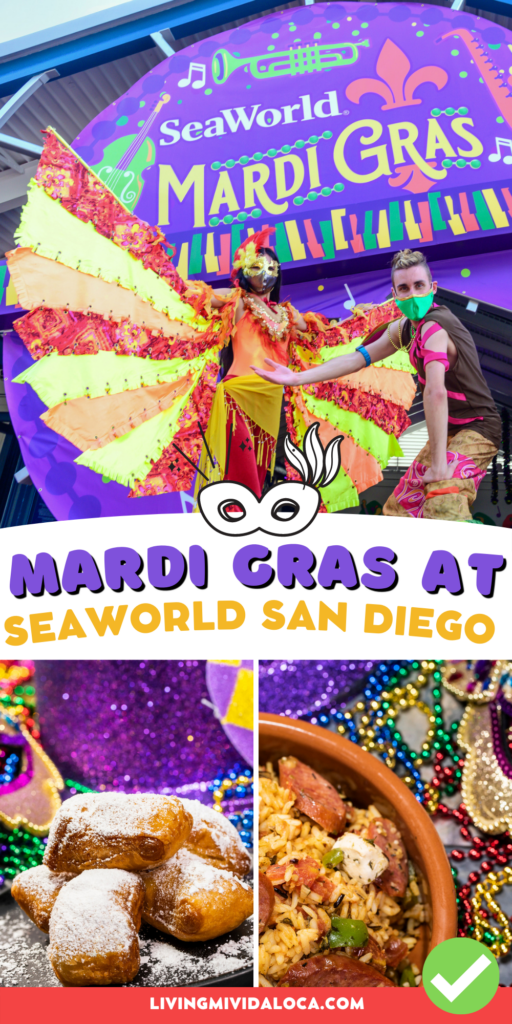 Originally published on February 7, 2022. Last Updated on February 24, 2022 by Pattie Cordova