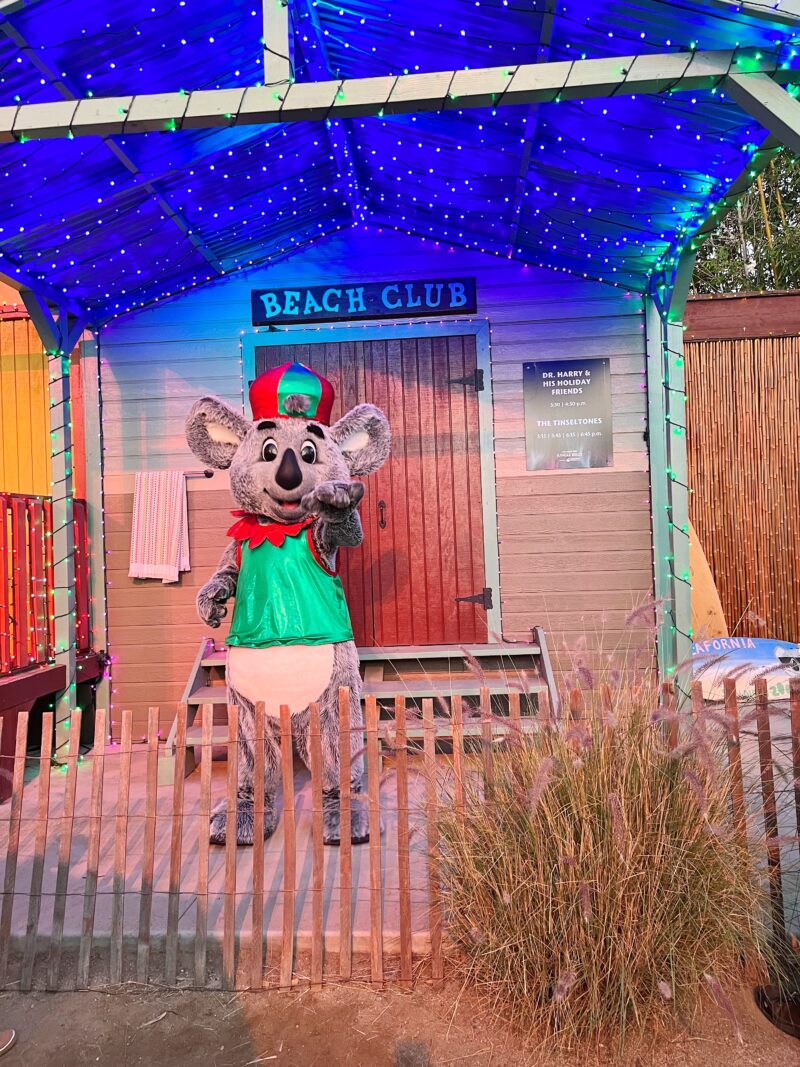 Take a breathtaking experience just south of Orange County to the San Diego Zoo – a 100-acre wildlife park – and enjoy Jungle Bells!
This holiday season you can enjoy Jungle Bells at the park from December 10-23 and 25-January 2. Jungle Bells and all it entails, including Aurora, is included with your park admission ticket or membership.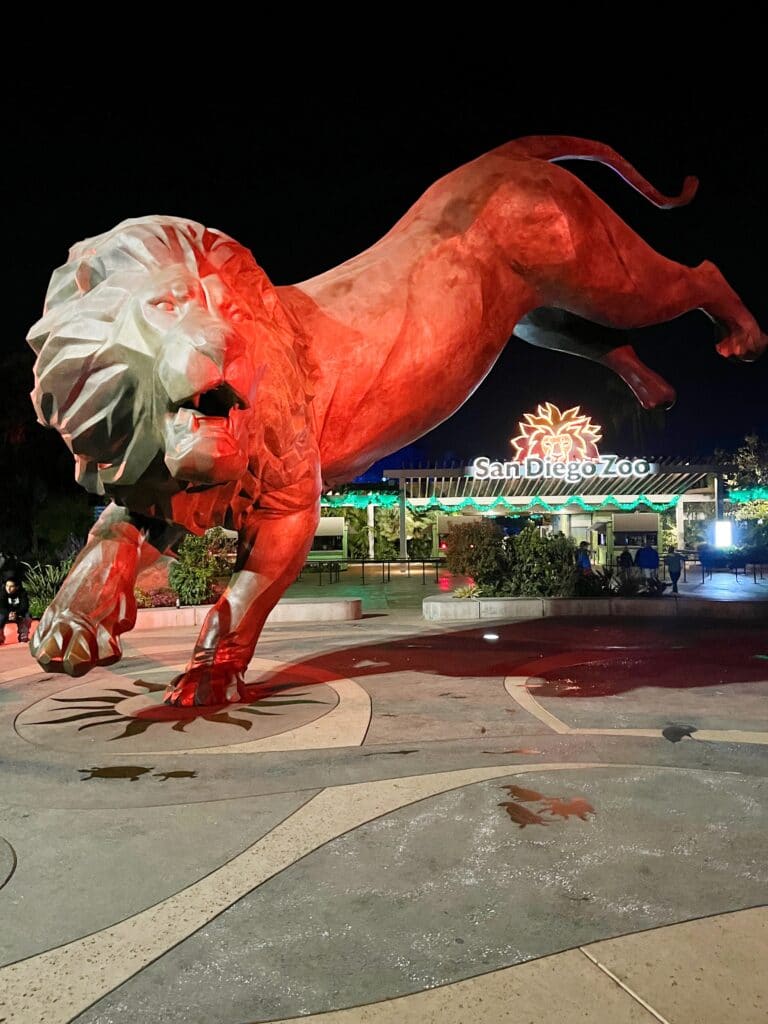 Located just north of downtown San Diego, in Balboa Park, is the San Diego Zoo. We love the San Diego Zoo because of their conservation efforts to save wildlife worldwide. After all, it's up to us to educate our future leaders to take care of our planet and all the wildlife that resides in it. Especially wildlife that is already on the endangered list.
Check out Jungle Bells this holiday season. It features Aurora– a magical and spectacular experience with lights, 3D projections and music.
Most of the experiences begin in the afternoon, so we suggest you plan to stay into the evening to experience all that Jungle Bells has to offer.
Also make sure to bundle up because it can get chilly!
TIP: If you want to see the park animals, we suggest you get there early to see them during the sunlight and while they are still awake. It will be difficult to see the in dark in their habitats and they may be asleep.
Entertainment
Jungle Bells includes many different entertainment experiences throughout the park. We suggest you game plan before you go, so you can choose the ones that you want to attend ahead of time. There are so many that we couldn't attend them all in one evening.
Jingle Brass
In the Front Street Stage on Front Street, you will find a brass musical ensemble that will play holiday favorites throughout the evening starting at 4:30pm.
It's a great place to bring the kids because they will enjoy dancing to the holiday tunes in front of the stage. It's also great for jazz loving adults, and they do sell beer and margaritas and specialty cocktails that adults can enjoy to the music.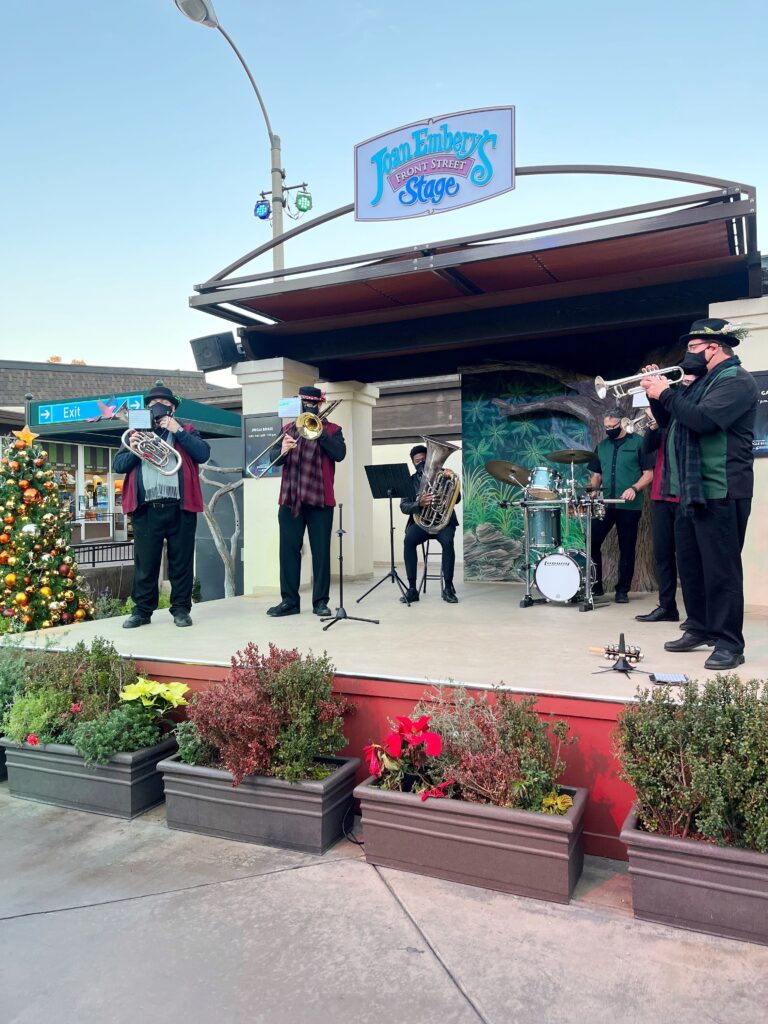 Toy Shop Hop
At Sydney's Grill in the Urban Jungle, you will find acrobatic elves showing off their skills starting at 3pm.
The elves show lasts 15 minutes and the acrobats are breathtaking. Do get there early to get a seat at one of the tables. Our five year old loved this show and it was her favorite part of the Jungle Bells experience.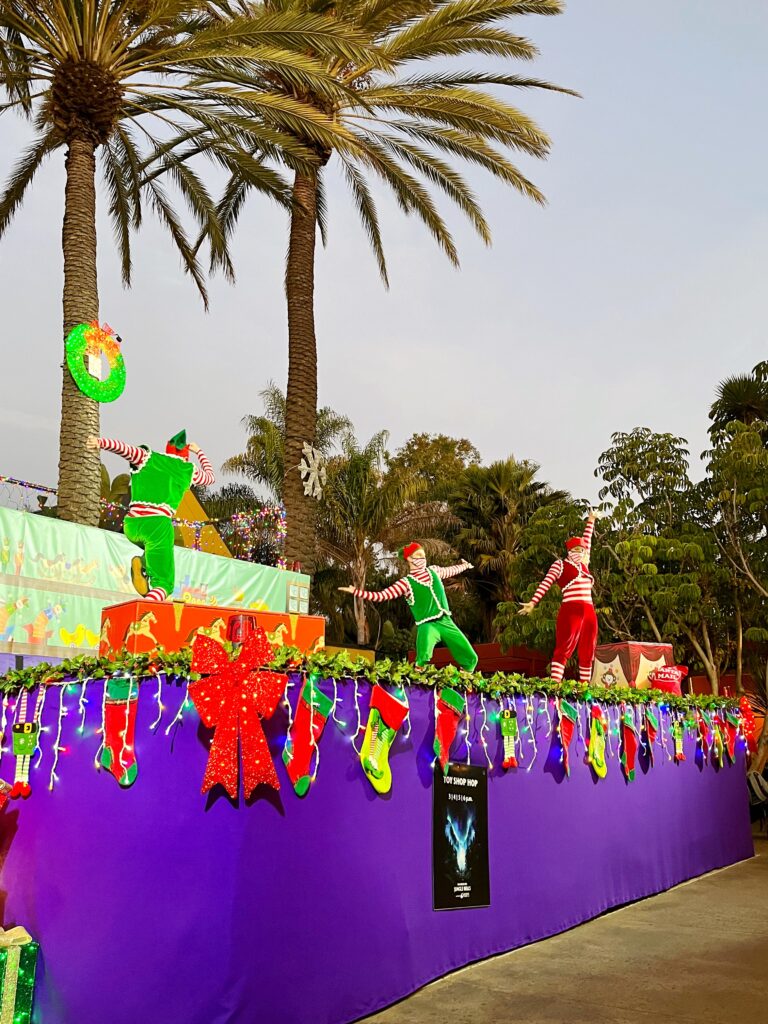 Celebration of Lights Experience
In the Toog Tree on Front Street, you can see the Toog Tree decorated with lights and choreographed to holiday music starting at 4:55pm.
Dr Z's One Wild Night Before Christmas
In the Stage Rocks Box at Africa Rocks, you can see Dr. Z tell his zany version of the classic Christmas story. First show is at 3:45pm.
Dr. Harry and His Holiday Friends
In the Boardwalk Beer Garden, at Outback you can meet Santa's helpers, some friendly Zoo Characters and you can pose with them for holiday photos.
It's the perfect photo opportunity with your family and your animal loving kids will truly enjoy it. There are two times you can enjoy these photos, 3:30pm and 4:30pm.
Get camera ready, the zoo characters are out and the kids can meet and greet with them and take plenty of pictures.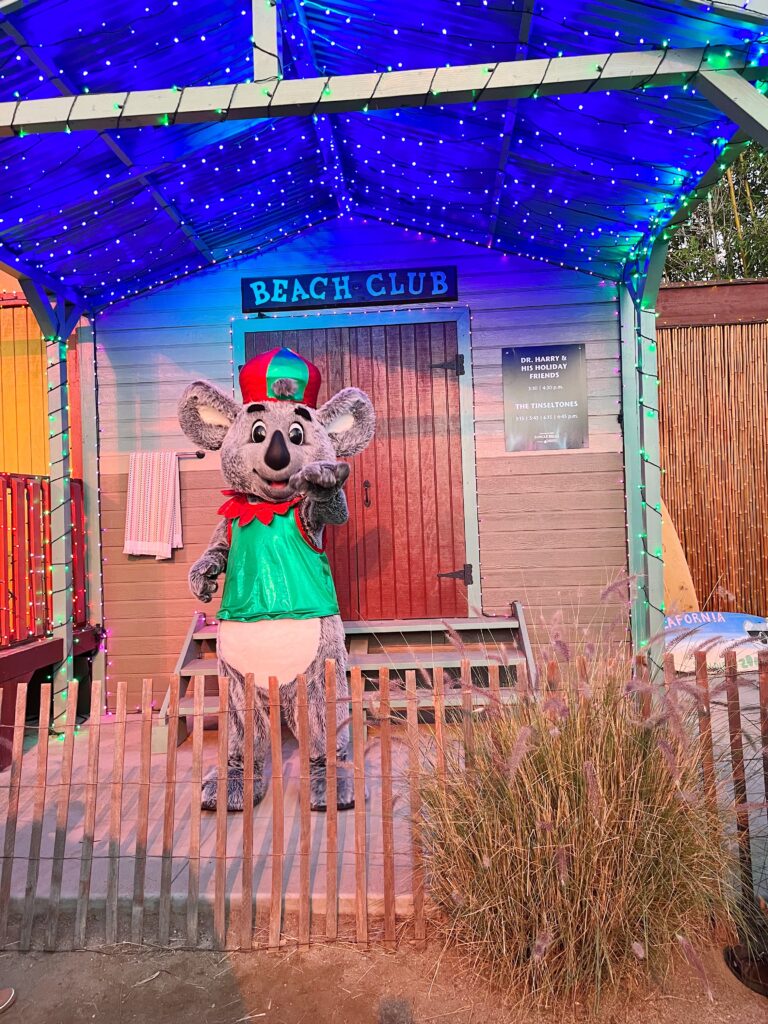 The Tinseltones
At the Boardwalk Beer Garden, in the Outback area you will find a cappella singers! It will really put you in the holiday spirit. Performances start at 5:15pm. It also includes "snow" starting at 5:35pm.
Holiday Troubador
At the Gingerbread Landing to Bridge Forest in the Lost Forest area, you will find an acoustic guitar singer that will get you singing along to some holiday favorites. Shows start at 4:45pm.
Aurora Pathways
At different areas throughout the park, you may run into "sprites", entities that represent wind, water and ice. You can interact with them and they will point you to some fun things to do throughout the park. We ran into a few of them and they were so friendly and told us to make sure we didn't miss the Aurora show!
Aurora
You will not want to miss this immersive presentation, it is a magical experience that only happens twice in the evening for ten minutes each. Shows are at 6:30pm and 7:40pm.
Follow the sprites, they will lead the way. You can find this show at Hua Mei Cafe at the Asian Passage.
You will want to get there early because it does fill up fast. Standing room only.
If you don't get a good standing area, don't worry, the light show is projected to the bridge nearby and everyone near the Hua Mei Cafe can get a glimpse of part of the show.
Activities
There are also various activities at Jungle Bells.
Reindeer Games
Holiday games for the kids take place at the Front Street Stage at Front Street starting at 5pm.
Santa's Factory
At Price Education Center in the Lost Forest, you can take a picture with Santa starting at 12pm on select days.
Northern Frontier's Holiday Forest
In the Polar Bear Plunge at the Northern Frontier, you can see the holiday decor, lighted trees and visit polar bears and reindeer! Another wonderful holiday photo opportunity for the family.
We missed the reindeer and the polar bears were not visible, but we did find a great photo opportunity and the bus ride there was a lot of fun.
We also took the elevators across the bridge back down to the first floor and enjoyed a very pretty photo opportunity at the bus exit area. It's a great place for a family picture.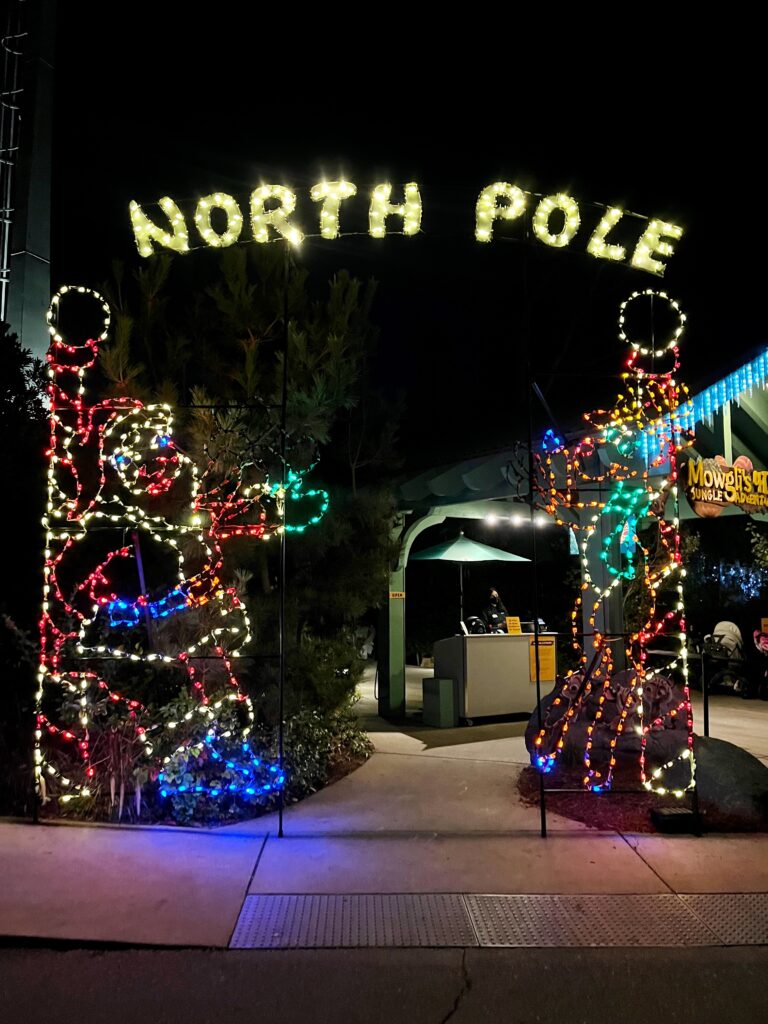 The Northern Frontier area is at the very north end of the park but it's worth the bus ride because there are so many pretty lights and the bridge is an easy way to get back downstairs.
We had a wonderful experience at Jungle Bells and we hope you will also visit this season. Not only are you guaranteed to have a good time, you will also be supporting conservation efforts.
Visiting for the first time? Check out our list of tips for first time visitors!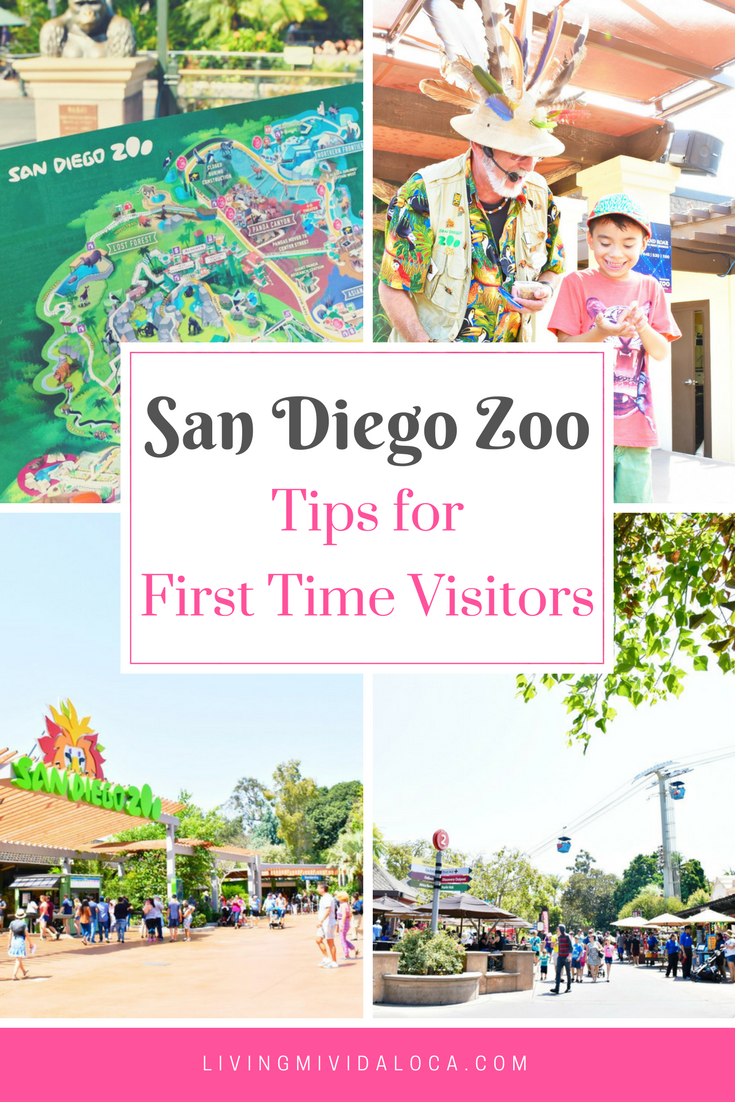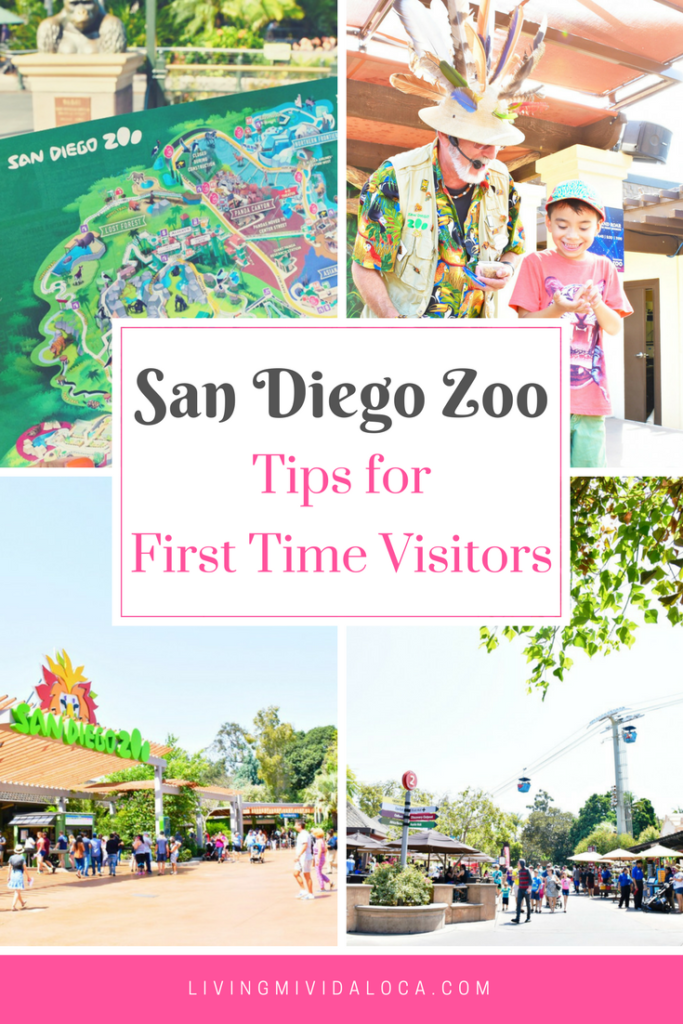 Originally published on December 13, 2021. Last Updated on October 26, 2022 by Pattie Cordova