Summer vacations might be officially over but Summer in Orange County is still in full effect. The kiddos and I got to attend Legoland Water Park for their last summer vacation outing. They were super excited since this was their first time visiting Legoland California. If you are newbies to Legoland like us it is good to know that Legoland Water Park is inside Legoland. We got to enjoy Legoland in the morning and cool off in the evening at the water park. It worked perfectly for us and was really convenient. Eventhough we could have spent all day at the water park, my kiddos are water babies. Here I have compiled the kids fave spots at the water park, plus our must eats.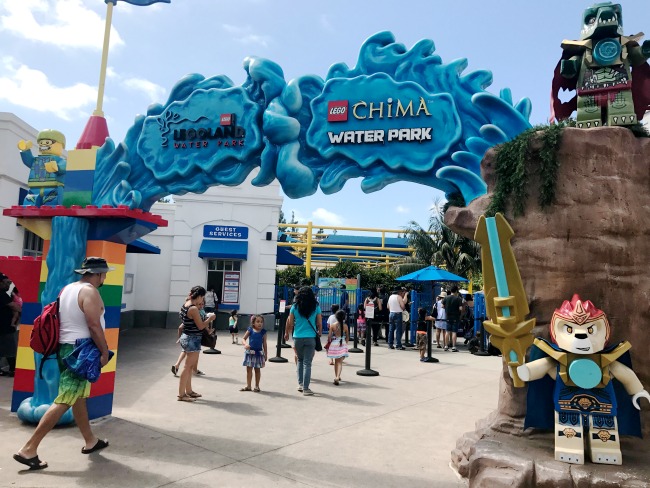 Surfers Cove at LEGOLAND Waterpark
Surfer's Cove is the newest addition to Legoland Water Park. It has huge umbrella like shades with tons of beach chairs. I was quick to grab a chair and relax my feet in the sand. Nothing like the feeling of sand through tired toes from all the walking. Right in the middle of Surfer's Cove is Wipeout Lagoon. A splash pad in which the water comes out in waves which is fun to see. On Riptide Racers up to six racers can race to the bottom. Using mats which make you go faster. Surfer's Cove is a great little spot for parents to chill while kids enjoy the water spouts and race on Riptide Racers.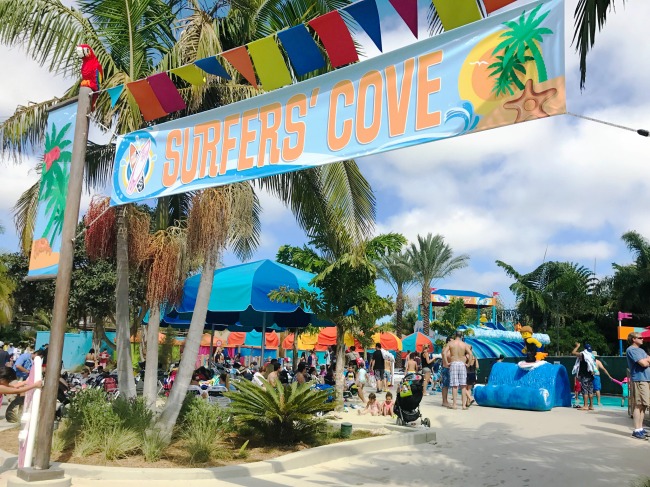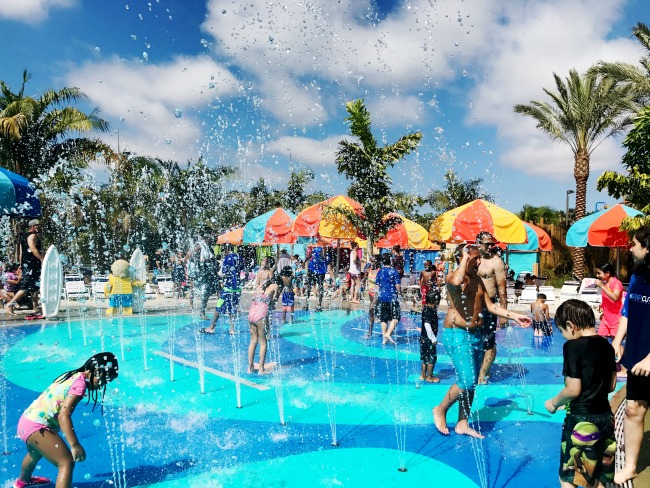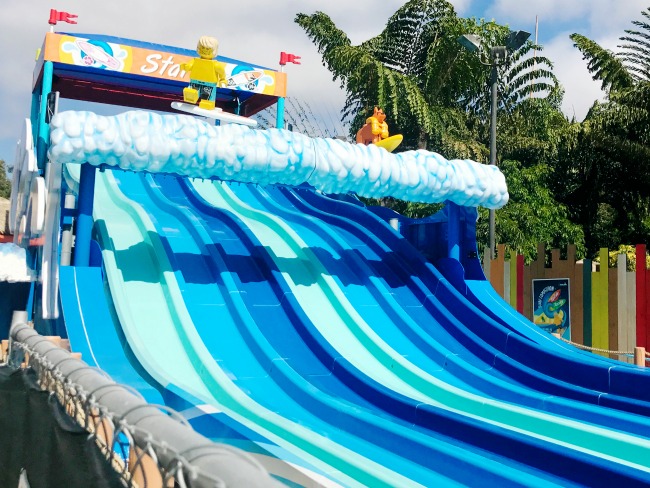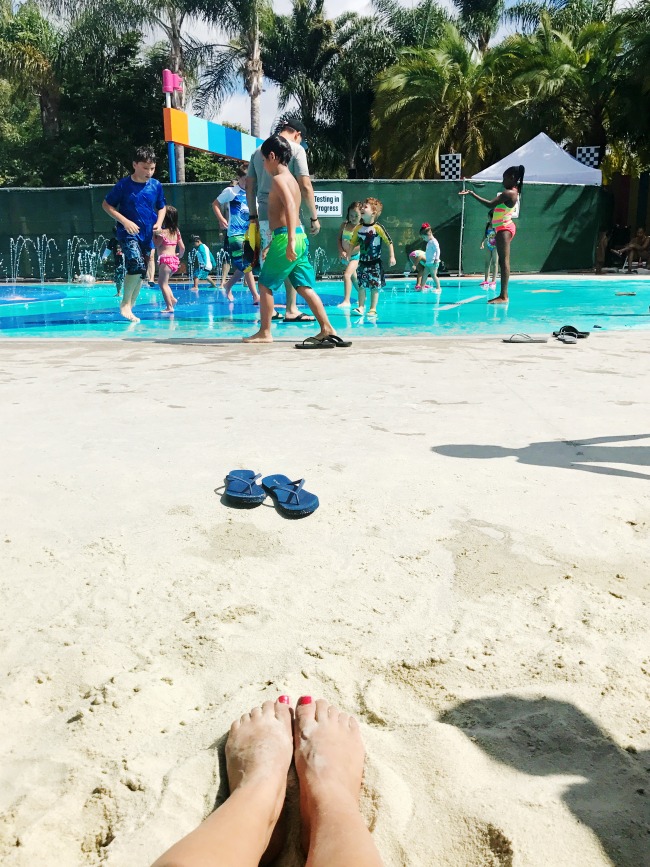 Build-A-Raft-River
Our family loves lazy rivers and Build-A-Raft-River was a perfect spot for us. The river is long giving you time to float away any stress and enjoy the ride. The best part for me was that while I relaxed the kids collected the floating legos. It kept them busy trying to get as many as they could. It was entertaining having them try and try to make their lego raft float. Finally they got it to float and off they went to collect more legos. We waited till the last hour to ride since lines can get long.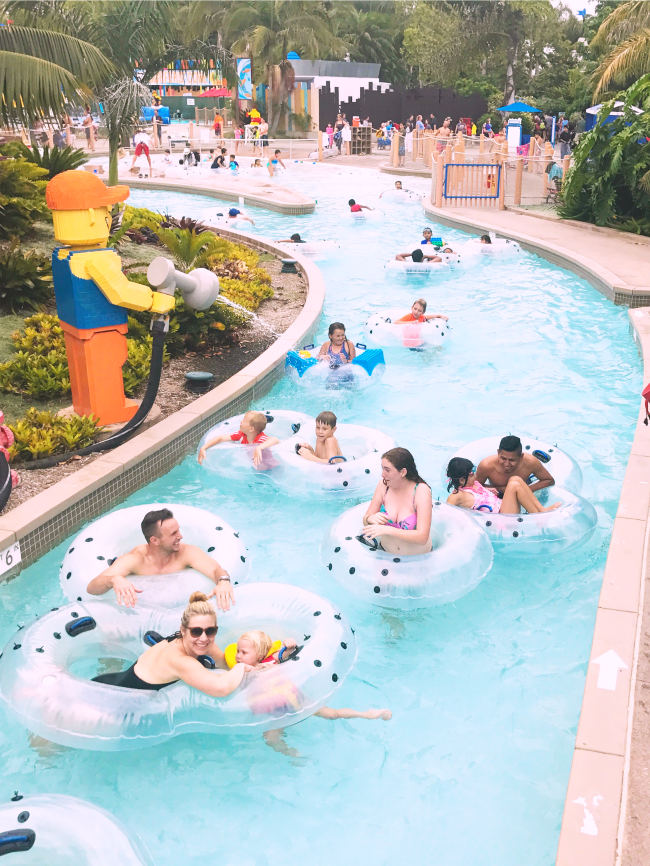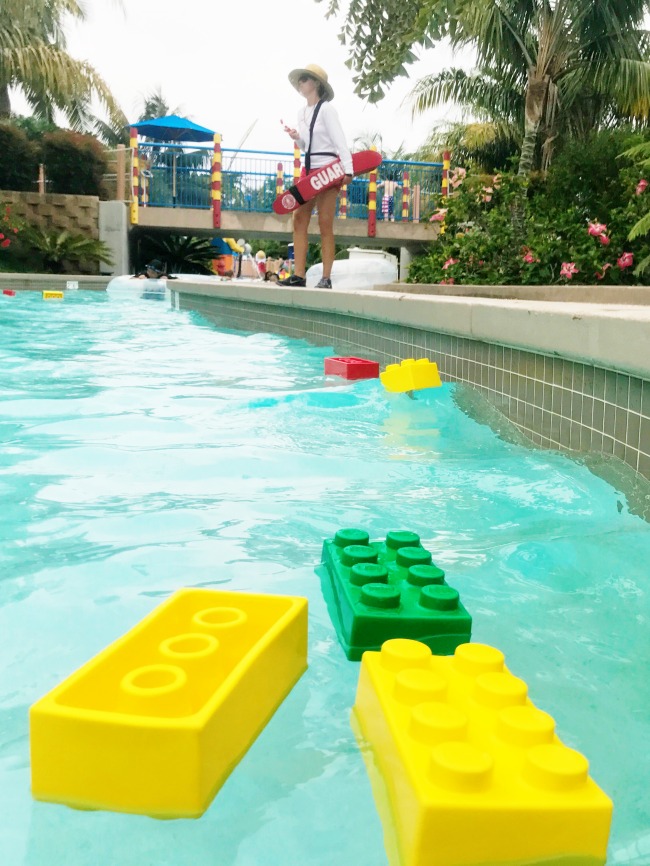 Lion Temple Wave Pool
My nine year old was most excited about visiting the Chima Water Park. I was amazed how he knew all the names of the characters. He was most excited about the Lion Temple Wave Pool. The Lion Head entrance is awesome to walk through and above everything the floating island is astonishing. At the entrance there are water fountains which were perfect for little swimmers. My older kids went straight to the back of the pool to get the best experience of the waves. I felt assured that the kids were safe. There are plenty of lifeguards and life jackets are complimentary. Chima wave pool is a must visit for the older kids and parents alike.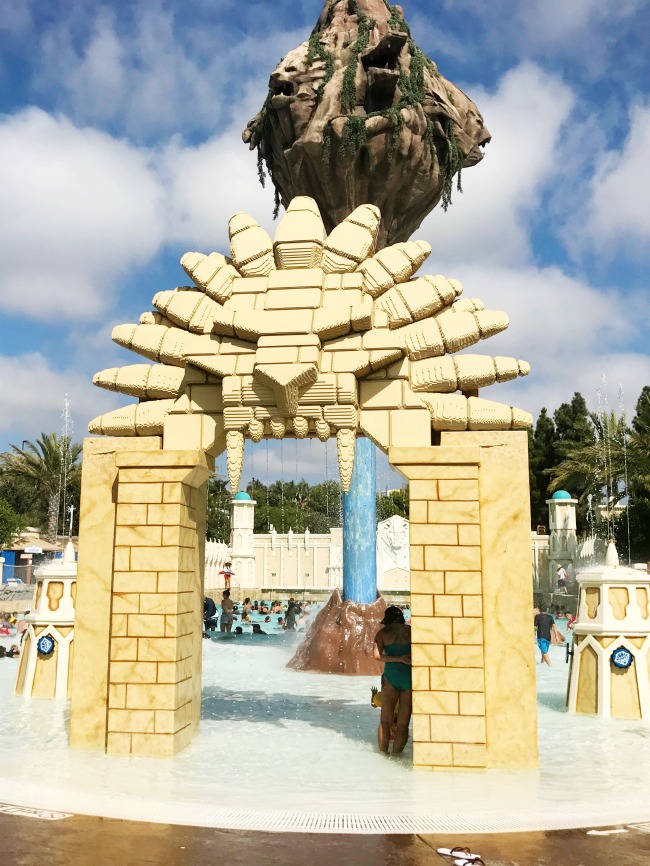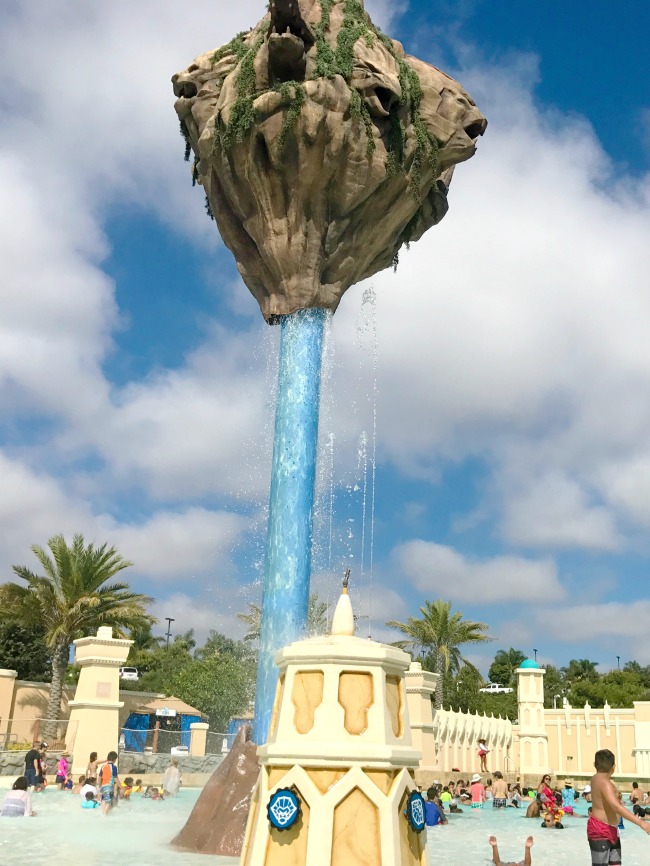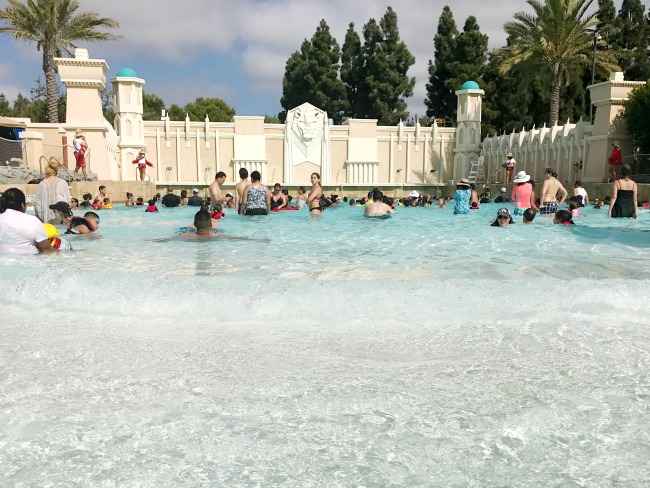 Duplo Splash Safari
If you have little swimmers then this waddling pool is for you. It has an animal theme with elephants, bears and alligators spouting water. Also three small slides perfect for toddlers not ready for the thrill of the big ones. Adjacent to the waddling pool is the Safari Zoo splash area with different animals also spraying passers by. If you do have diaper wearing ones then make sure to bring water diapers or buy some at gift shop.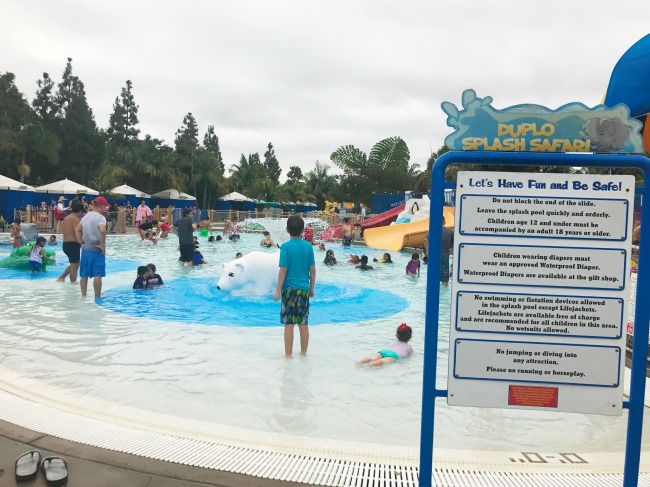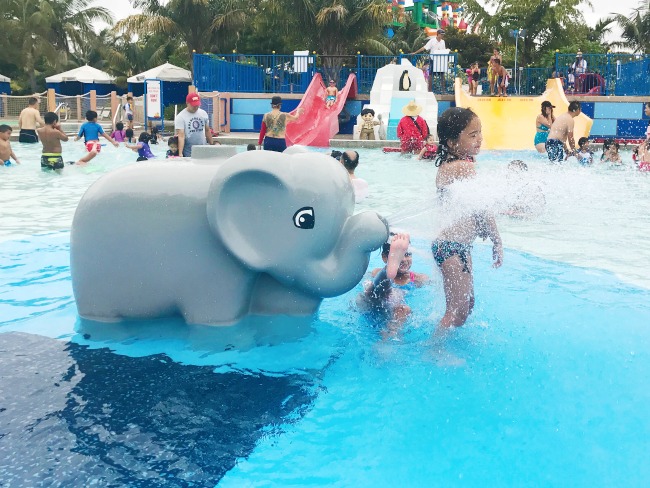 Must Eats
We had heard it over and over, "You must have the apple fries." Apple Fries are an original of Legoland. Only sold at Granny's Apple Fries located in the back of park. After finishing at the water park we headed straight to get us some apple fries. Since it was almost closing time there were no lines. They are everything we had expected. Sweet granny smith apples covered in cinnamon and sugar. The container comes with a dollop of whipped cream for dipping. I finished mine in record time. Near Granny's Apple Fries we saw the Churro Stand, selling churros with chocolate dipping sauce. My sister-in-law said they tasted just like Mexican churros, nothing like theme park ones. So we had to try them. The order comes with 3 thick churros and a chocolate dipping sauce. She was not wrong, we ended up ordering a second batch. Even writing about them I want to drive to Legoland for some.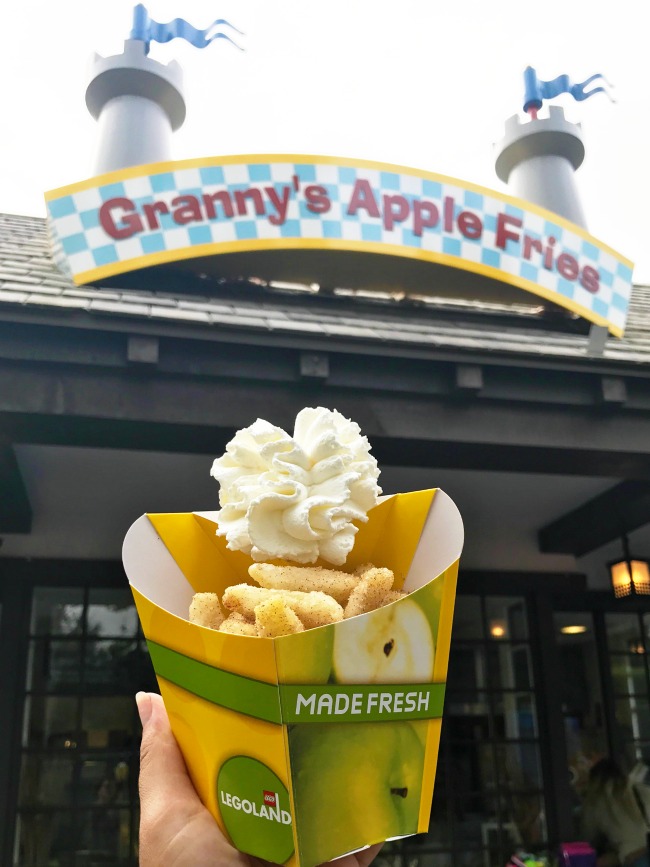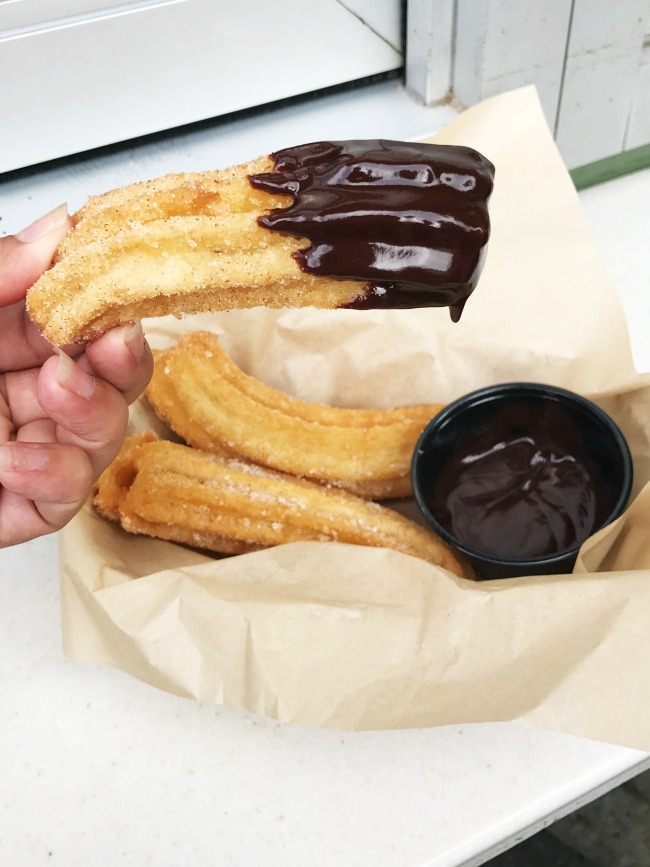 Although school is back in session a trip to Legoland is a great fun filled weekend trip. Carlsbad is only one hour away and on weekends traffic is less hectic. The water park will stay open till October offering more time to enjoy summer. One of the many benefits of living in Southern Cali and having great weather year round. Legoland website offers the best deals for park hoppers tickets. If you purchase a regular admission ticket, for just $5 more you can add water park plus a second day visit. A great deal for families wanting to enjoy two days at Legoland and Legoland Water Park. Stay tuned for many more great events and new things coming to Legoland.
Thank you LEGOLAND California for inviting us!
Originally published on July 14, 2018. Last Updated on July 18, 2018 by Pattie Cordova