I gotta admit, we're a bit spoiled around here in Southern California when it comes to theme parks. We have a great round-up that includes family favorites like the Disneyland Resort, Knott's Berry Farm, LEGOLAND California Resort and Universal Studios Hollywood. It has become family tradition to visit each and every one of these theme parks during the holidays because they all celebrate them in their own unique way.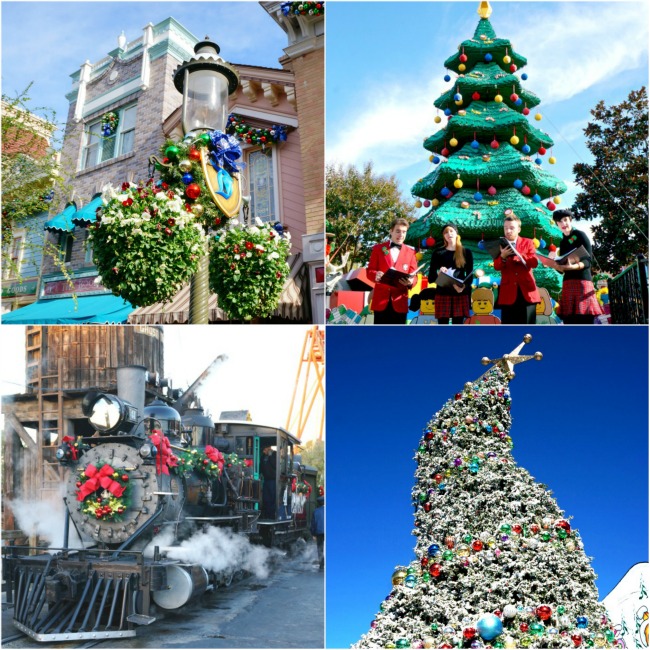 Here's a quick breakdown on what you can expect at each theme park, just in case you can't decide where to start.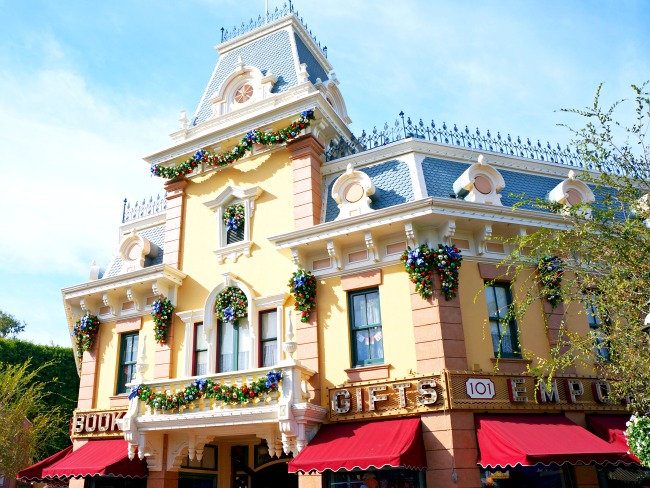 Disneyland Resort
The Disneyland Resort goes all out with their holiday decorations at both Disneyland and Disney California Adventure. My favorite highlight at Disney California Adventure is their special ¡Viva Navidad! celebration that has very authentic Mexican vibe with their live music (including mariachi!), delicious Mexican food, crafts and story-telling. It's also the only theme park where El Día de los Reyes Magos is celebrated.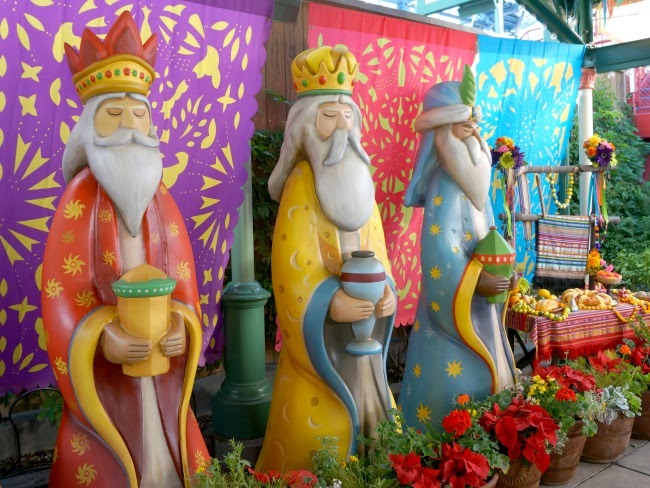 Disneyland Park has it's own must-sees, including the family-favorite, "It's a Small World," decked out for the holidays. The ride is about 12 minutes long and you can see each section celebrating the holidays according to its nationality. Outside "It's a Small World" is my favorite spot to watch the Christmas Fantasy Parade. Make yourself comfortable on the benches running along the parade route if you'd rather not sit on the floor. Finally, make sure to stop by the Haunted Mansion and see it transformed into Jack Skellington's home. This year, the gingerbread house is made to look like a deck of cards. You can't miss it!
Holidays at the Disneyland Resort runs  – , 2016.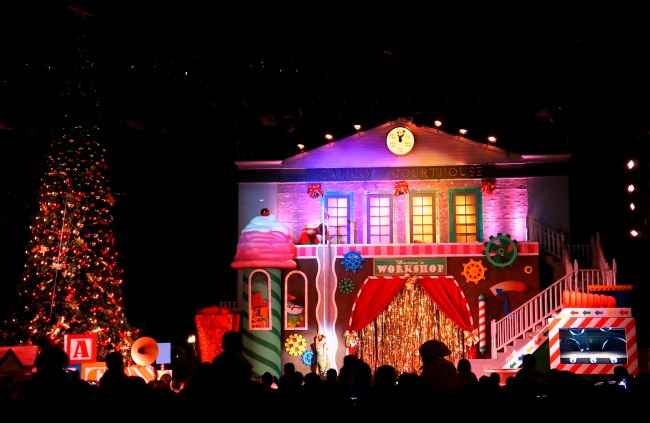 Knott's Merry Farm
Snoopy and the rest of the Peanuts gang can be seen skating across the ice during their show, "Merry Christmas, Snoopy" held multiple times a day on select dates. This is their second year doing the show, and still a family favorite. Get to the theatre early as there is usually a line at least a half hour before the show starts.
Another favorite, Santa's Christmas Cabin, houses all the best holiday foods under one roof, including candied nuts, Snoopy cookies and even adults-only beverages! Make sure to hang out and say hi to Santa. Photos are available for purchase, but you can also use your own camera to capture the moment.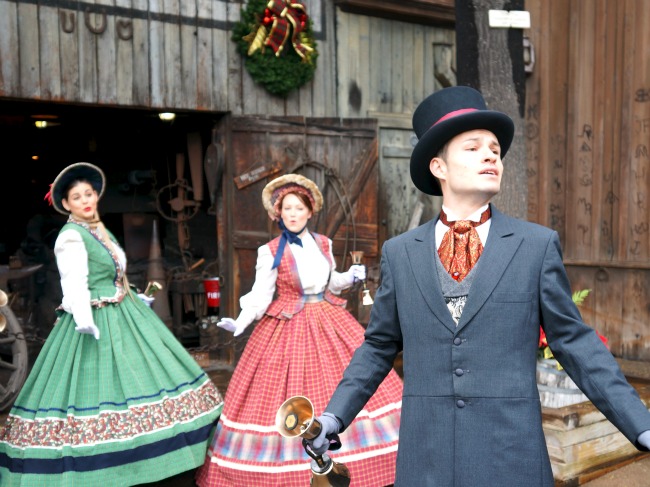 Finally, make sure to take your time strolling through Ghost Town and take a ride on Engine 41. In Ghost Town, you'll come across carolers, two special holiday shows at the Bird Cage Theatre, and bandits are replaced by old-timey folks on Engine 41.
Knott's Merry Farm runs November 21, 2015 – January 3, 2016.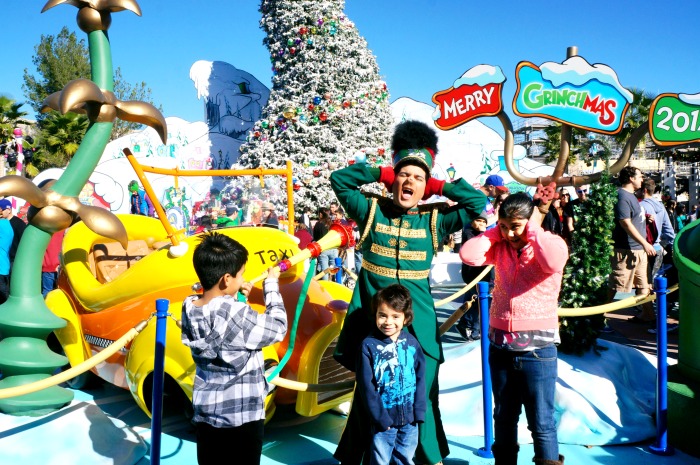 Universal Studios Hollywood
The Grinch pays a visit to Universal Studios Hollywood and sets up his village at Universal Plaza. "Grinchmas" feels as though you stepped into the set of "How the Grinch Stole Christmas." Who-ville hosts a special Christmas Tree lot where you can decorate ornaments and trim a tree. Who-ville characters walk around the lot greeting guests and posing for as many pictures as you'd like. And yes, they looks exactly like the characters in the movie.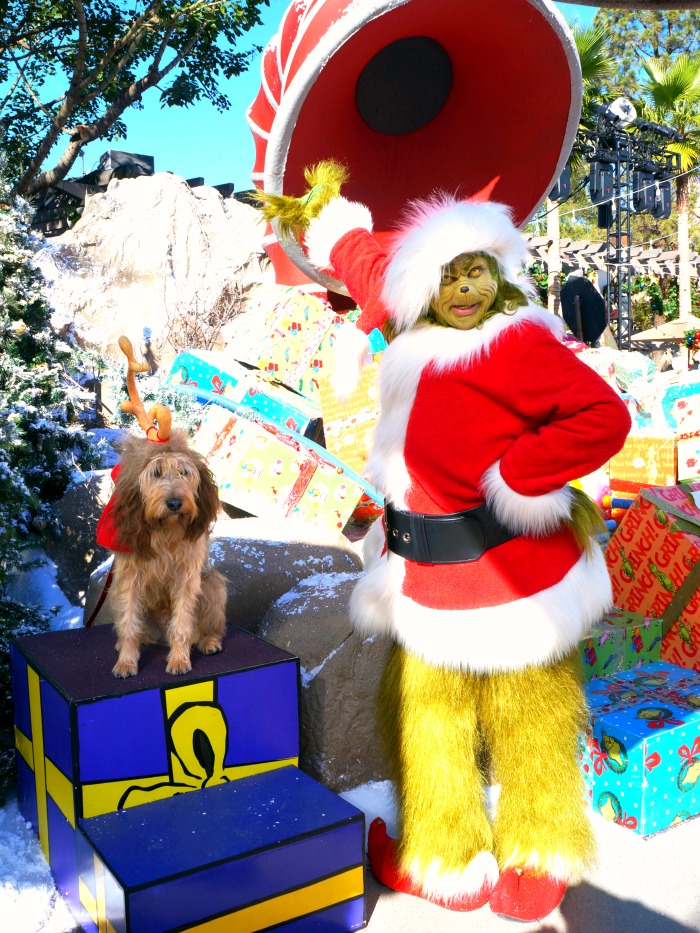 The line to meet and take pictures with the Grinch can get a bit long (we waited about an hour), and Front of the Line passes are not accepted for this attraction. The pictures are well worth the wait though. Max the Dog also has his own photo opportunity; his line is a little bit shorter.
This year, Universal Studios Hollywood is once again giving kids the opportunity to send a postcard to The Grinch telling him three good deeds, and in return, a book will be sent to a child in need. Also, you don't want to miss the entertainment. It all takes place in front of the wavy Christmas tree (just like in the movie).
Grinchmas at Universal Studios Hollywood runs December 5, 2015 – January 3, 2016.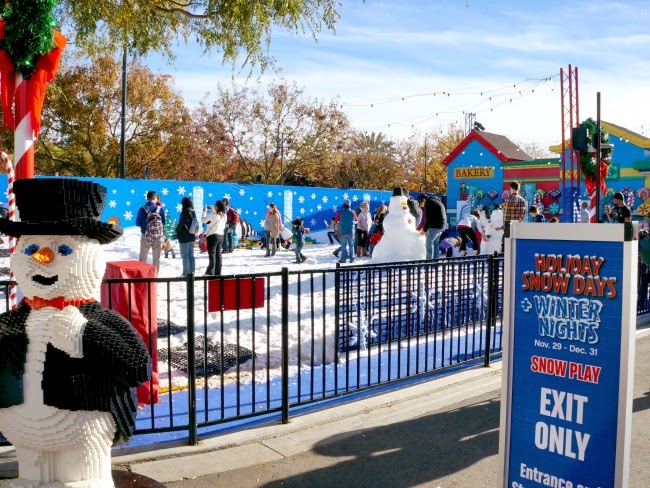 LEGOLAND California Resort
Holiday Snow Days and Winter Nights brings real snow and German holiday food to this theme park. Most of the holiday-themed attractions can be found at Fun Town, including two spots for snow play. At Fun Town, guests can go sledding, build a snowman with LEGO detail, throw snow balls at targets and take pictures with LEGO characters like LEGO Santa and LEGO Toy Soldier. An enormous 30-foot tall LEGO Christmas Tree is the perfect backdrop for pictures.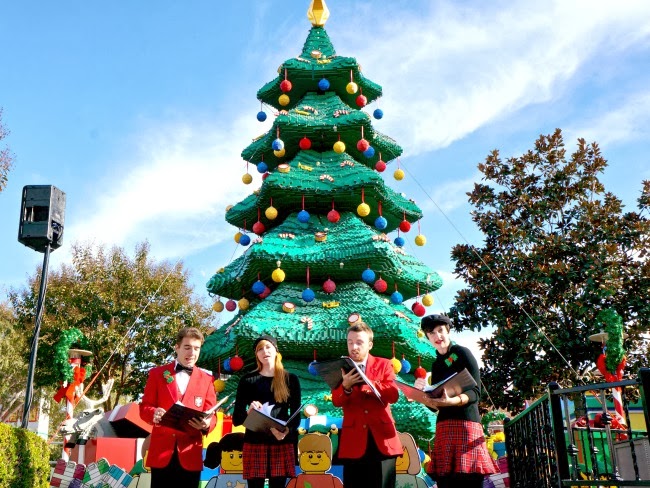 Guests can also participate in the Holiday Village Build in LEGO Clubhouse where daily themes are provided for guests. Maybe you'll get to add a little cottage to the village! The LEGO Clubhouse also gives you the perfect excuse to hang out a bit longer until you get to experience "snow" falling. If you move a little closer to Heartlake City, you'll see that the snow there tastes a bit like gingerbread!
Holiday Snow Days at LEGOLAND California Resort runs November 21, 2015 – January 3, 2016.
[disclaim]Pattie Cordova is an official Travelocity Gnational Gnomad offering tips and inspiration to fellow travel enthusiasts. To join the Travelocity Gnomads community visit www.travelocitygnomads.com [/disclaim]
Originally published on December 21, 2015. Last Updated on January 10, 2019 by Pattie Cordova