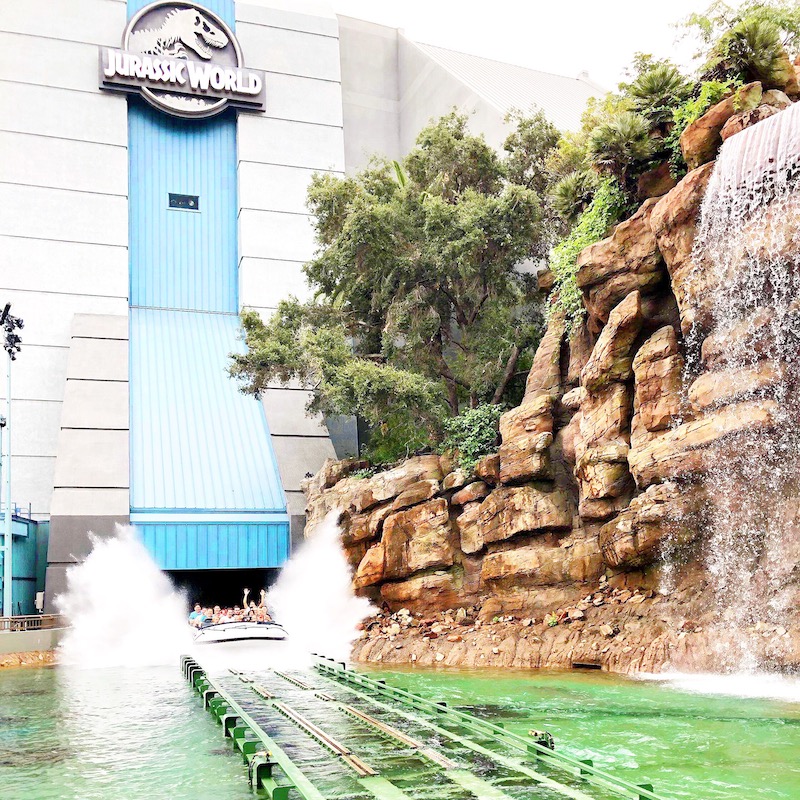 This conversation on the new Jurassic World ride at Universal Studios is in partnership with Universal Studios Hollywood.
Jurassic World: The Ride
Jurassic World: The Ride is a new attraction at Universal Studios Hollywood that opened on July 12, 2019 and is considered a thrill ride. It replaces the Jurassic Park: The Ride that was open from 1996-2018. With four new Jurassic movies created after the first one made in 1993, it was time to update the ride to accommodate the new releases.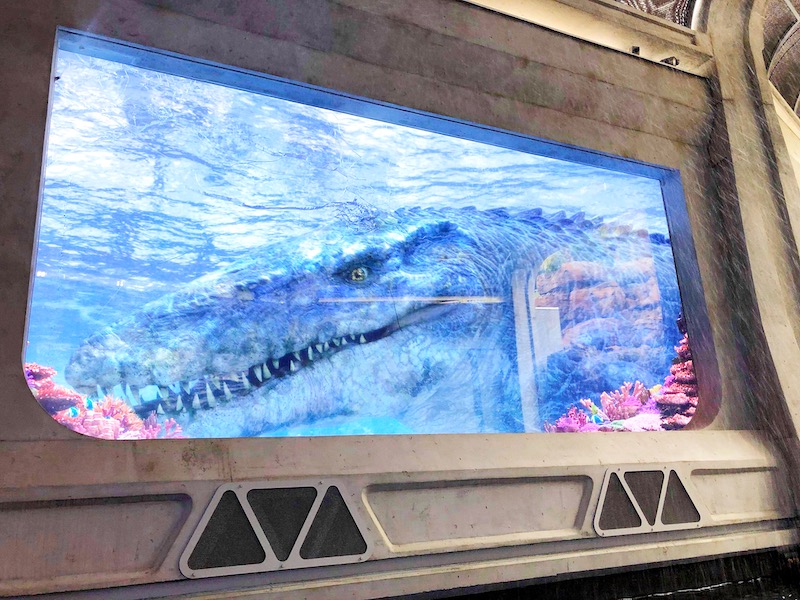 Jurassic World: The Ride has some amazing digital features such as the tank where the dinosaur almost breaks through. The ride itself is very safe and accommodates large groups. There is also a spot on the boat where you can store your belongings at your feet.
Jurassic World: The Ride drop
Jurassic World: The Ride is a thrill ride and as such, has a drop. The 84 foot drop is a non-negotiable and may be a deal breaker for some that are weary of thrill rides with a drop feature. I'm not going to sugarcoat it, I'm one of those people who doesn't like drops. But in the name of research and a family experience, I decided to get on the ride and take the uneasiness like a champ. My thoughts? It honestly wasn't that bad at all!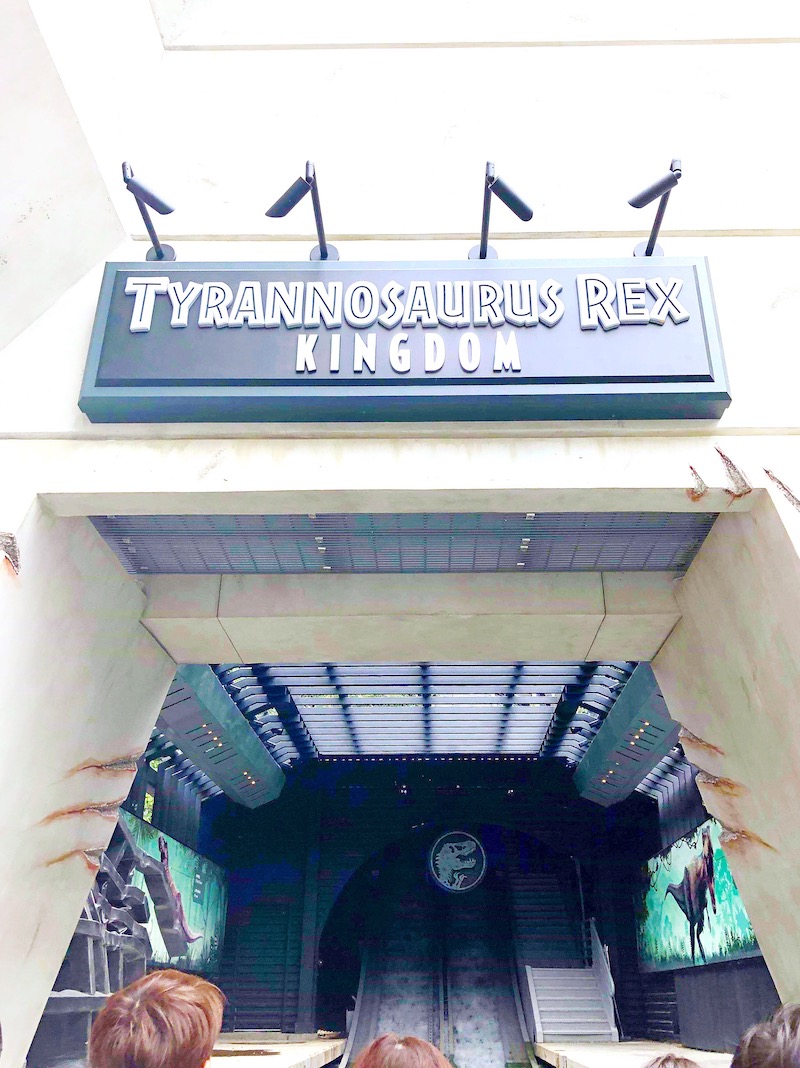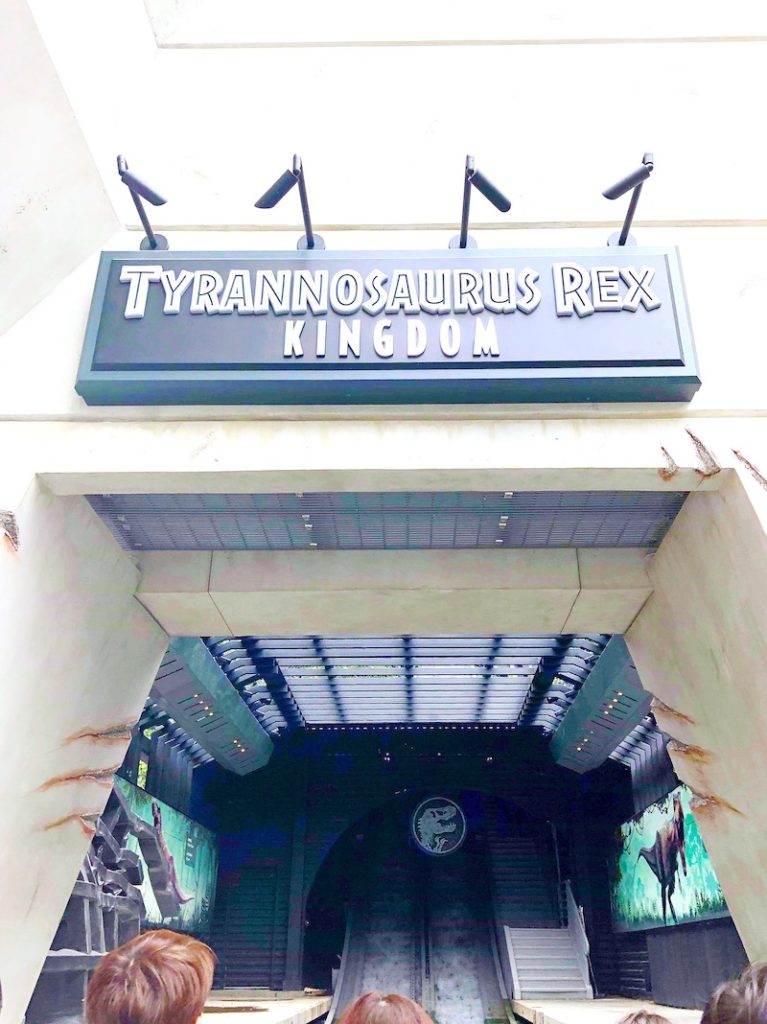 The drop on Jurassic World: The Ride doesn't feel steep at all, but it IS fast. You'll go through the entire ride experience before going into the Tyrannosaurus Rex Kingdom and swept up to the top of the drop. If you sit in the back, you will most likely not get wet.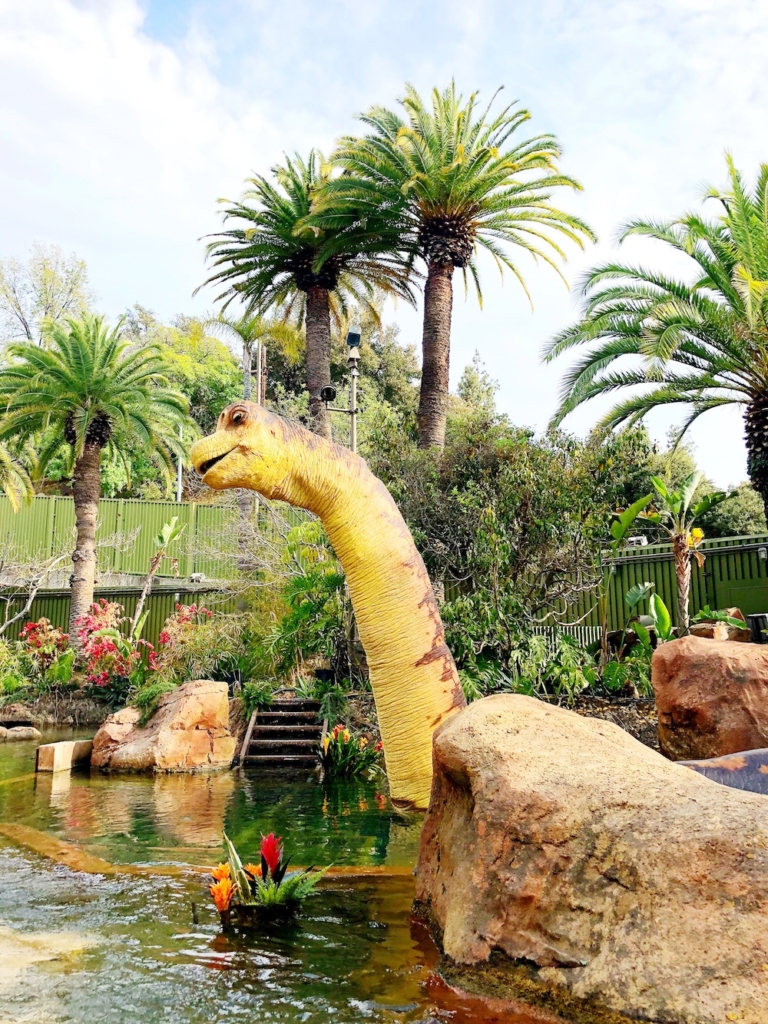 Jurassic World: The Ride duration
The ride is about seven minutes long, but it goes very quickly. It was fascinating and the props from the films made it feel like you were in the movie. We especially liked the raptor cage where the entrapment was chewed open by a raptor… but alas there was no raptor in sight. There is so much going on visually and makes the ride feel shorter.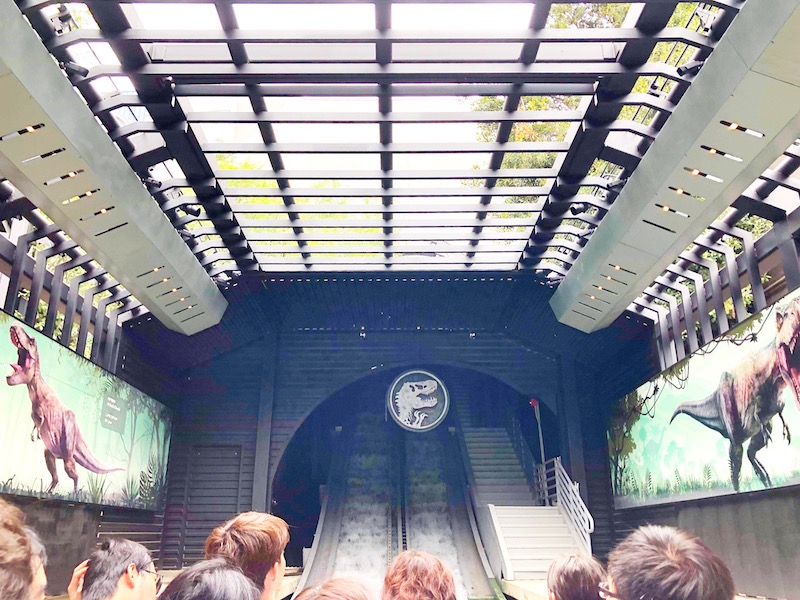 Jurassic World: The Ride wait time
Because the ride is fairly new, it can easily be over an hour wait – even more so during the Summer. We highly recommend paying the extra fees for the Universal Express Pass that gives guests express access to all the rides. Using this express pass, it literally took us five to 10 minutes to get on each ride. We highly recommend this option to anyone who visits the park.
The queue for Jurassic World is very easy to find – it is right next to the Dino Play Area. You'll see a huge sign on the left that points to the ride and another sign that points to the Dino Play area.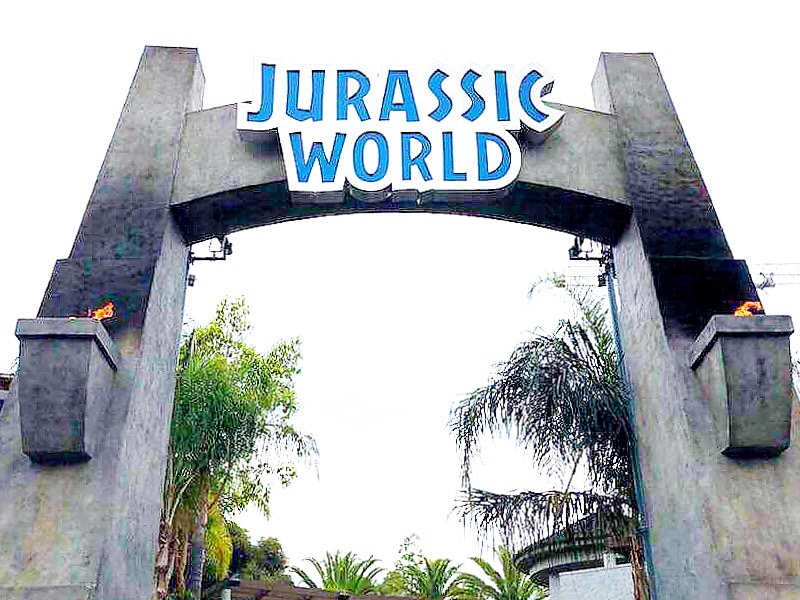 Jurassic World: The Ride height requirement
The minimum height requirement is 42″. If you are under 48″, a supervising companion is required. Having said that, I would say that this ride is best suited for older kids and adults. Also make sure you read the health sign in case you have a heart condition or other conditions that may make it hard for you to handle the ride.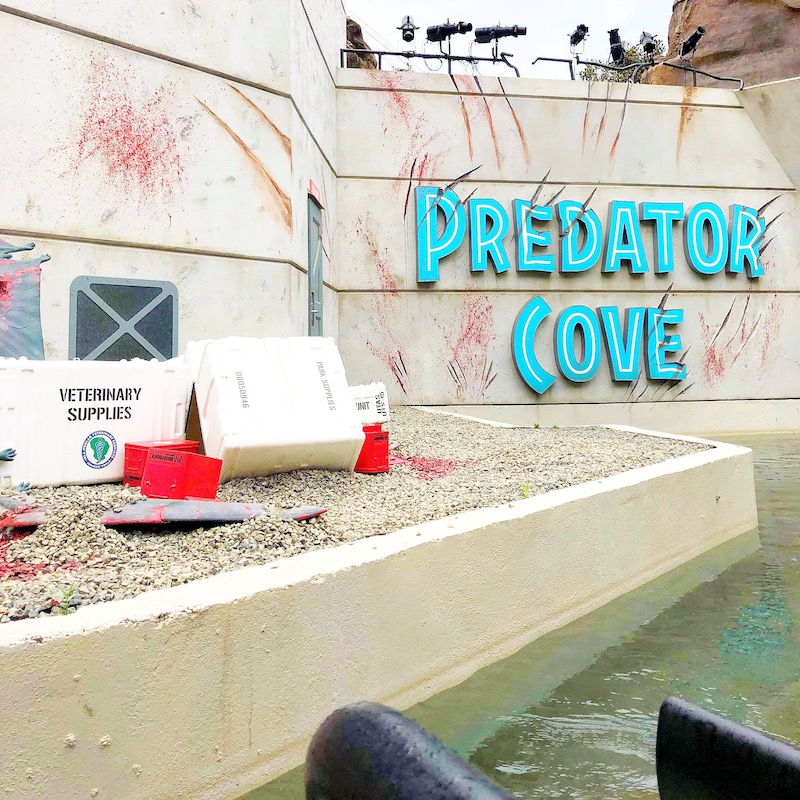 We loved the props on the ride, the technology for the dinosaur tank, the raptor entrapment, the entrance that looked just like the movie and the 84 foot drop that is appeasing to everyone. The staff was very helpful to guide us to the right place, made sure we knew where the drop started and how far it dropped (we had a lot of questions). We also liked Chris Pratt and Bryce Dallas Howard guiding us throughout the ride. You know you've been on a great ride when the first two things out of your mouth when you get off are "that was too fast!" and "can we go again?" That's exactly what will happen to you when you get on this ride.
Where to eat near Jurassic World: The Ride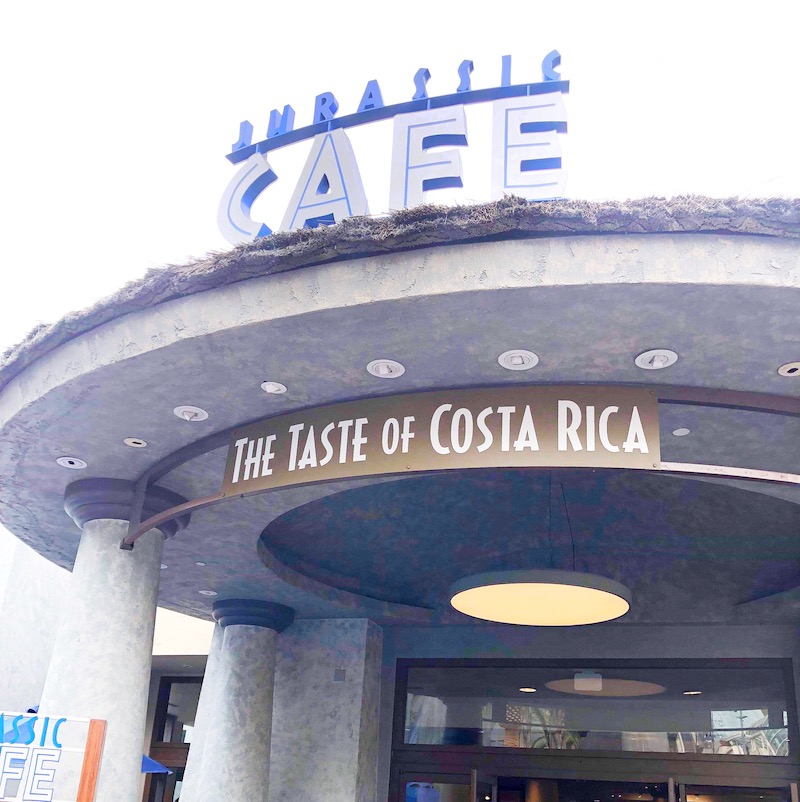 Jurassic Cafe
Jurassic Café has a Costa Rica-inspired cuisine. They have appetizers, a kids menu, entrees, drinks and select ready-made desserts.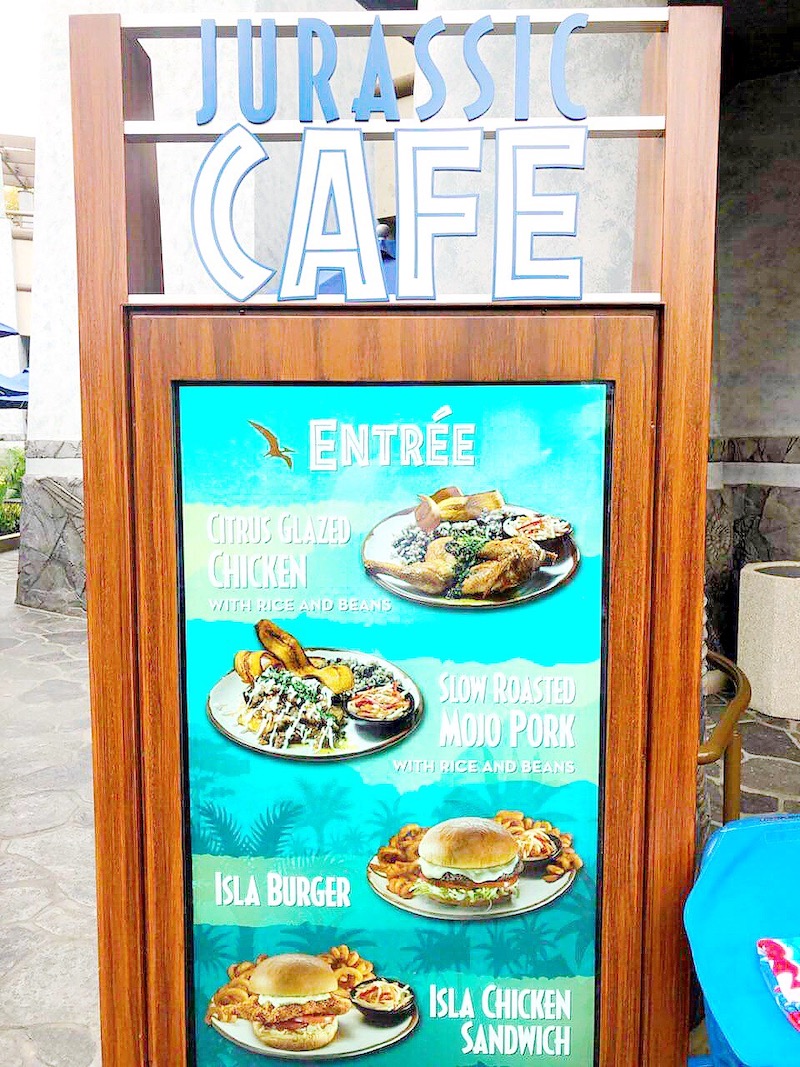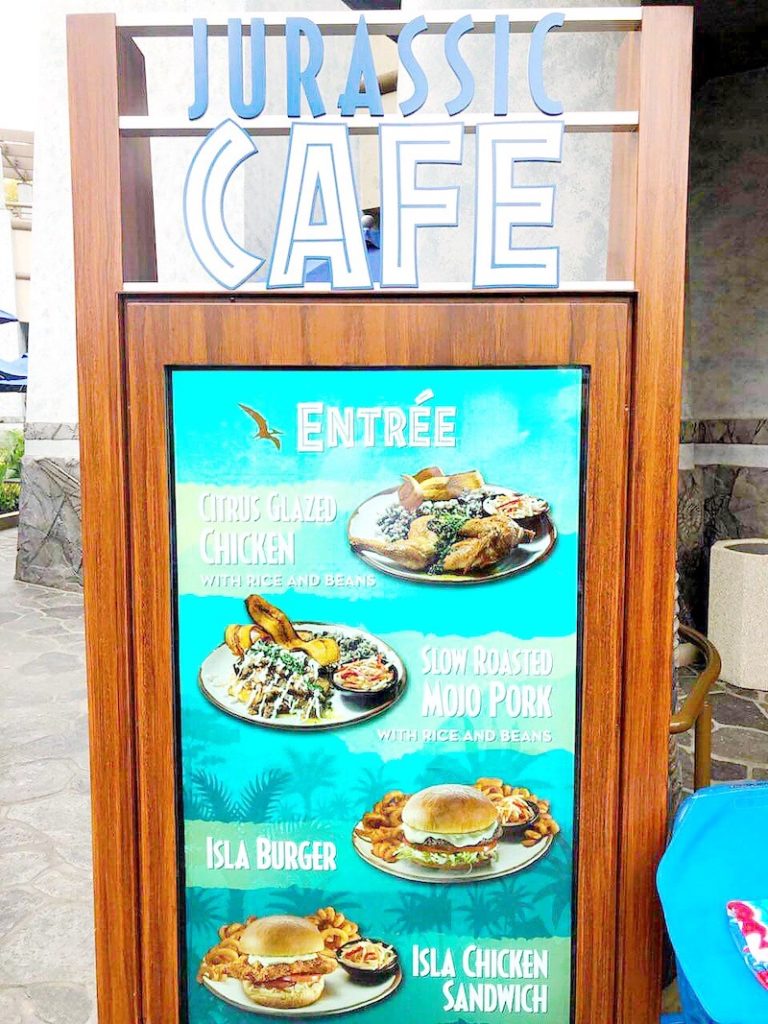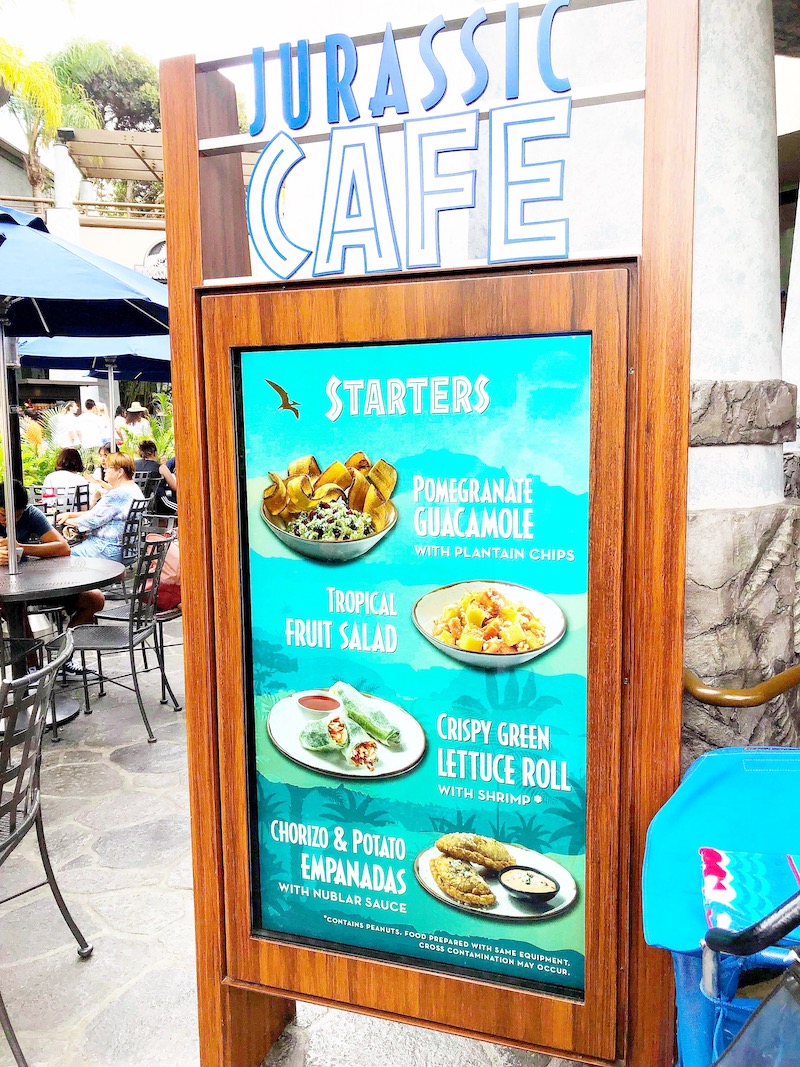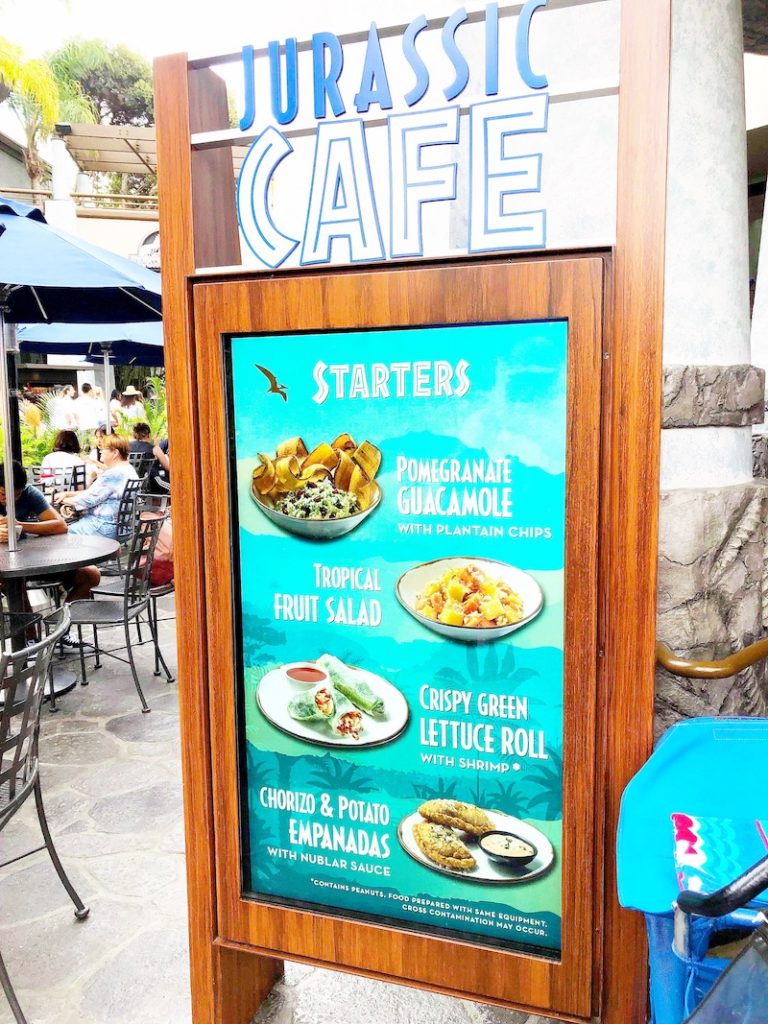 We tried the Isla burger, chicken salad (with pomegranates) and two sides : rice and beans and curly fries.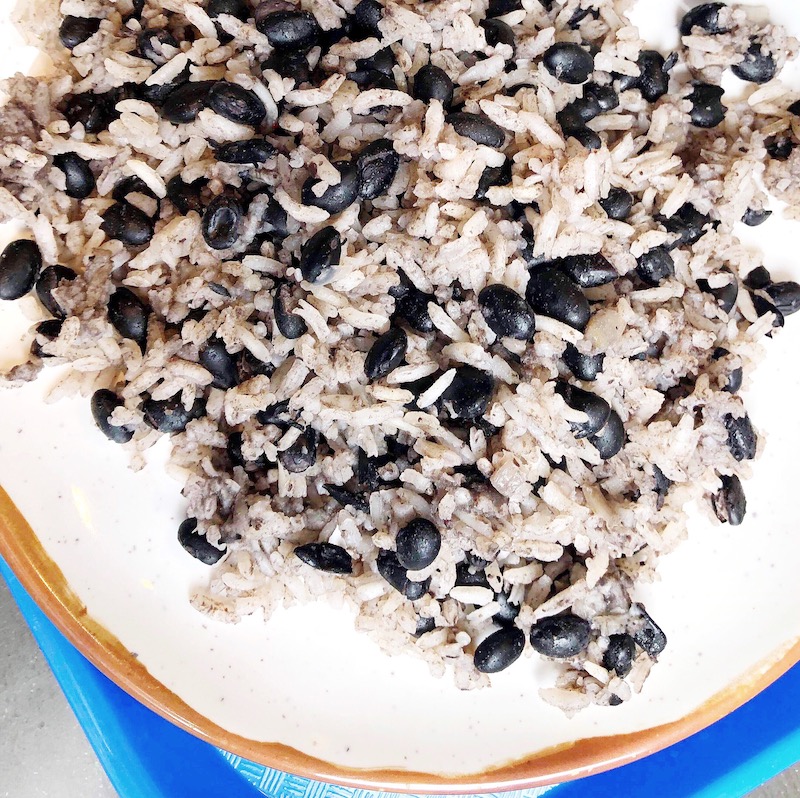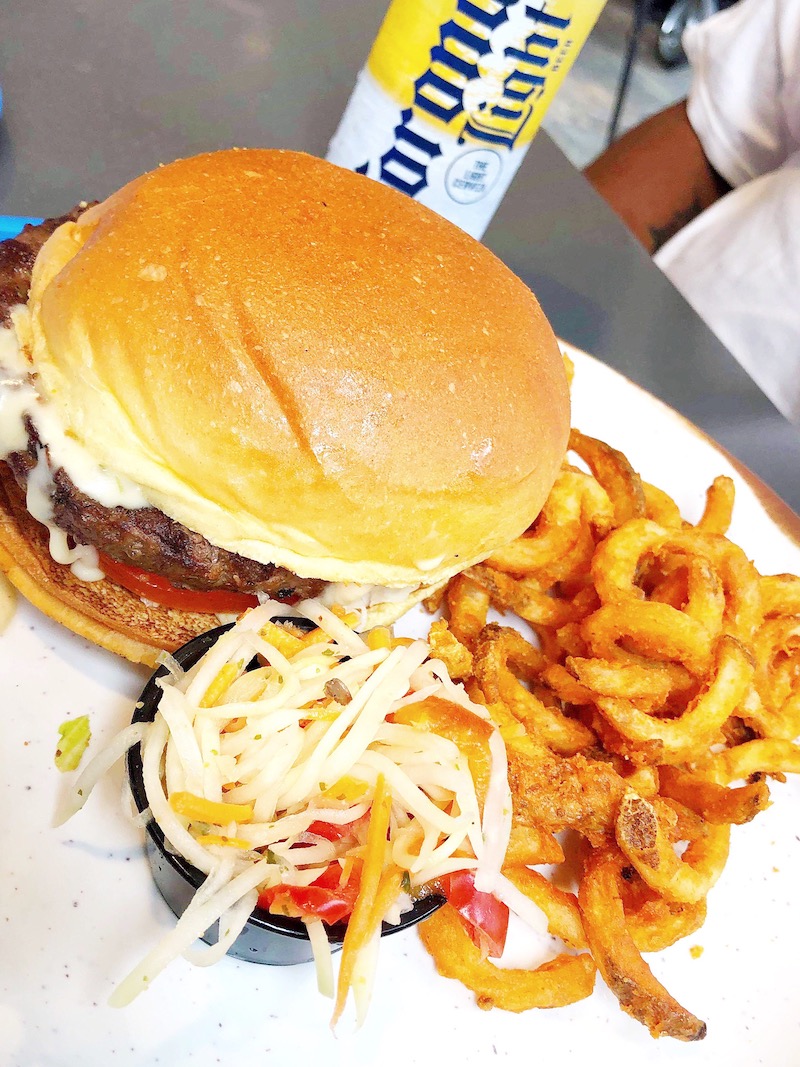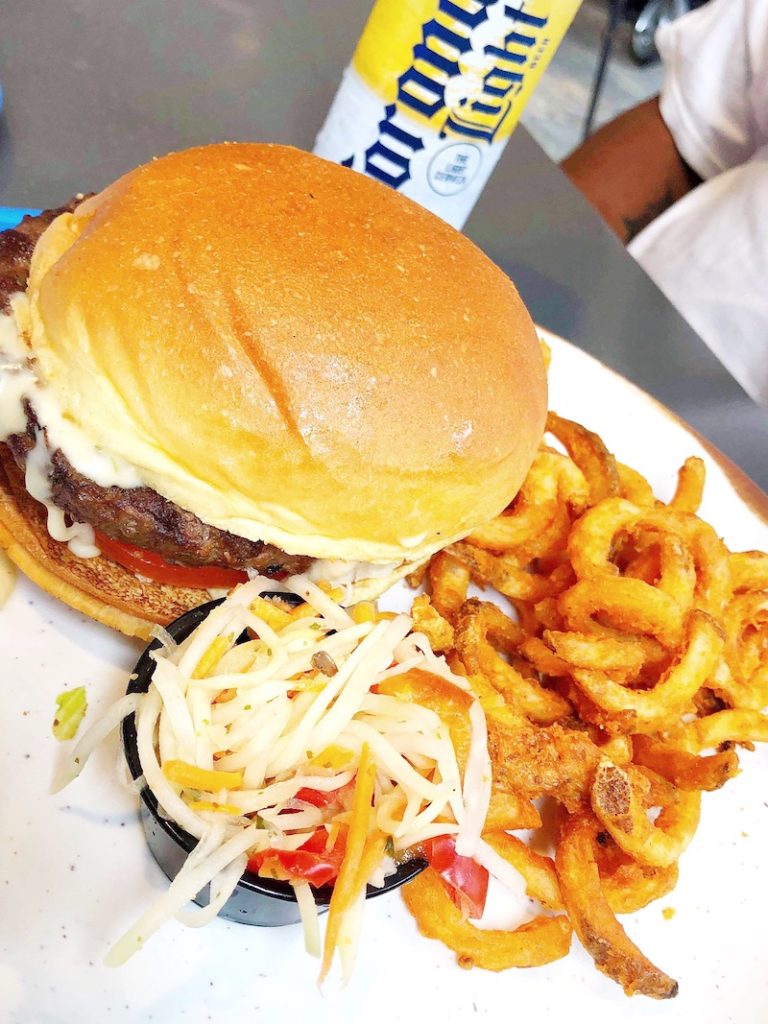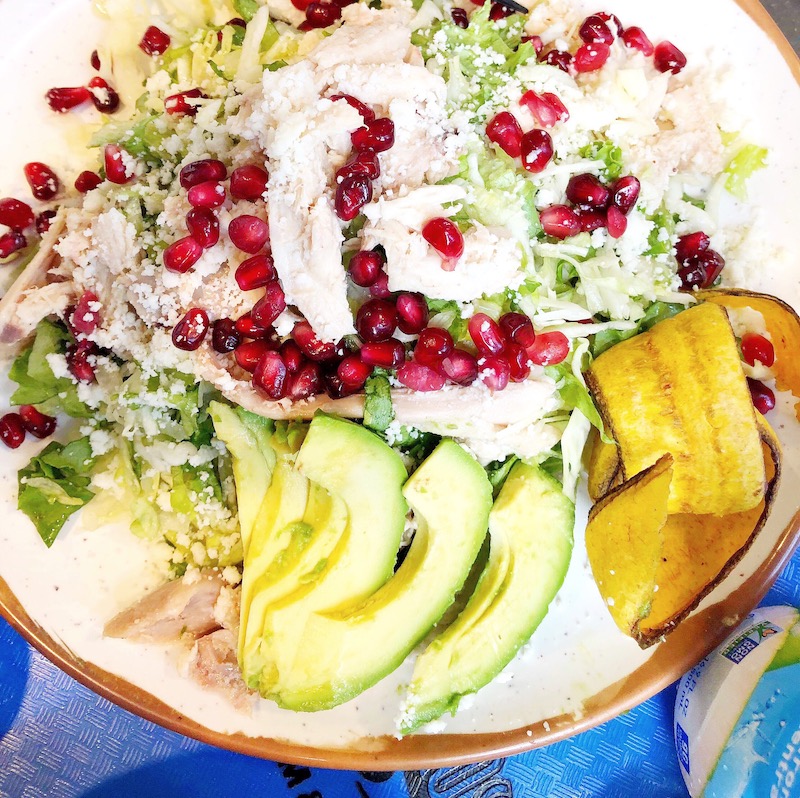 I liked the rice and black beans and it is a good alternative if you're vegan. The Isla Burger had a savory manchego queso (cheese) and plantain chips on the side, instead of fries. Very tasty! You can also have a beer here if you'd like.
Isla Nu-bar
This cocktail, blended drinks and beer bar is right next to Jurassic Outfitters. It has a simple menu with an option to purchase a tiki cup and refill later with another one of their drinks for only $12.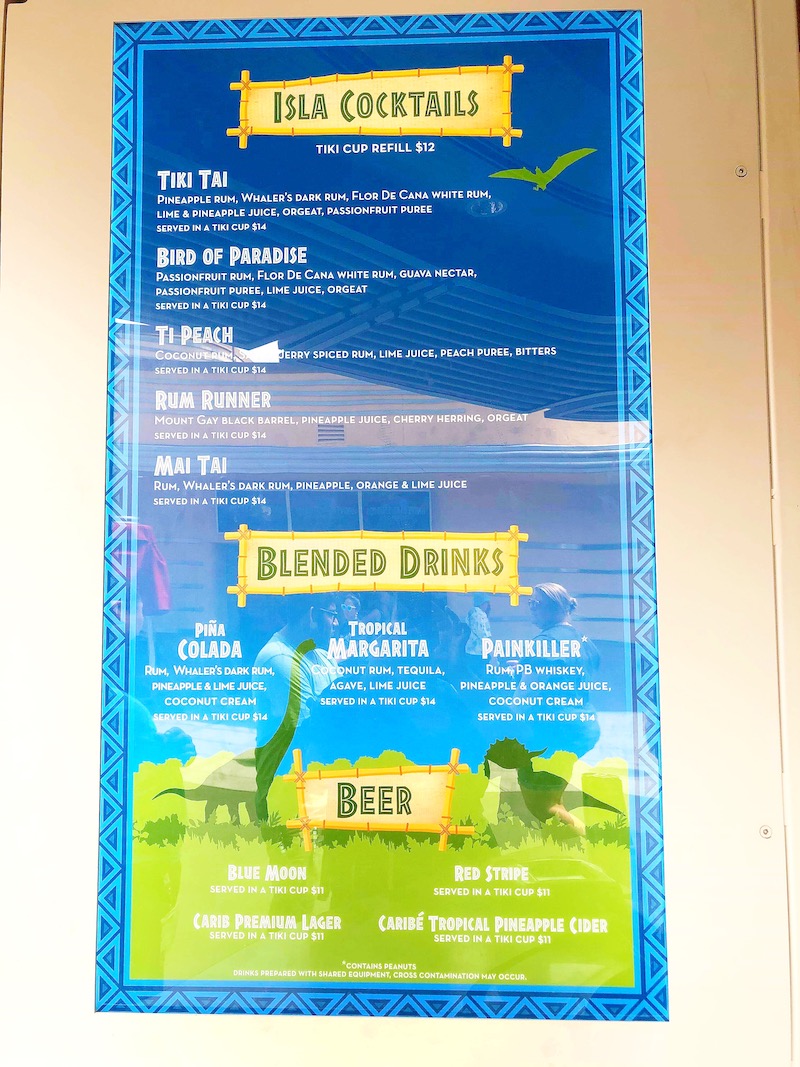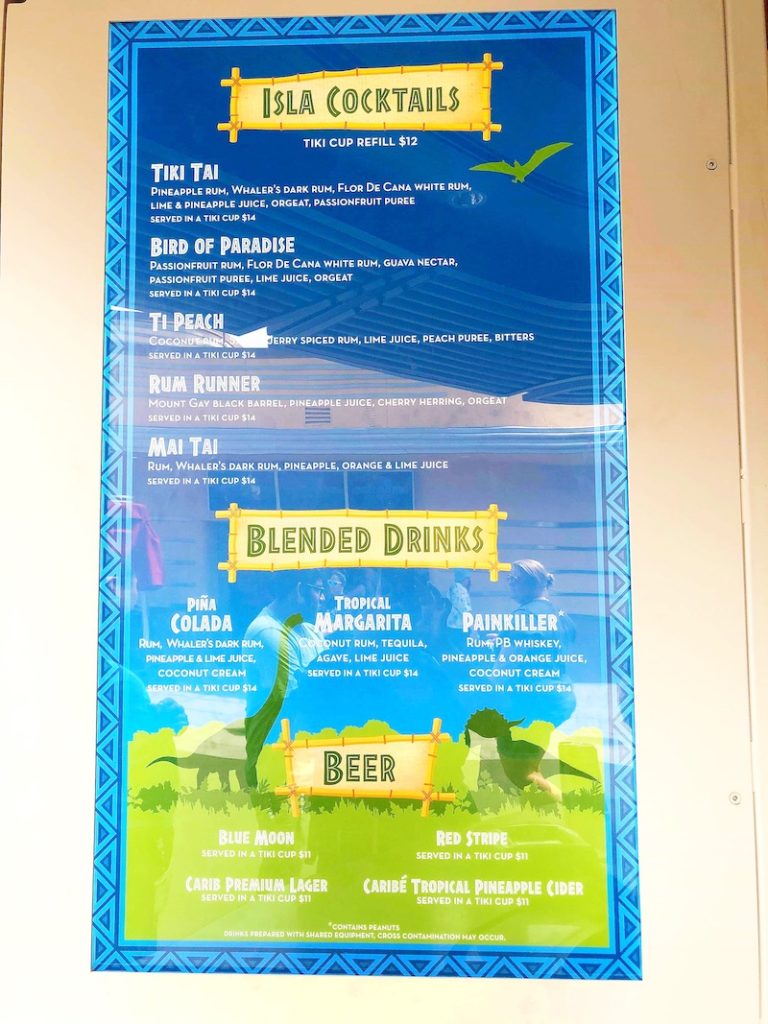 We opted for the piña colada made with two types of rum, pineapple juice, lime juice and coconut cream. It was reasonably priced at $15 and absolutely perfect for a hot summer day. They also have a few beers available for purchase.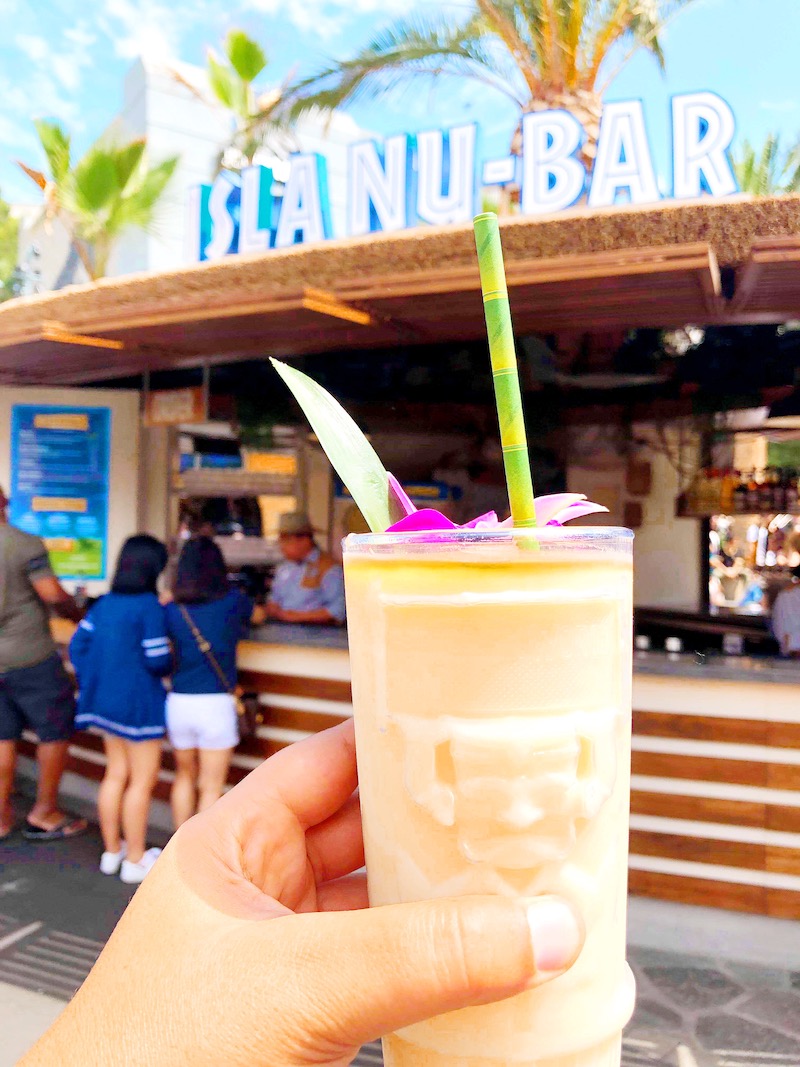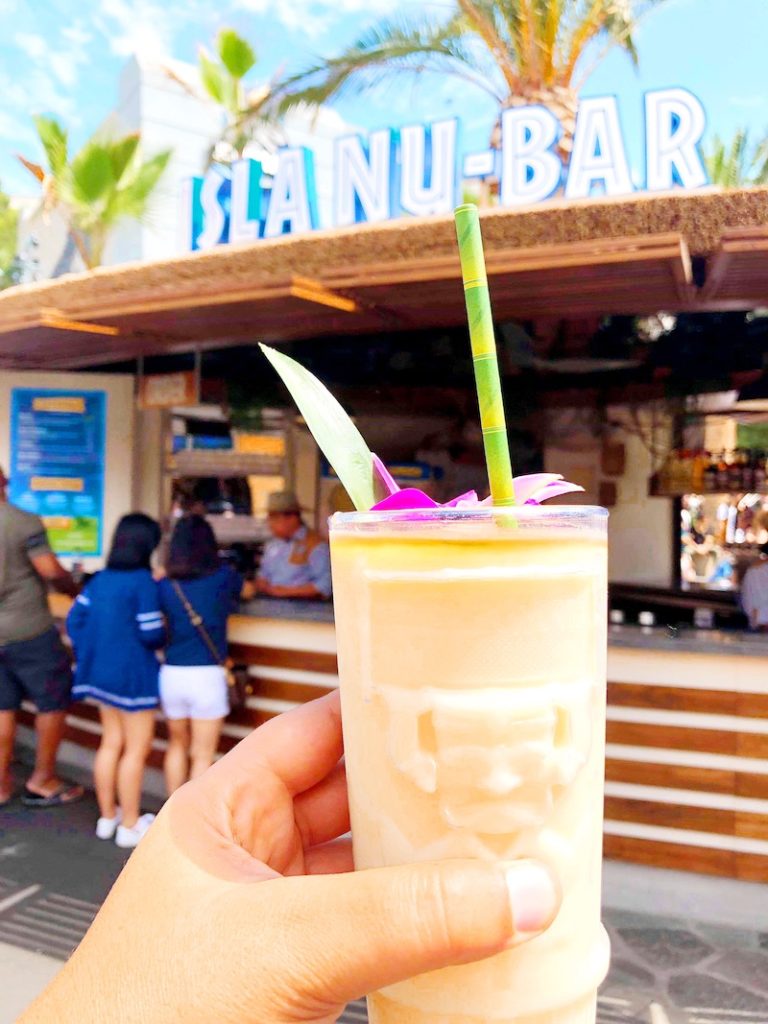 What to do near Jurassic World: The Ride
Meet Blue at Raptor Encounter
Blue the Raptor will make his appearance at a location very close to the Jurassic World ride throughout the day. His trainer will summon him to come out and meet some guests. You will be able to take a picture with him if you'd like. Not only will you get to meet Blue, you may even come across a Baby Raptor with her Raptor handler or a life-size triceratops. Maybe next time we go, we can catch a view of these two new dinosaurs.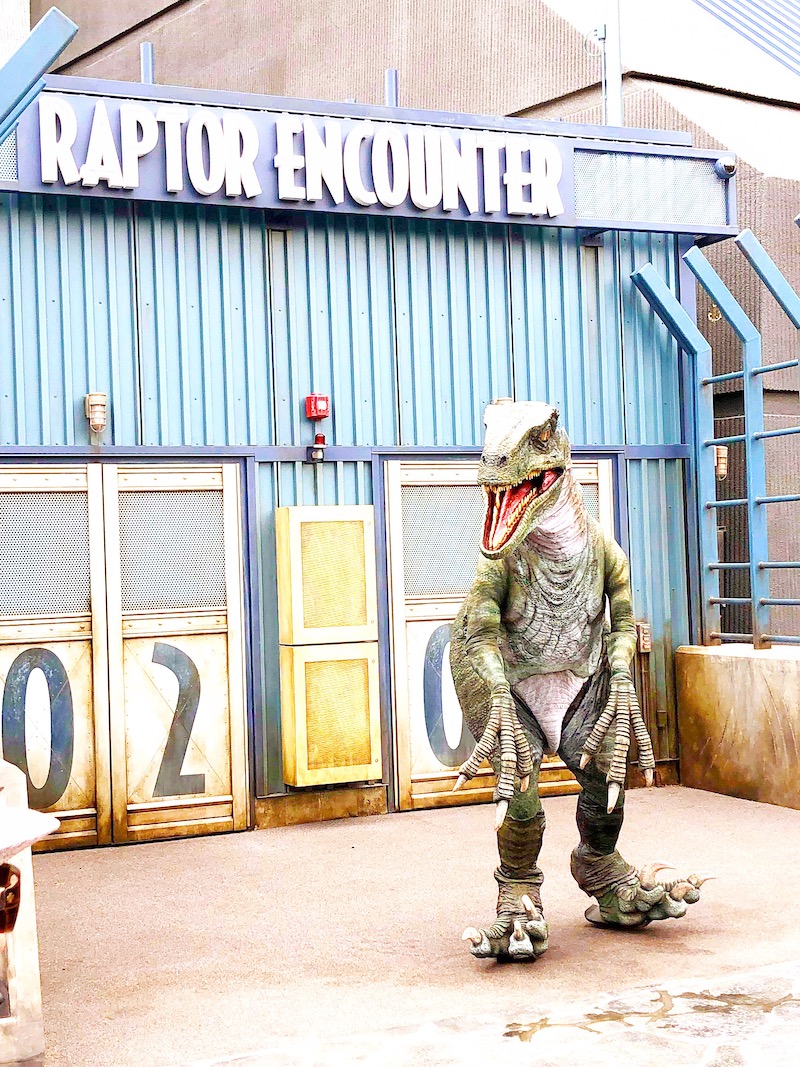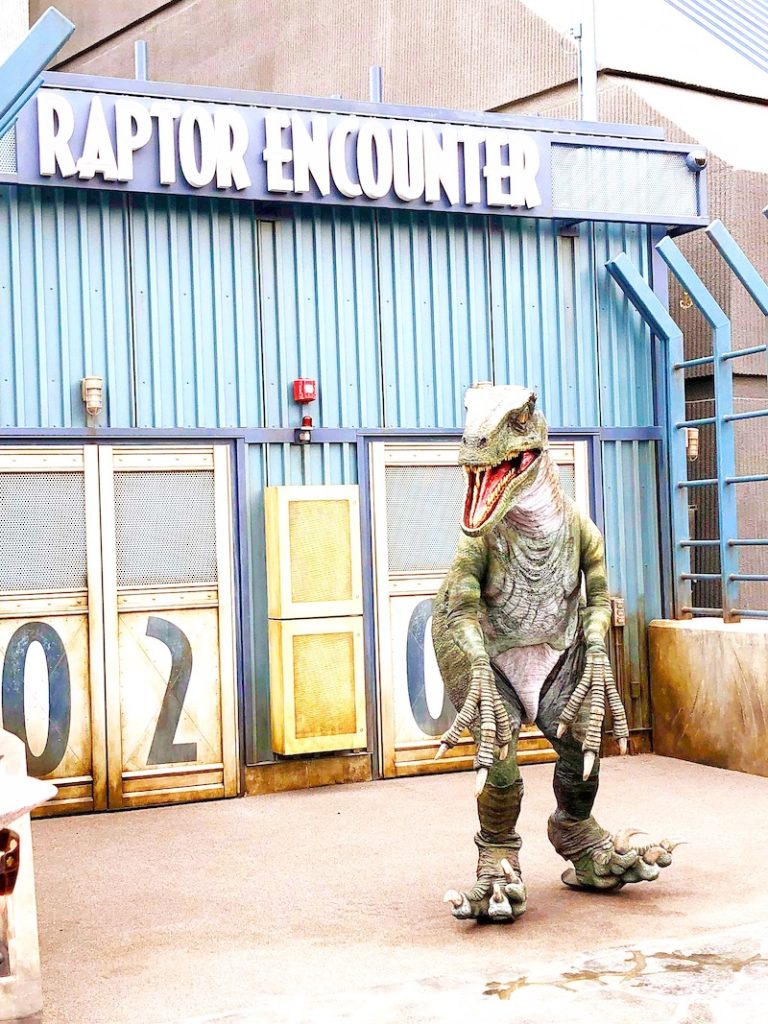 Dino Play area
The Dino Play Area is designed to inspire children of all ages to explore and excavate giant dinosaur fossils. There are bounce houses, a maze, telescopes where you can see dinosaurs and much more. There are also dinosaur claws, excavations tools and plenty of shaded area for parents to relax. This is also where you'll want to be on hot Summer days to take advantage of the misty water and fans.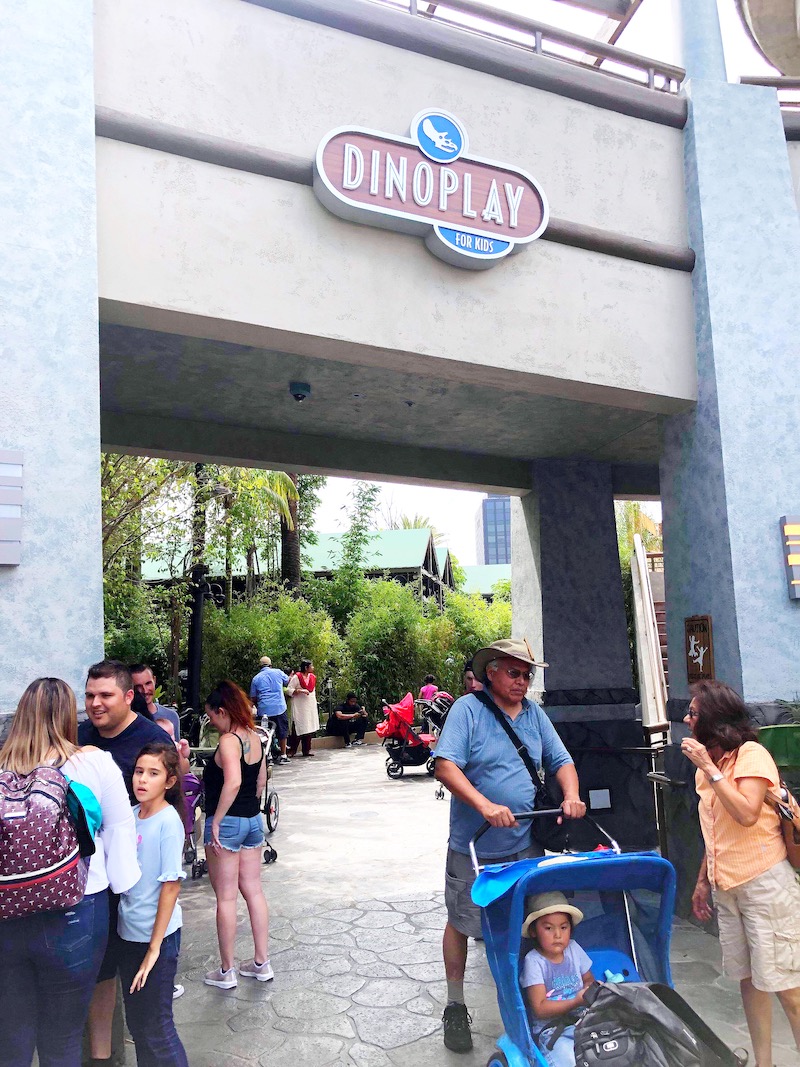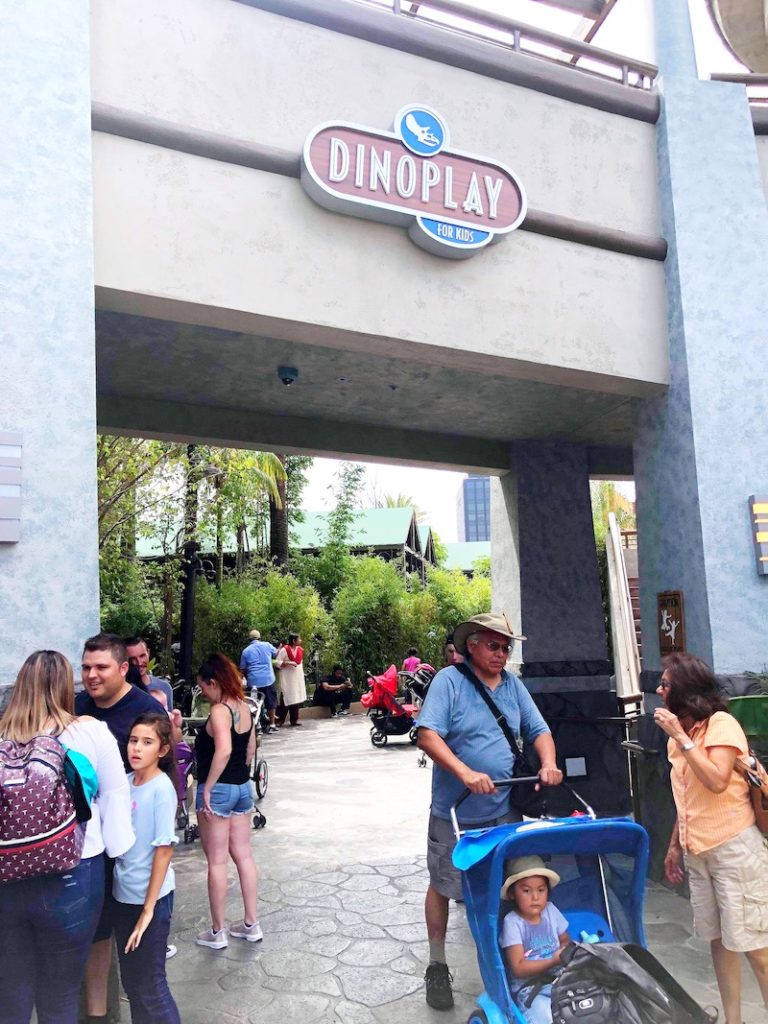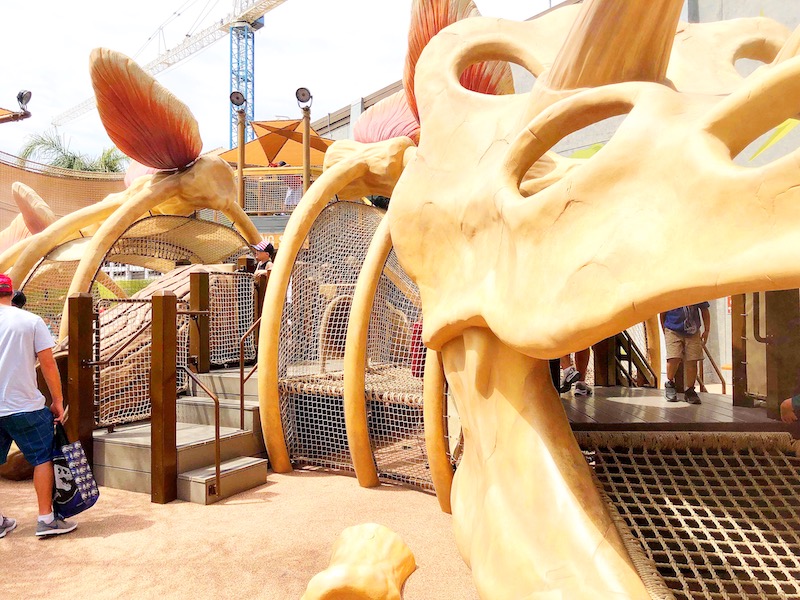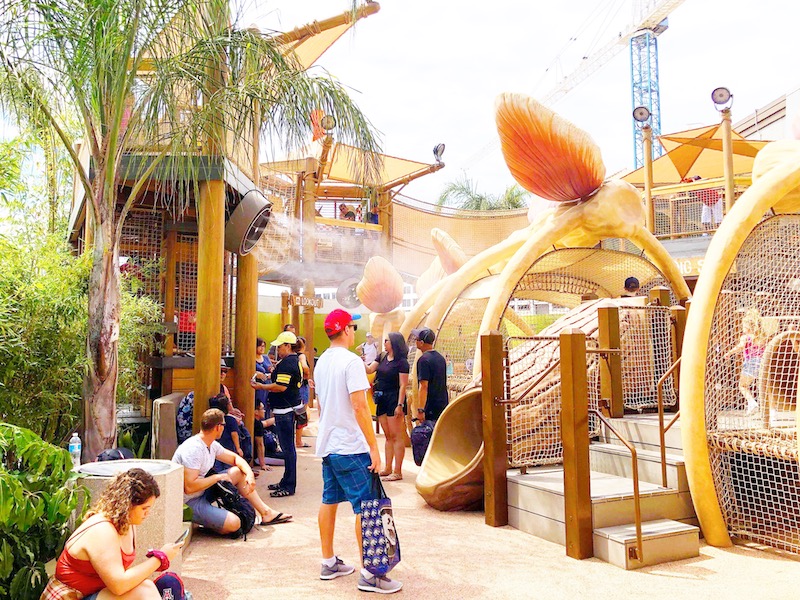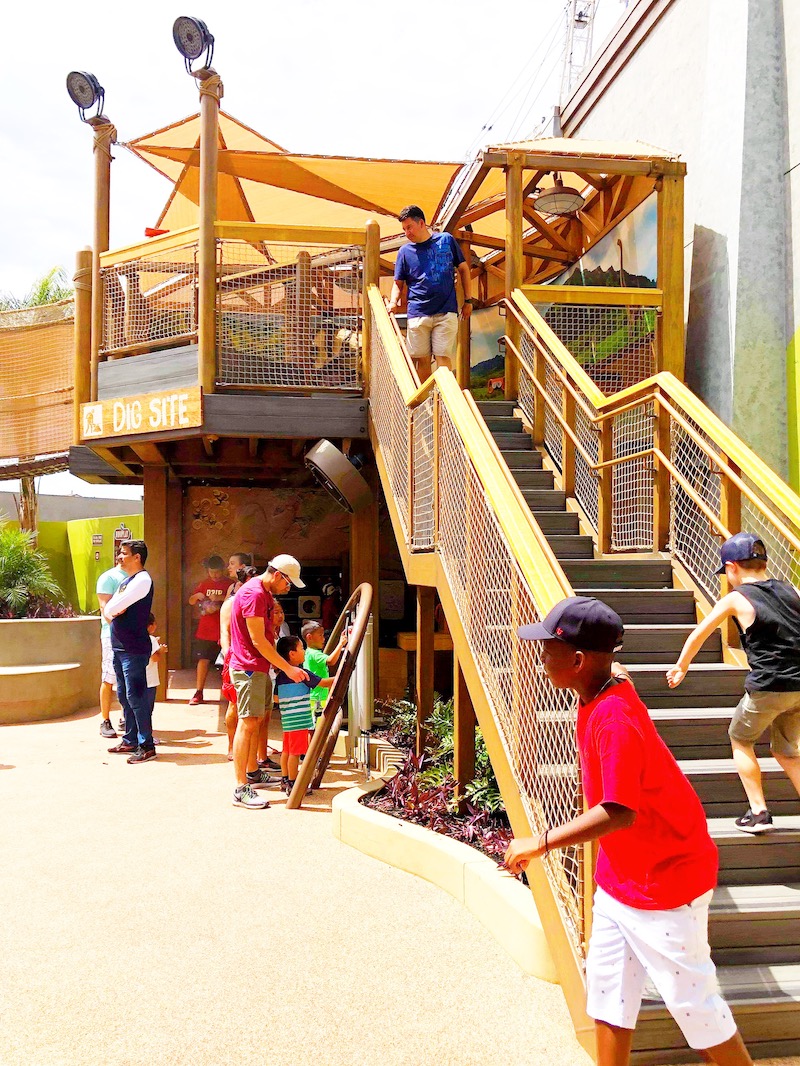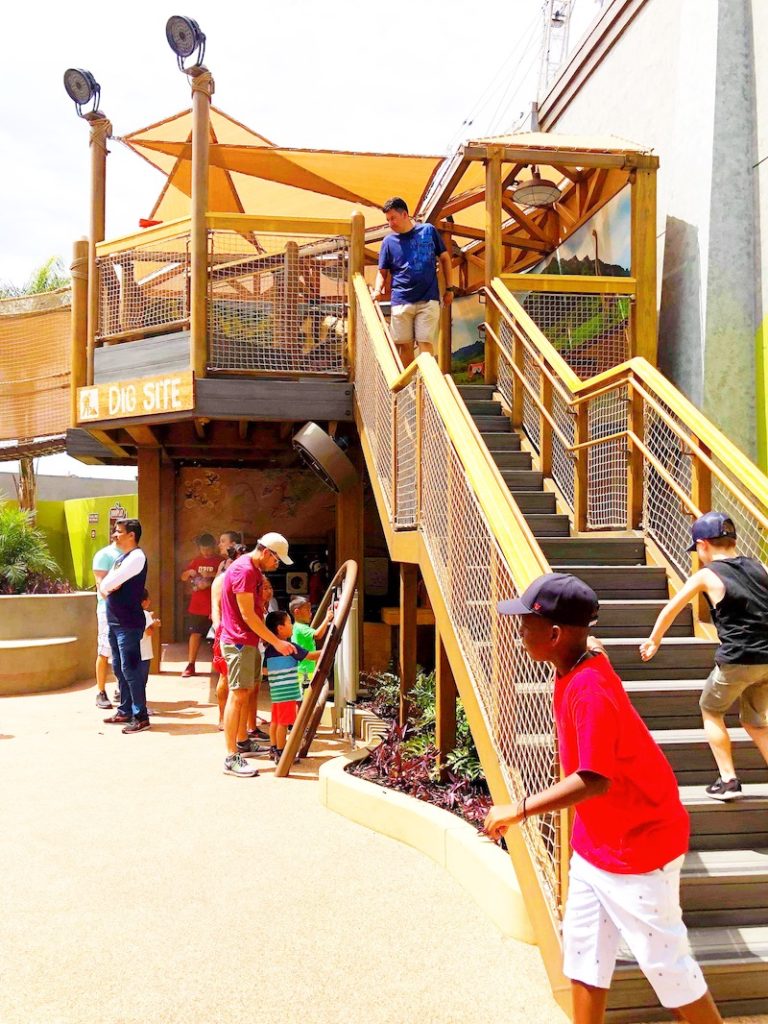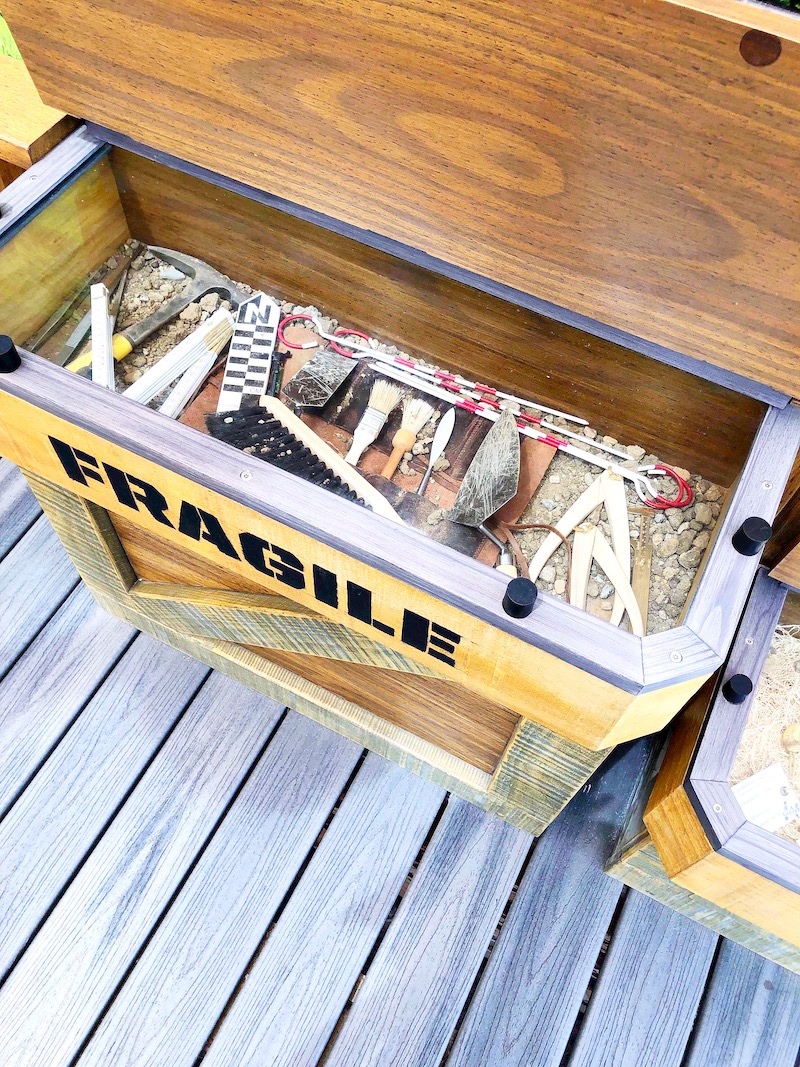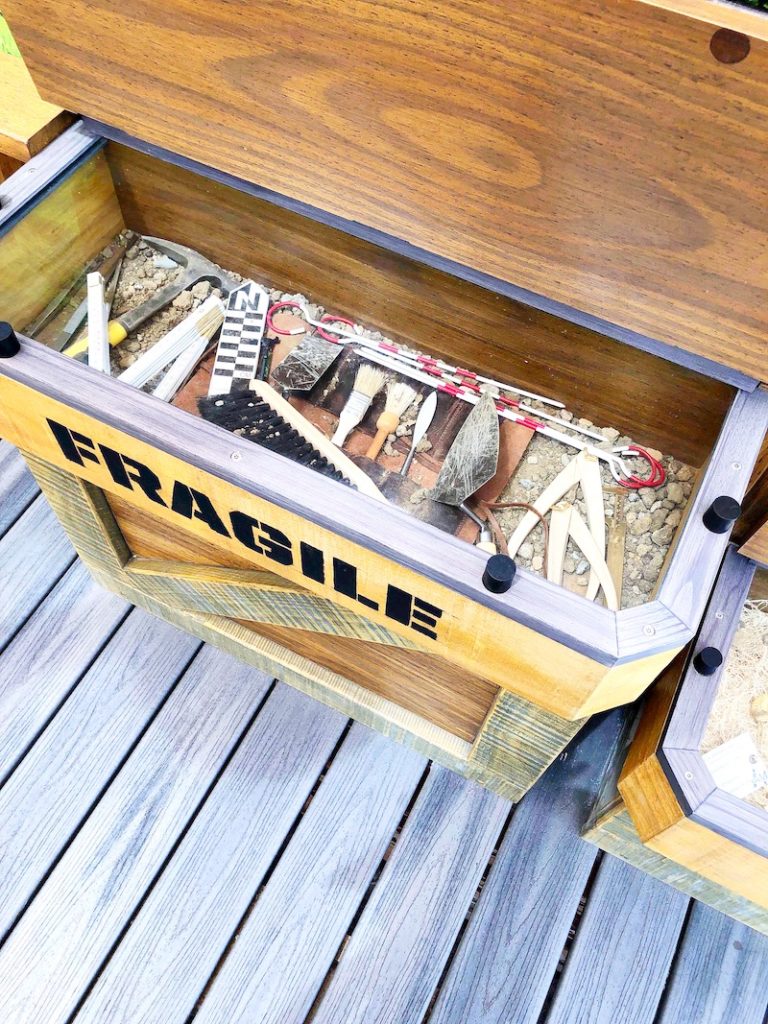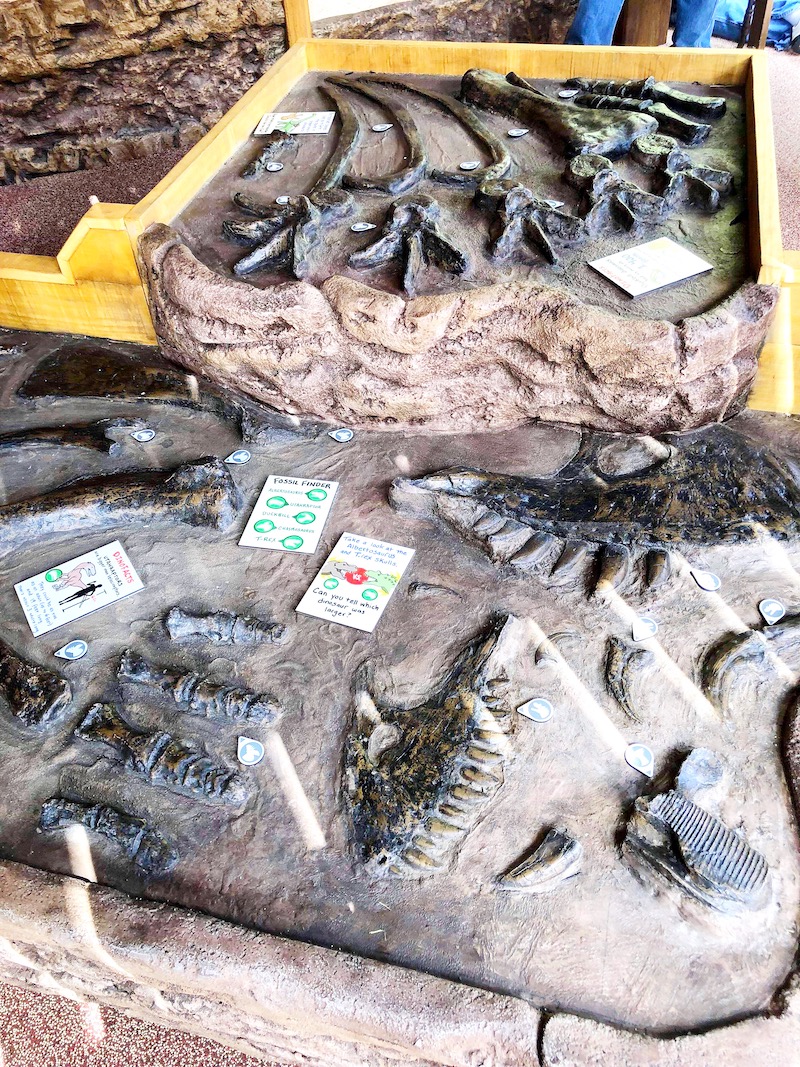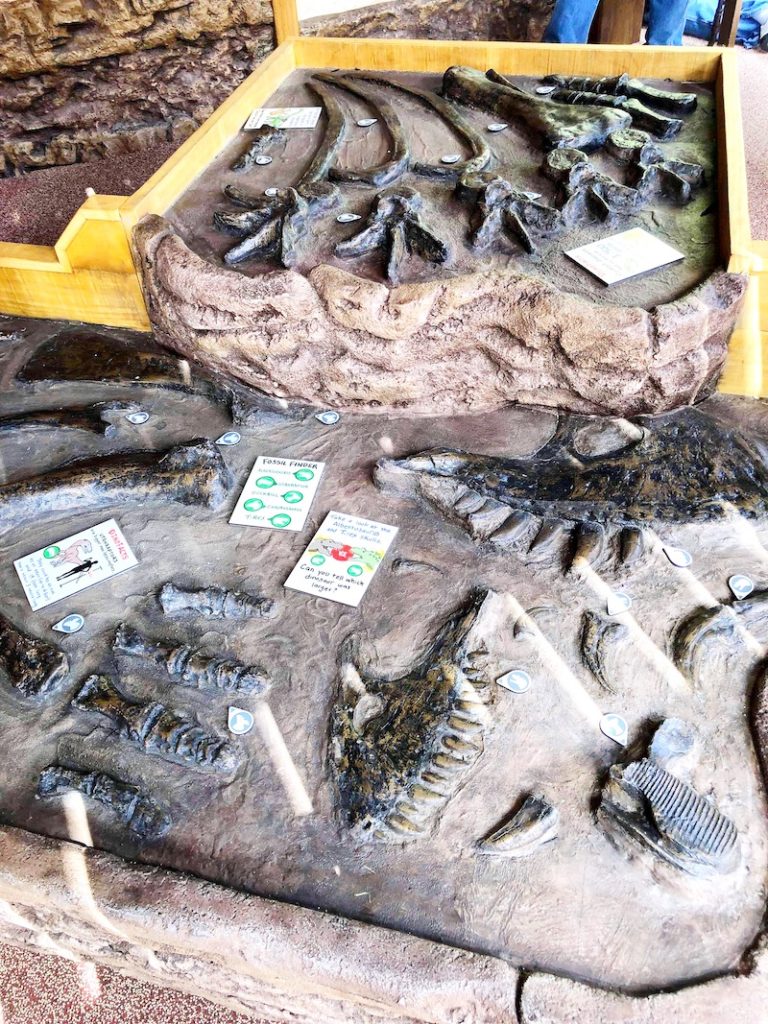 Shop at Jurassic Outfitters
Outside of Jurassic World: The Ride is a store where you can shop for dinosaur-themed goodies. We bought a fish necklace for a very affordable price of $7.95.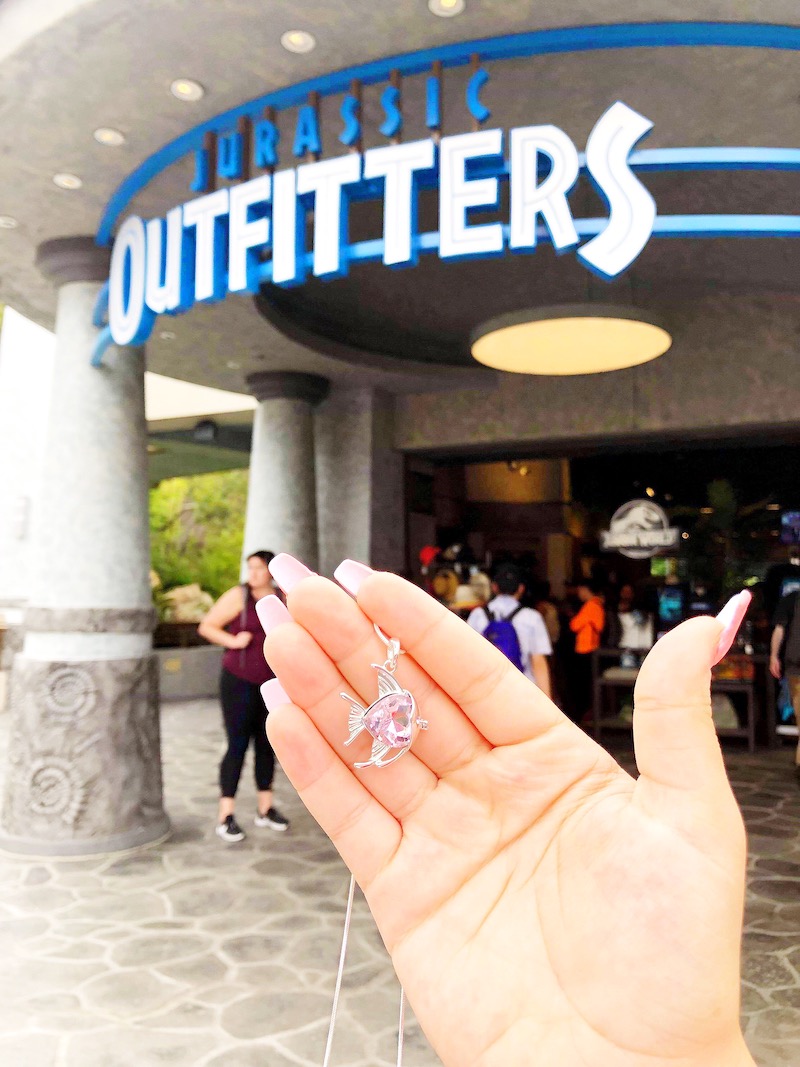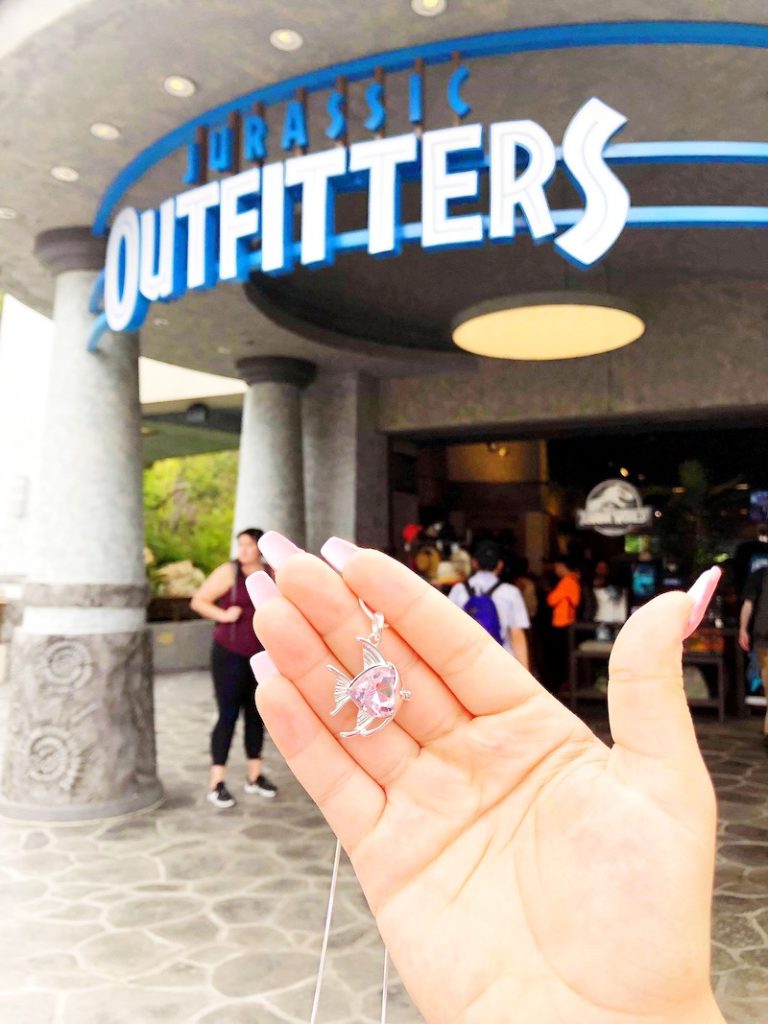 While you're at Universal Studios Hollywood, check out…
Hogwarts Castle
You won't want to miss visiting Harry Potter World while visiting the park. There are so many things you must do while you're there.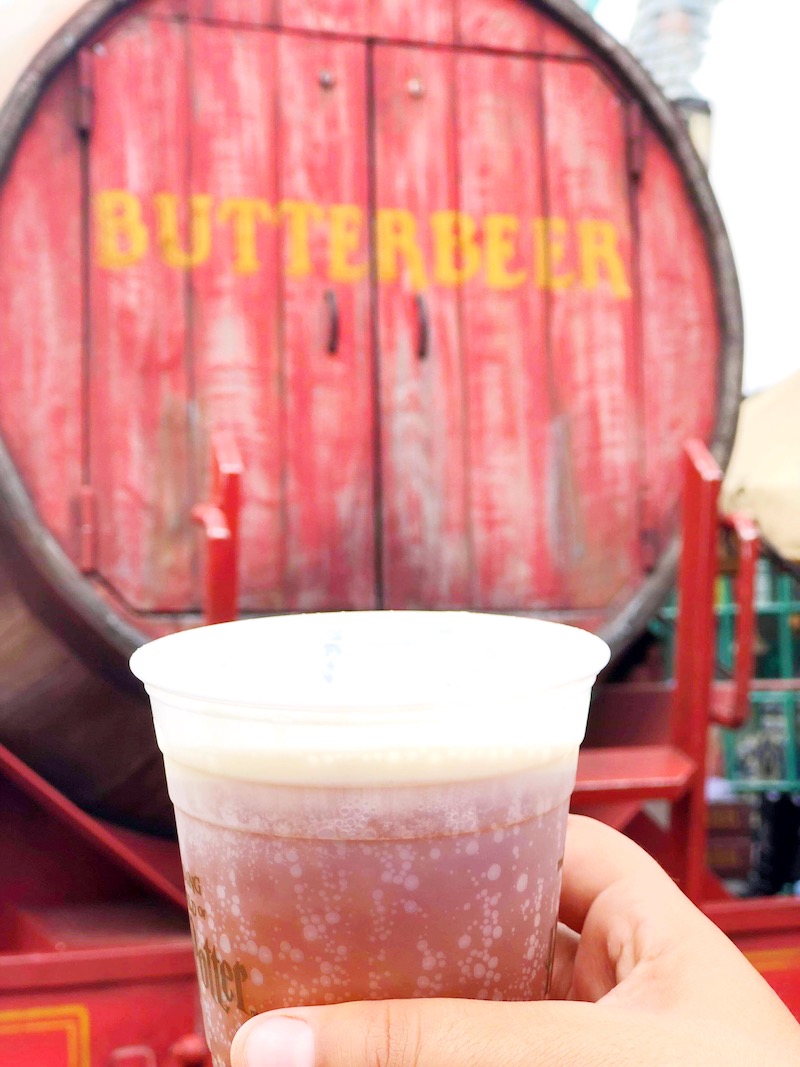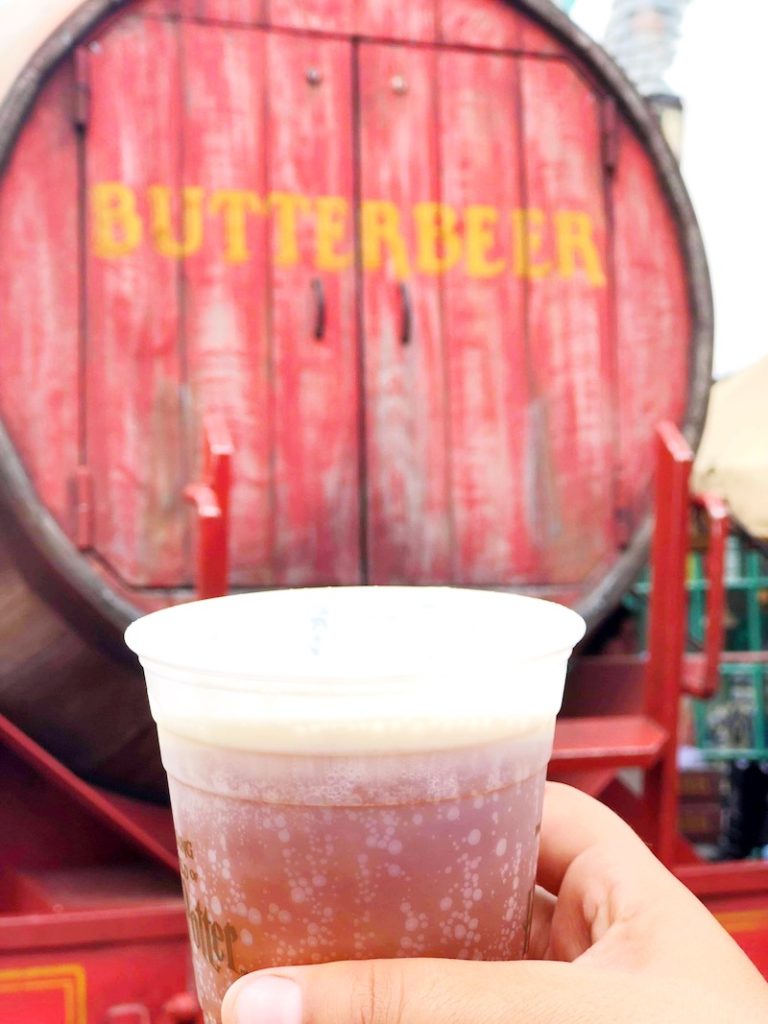 First of all, you have to try the Butterbeer. Its a non-alcoholic drink that you can get cold or frozen. It tastes like butter with syrup that you could pour on pancakes.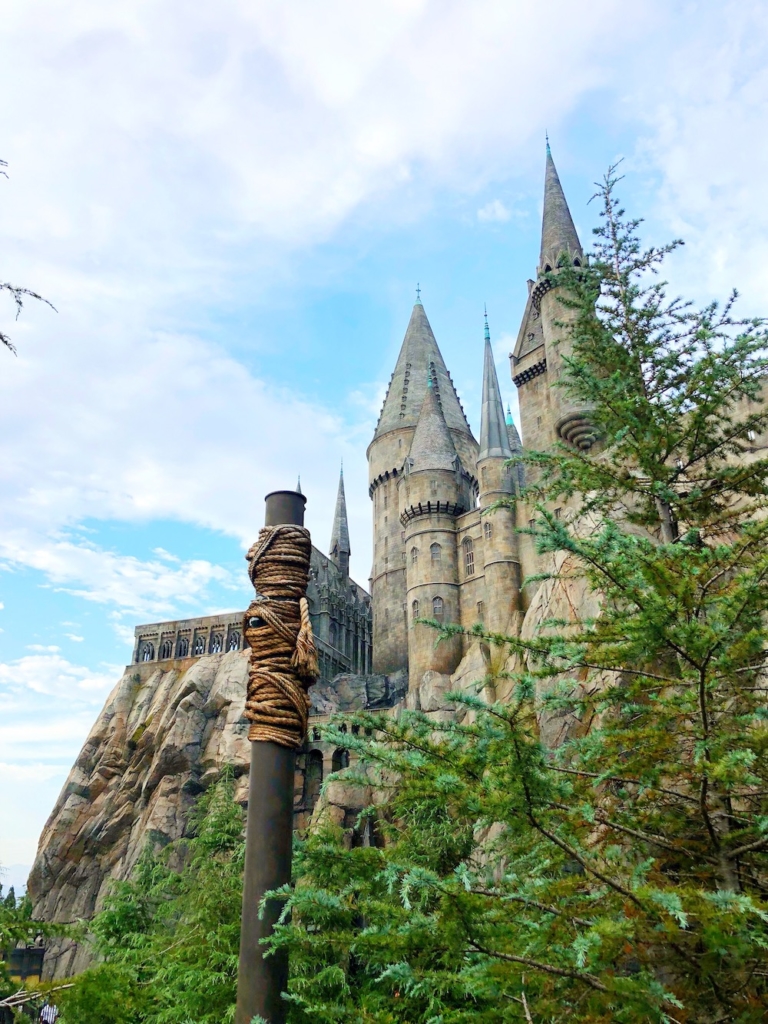 You also have to go on the rollercoaster and the simulation ride. The rollercoaster is suitable for everyone as it is not scary at all. For the simulation ride, I would make sure you don't get motion sickness because you may get a little nauseated.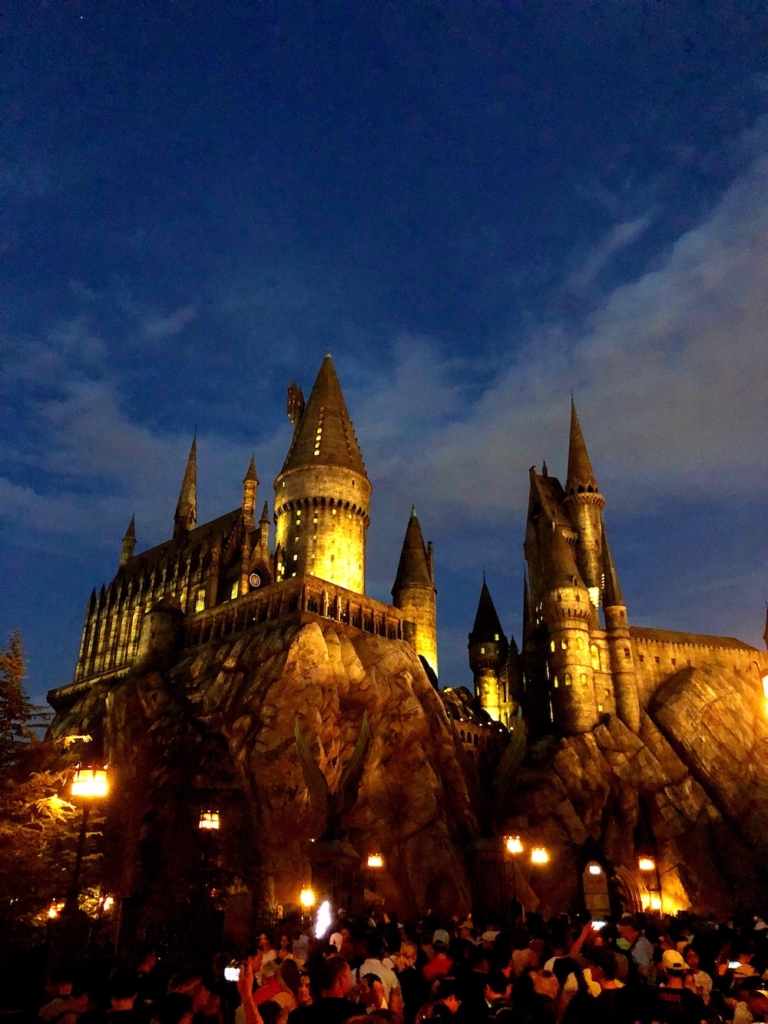 Also, don't forget to stay until the evening to catch the Dark Arts light show at Hogwarts Castle, from now until August 11.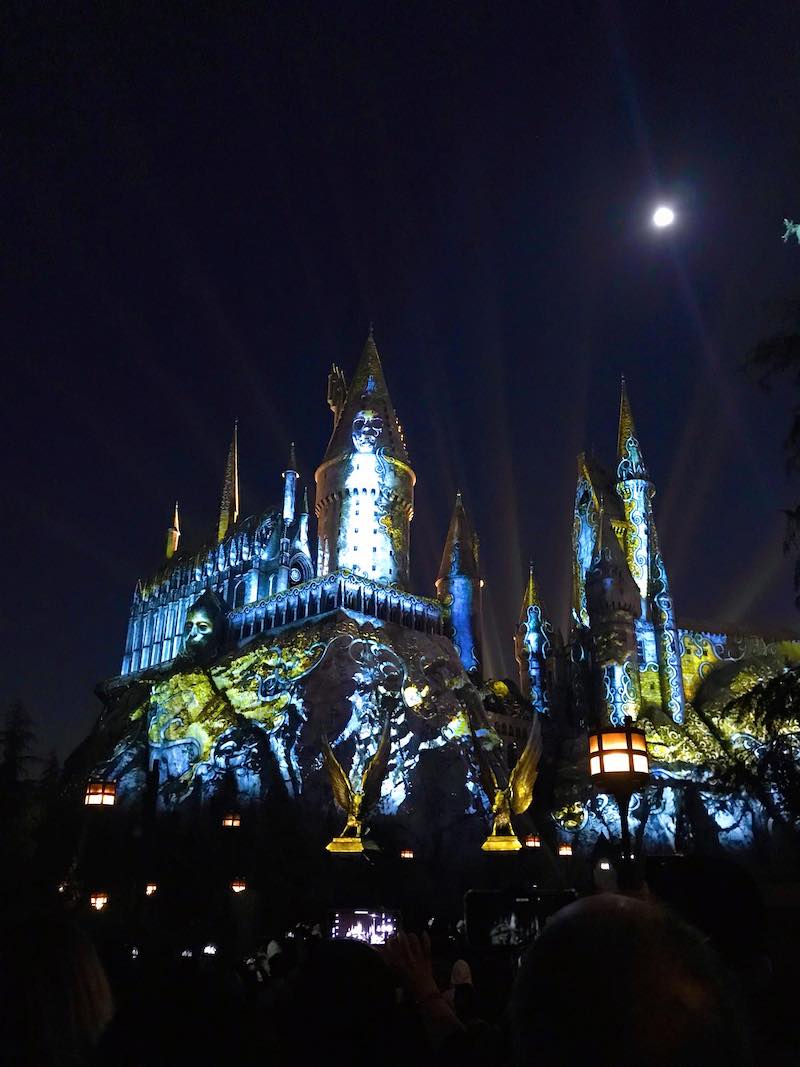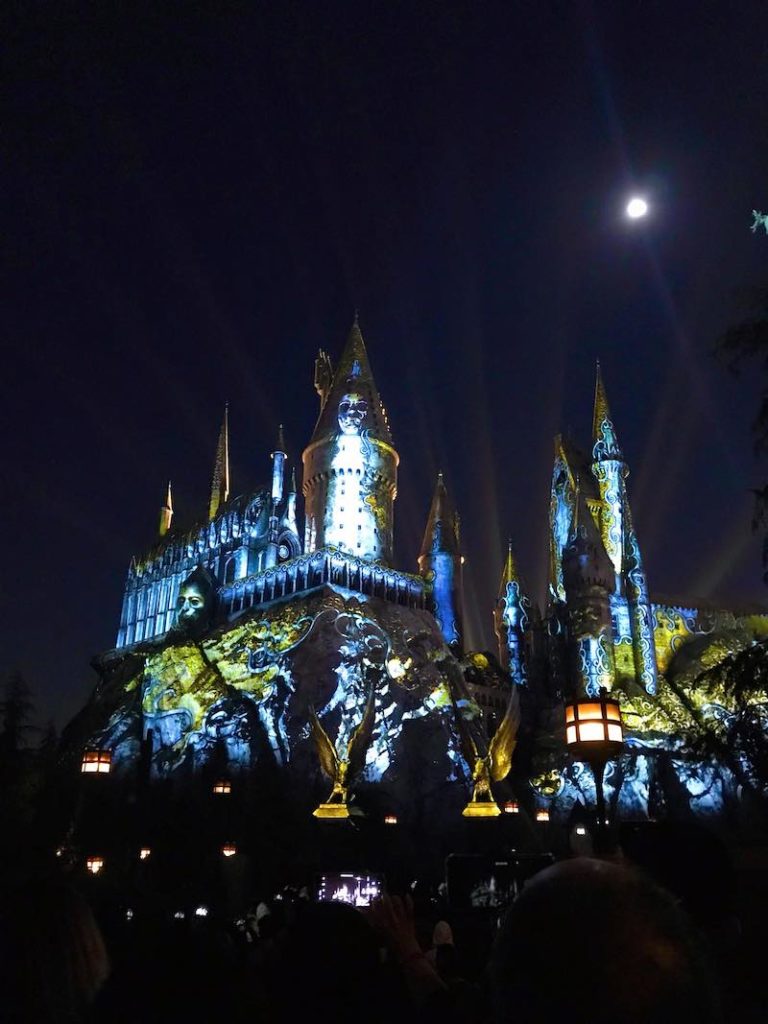 I always like Harry Potter world too because there are so many guests that like to dress in their best Harry Potter t-shirts. There's also kids walking around wearing their Harry Potter cloaks and wands. Did you know they sell special wands at the park that when activated do special magic at the park? So cool!
Don't leave Universal Studios Hollywood without: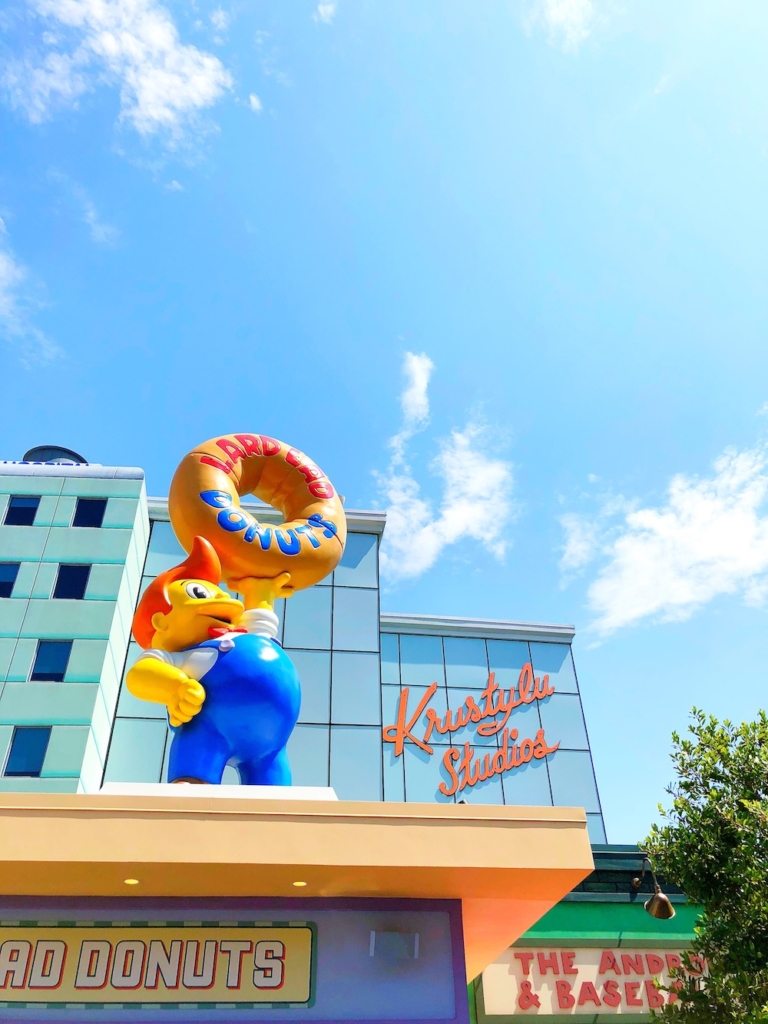 a Simpsons Donut
You have to try a Simpsons donut when visiting the park. They have two flavors: pink strawberry and chocolate topping. We bought one of each at $7.49 each. They are extremely delicious and made fresh daily! The best part is that you can find them not only in the Simpsons-themed area of the park, but also throughout the whole park.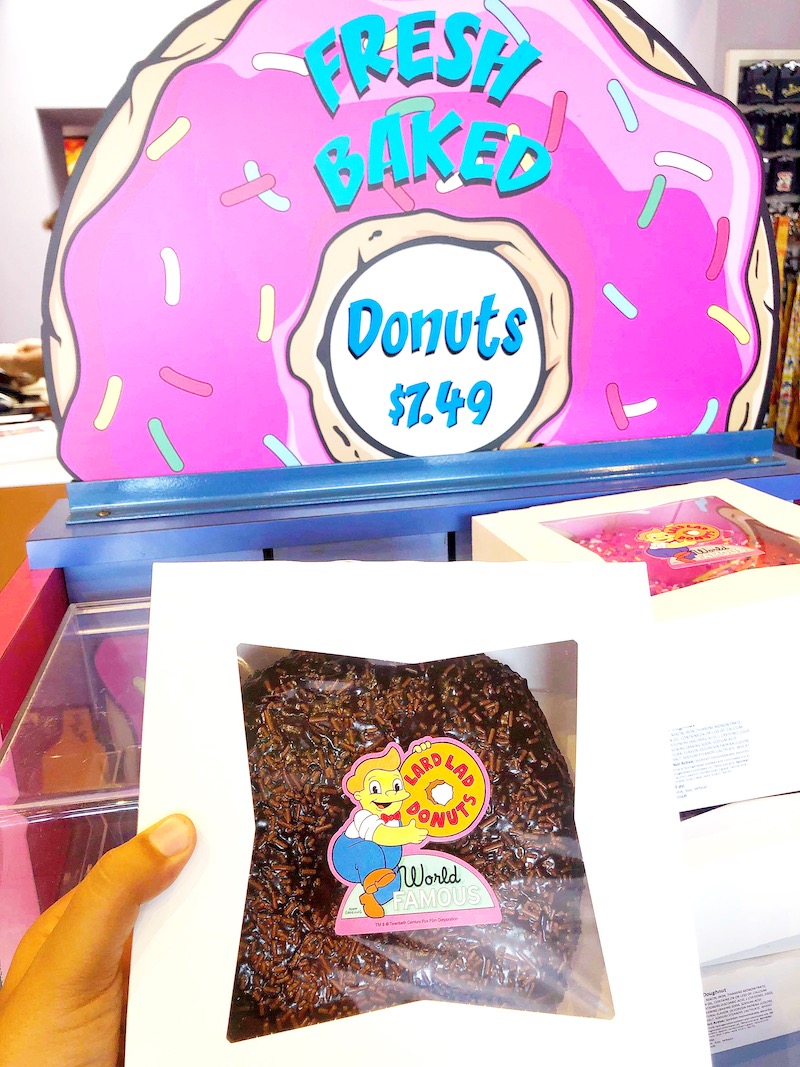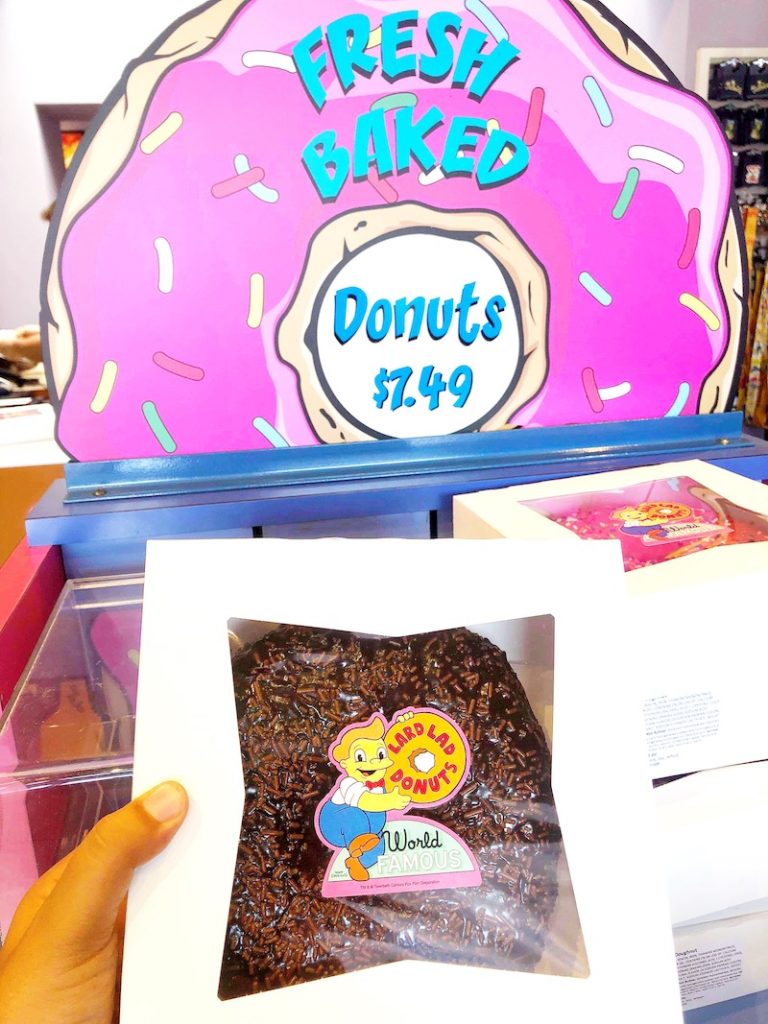 If you plan on taking them home we suggest you buy them as you exit the park at the store closest to the exit, or even at the Universal store outside the park at the Universal City Walk. Otherwise, you may find the frosting melting in the hot sun.
a photo with DreamWorks' Trolls Guy Diamond, Poppy and Guy Branch
One of our favorite things to do at Universal Studios Hollywood is to take pictures with movie characters. Nowadays it's even easier with designated locations. Look for the Trolls space with a brightly-colored sign and brightly-colored background. They are close to the front of the park entrance and hard to miss!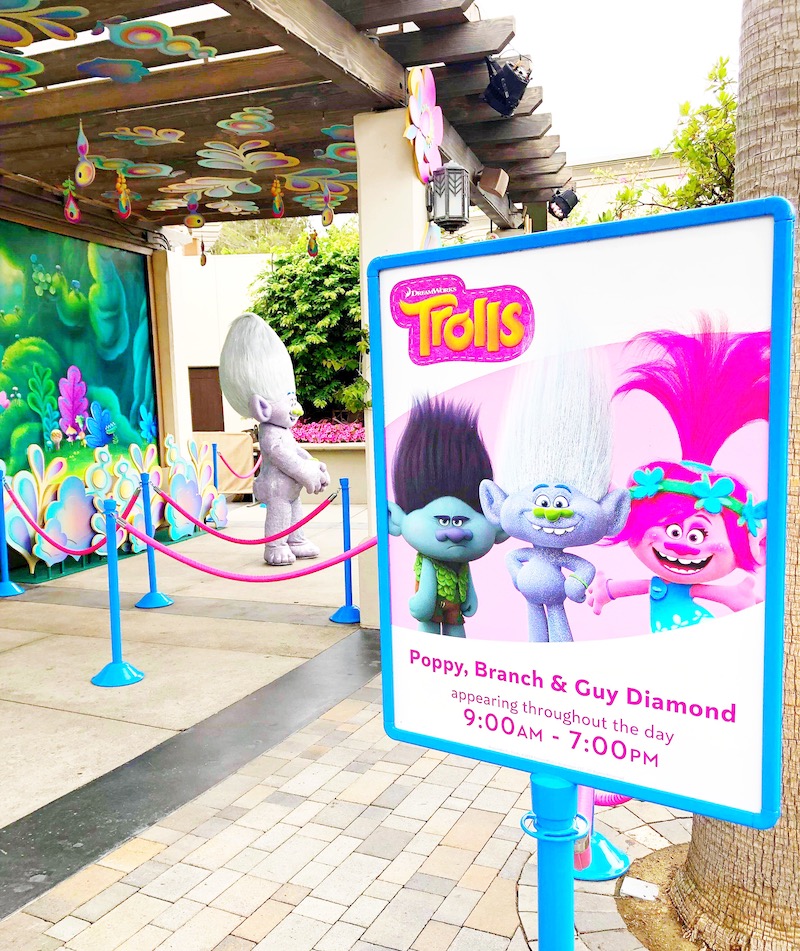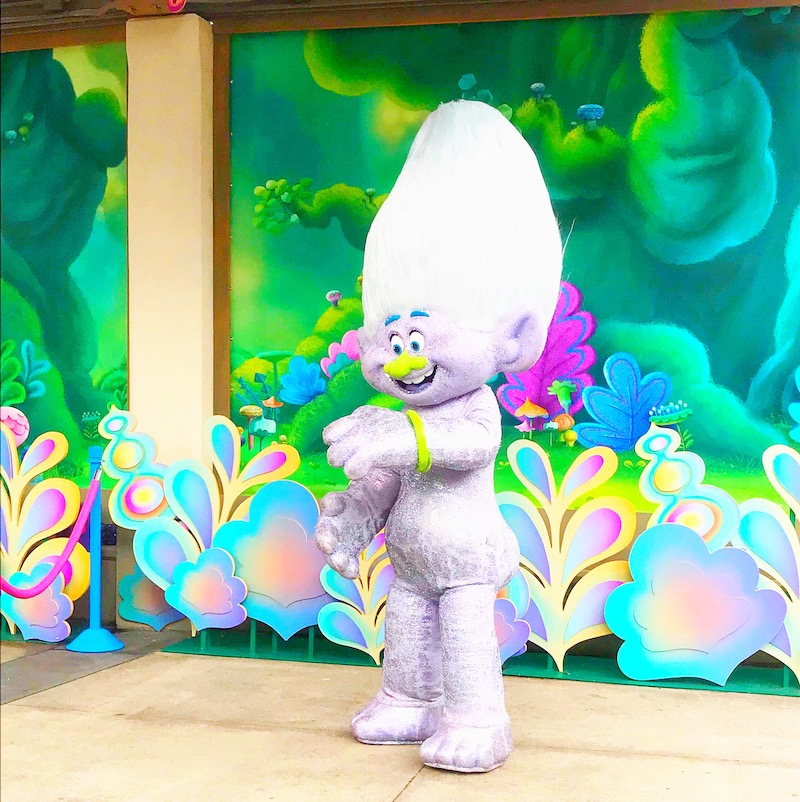 More Universal Studios Hollywood seasons:
During the holiday season, Universal Studios Hollywood transforms the park and has special decorations, characters and events planned. You can expect something different throughout the year.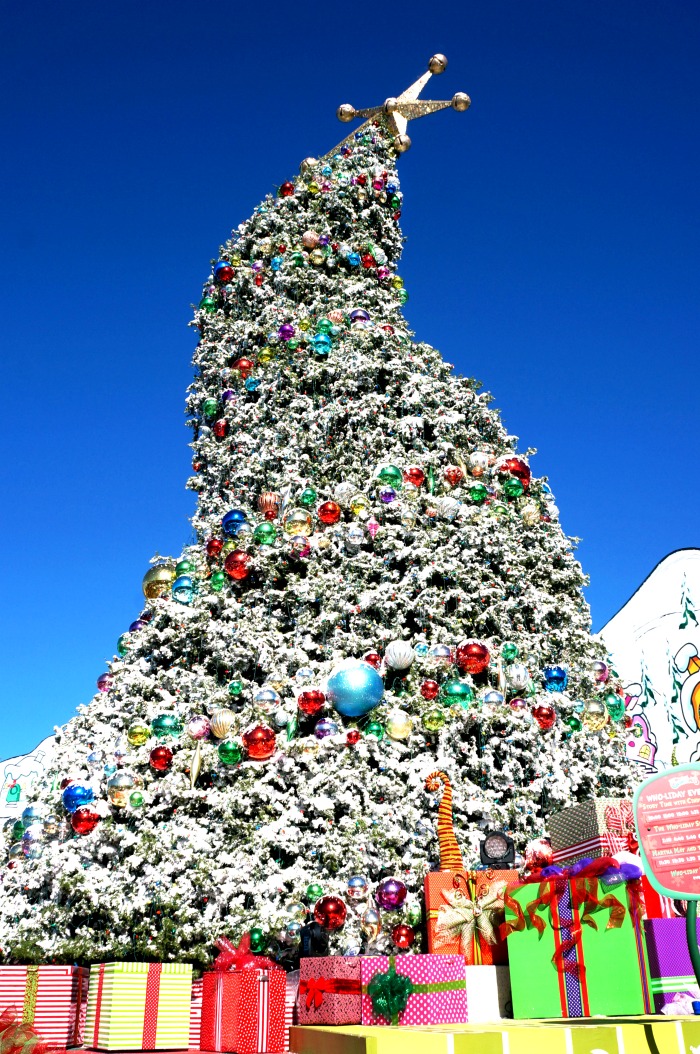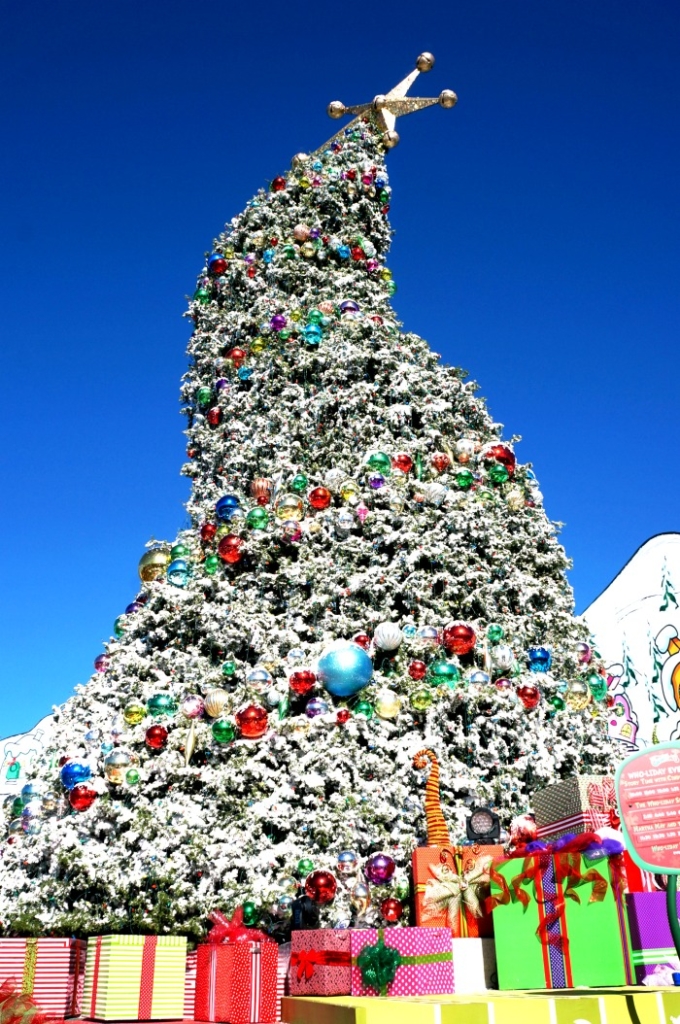 For more information, please check out www.universalstudioshollywood.com.
Originally published on July 26, 2019. Last Updated on July 26, 2019 by Pattie Cordova