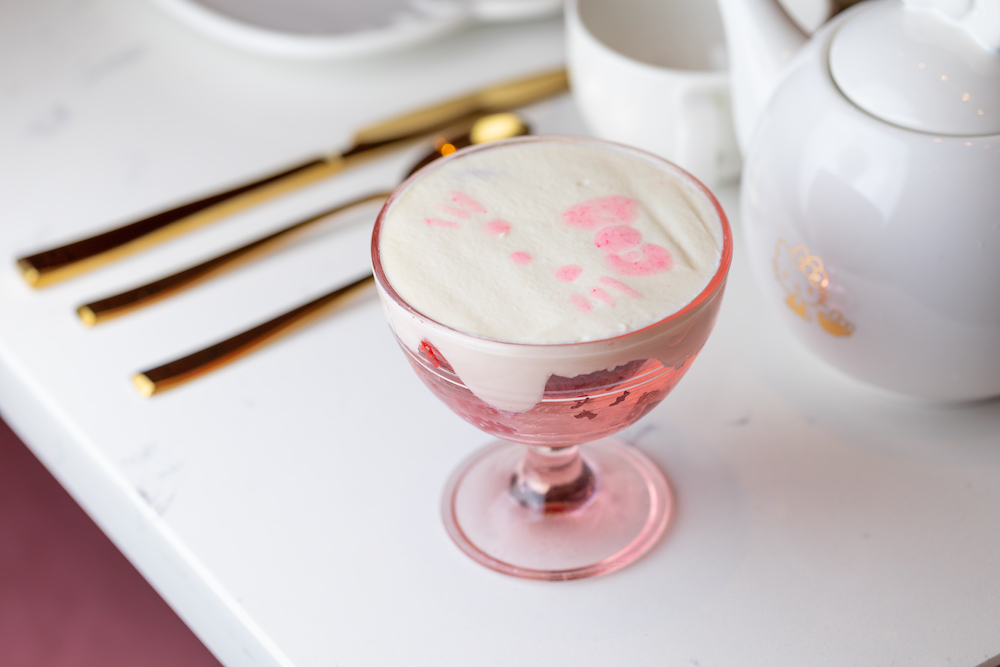 If you're in Southern California and a Hello Kitty fan, you've no doubt been waiting to see when the new Hello Kitty Cafe at the Irvine Spectrum is now open – and now we have all the info!!!
Housed within the Irvine Spectrum Center in Irvine, CA, this marks the Hello Kitty Cafe brand's first-ever cafe concept offering Hello Kitty Cafe favorites and new Afternoon Tea and Cocktail Service programs. The Hello Kitty Grand Cafe is the first and only permanent cafe in the U.S. featuring dual experiential spaces – a fast casual cafe setting open to the public and a separate private room for reservation-only afternoon tea program and cocktail service.
Guests will be able to go in and out for a sweet treat at the Hello Kitty Grand Cafe with grab and go seating for up to 12 people.
Hello Kitty Grand Cafe Menu
The cafe will offer not only the popular Hello Kitty Cafe menu offerings, but they'll also be offering exclusive new menu additions including made-to-order mini hot donuts (cinnamon sugar; matcha; cookies n' cream, $6 per cup) and a pick-your-own 4pc set of Sanrio character mini cakes ($15). In addition to the new food items, a gold bow handle mug ($25) and pink and rose colorway gold sequined Chubby Bunny bow ($30) also make their debut at the Hello Kitty Grand Cafe.
Hello Kitty Decor
The Hello Kitty Cafe will have a unique, cute-sophisticated space features classic white walls adorning kawaii Hello Kitty icons and one-of-a-kind artworks created for this location.
The Bow Room
The surprise and delight continues with The Bow Room at Hello Kitty Grand Cafe – a hidden reservations-only pink oasis with modern, sleek Hello Kitty-branded fixtures and a refined finish throughout, pouring afternoon tea by day, and cocktail service by night.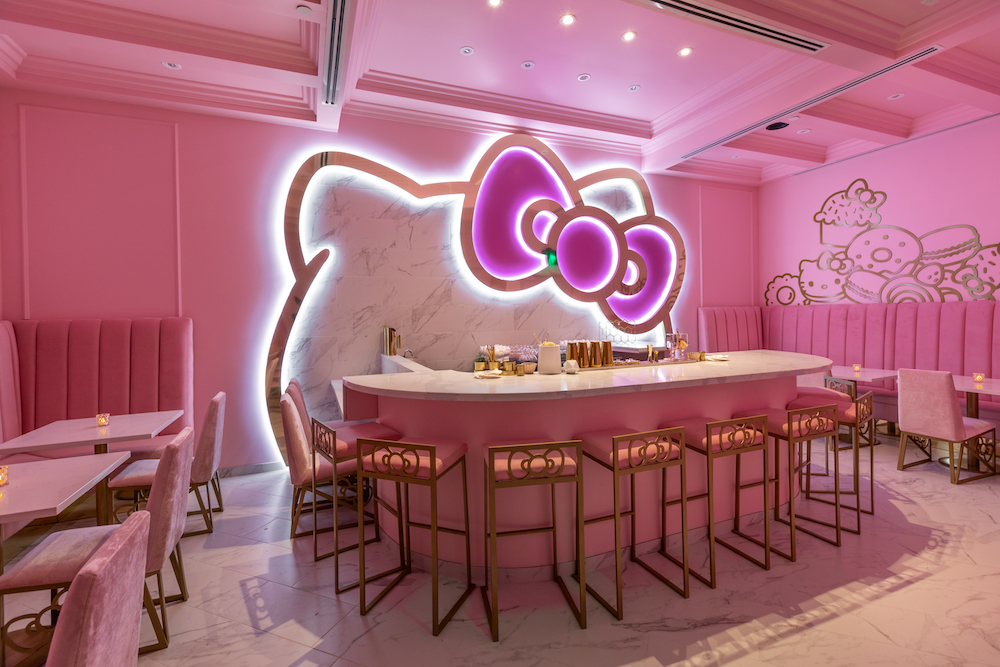 How do you know you've reached The Bow Room? Just look for the bow-shaped knocker marking the entrance (I'm squealing just thinking of how cute it's going to look!). The Bow Room at Hello Kitty Grand Cafe will offer exclusive, reservation-only experience for fans.
Afternoon Tea Service
An Afternoon Tea Service ($55 per person; by reservation only) –available Wednesdays through Sundays —will include a delicious assortment of fresh seasonal fruit and savory tea sandwiches (Cucumber, dill cream cheese, milk bread; Creamy egg salad, chives, paprika, savory cone; or Smoked salmon, dill cream cheese, pretzel croissant; Mozzarella, vine tomatoes, pesto, tart shell).
You can also expect a selection of sweets including Buttermilk Scone, Mini cupcake, Hello Kitty Mini Cake, Raspberry Macaron, and Chocolate Chocolate Cake); in addition to accoutrements such as honey, strawberry jam, whipped butter, and Hello Kitty shaped sugars. Top it off with an extensive tea selection including a wide array of black, green, oolong, a special Birthday Tea blend, and caffeine-free tea offerings accompany the service.
In the evening, The Bow Room at Hello Kitty Grand Cafe will become a cocktail bar for guests aged 21 and up from 5:00 p.m. nightly (Wednesdays – Sundays; by reservation only).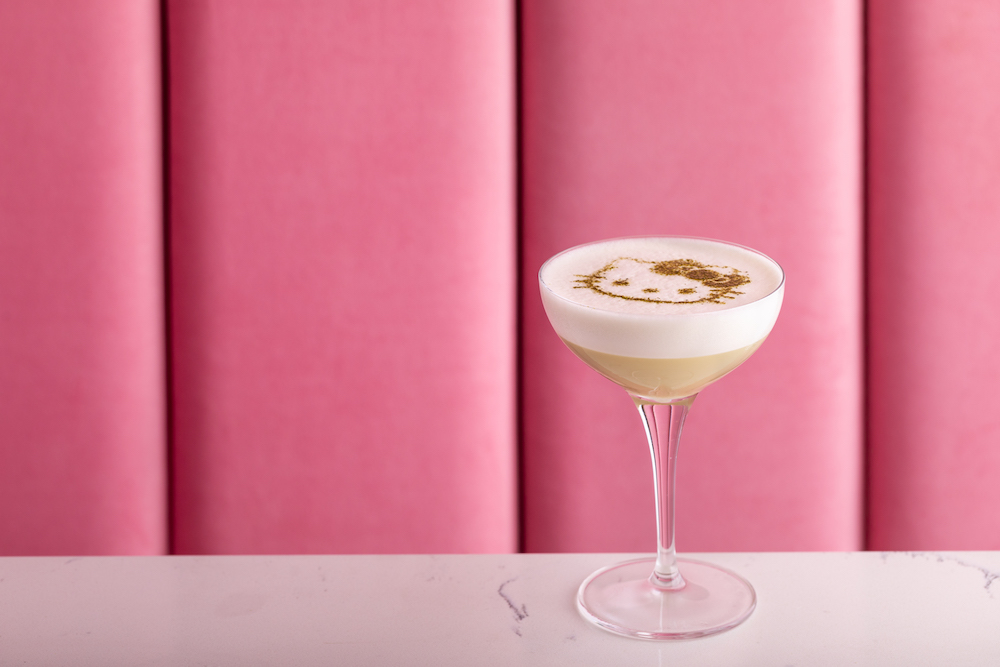 Cocktail Service
Cocktail Service will include an assortment of adult libations with a Hello Kitty twist including You Had Me at Hello (Cachaca, aperol, lemon, sherry and pineapple, $21); Matcha Matcha (Japanese whiskey, yogurt, matcha, yuzu, $15); Dear Daniel (Mezcal, pineapple, lime, spirulina, salted coconut whip, $16); and 1974 ( choice of an Old Fashion or Classic Negroni served with a signature Hello Kitty ice cube, $14).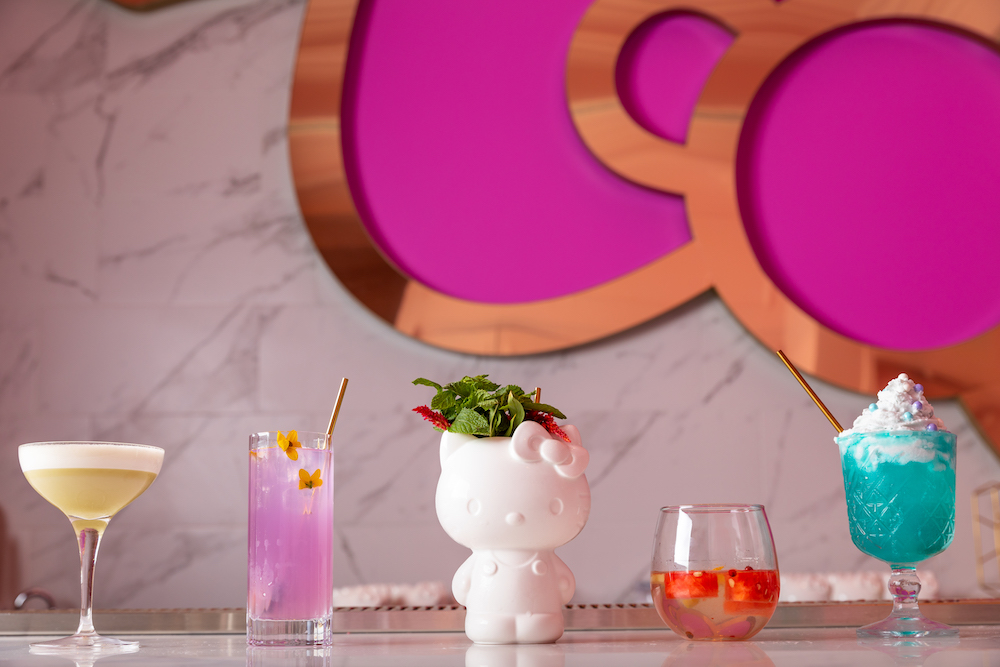 Cocktail Service | photo credit: Jakob Layman/Sanrio
The Bow Room at Hello Kitty Grand Cafe will also offer a curated wine list ($10 – $63) including sparkling wine, champagne, pinot grigio, pinot noir, sauvignon blanc and rosè by the glass or bottle, in addition to select by-the-bottle offerings ($35 – $87) including the Hello Kitty Sparking Rosè, Hello Kitty Pinot Grigio, Hello Kitty Prosecco, and Piper Heidsieck Cuvee Brut.
Hello Kitty Cafe
Hours of Operation for the Hello Kitty Grand Cafe are as follows:
Cafe
11am-9pm (Monday – Thursday)
11am-10:30pm (Friday)
10am-10:30pm (Saturday)
10am-9pm (Sunday)
The Bow Room Hours (Wednesday-Sunday only; by reservation only)
Afternoon Tea Service
11am – 4pm (Wednesday-Friday)
10am – 4pm (Saturday and Sunday)
Cocktail Service (Reservations only; 21 and up)
5pm – 9pm (Wednesday, Thursday, Sunday)
5pm – 11pm (Friday, Saturday)
Reservations are available at: https://reservations.hellokittycafe.com/
Originally published on September 5, 2018. Last Updated on May 23, 2019 by Pattie Cordova