Holidays
Angry Birds birthday party for our four-year old
My four year old had a birthday party last month and it took everything I had to convince him to have an Angry Birds birthday party instead of a Plants vs. Zombies birthday party. My reasoning? There are ZERO PvZ products available. With a five month old in the home, I couldn't imagine the hours of work I would have had to put into a Plants vs. Zombies party. As it turned out, the Angry Birds party was a lot of work too… but it came out super cool!
In an effort to keep this post short and sweet, I'll post pictures with a brief description. Any questions can be added in the comments section and I will edit the post with answers. Enjoy!
Angry Birds Birthday Party
Food Ideas and layout
Our family is vegetarian so it was VERY important that all the food available be vegetarian and also, foods that our birthday boy would eat.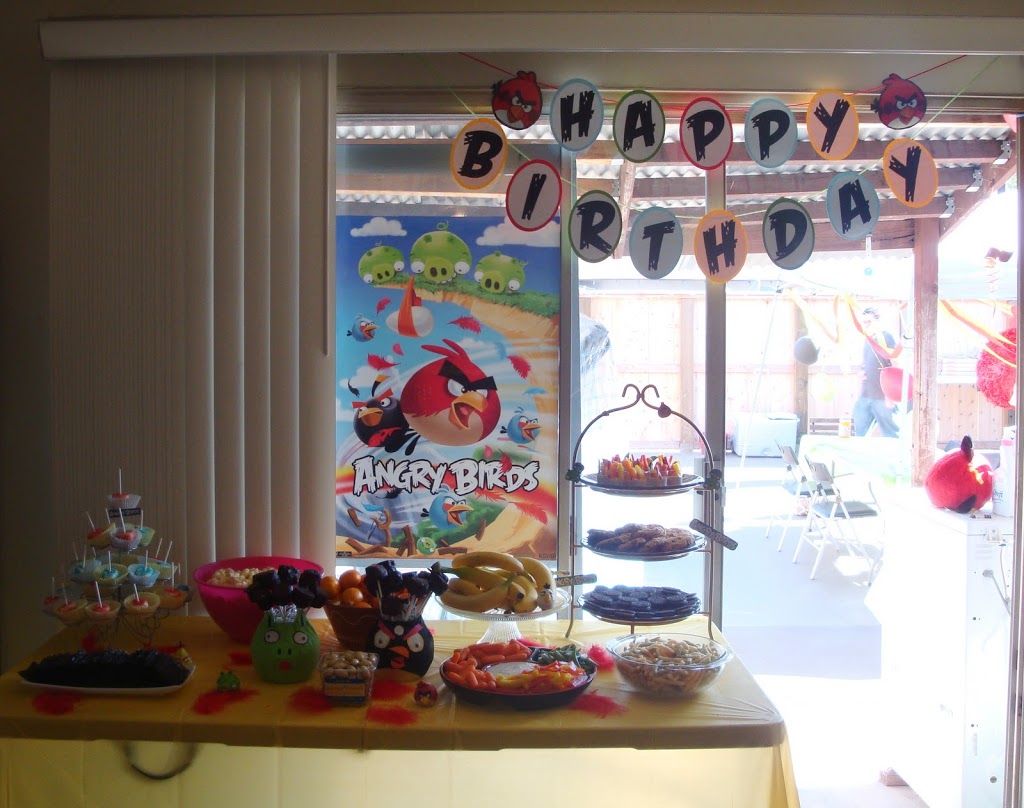 The table indoors had snacks galore including: roasted seaweed, veggie sticks, white cheddar corn puffs, a veggie tray, chocolate covered marshmallows, fruit, candy cane cookies, Kroger's homemade chocolate chip cookies, eggnog flavored almonds and cut veggies with ranch dressing.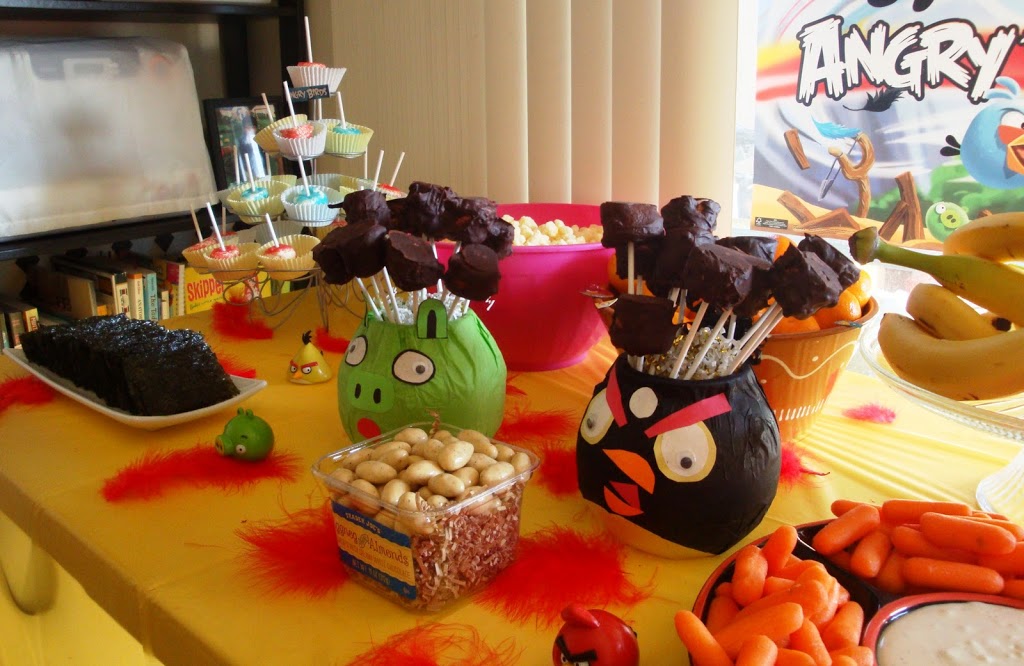 My ever-so-crafty mom made the cute centerpieces. We filled it with shred and stuck the chocolate-covered marshmallows inside.
The centerpieces were made by covering small fish bowls with tissue paper. They're still looking great one month later!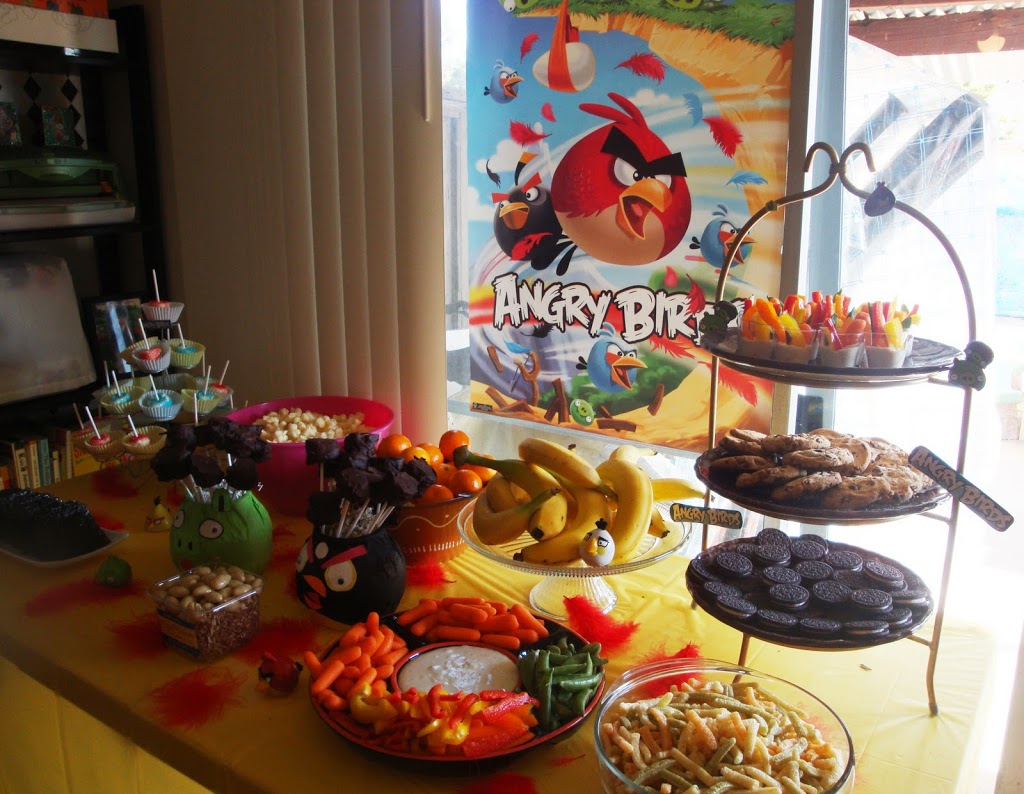 We purchased the Angry Birds poster at Toys R Us for $5.99. It now hangs in my son's bedroom above his bed.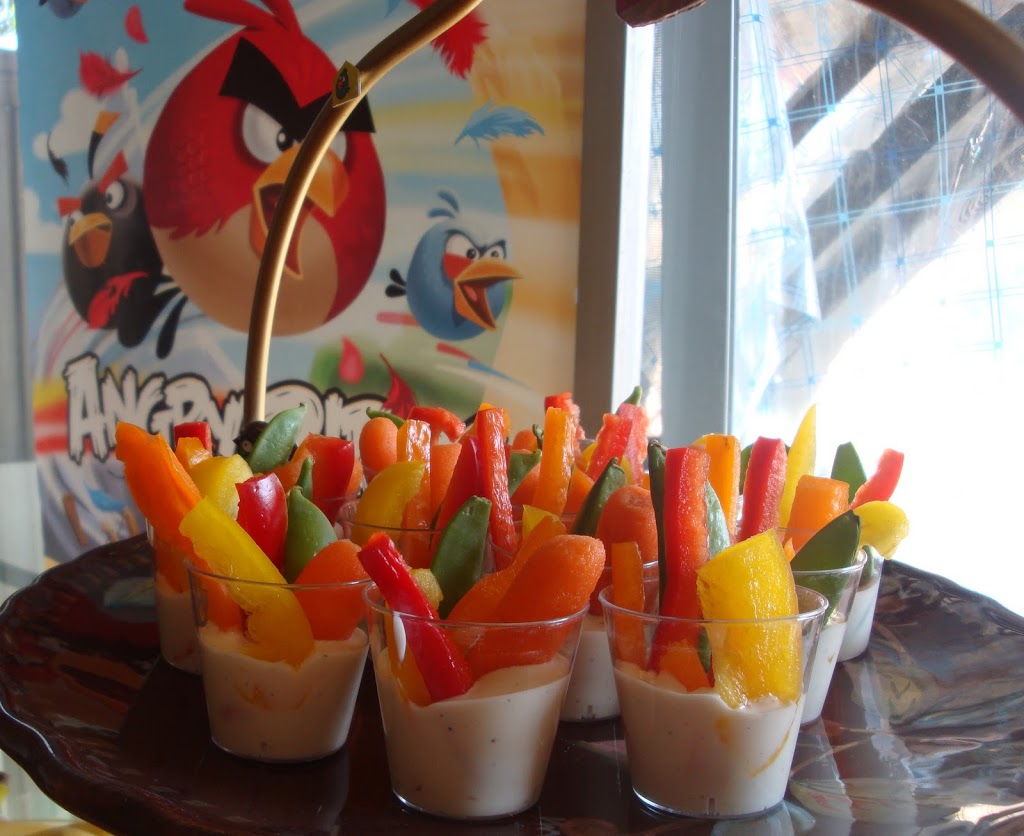 Covered in a yellow tablecloth, the table also has red feathers and the Angry Birds logo and characters on the dishes.
We served cheese pizza alongside these snacks and washed it down with soft drinks (for the adults), water and juice.
Read all four parts in the Angry Birds Birthday Party series
Food: Livingmividaloca.com/2012/01/angry-birds-birthday-party-for-our-four
Goody bags and donut tower: Livingmividaloca.com/2012/01/angry-birds-4th-birthday-party-part-2
Angry Birds Piñata: Livingmividaloca.com/2012/01/angry-birds-4th-birthday-party-part-3
Decorations and Games: Livingmividaloca.com/2012/01/angry-birds-4th-birthday-party-part-4

Originally published on January 9, 2012. Last Updated on March 25, 2016 by Pattie Cordova